Most of your know how hot short numeric .com domains became this year with Chinese buyers fueling frenzied activity in the domain aftermarket that produced sales like 588.com at $1 million, 899.com at $801,000 and 345.com at $800,000. Last May I told you about a free publication from Giuseppe Graziano at GGRG.com (a domain brokerage and consulting firm based in Lisbon, Portugal) called Numeric Domains 2.0 - The Definitive Guide that provided a lot of useful insight into the numeric market.
Now the former DomainHoldings broker, who was nominated for THE Domain Conference's Blogger of the Year Award last month, has released another excellent free primer on another category that seems to be getting hotter each day - 4-letter .com domains. It's called Investing in LLLL.com – A Starter Guide. Now, make no mistake, 4-letter .coms aren't trading anywhere near the 6-figure nosebleed level we've seen with some 3-number .coms, but many of these LLLL domains that could be hand registered just a few years ago are now routinely changing hands for four figures.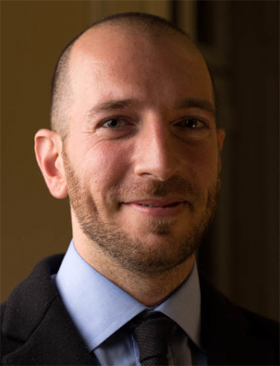 Giuseppe Graziano
GGRG Founder and CEO
Four graphic from Bigstock

I not only see it in the weekly domains sales reported to us, I have sold several that I hand registered myself for four figures this year and have been getting almost daily inquires (mostly from Chinese buyers) about others (especially ones with repeating patterns like RDRD.com, PTTP.com

and TRRT.com. Just this afternoon I closed the sale of PPBP.com. Giuseppe's guide breaks out the most popular patterns and provides many more details on the latest trends in this group.
It almost seems like the Chinese are mining out one category then moving on to the next with strings that are a character longer than the group before. Two and 3 letter .coms have been red hot all year, as have the ultra short numerics. Now we see interest further out with 4-letter .coms and numerics that are getting even longer than that - including many five and even six-digit domains in our latest weekly sales report! Examples include 597888.com at $7,500, 576888.com at $7,300, 877787.com at $2,507 and 222252.com at $2,395.
It has been quite remarkable to watch, kind of like seeing a wildfire jump highways and move from one patch of land to another. When and where it is going to stop no one knows, but as long as it's happening it is very helpful to have researchers like Giuseppe publishing in depth guides to help us make some sense of what is happening now.