The Lowdown


May

2015 Archive

Subscribe to our RSS Feed

Here's the The Lowdown from DN Journal,
updated daily to fill you in on the latest buzz going around the domain name industry.

The Lowdown is compiled by DN Journal Editor & Publisher Ron Jackson.
A Peak Inside the Igloo: Publicly Reported Domain Sales Are Just the Tip of the Iceberg
Our latest weekly domain sales report was released last night. As always there were some impressive sales at the top of the chart, led by a couple of six-figure transactions. While we have been able to share information on tens of thousands of domain sales over the past 12 years, the aftermarket is much bigger than those figures show. That is because the majority of sales are never made public due to non-disclosure agreements (NDAs). This is especially true at the high end of the market. I've often said that if all sales were made public, the numbers would be mind boggling.

Take domains like Jet.com and Realty.com for instance. We know that both of those names

were sold in deals brokered by Igloo.com (a firm that has booked some $120 million in domain name and website transactions) but due to NDAs we don't know the prices paid for the two domains. It is quite likely both came close to or hit seven figures though, something only one publicly reported sale has done so far this year.

Tessa Holcomb
Co-Founder & CEO, Igloo.com

Industry veteran Tessa Holcomb, Co-Founder and CEO of Igloo.com, was able to tell us Jet.com and Realty.com were purchased by end users who wanted to set themselves apart from their competition by establishing strong brand recognition. The new owners of Realty.com have built a real estate search engine on their prized asset, asserting they provide "the quickest way to search real estate listing online." Jet.com is also live but that name is being utilized in a different way - as an unforgettable name for a new membership only shopping club (now in beta testing).

Jet.com co-founder and CEO Marc Lore told us, "As soon as I heard "Jet" I knew it had the potential to become a household name. I decided to work with Igloo because I had worked with them many times before and knew that I could trust them to make the transaction as smooth as possible."

Ms. Holcomb said, "In understanding the intricacies of domain sales, branding and acquisitions, Igloo.com takes care in focusing on the domain as the foundation upon which the client's business can be built upon. When Marc Lore needed the right brand for his start-up, he turned to Amanda Waltz, VP of Sales and

Acquisitions at Igloo.com, to acquire the perfect domain. Even with virtually no details about the endeavor, a perfect fit was found and Jet.com was acquired in January of 2014 for an undisclosed amount."

Regarding the Realty.com purchase that was just completed this month, Tessa noted, "The purchase of Realty.com by former CEO of Host Gator, Lance Custen, would be charted as this year's second highest domain sale if the sale price were made public. Serving as CEO & President of Realty.com, Custen intends for his new venture to "create technology on the site which will revolutionize and disrupt the real estate industry."

Realty.com was acquired from Dan and Andy Denton. Dan said, "I was surprised and very happy with how fast and smooth this sale took place, from contract to funding. Igloo stayed in constant communication through every step of the transaction, giving us confidence that the sale would be complete, and it did, in record time as far as I'm concerned."

Igloo also had a hand in acquiring premium generic domains for recently launched sites Quire.com, Maple.com, and Primary.com. All three are currently using their name recognition successfully in different ways. On Quire.com users have the chance to invest in promising companies along side some of the world's best venture capital firms. Maple.com delivers local, seasonal menus with an emphasis on quality ingredients to homes and offices in New York City at prices in the $12-$15 range. Much like the name suggests, Primary.com is poised to be the first place parents go to shop for their children's basics. The online only children's retailer, run by two former Diapers.com executives, aims to keep prices affordable through working directly with the manufacturers.

Best domain graphic
from Bigstock

While we are extremely grateful for all of the sales data that has been made public over the years, giving all of us greater insight into the domain aftermarket and the value of specific domains, it is good to remember that the market is much bigger than what we see in the weekly sales reports - and the significant value of high quality domains continues to be recognized and utilized by Internet savvy businesses around the world.
THE Domain Conference Rolls Out New Website, Additions to Agenda & Discount Ticket Offer
With the inaugural edition of THE Domain Conference now just four months away the organizers (Howard, Barbara and Ray Neu of T.R.A.F.F.I.C. conference fame) have moved preparations for their maiden voyage at the Hyatt Regency Pier 66 Hotel in Fort Lauderdale, Florida into high gear. A brand new website has just gone live, the first additions have been made to the show agenda and a special spring discount offer will lower the price to attend to just $399 (it will go up to $699 in mid-June). To get the deal just enter the promo code TDC15 on the conference registration page.

Web developer Brett Napoli will present continuous Word Press Workshop
sessions at THE Domain Conference
September 28 & 29, 2015.

THE Domain Conference will run from Saturday, September 26 through Tuesday, September 29, 2015. Saturday and Sunday will feature pre-show Cabana Networking followed by the welcoming Cocktail Party Sunday evening. The Neus are especially excited about a key addition to the conference agenda, telling us, "For the first time at any domain investment conference, attendees will have the opportunity to participate in a Word Press Workshop with continuous hands-on one on one sessions presented by Word Press Expert Brett Napoli. These sessions will continue through both business days, Monday and Tuesday, September 28 and 29."

Napoli is the Founder & CEO of Ambition Insight, a Web Development and Media company specializing in WordPress websites, Web Consulting, Online Publishing and Internet Entrepreneurship. The Neus said, "Brett is a seasoned developer and manager of premium websites, online publications, digital media and Internet assets. Since 2009, his online

publications have served over 350 million ad impressions and consistently reach hundreds of thousands of unique monthly visitors." The Neus have first hand experience with Napoli as he worked with Ray Neu to developed the show's new website.

In the upcoming weeks you can expect several announcements as the show's agenda continues to take shape - including the name of the keynote speaker. I have already committed to present the annual report on latest trends in the domain aftermarket that I gave at T.R.A.F.F.I.C. conferences over that pioneering show's decade-long run.

The Neus have found an excellent venue for their new show in the Hyatt Regency Pier 66 Hotel. I got a close up look at the property when I stayed there in February to attend a South Florida Domain Pros meeting staged at the hotel. THE Domain Conference has gotten a great rate for attendees, starting at $109 a night (with free internet and no resort fee) but the number of rooms in their block is limited so they encourage you to make your reservations as soon as possible.

The Hyatt Regency Pier 66 Hotel in Fort Lauderdale will
host THE Domain Conference September 26-29, 2015.
Mind + Machines Chairman & Co-Founder Fred Krueger Resigns - Will Turn Attention to Mozart
There was a major surprise in the annual report (.pdf file) for 2014 released by new gTLD registry operator Minds + Machines today. Page 3 of the report was a resignation letter from Executive Chairman Fred Krueger who founded the company with current CEO Antony Van Couvering in 2009. M + M had gone on to build a portfolio of more than two dozen new extensions, including such high profile TLDs as .law, .wedding, .fashion, .london and .yoga.

Krueger said the board initiated the change at the top and, though it came as a surprise to him, he said it was a decision he said he agreed with. Krueger wrote, "At Minds + Machines, as in any company, tough decisions will always have to be made, and ultimately that means one person must make those choices and take responsibility. The decision – initiated by the board – to let Antony be that person, is not just about Minds + Machines, however, it's also about Mozart, the website building, hosting and management service I founded."

Fred Krueger
Minds + Machines Co-Founder

"For the last year, while we were primarily focused on auctions and acquiring new names, I have found myself drawn to a completely different question: how do you make these names useful? This question has become a complete obsession for me, and to be honest, I don't have the bandwidth to do both companies. On this I agree with the board. The decision to move on was unexpected – for me at least – but I am OK with it, indeed supportive of it...I plan to give Mozart my full attention. I'm pleased to say that it is integrated into Minds + Machines. It's launching at the end of this week for all customers who buy a name at mindsandmachines.com, and at http://mozart.co - I encourage you to check it out."

| | |
| --- | --- |
| | Krueger added, "Minds + Machines investors will want to know, and I am happy to confirm, that my goal is to keep the vast majority of my shares. I'm a long-term believer. I don't see a lot of short-term risks in the business. Keith Teare, whom I have known for many years and in whom I have complete trust, has kindly agreed to serve as non-executive Group Chairman for the immediate future." |
Forbes Produces a Must See Video of High Flying Domain Daredevil Divyank Turakhia
If you have been in the domain business for any length of time you know the name Divyank Turakhia, the wildly successful serial entrepreneur who teamed up with his brother Bhavin to build Directi into a domain industry powerhouse before selling the company to the Endurance International Group for a reported $110 million in 2013. Divyank is currently building another business dynasty at Media.net.

We profiled Divyank and his penchant for adventure (including standing on top of a flying airplane!) in a popular September 2008 Cover Story. Divyank is a guy who never stands still so he has accomplished much more in the seven years since that story came out, both in business and in his pursuit of the biggest adrenaline rush possible.

Forbes Magazine was so enthralled with Div's latest passion, barrel rolling his own airplane over the Pacific Ocean, that they sent a film crew to document what he is doing and why he does it. It is a great video (and runs less that 5 minutes) that you really must see to appreciate. You can do that here.

Divyank Turakhia in a photo we snapped at the Mondrian Hotel's SkyBar in West Hollywood, California during the 2011 Domainfest Global conference.

Divyank told Forbes reporter Ellen Huet, "Aerobatics is like business. It's fun if it's done right. If it's not, you crash and burn. So you have to know your limitations. You have to have a backup plan of a backup plan." That philosophy has made Turakhia (who was a millionaire by the time his was 18) a very wealthy man. Yet, as high as he has flown, Div has always kept his feed solidly on the ground, building a reputation as one of the nicest guys in the internet world. It's really great that Forbes is giving the rest of the world a closer look at one the of most interesting people to ever grace our industry.
Closing Day Photos & Highlights from the 1st WHD.usa Conference Held in America
The first WorldHostingDays conference ever held in America - WHD.usa - came to a close Wednesday night (May 20, 2015) at the Seven Springs Mountain Resort in western Pennsylvania. WHD is known for both the quality of the shows they run and their preference for gorgeous but remote locations that keep attendees close together in one place. The locations they choose and their creative approach to social activities creates an ideal atmosphere for networking and relationship building. You'll see what I mean in the photos & highlights from the final day of WHD.usa below.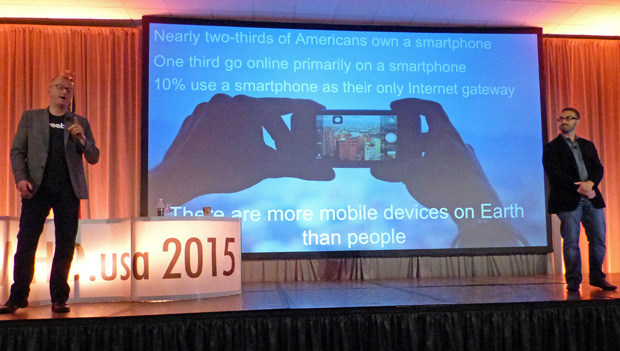 Above: In one of the most interesting morning sessions Wednesday Weebly.com Vice Presidents Chris Sheridan (left) and Nick Dellis (right) provided insight into who is building websites today and the key trends in the website creator space (a space where Weebly is one of the most dominant players). They emphasized their growing focus on enabling people to build sites that are universally mobile friendly. Sheridan summed it up as "your vision on every device" (all the way down to smart watches).
Below: WHD.usa also scored a coup by landing Tim Wu as a featured speaker for the noon hour. Wu is the Columbia University Law School Professor who created the term "net neutrality" and authored the book The Master Switch: The Rise and Fall of Information Empires." Wu laid out all of the compelling reasons why the Internet must remain an open playing field with no single (or small number) of mega corporations controlling the pipeline and what flows through it.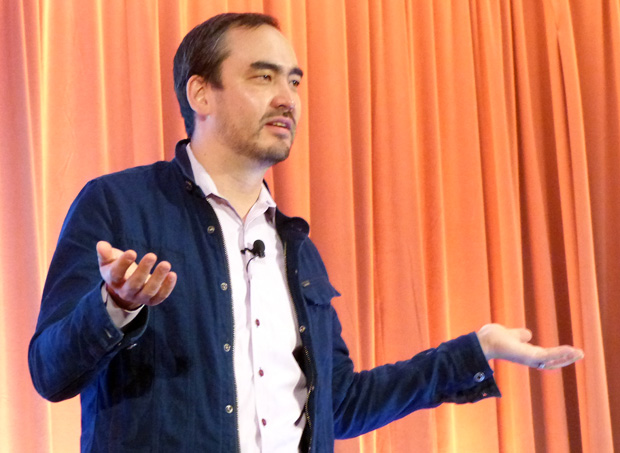 The daytime business sessions ended at 1:30pm when lunch was served. Then the rest of the day was devoted to some special outdoor networking activities that were tremendously effective in bringing people together. Attendees could choose from golf tournaments (9 hole or 18), riding ziplines through the sky or sporting clays shooting. Looking for something out of the ordinary (at least for us) we split our time between the Screaming Hawk Zipline and Sporting Clays.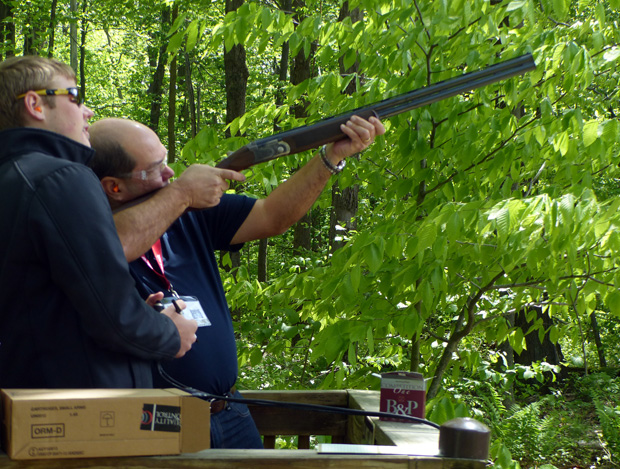 Above: With an instructor looking on Felipe Guacache of Open-Xchange tries his hand at shooting clay targets. I met Felipe for the first time in Pennsylvania, only to learn that he lives just a few miles from me in Tampa, Florida!
Below: Re-loading before another set of targets is released.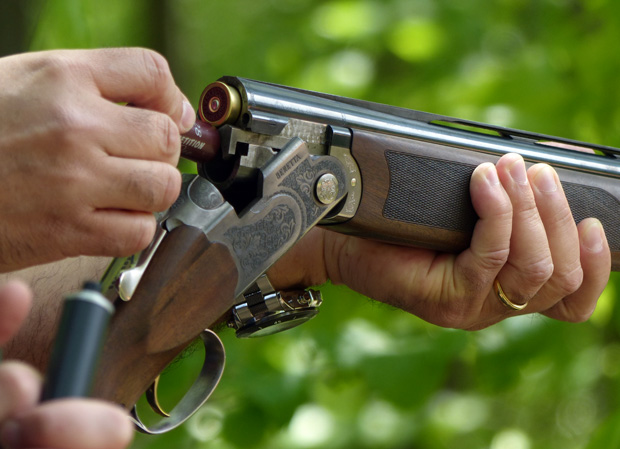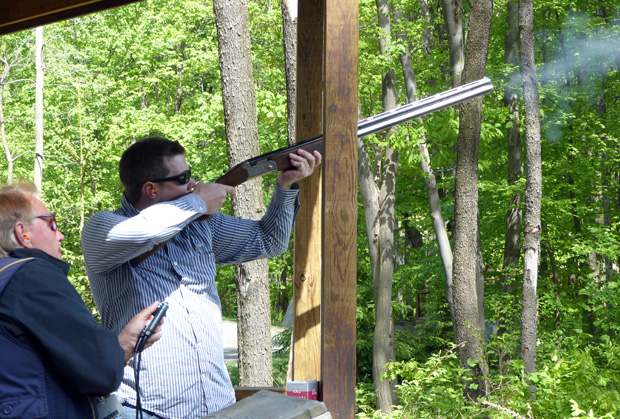 While the novice marksmen were shooting (above) others were getting ready to test the Screaming Hawk Zipline a few miles away (below). I jumped on a shuttle bus to go check out what they were doing.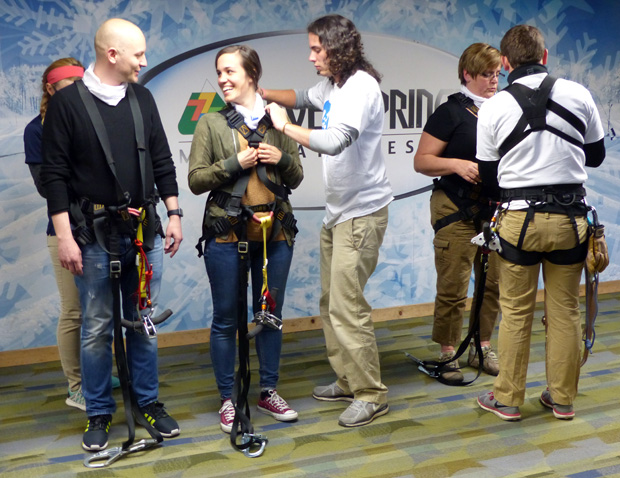 Before you can go flying through the sky on a zipline safety consideratins requires some careful preparation. Above: Instructors fit WHD.usa guests with harnesses, hooks, ropes and gloves.
Below: While still at ground level, an instructor shows everyone what they need to know and do when they get up on the platform and go airborne.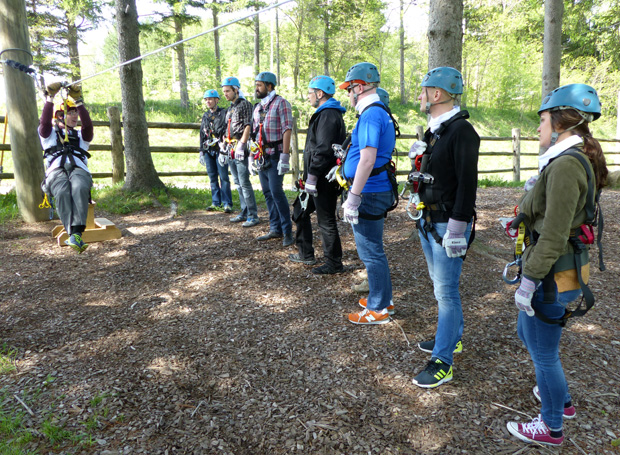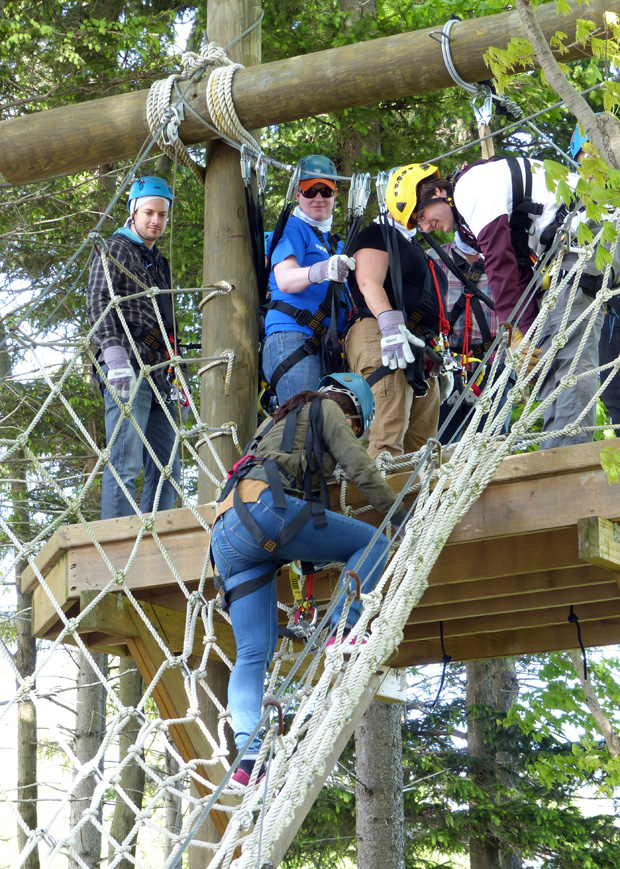 Above: One of the hardest parts is climbing the long rope net to the launch platform!
Below: Finally! A chance to fly with the eagles across the Pennsylvania mountainside.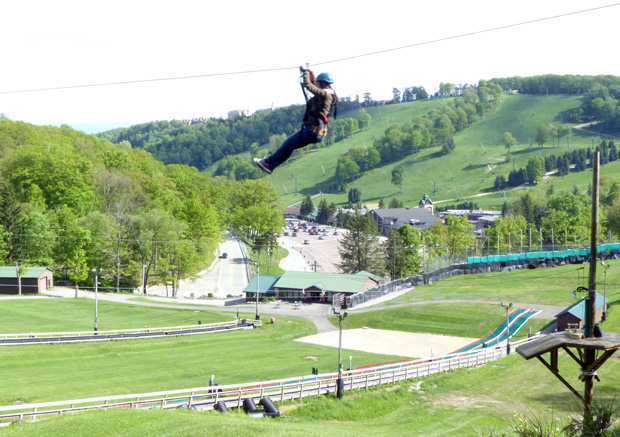 Below: After landing on a narrow perch a couple of hundred yards away, it is time to take the return flight!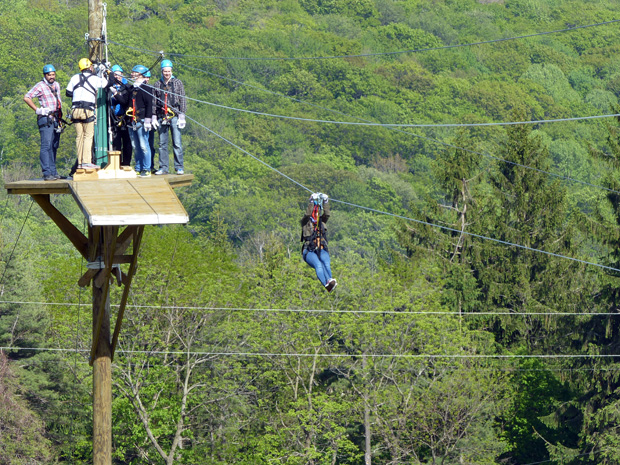 The afternoon activities had everyone buzzing when they returned to the hotel for the final events of WHD.usa 2015.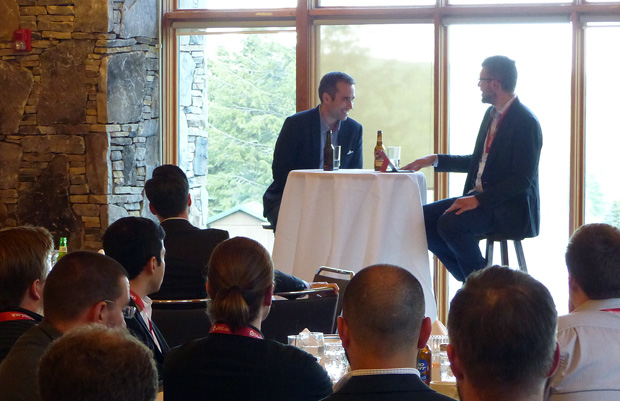 Above: At 6:30pm, Erik Martin (left), the former General Manager of Reddit who is now the US GM at Depop was interviewed by Servint President (and i2Coalition Chairman) Christian Dawson in a pre-dinner session that was both highly informative and delightfully funny thanks to the off kilter sense of humor the two men share. They would have fit right in on David Letterman's final show tonight.
Below: An hour later the curtain came down on the first WorldHostingDays show in America with a VIP Executive Dinner that put an exclamation mark on an awesome week.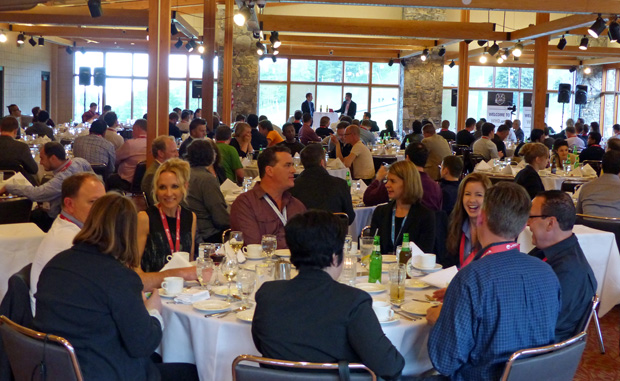 Of course, with conferences, they are never really over until you are in the car or on the plane headed home. As soon as I left the closing night dinner I ran into a half-dozen friends lingering outside and just had to stop to spend another half hour or so trading stories and figuring out where our paths would next intersect down the line. It's a good thing I stopped too because I stumbled upon some breaking news. Popular domain industry veteran Frank Michlick (DomainCocoon.com) finally got a haircut! I never knew why our friend from Canada wore glasses because his hair always covered them anyhow! Frank (below) allowed that the shorter hairdo has indeed improved his vision dramatically. Thanks to this less than extreme makeover, we also now know that Frank is not only one of the smartest guys in the business, but one of the best looking too!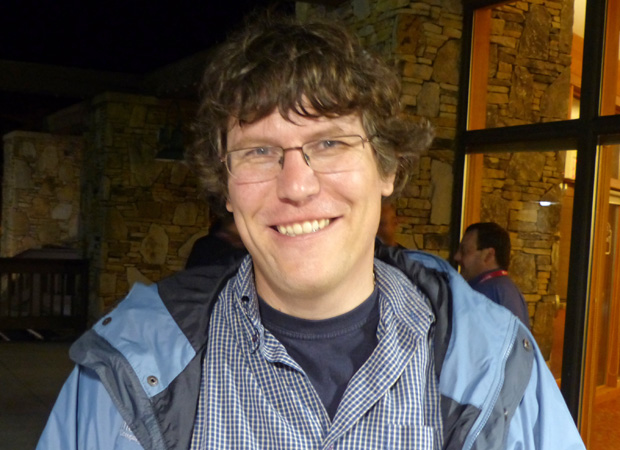 So, now it is time to fly back to Florida, though for some reason I have an itch to go by zipline rather than airline. A big thank you to WHD.usa (who made a great first impression on the side of the pond) and InterNetX who invited me to come up and see what a hosting conference looks like. I learned some things I didn't know about the relationship between the domain and hosting businesses - a relationship there is reason to believe will get closer in the years ahead. I'll expand on that and some other topics inspired by this trip in an upcoming Cover Story.
Photos & Highlights from Day One of America's 1st WHD.usa Conference in Pennsylvania
The first WorldHostingDays conference ever held in America - WHD.usa - got underway Tuesday (May 19, 2015) at the beautiful Seven Springs Mountain Resort in western Pennsylvania. Here are photos and highlights from a very busy opening day and night at the two-day event that will conclude tonight.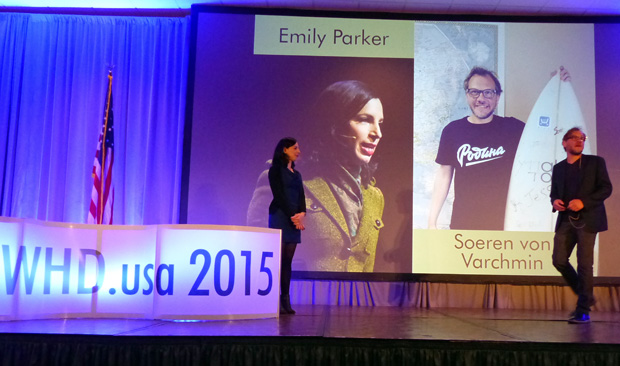 Above WHD.usa Hosts Emily Parker and Soeren von Varchmin opened the show with
welcoming comments Tuesday morning at the Seven Springs Mountain Resort.
Below: The highlight of the morning sessions was a live interview (via Skype) with
Wikipedia Founder Jimmy Wales conducted by Ms. Parker (the author of the book
Now I Know Who My Comrades Are: Voices From the Internet Underground).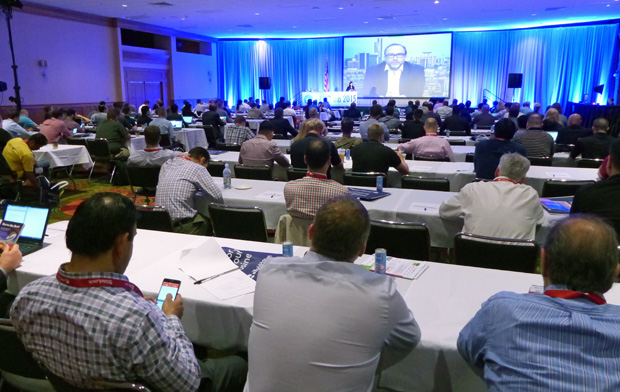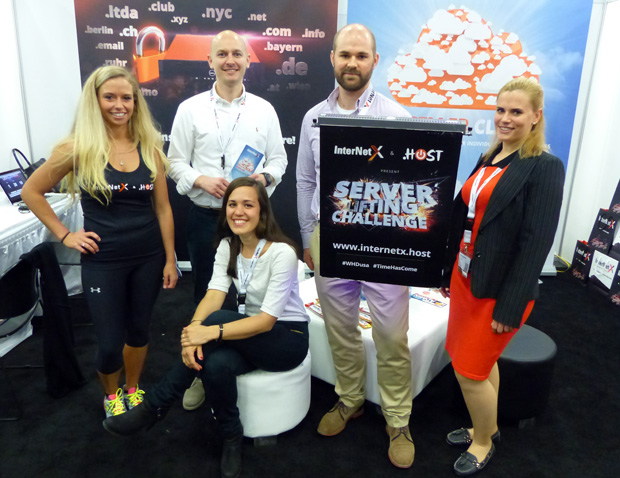 Exhibitors in the WHD.usa Exhibition Hall came up with some unique ways to attract attendees to their booths. During the morning coffee break I stopped by the InterNetX booth (above) to try my hand in their Server Lifting Challenge (below). While being timed you had to hold a server in the air as long as possible. My time was less than stellar but everyone who accepted the challenge won as they were given nice InterNetX gift bags.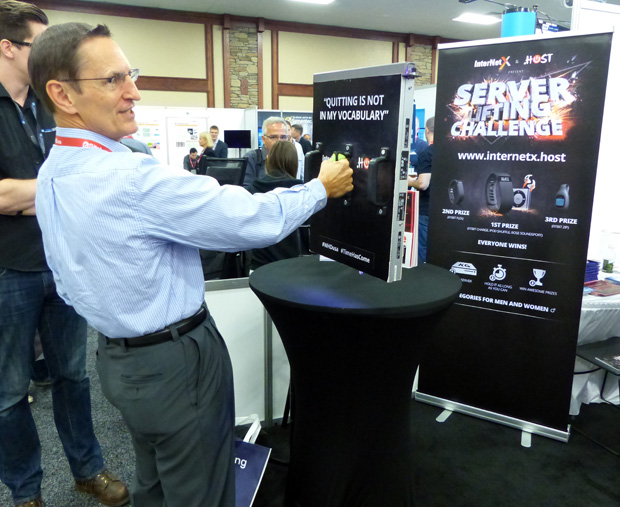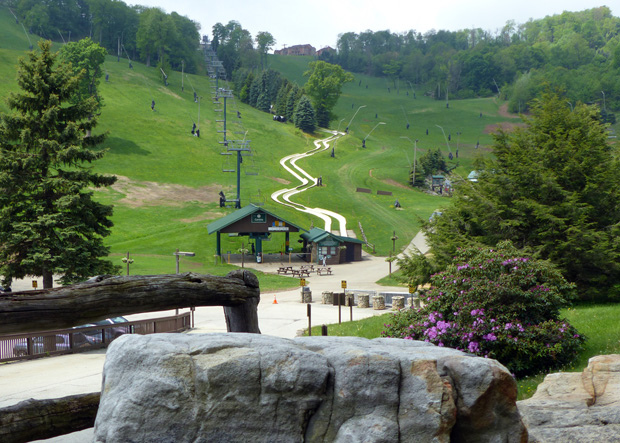 After several more morning business sessions in the Grand Balroom, WHD.usa invited guests to take part in a variety of leisure activities available during the two-hour lunch break - a perfect opportunity to explore the lush surroundings at Seven Springs and have some while you were at it. Above is a view of one of the mountainsides that features an undulating 2,000 foot alpine slide. Below, DomainNameWire's Andrew Allemann raises a fist in the air after a exhilarating ride from top to bottom.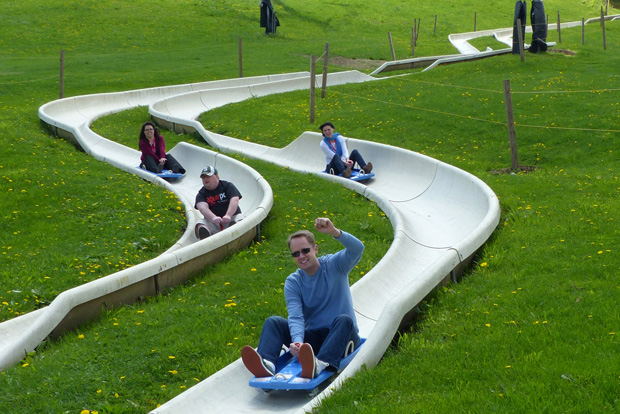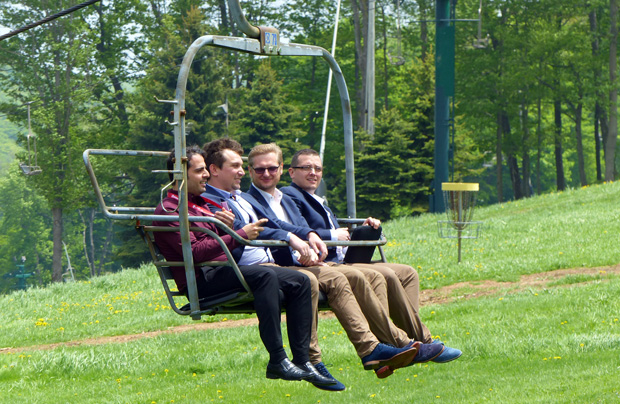 Other lunch-time activities included chairlift rides up the mountain (above) and Segway rides at the Adventure Center. For those who like indoor sports better, the resort's own bowling lanes were open to all.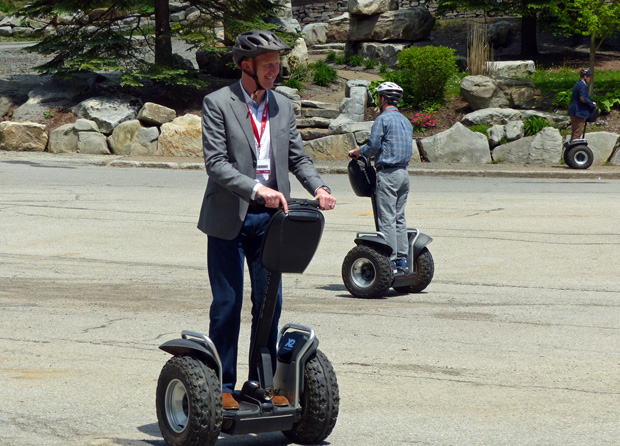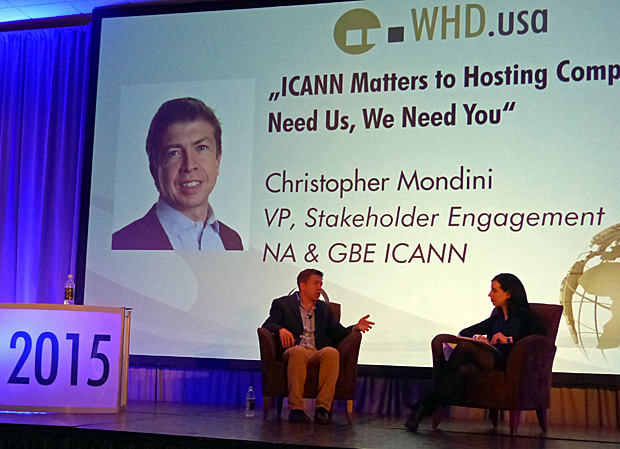 Above: Right after lunch ICANN VP for Stakeholder Engagement, Christopher Mondini, was featured in a wide ranging interview conduced by Emily Parker.
Below: A WHD.usa panel discussion devoted entirely to the latest developments in the domain name business followed Mr. Mondini's talk. From left to right are Alexander Siffrin (CEO, Key-Systems), Ken Hansen (CEO, .CO.COM), Jeff Sass (CMO, .CLUB), Brad Lemire (VP, Business Development for North America, at Sedo) and moderator Monte Cahn (RightOfTheDot.com)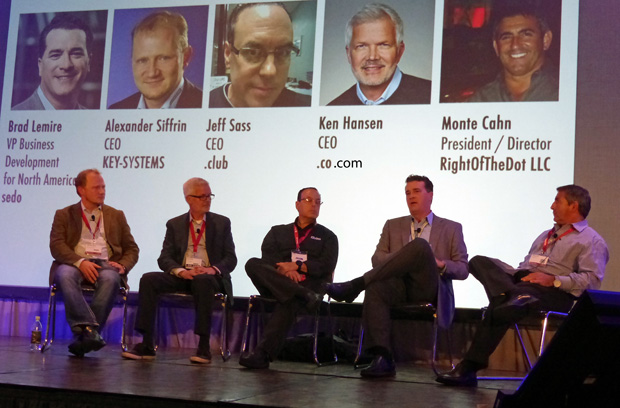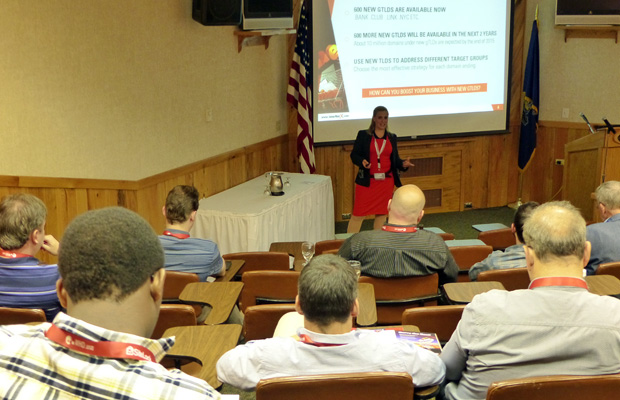 Above: Some of the day's final business sessions were held in a breakout room - the Snowflake Forum - that is set up like a college classroom. This session featured InterNetX Global Sales Manager Helena Schindler. InterNeX is a major power in both the domain and hosting worlds.
Below: With business out of the way it was time for the big evening social event, Weebly.com's ConneXion Party held at the Foggy Goggle night club. It started with a great buffet dinner, drinks and networking as dusk was falling on a pleasant evening in the western Pennsylvania mountains.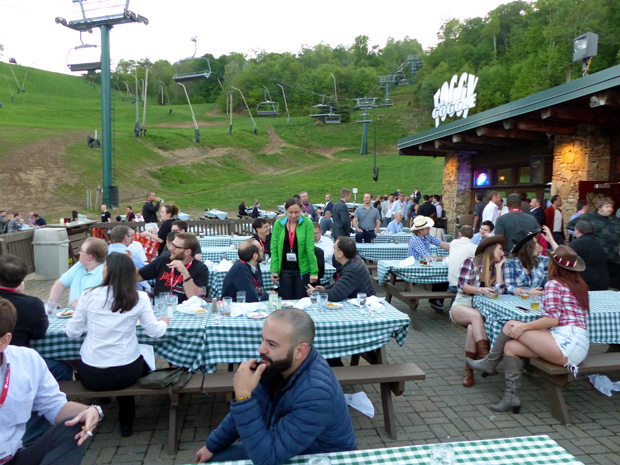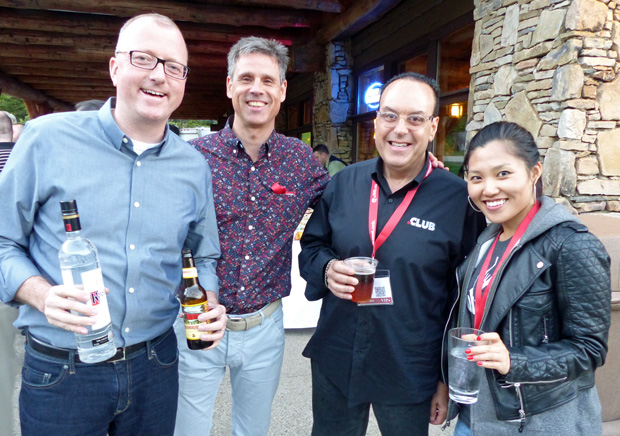 Above (left to right): Chris Sheridan (Business Development star at Weebly.com, the party hosts who made it a great evening with good food, drinks and live entertainment), David Woroch, Jeff Sass (.CLUB) and Christine Hoh (Sr. Account Executive at MailChannels).
Below: There was some great entertainment inside of the Weebly.com Stage. They brought in the lovely and talented Joseph Sisters (below) as well as bonafide hitmakers Snap!, who stormed the charts in 1990 with "The Power" (which went to #2 in the U.S.).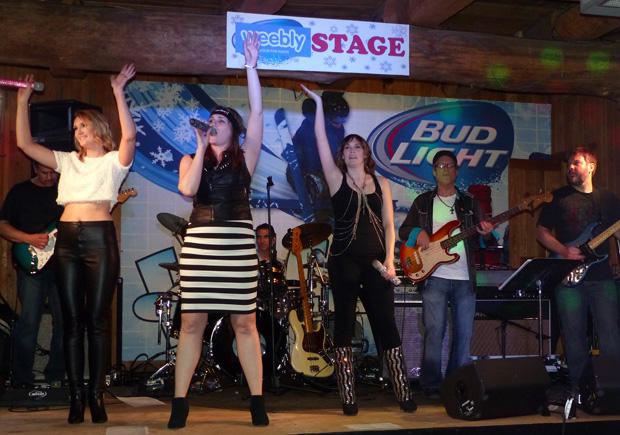 As I write this day two is underway at WHD.usa. I will have photos and highlights from the closing day of the big event for you in my next post from Pennsylvania.
Hold onto Your Hats! Flippa Acquires Domain Holdings - Predicts $70 Million in Sales This Year
You probably didn't see this one coming! We have learned that Flippa.com a popular marketplace for buying and selling websites, domains, and apps, has acquired premium domain name brokerage company, Domain Holdings Group, for an undisclosed price. A joint release from leaders of the two companies, Flippa's Founder Mark Harbottle, and DomainHoldings' Co-Founder John Ferber, said the combined entities are projected to ring up $70 million in sales over the next 12 months, putting them in position to compete with aftermarket giants Sedo and Go Daddy.

Harbottle, who also founded 99Designs.com, said, "When you take a dominant marketplace like Flippa.com and add the most respected outbound sales teams in the domain name space, you have a platform for selling digital assets that will be unrivaled in the market." We have been told that the DomainHoldings brand will be retained with few changes expected other than adding staff to help drive continued growth.

Ferber is famous for founding and selling Advertising.com to America Online for nearly $500 million in 2004 before joining forces with Chad Folkening to launch Domain Holdings in 2010. The company booked nearly $31 million in sales last year. Ferber said, "We're thrilled for the Domain Holdings team to join Flippa. We've been watching the Flippa marketplace go from strength to strength strength and the combination of these two companies will create a powerful sales platform for domain names and web sites that will be hard to beat."

Ferber and Folkening founded another company, Bidtellect, in 2011 that has made a big splash in the rapidly growing field of native advertising, so this deal will also allow them to focus on continuing to grow that business.

Flippa Founder Mark Harbottle

Domain Holdings Co-Founder John Ferber
Photos & Highlights from Monday Night's Pre-Show Party at WHD.usa - 1st WHD Conference in America Opens Today
The WHD.usa conference gets underway today at the Seven Springs Mountain Resort in western Pennsylvania's scenic Laurel Highlands (about 60 miles southeast of Pittsburgh). WHD (WorldHostingDays) is the world's largest series of conferences for the hosting and cloud service provider industry but this will be the first time a WHD event has ever been held in the U.S.

WHD was founded in Germany where they drew over 6,300 attendees for their biggest annual event - WHD.global - two months ago in Rust, Germany. This first American show is expected to draw about a tenth of that number but based on WHD's stellar reputation and what we have seen since arriving at Seven Springs Monday afternoon, they are likely to grow very quickly in this market, just as they have in Asia, Australia, India, Japan and China.

We got an early taste of what is ahead last night when CPanel welcomed early arrivers to their pre-show Come2gether Party at the Lake Tahoe Lodge.

Above: WHD.usa guests start getting acquainted on the outdoor lakeside deck at the Seven Springs Mountain Resort's Lake Tahoe Lodge as CPanel's pre-show Come2gether Party got underway last night in Pennsylvania. Sumptuous food buffets and bars were open both inside the lodge and outside on the deck.

At right: The Lodge's deck looks down over a tranquil mountain lake where we spotted these two guitarists drawing inspiration from the beautiful surroundings.

Below: Many of the top domain companies have representatives at WHD.usa and we ran into several industry veterans last night including Michele Van Tilborg (VP of Business Development at .CLUB) and Ken Hansen (CEO of the .CO.COM Registry).

Above: There were some light showers on and off last night, but it was easy to get undercover, even on the outdoor deck where you could take a table under the expansive roof as these four familiar faces did. Clockwise from left are Paul Goldstone (President of the .CO.COM Registry and Founder of registrar DomainIt.com), Monte Cahn (Co-Founder of RightOfTheDot.com), Ken Hansen (.CO.COM CEO) and Steve Albert (DomainIt.com). Monte will be moderating a high profile session on the domain name market this afternoon at 3:45pm.

Below: It was also cozy (and dry) inside the Lake Tahoe Lodge. No rain is forecast today so the weather should be perfect for getting outdoors during the two-hour lunch break to enjoy the scheduled networking activities (including Segway tours, an alpine slide and chairlift rides) or just explore the mountaintop surroundings (though we have been warned to keep an eye out for bears)!

Above: Though we knew some long time friends from the domain business were going to WHD.usa it was a very pleasant surprise to bump into some we didn't know were coming and whom we hadn't seen for awhile. They included Louise Munck (left), now based in Copenhagen, Denmark as the Business Development Manager at Ascio (who many of you know from her days at Winged Media) and Jason Miner (center), who is now the General Manager of domain focused brands at Endurance International Group after a long and successful run with NameMedia. With them at right is Kevin Kopas, Channel Manager for the Americas at Radix Registry.

Below: The outdoor deck was still buzzing with activity when we left about 10pm to get ready for a very busy two days ahead. WHD.usa officially opens at 9am this morning with a welcoming speech from Emily Parker, author of Now I Know Who My Comrades Are. One of the day's highlights will be a 10am Keynote Speech from Wikipedia Founder Jimmy Wales. I will have photos & highlights from today and tonight's activity at WHD for you in my next post from Seven Springs tomorrow morning.
Looks Like a Mini Domain Conference May Break Out During the WHD.usa Event in Pennsylvania Next Week
The world's largest series of conferences for the hosting and cloud service provider industry - WorldHostingDays (WHD) - will be coming to the United States for the first time next week. The inaugural WHD.usa event will officially be held Tuesday and Wednesday (May 19-20, 2015) at Pennsylvania's 7Springs Ski & Mountain Resort (about 60 miles southeast of Pittsburgh), but there will be plenty of activity starting Monday, including a pre-show Come2gether Party sponsored by cPanel Monday evening.

As you know, many of the top names in the domain space are also powers in the hosting and cloud services world so a lot of those companies, including one of the show's top sponsors, InterNetX, will have representatives at WHD.usa (look for Helena Schindler, Anke Buerger and Michael Piotrowski at the InterNetX booth).

.CLUB, eNom, Key-Systems, Radix and Sedo are also among the conference sponsors. Many other domain businesses will have representatives there to take advantage of the many networking opportunities a show that is expected to draw over 800 attendees from around the world will present. Some of those going include Susan Lawrence and Trent Tucker from Minds + Machines, Kathy Nielsen from the .green registry, attorney Jason Schaeffer from ESQWire.com (representing .tube), Ken Hansen from the .co.com registry, Frank Michlick from DomainCocoon.com and DomainNamesNews.com and AndrewAllemann from DomainNameWire.com.

I'll also be there to cover it all for you and am looking forward to seeing how a major hosting conference compares to our primary shows in the domain world. One thing I've already noticed from the agenda, is there are a lot more daytime networking activities in leisure settings than we see on our side of the fence.

For example, during lunchtime each day any attendee can join others on the alpine slide, a scenic chairlift ride, a Segway experience or bowling. On Wednesday afternoon there will be larger scale organized events including a golf tournament, zip line rides and sporting clays target shooting (I expect to limit my shooting that day to photographs!)

Social activities heat up even more at night. In addition to the pre-show party Monday night, day one Tuesday will conclude with the 7pm ConneXion Party sponsored by Weebly where, in addition to live entertainment, guests can try their hand at mechanical bull riding! On closing night Wednesday, there will also be a special event for A-level VIP attendees - an exclusive 4-course Executive Dinner at the Timberstone that gets underway at 7pm.

I touched on the extremely busy and information packed business agenda in previous posts. By presenting so many high profile speakers, expert panel discussions and great social events across just 2-3 days on the calendar, WHD.usa is obviously determined to leave a good and long lasting impression on attendees in this first visit to America. We'll tell you all about it daily in this section starting Monday.
GGRG's Giuseppe Graziano Releases The Definitive Guide to Numeric Domains and It's Available at No Charge
Giuseppe Graziano, the former DomainHoldings Director of Business Development for Europe who recently opened his own Lisbon, Portugal based brokerage and consulting shop at GGRG.com, has just delivered a very nice free gift to investors interested in numeric domain names. The category, largely fueled by Chinese buyers, has enjoyed a boom in recent years and that in turn has spurred investor interest in how to make money with domains made up of numbers rather than letters. Those with questions can now find many of the answers they are looking for in an excellent new report Giuseppe authored - Numeric Domains 2.0 - The Definitive Guide - that is available at no charge on the GGRG website.

Guiseppe also released a comprehensive infographic (click on the image to enlarge) called "Twelve Lucky Rules to Understand the Value of a Numeric Domain Name" that offers a treasure trove of useful information in a tidy graphic package.

Giuseppe Graziano
GGRG Founder and CEO

Giuseppe's new report is an update to an article he wrote a year ago that garnered widespread attention but things have changed a lot in the market since then. Graziano wrote, "I was quite surprised to find, after re-reading the article, that the floor prices for numeric domains I quoted one year ago increased at least 300% – which is quite an increase for any investment asset. In addition, less than 2 months ago, 360.com became the most expensive domain acquisition in history when QiHoo, a Chinese company, bought it from Vodafone for a staggering 16,000,000 USD."

Graziano asked, "Where would you have been if you had invested $15,000 in a random 3 number .com like 479.com at 18 months ago? Well, as of today, you would be probably

able to sell it for around $60,000. This is why you should study carefully this niche if you are looking to achieve disproportionately better returns on your portfolio. The new article aims to be a near complete resource on the topic. I spent several hours putting it together – hope you enjoy!"

We certainly did, and if you check it out we are sure you will learn a lot from it as well!
DomainHoldings Reports 1Q-2015 Sales Jump 40% Over Same Quarter a Year Ago
DomainHoldings has released their latest quarterly report covering the 1st quarter of 2015. The year over year numbers are impressive with total sales jumping over 40% from the same quarter a year ago. In 1Q-2015 DomainHoldings booked over $4.75 million in domain sales compared to just under $3.38 million in 1Q-2014. The average price paid per domain also surged, rising nearly 35% from $36,757 in the first quarter of 2014 to $49,522 (the highest number in the company's history) in the most recent quarter.

That high price per unit can be attributed to the company's success in connecting with end users who are most likely to pay full market value for domains they want to build on. The report said nearly 65% of 1Q-2015 sales were made to end users.

.Com domains accounted for 75% of DomainHoldings sales, followed by ccTLDs at a little over 8.33%. .Net/.Org were next at 6.25% with gTLDs at 3.12% and everything else lumped in an Others category at 7.29%.

The report noted, "The USA and China remain the largest two markets for Domain Holdings. In Q1, we saw a strong demand in numeric and letter domains from the Chinese market, particularly in the NL.com, LLN.com, and LN.com categories. Domain Holdings has also witnessed an increase in interest for .com brandable assets out of the Chinese investor markets. In Q2, we are expecting to see an increase in percentage and sales for China due to the recent increased demand for LLL.com assets."

Looking ahead to the rest of 2015 and beyond the report also predicted:

Domains in the LN and NL verticals will see a steady increase in value.

Market for gTLD will grow and sales for aftermarket premium gTLDs will increase.

New StartUp organizations, at Angel investment or Crowd-Funded level, will continue to gravitate to non-dot com extensions or a brandable company name for more favorable initial URL acquisition costs. Popular StartUp non-dot com extensions will continue to be .io, .co and .me.

Revenue positive StartUps in later round funding will continue to upgrade their domains to the preferred .com extension and unify their digital brands.
Busy Day for NamesCon: It's Richard Lau's Birthday, a New Office Opens, Jodi Chamberlain Exits & Domainfest Emerges
NamesCon Co-Founder Richard Lau
is celebrating his 45th birthday today.

NamesCon Co-Founder Richard Lau is celebrating his 45th birthday today and to mark the occasion he released a discount code for the 2016 NamesCon conference in Las Vegas that will knock $45 off the current $399 early bird registration fee. Just click the "enter promotional code" link on the registration page, type in "happybirthday", and your cost to attend the Jan. 10-13 event at the Tropicana Hotel will drop to $354. It is a good idea to lock those savings in early as the price at the door will be $999.

This latest bit of news followed several other major developments on the NamesCon front that DomainGang.com reported earlier today. The key one was NamesCon's decision to open a new office in Lau's hometown - Vancouver, Canada - that will be staffed year round. With that office picking up the show's logistical duties, Jodi Chamberlain, who did a great job in handling those tasks for the show's first two years, will exit and return her full attention to her event planning company, 32Events.com.

Jodi, who has also helped stage T.R.A.F.F.I.C. and Domaining Europe conferences in the past, already has a full plate for the year ahead including planning for events both in and outside of the domain industry.

NamesCon also had more to say about the Domainfest brand it acquired from Oversee.net last year. The plan is for Domainfest events to be smaller networking opportunities in local markets. The first standalone Domainfest meetup under the NamesCon umbrella will be held June 3, 2016 in Sofia during Bulgarian Internet Week with NamesCon Co-Founder Jothan Frakes helping put that event together. Lau mentioned Los

Angeles, Toronto, Vancouver, London, and possibly Dubai and Florida as locations for future Domainfest meetups.
ParkingCrew's Axel Kaltz Acquires Kaltz.com in a Way You Never Would Have Expected
There is an old aphorism in journalism that says a dog biting a man isn't news, (because it happens every day) but a man biting a dog - now that's news (because it is something that rarely happens). I heard about a domain industry version of that kind of scenario this week (and thankfully it was an event that didn't leave any bite marks)!

If you are a really valuable client to a company odds are they are going to go out of their way to do

Image from Bigstock

something special for you to show how much they appreciate your business. But how often do you hear about a customer, who is so happy with the service they've received, that they go out of their way to do something special for a service provider? After all, the service provider is making money from them and that should thanks enough, right?

Axel Kaltz
Managing Director, Parking Crew.com

Apparently not, at least as far as successful young European domain investor Tim Schoon of PEJ.com, is concerned. Schoon is a client of domain monetization company ParkingCrew.com and was so happy with what the company's Managing Director Axel Kaltz has been able to do with his account he actually gave Axel the domain name Kaltz.com, free of charge. And that's not all, Schoon even took the time to build a website on the domain to honor his monetization hero! You've got to admit that, as a token of one's appreciation, that is way better than a necktie or bottle of cologne! (and just for the record, this information didn't come from Kaltz or Schoon, neither of whom expected anyone else to make note of it).

Something like this wouldn't have been as surprising as say someone rewarding their domain broker for selling a 3-letter .com to a Chinese buyer for six figures because we are seeing those kinds of sales every week. But

domain monetization revenues have gone down dramatically from where they were a few years ago, leading many to declare that parking is dead. That why Schoon's gesture was particularly unexpected, but if he is that happy maybe it's an early sign that things are finally turning around in the monetziation sector. That's the kind of news we would all love to see happen!
.CLUB Celebrating 1st Anniversary with $1 Domains at Selected Registrars Until 11:59PM Thursday Night (May 7)
The new gTLD program is now old enough to see several registries starting to celebrate their 1st anniversaries. That day arrived today for .CLUB, the new gTLD that has sold more domains to registrants than any other (as opposed to given away the most which has been a popular tactic at several new registries - not necessarily a bad thing as it is a way to encourage usage, but it's not a measure of real demand).

Auction image from Bigstock

As of this writing .CLUB has more than 220,000 registered domains and nearly 40,000 developed websites according to a 1st birthday celebration post on the registry's official blog. The company said it has also racked up more than $1 million in premium domain sales.

Dollar image from Bigstock

To celebrate the occasion .CLUB has made it possible for several registrars ( including Go Daddy, Name.com and Dynadot, to name just a few) to offer .CLUB registrations for $1 today only (.CLUB registrations typically cost between $10-$15). The offer expires at 11:59pm tonight (U.S. EDT, Thursday, May 7, 2015).

.CLUB said they have sold registrations in 128 countries around the world and, in a further indication of the TLD's global reach, they noted they have sold more names outside the U.S. than in it with nearly 70% of total registrations coming from other countries.

.CLUB Founder and CEO Colin Campbell said, "A big part of .CLUB's success is that the word `club' is spelled the same and means the same thing all over the world. So no matter the language, the alphabet or the culture, .CLUB has logical context and recognition all over the globe."

Campbell added, "While a lot of the attention in this space has been directed toward the defensive positions brands are taking against .sucks and some others, it's important to remember that there are a lot of really great new domain extensions now that are helping companies better market themselves, more effectively use their brands and own a category online in ways that haven't been possible since the early days of the Internet. As we celebrate our first birthday, we're proud to say that .CLUB has launched more entrepreneurial sites than any other new domain, including subscription-based services, fan clubs, and more."

Colin Campbell
.CLUB Founder and CEO
Domain and Hosting Industry Experts to Converge in Pennsylvania Two Weeks from Today at WHD.usa
Two weeks from today I will pay my first visit to the 7Springs Ski & Mountain Resort in Pennsylvania where the first WorldlHostingDays conference ever held in America will be staged May 19-20. As I told you when first announcing the event, WHD.usa is a big deal for both the hosting and domain industries (the main event in the WHD series, WHD.global, drew 6,300 attendees from around the world to Rust, Germany in March).

Chris Sheridan
Hea of Channel Sales
Weebly.com

While I have covered dozens of domain conferences around the world, this will be my first time covering a major hosting conference. I'm sure I will feel right at home though as there will be many familiar faces from the domain business at 7Springs (no surprise since domains and hosting go hand in hand). In fact the latest promotional update send out by WHD.usa features long-time Enom and Verisign executive Chris Sheridan, now Head of Channel Sales at Weebly.com, as one of the key people attendees should meet at the show.

The WHD.usa release noted, "Many of us know Chris from his days at eNom.com evangelizing TLDs in the Domain Name Industry. Or, you have probably seen his selfies on Twitter. Talk to Chris to learn more about the recent launch of Weebly for Hosts - the first time Weebly has opened its 30 million user platform to web hosts, registrars, and telcos and given them direct access to Weebly's core web site creator tools. You will find Chris at networking activities and/or beta-testing Periscope on Twitter!"

Of course, while it is great see old friends a key reason to go to shows is to meet interesting and influential new people and there will be no shortage of those at WHD.usa. Featured along with Sheridan in today's WHD.usa recommendations on who to meet was Aaron Phillips, Chief Business Officer, at cPanel (if you gave ever built a website you are very familiar with CPanel).

WHD.usa noted, "Aaron is also self-nominated as the funniest executive in the hosting industry. Mr. Phillips can be seen on tour throughout most of the WHD shows across the world offering 1-on-1 comedy shows (AKA trolling you) live on the exhibit floor. Master negotiating skills, novice mind reading, and time travel all result in big business deals with plenty of synergies and cross-functional results. Don't let his big buzz words, dynamic personality, or celebrity status stop you from visiting with him during WHD.usa. Just like cPanel & WHM, consider Aaron Phillips your Hosting Executive of Choice!"

Aaron Phillips
Chief Business Officer
CPanel

If you are in the domain business and will be going to WHD.usa too, drop us a note (editor at dnjournal.com). We may want to put together a roll call for our next pre-show update to give readers more information on who they will have an opportunity to connect with at this landmark event.
Domaining Europe Releases Photo Gallery from 2015 Conference in Valencia, Spain
The 2015 Domaining Europe conference was held in Valencia, Spain April 23-25. Show organizers have now posted dozens of photos from the 7th edition of the popular event held at the Sorolla Palace Hotel on the conference's Facebook page. A few of those are below (all courtesy of Domaining Europe).

Above: Domaining Europe Founder Dietmar Stefitz (at right)
with members of his staff at the conference registration table.

Below: A view of the crowd (including guests from around the world)
in the conference hall at the Sorolla Palace Hotel.

Above: It wouldn't be Spain without paella and Domaining Europe attendees were treated
to endless bowls of the tasty national dish during lunch breaks at this year's show.

Below: One of the many informative panel discussions at Domaining Europe featuring
(left to right) Moderator Braden Pollock (Legal Brand Marketing), Adam Dicker (DNForum.com), Paul Keating (Law.es), Michele Neylon (Blacknight Solutions) and Jason Schaeffer (ESQwire.com, representing .tube).

Braden Pollock, Adam Dicker and Escrow.com's Brandon Abbey each took home one of the 2015 Domaining Europe Awards that were handed out on the final evening of the conference. The three Americans were winners in the International Domaining category. Estrella Moreira and Nuno Soarez were winners in the European Domaining category and Noel Tellez received the National Domainer Award.

Above: Domaining Europe attendees at work in the Conference Hall.

Below: The traditional "Class Photo" of 2015 Domaining Europe attendees
gathered on the steps of the Sorolla Palace Hotel.

Though this year's show just ended, plans are already underway for next year's conference. In fact the dates are already set - April 28-30, 2016 in Valencia. Founder Dietmar Stefitz also plans to have another announcement soon about a new site at D-E.club. Stay tuned for that.
After Launching New Direct Auction Sedo Closes Week with Support for .Irish at Netistrar Party
It has been a busy week at Sedo, beginning with the launch of a new auction feature called "Direct Auction" that will be of interest to many domain sellers. In the past there were only two ways you could auction off one of your domains at Sedo - either submit an application for the GreatDomains auction which is restricted by premium criteria or by receiving a first offer from a buyer which then allowed for a Marketplace Auction.

The new Direct Auction, which carries a $59 fee, offers a third option that puts sellers in full control. They choose the domains that they want to be auctioned off and determine

a start time that works for them and their desired minimum bid. Since the fee is non-refundable sellers will obviously want to select domains they believe will generate interest (domains that sell will also be subject to Sedo's standard sales commission). Sedo cited the primary benefits of Direct Auctions to be:

Highest level of flexibility: Start your auction any time you want

Full control: Choose your desired reserve price ( between $90 and $10,000).

Increased reach: Get your own individual auction page link to share with potential buyers

Maximum exposure: Featured on Sedo's homepage & in matching search results

To start a Direct Auction, a seller needs to first list the domains for sale which can be done from the 'My Domains' menu. After adding the domains that should be sold, sellers can then start their own personal auction with one click on "Promote Domains" below their domain list.

Sellers can choose up to 10 domains per one auction order. After selecting the desired start date and processing their payment, Sedo will send the sellers an individual auction page link, so they can share their domain auction with potential buyers via social media, blogs, e-mail, etc.

On another front Sedo UK teamed up with Netistrar.com (a new ICANN accredited registrar set up to sell UK based new gTLDs) to host a party held last night at the Saint George's Hotel in London to celebrate Netistrar's latest offering - .irish domains.

Netistrar has even set up a specially branded site at DotIrish.me to further promote the new extension. Netistrar CEO Andrew Bennett sent us a couple of photos from last night's event that was also supported by www.nic.irish.
---
If you've been out of the loop lately, catch up in the Lowdown Archive!
---
We need your help to keep giving domainers The Lowdown, so please email

[email protected]

with any interesting information you might have. If possible, include the source of your information so we can check it out (for example a URL if you read it in a forum or on a site elsewhere).
---
Home Domain Sales YTD Sales Charts Latest News The Lowdown Articles
Legal Matters Dear Domey Letters to Editor Resources Classified Ads Archive About Us