The Thursday business day began as usual at 10am local time with a session in which Domainfest Co-Founder Jothan Frakes and DomainAgency.com President Brian Berke shared their insight on ccTLDs with the audience. Several other topics were covered through the rest of the morning, then after an extended lunch break, the show's final event - an Executive Summary Roundtable and Closing got underway at 3pm.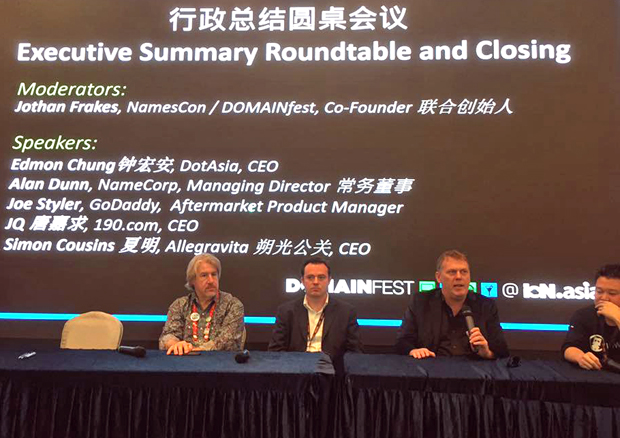 Above: The curtain came down on Domainfest Asia 2016 with this Executive Summary Roundtable and Closing session that featured (left to right) Simon Cousins (Allegravita.com), Joe Styler (GoDaddy), Alan Dunn (NameCorp) and Edmon Chung (DotAsia). (Photo courtesy of Andee Hill).
After that attendees were invited out for a celebratory night on Victoria Harbour that was hosted by newly launched domain monetization company Premium Traffic Limited (PTL) who made its debut during Domainfest Asia - which is a story in itself.

As industry veterans know, domain industry entrepreneur Dr. Gregg McNair (who was profiled in an October 2009 DN Journal Cover Story) and his team have been leaders in developing innovative and high performance monetization platforms for domain traffic for more than a decade now. It started in 2006 with the STRATA rotational platform followed in

2008 with the integration of the PPX, a CPA business that provided further enhancements and options. By 2012 a unique, high performance zero click platform trading as DMPro was rolled out, then in 2014 Quotes.com became the group's direct to brand platform.
Dr. Gregg McNair
Premium Traffic Limited

McNair's companies have served a high volume, exclusive client base, many of whom have been long-term customers. With so many brands and email addresses Team McNair decided it was time for all of the group's monetization platforms to be combined into a single business. That new entity, PTL, will be owned and controlled in Panama while technical and administration support will continue to be contracted out of Hong Kong.

McNair said, "The Hong Kong staff manually hand-map each domain, and keyword each domain to each provider. They leverage years of monetization information and the Group experience. The six senior managers have been with the Group for more than 10 years."

McNair added, "Apart from the name change, the product offering and performance has been further enhanced, promising unbeatable returns. PTL has integrated all the Group platforms and is now developing new products to remain the

clear leader in monetization options and performance. PTL offers state of the art user-friendly, real time access, providing instant multi platform optimization solutions for every name."
McNair said that domain investors holding large earning portfolios can contact PTL General Manager Steve Bjerking to arrange a risk free comparative test. He can be reached by emailing Steve at PTL.co.com.
Domainfest Asia 2016, a show that grew dramatically from its debut in Macau a year ago is already getting some great reviews. That all points to a bright future for this latest event in the NamesCon/Domainfest line.