The day long Beach Party centered around surfing with many guests getting their first opportunity to try the sport after taking a class led by two of Portugal's top pro surfers. (All photos in this article are courtesy of NamesCon Europe).
Above: (Left to right) Pro surfer Alex Unwin (Moana Surf School), NamesCon President and CEO Soeren von Varchmin and Pro surfer Andrew Cotton at the NamesCon Europe Beach Party Saturday in Cascais, Portugal.
Below: Unwin and and de Macedoa conducted a Surf Class so NamesCon guests could get some basic tips before heading into the Atlantic Ocean.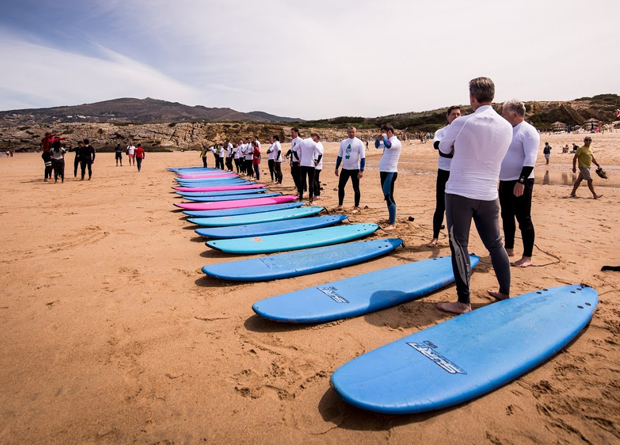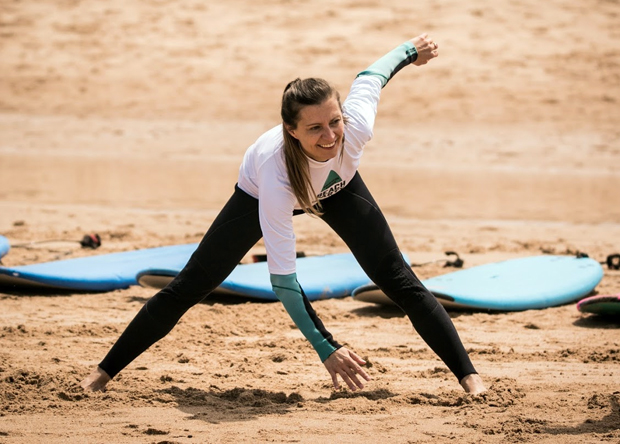 Above: Internet Commerce Association Executive Director Kamila Sekiewicz getting warmed up before testing her newly acquired surfing knowledge in the Atlantic Ocean.
Below: School is out! Time to pick up a board and catch a wave!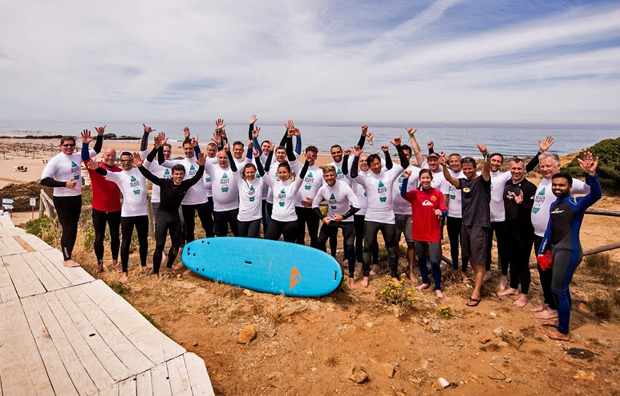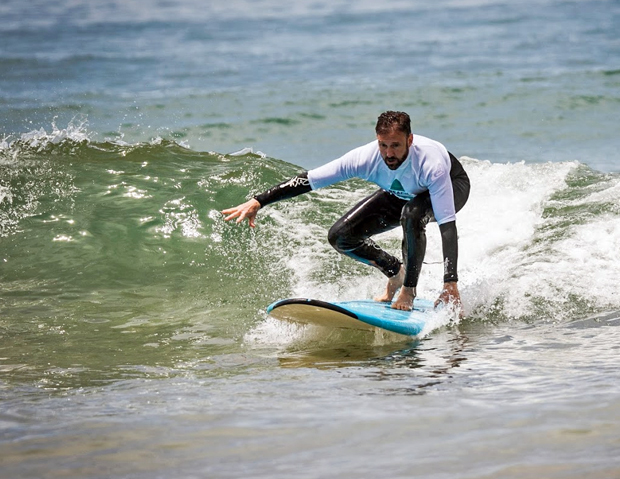 While domain people are experts at surfing the web I have to admit I was expecting to see a lot of wipe outs when our friends tried riding real waves. Instead, a lot of them looked just as comfortable surfing in the real world as they do in the virtual one. That is conference moderator Braden Pollock (LegalBrandMarketing.com) looking good above - but then Braden is from California so he probably should be disqualified! And Giuseppe Graziano (below), founder of the GGRG.com brokerage, is from Lisbon, just down the beach from from Cascais, so he was probably no stranger to a surfboard either.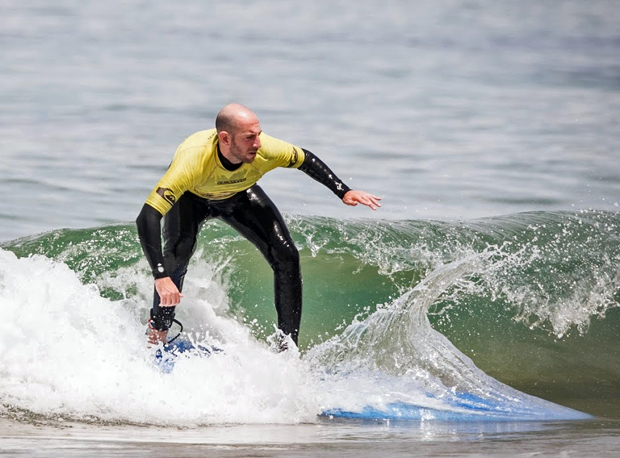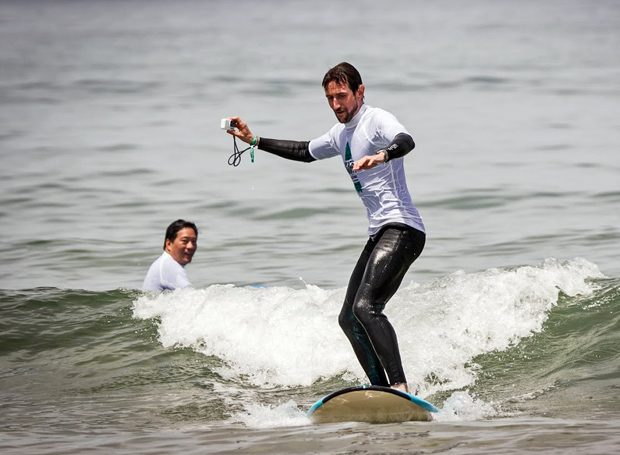 Above: Morgan Linton (MorganLinton.com) is also a California resident but I would not DQ him because he took on an added degree of difficulty, shooting a video of himself while surfing! That is Ray King (CEO at Top Level Design) looking on in amazement.
Below: Pro surfers Alex Unwin and Andrew Cotton like what they are seeing from their students so far!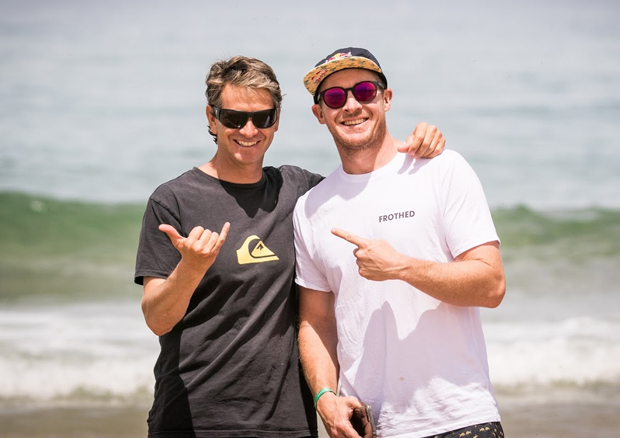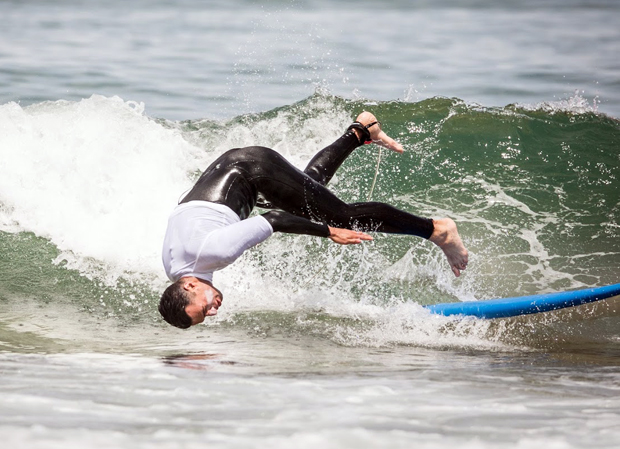 Above: Now, I am not going to try to tell you that nobody wiped out, but the way Mark Ghoriafi (.GLOBAL Marketing Manager) did it, I think you have to give him a 10 for the unique dismount (or maybe that only applies in gymnastics)!
Below: Yow know the old saying - if at first you don't succeed, try again. Well, I think Mark may have been the guy who came up with that line. He will keep trying until he gets the job done and he did that again Saturday.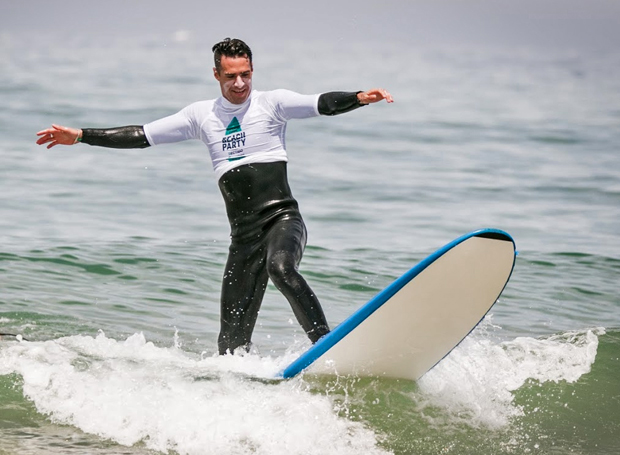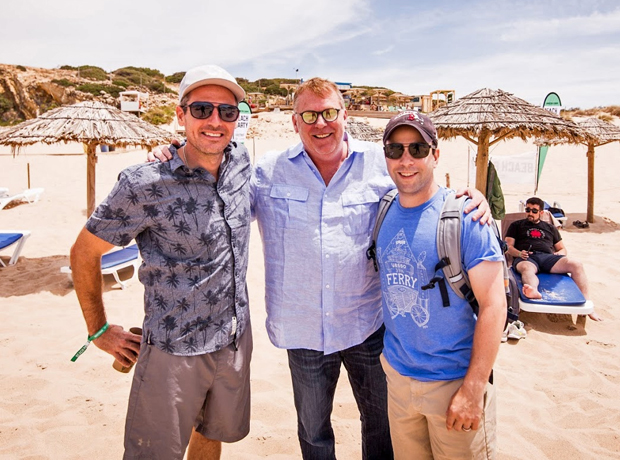 Above: Of course, you didn't have to go surfing. Many were content to watch the action while hanging out on the beach with a cold drink and friends. Case in point (left to right): Jeff Gabriel (Uniregistry), Alan Dunn (NameCorp.com) and Elliot Silver (DomainInvesting.com).
Below: Meanwhile, back out on the water Kamila Sekiewicz proved that pre-game stretching routine paid off in the ocean!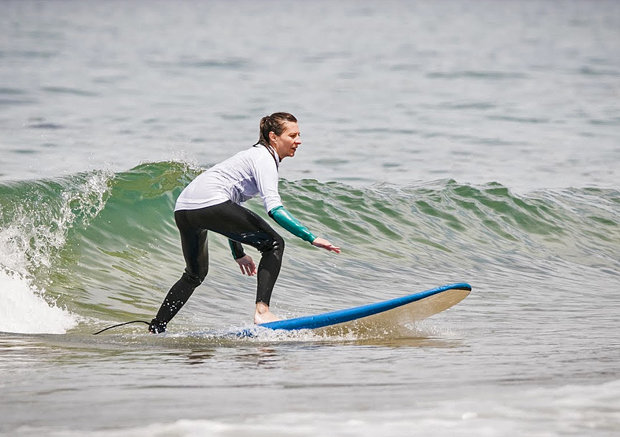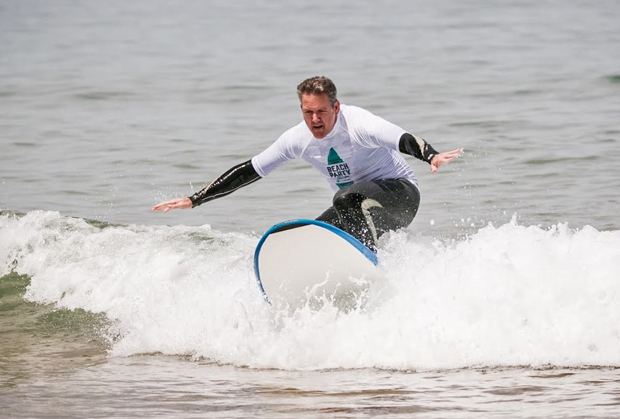 Above: Paul Nicks (VP & GM of the GoDaddy Aftermarket) had a big week. A couple of days before NamesCon Europe began his company helped close the highest reported all cash domain sale ever made with Voice.com at $30 million. When the weekend arrived Paul was still flying high - this time on a surfboard in the Atlantic off the coast of Portugal.
Below: Like Nicks, Michael Cyger (DNAcademy.com) came over to Cascais from the U.S. Michael was so steady on the board it looked like he could ride it all the way back home to Seattle!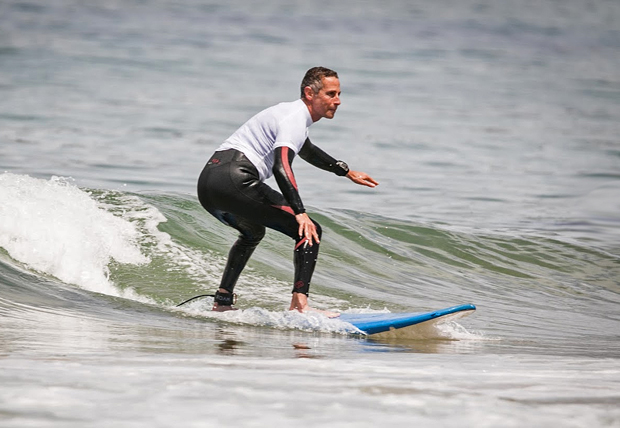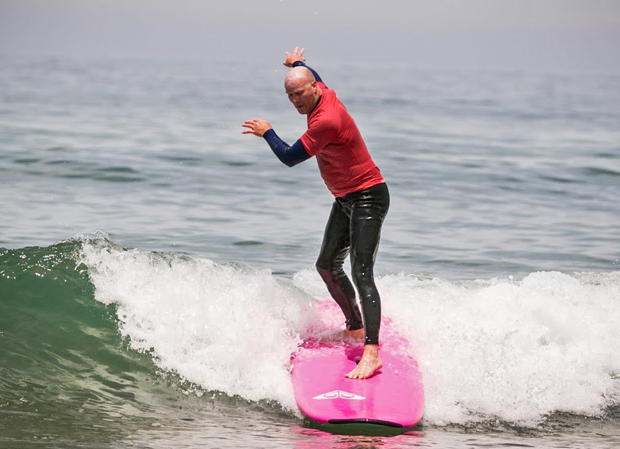 Above: .GLOBAL Registry Founder Rolf Larsen looked like he was conducting an orchestra while surfing Saturday, but we learned today that Rolf had just orchestrated a sale of the .GLOBAL registry to Afilias, who has been proving the registry's backend services! No wonder he was hitting so many high notes Saturday!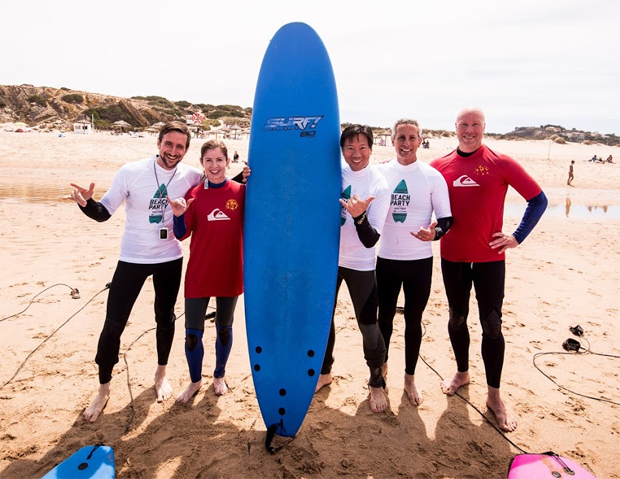 Above: By the end of the day only a handful of survivors were still standing (with the others presumably carried away on the outgoing tide). Left to right are Morgan Linton, Christa Taylor (dotTBA), Ray King, Michael Cyger and Rolf Larsen.
Below: OK, so we made up the the washed out to sea part - everyone made it back healthy and happy (they just came ashore in groups of various sizes, just like the waves they had spent the day riding).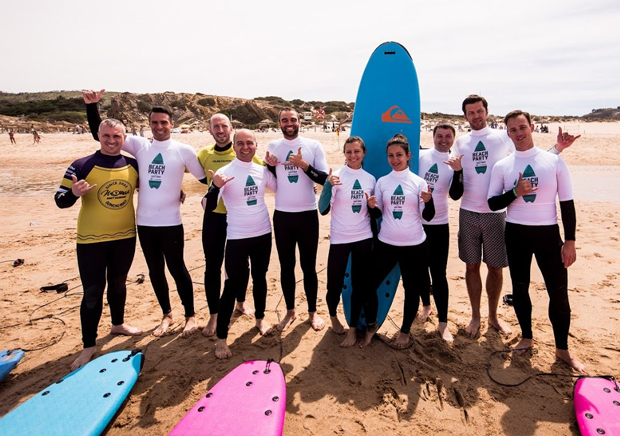 If you haven't been to a domain conference before you may wonder what surfing and a day at the beach has to do with domaining. It is all about building long term relationships and outings like this have proven to one of the best possible ways to do that. Many will tell you those relationships (that often blossom into personal friendships) have been the most important thing they have gained from taking these opportunities to meet colleagues from around the world face to face and spend time with them in both business and social settings.
NamesCon will provide another opportunity to do that with their marquee NamesCon Global event in Austin, Texas January 26-29. 2020. They have also already announced the location for next year's edition of NamesCon Europe. It will be in Budapest, Hungary (exact dates still to be set) with Rome to follow in 2021 and Cologne, Germany in 2022.