NamesCon after co-producing last year's 10th anniversary event with them. Here are some photos and highlights from the opening day the big event (all [photos are courtesy of NamesCon Europe):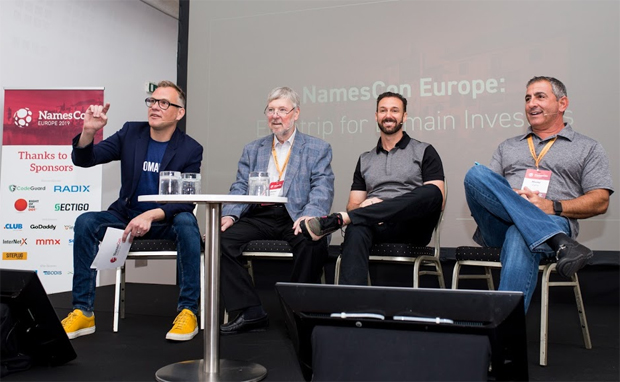 Above & below: Opening Day Thursday began at 10am when NamesCon Europe welcomed guests from around the world to Cascais. On stage to kick things off (left to right) were NamesCon President & CEO Soeren von Varchmin, conference Founder Deitmar Stefitz, show moderator Braden Pollock and Monte Cahn (President of RightOfTheDot.com who teamed up with NameJet to conduct the NamesCon Europe Live and Online Domain Auction that would be the day's final event).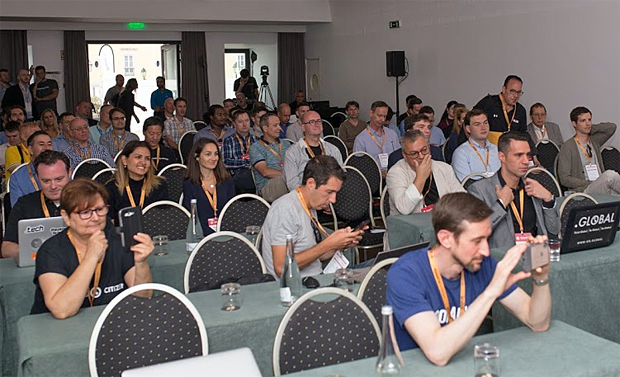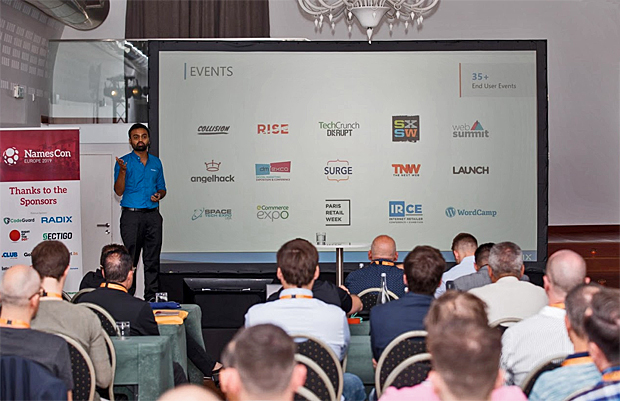 Above: In the first business session at 10:30am, Karn Jajoo, Senior Manager at Radix, delivered a presentation titled Five Years and Counting. The title refers to two things - the new gTLD registry operator's first TLD entered sunrise five years ago this month and Karn joined the company at the same time in June 2014. Jajoo spoke about things he has learned along the way, including the peaks and valleys in a half decade spent navigating this ever changing but always fascinating business.
Below: Giuseppe Graziano, CEO and Founder at brokerage GGRG.com. was next up at 11am. Giuseppe talked about Liquid Domains; Understanding Supply and Demand of an $8 Billion Market. Graziano defines liquid domains as very short .com domains (typically made up of no more than four letters or numbers) that are always in demand. GGRG issues a free quarterly report on the latest activity in that segment of the aftermarket.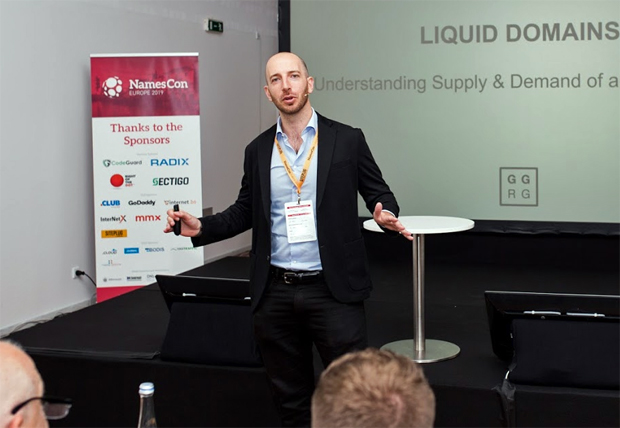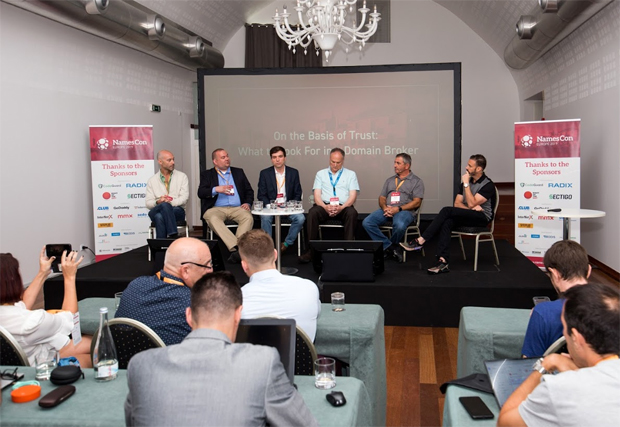 Above: At 11:20am, a wider view of the domain brokerage business was provided in a session titled On the Basis of Trust: What to Look For in a Domain Broker. It featured (left to right) Andrew Rosener (MediaOptions.com), Alan Shiflett (GoDaddy), Michael Gargiulo (VPN.com), Dave Evanson (Sedo), Monte Cahn (RightOfTheDot.com) and moderator Braden Pollock (LegalBrandMarketing). All of these experts have booked multiple high end domain sales. Just this week, Shiflett's company, GoDaddy, had a hand in the biggest cash domain sale ever reported, Voice.com at $30 million, and Evanson closed the biggest non .com sale of the year - Casinos.org at $400,000 - for Sedo.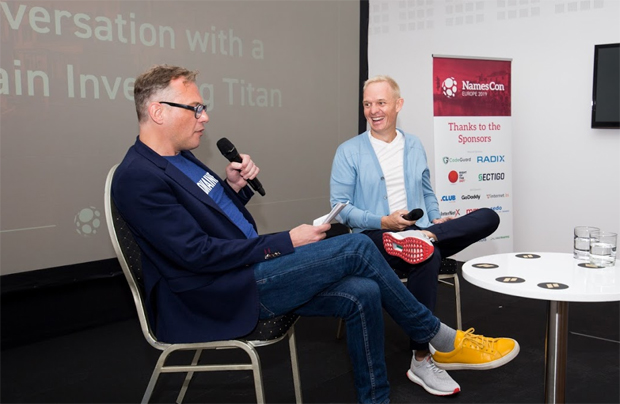 Above: The afternoon sessions began with a highly anticipated Conversation with a Domain Investing Titan: Frank Schilling, in which Soeren von Varchmin interviewed Schilling, the legendary domain investor who went on to become Founder and CEO of Uniregistry. Schilling was the subject of two DNJournal Cover Story profiles, the first in December 2007 and another in November 2012.
Below: During his session, Schilling fielded questions from the audience. VPN.com's Michael Gargiulo was among those who took the opportunity to get expert advice and opinions from Frank.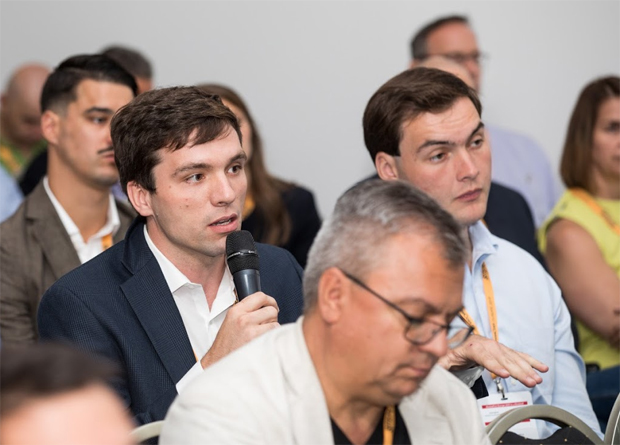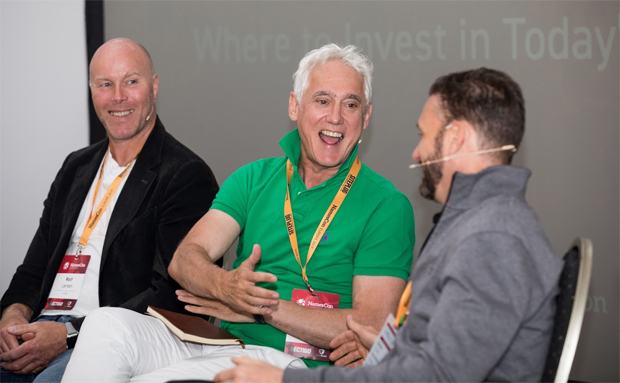 Above: After a lunch break, it was back to the Main Hall for a panel discussion on Dark Horses & Long Shot Opportunities: Where to Invest in Today's nTLD Market that brought Jeff Sass (.CLUB), Kathy Nielsen (Neustar), Rolf Larsen (.GLOBAL) and Toby Hall (MMX) to the stage. In this shot Larsen (at left) and Hall share a laugh with moderator Braden Pollock (right).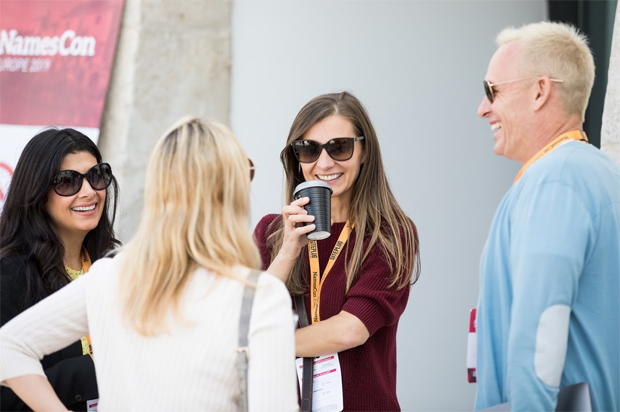 Above: While the business sessions are always a source of useful information, most attendees say networking is the #1 reason they go to conferences. NamesCon Europe makes sure there is plenty of time for that, including coffee breaks at mid-morning and mid-afternoon. During the break just before the final business session of the day, Internet Commerce Association Executive Director Kamila Sekiewicz (center) catches up with friends in the courtyard.
Below: At the same time, conference Founder Dietmar Stefitz (at right), was clearly fascinated by something .CLUB Chief Marketing Officer Jeff Sass was showing him on a mobile device.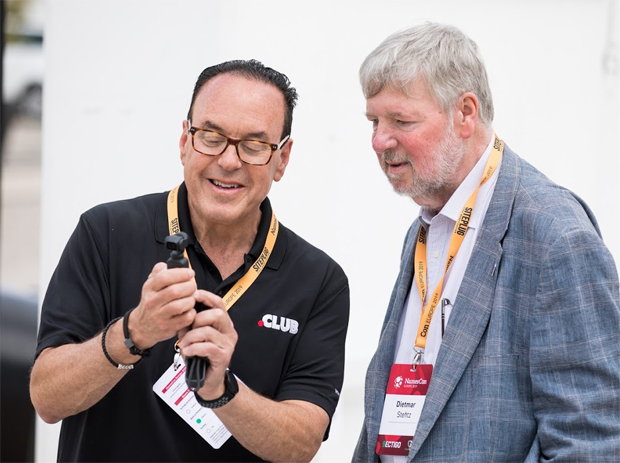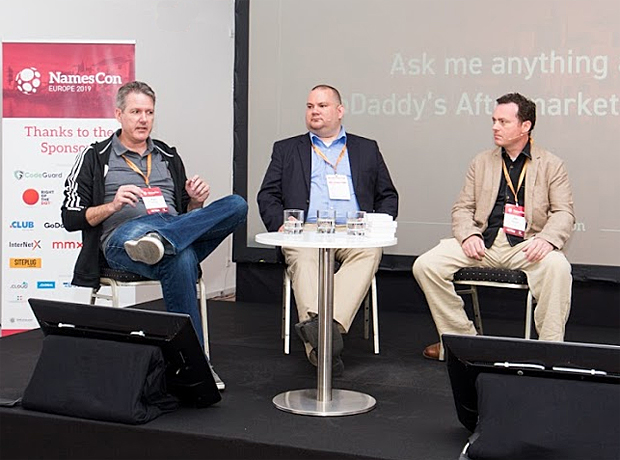 Above: At 3:30pm, in a case of extraordinarily fortunate timing, NamesCon Europe was able to bring three GoDaddy executives to the stage for a session called Ask Me Anything About GoDaddy's Aftermarket or Afternic. They were (left to right) Paul Nicks (VP & GM of the GoDaddy Aftermarket), Alan Shiflett (Senior Manager) and Joe Styler (Senior Manager, Aftermarket Community). While this session was already on the agenda, it took on added importance when, earlier this week, it was announced that GoDaddy's Domain Broker Service was able to help close the biggest all cash domain sale ever publicly reported - Voice.com at $30 million (you can see our list of the all time Top 20 reported sales here). So, that was a topic the audience obviously wanted to hear more about. Nicks was happy to address the sale and Morgan Linton captured a five-minute video clip of Paul's comments you can watch here.
Above and below: The opening day at NamesCon Europe 2019 closed with the Live and Online Domain Auction staged by RightOfTheDot.com and NameJet, with veteran auctioneer Wayne Wheat (above) orchestrating the live sale, as he has done at almost every major live domain auction in recent years - a good thing because nobody does it better. In the shot below Ammar Kubba falls under Wayne's spell and places a bid as Dr. Gregg McNair looks on. While the live portion of the auction is over (we haven't yet received a list of results), the extended online auction continues through July 2, 2019 with nearly 500 premium domain names still available.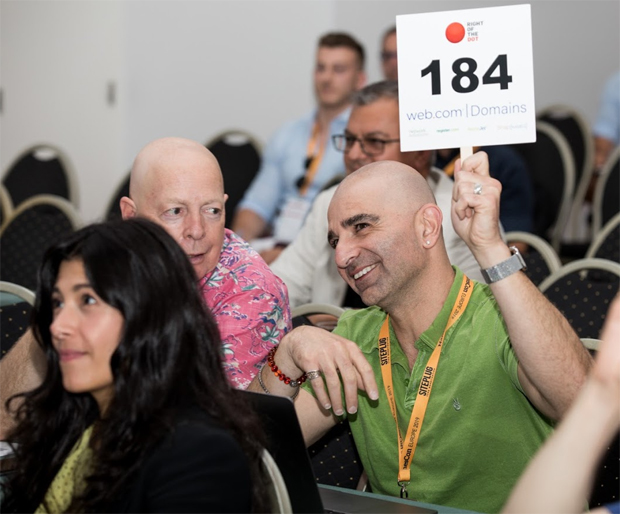 Above & below: After the Live Auction ended a Post Auction Reception was held that stretched well into the evening. In the top shot we spotted Sean Stafford (ThreatWave.com) at left and Trellian/Above.com President David Warmuz at right. Next to David is Tess Diaz from MediaOptions.com/DomainSherpa.com. Below we have a great photo of Helga Neumer (left), the Senior Marketing Manager at NamesCon who plays a key role in producing all of the NamesCon events around the world, and the equally vivacious Dr. Hani Armstrong, the Marketing Director at Barefruit.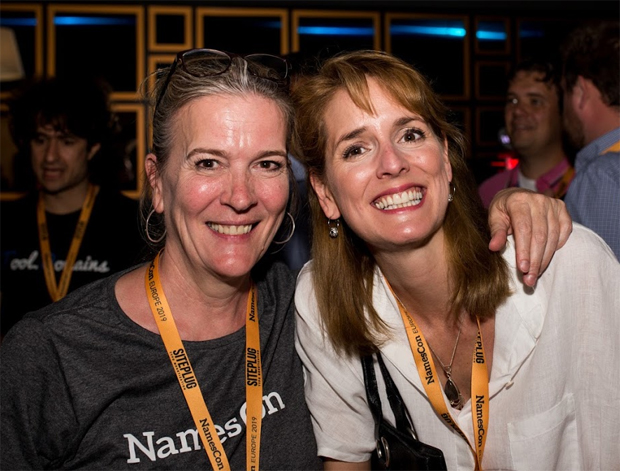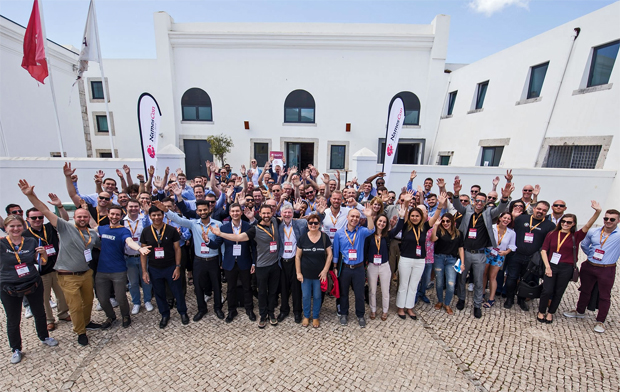 Above: So, Day 1 at NamesCon Europe 2019 is now in the books. In one of the day's many memorable moments, organizers rounded up a sizeable group of guests for this class photo in the courtyard (for a larger version of the image, click the photo or this link). Tomorrow we expect to have the photos and highlights from day and night 2 activities (Friday, June 21). So check back in with us for that!