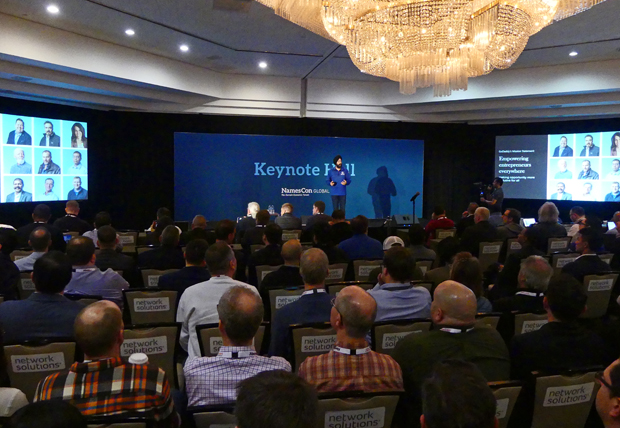 Above & below: The highlight of the business day Thursday (January 30) was a 1pm Keynote Address that new GoDaddy CEO Aman Bhutani delivered in front of a standing room only audience. Yesterday I noted how impressed I was by Mr. Bhutani when I met him for the first time at a GoDaddy reception Wednesday afternoon. After seeing his talk Thursday I am beyond impressed and am convinced Aman's arrival is going to have an enormous positive effect on the domain investment and website development community. The first thing you saw on the side screens were photos of domain investors who were at the conference. Mr Bhutani told their individual entrepreneurial stories and even ran a film produced at Peter Askew's onion farm in Georgia (buying the VidaliaOnions.com domain put Peter in the onion business where he has thrived).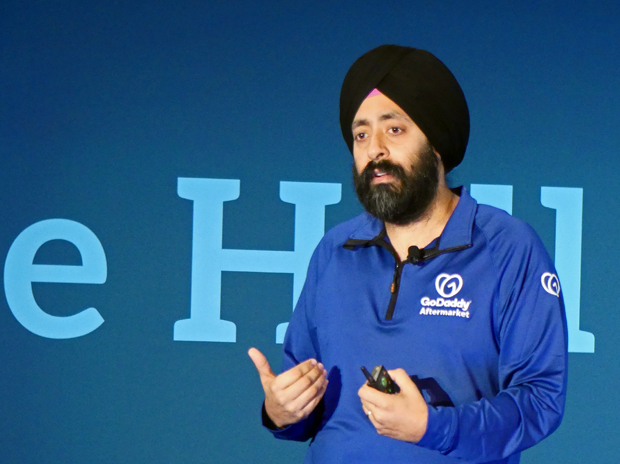 Bhutani has committed to putting domain investor/developers front and center as part of his makeover of the industry giant (even labeling one of the newly defined pillars of the business "Domain Investors") and that is going to do wonders for positive recognition of an entrepreneurial category has been mis-understood and unfairly characterized since it began. Aman recognized and understood the many incredible entrepreneurial success stories that sprung from buying one or more domain names. Those are the kind of stories that inspired me to start DN Journal back in 2003. Bhutani is a master story teller and I couldn't be more excited to see what his advocacy for domain investors and developers will do to help our industry fulfill the extraordinary potential it has always had.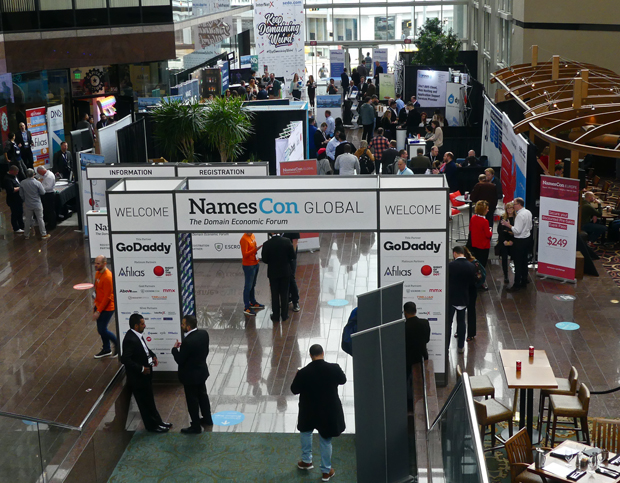 Above and below: In addition to catching at least part of every business session Thursday, I took a walk through the NamesCon Global Exhibit Hall to catch up with what some of the many innovative companies in our space are doing. Exhibitors have long used a variety of cool swag to attract visitors to their booth but dog lover Kevin Kopas from Short Dot SA knew nothing attracts a crowd like a friendly dog! So Kevin put his best buddy, Winston, to work at the new gTLD registry operator's booth.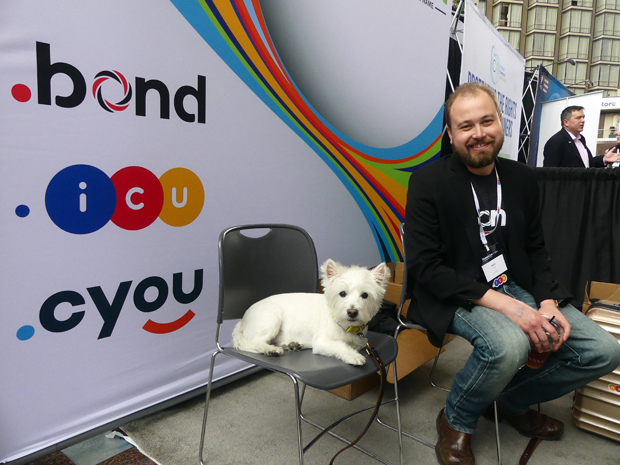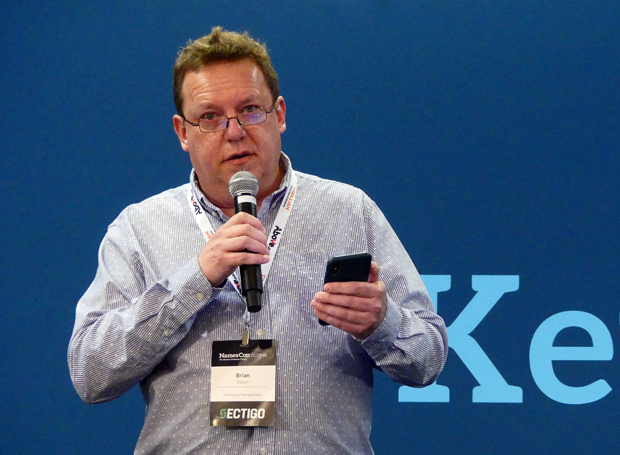 Above: At 4pm Thursday NamesCon devoted the Keynote Hall stage to a special memorial and awards presentations. It began with the memorial to Charlotte Gilbert, the universally loved domain investor/developer who passed away exactly one year ago, shortly after undergoing unsuccessful heart and lung transplant surgery. Charlotte's husband Brian Gilbert (above) was by her side throughout the battle and recalled the bubby personality and ever present sense of humor that drew so many people to Charlotte, an amazing, courageous woman none of us will ever forget.
Below: Next the Internet Commerce Association (ICA) presented their 4th annual Lonnie Borck Memorial Award, named for another beloved domain investor that we lost much too soon. I was honored and humbled to receive the award from ICA Executive Director Kamila Sekiewicz (and owe moderator Bill Sweetman (at right) a thank you for his very kind introduction). If you read yesterday's photos and highlights post from NamesCon you know the award winner was first announced at the annual ICA Dinner last night. Both then and Thursday I tried to convey why Lonnie was so widely loved and respected, but words really can't do it. The closest I could come is to say that Lonnie made every person he met feel loved and respected in a way that was so genuine and heartfelt you couldn't help being deeply moved by it. For me, receiving an award with Lonnie's name on it is the highest honor the domain investment community could bestow on anyone and I could not be more appreciative to the ICA and its members for giving the nine of us nominated this year the honor of being considered for it.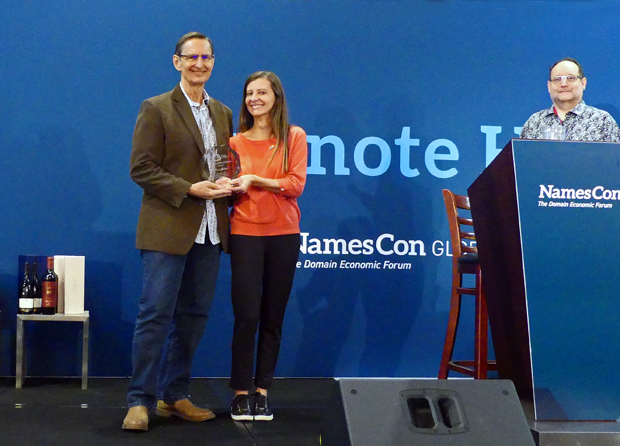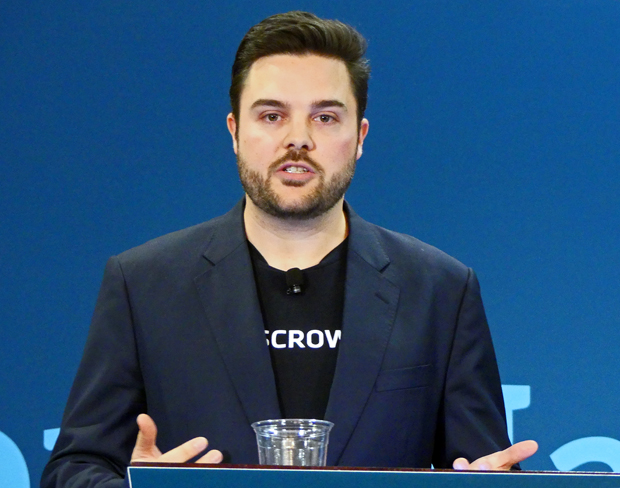 Above: Next it was time for Escrow.com General Manager Jackson Elsegood to take the podium to oversee the presentation of the highly anticipated Escrow Awards that went to the top ten domain sellers worldwide on the Escrow.com platform for 2019.
Below: This year's the #1 seller was Andrew Rosener from MediaOptions.com. Andrew had to cancel his trip to NamesCon at the last minute but two other members of the MediaOptions team, Tess Diaz and Chris Zuiker, were there to pick up the award for Andrew.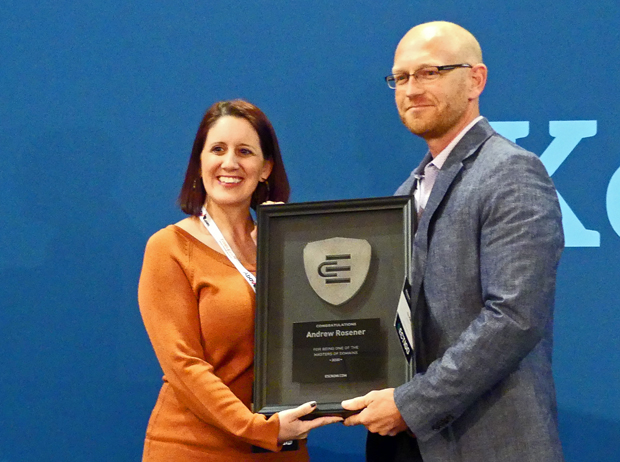 Escrow.com also presented awards to the rest of their global top ten. Those were #2 James Booth, #3 Brent Oxley, #4 Andy Booth, #5 Todd Reum, #6 Ryan McKegney, #7 Hobi Michalec, #8 Joe Uddeme, #9 Mark Thomas and #10 Nat Cohen.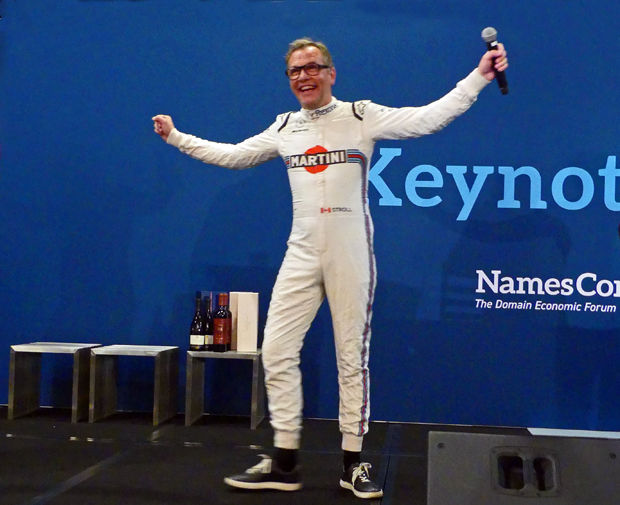 Above: There is a reason that NamesCon President & CEO Soeren von Varchmin is wearing an auto racing suit. Prior to Thursday's RightOfTheDot.com/GoDaddy live domain auction, NamesCon held a charity auction to raise funds for the NamesCon School El Rosario in Guatemala. The racing suit was one of several cool items auctioned off, along with bottles of very high end wine and champagne (a perfect way to toast a new year and celebrate NamesCon's effort to break the cycle of poverty by making educational opportunities available in places where few if any exist now).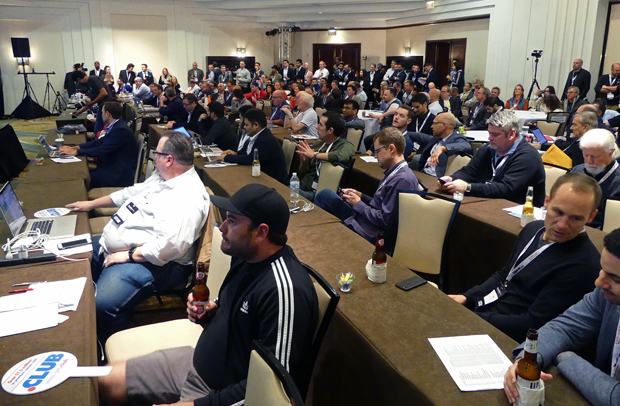 Above and below: A standing room only crowd filled the Keynote Hall for the Live Domain Auction that closed the day Thursday (January 30). After bidders carefully studied the catalog it was time for the battles to begin.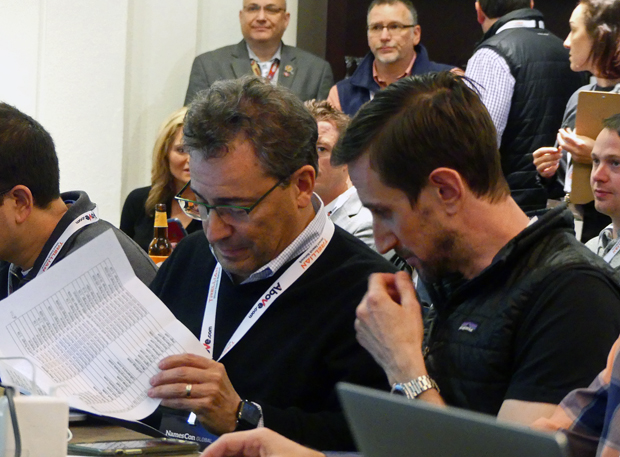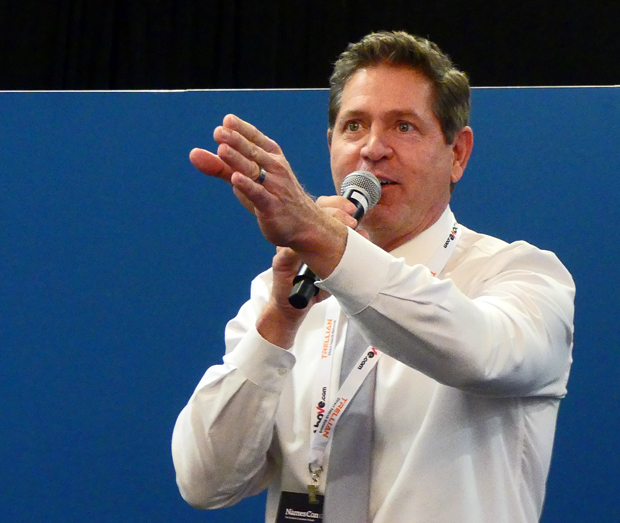 Above: With world class auctioneer Wayne Wheat once again calling the action, 74 premium domains were sold totaling more than $1.8 million. The top sales were Add.com at $800,000, Offices.com at $260,000 and Please.com at $141,000. OnlineDomain.com has a full recap of auction results you will want to check out.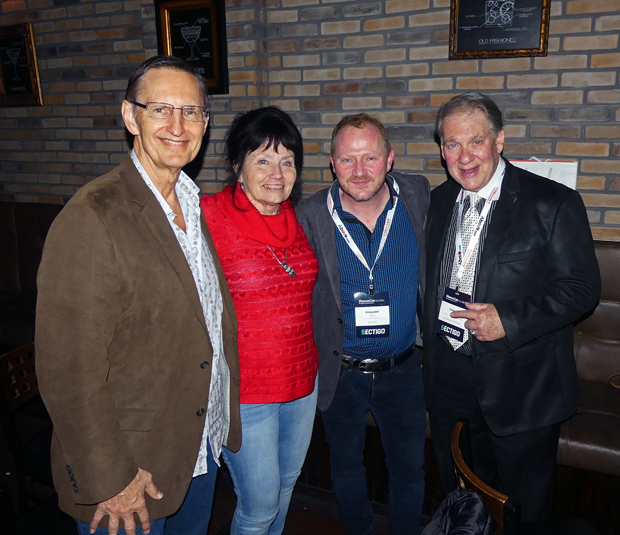 Above: With the business day done, many attendees headed across the street from the Omni to the CU29 Lounge that CentralNic booked for a wonderful Thursday evening party hosted by COO Alexander Siffrin (3rd from left) with Ron & Diana Jackson (DNJournal.com) and domain attorney Howard Neu. Over the past couple of years I have been astounded by CentralNic's explosive growth as they have acquired one top quality asset after another. I think the smartest thing they have done (in addition to identifying the right companies to go after) is keeping the talent that made the companies they acquired great in the first place. Alexander, who founded Key-Systems over 20 years ago (a company acquired by CentralNic in 2018) is a prime example of that. As COO and a major CentralNic shareholder Alexander will continue to help grow what has become one of the most important companies in the industry to watch.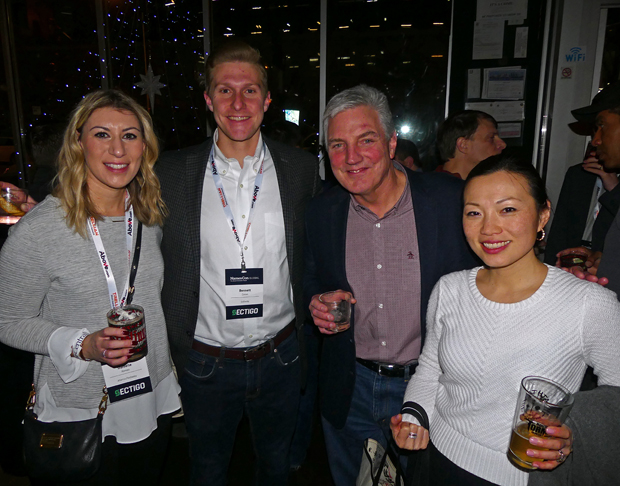 Above (left to right): Danielle Romeo, Bennett Collin, Bob Mountain and Leona Chen Birkner were among the guests at the CentralNic Party Thursday night.
Below: Also enjoying the festivities were Ilze Kaulins-Plackacz and George Verdugo. We're also pretty sure we recognize the lady photo-bomber but probably should withhold her identity to protect the innocent! :-)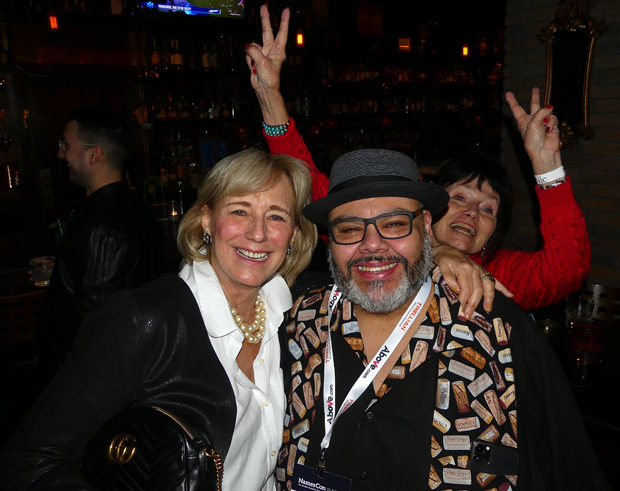 Now it's on to the final day of business Friday (January 31), plus the Fun Day Saturday. See you back here, same time, same station, tomorrow morning for the Friday day and night highlights from Austin.