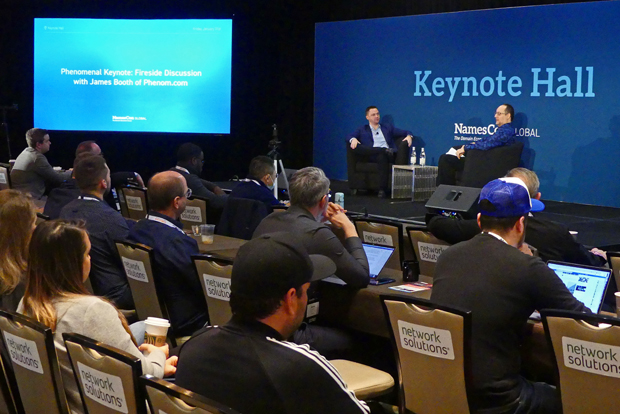 Above & below: The Friday business day at the Omni Hotel in dowtown Austin began with a Keynote discussion with Phenom.com Founder James Booth, one of the most successful domain brokers in the industry. Bill Sweetman (Name Ninja) conducted the insightful interview with Booth (below) who, earlier in the week, received the Escrow.com Award as the #2 broker worldwide in total sales closed on the Escrow platform.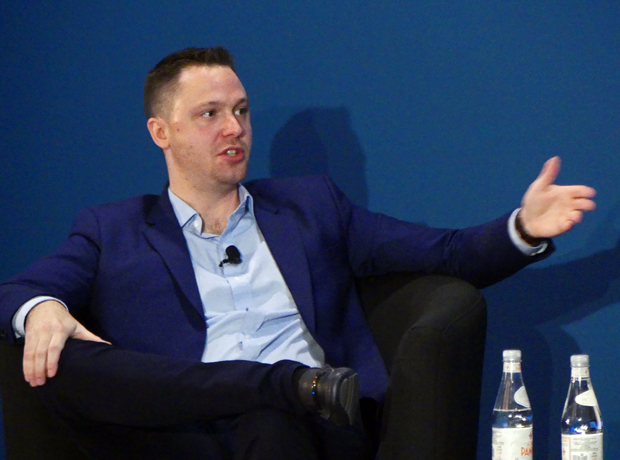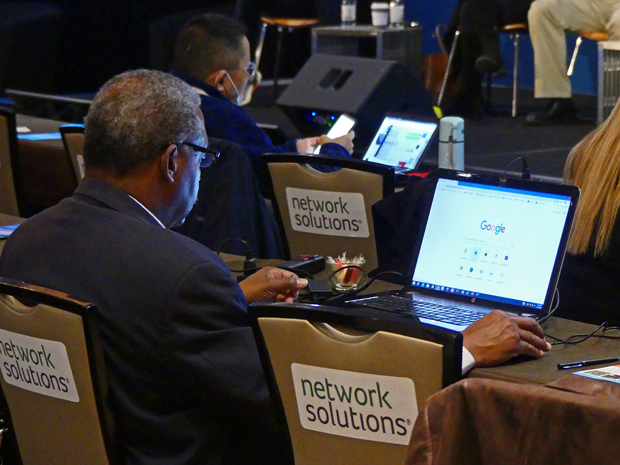 Above & below: The Friday business day continued nine more business sessions, concluding with a 4pm panel discussion on Transparency of of the Secondary Market (below) that featured, left to right, moderator Braden Pollock (LegalBrandMarketing.com), Amanda Waltz (Saw.com), Deepak Daftari (eSiksha.com) and Joe Styler (GoDaddy).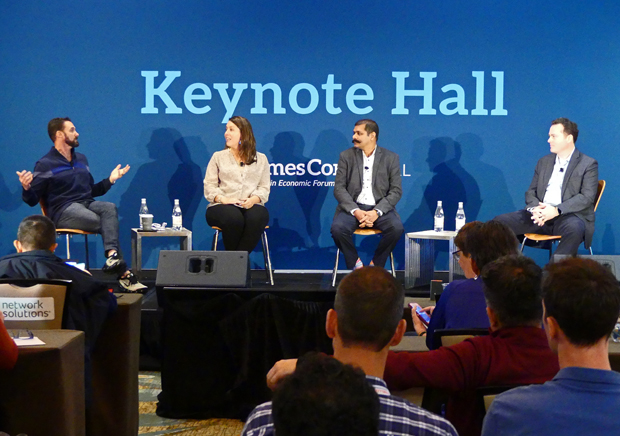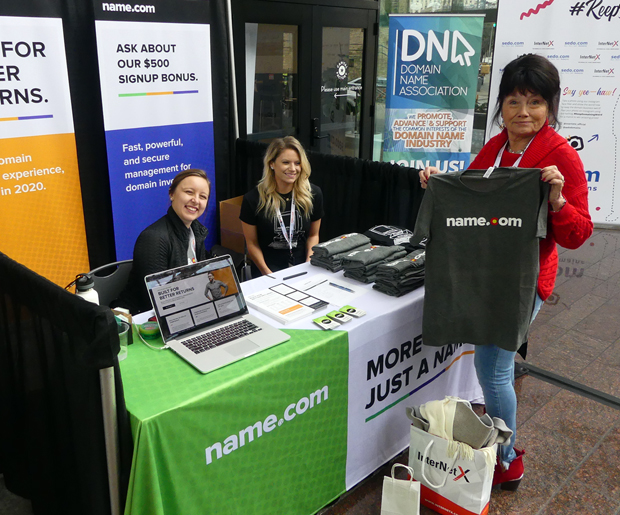 Above: While business sessions were going on upstairs, the company booths set up in the first floor Exhibit Hall were welcoming a steady flow of visitors. At the Name.com booth Diana Jackson picked up a cool T-Shirt that might come in handy for the outdoor Fun Day Saturday when it is supposed to be sunny and warm.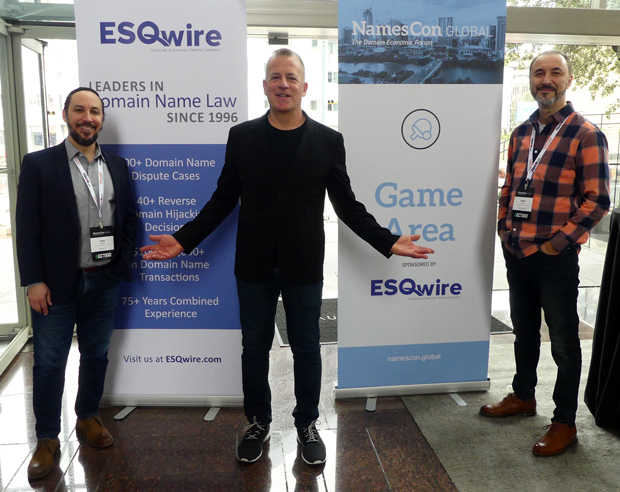 The Exhibit Hall also featured a table tennis Game Area sponsored by ESQwire.com. Above (left to right) are ESQWire attorneys Jason Schaeffer and Ari Goldberger with veteran domain investor/developer Steven Kaziyev. All three know how to handle a ping pong paddle but are a little loose with the rules. Below Ari and Jason ganged up on Steven in a two against one match!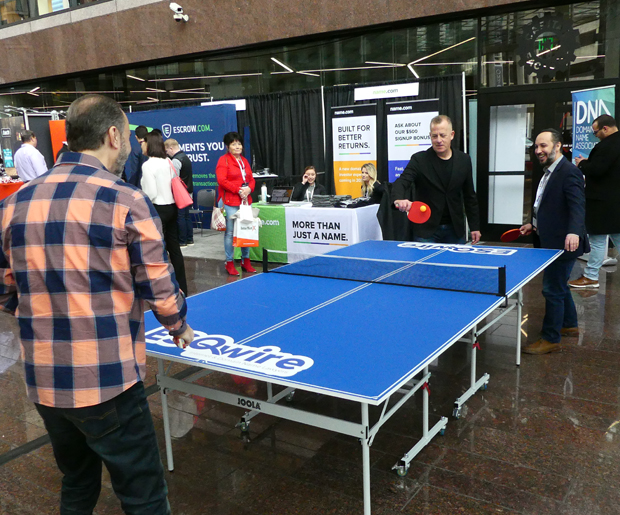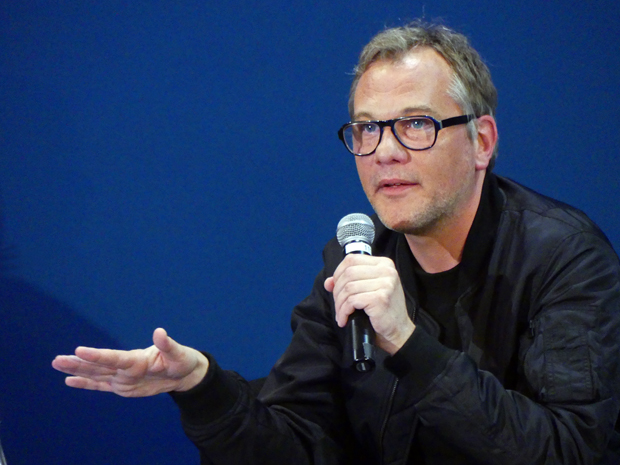 At 5pm, the business portion of NamesCon Global 2020 officially closed with some final comments from NamesCon President and CEO Soeren von Varchmin (above). Soeren said the NamesCon team loved Austin and are strongly leaning toward bringing it back to the Lone Star State's capital city next year, but will also consider attendee feedback and all options before making a final decision and announcing the January 2021 show dates and location. Between now and then they will be putting on the NamesCon Europe conference in Budapest, Hungary August 6-8, 2020.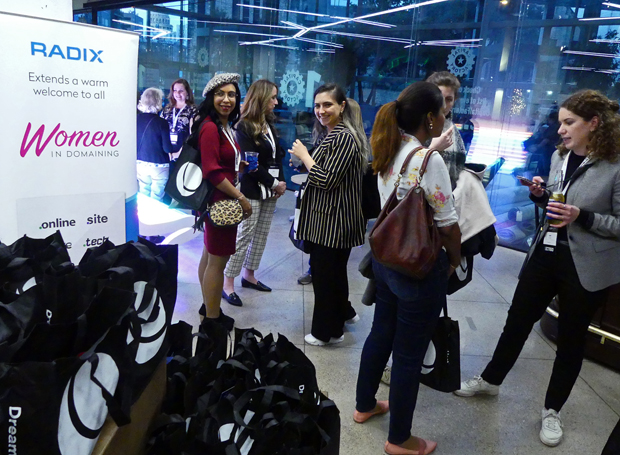 Above & below: While the business day was over, the fun was not, especially for the industry's professional women who got together for the annual Women in Domaining networking event held Friday evening in the Afilias Lounge. Kudos to Lisa Box and Susan Lawrence for organizing another outstanding event.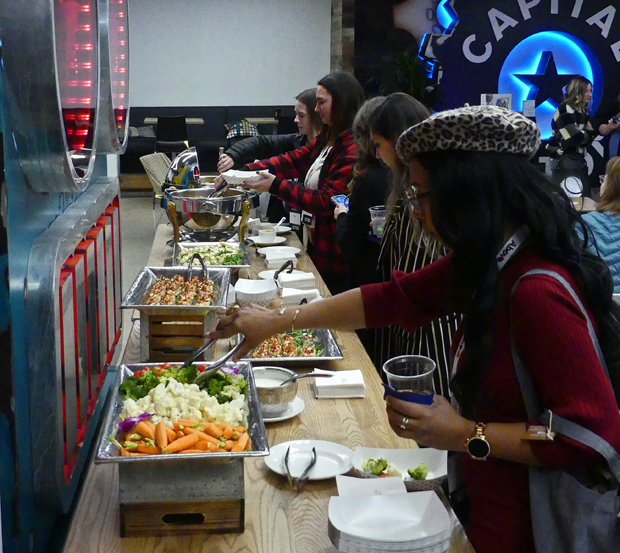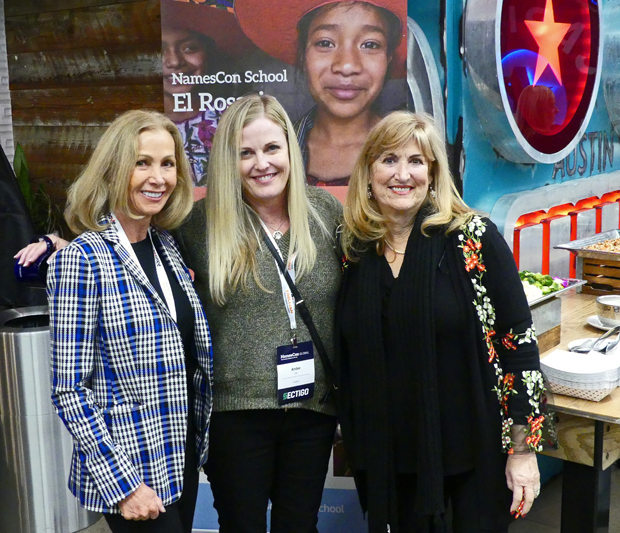 Above: Three of the most well-known women in the domain industry reconnected at the Women in Domaining event. Left to right are Nancy Bianchi (Above.com/Trellian), Andee Hill (ICANN) and veteran conference promoter Barbara Neu.
Below: At the same time the Women in Domaining event was going on, Uniregistry was hosting a social event just a block away at the Elk Lounge, close enough for guests to do both. Here, Truc Tran, who came in from Norway, caught up with IP attorney Karen Bernstein at the Uni event.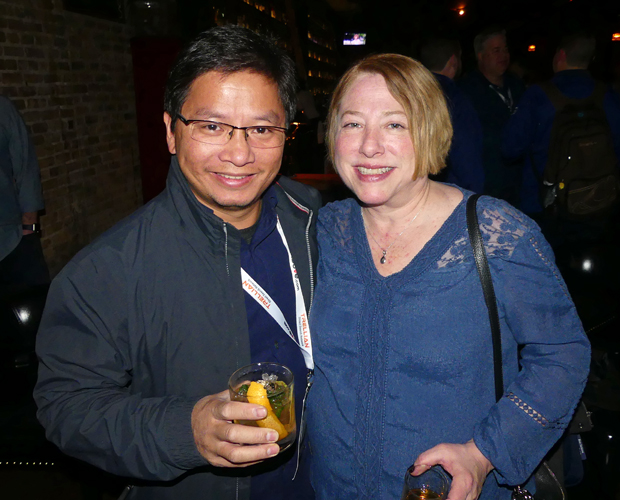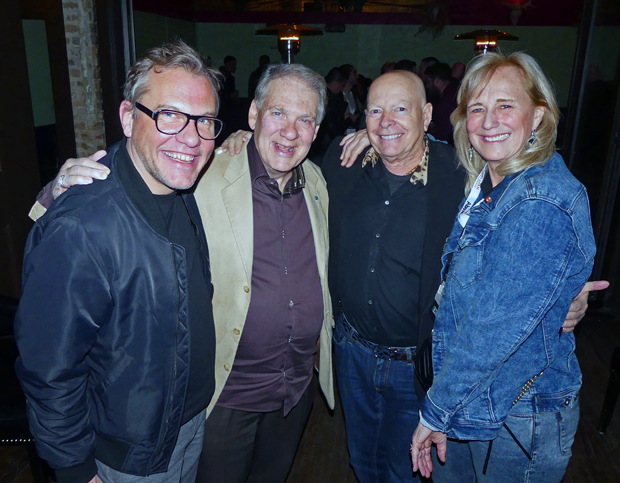 Above (L to R): NamesCon CEO Soeren von Varchmin, attorney Howard Neu, Dr. Gregg McNair and Ilze Kaulins-Plakacz also joined the crowd at the Elk Lounge.
Below: I caught up with a lot my favorite people as well. It has been awhile, so it was especially good to see industry veteran Vern Jurovich (left), who flew in from Vancouver, Canada.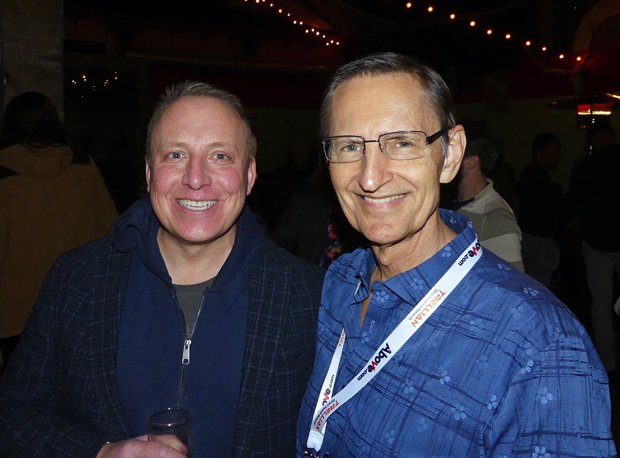 Now it's on to the final day of NamesCon Global 2020, a Saturday Fun Day devoted to informal networking at Banger's Sausage House and Beer Garden in Austin. We'll have photos and highlights from that event for you in my next post.