ever growing ICA also saw a need to expand its horizons. In September 2021, to celebrate its 15th anniversary, the ICA experimented with its own event with a small but well received meeting at the Green Valley Ranch in Henderson, Nevada (just outside of Las Vegas).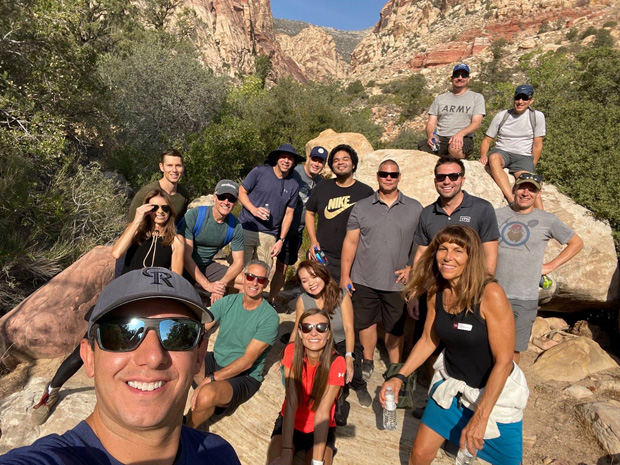 Some of the attendees at the ICA's 15th Anniversary Meetup in 2021
took a morning hike through Red Rock Canyon - an activity that several members
will be doing again at the ICA's 2023 Annual Meeting this weekend.
The format for the 2021 gathering combined creative social activities, where members could get to know each other better, with a limited number of well focused business sessions including a popular Town Hall event. It was a winning formula so planning began on something much bigger that already looks like it will exceed the ICA's own optimistic expectations. With a grand new venue on The Strip at the Las Vegas Hilton in Resorts World, the number of registrants has nearly tripled from the number on hand at that initial event in Henderson.
The agenda for the ICA Annual Meeting that will run Sunday through Tuesday (January 22-24, 2023) has also greatly expanded. It will kick off with a social day Sunday with multiple activities to choose from including a Red Rock Canyon hiking expedition, Exotic Card Racing, an Electric Scooter Tour and a trip to the famous Neon Museum. There will also be a reception dinner hosted by GoDaddy (followed by a show) that night.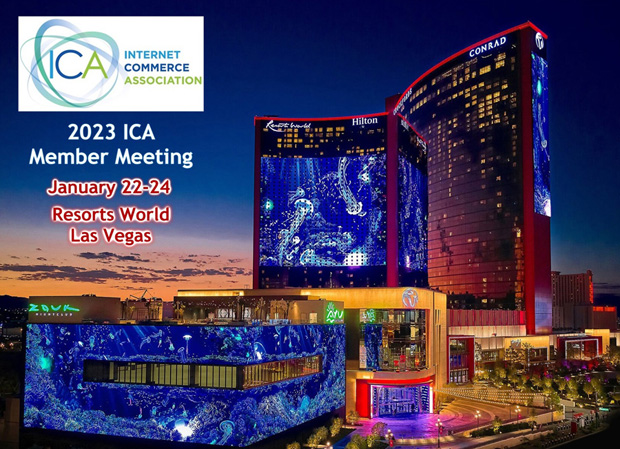 The Las Vegas Hilton/Resorts World complex where the 2023 ICA
Annual Meeting will be held Sunday through Tuesday, January 22-24.
Monday will bring a full day of business, starting with a briefing from ICA General Counsel Zak Muscovitch, followed by a MemberTown Hall. After a lunch break afternoon sessions will begin with an Ask Me Anything session featuring GoDaddy President for Domains Paul Nicks. The evening social will be at the conveniently located Bar Zazu within Resorts World.
Things will wrap up with a half-day Tuesday when pioneering domain attorney John Berryhill will host a session with the intriguing title What You Do Know Might Hurt You. John will detail how things you erroneously think you know can be more dangerous that what you don't know!

I've only scratched the surface here but it might be enough for you to make a smart move by becoming an ICA Member yourself. You'll meet some great people and have an opportunity to attend events that will enhance both your business and personal life. More importantly, if domains are your business, you will be supporting an organization that works hard every day to help insure that your interests and assets are protected.

I'm looking forward to seeing everyone who will be in Las Vegas and for those who can't be there, I'm looking forward to sharing some highlights with you here early next week when things will be underway.