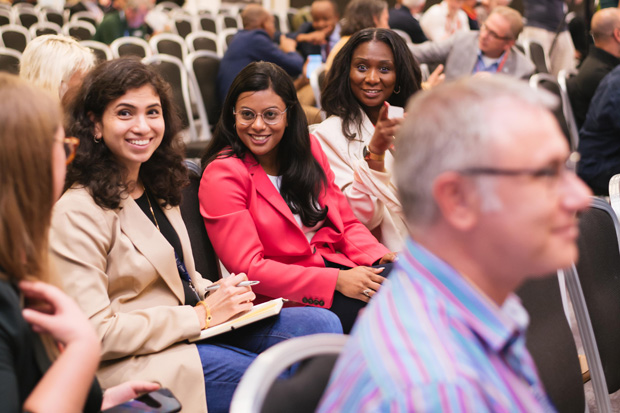 Attendees excited about the 2023 London Domain Summit getting ready to open August 22.
From every attendee comment we have seen, this second edition of the London Domain Name Summit was regarded as a huge step forward from the debut event and one that will help establish a much needed domain industry event in one of the world's most important financial capitals. Meskonis told us, "My main mission was to put together an international B2B convention for the domain name industry, and to do it as professionally as possible." Helmuts used his two recently acquired domain forums - AcornDomains.co.uk and DNForum.com - as a starting point his promotion of LDNS 2, then started spreading the word everywhere he could. "The big boys started coming in, every newly added and announced speaker was amazing and word-of-mouth marketing kicked in helping make the show a success," Meskonis said.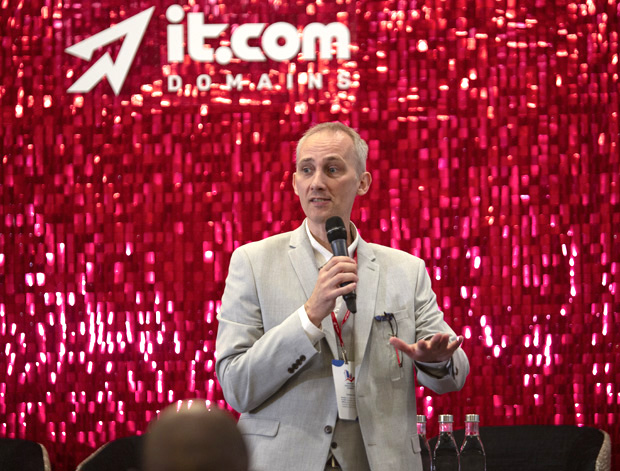 London Domain Name Summit Founder Helmuts Meskonis welcoming attendees
at the 2023 LDNS event at the London Hilton Metropole Hotel
Even so, he saw several areas that can be improved, most related to a tight budget compounded by his decision to tickets free for most attendees, even though he had moved the show into a bigger, more expensive venue at the Metropole. At this critical early stage of the show's development Meskonis's primary goal was having people come in and see the value of the product so they in turn would help spread the word in their own circles and insure the long term success of the LDNS.
Networking is the #1 reason people attend conference and Meskonis saw that going on everywhere, including the hallways and in nearby bars and restaurants. The sessions were of uniformly high quality but some were more sparsely attended than others while attendees were busy talking to each other but that is true of every conference. "Overall, I thought everything was fantastic," Helmuts said, "The food was brilliant and there was plenty of it, the speakers were trumping each other, and the quality of attendees was amazing as well."
Among those making new friends at LDNS was DN.com's Yue Dai (front center).
Sedo CMO Christian Voss (at back) earned bonus points with an expertly timed photobomb!
"Yue Dai flew over from China, KeNic came in from Kenya, Angie Barrow, the owner of the most valuable .uk portfolio, flew over from Bahrain, Mobile Ecosystem Forum, a giant in business messaging world, attended to explore opportunities in the domain industry and our amazing moderator was USA-based Tess Diaz (it.com). Tess has such a passion for the industry, not a gram of envy and pure positivity makes her a dream moderator for a convention like this.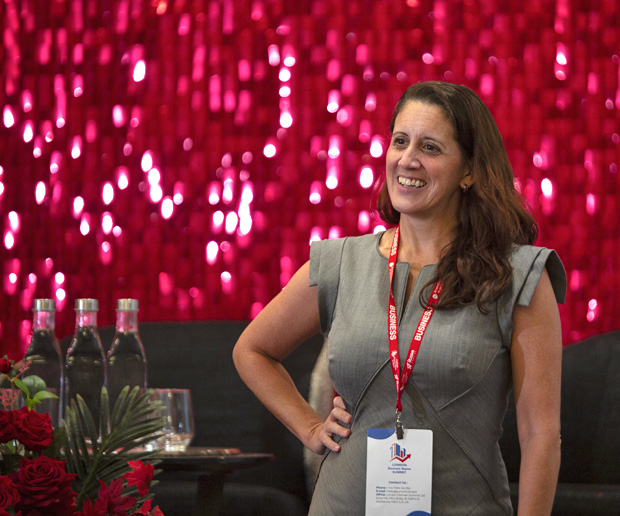 Show moderator Tess Diaz, who came over from the U.S., won widespread praise for her work.
it.com Founder Andrey Insarov was in full agreement with Meskonis on both the quality of attendees and the value attendees got from an outstanding lineup of speakers. "I found several sessions particularly captivating, and for different reasons," Andrey said. "Firstly, I truly believe that online domains serve as a global connector, and the opportunity to learn from experts worldwide was the highlight for me. Munir Badr's presentation on the Middle East & North Africa, with a special focus on the UAE, was incredibly informative. It shed light on a rapidly growing region.
"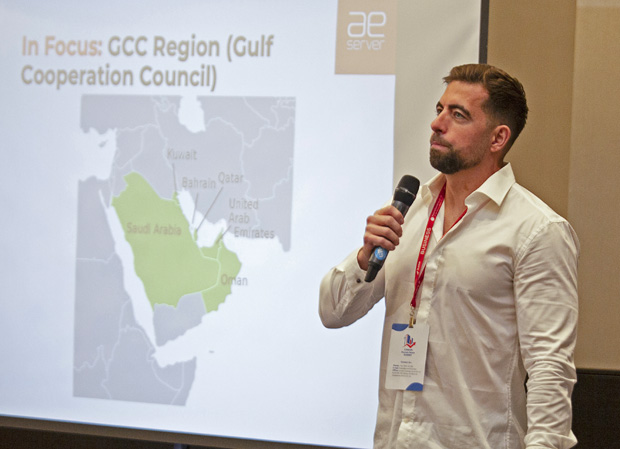 AEServer.com Founder Munir Badr speaking on opening day at LDNS. Munir is also the
Founder of the new Domain Days Dubai conference coming up November 1 & 2, 2023.
"Secondly, Yue Dai's session on the premium domain name market in China was a real eye-opener. It showcased the immense trust that Chinese culture places in online transactions with newly acquainted individuals. This cultural perspective was fascinating and added a unique layer of understanding to the domain industry.
"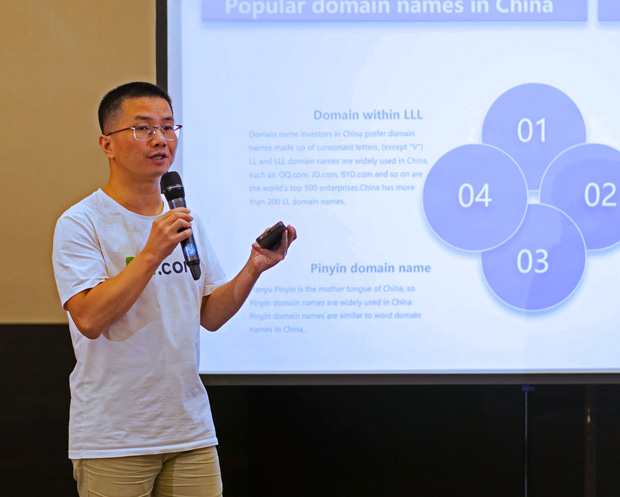 DN.com Founder Yue Dai provided expert insight into China's domain name aftermarket.
"Lastly, I was highly impressed by the progress being made by KeNic, the Kenyan registry responsible for .ke domains. The developments in this African region, detailed by KeNic CEO Andrew Lewela Mwanyota (seen during his presentation below), are remarkable, and it's encouraging to see the growth and innovation happening in the .ke domain space.
"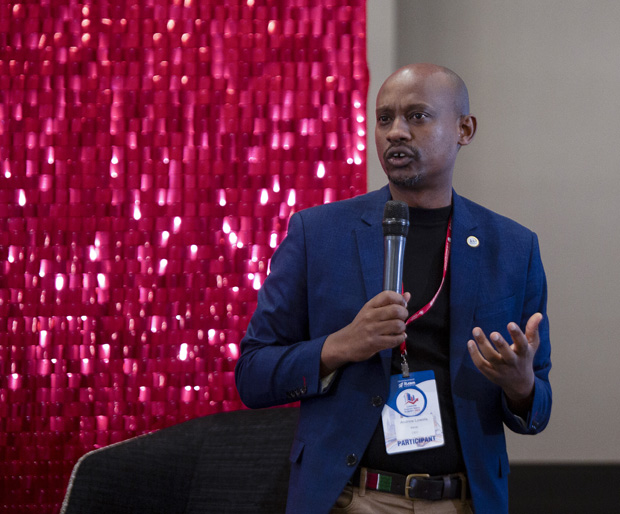 While Insarov has a special appreciation for the speakers, Meskonis has a special appreciation for Andrey and his team at it.com. "I can't emphasize enough the invaluable financial and moral support from Andrey Insarov for the Summit." As Andrey sees it, getting behind the conference was an easy decision. "Since it.com Domains Ltd is located nearby, we were very excited to be a sponsor for the Domain Summit in London. We moved here because we believe London is a global center for commerce and are delighted to see a domain focused event develop here," Insarov noted.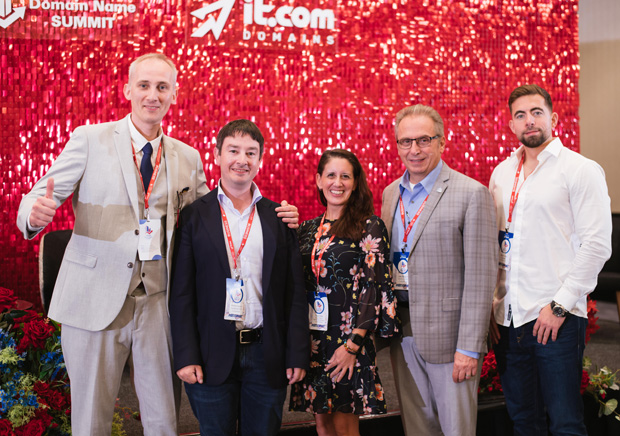 Above (left to right): Helmuts Meskonis, it.com Founder Andrey Insarov, it.com
Advisor Tess Diaz, it.com Director of Sales Joe Alagna and Advisor Munir Badir.
In addition to helping put a London event on the global conference calendar, Andrey is also playing a key role in getting a meeting established in another world-class business destination - the Domains Days Dubai event coming up November 1 & 2, 2023 in the UAE. "We are in the business for the long haul," Insarov said. "Domain Days Dubai Founder Munir Badr has become a trusted Advisor and we want to support him in his efforts to grow the domain event space in the Middle East. Events like this are beneficial for all of us."
As for the London event, Andrey was very pleased with the progress the conference has made since its debut event (that it.com also sponsored) in 2022. He noted, "Participants from around the world attended, representing countries such as the United States, China, Dubai, Germany, Turkey, Canada, and many others. Notably, this summit featured a larger number of speakers, including a skilled moderator who posed insightful questions, setting it apart from previous iterations."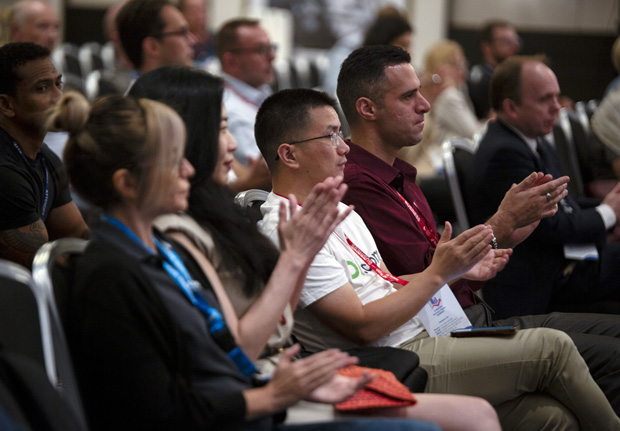 Part of the appreciate audience at the 2023 LDNS.
Insarov added, "The status of the event was significantly elevated as it secured a conference hall at the Hilton Metropole. This choice of venue was more strategically located and prestigious. Additionally, all attendees were provided with badges, a feature absent in previous event. This proved crucial in distinguishing the diverse range of attendees, including representatives from companies, domain brokers, journalists, investors, artists, photographers, brand protection lawyers, representatives from business schools, and students. Regarding the event setup and design, the stage was professionally decorated by experts who had previously worked on Adele's concert designs."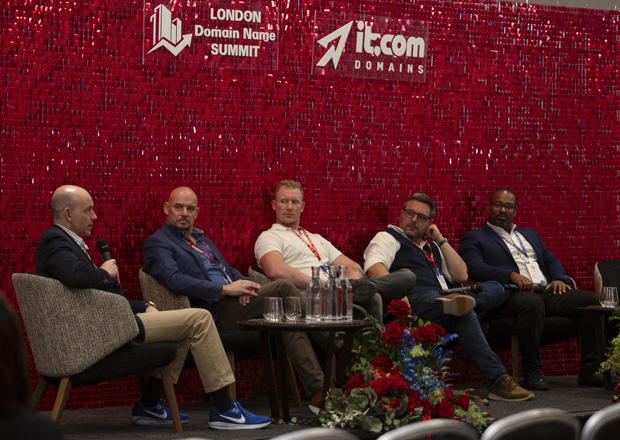 Above: An opening day panel discussion: Business Messaging World, Meet the World of Domain Names featured Simeon Coney, James Williams, Uku Tomikas, David Creasey-Benjamin and Franck Zaïre.
Insarov said. "A noteworthy development at this summit was the convergence of the telecom and domain industries. During panel discussions, business ideas related to the utilization of domains in SMS services were explored. This interdisciplinary approach added a fresh perspective to the summit's discussions, highlighting the dynamic nature of the domain industry.
Overall, the London Domain Summit was a resounding success, offering a platform for global networking and fostering innovative discussions at the intersection of domains and telecommunications."
We got another view from industry veteran Joe Alagna who flew over from the U.S. Joe, who is now working with London-based it.com as their Director of Sales, found the Summit to be very productive (he also spoke on day 2). "We met with some of our key registrars and met a few new ones as well. Mostly we were happy to interact with end users and domainers to get their feedback and ideas on our product." Joe said. In both those areas we had success. As a young company, and mostly remote, we were also very happy to bring our entire team together physically at our home office."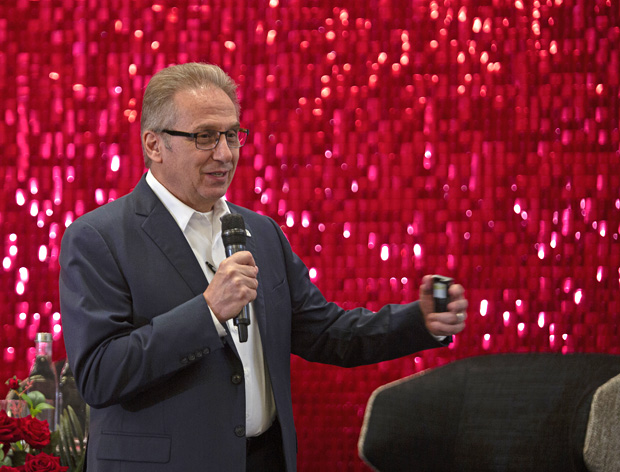 it.com Director of Sale Joe Alagna speaking on day two of the 2023 LDNS.
Alagna added, "We've accomplished a lot in a very short time. Our Sunrise was very successful. We brought on the top five brand related registrars in the world including MarkMonitor and Safenames. Since then, our focus has been on our registrar channel. Our registrars now include CentralNic Reseller, InterNetX, and 101domain. These are just a few. Standing out among 1482 suffixes is a challenge, but we've assembled a great team and we are making it happen!"
Before signing off, Meskonis wanted to thank some other key benefactors for helping make everything come together this year. He had special praise for one that helped instill trust in the new London show. "I am extremely grateful to Chief Marketing Officer Christian Voss from Sedo for that. He supported the idea of the Summit from the start and Sedo's logo and presence was great support to us. Then there was the UK based Benjamin Reuss of Open-Xchange, who went extra-extra-extra miles trying to connect me with so many professional contacts of his, many of whom came to the Summit and did good business there.
"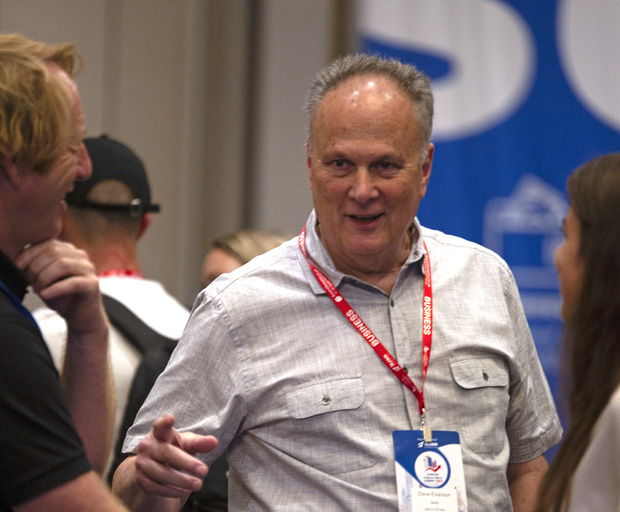 Sedo CMO Christian Voss (left) chatting with Sedo Senior Broker Dave Evanson.
"It was also great to see Web3 Domains company Freename.io there and attracting lots of attention and interest in what they do. Just recently this week, Freename closed a $2.5 million seed investment. I don't know if their appearance at the Summit helped impress their investors but that could the case, if you ask me," Meskonis smiled. "In any case, I love their team and wish them all the success in the world."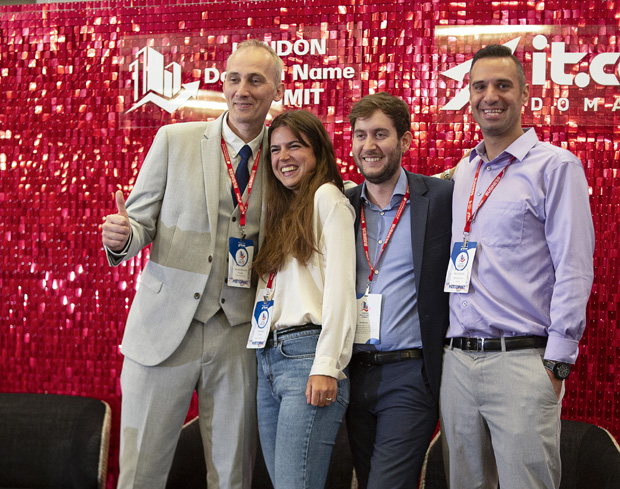 Above (left to right): Helmuts Meskonis with Freename.io's Head of Partnerships Eleonora Bellotto
and CTO/Co-Founder Federico Costa. At right is MrPremium.com Founder Mark Ghoriafi.
Meskonis added, "For the Summit itself, as an event, these were great days for us as well. We established some very important new connections, including three I want to emphasize:
1) Lars Jensen of ShortDot (Lars kept advising me to move forward and make the Summit even larger, as this is what who industry needs).
2) Team Internet (formerly CentralNic) who keep pleasantly surprising me by being very friendly and even starting to introduce me to some of their clients I haven't been able to reach before.
3) Verisign. It seems they really enjoyed the Summit, met a number of their clients and we will see where we go from here.
These three are totally new business and professional connections for me, all of them are titans of the industry.
Team Internet (formerly CentralNic) CEO Michael Riedl and ShortDot CEO Lars Jensen
were in the house supporting the London Domain Name Summit.
Helmuts also brought up Nominet (the administrator of the .uk TLD). "Nominet did not attend the Summit officially but many their members were here, including Kieren McCarthy, Nominet's Non Executive Director, who presented a speech that was approved by Nominet. I feel bad that some members are attacking Nominet for not supporting the Summit this year (they did so last year), but UK industry professionals know that Nominet is currently going through a very tough time, so I understand their decision 100%."
As soon as the 2023 LDNS ended, Meskonis started planning his third show in 2024. In fact he just announced tentative dates, August 20 & 21, 2024 - with an added twist - a VIP retreat on a third day, August 22, 2024, so you might want to add those to your calendar.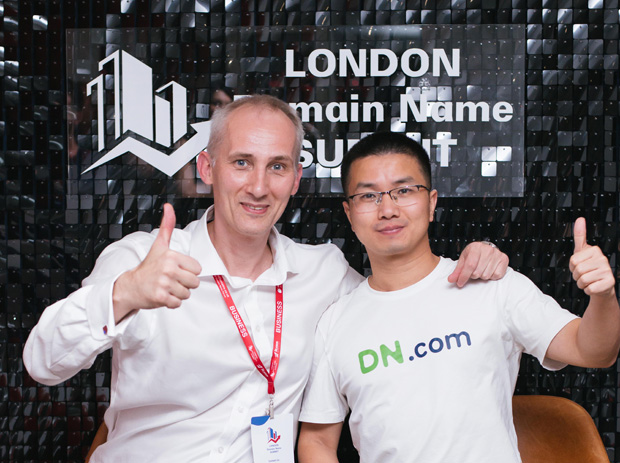 After earning thumbs up for the 2nd edition of the London Domain Name Summit, Helmuts
Meskonis (seen here with DN.com's Yue Dai) is now focusing on next year's LDNS #3.
We want to leave you with a couple of valuable links. Videos of the sessions from the 2023 London Domain Name Summit can now be viewed, free of charge online. So, if you the missed the show (or were there but busy networking in the hallways) here's your chance to see what you missed:
https://www.youtube.com/playlist?list=PLmUJqsTUtw2kdFRinj4CsaAcFIbjrCKE1
Also, there were so many outstanding speakers and sessions at the 2023 London Domain Name Summit we barely scratched the surface here. However, the 2023 event site is still online where you can see all of the speakers who were featured as well as what was discussed in the conference's full two day slate of business sessions.