28-year-old John Quail has had a lot of success buying and selling high end generic domain names including Inside.com, Diseases.com, Vaccination.com, Laptop.net and several highly coveted 2-letter .coms. Now he is taking the next step, developing some of his better properties into full-blown businesses with personal injury referral site Claims.co.uk currently getting the most attention.
As you can see just from the sampling above (and we will give you more examples in this article), Quail has already owned more high quality domains than a lot of industry veterans who have spent twice as much time in the business. We figured a lot of people would like to know how he got from point A to B to so quickly and why he has now skipped from C to D (as in full blown online business Development.)
Quail's story starts in Belfast, Northern Ireland where he was born and continues to live today. He was introduced to domains while still in high school and managed to steadily flip his way to the top of the ladder by the time he finished college.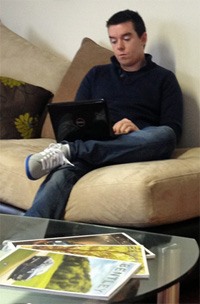 John Quail at work in
his Claims.co.uk office

By Ron Jackson
For the last seven years domain investors have gotten used to seeing Oversee.net stage a major conference in the opening weeks of the New Year. However, that show, known as DOMAINfest before being re-christened Webfest Global for the 2013 event last February, has yet to announce their plans for 2014. That left a void the domain industry veteran Richard Lau decided to fill with a new conference called NamesCon that will run at the Tropicana Hotel in Las Vegas January 13-15, 2014.
NamesCon is not just a new domain show though - it is an attempt to expand the business by bringing people from other corners of the Internet and business worlds together under one roof and to do so at an astonishingly low price.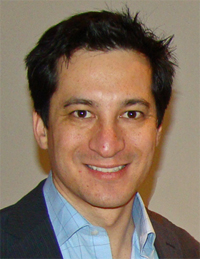 Richard Lau
NamesCon Founder
By Ron Jackson
CitiesPlanet.com, the world's first full monetization platform for geodomain brands, has announced both a major capital infusion and a partnership with Tallwave, a firm that describes itself as a "first of its kind "commercializor" known for its ability to take early-stage ventures from ideation all the way to sustainable commercialization."
CitiesPlanet.com expects the additional funding and partnership to allow the company to expand its existing client portfolio of 65 city .com brands to thousands of worldwide geodomains in the coming 24 months concurrent with development of the next generation of CitiesPlanet's City in the Box software.