Here's the The Lowdown from DN Journal,
updated daily to fill you in on the latest buzz going around the domain name industry.

The Lowdown is compiled by DN Journal Editor & Publisher Ron Jackson.
Opening Day & Night Photos & Highlights from the 2017 NamesCon Conference in Las Vegas
When the 2017 NamesCon conference opened Sunday (Jan. 22) at the Tropicana Hotel in Las Vegas I posted some photos and highlights from the opening sessions of the 4th annual event to give you a flavor of what was to come. The entire opening day and night is now in the books so I can give you a full run down on what happened Sunday afternoon and evening at the big show.
Above: As I mentioned in my first report from Las Vegas Network Lane was the center of activity on opening day Sunday. From noon to 6pm visitors could come and go as they pleased to visit dozens of sponsor tables and get answers from company representatives to any questions they had about the services offered. The first table we saw when we entered featured popular aftermarket sales platform DomainAgents.com. Left to right are company co-founders Phil McKegney and Ryan McKegney with broker Elsa Stivalet (who speaks 6 languages)!
In between visits to Network Lane attendees could check out business sessions held in adjacent rooms throughout the day. We had photos of the first sessions presented by Morgan Linton and Michael Cyger at noon Sunday in our last report. At 1pm the next two sessions were held. One was a Social Media Boot Camp presented by NamesCon staffers Stephanie Mercer Voyer and Jordan Yerman.
Below: Also at 1pm Sunday industry veterans Adam Strong (Evergreen.com) and Victor Pitts (NameYourStartup.com) presented The Name Game: Unique Naming Strategies and Hacks. Adam is at left and Victor at right.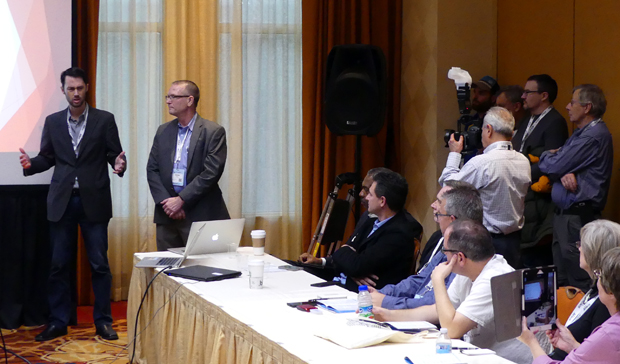 At 2pm (in sessions not pictured) the topics were Increasing the Value of New Domains in the Secondary Market presented by Rightside.co's Statton Hammack and, in another room, Eugene Rome (Rome & Associates) offered keys to Understanding Intellectual Property and Domains.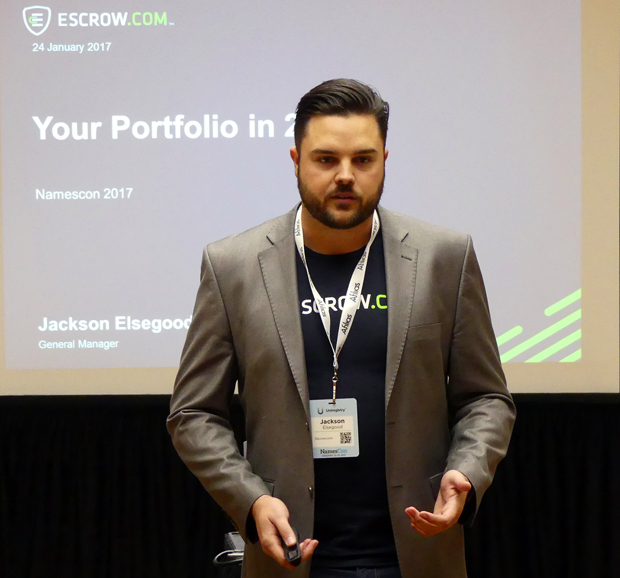 Above: Escrow.com General Manager Jackson Elsegood was featured in one of the two 3pm sessions called Your Portfolio in 2017. Jackson shared a lot of interesting data on sales trends gleaned from transactions completed through Escrow.com. We will have a separate report for you on that after we are back from the show.
Below: Also at 3pm Steven Kaziyev from NewYorkMedia.com answered the question How Can I Monetize My Geo-Targeted Domain Names? f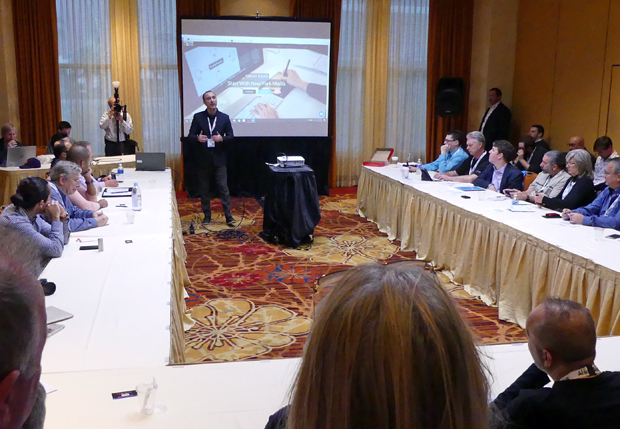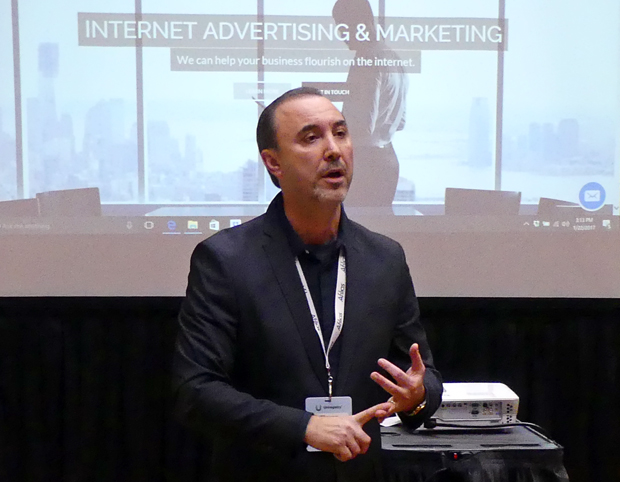 Above: A closer view of Steven Kaziyev speaking on Sunday's opening day at NamesCon 2017.
Below: At 4pm attention turned to Tips for Selling Your Domains Through Auction provided by NameJet General Manager Jonathan Tenenbaum (standing at left below) and RightFoTheDomain.com President/Director Monte Cahn.
Above: Domain owners always want to know What's My Domain Worth? DomainAgents.com Co-Founder & CEO Phil McKegney provided advice on how to determine domain valuations in this popular session.

Below: The last two opening day business sessions got under way at 5pm. In this one (left to right) Bill Sweetman (NameNinja), Negar Hajikhani

(Sedo) and John Deneen (Domain Name Marketplace) offered advice on Responding to Offers for your domains in a session moderated by Kevin Fink (IHaveThisIdea.com).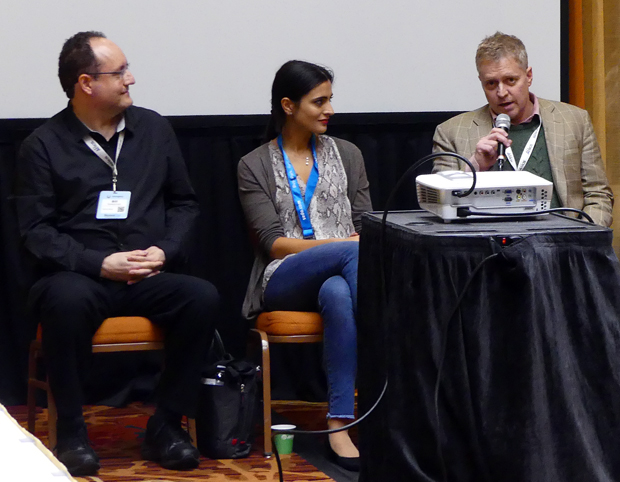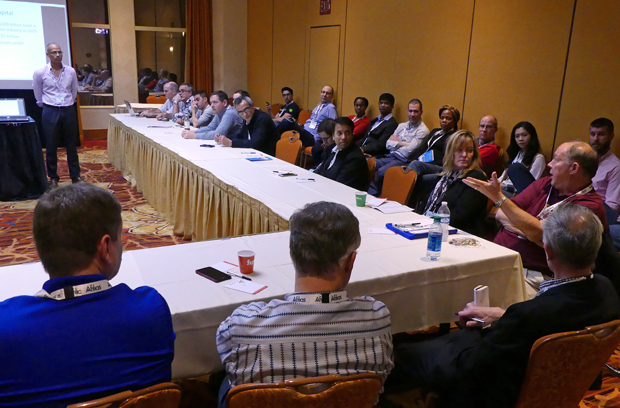 Above: Also at 5pm Omar Baig (Domain Nexus) discussed opportunities in three and four letter .coms in a session titled Emergence of a New Asset Class.
Below: After the final business sessions we ran into one of the world's most renowned domain investor/developers, Kevin Ham, seen here with Prakhar Bindal (NameKart) who came over from India for NamesCon. Kevin said he has never been busier as he continues to run multiple enterprises including businesses outside the domain space. It is always a treat catch up with original industry pioneers like Kevin and Scott Day (who is also at the show).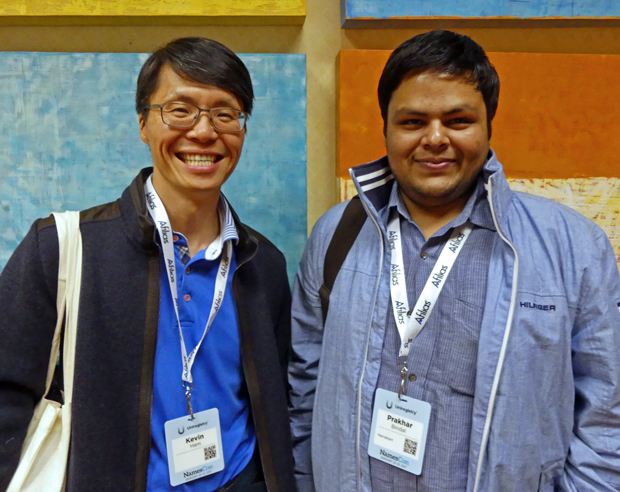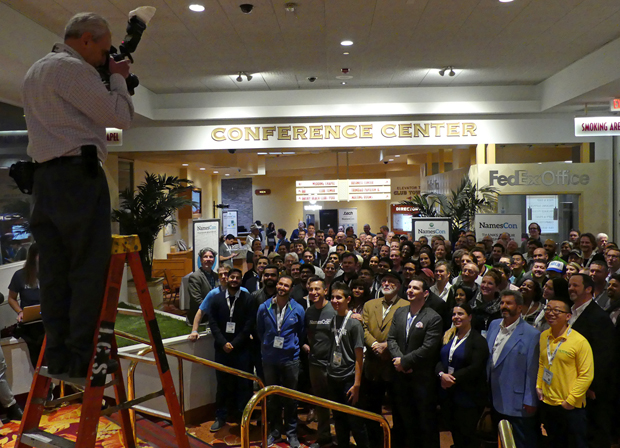 Above: To start a new NamesCon tradition, attendees were invited to meet in the conference center foyer at the Tropicana Hotel at 6pm for a Group Photo.
Below: At 7pm the official NamesCon Opening Night Party got underway in a ballroom at the Tropicana. Some of the first to arrive included (left to right) Truc Tran (from Norway, but also with a U.S. home in Naples, Florida), Diana Jackson (DNJournal.com), Phil Corwin (Internet Commerce Association) and Angie Graves (WEB Group Inc.)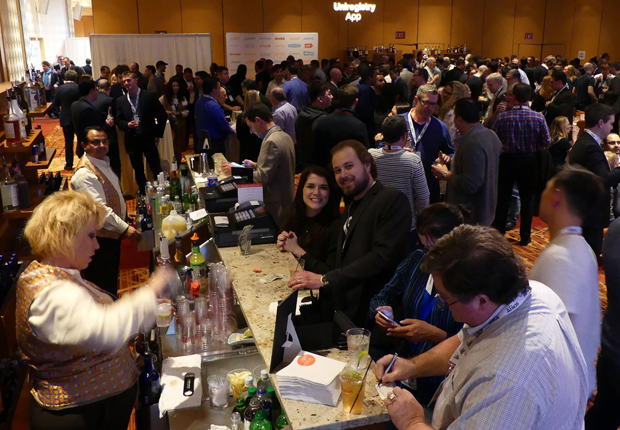 Above: A wide view of the Opening Night Party at NamesCon 2017 at the Tropicana Hotel in Las Vegas Sunday night. In the middle of the action (standing at the bar) are Stephanie and Kevin Kopas (from PIR, the .ORG Registry).
Below: It was great to catch up with so many long time friends at NamesCon's Opening night Party. I've been at this for 15 years now and Page Howe (at left below, from .LA Marketing and iLove.LA) was already on the domain scene when I showed up in 2002. To paraphrase Elton John, We're Still Standing - even if we do have to lean on each other once in awhile. OK, so maybe I have to do a little more leaning than Page! Photo snapped by the legendary domain investor Larry Fischer .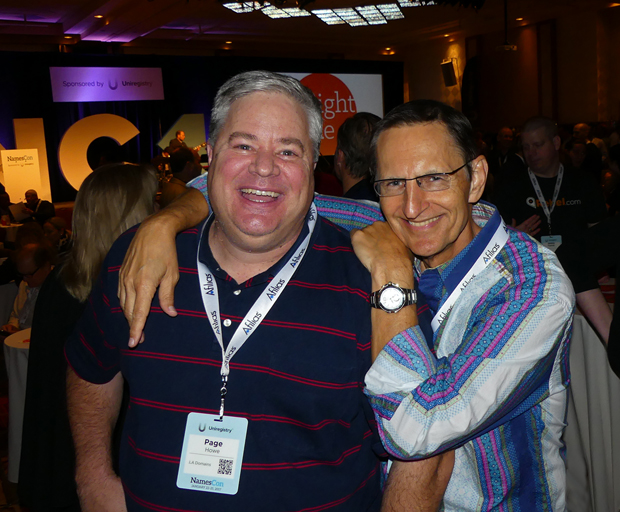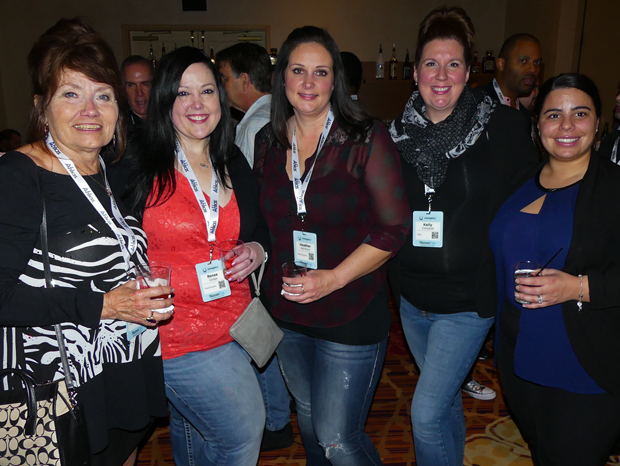 Above: Domain ladies in the house! (Left to right): Diana Jackson, Renee Dodge (Mod Domains), Heather Helmhout (Mod Domains), Kelly Campbell (CIRA) and Serina El Salibi (CIRA).
Below: Domainers wall to wall at Sunday night's NamesCon Opening Night Party.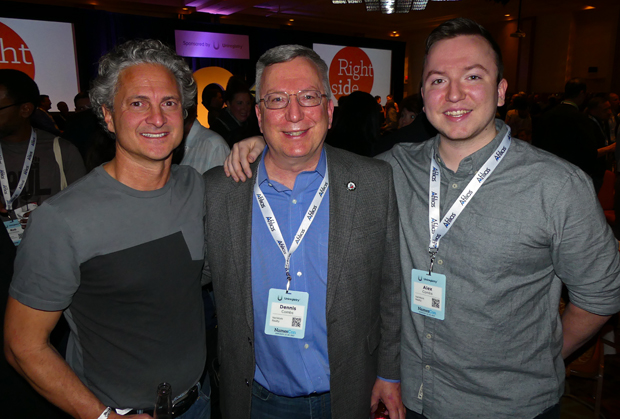 Above: One of my favorite things about the domain industry is that it attracts and is open to all kinds of people from all over the world. Age is immaterial too. We are even seeing more and more children of domain investor parents following a father or mother into the field. Here attorney Enrico Schaefer (Traverse Legal) is seen with one such pairing, Dennis Combs (center, from NetWork Realty) and his son Alex Combs.
As I write this day two at NamesCon (Monday, January 24) is still underway with Uniregistry's big party at the Hakkasan Night Club going on across the street from the Tropicana. I will have all of the Monday (day and night) highlights for you in my next post from Las Vegas - planned for some time late Tuesday but the non-stop show schedule makes that subject to change. There is a lot to keep up with but that is what makes it one of the most interesting and enjoyable weeks of the year.
First Photos & Highlights from the 2017 NamesCon Conference That Opened Sunday in Las Vegas
The 2017 NamesCon Conference is underway in Las Vegas! The 4th annual event at the Tropicana Hotel officially got underway at 11am U.S. Pacific Time today (2pm Eastern, Sunday, January 22). As I write this it is still early in the day here but I wanted to give you a peak at the opening activities as soon as possible. Events will continue until 11pm tonight (2am Monday in the east!) so I won't have a complete recap of the opening day activities for you until sometime Monday (as the week progresses - the show ends Wednesday afternoon, January 25) - I will have a daily post from Las Vegas recapping the previous day and night's photos and highlights).
Above: As NamesCom 2017 attendees made their way to the Convention Center at the Tropicana Hotel they passed under this gateway to the big show in Las Vegas.
Below: To speed attendees on their way two separate stations were set up for the first time this year - one for badge pick up for who registered online (seen in this shot) and another for onsite registration and swag bag pick up.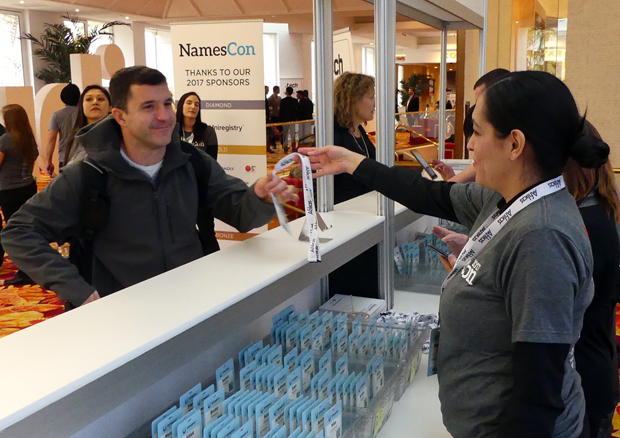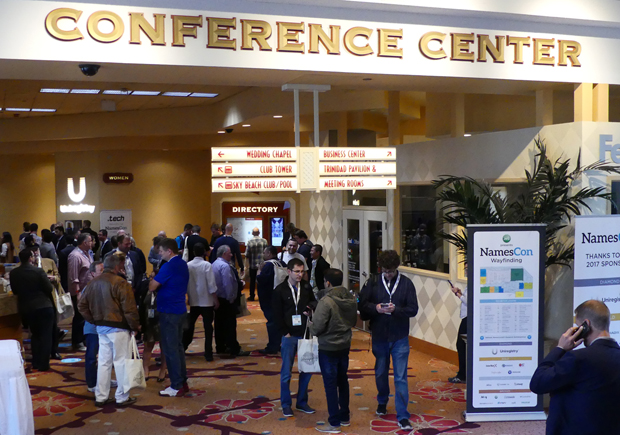 Above: The Convention Center entrance just a few steps further down the hall.
Below: The onsite registration desk in the convention center where attendees could also pick up their swag bag filled with goodies from sponsors and the show program.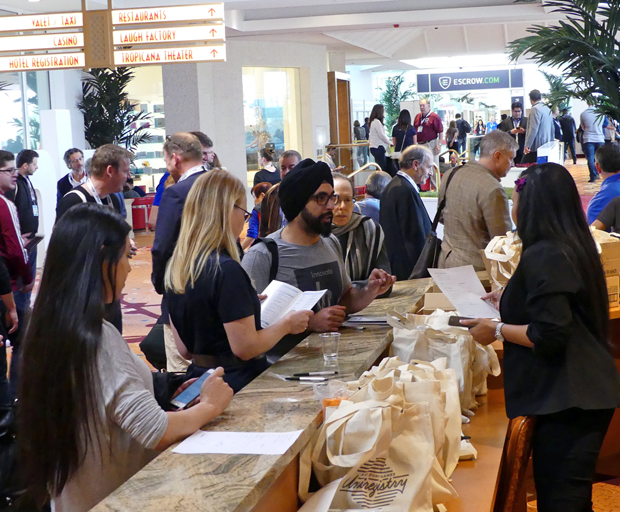 Above: Attendees flew to Las Vegas from all over the world for this week's event. In this photo, DN Journal's Diana Jackson (2nd from left) visits with four friends who came from the UK and Europe. Left to right are Domaining Europe Founder Dietmar Stefitz, Diana, Jose Vicente Gomar and, from Scotland, Trisha and Tommy Butler.
Below: NamesCon 2017 officially began at 11am Las Vegas time with welcoming remarks from conference Co-Founder Jothan Frakes.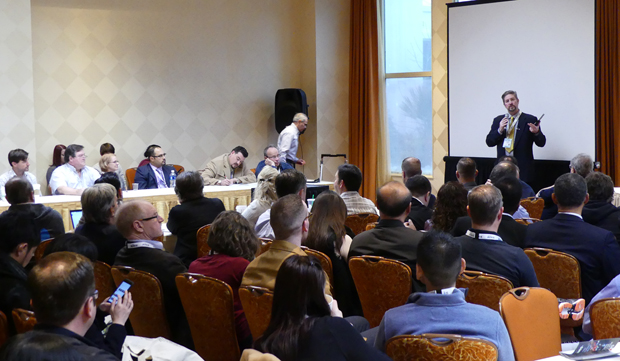 Above: A closer view of NamesCon Co-Founder Jothan Frakes as he kicked off the 2017 show Sunday morning at 11.
Below: The first business sessions started at 12 Noon Sunday with much of the activity centered on Network Lane. This is one of two lanes that were lined with sponsor tables where attendees could learn more about industry companies from representatives who were on hand to answer their questions. Network Lane was set to remain open throughout the day, not closing until 6pm (9pm Eastern time).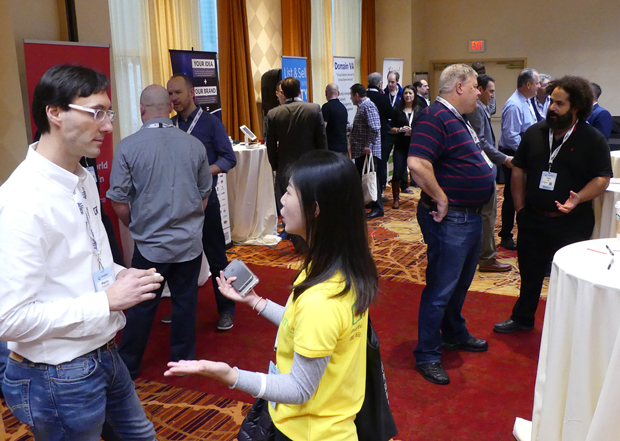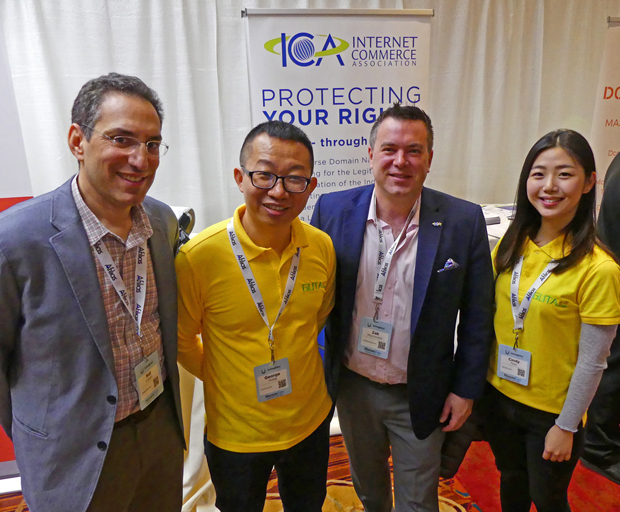 Above: The Internet Commerce Association (ICA) had a table on Network Lane where we caught up with (left to right): ICA Board Member Nat Cohen, Guta.com Founder George Hong (a corporate sponsor of the ICA), ICA Board Member Zak Muscovitch and Cindy (Guta.com). The ICA, the non-profit trade association that protects domain investor rights, will be holding a Monday night dinner in the Foundation Room at the House of Blues. Regular tickets have sold out but anyone joining the ICA at the bronze or higher level can get a free ticket to the dinner by contacting Operations Manager Kamila Sekiewicz (kamila@internetcommerce.org).
Below: At the same time Network Lane was one new business sessions began each hour throughout the day in two adjacent meeting rooms. I dropped into both of the noon sessions for this early bird report. In the one below Morgan Linton (BoldMetrics.com) delivered a presentation on Entrepreneurial Strategy: Tips for Launching Your Startup.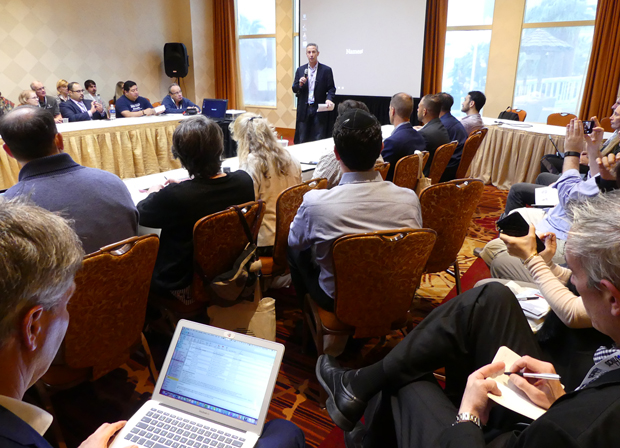 Above: Also at Noon Sunday, Michael Cyger from DomainSherpa.com presented Domain Investing 101: A How-To Guide for Newcomers.
Now it is time for me to get back down to the conference floor. Many more business sessions are scheduled today followed by the official Opening Night Party that starts at 7pm tonight (10pm Eastern). I'll have the complete Opening Day wrap up for you sometime tomorrow. Things will be very busy here with multiple sessions to cover every hour so I can't pinpoint a publication time any closer than that. Though the weather in Las Vegas was rainy and gray for opening day it was all sunshine inside at the Trop!
Tucows Signs Definitive Agreement to Acquire Enom from Rightside for $83.5 Million
Tucows Inc. (NASDAQ:TCX, TSX:TC), a popular provider of network access, domain names and other Internet services, announced this morning that it has signed a definitive agreement to acquire wholesale domain name registrar eNom from Rightside Group, Ltd. (NASDAQ: NAME). The transaction is expected to close later today.

Tucows will pay $83.5 million and the transaction is expected to be immediately

accretive to earnings. The acquisition will be funded through an amendment increasing Tucows' existing credit facility to a total of $140 million.

The acquisition of eNom will add 14.5 million domains under management and 28,000 active resellers to the Tucows portfolio. That will give Tucows a total network of over 40,000 resellers globally and 29 million domains under management, making it the second largest domain registrar in the world.

Tucows CEO Elliot Noss

Elliot Noss, Tucows' CEO said, "This industry has changed so much since Tucows and eNom each launched wholesale registrar services over fifteen years ago and .com, .net and .org essentially represented the namespace. It is a lot more challenging and complex now. At the same time, it is more mature and much more competitive. Scale is absolutely critical. This is a rare deal that gives Tucows and its investors exactly that while offering an immediate cash on cash return."

David Woroch, Tucows' Executive Vice President of Domains, added, "For years, eNom and OpenSRS (operated by Tucows) have been the two leading registrars primarily focused on the needs of resellers. This focus means these businesses fit very well together. The acquisition keeps eNom resellers where they will be well understood, well valued and well served and creates tremendous value for Tucows and resellers on both sides through efficiency and scale."

In addition to operating domain registrars eNom and Name.com, Rightside is one of the top operators of new gTLD registries. CEO Taryn Naidu said, "

The divestiture of eNom creates a stronger alignment between Rightside's vision, strategy and financial profile and we believe this is the best way to increase shareholder value. The market for new gTLDs is rapidly developing and the divestiture enables us to more intensely focus on our higher growth and higher margin businesses, where our Registry and Name.com businesses are leading the way with the new domains."

Naidu added, "We would like to thank our eNom colleagues for their hard work in building such a well-respected business and for their dedication to Rightside. We look forward to seeing their continued success and continuing to work with eNom as a valuable distribution partner as part of Tucows."

Rightside CEO Taryn Naidu
Donuts Shuffles Management Deck: Co-Founder Paul Stahura Hands CEO Hat to Bruce Jaffe to Take on New Duties with the New gTLD Giant
Donuts Inc., the world's largest operator of new gTLD registries with nearly 200 domain extensions in their portfolio (.media, .photography and .life are just a few examples), announced some key changes in their management suite today. Co-Founder and CEO Paul Stahura (who was profiled in our July 2015 Cover Story) decided to turn his CEO duties over to Bruce Jaffe, who has been serving as a Consultant and member of the Board of Directors.

The move allows Stahura to move into a different full-time role as Executive Chairman that will allow him to focus on long-term strategy and innovation, including mergers and acquisitions, new business models and partnerships with companies who are finding new utility for the DNS.

Stahura, who is the company's second largest shareholder, has been CEO since Donuts' formation in 2010. In Jaffe he is confident that he picked the right successor. "Bruce's deep operational experiences in the corporate environment, coupled with his enthusiasm for strategy and scaling high growth businesses make him an impeccable fit for Donuts," Stahura said.

Jaffe, who serves on several public and private boards, has been an active technology investor, consultant and advisor. He previously held a variety of executive positions at Microsoft, most recently leading its corporate development group where he directed some of the company's largest transactions and strategic initiatives.

Jaffe said, "I'm very excited to join Donuts. Our founding executives, and in fact the entire Donuts team, represent the best and brightest in the industry. We've had tremendous success since our founding, helping shape an industry where new domain names grew by more than 200% in 2016, now totaling more than 27 million."

The new roles for Stahura and Jaffe weren't the only changes the company announced today. They also revealed that John "JP" Pollard, a global cloud-services veteran and serial entrepreneur, has stepped into the newly created role of Chief Revenue Officer. Pollard is responsible for managing the sales, business development, marketing and public relations teams and will report directly to Jaffe.

Prior to joining Donuts, Pollard held various roles with Microsoft before leading the international expansion of Expedia. He later co-founded and was CEO of Jott Networks, a mobile phone voice service and application acquired by Nuance in June 2009. He was also co-founder and CEO of Elemental Foundry, acquired by Porch in 2014. Pollard has served as CEO In Residence at Madrona Venture Labs, as a board advisor for React Mobile, and hosts the @techvitamin podcast.

Executive Chairman Paul Stahura



CEO Bruce Jaffe



Chief Revenue Officer John Pollard
WHD CEO Soeren von Varchmin (Whose Company Bought NamesCon) Talks About Next Week's Show and the Overall Industry Outlook for 2017
We just published our 13th annual State of the Industry Cover Story today with 17 domain experts commenting on what they viewed as the more important developments in our industry last year, as well as how they feel about the prospects for this business in 2017. One of the many industry leaders we invited to comment for the story was Soeren von Varchmin, the CEO at World Hosting Days - the company that now owns NamesCon (WHD in turn is owned by HEG who in turn is owned by GoDaddy!). With the 4th annual NamesCon conference opening in Las Vegas Sunday (Jan. 22, 2017), Soeren has understandably been so busy he didn't have a chance to get his comments in before the Cover Story was published but now that I have them I want to share his timely insights with you here.

"The most significant event for World Hosting Days has been our acquisition of NamesCon, which will make NamesCon 2017 the first one under the WHD umbrella," von Varchmin

Soeren von Varchmin
CEO, World Hosting Days
(WHD owns NamesCon)

noted. "We've loved what their team has been doing over the past few years, and we're putting lots of effort into making it even bigger and better than ever. We'll be providing lots of opportunities for attendees to learn and network, as well as the highly anticipated domain auction."

"NamesCon will continue to run independently, but having the biggest domain event as part of our network of cloud and hosting events has additional significance if you think about how the traditional borders between hosting, domains and other services are breaking down - which speaks to a larger trend in the industry."

"Customers want to go to one place for their online services," von Varchmin said, "So, companies in this space - whether they're hosts, domainers, or other online service providers - have to incorporate more services than they used to. And the way to be everything for your customers is to find great partners and always be exploring new opportunities. We think we can bring together more people across the industries with this year's NamesCon and help form some of those great industry connections that keep companies on the cutting edge."

Soeren von Varchmin speaking at the first WHD.USA conference
at the Seven Springs Mountain Resort in western Pennsylvania (May 19, 2015)

Looking further into his crystal ball for the balance of 2017 von Varchmin said, "There are several interesting trends we've been seeing take shape. Consolidation of new TLDs: We're just at the beginning of the era of new TLDs. It's a really exciting time, but we shouldn't be surprised if it takes several years for a new TLD to really gain the maturity and recognition. There are a lot of enterprising small companies trying to promote their new TLD, but no matter how much effort they put into the rollout, it will take time to build a market. Larger companies have better efficiencies for promoting a range of TLDs, and many are waiting to buy new TLDs from smaller or less experienced companies with good TLDs that weren't profitable in their early stages."

"China and India will continue play an even greater role in domains: Chinese investors may have once been drawn to domains because of foreign investment regulations, but now many investors in Chinese are buying names that have real value - they're really thinking of their future potential. And India is a huge market that's really picking up speed as more people come online."

"New TLDs will make old TLDs more valuable: The new TLDs provide more domain possibilities, but .com domains are still the dominant domains and will carry more prestige. At the NamesCon domain auction you'll find a lot of interest in .coms. The new TLDs provide a lot of new options, but old TLDs already have widescale recognition. If anything, the new TLDs have grown the appeal of domains as a whole."
ROTD's Monte Cahn Previews Next Week's Live Domain Auction at NamesCon - Sale Could Top Last Year's $1.5 Million Mark
One of the main events at next week's 4th annual NamesCon conference at the Tropicana Hotel in Las Vegas will be the return of the NameJet/RightOfTheDot (ROTD) Live Domain Auction that will get underway at 3PM (Pacific Time) one week from today - January 23, 2017.

Last year's auction rang up nearly $1.5 million in sales so ROTD President Monte Cahn is understandably excited about putting another hand picked group of premium domains on the auction block. "We're working with NameJet again for pre-bidding and our extended auction," Cahn said, noting "NameJet will have our live auction system integrated within the NameJet customer accounts so if you have a NameJet account, you are already pre-registered for the live auction and able to bid online while the live auction is going on."

"If you want to participate as a bidder in the live or online auctions, you must have a NameJet account," Cahn emphasized. "Pre-bidding and NameJet sign up is here: http://www.namejet.com/featuredauctions/liveauction."

Monte Cahn
President/Director
RightOfTheDot.com

"Again I have some of the best names in this year's auction including many names that have never been for sale before," Cahn continued. "How about these packages with high bids: [bar.com - bar.net - cafes.com - grill.com - place.com - pub.com - shelter.com] and [featured.com - featured.net - featured.org - plus Facebook page /featured] and [weddingparty.com - weddingparty.net - weddingparty.org - weddingparty.biz - weddingparty.info - weddingparty.tv] and [wineclub.com - wineclub.net - wineclubs.biz - wineclubs.co, @wineclub Twitter handle and including the Facebook wineclub page]."

"Also individual names like Single.com, OL.com, SW.com, stop.com, doe.com, leads.com, keyword.com, patty.com, strippers.com, cranberry.com, sportscars.com and lodges.com. Some of the really good other TLDs featured are uf.tv, earrings.net, 89.tv, cellphone.net, sales.net, gold.club, business.broker, diamond.club, shoes.xyz, travel.agency, sweepstakes.org, e.hosting, ceo.asia, boob.tube and x.audio among others."

Cahn added, "There will be about 125 domains in the live auction that starts on January 23rd at 3 PM PST. There will more great names in the extended auction that will run through February 9th to accommodate the Chinese New Year. Again you must have a NameJet account to participate in both the live and online auctions. I am excited to also announce that RightOfTheDot has the exclusive rights to conduct the live and online auctions at NamesCon through 2019!"

The 2017 NamesCon conference itself will open Sunday, January 22 and continue through Wednesday, January 25. I will of course be there to cover it for you with daily photos and highlights in this column.
How David J. Castello Made the Impossible Seem Plausible in His Engrossing New Novel "The Diary of an Immortal"
Last month I told you about David J. Castello releasing a new novel called The Diary of an Immortal (1945-1959). Since then David's enthralling tale of how a young American soldier stumbled upon a formula that would let him live forever has been steadily building an enthusiastic audience in Amazon's Kindle Store where it is priced at just $2.99 (vs. $17.99 for the soft cover edition).

The book has reached as high as the top ten in Amazon's Magical Realism category - a genre that GoodReads.com describes as "one in which magical elements blend to create a realistic atmosphere that accesses a deeper understanding of reality. The story explains these magical elements as normal occurrences, presented in a straightforward manner that places the "real" and the "fantastic" in the same stream of thought." The Curious Case of Benjamin Button and The Green Mile are examples of some classics in the genre.

I just returned from a nine-day holiday cruise that was made even more enjoyable by being able to sit by the pool and read The Diary of an Immortal with no distractions. It's a good thing nothing else needed my attention because the story was so engrossing I would had ignored it anyhow!

I don't want to spoil anything for you so I will just encapsulate the story in a couple of paragraphs and leave all of the twists and turns of the story for you to enjoy for yourself. Steven Ronson, the young soldier from Florida (where David, an accomplished musician, writer and - with his brother Michael - acclaimed domain investor, also grew up), found himself fighting the remnants of Hitler's forces in 1945 Germany when, during a raid on the Dachau concentration camp, he discovered a mysterious stash of pills that were meant to allow Hitler to live forever, but fortunately never made it to the Fuhrer. Ronson began consuming the pills and soon found they gave him extraordinary abilities including the power to heal from any injury - completely impervious to death.

Ronson moved to New York City after the war where, aided by the formula, be became a saxophone-playing phenom on the local jazz scene. One night after playing he met a

Photo of Buddhist monks from Bigstock

disfigured former missionary (Albert) who recognized something familiar in Steven that he had seen before - immortality. Albert told Ronson that the immortality formula originally came from China where an order of secretive monks had been using it to live continuously for centuries.

Albert also had a beautiful niece, Jennifer, whom Steven fell in love with, so he jumped at the opportunity to accompany them to China (in the midst of that country's civil war which Steven was soon embroiled in) to learn more about the immortals and why he was destined to become one. With the guidance of Albert and 2,000 year old monk Chow Li Steven would get the answers he was looking for but the story does not end in the way we expect...and that is all I can tell you without spoiling it!

It is a terrific read (and I could see an epic movie made from this book). Castello is a long time history buff and an expert on World War II history in particular. That allowed him to fill the book with real people, places and events that allows the story to transcend fantasy and make you forget from time to time that you are reading fiction! I've written non-fiction practically my entire life and I have no doubt writing good fiction is much harder. How someone can create, solely from their imagination, engaging characters, dialog and a great story with so many moving parts that have to all be tied together in the end completely amazes me.

When I asked David how this process worked for him as he created his first novel he told me, "The book came to me in a series of dreams that seemed odd and disjointed. Luckily, I didn't fight it and went with the flow because when it was completed I could see they all lined up. There is a part where Steven tells a music producer in New York City that (when playing his astounding other-worldly sax solos) he felt like a radio receiver to the cosmos. I wrote that because I was feeling that way! There is no way my book would have been created as it is if I hadn't taken notes the instant I returned to consciousness. I would've only remembered the basic elements, it wouldn't have made sense and my conscious mind would've taken control and steered me away to a different destination."

Thankfully, David's dreams (and his meticulous note taking with the pen and tablet he kept at his bedside) took him to the right place - a place you can arrive at too after taking the fast-paced 307-page journey through The Diary of an Immortal. If you need more

Author David J. Castello

incentive, the book ends with the ingredients in the immortality formula! Let me see you get that at Walgreen's for $2.99! :-)
We're Back - Rested and Ready for Another New Year in the Dynamic Domain Industry

Diana and I just returned from a nine-day holiday cruise through the eastern Caribbean, leaving from Fort Lauderdale December 30 on the Celebrity Silhouette with stops in San Juan, Puerto Rico; St. John, Antigua, St. Maarten; and St. Thomas (in the U.S. Virgin Islands) before we got back home Sunday (January 8).

The main reason we took the trip was the desire to so something different for New Year's Eve. We grew tired of the local night club parties years ago and settled into a routine of having dinner then coming home to watch the crystal ball come down in New York's Time Square on TV. Finally having had enough of that, Diana came up with the idea of going on a cruise over New Year's and (as usual with her) it was a great idea.

Celebrity staged a terrific New Year's Eve party on the ship

Ron & Diana Jackson celebrating New Year's Eve at sea
(December 31, 2016).

and we enjoyed spending New Year's Day lounging on the pool deck in the picture perfect weather we were blessed with throughout the voyage. Starting January 2nd we were in a different port every day for four days and had a great time exploring each one. So, if you are looking for something different to do to celebrate the arrival of 2018 I can highly recommend this.

Our ship (in the upper right corner) docked at Charlotte Amalie, St. Thomas, the capital of the U.S. Virgin Islands Thursday (January 5, 2017). This photo was snapped on a drive up to the 1,500-foot mountain top that overlooks Charlotte Amalie.

Now I'm back, rested and ready to cover the exciting and ever changing domain industry for a 15th year (January 1, 2017 was the 14th anniversary of DNJournal.com). That gets started in a big way less than two weeks from now when we head back out to cover the 4th annual NamesCon conference in Las Vegas that runs January 22-25 at the Tropicana Hotel (you can see our show preview here). I'm looking forward to seeing many of you there and if you can't make it I'll be providing daily photos and highlights from the event in this column.

I hope that this new year will be a happy and prosperous one for you and your loved ones. Words cannot express how much I appreciate your encouragement and support through the years!
---
If you've been out of the loop lately, catch up in the Lowdown Archive!
---
We need your help to keep giving domainers The Lowdown, so please email editor@dnjournal.com with any interesting information you might have. If possible, include the source of your information so we can check it out (for example a URL if you read it in a forum or on a site elsewhere).
---
Home Domain Sales YTD Sales Charts The Lowdown News Headlines
Articles Resources Classified Ads Archive About Us