Here's the The Lowdown from DN Journal,
updated daily to fill you in on the latest buzz going around the domain name industry.

The Lowdown is compiled by DN Journal Editor & Publisher Ron Jackson.
Sam Tseng Joins ParkingCrew - Sevan Derderian Moves to Trellian - NamesCon Coming to India - Sedo Raises Cap on Domain Prices
ParkingCrew has made a key addition to their management team. Industry veteran Sam Tseng has come on board as Director Business Development, Publisher Products. Tseng has previously served as Director of Sales at DomainSponsor/RookMedia and Account Executive at Uniregistry. He will add another 10+ years of deep industry knowledge to the Parking Crew sales force.

ParkingCrew CEO Nico Zeifang said, "We have known Sam since the early days at DomainSponsor and kept in touch with him while building out our ParkingCrew platform. Having a long running relationship, we are thrilled to have him on board."

Tseng said, "I wanted to work in a non-corporate environment on a very technology driven product and this is exactly what Team Internet with their products ParkingCrew and TONIC. stands for."

Tseng will be stationed in Los Angeles, catering to the needs of ParkingCrew and publisher TONIC. customers in the United States, Canada and Chinese speaking countries.

Sam Tseng
Director of Business Development
Publisher Products

Sevan Derderian
Trellian Brokerage Director

In another major personnel move that came to light in a DomainGang story over the weekend, industry veteran Sevan Derderian has joined Trellian (who operates domain monetization service Above.com) as Brokerage Director. Derderian moves into that role after almost three and half years at Uniregistry, most recently as Director of Sales.

Derderian first entered the domain industry in 2004 with Oversee.net and also held sales and management positions at Thought Convergence and NavBid before joining Uniregistry in 2013. I haven't seen a formal press release on Sevan's move to Trellian but his LinkedIn page confirms the new role effective this month.

Derderian will work from Southern California where Australia based Trellian/Above has a Los Angeles office.

Elsewhere today, NamesCon revealed they are planning a series of one-day international domain events in association with World Hosting Days (who acquired NamesCon last year). The first of those will be held May 19,

2017 in Mumbai, India. The news came in a 2017 NamesCon conference wrap-up posted on the conference website but no other details on the series or India event have been released yet. The post said dates and locations for other one-day events will be coming soon.

Last but not least, Sedo has raised the price cap on domains listed for sale on their platform from $10,000 to $50,000. The increase is something customers have often asked for so it will be a popular move. A note we received from a company spokesperson said, "This means

more flexibility and faster to market times for all domains on the world's largest marketplace. Since we first added the $10,000 limit it has been more common for sales to reach the five figure range and beyond."
NameThreads.com Offers New Service That Helps Investors Zero in on Domain Bargains at NamePros
Domain forums have long been popular hunting grounds for investors looking to bag attractive names at bargain prices. However, there are so many domains for sale at the massive NamePros.com forum it can be hard to find the diamonds you are looking for in what seems to be an endless "mine".

Glasgow, Scotland based domain industry veteran Martin Kellerman decided that providing an affordable solution to that problem could be a good business opportunity, so the professional programmer has built and launched a new service at NameThreads.com. With it, Kellerman says, "You can easily search all of the domains for sale at Namepros. We have well over 100,000 domains in our database. Domain re-sellers trade their domains cheaply on Namepros.com but until now it has been very hard to search for specific domains according to your requirements."

NameThreads let's you search by domain keyword, TLD (.com, .net, .co.uk, etc.), domain length, number of letters, digits and hyphens in the domain, number of vowels and consonants
and many other factors. Kellerman noted, "If you are starting a website or business in a certain niche, you can search for domains in your niche. If you are looking for a short

Martin Kellerman
NameThreads.com Founder

brandable domain that is a 5-letter long .com with a certain pattern of vowels and consonants, you can find it. If you are a domain re-seller looking for a numeric domain without 0 or 4, you can find it."

NameThreads.com offers two levels of service and both come with a 7-day free trial so you can "try before you buy". After the trial period a Basic Membership costs $9.95 per month or $99.95 for one year. An Advanced Membership is also available a $29.95 per month or $299 annually. The latter option comes with a lot of extra search criteria including number of letters, numbers and hyphens in the domain, any consonant/vowel combination such as CVCV, CVCVC or any other you can think, keyword the domain begins or ends with, Western premium and Chinese premium domains and the ability to export results to a .csv file for further analysis.
GGRG Report Says Chinese Buyers Gobbled Up a Bigger Piece of the Liquid .COM Pie in 4Q-2016 - Current Quarter Forecast Also Included
Domain brokerage and consultancy GGRG.com has just released their latest free quarterly report breaking down aftermarket sales of "liquid domains" (short .com domains that are relatively easy to sell at prevailing market prices). The new report (.pdf file) covering the 4th quarter of 2016 that I received from GGRG founder Giuseppe Graziano noted, "China continued to gain significant market share in the last quarter of 2016. Chinese registrants were the only net gainers of liquid domains, with owners in the US, Europe and rest of the world losing approximately 10% of their share. The biggest ownership change came in the 4L .com category ("L"= letter, "N" = number), with China adding over 45,000 domains, or 10% of the category."

Graziano added, "While China is leading the market with over 50% of the registrations in 2N, 3N, 4N and 5N .com, the US is still the market leader for 2L and 3L .com domains, the two most developed categories . This suggests that while Chinese investors are clearly leading investor demand, US companies are still the ultimate end user of liquid domain names."

The report's Executive Summary section includes some interesting sales data. It notes,

GGRG Founder Giuseppe Graziano

"Disclosed sales increased 12% to 5,455 domains sold, and total sales volume increased 7.7% to $5.48 million. Transactions of top tier domains typically remain undisclosed with the exception of HG.com (rumored to have sold for $3,770,000 to a Chinese company). There were no recorded transactions of LL, NN and NNN .coms in Q4-2016."

"The increase in sales volume came mostly from lower tier categories like 4L and 5N .coms. As predicted in our Q3 forecast, these categories seem to have reached a support level: 5th percentile values increased 6.51% for 4L .com and 8.27% for 5N .com. Transactions of 3L .com domains registered a notable 57% increase in number of units sold; the increase in supply however translated into a sharp 17% decrease of the 5th percentile values, which decreased from $18,200 to $15,100. The number of disclosed 4N .com transactions was unchanged from last quarter (11 domains sold), but sales volume almost doubled, increasing from $259,936 to $512,983."

Image from Bigstock

Looking ahead, the GGRG report sees this for the first half of Q1-2017: "We forecast a decrease in investor demand due to 1) the slow period around Chinese New Year; and 2) the increased activity in bitcoins, an investment alternative to domain names for Chinese buyers."

"In terms of market opportunities, LN & NL domains still appear to be undervalued because their retail price is quite low in relation to their scarcity (520 domains) and high development index (27.31%). The low concentration index, the lowest among liquid domains, suggests that this category is one of the least susceptible to market manipulation and therefore unexpected surges in supply."

" Also, since end user demand does not seem

to favor domains with Chinese Premium letters, domains with vowels seem to offer better prices than their Chinese Premium counterparts."
TLD Registry Clears High China Hurdle - Now Has Two of the Very Few Extensions Accredited There
While there are now well over 1,000 domain extensions (TLDs) on the web, one of the world's most important markets, China, has fully accredited only 32 of those. The latest to make the exceptionally short list are TLD Registry's .在线 (Dot Chinese Online) and .中文网 (Dot Chinese Website) extensions. The company got the good news over the weekend from China's Ministry of Industry and Information Technology (MIIT), the state agency of the Chinese government that regulates the Internet from within China, after MIIT gave TLD Registry's Beijing-based WFOE (wholly foreign-owned entity) company full accreditation status.

The accreditation means that Chinese citizens and organizations who register .在线 and .中文网 can now obtain an Internet Content Provider (ICP) license that must be displayed in the footer of any website hosted within China. Non-accredited TLDs can only be hosted outside of China. For domain developers, being able to host a site within China greatly reduces the risk of getting blocked or shut down without notification due to the lack of a valid ICP license. It also means that foreign companies who wish to market their products and services on a website within China will experience much faster access to their sites by Chinese citizens, due to their websites now having the option of resolving from a host inside of China, thus bypassing the firewall and other latency issues that can block access and sales.

TLD Registry CEO Arto Isokoski

Arto Isokoski, CEO of TLD Registry, said, "Receiving MIIT's accreditation is one of the greatest milestones we've achieved as a China
market focused business. SMB's, corporations,
startups, brand protection agencies, investors, and anyone else in China who wishes to use one
of our domain extensions for their website can now do so with ease and official approval."

Several foreign registry operators have been vying to obtain the coveted MIIT accreditation due to China's massive and lucrative market, however they must endure a rigorous and time consuming process. The ability to register .在线 and .中文网 and host a website legally from within China effectively provides TLD Registry with a linguistically correct and culturally relevant alternative for a population of nearly 1.4 billion people (of which 721 million are internet users) and the largest e-commerce market in the world.
Above.com Rolls Out New Portfolio Manager That Let's You Track Domain Monetization, Sales and Renewals in One Place
When I came back from NamesCon a couple of weeks ago I mentioned the extraordinarily large number of new company launches, service improvements from existing companies and personnel changes that were announced during the show. There were far too many to get to while covering events at the conference itself so I will continue to share some of those developments with you in this column over the next couple of weeks.

One of them was the beta launch of domain monetizer Above.com's new Portfolio Manager. Above,.com/Trellian President David Warmuz tolf us, "The Portfolio Manager is designed to help domain investors more efficiently manage portfolio data, make more informed decisions, and quickly take actions to improve earnings. For example, Portfolio Manager's dashboard offers insights on revenue boosting opportunities associated with Above's AutoPilot platform. AutoPilot drives revenues higher by finding the highest earning monetization channel for each domain visitor. The AutoPilot Maximizer feature provides a substantial revenue boost by offering domain traffic to our premium direct advertiser channel, fully seamless and integrated with Trellian's Direct Search Network, where advertisers compete for your traffic."

Warmuz added, "Portfolio Manager's dashboard also offers a Registrar Consolidate feature, which pulls together data required to make timely, ROI-based domain renewal decisions.
Domain investors can also manage offers and counter-offers, generate BuyNow prices

Above.com President David Warmuz

based on domain and revenue stats, and get domains posted quickly for sale on Above's Marketplace. Portfolio Manager truly offers everything a domain investor needs, all in a single dashboard. I encourage domain investors to check out the time saving, revenue boosting, and cost reduction opportunities offered by the data and tools in our new Portfolio Manager dashboard."

You can also get more insight into the capabilities of Above.com's new Portfolio Manager in this video at YouTube: https://youtu.be/wt6YJ0npAmM.

The Above.com leadership team at their booth during the 2017 NamesCon conference in Las Vegas. Left to right are Aaron Kvitek (SVP Strategic Marketing), Liz Corona (Senior Account Manager), Nancy Bianchi (Executive Vice President) and David Warmuz (Co-Founder/President).
SumoMe Acquires Sumo.com for $1.5 Million Ending a 7-Year Quest to Acquire Their Dream Domain - Founder Noah Kagan Tells Us How the Deal Finally Got Done
The founder of SumoMe, a popular website services company that has operated from SumoMe.com, finally has his dream domain and new brand name after acquiring Sumo.com for $1.5 million. Austin, Texas based serial entrepreneur Noah Kagan, the founder of both SumoMe and AppSumo, filled us in on how the sale came about before he publicly announced it today. Our interview is below:

DNJournal: Premier domains like this are not easy or inexpensive to come by and I understand your quest to acquire it was a particularly stomach churning ride. Take us through it from the beginning – when and why you decided to pursue the name, how you made contact with the owner and how the negotiations played out.

Noah Kagan: We started to pursue the name on April 3, 2010! It's taken nearly 7 years to acquire it. The owners were unresponsive so we found an introduction to them through a mutual contact on LinkedIn. The owners would respond and then stop for a few months. We hired 3 brokers and none were able to get the owners to budge on selling. When we got on the phone and then made the 7-figure offer,

Noah Kagan
SumoMe Founder

things started to get more serious. I kept persisting as the owners would be unresponsive. Ultimately I gave them the large offer and a strict deadline which helped motivate the situation to a close.

DNJournal: I understand the owner had asked for as much as $10 million at the height of last year's Chinese buying boom. While you got it down to $1.5 million that is still, obviously, a very significant investment. How do you expect having Sumo.com to recoup that investment for you?

Noah Kagan: They did ask $10 million for Sumo.com and I told them they were crazy. I look at the domain as a long-term investment. The brand value, improvement on recruiting and personal satisfaction should recoup our spend within a year in my opinion. We also structured the purchase with monthly payments so we didn't have to spend it all at once which made the investment much more digestible. There's a large value on happiness and being the de facto Sumo brand on the market now and forever is nearly priceless to me.

DNJournal: Hundreds of new domain extensions have been released over the past two years. Did you ever consider using one of these new extensions rather than making the large cash outlay you did to get the .com?

Noah Kagan: Ha! Yea, we own sumo.ly / sumos.com and I spent 2 years trying to buy sumo.me. It felt like we were settling for second place when we knew what we wanted. Similar to real estate, there's only one Beverly Hills in the world and it's very expensive to live there. Everyone knows its prestigious and one of the nicest places to live. That's what .Coms are. You can definitely live a great and prosperous life in Santa Monica (.IO or whatever) but the status that goes with a dot com is still the de facto TLD. For instance, name one large public company that doesn't have the .com as their main brand.

DNJournal: For a large enterprise changing a name – even to a great, more intuitive one – involves a good bit of work. What has been involved for you and your team in making the transition from SumoMe.com to Sumo.com?

Noah Kagan: Holy moly. You don't realize how many places and logos your name appears. We've spent about 2 months transitioning the name. There are things anyone buying a domain should do as well is leverage the purchase for PR exposure. Specifically we've:

Updated our logo to go along with our new name

Reviewed every place where SumoMe is mentioned

Updated all our LinkedIn profiles

Attempted to get the social accounts of the new domain

Setup articles with relevant press sites like your own and more.

DNJournal: Are there any other details you think would be of interest to our readers regarding this major acquisition?

Noah Kagan: Persistence beats resistance. For anyone else out there really wanting a specific domain, figure out the leverage you can get to acquire it and start the process earlier. Two major changes if I had to do it again would be to use a fake email address personally if you have an online presence. This would have not let the seller necessarily know why we are using it and potentially charge us a premium. Second, I would have pushed harder to purchase the domain sooner, likely would have been able to save a million dollars doing it that way!

DNJournal to readers: Thanks to Noah, who was one of the first employees at Facebook, for sharing his experiences with this sale. He is probably right about saving a lot of money had he pressed to close the sale years ago. Rob Barbour of MarketingFools.com, the mutual friend who introduced us (a big thank you to Rob for that as well), told me the previous owner of Sumo.com had acquired the domain in 2008, just two years before Noah first contacted him, for $150,000.
Somebody Bullied the Wrong Grandma - How Heidi Powell Became a Key Figure in the Fight for Domain Owner Rights
For as long as there has been a domain business, domain owners have had to deal with people trying to steal their assets through frivolous UDRP filings or lawsuits. Predators quickly learned that instead of paying the rightful owner for it, they could get their hands on a domain name much cheaper the underhanded way because there was rarely a price to pay if they got busted.

In the case of UDRPs, even if the usurper is found guilty of a Reverse Domain Hijacking attempt, there is no penalty for that. In the case of lawsuits, a lot of domain owners have had no choice but to forfeit their domain rather than face the sky high cost and aggravation of a protracted legal battle against opponents with far larger bankrolls.

It has gotten a little better over the years but serious problems still remain

Image from Bigstock

because, for the most part, it was only domain owner's oxen that were getting gored - and no one had much interest in domain owners unless they happened to own a name that someone thought they should have instead.

Yet, all of the sudden, there is a domain owner that a lot of people care about - a grandmother from Washington State named Heidi Powell whose plight has captured widespread media attention, attention extending beyond the domain world. The injustice in her situation even caught the eye of USA Today.

Joseph Peterson posted an in depth account of Heidi's story at the NamePros Forum that has now been supplemented by dozens of posts from others, including most notably one of the world's leading domain attorneys, John Berryhill, that further illuminates the complicated situation. I highly recommend reading all of it, but if you are pressed for time I'll attempt to give you the Cliff's Notes version here.

In 2005 Heidi's husband Kent registered the HeidiPowell.com domain name and gave it to Heidi as an anniversary gift. She has used it ever since - initially

Heidi Powell
The owner of HeidiPowell.com
since 2005.

for email and more recently for her own business. That should have been the end of the story. But years later, another woman, whose name also became Heidi Powell after a 2010 marriage, came along and decided the grandmother should give up her name because Heidi #2 was a "celebrity" of some sort (she apparently appeared as a fitness trainer on an ABC-TV show called Extreme Weight Loss). This even though Heidi #2 already had a perfectly respectable domain name in HeidiPowell.net (for the record Bruce Springsteen is at BruceSpringsteen.net so its not like someone who is less well known than the Boss's roadies should feel the extension is "beneath" them).

Attorney David Weslow

The original Heidi declined the new Heidi's offers to buy the name, so Heidi #2 sued her in an attempt to take something that clearly was not hers to take. Since the original Heidi and Kent had gone through a bankruptcy in 2012 they probably looked like easy targets as they would have little money to mount a defense. However, Heidi #2 did not plan on domain attorney David Weslow (WileyRein.com) getting wind of all this and deciding he couldn't let it pass. Weslow took on the original Heidi's case pro bono and most expect that case will go in the original Heidi's favor once the verdict comes down. Meanwhile, the Internet Commerce Association (who works to protect domain owner rights) has already recognized Weslow for his selflessness by awarding him the ICA's first Lonnie Borck Memorial Award.

But wait! Heidi #2 was not done yet!

Even with the original case still to be resolved, Heidi #2 had a trick play up her sleeve. She filed a new suit asking the judge in the original Heidi's bankruptcy case to re-open it, claiming the real Heidi did not list her domain name among her assets of value (never mind that at the time - and even now - the name has no value to anyone not named Heidi Powell). Again Heidi #2 found she had picked the wrong grandma to bully. Even though the original Heidi would have to foot the bills this time, she counter-sued Heidi #2 for damages and expenses that could run into six figures. All of the sudden Heidi #2 apparently realized she had stepped in a big pile of...well, I hate to say it but...#2. According to the commentary in the NamePros thread she withdrew her bankruptcy case law suit - but now it is the original Heidi who is not done yet. Her counter-suit will continue and Heidi #2 cannot withdraw from that.

So, while Heidi #2 now finds herself in a world of hurt, Heidi #1 had landed in an unexpected new role as a champion of domain owner's rights. As John Berryhill noted in his NamePros commentary, "Ending it with a bang, particularly given that a celebrity of sorts is involved, could have the beneficial effect of sending a message to others similarly situated that going into a court or UDRP on a flimsy trademark claim, and walking out with a domain name to which someone else is properly entitled, is not always as easy as it seems."

Berryhill added, "It really spins some folk's heads around when, during the course of a domain dispute the trademark claimant makes an offer, and gets a response to the effect of, "No, we're going to sue you for more than that and KEEP the domain name. Opposing counsel didn't used to take those sorts of statements seriously until a handful of domain registrants began seeking, and obtaining, damage awards for Reverse Domain Name Hijacking. Those sorts

Attorney John Berryhill

of decisions have made it easier to deter frivolous claims, and I imagine that this one will add to the impact of counter-threats in domain disputes. That's a good thing."

Even though going to war in the right thing to do, it's not something the real Heidi can afford to do alone. After dozens of people asked how they could help she opened a GoFundMe page where anyone can contribute toward the $7,000 goal to help meet the legal expenses. There have been lots of donations ranging from $10 to $100 and Heidi said every dollar will go toward the cause - with any money left after legal costs being donated to the Internet Commerce Association who has helped spread this story far and wide.

While I have given you a summary of this situation I want to close with something more powerful - Heidi's own story, told in her own words in this 3-minute YouTube clip:



New Report Shows How Organizations Around the World Use Online Technology and Social Media to Reach Their Goals
Public Interest Registry (PIR), the not-for-profit operator of the .org, .ngo and .ong domains and Nonprofit Tech for Good released an interesting new survey this week, their 2017 Global NGO Online Technology Report. This 2nd annual report reveals how non-governmental organizations (NGOs) worldwide use web, email and mobile communications, online fundraising tools, and social media.

While the report is specific to the not-for-profit category, the results should be of interest to anyone who is developing a website and trying to figure out the most effective ways to interact with visitors and clients.

The report details the key findings from a survey of 4,908 NGO respondents from 153 countries across Africa, Asia, Australia & Oceania, Europe, North America and South America. Compared to the 2016 survey, the report nearly doubled in the number of participants. Findings in the report include regional comparisons of how NGOs use the internet to build awareness and raise funds, as well as whether NGOs find specific online and mobile communication tools to be effective for their communications and fundraising strategies.

Key findings globally include:

92% of respondents have a website. Of those, 78% are mobile-compatible.

Only 38% regularly publish a blog.

More than 68% of survey respondents noted that their organization uses the .org domain, compared to 9.2% that use the .com domain.

Email dominates as the preferred form of communication to donors, with 71% of respondents regularly sending email updates, whereas 15% regularly send text messages to supporters.

67% of respondents accept online donations.

While 95% agree that social media is effective for online brand awareness, only 66% of respondents say that executive leadership supports prioritizing social media in their online communications and fundraising strategy.

Facebook leads as the preferred social media platform with 92% of respondents having a dedicated page, followed by Twitter (72%) and YouTube (55%).

Heather Mansfield, the founder of Nonprofit Tech for Good, said "As internet infrastructure continues to improve worldwide, we expect that future results of this survey will demonstrate that NGOs around the world are becoming more equally empowered to use the internet to inspire philanthropy and create social change. The NGO Online Tech Report is groundbreaking in that it is the only annual research project dedicated to studying how NGOs use online technology on a global scale and reveals the technological gaps across regions."

With respect to North America, key findings include:

When communicating with supporters, only 3% of respondents in North America regularly send mobile text messages.

85% of respondents accept online donations.

38% of respondents in North America have been using social media for 3-4 years and 36% percent have been using it for 5-9 years.

50% percent of respondents in North America have used social media to report live.

Public Interest Registry CEO Brian Cute noted, "We understand the global NGO community uses the internet to advance their causes, however the status of a region's internet infrastructure may impact their ability to communicate and spread their mission worldwide. The report allows us to see the challenges, pain points and ultimately opportunities to support organizations online and give them a foundation to stay connected."

Public Interest Registry's mission is to educate and enable the global noncommercial community to use the internet more effectively, and to take a leadership position among internet stakeholders on policy and other issues relating to the domain naming system. Nonprofit Tech for Good is a leading social and mobile media resource for nonprofit professionals.

PIR CEO Brian Cute

For more information on the survey's findings and methodology, and to download the full report and graphics, visit: http://www.techreport.ngo.
.CLUB Boosts Sales By Offering Five Years of Free Financing and a New Partnership Program for Brokers
On the same day the 2017 NamesCon conference opened in Las Vegas (January 22) the .CLUB registry launched two new initiatives designed to boost sales - a five-year free financing program for premium domains priced at $1,000 or more and a new Broker Program

that helps brokers profit from .CLUB sales. The first week of results are now in and .CLUB is delighted with how well the programs are working.

Chief Marketing Officer Jeff Sass told me,
"39 premium names totaling $149,480 (after broker discounts) were sold in the first 7 days. 95% of the buyers (representing 37 names) chose the free financing option and 43.6% (17 names) were bought or sold by Broker Program participants."

"With 60-month, interest free financing, that $1,000 name can be had for less than $17 a month. For businesses and entrepreneurs, great 5 and 6-figure premium names become much more attainable when payments are spread out over 5 years. You can search for and purchase premium .CLUB names, with a one-time payment or with 60-month financing, at www.get.club."

Sass added, "With the broker program, domain investors and brokers can more easily market and sell .CLUB premium names to their clients, passing along savings and the financing option. Approved brokers are issued a unique code they

.CLUB CMO Jeff Sass speaking on a New gTLD panel at the 2017 NamesCon conference in Las Vegas last week.

can pass along to their customers. The code will automatically offer a 10% discount to the purchaser and earn commission for the broker the code is assigned to. Some brokers have been even been financing their own exclusive inventory of names they have an interest in developing and/or re-selling. Interested brokers can get more details and apply for their unique code at www.get.club/broker."

.CLUB also reported that they sold over $112,000 worth of premium domains in the final quarter of 2016. 23 of those sales were over the $1,000 mark making them them eligible to be charted in our next weekly domain sales report that will be out Wednesday evening (February 8).
DomainX Conference to Expand Beyond India - Plans Announced for April Show in London
After staging three successful annual domain conferences in India DomainX Events has decided to make their next step an international one. Plans are underway for a one-day London edition of DomainX to be held Sunday, April 9, 2017 in the UK capital. The conference venue has not yet been announced but the show website already shows an initial list of speakers and a preliminary event schedule. The roster of speakers currently listed includes Jon Yau (StockPhoto.com), Tommy Butler (Glasow.com), Zak Muscovitch (DNAttorney.com) and DomainX Founder Manmeet Pal Singh, as well as several other well-known industry figures.

Singh launched DomainX with a 2014 conference in Hyderabad, followed it in 2015 with an event in Bangalore, then went to New Delhi for the 2016 show last August.

Singh told us, "We are hoping to bring together over 100 professionals to exclusively meet and greet each other while networking with some of the best in the Domain Name business in Great Britain." Tickets are priced in three categories - Regular Conference Ticket (£99), 2 Regular Conference Tickets (£149) and VIP Conference Ticket (£199). As more details are finalized you will find updates on the DomainX London website here: http://www.domainxevents.com/london/.
VIP Brokerage Founder Mark Thomas Reveals $1.82 Million Sale of a 2-Digit .Com
When our next weekly domain sales report comes out tomorrow evening (Wednesday, Feb. 1) our Top 20 Chart will include the first 7-figure sale to come to light in the New Year. We've learned from broker Mark Thomas, who founded South Florida-based VIP Brokerage in 2015 (after a 3-year stint with Domain Holdings), that he completed a $1,820,000 sale of 01.com.

The deal closed in late 2016 but couldn't be released until now due to a 90-day non disclosure agreement (if a sale is made within the previous 12 months we chart it when it is revealed. Older sales, if large enough to qualify, go on the Top 100 Chart for the year in which the sale was made. Those annual charts are available in our Domain Sales Archive). The 01.com seller and buyer both wish to remain private and the domain is currently under WhoIs privacy at GoDaddy.

I spoke with Mark at NamesCon in Las Vegas last week and he said this is his fifth sale of a rare two-digit .com domain of which only 100 possible combinations exist. He added that he has had some other sales that also reached seven figures but, like most transactions at this level, they were subject to NDA's. If we could see all of those sales across the industry people would have a much greater appreciation of how much money is changing hands in the domain aftermarket (especially with respect to short .com domains).

Mark Thomas
Founder, VIP Brokerage

Thomas credits his success since opening his own shop to the time he spends finding and reaching the appropriate end-users so he can maximize his Client's ROI. He said VIP Brokerage specializes in stealth acquisitions, global branding, sales and marketing of premium domain names, digital assets, and business to business joint ventures.
Big Changes at MMX (Formerly Minds + Machines) Solomon Amoako Joins Team & Premium Domain Renewal Prices Slashed
I'm back from a very productive week at the 2017 NamesCon conference in Las Vegas. While there I heard about a remarkable number of new company and product launches, personnel changes and other industry

developments. I came home with a list of nearly 20 press releases and story ideas that I couldn't get to while the show was underway and I was focused almost around the clock on covering the conference itself for you. Now that I'm back, I'm looking to sharing those stories with you over the next three or four weeks.

Solomon Amoako
Vice President, Channel Management
MMX.CO

I'll start today with some news I was especially happy to hear about. That was an announcement from one of the leading new gTLD registry operators, MMX (formerly known as Minds + Machines - the administrator of .vip, .law, .fashion and .miami to name just a few), that they had appointed domain industry veteran Solomon Amoako to the company's senior leadership team. Solomon, who is one of the most personable and enthusiastic people I know, fills the newly-created role of Vice President, Channel Management, at MMX. He is responsible for the company's sales operations in the Americas and Europe, with a special focus on accelerating the company's commitment to partnership-building and premium sales activity.

MMX CEO Toby Hall said, "Solomon brings a broad and valuable perspective to the MMX team. More importantly, he shares the same vision for the Group as our entire team does – that we succeed when our partners succeed."

Prior to joining MMX, Mr. Amoako was Chief Sales Officer and SVP, Americas at Sedo,

where he led business development, account management and brokerage teams. He also served as Vice President of Business Development for the Rightside Group, and Director of Global Sales & Account Management at the wholesale Internet services company, Tucows.

Solomon said, "I've been an admirer of MMX since the company's 2016 restructure. MMX has repeatedly demonstrated to the industry that it is serious about partnering, and over recent weeks I've seen that the entire MMX organization is singularly focused on partnering for success. In particular, the solid work MMX is putting into end-user education is exemplary. The approach MMX is taking is the best I've seen at any domain registry, and I'm enormously proud to join the team."

Amoako's appointment coincided with another announcement from MMX - a rebooting of their Premium Domain Program that includes the complete elimination of premium renewal prices for all premium domains sold from January 6, 2017.

CEO Toby Hall said, "MMX is committed to delivering the most domain-investor-friendly premium name programs in the industry. We started the process of rebooting our strategy in July last year, when we alerted our many registrar partners that 100% of our premium names sold after January 6, 2017 would have standard, General Availability renewal prices. As an added incentive to strengthening our existing partnerships and building new ones, we are likewise revisiting the price tiering of all our premium inventory across the portfolio. The upshot of our new Premium Program is that all registrants will ultimately have access to much more affordable purchase opportunities with sharply reduced carrying costs."

MMX CEO Toby Hall
Speaking at last week's 2017
NamesCon conference in Las Vegas

The MMX Premium Domain Program applies to all MMX wholly-owned TLDs in general availability, and will apply to all TLDs in the MMX portfolio still to launch – perhaps most notably .boston which is expected to debut later this year.
Closing Day Photos & Highlights from the 2017 NamesCon Conference in Las Vegas
The curtain came down on the 2017 NamesCon conference Wednesday afternoon (January 25) at the Tropicana Hotel in Las Vegas with a final round of business sessions and invaluable networking opportunities. If you missed our previous reports from the show you will find them here:

Above: The final day of NamesCon 2017 began with a pair of 9am business sessions in adjacent rooms. In this one, Braden Pollock from LegalBrandMarketing.com (who also moderated or served as the interviewer in six conference sessions during the week) conduced at Lead Generation Roundtable. Braden in an expert in the lead gen field with special expertise in the legal sector.

Below: At the same time Hiram Ip from NameForest.com was next door detailing best practices for Leasing Domain Names.

Above: At 9:30am Akram Atallah (at right), President of ICANN's Global Domains Division, was interviewed by Christian Dawson, Executive Director of i2Coalition. They discussed the latest developments within the evolving DNS industry.

Below: In an aptly named Inventors of the Internet session in the Keynote Hall at 10am, one of the true inventors of the domain name system, Paul Mockapetris (Threatstop, Inc.) held the audience in thrall with his account of how domain names were originally created. I have heard Paul speak before and one thing he said the first time I heard him has always stuck with me. When he and his colleagues were trying to decide what extensions to use for domain names, .com was a late suggestion. Others, thought to be better choices, had already been selected and some didn't want to add .com as a kind of catch-all extension. In the end, Mockapetris said they agreed to add it when most said, "it won't matter anyhow because no one will ever use it!"

Above: Activity continued to ramp up at 11am when five different sessions were held on various stages in the Conference Center. This one was of the most significant additions to the NamesCon agenda, an India Masterclass set up along the same lines as the China Masterclasses that have been a major attraction for NameaCon attendees who wanted to learn more about the world's fastest growing markets. Left to right are moderator Braden Pollock, Paul Singh (Platform.in), Deepak Daftari (DD WebVision Pvt. Ltd.), Shiva Kandula (Digits United Limited) and Karn Jajoo (Radix Registry).

Below: At the same time A Look Forward at New TLDs was offered by expert panelists on another stage. The featured speakers were (left to right) Steve Heflin (Afilias), Toby Hall (MMX.co), Jeff Sass (.CLUB) and Anthony Beltran (101Domain.com).

Other sessions at 11am explored Practical Strategies for Disciplined Growth presented by Bennett Collen (Cognate), MX Monetization with Tom Bartel (Threatwave) and Behind the Scenes at Uniregistry.

Above: The next round of sessions, three in all, started at 12 Noon with this Dispatches from NamesCon 2017 discussion featuring four writers/bloggers who cover the domain industry. Left to right are moderator Braden Pollock, Angela St. Julien (Brand.bar), Ron Jackson (DNJournal.com), Andrew Allemann (DomainNameWire.com) and Shane Cultra (DSAD.com).

Below: At the same time a session on Domain Monetization: Managing a Portfolio for Profit was being held on another stage. The panelists there were (left to right) Michael Gilmour (ParkLogic), Christa Taylor (doTBA Inc.), Marlon Phillips (Protected Parking), David Warmuz (Above.com) and Yancy Naughton (HasTraffic).

In another noon session on the Uniregistry Breakout Stage, VP of Product & Registrar Operations, John Smrekar, hosted Making the Uniregistry Market. As you will see below, John was also featured on the Executive Roundtable that closed the show.

Above: Throughout the day people got together in the lounges in the Exhibit Hall to network with fellow attendees. Making new contacts and catching up with old friends is the primary reason most people attend conferences. This group included (left to right) industry veterans Jose Vicente Gomar, Deepak Daftari, Bennie Sparkman, Frank Michlick and Abner Duarte.

Above: The sponsor booths in the Exhibit Hall are also a big attraction, giving attendees a chance to meet top level executives from the industry's leading companies, an opportunity you are unlikely to have in any other environment. Here a visitor to the Sedo booth gets her questions answered directly by CEO Tobias Flaitz and CMO Christian Voss (at left).

Below: The Above.com booth nearby was also staffed by members of their leadership team including, left to right, Aaron Kvitek, Liz Corona, Nancy Bianchi and Co-Founder/President David Warmuz.

Above: One of Wednesday's can't miss events was A Fireside Chat with Elliott Noss (right) who was interviewed by NamesCon Co-Founder Richard Lau. Noss, the President and CEO of Tucows Inc. made big news right before the show when Tucows acquired another major registrar, eNom, from Rightside, cementing Tucows' position as the world's second biggest registrar. Noss, who knows the industry inside out, is also one of its most interesting speakers.

Below: This was the final NamesCon (at least in terms of running the show) for Richard Lau. The conference was recently sold to World Hosting Days and their team, led by Soeren von Varchmin, will take full control next year. Lau and Co-Founder Jothan Frakes have done a remarkable job, starting NamesCon from scratch in 2014 and, in just four shows, building it into the world's biggest domain investor/developer centric conference. Richard also has a fascinating life story that we detailed in our December 2015 Cover Story.

Above: The final session of NamesCon 2017 was an Executive Roundtable: Industry Trends Forecast for 2017. It was moderated by Jothan Frakes (whose story we also told in a July 2014 Cover Story). Jothan at far left, is followed in order by John Smrekar (Uniregistry), Sandeep Ramchandani (Radix), Paul Nicks (GoDaddy), John Kane (Afilias) and Jeff Eckhaus (Rightside).

So another outstanding NamesCon conference is in the books, one with countless highlights, the most important always being the personal connections made and strengthened. In addition to being industry colleagues and pioneers, people like (left to right above) Michael Berkens, Rob Grant and Ammar Kubba became valued friends many years ago and that bond only gets stronger with each passing year, regardless of how garish their wardrobes may become ( Grant - of all people - says Berkens is starting to push the boundaries here...and before Kubba gets too smug let me remind everyone that he once showed up for an early morning panel discussion dressed in a bath robe after a late night out. In his defense it was a proper white bath robe, nothing too outlandish)!

Before signing off I have an update for you on the WaterNight gala Tuesday night that raised funds for the WaterSchool. Nine generous (and fearless) people agreed to have their heads shaved in exchange for donations to WaterSchool (below Internet Commerce Association Executive Director Daniel Law is saying goodbye to his tresses at the hands of Public Traffic Limited Chairman Gregg McNair who started this hair razing tradition years ago, raising hundreds of thousands of dollars along the way). Richard Lau informed me today that attendees pulled out their credit cards and collectively donated nearly $90,000 on the spot Tuesday night! That's amazing and a tremendous testament to the people in our industry. I can think of no better way to say goodbye to NamesCon 2017 - already looking forward to seeing you again next year!
Day 3 Photos & Highlights from the 2017 NamesCon Conference in Las Vegas
| | |
| --- | --- |
| The 2017 NamesCon conference continued at the Tropicana Hotel in Las Vegas Tuesday (January 24) with another around the clock schedule that stretched into early Wednesday morning. If you missed our previous reports from the show you will find them here: | |
The day began with a Christian Domainers Breakfast at 7am and a pair of early bird sessions at 9am - all well attended, especially considering many were out until 2am or later Tuesday morning for Uniregistry's late night party at the Hakkasan Night Club. Those business sessions offered advice on Creating a Brandables Portfolio (presented by Quinstreet's Luis Balenko and Namerific's Michael Navarini) and How to Increase Revenue and ARPU by Offering Additional Online Products (presented by Moshe Livne from WebsPlanet).
At 10am it was time for a highly anticipated Fireside Chat with WordPress Co-Founder Matt Mullenweg (Automattic Inc.) who was interviewed by Braden Pollock (LegalBrandMareting.com).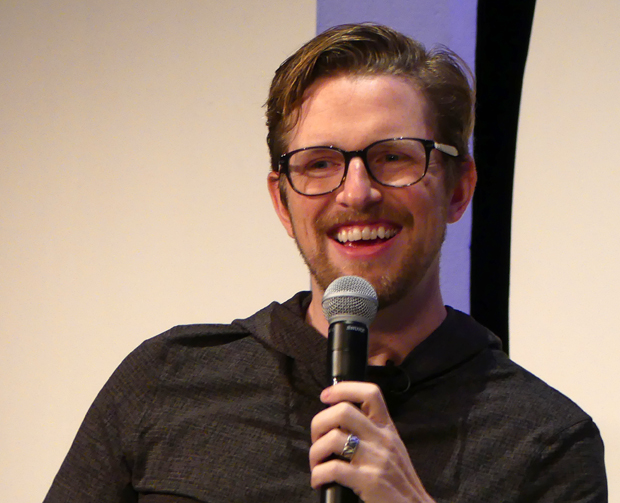 Above: WordPress Co-Founder Matt Mullenweg gave attendees an invaluable lesson on Building a Business to Last Decades in his Fireside Chat with Braden Pollock Tuesday morning at NamesCon 2017.
Below: At 11am NamesCon's multi-track train began rolling with five different business sessions in various meeting rooms that surround the Exhibit Hall. This one was the always popular DomainSherpa Live Review in which an expert panel gives their opinion on the value of specific domain names. It featured (left to right) Andrew Rosener (MediaOptions), Frank Schilling (Uniregistry), Shane Cultra (DSAD.com) and host Michael Cyger (DomainSherpa.com).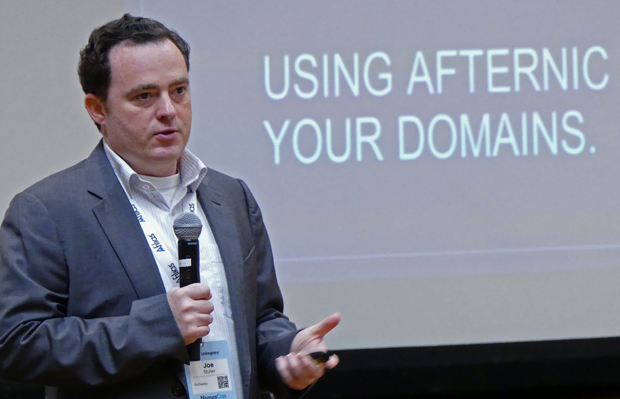 Above: In another 11am session GoDaddy's Joe Styler (seen here) and Jin Wang presented Hacks to Building Your Dream Portfolio.
Below: Also at 11, Marco Hoffman (left) and Crews Gore (both from InternetX.com) drew a crowd with their forecast of Five Facts That Will Change the Domain Game in 2017.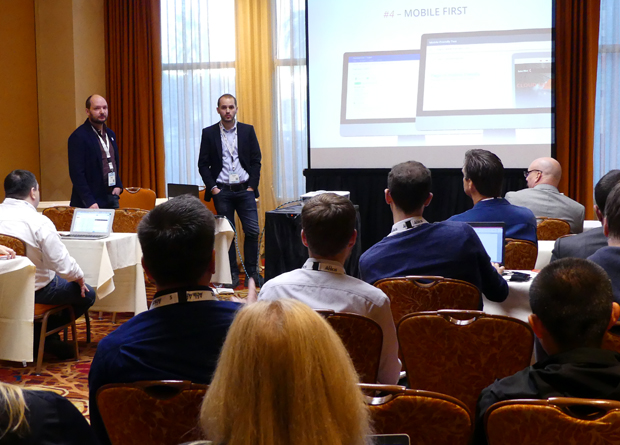 Above: The 11 o'clock hour continued at the Uniregistry Breakout Stage where attorney Bret Fausett held court on how to Acelerate Growth with Multiple Domains.
The quintuple 11am track also include a WordPress session - The Apex Predator - presented by Tony Gilharry from WP Engine Inc.

Below: At noon Tuesday the next round of business sessions got underway with a trio of seminars that included the always outstanding China Masterclass. This year's edition featured (left to right) moderator Bill Sweetman (NameNinja), JQ Tang (190.com), Simon Cousins (Allegravita), George Hong (Guta.com), Negar Hajikhani (Sedo) and Ken Hansen (Zhongguo Ventures).
Above: In another noon session the topic was Online Security: Protecting & Recovering You Domains and Social Accounts that featured (left to right) Stevan Lieberman (AP Legal), Karen Bernstein (Bernstein Law), James Morfopoulos (NamesCon) and veteran moderator Derek Newman (Newman Du Wors LLP) who always elicits the best possible advice from his panelists.
In the third noon session Dan Tocchini (Founder of The Grid) took the Uniregistry Breakout Stage to deliver Candid War Stories from the Horizon Between Engineering & Design.
Above: In the Exhibit Hall Uniregistry Founder Frank Schilling (center) stopped by the NamePros booth where video interviews were recorded throughout the conference. At left is Kevin Fink (IHaveThis Idea.com) and at right is Edward Zeiden from the popular NamePros domain forum.
Below: At 1pm another round of five business sessions began. This one in the Keynote Hall was called Head to Head: Comparing Domain Registrars featuring (left to right) moderator Bill Sweetman (NameNinja), Dan Schindler (Donuts), Paul Nicks (GoDaddy), Marco Hoffman (InternetX), Salar Salahshoor (Uniregistry) and Nicholas Steinbach (Name.com).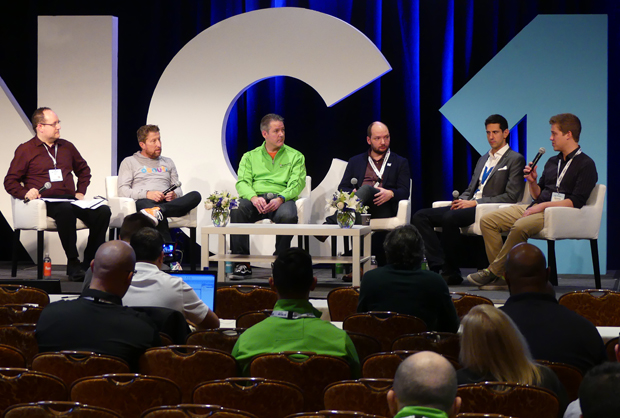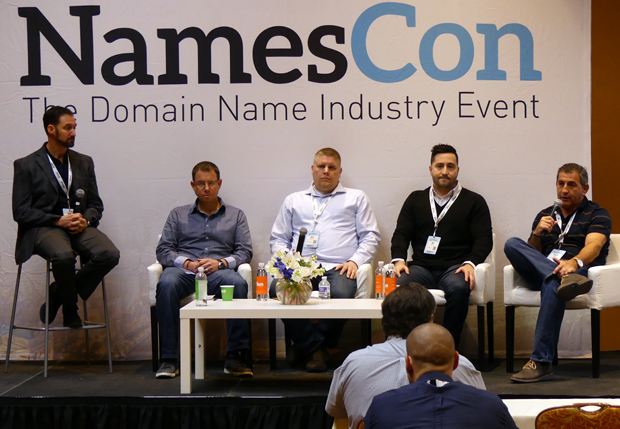 Above: In another interesting 1pm session titled The Cart Before the Horse: Building Your Domain Name Into Big Business featured (left to right) moderator Braden Pollock, Andrew Hazen (Amazing Domains), Ken Nybeck (Resume.com), Bill Karamouzis (TeachMe.com) and Monte Cahn (RightOfTheDot.com).
The bountiful NamesCon business banquet also allowed attendees to choose between three other sessions at 1pm Tuesday including Sales Using the 90/10 Rule on the Uniregistry Breakout Stage, Supporting Clean Water Intiatitives with WaterSchool and The Google Chrome Effect: SSLs Will Radcally Change Domains.
Below: Back in the Exhibit Hall we caught up with three attendees who made the long trip from India to Las Vegas for NamesCon 2017. Left to right are Ritesh Singh, Alpesh R Shinde and Deepak Daftari.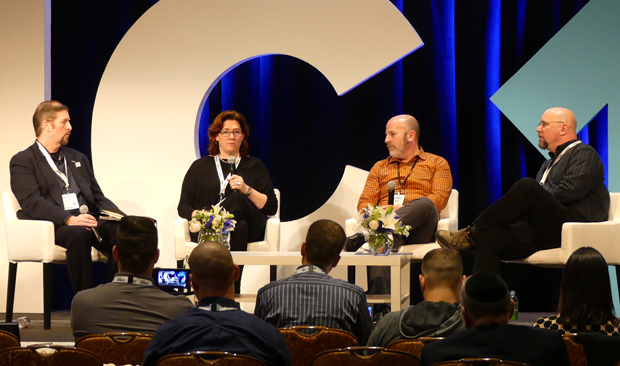 Above: One of three sessions that got underway at 2pm Tuesday explored the question Will Branded TLDs Impact the Marketplace in 2017 and Beyond. It featured (left to right) moderator (and NamesCon Co-Founder) Jothan Frakes, Stacey King (Amazon Registry Services), Matt Serlin (MarkMonitor) and Cole Quinn (Microsoft).
Below: Also at 2 was a discussion about Women in Domaining on Recruiting and Retaining Top Talent. The all-star panel included (left to right) Amanda Waltz (Igloo.com), Cybele Negris (WebNames.ca), Elaine Pruis (Donuts) and Lisa Box (WP Engine).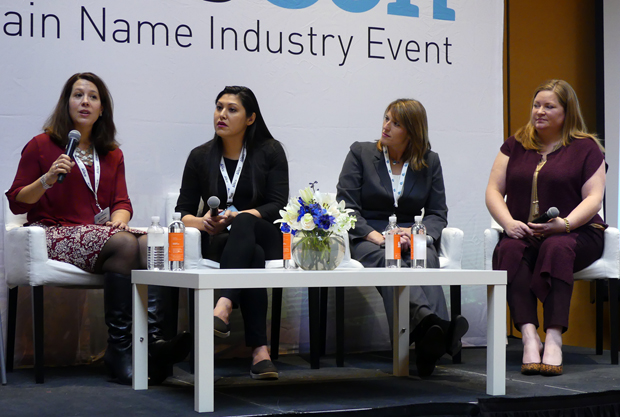 The 2pm trio was rounded out with Seeing is Believing: A Live Demo with Molly, the First AI Web Designer on the Uniregistry Breakout Stage. That was followed by a lone 3pm business session - Dollars and Sense of .Net - presented by Verisign's Scott Schnell. After that the rest of the day and night Tuesday was devoted to social activity and fun.
Above: Konstantinos Zournas (OnlineDomain.com) lines up a shot on the Exhibit Hall pool table.
Below: For those who like to get physical there was, believe it or not, a .FUN sumo wrestling mat to do it on! The well padded outfits contributed to this unexpected and hilarious scene. The late afternoon also included an MMX Partnership Happy Hour (actually two hours!) in the Keynote Hall and a WaterWalk Challenge at the WaterSchool booth.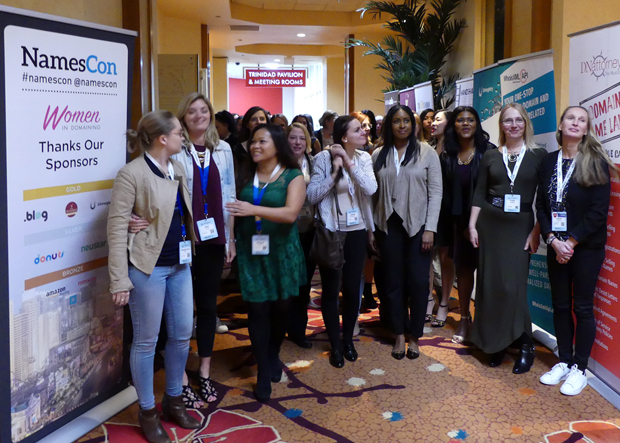 Above: The annual NamesCon Women in Domaining Dinner is always a highlight of conference week for the dozens of brilliant women in our industry. Diana Jackson snapped this shot as the ladies were leaving the dining room and getting ready for a group photo.
Below: At 9pm the always fabulous WaterNight Fundraising Gala for the Water School got underway in the Havana Room at the Tropicana Hotel. I went down a few minutes early to scout out the best photo locations and found none other than NamesCon Co-Founder Jothan Frakes was going to be the Guest DJ at the start of the event. If you read our 2014 Cover Story profile of Jothan you know he is very much at home in the music world.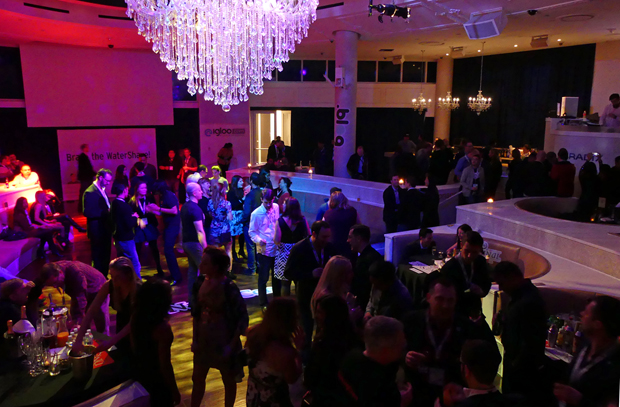 Above: Guests begin filling up the Havana Room at the Tropicana Hotel for the WaterNight Fundraising Gala.
Below: Ready for WaterNight! (left to right) Monte Cahn (RightOfTheDot.com), Diana Jackson (DNJournal.com), Judi Berkens (the lovely wife of domain great Michael Berkens), Tessa Holcomb (Igloo.com) and Ron Jackson (DNJournal.com).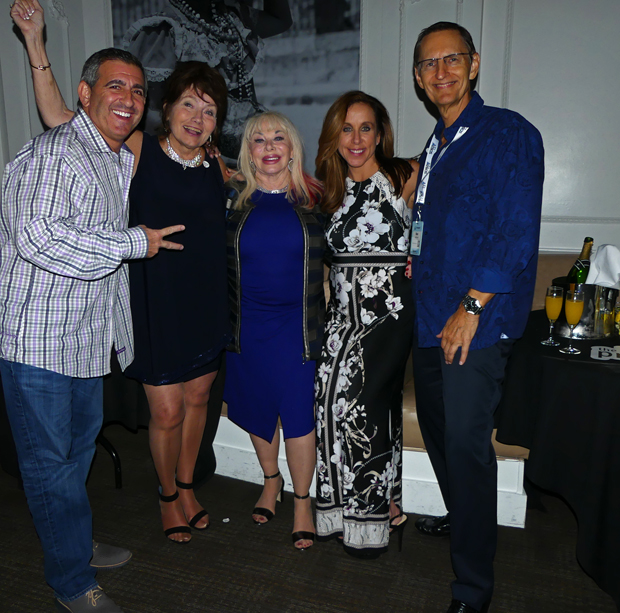 Above: Industry veterans Christoph Grueneberg and Thomas Mueller came over from Germany for NamesCon 2017 and WaterNight.
Below: Joining the WaterNight celebration (left to right) Joe Twer, Jonathan Tenenbaum (NameJet) and one of the most well-known domain investors from Europe, Frederick Schiwek.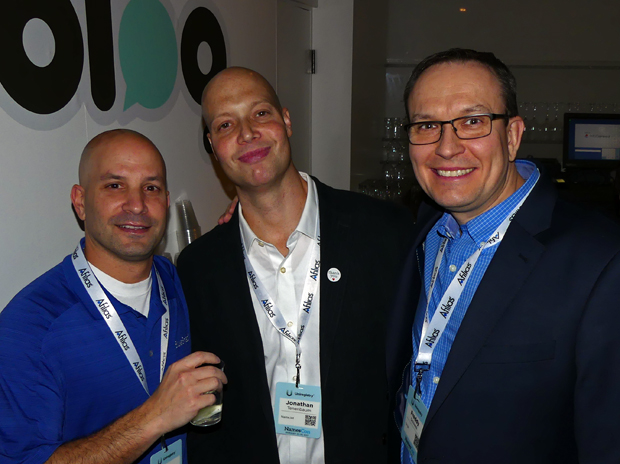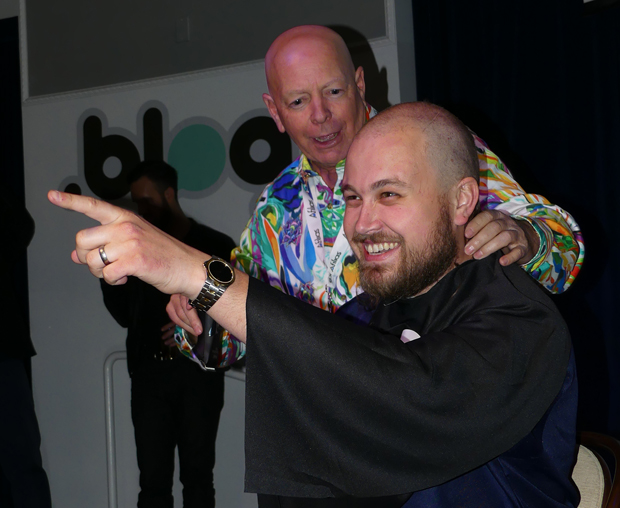 Above: Of course, when it is WaterNight the hair clippers come out, usually wielded Premium Traffic Limited Chairman Dr. Gregg McNair, a huge proponent of the life saving work of the Water School. Gregg's first "client" Tuesday night was Public Interest Registry Channel Manager for Asia Kevin Kopas. Kevin was one of several generous souls who gave up their hair in exchange for donations to the Water School.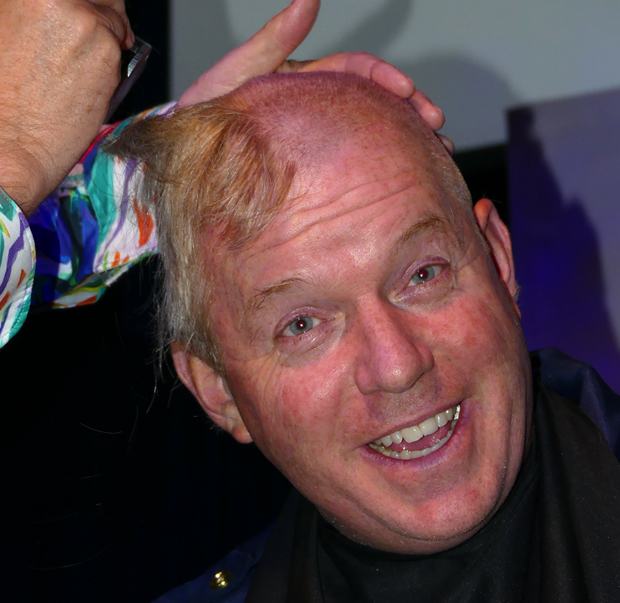 Above: Being the good CEO that he is, Public Interest Registry leader Brian Cute joined his troops in the trenches and gave up his locks as well.
Below: I don't know if it was just me or the billy club Brian had, but Dr. McNair seemed to be especially gentle with him!
Above: It didn't look like Internet Commerce Association Executive Director Daniel Law was treated quite as gingerly. Again, I may have gotten the wrong impression but it seemed to me that Dr. McNair was enjoying this a-little-bit-off-the-top "touchup" a tad more than Daniel!
Below: Just to show that no Executive Directors were harmed in the making of this article, Daniel appeared none the worse for wear when being thanked post-shave for his sacrifice by Internet Commerce Association Operations Manager Kamila Sekiewicz.
Above: Cate Colgan (NameYourStartup.com) wasn't about to let the guys have all the fun. Proving " anything you can do we can do better" Cate went under the sheers with her own master barber, Andee Hill from Donuts Inc.
Below: The WaterNight fundraising effort got a boost from Global Domains International (operator of the .WS registry) who presented WaterSchool representative Tony Woodruff (at left) with a $2,000 donation.
Tuesday was a remarkable day on every level at NamesCon and it left just one day to go in the 2017 event. I had hoped to get the closing day photos and highlights from Wednesday up for you before leaving Las Vegas today (Thursday) but have to head to the airport shortly for the trip back to Florida, so those will have to wait until I'm home tomorrow. Like every day at the world's biggest domain conference it was another highly rewarding one. I'll tell you all about it in my next post!
Day 2 Photos & Highlights from the 2017 NamesCon Conference in Las Vegas
The 2017 NamesCon conference continued at the Tropicana Hotel in Las Vegas Monday (January 23) with a jam packed schedule that kept attendees hopping until the wee hours of Tuesday morning. If you missed our previous reports from the show you will find them here:
First Photos & Highlights from the 2017 NamesCon Conference That Opened Sunday in Las Vegas
Opening Day & Night Photos & Highlights from the 2017 NamesCon Conference in Las Vegas
The Monday schedule began with a pair of 9am business sessions. The one seen above, titled How Can I Monetize My Geo-Targeted Domain Names featured two of the most experienced people in the geodomain field, Patrick Carleton (City Advertising Partnerships), standing, and Fred Mercaldo (City Brand Media), seated at top right.
At the same time in an adjacent room, (left to right below) Zak Muscovitch (DNAttorney.com), Eugene Rome (Rome & Associates) and Andrew Rosener (MediaOptions.com) provided advice on Leasing Domain Names.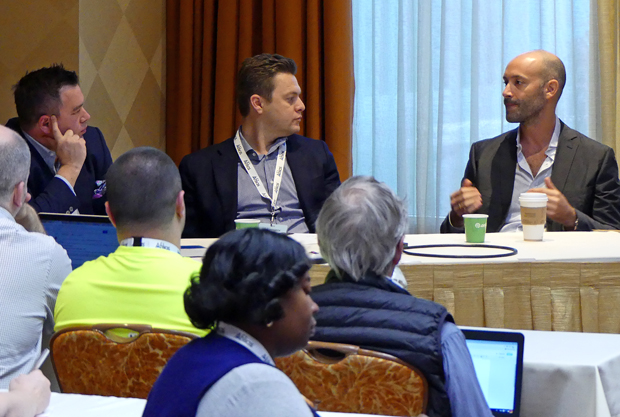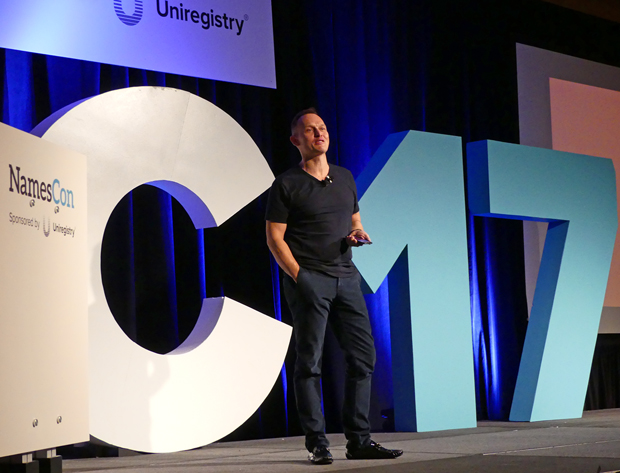 Above & Below: In Monday's main event Uniregistry Founder and legendary domain investor Frank Schilling took the stage in front of a capacity crowd to talk about The Evolution of Domaining. Frank also demonstrated some new features in Uniregistry's innovative mobile phone app (I have been using it for some time now and it is a terrific domain registration and management tool).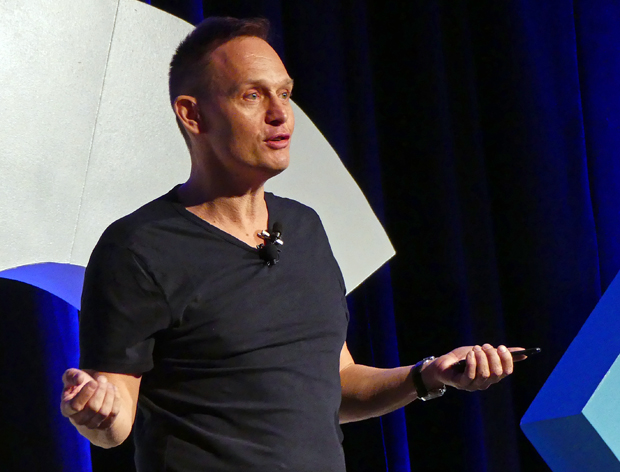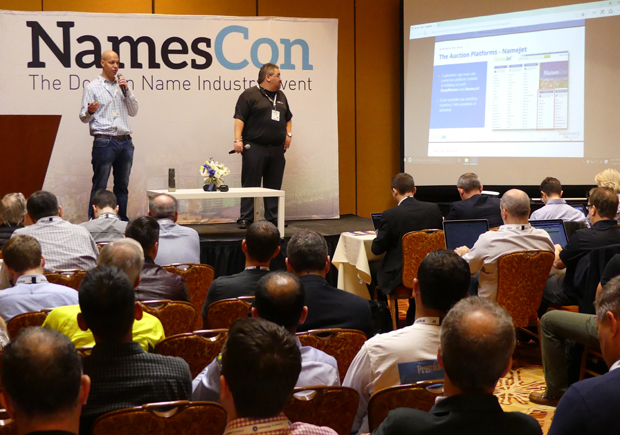 Above: Monday morning continued with five different sessions that ran concurrently starting at 11am. In the one above NameJet General Manager Jonathan Tenenbaum and SnapNames VP of Operations Michael White (at right) gave advice on How to Dominate the Drop: Best Practices for Successfully Acquiring Deleting Domains.
Below: At the same time Uniregistry Senior Director of Sales Sevan Derderian was on the Uniregistry Breakout Stage showing attendees how to Manage a High Volume of Domains with Ease.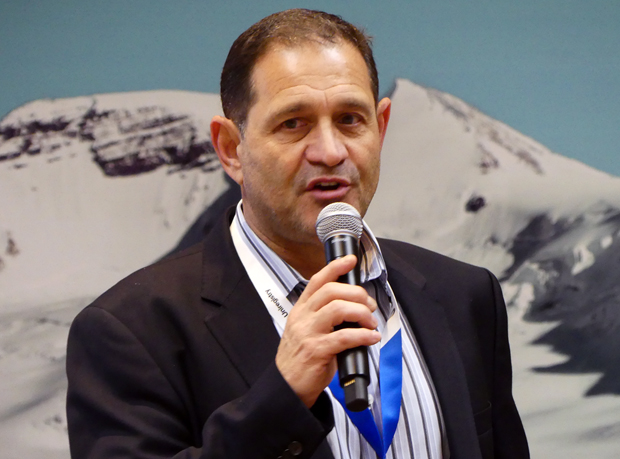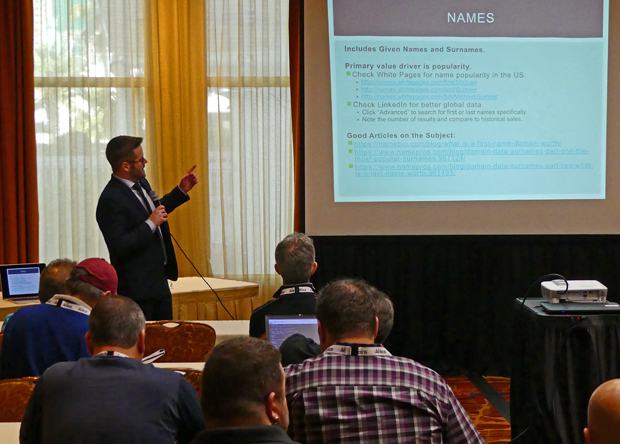 Above: Also at 11am, Michael Sumner (NameBio.com) answered a question just about every domain owner asks at one time or another, What's My Domain Worth? - a session that gave tips on how to determine valuations of various kinds of domains.
At the same time Michael Gilmour (ParkLogic.com) conducted a session on Domain Monetization for Registries and Registrars while a panel discussion was held in another room on Best Practices for Selling Domains Through Hosting.
Above: At Noon Monday a lot of tears were shed as the industry remembered and honored the late beloved domain investor Lonnie Borck who passed away unexpectedly in October. To honor Lonnie the Internet Commerce Association created the Lonnie Borck Memorial Award to be presented "in recognition of extraordinary efforts in championing the rights of domain name owners." The first winner was attorney David Weslow for his selfless pro bono work on behalf of Heidi Powell. David was ill and unable to attend NamesCon so ICA Executive Director Daniel Law (center) accepted the award on his behalf and was honored to have it handed to him by Lonnie's wife Ronit and his brother-in-law Jonathan. Along with Ronit, Lonnie's friends Nat Cohen and Elliot Silver spoke about the kind of person Lonnie was and why he was so highly regarded by everyone who had the pleasure of meeting him.
Below: The Lonnie Borck Memorial Award was presented just before the session below on The Most Shocking UDRP Decisions of 2016 was held. (Left to right) Moderator Bill Sweetman (NameNinja) welcomed Nat Cohen, Zak Musocvitch (DNAttorney.com) and Jason Schaeffer (ESQwire.com) to the stage to detail some miscarriages of justice that left audience members shaking their heads.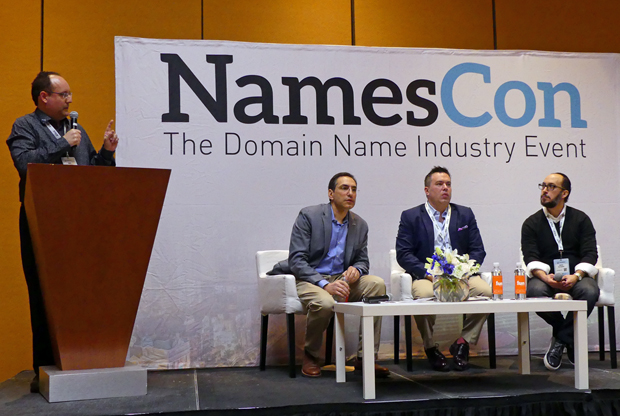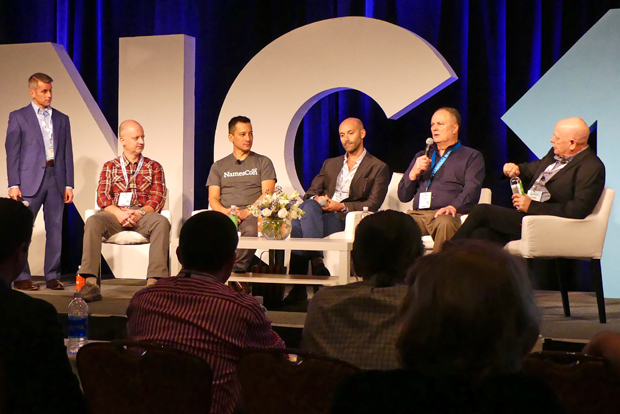 Above: Also at noon Monday, a panel discussion titled Always Be Closing: Case Studies of Recent Domain Sale Negotiations brought five experts on the subject to the stage. Left to right are moderator Derek Newman, Theo Develegas (Acroplex LLC), Richard Lau (NamesCon Co-Founder), Andrew Rosener (MediaOptions), Dave Evanson (Sedo) and Dr. Gregg McNair (Premium Traffic Limited).
Below: In another popular noon session on the Uniregistry Breakout Stage the company's VP of Sales (and record breaking broker), Jeff Gabriel, explained Sales Using the 90/10 Rule.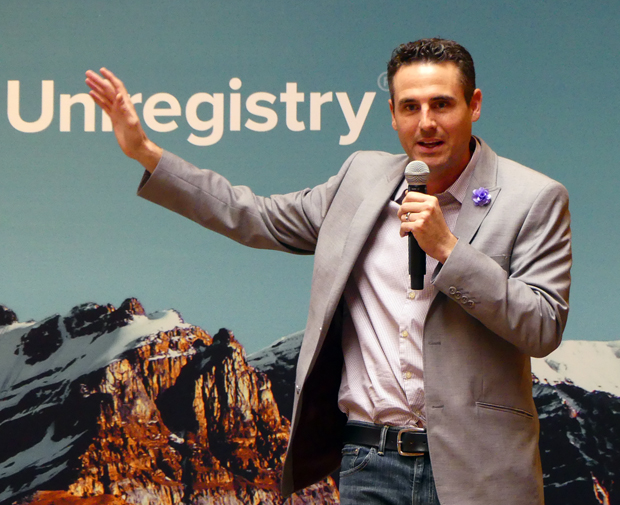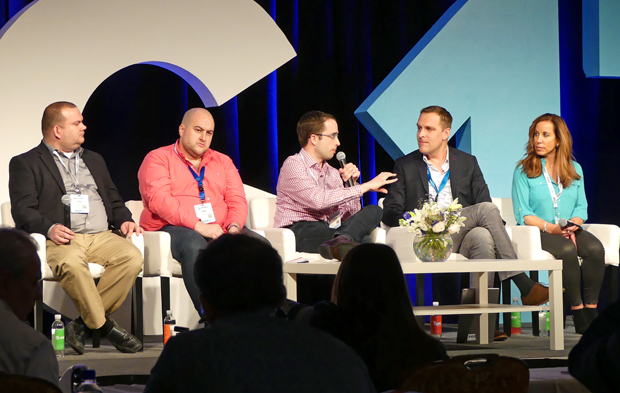 Above: The next round of sessions (five in all) began at 1pm Monday. The one above dissected Aftermarket Sales by the Numbers. The panelists were (left to right): Alan Shiflett (GoDaddy), Dan Adamson (Uniregistry), Andy Simpson (Verisign), Dima Bietzke (Sedo) and Tessa Holcomb (Igloo.com).
Below: Also at 1pm a major new player in the domain escrow space (and established powerhouse in the payments field), Payoneer Escrow, sent three of their top representatives to talk about Accepting Payments the Safe Way. They included (left to right) Senior Advisor Brandon Abbey (former President of Escrow.com), Jonathan Kremer and Scott Reynolds (Vice President of B2B Services).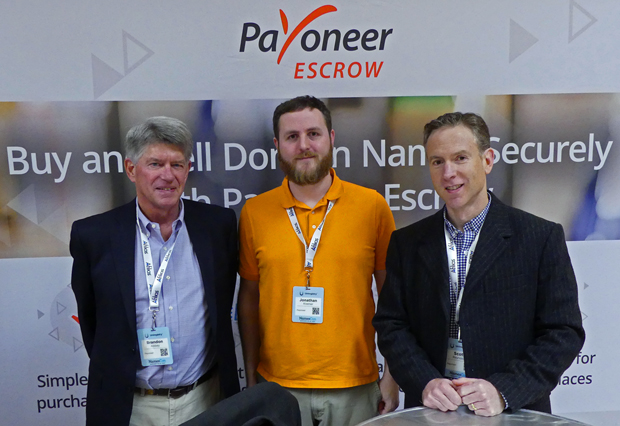 Above: Another interesting 1pm session covered 10 Ways to Creatively Use Domain Names in Your Marketing and Branding Campaigns. It featured (left to right) moderator Jeff Sass (.CLUB), Statton Hammock (Rightside Group), Neha Naik (Radix), Jackson Elsegood (Escrow.com) and Richard Merdinger (GoDaddy).
In additional 1pm sessions, those who dropped by the Uniregistry Breakout Stage were given a Behind the Scenes look at the popular registrar/registry operator and Why Content Marketing Matters for Your Growing Business was discussed by Sean Tyson and Sam Wempe from Quietly in another room.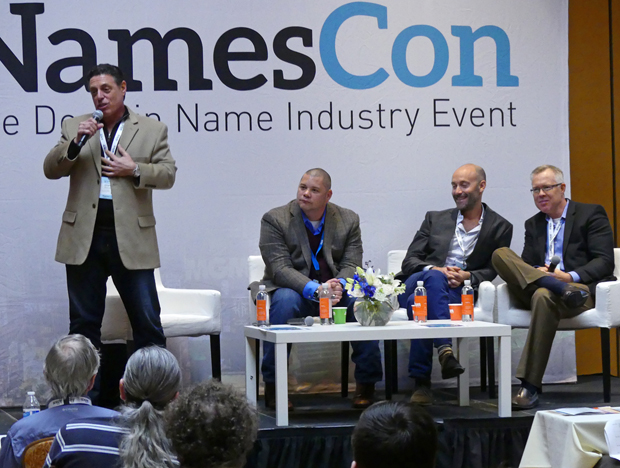 Above: At 2pm the topic turned to Investing in New TLDs - Making Money in the Short and Long Term in a panel discussion featuring (left to right) Charles Gucciardo (The Gucciardo Law Firm), Jebediah Burnett (Rightside), Andrew Rosener (MediaOptions) and Rob Monster (Epik.com and DigitalTown).
Also at 2pm Uniregistry's Darren Cornwell and Marco Pompei told those who dropped by the Uniregistry Breakout Stage how to Sell on the Go with the company's slick mobile app.
Below: At 3pm, just before Namescon's SnapNames/RightOfTheDot Live Domain Auction got underway, Escrow.com presented a new series of Masters of Domains Awards they introduced to recognize the top selling domain brokers on the Escrow.com platform. Awards were given to each of the top 10 finalists, with the #1 award going to George Hong of Guta.com (Andrew Rosener of MediaOptions was #2 in the highly competitive field). George received his award from Escrow.com General Manager Jackson Elsegood.
Above: Next it was time for the highly anticipated SnapNames/RightOfTheDot Live Domain Auction conducted by World Champion Auctioneer and Author Wayne Wheat (below). With a standing room only crowd on hand nearly $1.3 million in sales were booked. The top sale was Single.com at $290,00. NameBio has a nice rundown of all of the sales results.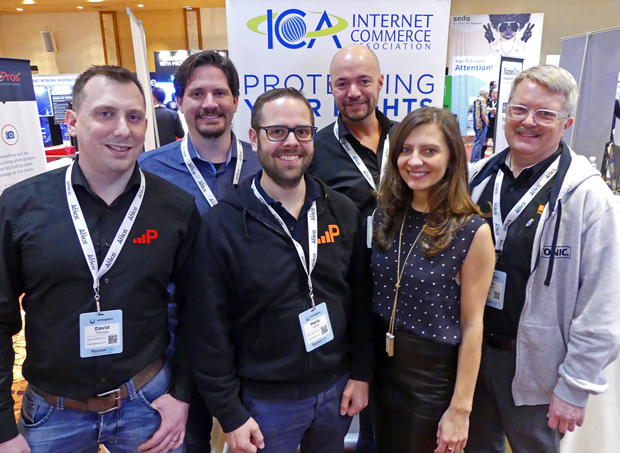 Above: With the business day over attendees were ready to move on to their evening activities. One of the biggest was a dinner for ICA members in the Foundation Room at the House of Blues. The ICA has doubled its membership over the past year with company's like new Gold Level Member ParkingCrew throwing their support behind the organization that protects domain owner rights. Left to right, just before leaving for the dinner, are David Thorpe (ParkingCrew), ICA Executive Director Daniel Law, Mario Witte (ParkingCrew), Axel Kaltz (ParkingCrew), ICA Operations Manager Kamila Sekiewicz and Jim Grace (ParkingCrew).
Below: ICA Executive Director Daniel Law (standing at right) thanking attendees at the ICA's Monday night dinner as well as the dinner sponsor, Innovation RPM.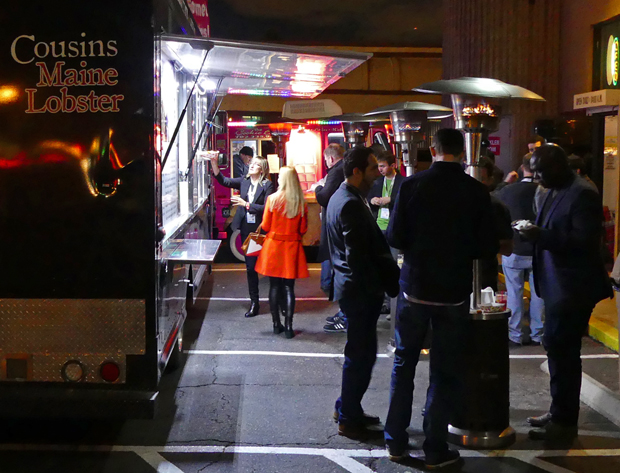 Above: & Below: Elsewhere Monday night the .ORG Registry treated their guests to a night at the Pinball Hall of Fame in Las Vegas with great food provided by Cousins Maine Lobster (one of the most successful companies to come out of an investment won on ABC-TV's hit show Shark Tank).
Below: After being taken to the venue in a 33-foot stretch limo .ORG guests were given all the quarters they needed to play an astounding variety of pinball machines throughout the evening. Were it not for the well stocked open bar the scores rung up probably would have been a lot higher than they were!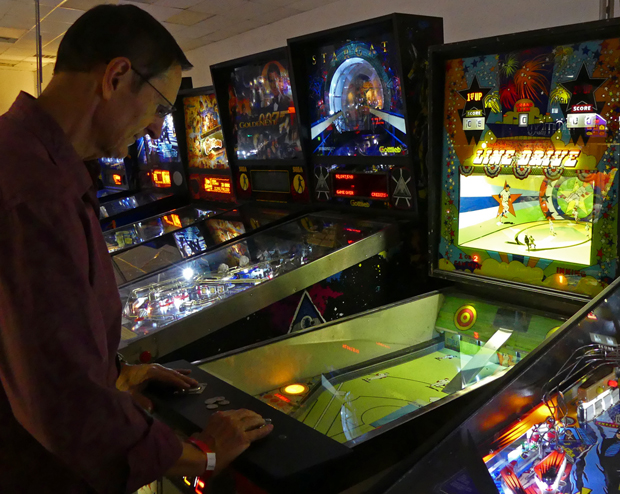 Above: After spotting a baseball themed pinball machine that I had actually played as a teenager, I was eager to see if I could shake off the rust and beat my wife Diana (overly confident that I would). Instead, she trounced me taking two games out of three! Looks like it is back to the minor leagues for me!
Below: I am calling a foul on this one! My friend Ray Dillman Neu (Co-Founder of THE Domain Conference) had an unfair advantage at the Police Trainer game. Ray recently became a Broward County Florida Sheriff's Deputy! At least I had the good sense not to challenge him on this one, saving myself further embarrassment after my experience on the pinball baseball field.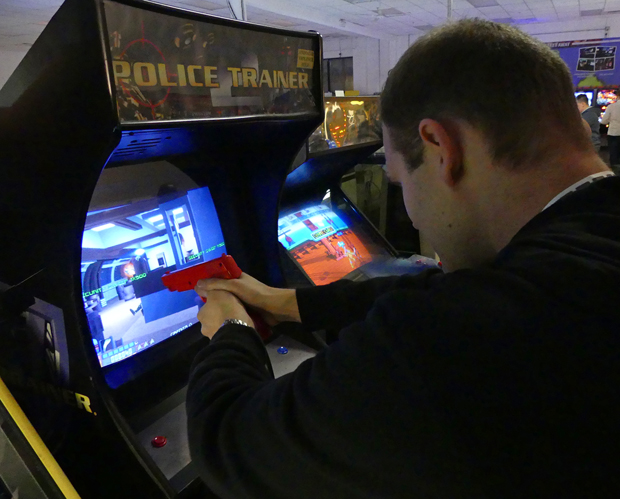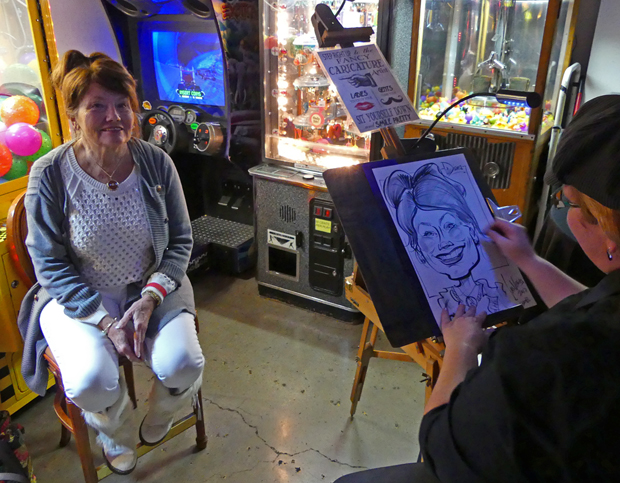 Above: In addition to the vintage pinball games and amazing lobster rolls, guests could have their portraits sketched by a very talented artist. Diana's is just being finished up here.
Below: After the ICA and .ORG dinners and various other functions around town, most moved on to Uniregistry's huge late night party open to all NamesCon attendees at the famous Hakkasan Night Club inside the MGM Grand (right across the street from the Tropicana Hotel). This shot there features lovely ladies Angela St. Julien (Brand.bar) and NamesCon Event Producer Terri Potratz.
As I write this day 3 of NamesCon 2017 is winding down with the big Water Night Fundraiding Party still ahead. It won't be ending until around 2am Wednesday (local time in Las Vegas - 5am Wednesday in the eastern U.S.). In my next post from NamesCon (planned for tomorrow night) I'll have all of the Tuesday (January 24) photos & highlights (day and night) for you.
Opening Day & Night Photos & Highlights from the 2017 NamesCon Conference in Las Vegas
When the 2017 NamesCon conference opened Sunday (Jan. 22) at the Tropicana Hotel in Las Vegas I posted some photos and highlights from the opening sessions of the 4th annual event to give you a flavor of what was to come. The entire opening day and night is now in the books so I can give you a full run down on what happened Sunday afternoon and evening at the big show.
Above: As I mentioned in my first report from Las Vegas Network Lane was the center of activity on opening day Sunday. From noon to 6pm visitors could come and go as they pleased to visit dozens of sponsor tables and get answers from company representatives to any questions they had about the services offered. The first table we saw when we entered featured popular aftermarket sales platform DomainAgents.com. Left to right are company co-founders Phil McKegney and Ryan McKegney with broker Elsa Stivalet (who speaks 6 languages)!
In between visits to Network Lane attendees could check out business sessions held in adjacent rooms throughout the day. We had photos of the first sessions presented by Morgan Linton and Michael Cyger at noon Sunday in our last report. At 1pm the next two sessions were held. One was a Social Media Boot Camp presented by NamesCon staffers Stephanie Mercer Voyer and Jordan Yerman.
Below: Also at 1pm Sunday industry veterans Adam Strong (Evergreen.com) and Victor Pitts (NameYourStartup.com) presented The Name Game: Unique Naming Strategies and Hacks. Adam is at left and Victor at right.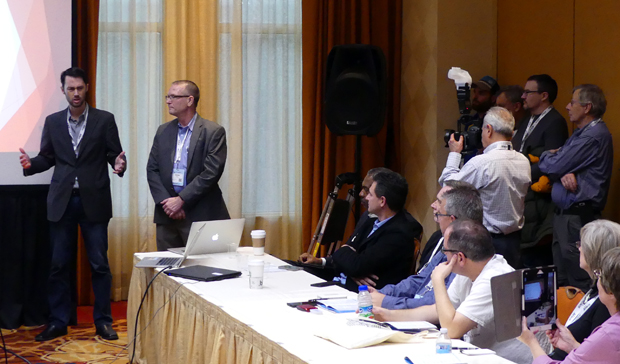 At 2pm (in sessions not pictured) the topics were Increasing the Value of New Domains in the Secondary Market presented by Rightside.co's Statton Hammack and, in another room, Eugene Rome (Rome & Associates) offered keys to Understanding Intellectual Property and Domains.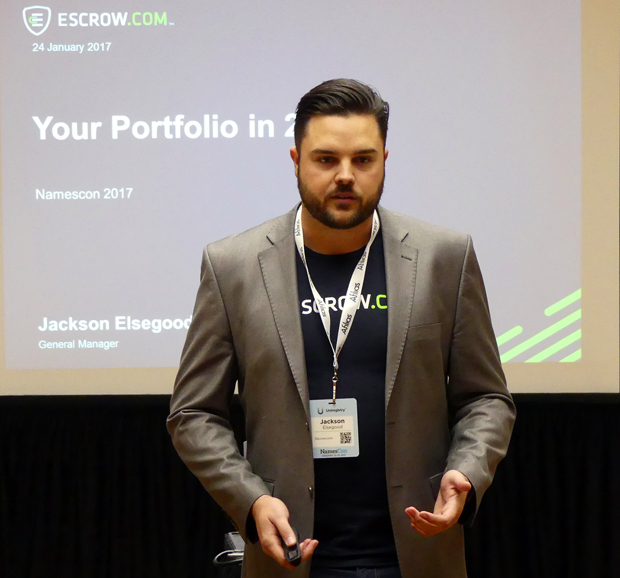 Above: Escrow.com General Manager Jackson Elsegood was featured in one of the two 3pm sessions called Your Portfolio in 2017. Jackson shared a lot of interesting data on sales trends gleaned from transactions completed through Escrow.com. We will have a separate report for you on that after we are back from the show.
Below: Also at 3pm Steven Kaziyev from NewYorkMedia.com answered the question How Can I Monetize My Geo-Targeted Domain Names? f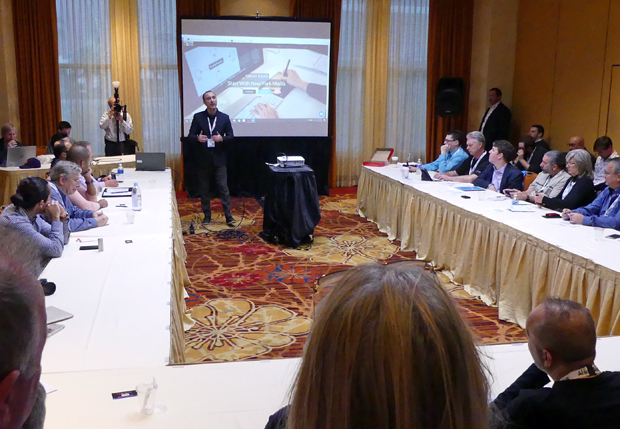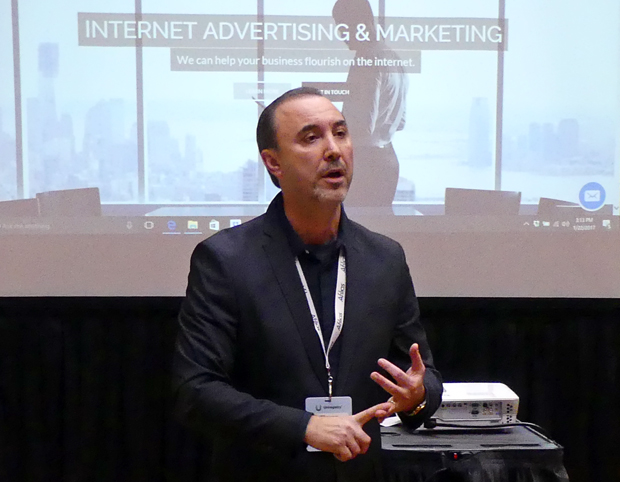 Above: A closer view of Steven Kaziyev speaking on Sunday's opening day at NamesCon 2017.
Below: At 4pm attention turned to Tips for Selling Your Domains Through Auction provided by NameJet General Manager Jonathan Tenenbaum (standing at left below) and RightFoTheDomain.com President/Director Monte Cahn.
Above: Domain owners always want to know What's My Domain Worth? DomainAgents.com Co-Founder & CEO Phil McKegney provided advice on how to determine domain valuations in this popular session.

Below: The last two opening day business sessions got under way at 5pm. In this one (left to right) Bill Sweetman (NameNinja), Negar Hajikhani

(Sedo) and John Deneen (Domain Name Marketplace) offered advice on Responding to Offers for your domains in a session moderated by Kevin Fink (IHaveThisIdea.com).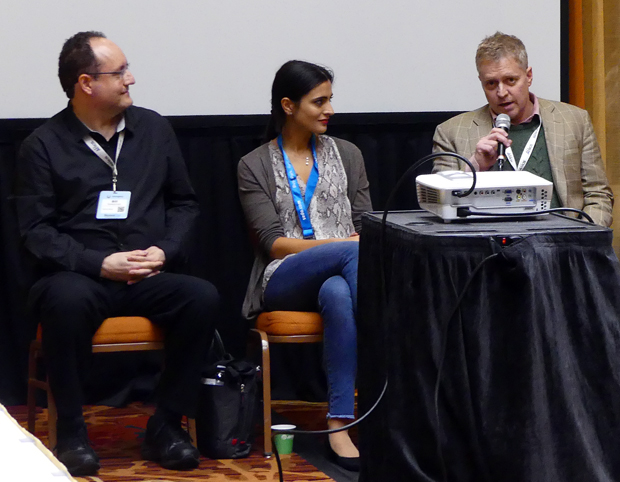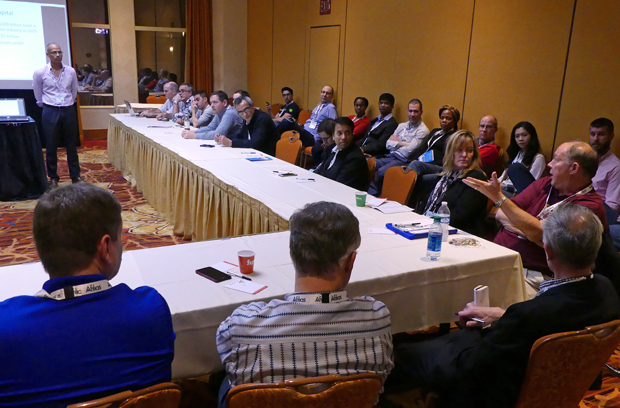 Above: Also at 5pm Omar Baig (Domain Nexus) discussed opportunities in three and four letter .coms in a session titled Emergence of a New Asset Class.
Below: After the final business sessions we ran into one of the world's most renowned domain investor/developers, Kevin Ham, seen here with Prakhar Bindal (NameKart) who came over from India for NamesCon. Kevin said he has never been busier as he continues to run multiple enterprises including businesses outside the domain space. It is always a treat catch up with original industry pioneers like Kevin and Scott Day (who is also at the show).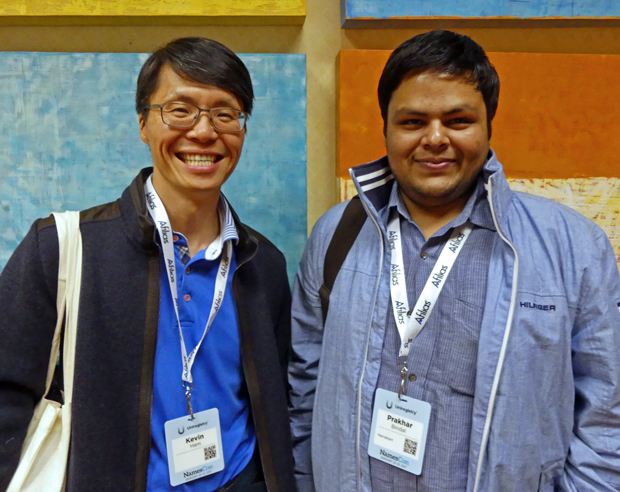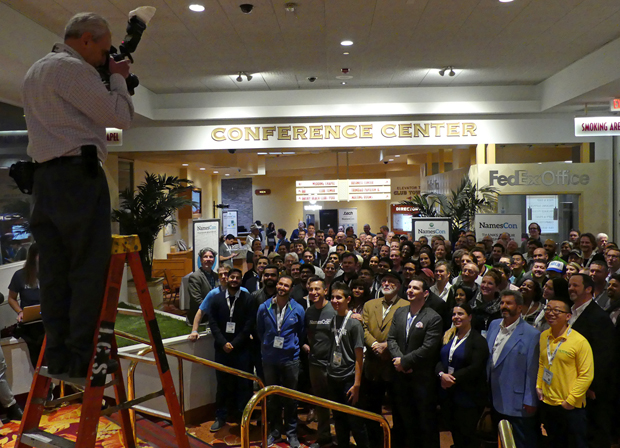 Above: To start a new NamesCon tradition, attendees were invited to meet in the conference center foyer at the Tropicana Hotel at 6pm for a Group Photo.
Below: At 7pm the official NamesCon Opening Night Party got underway in a ballroom at the Tropicana. Some of the first to arrive included (left to right) Truc Tran (from Norway, but also with a U.S. home in Naples, Florida), Diana Jackson (DNJournal.com), Phil Corwin (Internet Commerce Association) and Angie Graves (WEB Group Inc.)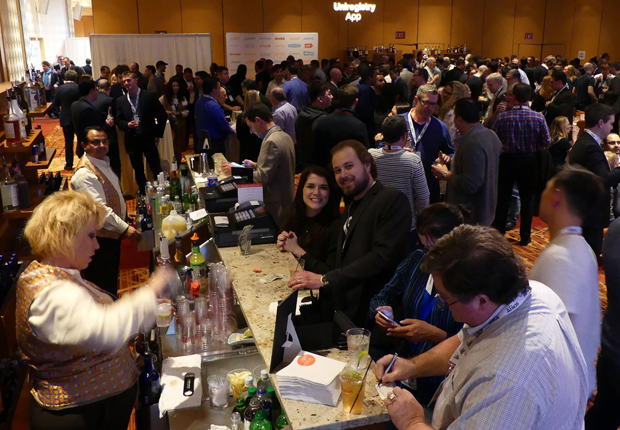 Above: A wide view of the Opening Night Party at NamesCon 2017 at the Tropicana Hotel in Las Vegas Sunday night. In the middle of the action (standing at the bar) are Stephanie and Kevin Kopas (from PIR, the .ORG Registry).
Below: It was great to catch up with so many long time friends at NamesCon's Opening night Party. I've been at this for 15 years now and Page Howe (at left below, from .LA Marketing and iLove.LA) was already on the domain scene when I showed up in 2002. To paraphrase Elton John, We're Still Standing - even if we do have to lean on each other once in awhile. OK, so maybe I have to do a little more leaning than Page! Photo snapped by the legendary domain investor Larry Fischer .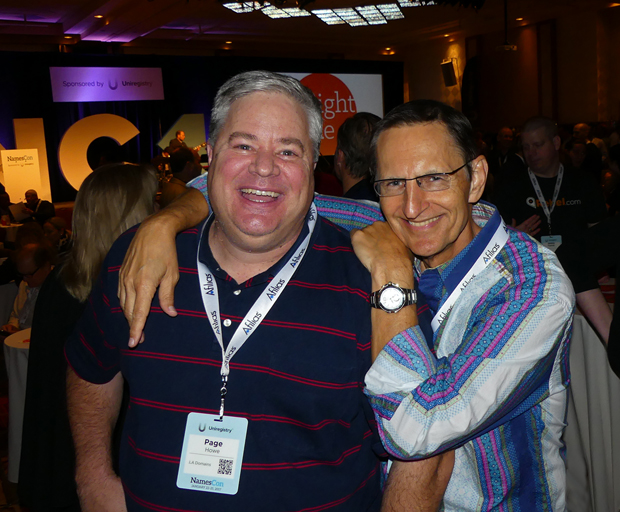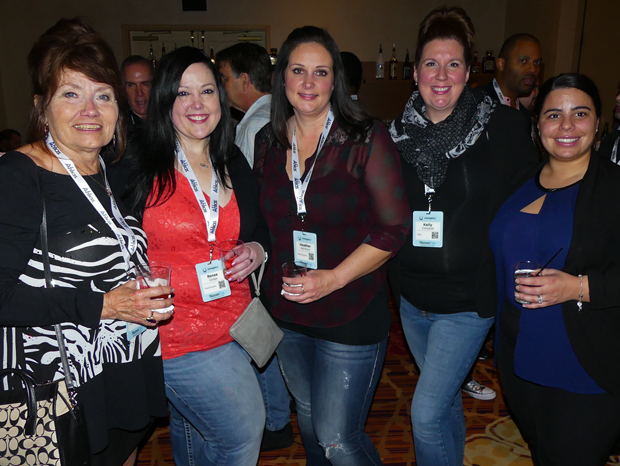 Above: Domain ladies in the house! (Left to right): Diana Jackson, Renee Dodge (Mod Domains), Heather Helmhout (Mod Domains), Kelly Campbell (CIRA) and Serina El Salibi (CIRA).
Below: Domainers wall to wall at Sunday night's NamesCon Opening Night Party.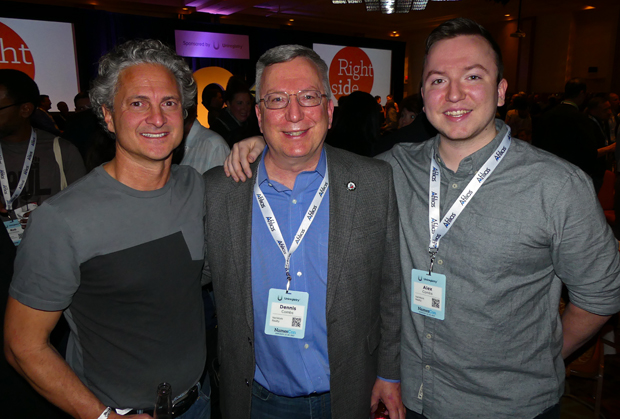 Above: One of my favorite things about the domain industry is that it attracts and is open to all kinds of people from all over the world. Age is immaterial too. We are even seeing more and more children of domain investor parents following a father or mother into the field. Here attorney Enrico Schaefer (Traverse Legal) is seen with one such pairing, Dennis Combs (center, from NetWork Realty) and his son Alex Combs.
As I write this day two at NamesCon (Monday, January 24) is still underway with Uniregistry's big party at the Hakkasan Night Club going on across the street from the Tropicana. I will have all of the Monday (day and night) highlights for you in my next post from Las Vegas - planned for some time late Tuesday but the non-stop show schedule makes that subject to change. There is a lot to keep up with but that is what makes it one of the most interesting and enjoyable weeks of the year.
First Photos & Highlights from the 2017 NamesCon Conference That Opened Sunday in Las Vegas
The 2017 NamesCon Conference is underway in Las Vegas! The 4th annual event at the Tropicana Hotel officially got underway at 11am U.S. Pacific Time today (2pm Eastern, Sunday, January 22). As I write this it is still early in the day here but I wanted to give you a peak at the opening activities as soon as possible. Events will continue until 11pm tonight (2am Monday in the east!) so I won't have a complete recap of the opening day activities for you until sometime Monday (as the week progresses - the show ends Wednesday afternoon, January 25) - I will have a daily post from Las Vegas recapping the previous day and night's photos and highlights).
Above: As NamesCom 2017 attendees made their way to the Convention Center at the Tropicana Hotel they passed under this gateway to the big show in Las Vegas.
Below: To speed attendees on their way two separate stations were set up for the first time this year - one for badge pick up for who registered online (seen in this shot) and another for onsite registration and swag bag pick up.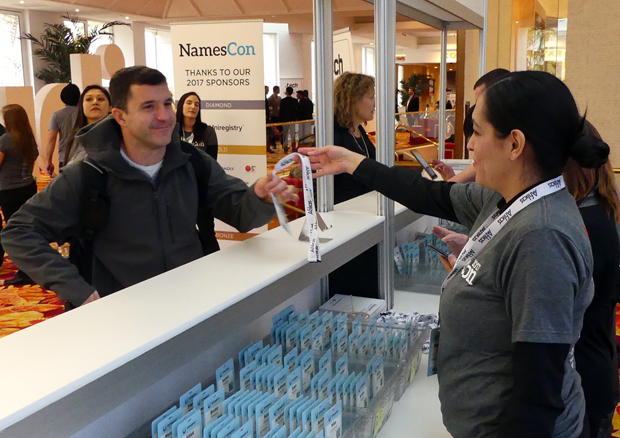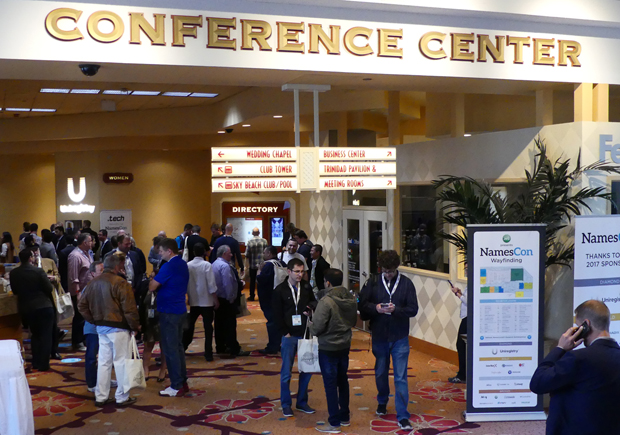 Above: The Convention Center entrance just a few steps further down the hall.
Below: The onsite registration desk in the convention center where attendees could also pick up their swag bag filled with goodies from sponsors and the show program.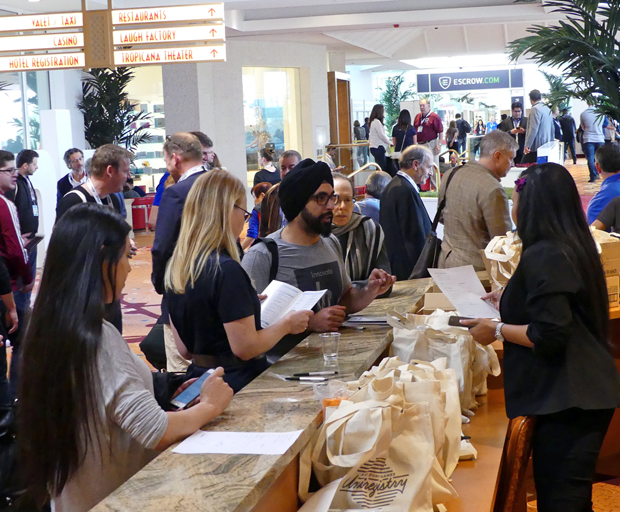 Above: Attendees flew to Las Vegas from all over the world for this week's event. In this photo, DN Journal's Diana Jackson (2nd from left) visits with four friends who came from the UK and Europe. Left to right are Domaining Europe Founder Dietmar Stefitz, Diana, Jose Vicente Gomar and, from Scotland, Trisha and Tommy Butler.
Below: NamesCon 2017 officially began at 11am Las Vegas time with welcoming remarks from conference Co-Founder Jothan Frakes.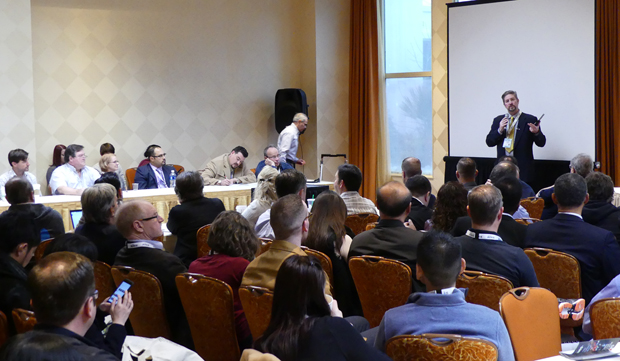 Above: A closer view of NamesCon Co-Founder Jothan Frakes as he kicked off the 2017 show Sunday morning at 11.
Below: The first business sessions started at 12 Noon Sunday with much of the activity centered on Network Lane. This is one of two lanes that were lined with sponsor tables where attendees could learn more about industry companies from representatives who were on hand to answer their questions. Network Lane was set to remain open throughout the day, not closing until 6pm (9pm Eastern time).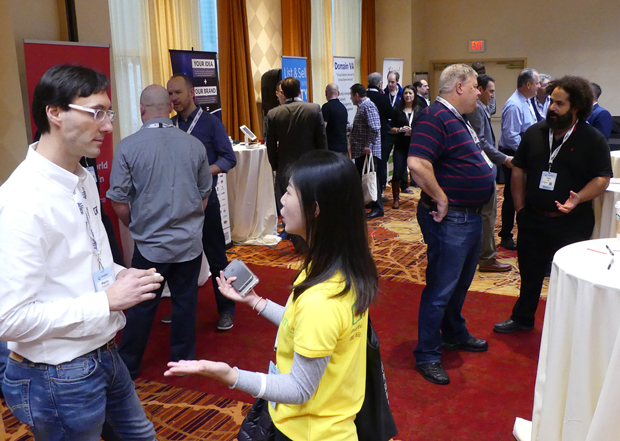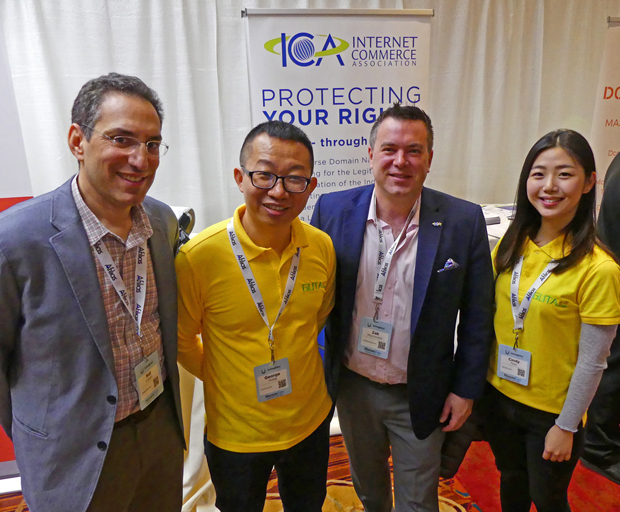 Above: The Internet Commerce Association (ICA) had a table on Network Lane where we caught up with (left to right): ICA Board Member Nat Cohen, Guta.com Founder George Hong (a corporate sponsor of the ICA), ICA Board Member Zak Muscovitch and Cindy (Guta.com). The ICA, the non-profit trade association that protects domain investor rights, will be holding a Monday night dinner in the Foundation Room at the House of Blues. Regular tickets have sold out but anyone joining the ICA at the bronze or higher level can get a free ticket to the dinner by contacting Operations Manager Kamila Sekiewicz (kamila@internetcommerce.org).
Below: At the same time Network Lane was one new business sessions began each hour throughout the day in two adjacent meeting rooms. I dropped into both of the noon sessions for this early bird report. In the one below Morgan Linton (BoldMetrics.com) delivered a presentation on Entrepreneurial Strategy: Tips for Launching Your Startup.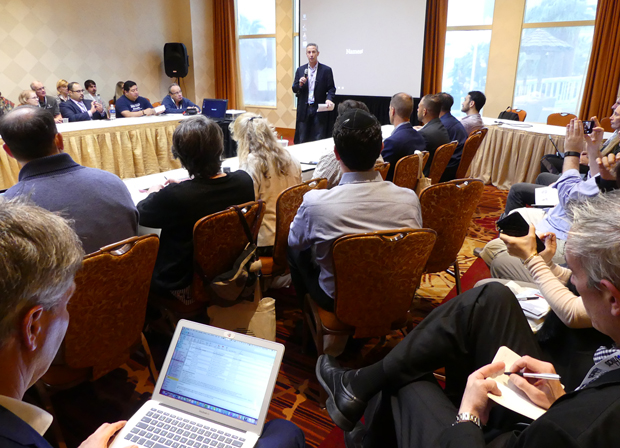 Above: Also at Noon Sunday, Michael Cyger from DomainSherpa.com presented Domain Investing 101: A How-To Guide for Newcomers.
Now it is time for me to get back down to the conference floor. Many more business sessions are scheduled today followed by the official Opening Night Party that starts at 7pm tonight (10pm Eastern). I'll have the complete Opening Day wrap up for you sometime tomorrow. Things will be very busy here with multiple sessions to cover every hour so I can't pinpoint a publication time any closer than that. Though the weather in Las Vegas was rainy and gray for opening day it was all sunshine inside at the Trop!
Tucows Signs Definitive Agreement to Acquire Enom from Rightside for $83.5 Million
Tucows Inc. (NASDAQ:TCX, TSX:TC), a popular provider of network access, domain names and other Internet services, announced this morning that it has signed a definitive agreement to acquire wholesale domain name registrar eNom from Rightside Group, Ltd. (NASDAQ: NAME). The transaction is expected to close later today.

Tucows will pay $83.5 million and the transaction is expected to be immediately

accretive to earnings. The acquisition will be funded through an amendment increasing Tucows' existing credit facility to a total of $140 million.

The acquisition of eNom will add 14.5 million domains under management and 28,000 active resellers to the Tucows portfolio. That will give Tucows a total network of over 40,000 resellers globally and 29 million domains under management, making it the second largest domain registrar in the world.

Tucows CEO Elliot Noss

Elliot Noss, Tucows' CEO said, "This industry has changed so much since Tucows and eNom each launched wholesale registrar services over fifteen years ago and .com, .net and .org essentially represented the namespace. It is a lot more challenging and complex now. At the same time, it is more mature and much more competitive. Scale is absolutely critical. This is a rare deal that gives Tucows and its investors exactly that while offering an immediate cash on cash return."

David Woroch, Tucows' Executive Vice President of Domains, added, "For years, eNom and OpenSRS (operated by Tucows) have been the two leading registrars primarily focused on the needs of resellers. This focus means these businesses fit very well together. The acquisition keeps eNom resellers where they will be well understood, well valued and well served and creates tremendous value for Tucows and resellers on both sides through efficiency and scale."

In addition to operating domain registrars eNom and Name.com, Rightside is one of the top operators of new gTLD registries. CEO Taryn Naidu said, "

The divestiture of eNom creates a stronger alignment between Rightside's vision, strategy and financial profile and we believe this is the best way to increase shareholder value. The market for new gTLDs is rapidly developing and the divestiture enables us to more intensely focus on our higher growth and higher margin businesses, where our Registry and Name.com businesses are leading the way with the new domains."

Naidu added, "We would like to thank our eNom colleagues for their hard work in building such a well-respected business and for their dedication to Rightside. We look forward to seeing their continued success and continuing to work with eNom as a valuable distribution partner as part of Tucows."

Rightside CEO Taryn Naidu
Donuts Shuffles Management Deck: Co-Founder Paul Stahura Hands CEO Hat to Bruce Jaffe to Take on New Duties with the New gTLD Giant
Donuts Inc., the world's largest operator of new gTLD registries with nearly 200 domain extensions in their portfolio (.media, .photography and .life are just a few examples), announced some key changes in their management suite today. Co-Founder and CEO Paul Stahura (who was profiled in our July 2015 Cover Story) decided to turn his CEO duties over to Bruce Jaffe, who has been serving as a Consultant and member of the Board of Directors.

The move allows Stahura to move into a different full-time role as Executive Chairman that will allow him to focus on long-term strategy and innovation, including mergers and acquisitions, new business models and partnerships with companies who are finding new utility for the DNS.

Stahura, who is the company's second largest shareholder, has been CEO since Donuts' formation in 2010. In Jaffe he is confident that he picked the right successor. "Bruce's deep operational experiences in the corporate environment, coupled with his enthusiasm for strategy and scaling high growth businesses make him an impeccable fit for Donuts," Stahura said.

Jaffe, who serves on several public and private boards, has been an active technology investor, consultant and advisor. He previously held a variety of executive positions at Microsoft, most recently leading its corporate development group where he directed some of the company's largest transactions and strategic initiatives.

Jaffe said, "I'm very excited to join Donuts. Our founding executives, and in fact the entire Donuts team, represent the best and brightest in the industry. We've had tremendous success since our founding, helping shape an industry where new domain names grew by more than 200% in 2016, now totaling more than 27 million."

The new roles for Stahura and Jaffe weren't the only changes the company announced today. They also revealed that John "JP" Pollard, a global cloud-services veteran and serial entrepreneur, has stepped into the newly created role of Chief Revenue Officer. Pollard is responsible for managing the sales, business development, marketing and public relations teams and will report directly to Jaffe.

Prior to joining Donuts, Pollard held various roles with Microsoft before leading the international expansion of Expedia. He later co-founded and was CEO of Jott Networks, a mobile phone voice service and application acquired by Nuance in June 2009. He was also co-founder and CEO of Elemental Foundry, acquired by Porch in 2014. Pollard has served as CEO In Residence at Madrona Venture Labs, as a board advisor for React Mobile, and hosts the @techvitamin podcast.

Executive Chairman Paul Stahura



CEO Bruce Jaffe



Chief Revenue Officer John Pollard
WHD CEO Soeren von Varchmin (Whose Company Bought NamesCon) Talks About Next Week's Show and the Overall Industry Outlook for 2017
We just published our 13th annual State of the Industry Cover Story today with 17 domain experts commenting on what they viewed as the more important developments in our industry last year, as well as how they feel about the prospects for this business in 2017. One of the many industry leaders we invited to comment for the story was Soeren von Varchmin, the CEO at World Hosting Days - the company that now owns NamesCon (WHD in turn is owned by HEG who in turn is owned by GoDaddy!). With the 4th annual NamesCon conference opening in Las Vegas Sunday (Jan. 22, 2017), Soeren has understandably been so busy he didn't have a chance to get his comments in before the Cover Story was published but now that I have them I want to share his timely insights with you here.

"The most significant event for World Hosting Days has been our acquisition of NamesCon, which will make NamesCon 2017 the first one under the WHD umbrella," von Varchmin

Soeren von Varchmin
CEO, World Hosting Days
(WHD owns NamesCon)

noted. "We've loved what their team has been doing over the past few years, and we're putting lots of effort into making it even bigger and better than ever. We'll be providing lots of opportunities for attendees to learn and network, as well as the highly anticipated domain auction."

"NamesCon will continue to run independently, but having the biggest domain event as part of our network of cloud and hosting events has additional significance if you think about how the traditional borders between hosting, domains and other services are breaking down - which speaks to a larger trend in the industry."

"Customers want to go to one place for their online services," von Varchmin said, "So, companies in this space - whether they're hosts, domainers, or other online service providers - have to incorporate more services than they used to. And the way to be everything for your customers is to find great partners and always be exploring new opportunities. We think we can bring together more people across the industries with this year's NamesCon and help form some of those great industry connections that keep companies on the cutting edge."

Soeren von Varchmin speaking at the first WHD.USA conference
at the Seven Springs Mountain Resort in western Pennsylvania (May 19, 2015)

Looking further into his crystal ball for the balance of 2017 von Varchmin said, "There are several interesting trends we've been seeing take shape. Consolidation of new TLDs: We're just at the beginning of the era of new TLDs. It's a really exciting time, but we shouldn't be surprised if it takes several years for a new TLD to really gain the maturity and recognition. There are a lot of enterprising small companies trying to promote their new TLD, but no matter how much effort they put into the rollout, it will take time to build a market. Larger companies have better efficiencies for promoting a range of TLDs, and many are waiting to buy new TLDs from smaller or less experienced companies with good TLDs that weren't profitable in their early stages."

"China and India will continue play an even greater role in domains: Chinese investors may have once been drawn to domains because of foreign investment regulations, but now many investors in Chinese are buying names that have real value - they're really thinking of their future potential. And India is a huge market that's really picking up speed as more people come online."

"New TLDs will make old TLDs more valuable: The new TLDs provide more domain possibilities, but .com domains are still the dominant domains and will carry more prestige. At the NamesCon domain auction you'll find a lot of interest in .coms. The new TLDs provide a lot of new options, but old TLDs already have widescale recognition. If anything, the new TLDs have grown the appeal of domains as a whole."
ROTD's Monte Cahn Previews Next Week's Live Domain Auction at NamesCon - Sale Could Top Last Year's $1.5 Million Mark
One of the main events at next week's 4th annual NamesCon conference at the Tropicana Hotel in Las Vegas will be the return of the NameJet/RightOfTheDot (ROTD) Live Domain Auction that will get underway at 3PM (Pacific Time) one week from today - January 23, 2017.

Last year's auction rang up nearly $1.5 million in sales so ROTD President Monte Cahn is understandably excited about putting another hand picked group of premium domains on the auction block. "We're working with NameJet again for pre-bidding and our extended auction," Cahn said, noting "NameJet will have our live auction system integrated within the NameJet customer accounts so if you have a NameJet account, you are already pre-registered for the live auction and able to bid online while the live auction is going on."

"If you want to participate as a bidder in the live or online auctions, you must have a NameJet account," Cahn emphasized. "Pre-bidding and NameJet sign up is here: http://www.namejet.com/featuredauctions/liveauction."

Monte Cahn
President/Director
RightOfTheDot.com

"Again I have some of the best names in this year's auction including many names that have never been for sale before," Cahn continued. "How about these packages with high bids: [bar.com - bar.net - cafes.com - grill.com - place.com - pub.com - shelter.com] and [featured.com - featured.net - featured.org - plus Facebook page /featured] and [weddingparty.com - weddingparty.net - weddingparty.org - weddingparty.biz - weddingparty.info - weddingparty.tv] and [wineclub.com - wineclub.net - wineclubs.biz - wineclubs.co, @wineclub Twitter handle and including the Facebook wineclub page]."

"Also individual names like Single.com, OL.com, SW.com, stop.com, doe.com, leads.com, keyword.com, patty.com, strippers.com, cranberry.com, sportscars.com and lodges.com. Some of the really good other TLDs featured are uf.tv, earrings.net, 89.tv, cellphone.net, sales.net, gold.club, business.broker, diamond.club, shoes.xyz, travel.agency, sweepstakes.org, e.hosting, ceo.asia, boob.tube and x.audio among others."

Cahn added, "There will be about 125 domains in the live auction that starts on January 23rd at 3 PM PST. There will more great names in the extended auction that will run through February 9th to accommodate the Chinese New Year. Again you must have a NameJet account to participate in both the live and online auctions. I am excited to also announce that RightOfTheDot has the exclusive rights to conduct the live and online auctions at NamesCon through 2019!"

The 2017 NamesCon conference itself will open Sunday, January 22 and continue through Wednesday, January 25. I will of course be there to cover it for you with daily photos and highlights in this column.
How David J. Castello Made the Impossible Seem Plausible in His Engrossing New Novel "The Diary of an Immortal"
Last month I told you about David J. Castello releasing a new novel called The Diary of an Immortal (1945-1959). Since then David's enthralling tale of how a young American soldier stumbled upon a formula that would let him live forever has been steadily building an enthusiastic audience in Amazon's Kindle Store where it is priced at just $2.99 (vs. $17.99 for the soft cover edition).

The book has reached as high as the top ten in Amazon's Magical Realism category - a genre that GoodReads.com describes as "one in which magical elements blend to create a realistic atmosphere that accesses a deeper understanding of reality. The story explains these magical elements as normal occurrences, presented in a straightforward manner that places the "real" and the "fantastic" in the same stream of thought." The Curious Case of Benjamin Button and The Green Mile are examples of some classics in the genre.

I just returned from a nine-day holiday cruise that was made even more enjoyable by being able to sit by the pool and read The Diary of an Immortal with no distractions. It's a good thing nothing else needed my attention because the story was so engrossing I would had ignored it anyhow!

I don't want to spoil anything for you so I will just encapsulate the story in a couple of paragraphs and leave all of the twists and turns of the story for you to enjoy for yourself. Steven Ronson, the young soldier from Florida (where David, an accomplished musician, writer and - with his brother Michael - acclaimed domain investor, also grew up), found himself fighting the remnants of Hitler's forces in 1945 Germany when, during a raid on the Dachau concentration camp, he discovered a mysterious stash of pills that were meant to allow Hitler to live forever, but fortunately never made it to the Fuhrer. Ronson began consuming the pills and soon found they gave him extraordinary abilities including the power to heal from any injury - completely impervious to death.

Ronson moved to New York City after the war where, aided by the formula, be became a saxophone-playing phenom on the local jazz scene. One night after playing he met a

Photo of Buddhist monks from Bigstock

disfigured former missionary (Albert) who recognized something familiar in Steven that he had seen before - immortality. Albert told Ronson that the immortality formula originally came from China where an order of secretive monks had been using it to live continuously for centuries.

Albert also had a beautiful niece, Jennifer, whom Steven fell in love with, so he jumped at the opportunity to accompany them to China (in the midst of that country's civil war which Steven was soon embroiled in) to learn more about the immortals and why he was destined to become one. With the guidance of Albert and 2,000 year old monk Chow Li Steven would get the answers he was looking for but the story does not end in the way we expect...and that is all I can tell you without spoiling it!

It is a terrific read (and I could see an epic movie made from this book). Castello is a long time history buff and an expert on World War II history in particular. That allowed him to fill the book with real people, places and events that allows the story to transcend fantasy and make you forget from time to time that you are reading fiction! I've written non-fiction practically my entire life and I have no doubt writing good fiction is much harder. How someone can create, solely from their imagination, engaging characters, dialog and a great story with so many moving parts that have to all be tied together in the end completely amazes me.

When I asked David how this process worked for him as he created his first novel he told me, "The book came to me in a series of dreams that seemed odd and disjointed. Luckily, I didn't fight it and went with the flow because when it was completed I could see they all lined up. There is a part where Steven tells a music producer in New York City that (when playing his astounding other-worldly sax solos) he felt like a radio receiver to the cosmos. I wrote that because I was feeling that way! There is no way my book would have been created as it is if I hadn't taken notes the instant I returned to consciousness. I would've only remembered the basic elements, it wouldn't have made sense and my conscious mind would've taken control and steered me away to a different destination."

Thankfully, David's dreams (and his meticulous note taking with the pen and tablet he kept at his bedside) took him to the right place - a place you can arrive at too after taking the fast-paced 307-page journey through The Diary of an Immortal. If you need more

Author David J. Castello

incentive, the book ends with the ingredients in the immortality formula! Let me see you get that at Walgreen's for $2.99! :-)
We're Back - Rested and Ready for Another New Year in the Dynamic Domain Industry

Diana and I just returned from a nine-day holiday cruise through the eastern Caribbean, leaving from Fort Lauderdale December 30 on the Celebrity Silhouette with stops in San Juan, Puerto Rico; St. John, Antigua, St. Maarten; and St. Thomas (in the U.S. Virgin Islands) before we got back home Sunday (January 8).

The main reason we took the trip was the desire to so something different for New Year's Eve. We grew tired of the local night club parties years ago and settled into a routine of having dinner then coming home to watch the crystal ball come down in New York's Time Square on TV. Finally having had enough of that, Diana came up with the idea of going on a cruise over New Year's and (as usual with her) it was a great idea.

Celebrity staged a terrific New Year's Eve party on the ship

Ron & Diana Jackson celebrating New Year's Eve at sea
(December 31, 2016).

and we enjoyed spending New Year's Day lounging on the pool deck in the picture perfect weather we were blessed with throughout the voyage. Starting January 2nd we were in a different port every day for four days and had a great time exploring each one. So, if you are looking for something different to do to celebrate the arrival of 2018 I can highly recommend this.

Our ship (in the upper right corner) docked at Charlotte Amalie, St. Thomas, the capital of the U.S. Virgin Islands Thursday (January 5, 2017). This photo was snapped on a drive up to the 1,500-foot mountain top that overlooks Charlotte Amalie.

Now I'm back, rested and ready to cover the exciting and ever changing domain industry for a 15th year (January 1, 2017 was the 14th anniversary of DNJournal.com). That gets started in a big way less than two weeks from now when we head back out to cover the 4th annual NamesCon conference in Las Vegas that runs January 22-25 at the Tropicana Hotel (you can see our show preview here). I'm looking forward to seeing many of you there and if you can't make it I'll be providing daily photos and highlights from the event in this column.

I hope that this new year will be a happy and prosperous one for you and your loved ones. Words cannot express how much I appreciate your encouragement and support through the years!
---
If you've been out of the loop lately, catch up in the Lowdown Archive!
---
We need your help to keep giving domainers The Lowdown, so please email editor@dnjournal.com with any interesting information you might have. If possible, include the source of your information so we can check it out (for example a URL if you read it in a forum or on a site elsewhere).
---
Home Domain Sales YTD Sales Charts The Lowdown News Headlines
Articles Resources Classified Ads Archive About Us