Here's the The Lowdown from DN Journal,
updated daily to fill you in on the latest buzz going around the domain name industry.

The Lowdown is compiled by DN Journal Editor & Publisher Ron Jackson.
Z Whiz! Z.com Sells for Nearly $6.8 Million in Biggest Domain Sale Reported So Far This Year
This is how you close out the year on a high note! With less than six weeks left to go in 2014, the year's biggest domain sale and one of the five highest cash sales reported since we started tracking and verifying domain sales 11 years ago was announced today. GMO Internet, Inc., one of Japan's leading Internet services providers and operator of the country's largest domain registrar, purchased Z.com from the Nissan Corporation for a stunning 800 million Japanese yen, which equals $6,784,000 at today's exchange rate.

Nissan had once used Z.com to promote their popular Z series sports cars (I bought two of them myself, a 260Z in the 70s, then a 280ZX in the 80s), but had left the domain dormant in recent years. In their press release, GMO Internet said they will use the domain to "spearhead GMO Internet Group global growth strategy, and securing "Z" under the .com Top Level Domain, provides the Group with a powerful tool to build a strong global brand."

We will add this sale to our Year to Date Top 100 Sales Chart when our next weekly domain sales report comes out Wednesday evening (November 26). At that time, Z.com will also take over the #5 position on our list of the biggest all cash domain sales we have reported (prior to the fall of 2003 no one was verifying reported domain sales and there were many instances of claimed sales that later proved to be bogus, so we cannot vouch for any sales reported prior to that time).
(Posted November 21, 2014) To refer others to the post above only you can use this URL: http://www.dnjournal.com/archive/lowdown/2014/dailyposts/20141121.htm
Legal Brand Marketing Lands Best Law-Related .co.com Domains in Win-Win Deal with Registry
It is widely believed that the success of new registry operators rests on end user adoption and development in their namespace. That's why operators of the .co.com registry, who created new namespace by sub-domaining a premier .com domain, are happy about a deal they announced with Legal Brand Marketing (LBM) today. LBM acquired 14 of the very best law-related .co.com domains (including Law.co.com and Lawyer.co.com) from the registry for an undisclosed price. LBM (a leading

publisher of law-related websites and provider of marketing services to law firms including lead generation, website development, graphic design and domain names) plans to build out every one of the newly acquired domains. The 14-domain portfolio includes:

Law.co.com
Attorney.co.com
Attorneys.co.com
Lawyer.co.com
Lawyers.co.com
DUI.co.com
DWI.co.com

Divorce.co.com
Bankruptcy.co.com
Injury.co.com
Accident.co.com
Accidents.co.com
DUIattorneys.co.com
DWIattorneys.co.com

Braden Pollock
Founder, Legal Brand Marketing

Legal Brand Marketing Founder Braden Pollock is well-known in domain investment and development circles and is often called on to speak or moderate sessions at leading conferences (we published an in depth profile of Mr. Pollock in our November 2011 Cover Story). At last count, Pollock held a portfolio of some 13,000 domains - many of those developed, including several outside of the legal realm like ScienceFiction.com. With respect to his latest acquisition of the .co.com domains Pollock said, "We are very pleased to have the opportunity to develop the very best law-related keyword domains into websites"

co.com LLC CEO Ken Hansen said. "New .co.com websites are going live every day. Given the reputation and track record of Braden Pollock and the Legal Brand Marketing team, we are especially pleased about their plans to develop this legal domain portfolio."
(Posted Nov. 19, 2014) To refer others to the post above only you can use this URL: http://www.dnjournal.com/archive/lowdown/2014/dailyposts/20141119.htm
Time to Break the Ice - NamesCon Invites Trademark Association President to Keynote at January 2015 Show
With the 2015 NamesCon conference now less than eight weeks away, more key components of the January 11-14 event at the Tropicana Hotel in Las Vegas are falling into place - with the latest one sure to surprise some observers. Today NamesCon organizers named J. Scott Evans, Associate General Counsel at Adobe Systems and President Elect of the International Trademark Association (INTA) as one of the show's keynote speakers (Mr. Evans will have assumed the INTA Presidency by the time he addresses the NamesCon audience).

In bringing Mr. Evans to Namescon, conference Co-Producer Jothan Frakes (whom we referred to as the "domain world's leading diplomat" in our July 2014 Cover Story) hopes to bring two camps that have traditionally been wary of each other closer together. Frakes told us, "My objective is to help people in the conference get a better understanding and appreciation of the INTA and (hopefully) create positive friction leveraging the networking opportunities at the conference to help improve the relationships and close or at least narrow the chasm between the perspectives of intellectual property interests and the entrepreneurial domain interests."

Frakes added, "J. Scott has an amazing background, including helping create UDRP. It

INTA President-Elect J. Scott Evans
will be a keynote speaker at NamesCon

is my hope that by attempting to bridge these worlds there can be some gains in the area of improved industry perceptions of the entrepreneurial marketplace, plus there are many IP lawyers coming, and the benefits of friendly first contact that started 10 years ago when I mashed up these worlds at the Domain Roundtable are getting an opportunity to benefit again."

"To use a food metaphor, when I was served a salad with pears in it the first time, I thought it was a bizarre concept, but I tried it, and it was one of the most amazing salads I ever had," Frakes said. "This is exactly that type of situation, and I think that the audience will really appreciate J. Scott as a dynamic speaker, plus having such a massive, prestigious, well established organization like the INTA participate on this level at a domain industry gathering like NamesCon is another unprecedented event. Conference Richard Lau, Co-Producer Jodi Chamberlain and I are all delighted to welcome J. Scott to the NamesCon in January."

Mr. Evans will join a distinguished group of keynote speakers at the upcoming 2nd annual edition of NamesCon (the show made a successful debut at the Tropicana in January 2014). Also delivering keynotes will be Howard Lefkowitz (CEO, 1DegreeWorld.com), Frank Schilling (Founder, Uniregistry), Khaled Fattal (CEO, MLiGroup) and Jennifer Wolfe (IP strategist and author) - an impressive roster that will likely expand further between now and opening day at NamesCon January 11.
(Posted Nov. 18, 2014) To refer others to the post above only you can use this URL: http://www.dnjournal.com/archive/lowdown/2014/dailyposts/20141118.htm
Marketing Matters: TLD Registry Honored for Efforts to Spread the News About New TLDs and Their China-Friendly Extensions
With the success of new gTLDs hinging on public awareness that hundreds of new domain options are now available (with hundreds more on the way) - a common criticism of many new gTLD registry operators has been that they are not doing enough to market both their own extensions and the new gTLD program in general. However, that charge has never been leveled at TLD Registry, the owner and operating registry for Dot Chinese Online (.在线) & Dot Chinese Website (.中文网). TLD

Registry is one of the relatively few new gTLD operators that have been continually beating the publicity drum and investing huge amounts of time and marketing money in an effort to give their offerings the best possible chance of success.

Their campaign has taken company leaders around the globe. If you were at the T.R.A.F.F.I.C. East conference in Miami two weeks ago you saw TLD Registry representatives and their trade booth there, if you were at the World Domain Day conference in Hyderabad, India in August, TLD Registry was there and if you came out for one of the Brandma's China New gTLD Roadshow events held this month in Beijing, Shanghai, Shenzhen and Xiamen, again TLD Registry was there.

Their "full court press" has not gone unnoticed. This past Thursday (November 13) at Brandma's stop in Xiamen, TLD Registry won the brand protection company's award for Best Marketing by a New gTLD.

TLD Registry's China GM Jin Wang (left) and CMO Simon Cousins (center) receive their Best Marketing Award from Brandma CEO and ICANN board member Ching Chiao Thursday (Nov. 13) in Xiamen, China.

While presenting the award, Brandma CEO Ching Chiao praised the advances that TLD Registry has brought to the entire industry of fully-Chinese domain names, saying, "No other registry has helped the awareness of the importance and value of Chinese domains as TLD Registry"

TLD Registry's China General Manager Jin Wang in turn praised the work of other registries present on the promotional roadshow, including CNNIC (which administers .cn, .中国 (".China") .公司 (".company") and .网络 (".network"), Donuts (the largest single new gTLD registry), Rightside, Uniregistry, Huyi (owner of .商标 (.trademark"), and .世界 (".world").

With respect to our primary audience - domain investors, if you are among the early birds that have decided to dabble in new gTLDs and shoulder the risk that comes with new companies and markets, it has often been said that the quality and commitment of a registry's management team is as important (if not more so) as the extension itself. Teams that are "all in" on getting the word out to help drive demand and end user success stories are the ones most likely to produce a return on your investment.
(Posted Nov. 17, 2014) To refer others to the post above only you can use this URL: http://www.dnjournal.com/archive/lowdown/2014/dailyposts/20141117.htm
NamesCon Tickets for Just $399? Yes! IF You Register Before Midnight Tonight
From what we are hearing it sounds like just about everybody is going to be at the 2nd annual NamesCon conference coming up January 11-14, 2015 at the Tropicana Hotel in Las Vegas. At this time a year ago, less than 100 people had pre-registered for the debut show held last January. Fast forward 12 months to today and over 400 people have already registered with a crowd in excess of 800 expected.

That inaugural NamesCon conference was a major success, largely due to an exceptional value proposition that included low registration fees and a remarkable $79 a night hotel price at the historic host hotel that is located right on the Las Vegas Strip.

The newly remodeled Tropicana had given NamesCon a good deal on rooms and conference space so the hotel could showcase its stylish $200 million makeover. Having accomplished that mission last winter, I expected they would present NamesCon with a much higher rate card this year, generating

expenses they would have to pass on to registrants. That didn't happen - somehow show founder Richard Lau was able to hold the line and again offer a remarkable conference bargain - especially for those who sign up a few weeks ahead of time.

Having said that, if you want to take advantage of the $399 registration fee the show has been offering, you will have to do it by midnight tonight (Saturday night, November 15). The deal is even better for those who attended the debut conference last January (your loyalty will be rewarded with a $299 ticket until midnight). Tomorrow the rate goes up to $599, so there is $200 in it for you if you act now. With the expected number of registrants continuing to be revised upwards, you would also be wise to lock in your room will you can still do it for just $79 a night (I booked five nights long ago).

Just as they did last January, Richard and fellow conference producers Jothan Frakes and Jodi Chamberlain are putting together an ambitious agenda filled with business sessions and social events you won't want to miss. I hope to see you and perhaps "capture" you on camera there!

At work at the 1st NamesCon conference last January. With a much bigger crowd and more ground to cover at the January 2015 show, I may have to pay a visit to that Massage Station!
(Posted Nov. 15, 2014) To refer others to the post above only you can use this URL: http://www.dnjournal.com/archive/lowdown/2014/dailyposts/20141115.htm
Archeo Domains Rings Up $1.6 Million in 3rd Quarter Sales - Says When it Comes to Domains Size Matters
Archeo Domains reported today that they closed $1.6 million worth of domain sales in the recently concluded 3rd quarter of 2014. Archeo released their results in a newsletter that also provided some insight into how domain length affects sales. They said that domains ranging from 8 to 12 characters generated 60% of their sales with 9-character domains being the most popular. We weren't surprised to hear that - after all DNJournal is a 9-character name! :-)

Though those lengths accounted for the most sales, the highest prices, as you would expect, went to shorter domains, though the difference was less than you might have guessed. Archeo said their 4-character domain sales went for an average selling price (ASP) of $30,000 but those at 15 characters were just a tick lower with a $29,000 ASP. When you stretch it out to 23 characters it's a different story with the ASP dropping to $3,000.

Archeo also used their quarterly newsletter to make a case for premium domains to their end user clients (52% of small businesses still do not have a website)! Archeo told them "Having a website not only helps establish credibility and attracts new customers to your products or services, it also serves as a powerful marketing tool that works 24 hours a day, seven days a week. With no additional employees or as with most small business, operating solo, a website is like having an entire team that is on and working while you're sleeping, on vacation, or spending time with your family. This is an efficient way to keep your virtual doors and new opportunities open, even when your actual business may be closed!

With respect to domain selection, Archeo offered some tips in this graphic:
(Posted Nov. 13, 2014) To refer others to the post above only you can use this URL: http://www.dnjournal.com/archive/lowdown/2014/dailyposts/20141113.htm
Power.com Sold for Nearly $1.3 Million in One of the Year's Biggest Sales
Thanks to George Kirikos we are able to report that the domain Power.com has been sold to Power Integrations, Inc. for $1,261,000 (Power.com now redirects to the San Jose, California based company's existing website at PowerInt.com). Power Integrations, a supplier of high-performance electronic components, had net revenues of more than $90 million in the recently completed 3rd quarter of 2014.

Mr. Kirikos, who has uncovered many previously undisclosed high end domain sales while poring over SEC filings, did it again when he found the Power.com purchase listed in Power Integrations's third quarter 10-Q filing with the SEC. From the nameserver change date, it looks like the deal closed in July of this year.

Coincidentally, I ran into Scott Smith, who co- brokered the Power.com sale with

Power image from Bigstock

WebsiteProperties.com, at the T.R.A.F.F.I.C. East conference two weeks ago in Miami Beach. At that time Scott told me he had made the sale but he couldn't give me any details due to a non disclosure agreement. George has now filled in the blanks.

At $1.261 million, Power.com is the 6th largest sale reported so far this year and the 9th seven-figure transaction to have been made public in 2014 (we will be adding it to our YTD Top 100 chart after our next weekly domain sales report comes out Wednesday evening). Thanks again to Mr. Kirikos for sharing this information.
(Posted Nov. 11, 2014) To refer others to the post above only you can use this URL: http://www.dnjournal.com/archive/lowdown/2014/dailyposts/20141111.htm
China Calling! With New Bridges to Help You Cross the Language Barrier the Booming Chinese Domain Market is Beckoning
China's increasingly important role in the domain aftermarket has been one this year's biggest stories. Chinese buyers have been front and center in many of 2014's biggest deals. In the 1st quarter alone, buyers from China spent $2.43 million for 37.com, another $2.43 million for Youxi.com, $950,000 for 100.com and $800,000 for WAN.com, just name a few. They were buying more than just .coms too. In the same quarter the top seven ccTLD sales were all Chinese .CN domains, led by Game.cn at $512,307 and WAN.cn at $247,830.

China image from Bigstock

As a result buyers in the U.S. and other countries around the world are becoming more interested in tapping into the booming Chinese market. It was a hot topic at the recently concluded T.R.A.F.F.I.C. East conference in Miami Beach where three experts on the Chinese market conducted one of the show's most popular sessions - Demystifying the Chinese Domain Market - on November 1st.

(Left to Right) Simon Cousins (TLD Registry), Jeremy Marx (Beyond the Dot) and domain broker George Hong (Guta.com) helped demystify the Chinese domain market for T.R.A.F.F.I.C. East attendees earlier this month in Miami Beach.

New gTLD registry operator TLD Registry (whom Simon Cousins serves as Chief Marketing Officer) also had a prominent corporate presence with a booth at T.R.A.F.F.I.C. where they filled guests in on another area the company believes presents an opportunity - registrations in two Chinese language new TLDs that they administer - .在线 (.online in Chinese) and .中文网 (.website in Chinese). Though the TLDs are new they have already enjoyed some early success, particularly with the Chinese .online extension that, as of this writing, ranks among the top 15 new gTLDs in total registrations. (You can hear more about the Chinese market from Simon in a new podcast at DomainNameWire.com).

TLD Registry booth at T.R.A.F.F.I.C. East 2014 in Miami Beach

TLD Registry fully understands that if they want to attract buyers who do not speak Chinese they have to hurdle the language barrier. They have addressed that problem with a dedicated website at ChineseLandrush.com (the latest version 3.1 has just been released). The site has an ingenious tool that lets you type in any keyword in English - that is then converted to simplified Chinese - including a list of available domains in the Chinese .online or .website extensions.

Though still in short supply, bilingual brokers like George Hong at Guta.com are also making it much easier for non Chinese speakers to buy and sell in the burgeoning Chinese market. With a lot of the obstacles now getting cleared away it is starting to look like a no-brainer to look more toward the Far East. You've probably heard the apocryphal story that Willie Sutton, when asked why he robbed banks, said, "because that's where the money is!". These days a lot of the money is obviously in China. The good news is, if you are a buyer who has a knack for recognizing good domains or are a seller with the kind of names that Chinese buyers are looking for (short numeric domains, for example), you could end up with a big payday that - unlike Willie Sutton's - will be perfectly legal!
(Posted Nov. 10, 2014) To refer others to the post above only you can use this URL: http://www.dnjournal.com/archive/lowdown/2014/dailyposts/20141110.htm
Why Bill McClure Agreed to Pay $100,000 for Coffee.Club
A strange thing happened Saturday night (Nov. 1) in the middle of a T.R.A.F.F.I.C. conference Dessert Party on the show's final night at the Fontainebleau Hotel in Miami Beach. While chatting with some friends there was a commotion on the stage of the ballroom where the party was underway. I looked around to see an old friend, Coffee.org owner Bill McClure, and three top executives from the .CLUB registry yelling excitedly about something. It was an impromptu celebration with no live microphones on the stage so it took a few moments to get a handle on what was going on. After piecing together shouts of "Coffee.club $100,000!", "biggest .CLUB deal to date," etc. I went over to find out if what I was hearing was true (after all it was November 1st not April 1st).

I climbed up the stairs to join the group on stage where McClure and .CLUB executives Colin Campbell, Jeff Sass and Michele Van Tilborg confirmed they had completed a deal to send the domain Coffee.club to McClure for $100,000, to be paid out over 10 years at $10,000 per year.

Bill McClure speaking during the Meeting of the Chiefs session that closed the final business day at T.R.A.F.F.I.C. East 2014 Saturday (Nov. 1) in Miami Beach.

Cheers! (with coffee of course): We took this shot immediately after .CLUB officials and buyer Bill McClure announced a $100,000 deal for McClure to acquire Coffee.club Saturday night in Miami Beach. Left to right are .CLUB CEO Colin Campbell, McClure, .CLUB CMO Jeff Sass and .CLUB VP, Business Development Michele Van Tilborg.

While the deal was just finalized and announced Saturday night, the two sides had been talking about it for some time. The free financing arrangement was something .CLUB already had in place with their Startup.club offering that is designed to make it easier for entrepreneurs to acquire and build a business on a premium .CLUB domain. Still, paying $100,000 for a new gTLD domain over any length of time is a major commitment accompanied by a high degree of risk.

On Sunday morning, Bill McClure (right) told
DNJournal's Ron Jackson he had no buyer's remorse.

To make sure he didn't have any buyer's remorse, I waited until the next morning, at T.R.A.F.F.I.C.'s Farewell Breakfast Sunday, to get back together with McClure to see if he was still as excited about the deal as he was Saturday night. He was, and after talking with him, I began to understand why he believes he actually cut a pretty good deal for himself.

In almost all cases, when you buy a domain name, you are on your own to make something out of it. Odds are you won't hear another peep out of a registry or registrar unless you miss a payment or your domain is up for renewal. That will not be the case here. As it happens, McClure is just

the kind of guy .CLUB needs. He is an end user with a very successful existing coffee business whose new venture will put the .CLUB extension in front of a lot of people. As such, McClure said .CLUB has agreed to spotlight Coffee.club in many of their marketing efforts. Since they are one of the few new gTLD registry operators who have actually spent significant money on marketing (in fact on Saturday they won the T.R.A.F.F.I.C. Award for Best Marketing by a New gTLD, as well as the Most Promising New gTLD award) that is a big value add to McClure,

There is little doubt that despite making a big sale. .CLUB has as much on the line here as McClure does. McClure and many others at the party, including T.R.A.F.F.I.C. Co-Founder Rick Schwartz, noted that Coffee.club will be something of a "canary in the coal mine" for

.CLUB. The name is a perfect fit for the coffee club McClure intends to build on it and it will be backed by a guy who already knows his way around the coffee business as well as anyone in the country. So the thought many expressed out loud was that if Coffee.club can't make a new gTLD successful then nobody can. For that reason, every new gTLD operator, not just .CLUB, should be rooting for McClure to succeed.

McClure, who told me he had been thinking about setting up a coffee club for some time, doesn't plan to waste any time in putting his plans for the domain into action. He told me he will have a live site up on Coffee.club within a couple of weeks. He has done that before - a prime example coming just a year ago when McClure bought Bouquet.com at the 2013 T.R.A.F.F.I.C. Las Vegas conference and quickly had a profitable business up and running on it. Of course, that was a .com. Can he do it again with a new gTLD? And what about possibly losing traffic to CoffeeClub.com? The latter domain, registered in 2000, is currently an inactive blog (the most recent posts are dated 2013) that has ownership information shielded by WhoIs privacy. Right now there are just as many questions as answers - so it will be very telling to watch this particular case play out in the months ahead.
(Posted Nov. 5, 2014) To refer others to the post above only you can use this URL: http://www.dnjournal.com/archive/lowdown/2014/dailyposts/20141105.htm
Endurance International Group Reveals Purchase of BuyDomains.com from NameMedia
One of the best-known companies in the domain space, BuyDomains.com, was sold by NameMedia to the Endurance International Group (Nasdaq:EIGI) in the recently concluded 3rd quarter of 2014. The previously undisclosed sale was revealed when Endurance reported their 3Q-2014 financial results this morning.

The exact price paid for the well established domain aftermarket platform and the nearly 1 million domains in the company's portfolio was not disclosed as the acquisition listed as one of three companies Endurance purchased for a

total of approximately $77 million. However, BuyDomains is believed to have accounted for a very high percentage of that total.

Jason Miner
will run BuyDomains.com for EIGI

The rapidly growing Endurance International Group, who earlier this year acquired Directi for $110 million, is a leading provider of hosting, domain and online business services offered through a family of well-known brands that includes Bluehost, HostGator, iPage, Domain.com, A Small Orange and ResellerClub. EIGI said it supports over 3.8 million subscribers and is able to tailor solutions for small businesses at every stage and level of sophistication. Endurance is headquartered in Burlington, Massachusetts, not far from BuyDomains's location in Waltham, Massachusetts.

By selling BuyDomains, NameMedia has now effectively exited the domain business, having sold their other major aftermarket platform, Afternic, to Go Daddy in September of last year. That doesn't mean we have seen the last of some of NameMedia's well-known management team members though. According to Domain Name Wire, Chief Operating Officer Jason Miner will stay on to run BuyDomains for Endurance.
(Posted Nov. 4, 2014) To refer others to the post above only you can use this URL: http://www.dnjournal.com/archive/lowdown/2014/dailyposts/20141104.htm
Photos & Highlights from Saturday's Final Business Day and Sunday's Farewell Breakfast at T.R.A.F.F.I.C. East in Miami Beach
The 2014 T.R.A.F.F.I.C. East conference - the 10th anniversary edition of the pioneering domain industry trade show - concluded over the weekend at the beautiful Fontainebleau Hotel on Miami Beach. Saturday was the final day of business, one that included the annual T.R.A.F.F.I.C Awards ceremony. After a big dessert and coffee party Saturday night, the show closed with one our favorite events, the traditional Farewell Breakfast, on Sunday morning. I have photos and highlights from all of the weekend activity for you in today's post (you can find Friday's day 2 highlights here and Thursday's opening day highlights here).

The final business day Saturday opened with T.R.A.F.F.I.C.'s popular Two-Minute Elevator Pitch opportunity. Every entrepreneur in the audience was invited to take the stage and tell the audience about their new business or the latest offerings from their existing company.

In the next session I took the stage to share the latest

Scott Smith of UbiNames.com was among the business owners who took advantage of the Two-Minute Elevator Pitch session that kicked off the final business day at T.R.A.F.F.I.C. East 2014 on Saturday (November 1).

domain aftermarket sales trends. I covered the quarterly results from the first nine months of this year. You can access all of the information I discussed in these three newsletters that we pubkshed just before T.R.A.F.F.I.C.: 1Q-2014, 2Q-2014 and 3Q-2014.

DNJournal.com Editor & Publisher Ron Jackson fills the T.R.A.F.F.I.C. audience in on 2014 domain aftermarket sales trends. In short, the market has been booming this year with the total $ volume of sales reported thus far in 2014 running almost 20% ahead of the same time frame last year.

After talk it was time for presentation of the annual T.R.A.F.F.I.C. Awards to those selected in industry wide voting for excellence in their respective categories. This year, several took home trophies in two categories. DNForum.com owner Adam Dicker was one of those. Adam won the highest individual honor - Domainer of the Year - and also took home the Developer of the Year award.

Adam Dicker (right) with one of the two trophies he collected from T.R.A.F.F.I.C. Co-Founders
Rick Schwartz (center) and Howard Neu (left) on Saturday morning (Nov. 1, 2014).

Two corporations also scored double wins. Frank Schilling's Uniregistry.com claimed the Sponsor of the Year Award while his DomainNameSales.com platform won for Best Overall Domain Solution. Frank was unable to attend the conference but Uniregistry's Director of Registrar Sales, Sevan Derderian, was on hand to collect the hardware.

Also hitting the Daily Double was the new .CLUB Registry that has been, by many standards, the most successful new GTLD released to date. .CLUB won the voting for Most Promising New gTLD and for Best Marketing of a New gTLD. Things got even better for them at T.R.A.F.F.I.C. when they announced a deal to sell Coffee.club to Coffee.org's Bill McClure for $100,000 (to be paid over 10 years).

Uniregistry's Sevan Derderian accepted both the Sponsor of the Year Award and the Best Overall Domain Solution Award (for sister company DomainNameSales.com).

.CLUB team leaders (left to right between Rick Schwartz and Howard Neu) Jeff Sass, Colin
Campbell and Michelle Van Tilborg, accept their two T.R.A.F.F.I.C. Awards for excellence.

Sedo's Dave Evanson won the Broker of the Year Award, making this the third consecutive year a Sedo broker has taken that trophy home. Dave also won it in 2012, then Negar Hajikani did it in 2013 before Dave scored his repeat win this year.

Domain Broker of the Year Award winner Dave Evanson (3rd from left) with
2013 winner and Sedo colleague Negar Hajikhani at Saturday's Award ceremonies.

Another major T.R.A.F.F.I.C. honor is induction into the T.R.A.F.F.I.C. Hall of Fame. Two individuals are voted in each year. This year's inductees are attorney John Berryhill and DomainSherpa.com's Michael Cyger, who also won this year's Blogger of the Year Award. Michael could not attend the conference so his friend (and now a fellow HOF member) Adam Dicker accepted both awards for him.

Above: Seven current T.R.A.F.F.I.C. Hall of Fame members were on stage when this year's two inductees - John Berryhill and Michael Cyger - were announced. (left to right, after the T.R.A.F.F.I.C. cop model) are Howard Neu, Rick Schwartz, Michael Berkens, Michael Castello, Ron Jackson, Adam Dicker and Chad Folkening. Adam Dicker accepted the award for Michael Cyger who could not attend.

Below: New Hall of Fame member John Berryhill was at T.R.A.F.F.I.C. but had to fly out before Saturday's award ceremony. This shot is from Friday's Rick Schwartz Roast when John aimed a hilarious series of good-natured barbs at the guest of honor.

In addition to the two voted into the Hall this year, the late great Ren Warmuz of Trellian.com and Above.com was installed in a special memorial tribute that follows his premature passing thislast October after a long battle with cancer. As part of the ceremony a great music video produced during Ren's days as a talented singer/musician in the 1980s was also shown. Ren's Above.com friends and colleagues Nancy Bianchi and Victor Pitts were on stage to represent Ren during the tribute.

Two other special awards were handed out Saturday morning. Richard Lau (who could not attend) was named winner of the Bandit Berkens Goodwill Ambassador Award and Ilze Kaulins-Plaskacz of ExcellentDomains.ca received T.R.A.F.F.I.C.'s first Women in Domaining Award.

Above: Ilze Kaulins-Plaskacz accepts the first T.R.A.F.F.I.C. Women in Domaining Award.

Right after the awards ceremony, business sessions resumed with a Domain Name Broker Roundtable that featured (on the dais, left to right in the photo below) Alan Hack, George Hong (Guta.com), Tessa Holcomb (Igloo.com), Dave Evanson (Sedo.com) and James Wester (DomainGraffiti.com). Panelists offered advice on the best ways to get your listed domain names sold.

Simon Cousins from TLD Registry
helping Demystify the Chinese Domain Market

In the next session, three China experts spoke to help Demystify the Chinese Domain Market. George Hong of Guta.com returned from his appearance on the previous Domain Brokers panel to join Simon Cousins from the TLD Registry and Jeremy Marx from BeyondTheDot.com.

George was kind enough to give us a link to his slide deck for this session that has a lot of information on the booming Chinese market that you will find interesting. You can access that .pdf file here.

During my session on domain sales trends at the start of the day I noted that the top seven ccTLD sales in the first quarter of this year were all Chinese .cn domains.

TLD Registry, a new gTLD registry operation that administers the Chinese language extensions meaning "online" and "website" has also gotten off to a fast start as Mr. Cousins detailed.

In the final business session of T.R.A.F.F.I.C. East 2014 it was time to "Meet the Chiefs" a long standing show ending session that brings leaders or top representatives from multiple companies together to discuss a variety of industry issues.

This year's Meet the Chiefs panel featured (L to R) Bill McClure (Coffee.org), Dave Evanson (Sedo.com), Victor Pitts (Above.com), Gregg McNair (Igloo.com and others), John Ferber (DomainHoldings.com and others) and Michael Castello (Castello Cities Internet Network).

A Fontainebleau Hotel staff member loads up the
dessert tables for Saturday night's party.

With business now done, it was time to relax and do some casual networking among friends old and new at a Saturday night Dessert Party at the Fontainebleau Hotel. Two huge tables laden with an irresistible range of delightful desserts attracted guests like moths to a flame. No one got burnt but their waistlines may have suffered some damage! Those desserts were like potato chips - you couldn't eat just one!

After this party, those who could stay awake after ingesting so much sugar headed up to Gregg McNair's suite where the gregarious Aussie entertained into the week hours of the night.

Below: Guests at the dessert party included (L to R) Victoria Castello, her son Michael Castello, Natalie Lambert's mother Arefa, Uniregistry's Natalie Lambert & Luis Petzhold.

Donuts.co's Daniel Schindler and Andee Hill (EscrowHill.com) at the Dessert Party.

Are you starting to get the impression that there is a lot of good food at T.R.A.F.F.I.C. conferences? If that wasn't proven yet again Saturday night it was Sunday morning (Nov. 2) when show attendees gathered for final time before scattering to their homes around the globe. They were treated to T.R.A.F.F.I.C.'s traditional Farewell Breakfast, an event that encourages guests to fuel up for their trip home and spend a couple of hours table hopping around the room to say their goodbyes until next time.

Above: Adam Dicker and Diana Jackson at Sunday's T.R.A.F.F.I.C. Farewell Breakfast.

Below: People made a point to seek out T.R.A.F.F.I.C. Hostess with the Mostess Barbara Neu to thank her for making their show experience the best it could possibly be. Braden Pollock was one of the first in line for a hug.

Before the conference, T.R.A.F.F.I.C. Co-Founder Rick Schwartz announced this was the last show he would be a part of. Over the past decade T.R.A.F.F.I.C. has helped launched countless careers, companies and deals. Not knowing when I would see him again as he heads into "retirement" I made sure to personally thank him for helping create and grow our industry - and also get a picture with the King to mark the end of a remarkable decade.

Rick Schwartz and DNJournal.com's Ron Jackson at Sunday's Farewell Breakfast.

I also would have gotten a photo with Rick's T.R.A.F.F.I.C. Co-Founder Howard Neu who will now carry the ball forward but he was busy photo bombing other shots! You can see what I mean in the photo below (anyone named Howard put your hand up!). This started out as a shot of Larry Fischer, Braden Pollock and Tracy Fogarty (all seated) when others among the last to leave started spontaneously filling in the gaps behind them! If three's a crowd - then 16 is an even better crowd!

And so another T.R.A.F.F.I.C. show is in the books, but we have more to come. We'll be doing a full show review pulling the whole week together along with many great as yet unpublished photos that will give you more insight into a very enjoyable and rewarding week on Miami Beach.
(Posted Nov. 3, 2014) To refer others to the post above only you can use this URL: http://www.dnjournal.com/archive/lowdown/2014/dailyposts/20141103.htm
Photos and Highlights from Day 2 of T.R.A.F.F.I.C. East 2014 Friday in Miami Beach, Florida
After opening Thursday evening (Oct. 30) with their traditional Welcome Party at the Fountainebleau Hotel on Miami Beach, the 10th anniversary T.R.A.F.F.I.C. East conference got down to business Friday (Oct. 31). The day began with opening comments from show co-founders Rick Schwartz and Howard Neu.
The first full day of business at T.R.A.F.F.I.C. East began right after breakfast Friday
(Oct. 31) when show co-founders Rick Schwartz and Howard Neu welcomed their guests.
Immediately after, the first panel discussion, covering The Domain Aftermarket got underway. Those on the dais included (left to right in the photo below) Scott Pruitt (NameJet.com), Ron Jackson (DNJournal.com), moderator Braden Pollock (LegalBrandMarketing.com), Tessa Holcomb (Igloo.com) and Larry Fischer (DirectNavigation.com). Larry is also seen in the inset photo at left.

Panelists filled attendees in on the latest trends in the domain aftermarket which has enjoyed a powerful rebound from the recession over the past two

years. I provided the latest sales data that underscored that surge. You can review that data yourself as we recently published it in three newsletters (one for each quarter of the year to date - 1Q-2014, 2Q-2014 and 3Q-2014).
In the next session, DNForum.com owner Adam Dicker flew solo, telling one of the conference's biggest breakout audiences How to Turn a Domain Name Into a Business in Less Than 90 Minutes. Something he was able to do within the session's 90-minute time frame.
Above: Adam Dicker conducting his one-man seminar Friday on how to
turn a domain name into a full fledged business in 90 minutes.
Below: A view of part of the crowd at Adam's session.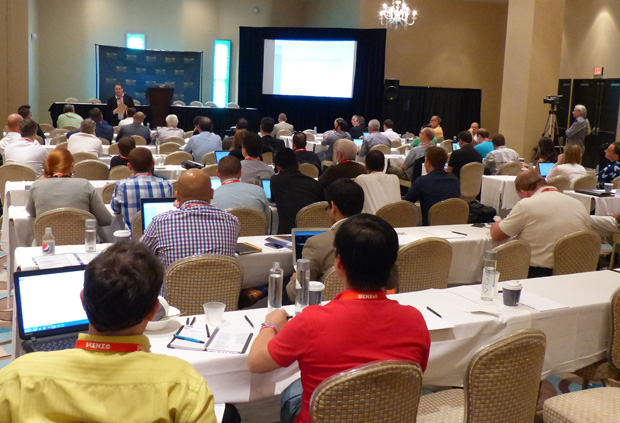 This year's T.R.A.F.F.I.C. East conference will be remembered for being more than just the show's 10th anniversary event. Co-Founder Rick Schwartz also announced that it will be he last time producing the show. He plans to transition into a quiet retirement with his partner, Howard Neu, expected to carry the T.R.A.F.F.I.C. flag from this point forward. To honor Schwartz in his last lap around the track a Rick Schwartz Roast was held during the Friday lunch break. Ten of his well-known industry colleagues (and an additional masked "mystery roaster") poked (mostly) good natured fun at the industry icon.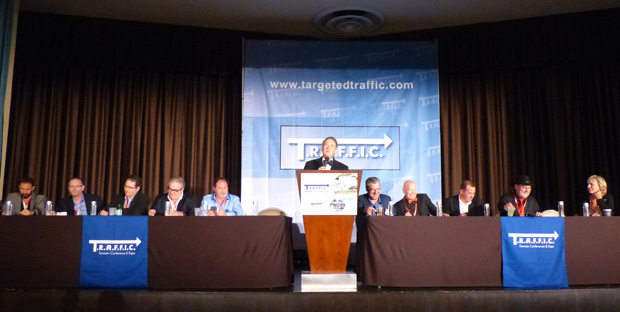 Those on the dais for the start of the Rick Schwartz Roast included (left to right): Braden Pollock, Victor Pitts, Adam Dicker, Pinky Brand, Michael Berkens, Howard Neu, the guest of honor (Rick Schwartz), Gregg McNair, Ari Goldberger, John Berryhill and Ilze Kaulins-Plaskacz. A mystery roaster entered later and remain masked throughout the event.
With lines like Adam Dicker's "Rick sometimes gets carried away...but not far enough!", Ari Goldberger's "Rick Schwartz is retiring from what!? (insinuating he hasn't worked for years), John Berryhill's "I only make fun of the ones I love, so I won't have much to say today" to Braden Pollock's "We all love you - just not as much as you love you!", Schwartz at times was near tears from laughing (at least we think it was from laughing)!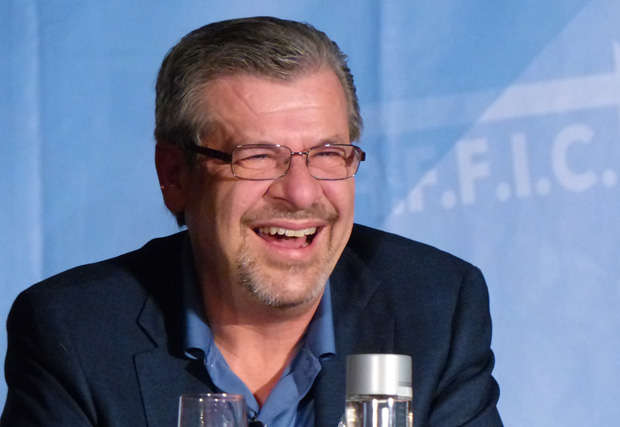 Roastee Rick Schwartz cracks up during the Rick Schwartz Roast Friday.
After the comic relief provided by the Rick Schwartz Roast, it was time to buckle back down in three afternoon business sessions, starting with a solo lesson from Chris Derose on Crypto Currency and Commerce.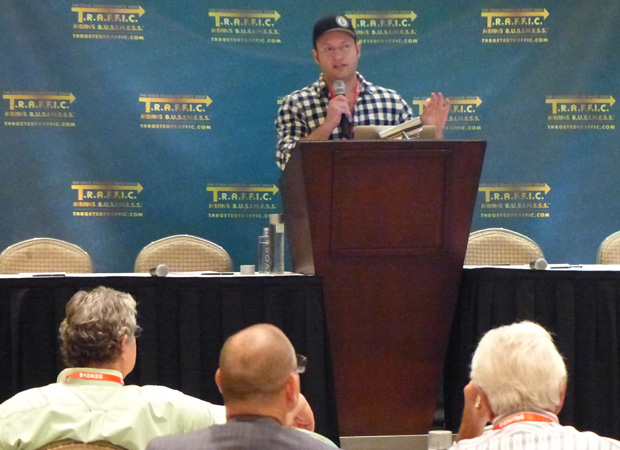 Chris Derose explains crypto currencies like bitcoin to T.R.A.F.F.I.C. attendees
who share an interest in the topic with many others in the domain business.
Next up, Rick Schwartz, apparently fully recovered from the wounds suffered during his "roasting" earlier in the day, joined Michael Berkens (TheDomains.com) and Adam Dicker (at right in the photo below) for a cautionary session telling attendees about various internet abuse, schemes and scams they needed to beware of.
In the final business session of the day, and one I personally found to be one of the most interesting of the show, three key figures in the new gTLD space - (left to right in the photo below) Daniel Schindler (Donuts.co), Jeff Sass (.CLUB) and Simon Cousins (TLD Registry) - detailed why they are bullish on the sector (and their specific TLDs) and what they are doing to try to increase public recognition.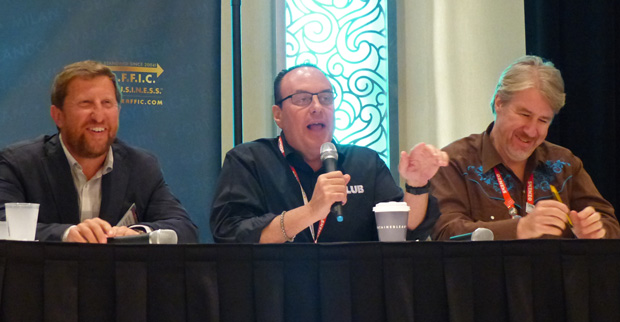 One criticism of many new TLD operators has been that they have invested little in marketing. .CLUB and TLD Registry have been among the few exceptions to the rule, and Schindler said Donuts, the biggest new gTLD operator, plans to spend millions on marketing in the year ahead. That will be good news for new gTLD investors and operators alike as they all try to clear the high hurdle of widespread public recognition.
With the day's business now out of the way, it was time for fun once again and there was more than enough of that to go around at the first ever T.R.A.F.F.I.C. Halloween Masquerade and Ball, held at the Fountainebleau Friday night. Attendees, being the creative types that they are, went all out with their costumes in a wildly entertaining event.
Cruella de Ville (Judi Berkens) with her canines in tow at the Masquerade Ball, including two Yorkies and an unusually large Dalmatian (Michael Berkens!). .Club's Jeff Sass (at right) might want to keep his distance unless he wants to wind up at the end one of Cruella's leashes too!
To give guests an added incentive to get dressed up, T.R.A.F.F.I.C. offered a $1,000 cash prize for Best Costume, as selected by fellow party guests. Not surprisingly, Judi & Michael costumes scored high, taking the runner up spot. The winner was Isis & Pharaoh (Diana and Ron Jackson), thanks entirely to Diana's sewing and art design ability. Ron's role was akin to that of a mannequin as Diana made his costume (as well as hers) from scratch - then showed him how to (for the first time) pull on a skirt and sit still for the application of makeup and eye liner!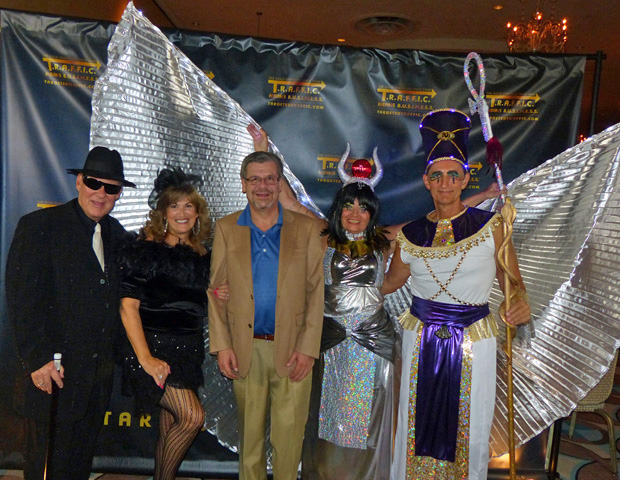 (L to R): T.R.A.F.F.I.C. Co-Founder Howard Neu, his lovely wife Barbara and T.R.A.F.F.I.C. Co-Founder Rick Schwartz with costume contest winners Diana Jackson (Isis) and Ron Jackson (Pharaoh- or maybe that should be spelled Fauxroah).
As you would expect, the masquerade ball produced a ton of great photos. We will share many more of those with you in our upcoming complete T.R.A.F.F.I.C. East 2014 review article. Day two of the conference is continuing as I write this. There will be a Dessert Party tonight, then the show will close with the traditional Farewell Breakfast Sunday morning. I'll have photos and highlights from Saturday and Sunday for you in my next post, which you can expect to see around mid-day Monday (have lots of photos to go through!)
(Posted Nov. 1, 2014) To refer others to the post above only you can use this URL: http://www.dnjournal.com/archive/lowdown/2014/dailyposts/20141101.htm
Photos and Highlights from Opening Night at the 2014 T.R.A.F.F.I.C. East Conference at the Fontainebleau Hotel in Miami Beach
The 10th anniversary edition of the T.R.A.F.F.I.C. conference got underway tonight with a scintillating opening night outdoor welcoming party at the Fontainebleau Hotel in Miami Beach. This after the day began with another round of pre-show cabana networking with coffee and danish already laid out for early birds at 9am.
Early birds could pick up a a cup of coffee and a danish before visiting the cabanas that circle the central serving station in the middle of T.R.A.F.F.I.C.'s private pool at the Fontainebleau Hotel.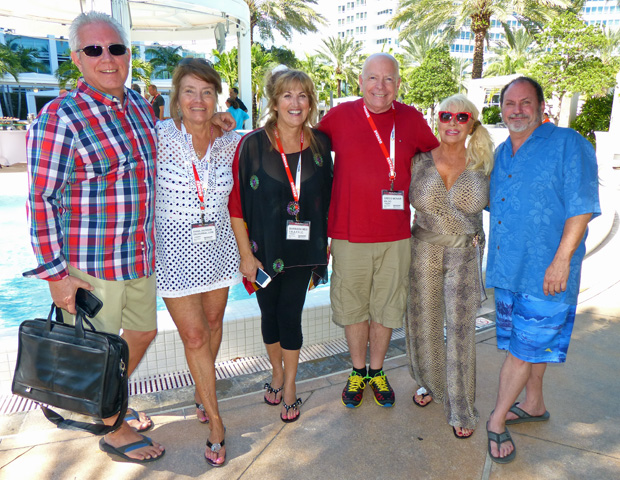 By mid-day T.R.A.F.F.I.C. guests were arriving from around the world. Left to right above are Scott Smith, Diana Jackson, Barbara Neu, Gregg McNair, Judi Berkens & Michael Berkens.
Below: Industry veteran Mike Robertson (left), who recently moved from Australia to Florida to take a new position with DNC Holdings, visits with T.R.A.F.F.I.C. Co-Founder Rick Schwartz.
Below: Inside one of the poolside cabanas two of the T.R.A.F.F.I.C. models paid a visit to (left to right) Mr. Khoa who came from Viet Nam, Richard Price, Eddie Sixto and Logan Flatt.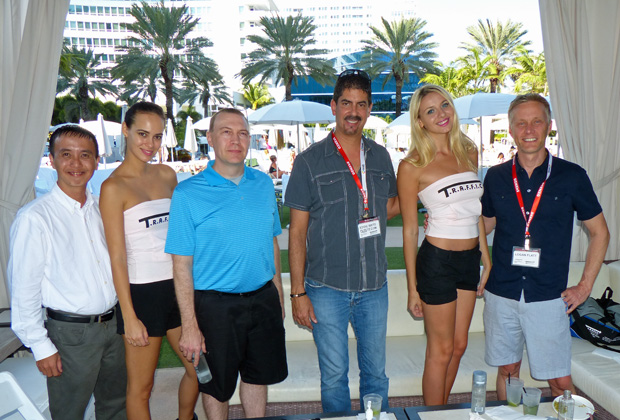 At 4pm an orientation session for first time T.R.A.F.F.I.C. attendees was held in a Fontainebleau ballroom. A highlight was the first screening of a 20-minute film produced by Danny Pryor that covered the entire 10-year history of the pioneering domain conference.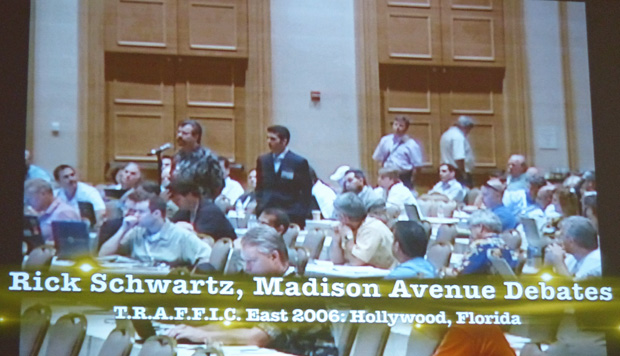 A scene from the new T.R.A.F.F.I.C. history film that was screened for the
first time during a pre-show orientation session this afternoon.
At 5:30pm T.R.A.F.F.I.C. East 2014 officially got underway with a lavish opening night welcome party held on an outdoor deck overlooking the T.R.A.F.F.I.C. cabana and pool area on one side and the Atlantic Ocean on the other. The party featured a spectacular mix of live music, a seemingly endless buffet of great food and an assortment of delicious drinks.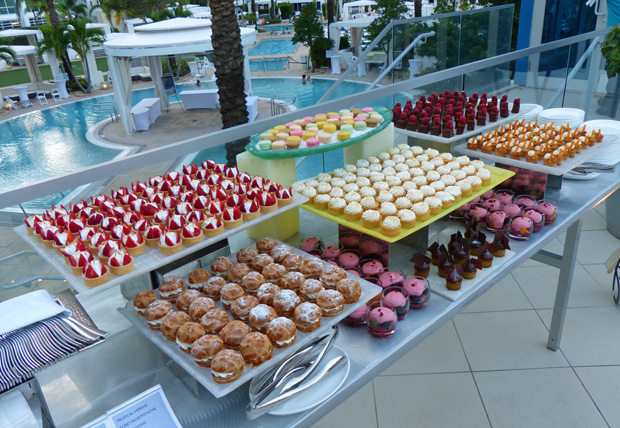 Above: The dessert table at tonight's T.R.A.F.F.I.C. Welcome Party.
Below: Chad Folkening and Michael Castello ready to get the party started.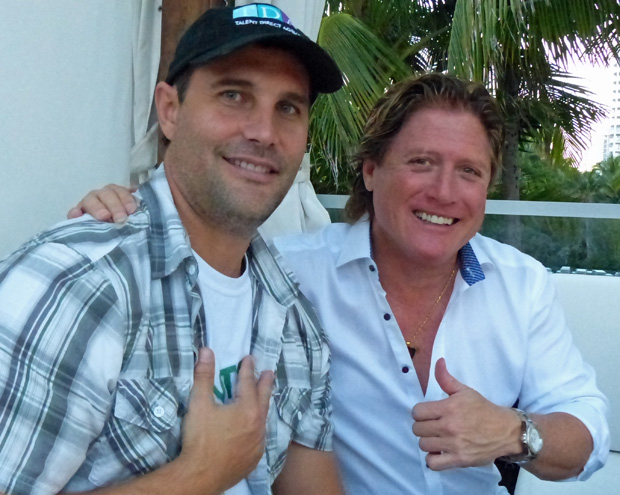 Below: As night fell guests were busy chatting or dancing the night away. This deck stretched back about 100 yards with private seating areas on both sides, making it impossible to capture the full crowd in one photo.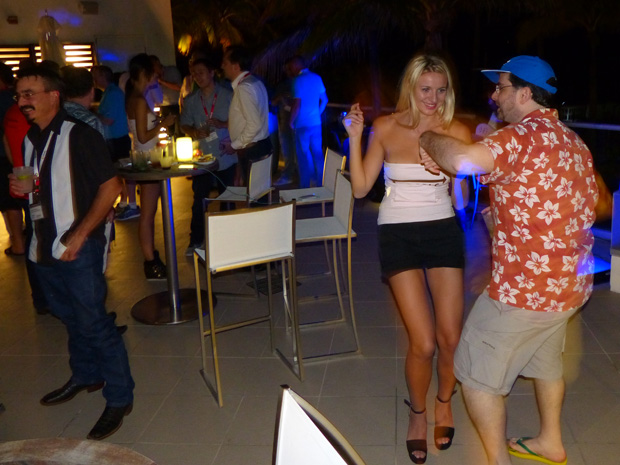 Above: Those enjoying T.R.A.F.F.I.C.'s opening night party included (L to R) Larry Fischer, Kirsten Szymczyk (GoDaddy), Dante DeAngelis, Tessa Holcomb, Alan Hack and Ron Jackson.
Below: Marty Kaulins and Ilze Kaulins-Plaskacz with long time friend and Escrow.com President Brandon Abbey.
Delray Beach based Domain Holdings was represented by an all-star team in (L to R) Alan Dunn, Tracy Fogarty, Mark Daniels and Joe Udemme.
On Friday the first full business day at T.R.A.F.F.I.C. East will get underway at 9:45am (you can see the full schedule here). I'll have Friday photos & highlights for you in my next post from Miami Beach.
(Posted Oct. 30, 2014) To refer others to the post above only you can use this URL: http://www.dnjournal.com/archive/lowdown/2014/dailyposts/20141030.htm
Photos & Highlights from the First Day of Pre-Show Networking at T.R.A.F.F.I.C. East on Miami Beach
On a picture perfect day on Florida's Miami Beach the 10th anniversary edition of the pioneering T.R.A.F.F.I.C. conference unofficially opened today when early birds enjoyed the first of two days of pre-show cabana networking at the fabulous Fontainebleau Hotel.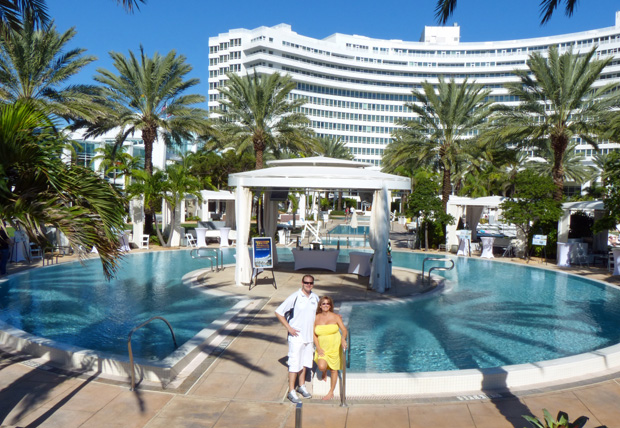 Above: T.R.A.F.F.I.C.'s Ray Neu & Barbara Neu ready to welcome conference early birds to pre-show cabana networking at the Fontainebleau Hotel on Miami Beach this morning.
Below: Jose Vicente Gomar from Miami.land (left) and T.R.A.F.F.I.C. Co-Founder Howard Neu made a bee line for fresh coffee, danish and refreshments when the cabanas opened at 9am.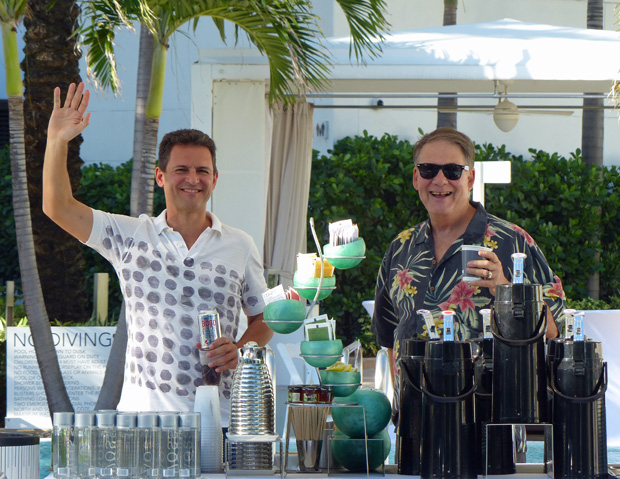 An ongoing procession of good food and fresh mojitos drew guests into the central cabana (surrounded by a crystal clear full circle pool) throughout the day, with networking continuing well past the scheduled 6pm closing time.

I have been to almost all of the more than two dozen T.R.A.F.F.I.C. shows held around the world over the past decade and I would have to say the Fontainebleau is the most stunning venue (in a long list of world class facilities) that they have visited to date. Truly a fitting location for the 10th anniversary edition of the iconic event founded in 2004 by Rick Schwartz and Howard Neu.
Above: Having a Fontaineblast today were (left to right) James Wester, Howard Neu, Eddie Sixto, Ron Jackson, Rick Schwartz and Jean-Noel Frydman.
Below: The guys above have to be wondering hw Ray Neu always attracts the pretty girls! Seated left to right (with Ray looking on) are Barbara Sixto, Diana Jackson, Barbara Neu and Carmella Savonello.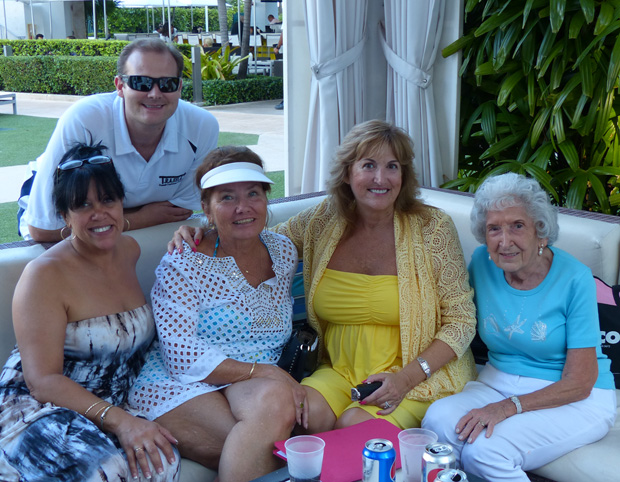 A second day of cabana networking gets underway Thursday morning (Oct. 30) at 9am and will run all day as T.R.A.F.F.I.C. East 2014 guests continue arriving from around the world. The conference officially begins with the traditional Welcome Cocktail Party at 5:30pm Thursday - a major league blowout that will be held on a gorgeous outdoor deck overlooking the Atlantic Ocean to the east and T.R.A.F.F.I.C.'s private cabana and pool effort to the west.
Above: (left to right): Marty Kaulins, Gerrit Huisman and Eddie Sixto at today's opening round of T.R.A.F.F.I.C. pre-show cabana networking at the Fontainebleau Hotel on Miami Beach.
Below: Early birds came from near and far. Left to right are Truc Tran (Norway), Deepak Daftari (India), Tracy Fogarty (Domaing Holdings, Florida) and Jason Schaeffer (New Jersey, ESQwire.com).
The T.R.A.F.F.I.C. East conference will continue through Sunday morning (you can see the full schedule here), when attendees will head home after the traditional Farewell Breakfast. Between now and then things will be rocking around the clock at the Fontainebleau. As we progress through the week I'll have daily photos & highlights in this column for you.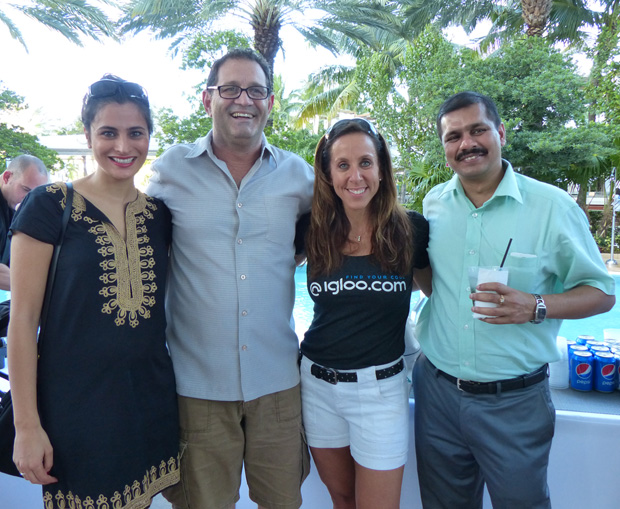 For those still on their way to Miami Beach, among the friends waiting to see you are (L to R) Negar Hajikhani (Sedo), Sevan Derderian (Uniregistry), Tessa Holcomb (Igloo.com) and Deepak Daftari.
(Posted October 29, 2014) To refer others to the post above only you can use this URL: http://www.dnjournal.com/archive/lowdown/2014/dailyposts/20141029.htm
The Wait is Over - T.R.A.F.F.I.C. Gets Underway Wednesday With Organizers Promising a 10th Anniversary Bash You Won't Forget
We're just about done clearing the decks here before heading across Florida to Miami Beach to get settled in for this week's 10th anniversary edition of the T.R.A.F.F.I.C. conference that gets underway with pre-show cabana networking Wednesday morning at the fabulous Fontainebleau Hotel.

This evening show co-founder Howard Neu told me, "The cabanas at the Oasis Pool will be the scene of some heavy wheeling and dealing for the

next few days. The mojitos will be flowing and there will be more food and feasts than ever before."

While T.R.A.F.F.I.C. has a busy social calendar of their own in place (highlighted by a huge Masquerade Dinner and Ball at the Fontainebleau Halloween night) Howard noted the show's location also leaves the door open for lots of free lance partying. "

The night life on South Beach has been heralded around the world," Neu noted, adding "the world famous night club, CLUB LIV, is right there in the Fontainebleau where the stars have come out to play and dance the night away. We have also arranged special rates at the Fontainebleau Spa for T.R.A.F.F.I.C. attendees"

If you live in South Florida and can't make the whole show, there is another enticement - a lower priced day pass that will allow your to bring your spouse or significant other to the big Masquerade Ball and Dinner. You can get yours by calling Howard at 954-662-1816. I'm looking forward to seeing you in person in Miami Beach this week!

Money image from Bigstock

One of the things I wanted to finish before heading out to T.R.A.F.F.I.C. was a series of three newsletters analyzing domain sales for the first three quarters of this year (a topic I will also be talking about during a couple of sessions at the conference). I finished the last of those this evening and it is going out to our free newsletter subscribers right now. You can also read all three newsletters online - one detailing each quarter of the year to date - Q1-2014, Q2-2014 and Q3-2014.

There is a lot of good news in those reports with the aftermarket posting

big increases in both total $ volume and median sales prices compared to the same quarters last year. One tidbit - for the first nine months of the year to date, total $ volume is up nearly 20%.

I also detailed this year's sales to date in the latest edition of the new Domain Name Wire podcast during an interview conducted by DNW Founder Andrew Allemann. Before we got into that subject Andrew had me tell the story of how I got into this business and the kinds of domains that attracted me. Give it a listen or better yet download it and listed to it on your way to T.R.A.F.F.I.C.!

I will of course have daily coverage from T.R.A.F.F.I.C. for you in this column starting Wednesday. The show continues through the Farewell Breakfast Sunday morning (November 2). You can check out the full show agenda here.
(Posted October 27, 2014) To refer others to the post above only you can use this URL: http://www.dnjournal.com/archive/lowdown/2014/dailyposts/20141027.htm
Emall.ca and GoDaddy Team Up to Launch New Premium .CA Sales Platform at DomainExchange.ca
Emall.ca Inc. (who owns what many consider to be the best portfolio of premier .CA Canadian ccTLD domains) has teamed up with GoDaddy.com to launch a new website dedicated to selling high-quality .CA domain names at DomainExchange.ca. The new site, the product of a joint marketing agreement between the two companies, features hundreds of Emall's premium domains, as well as selected names owned by others. Loans.CA, Dating.CA and Jets.CA are among the domains being offered and are representative of the high end names DomainExchange.ca plans to concentrate on.

Emall.ca Inc. Founder Peter Maxymych

Peter Maxymych, the founder of Montreal based Emall.ca Inc., said: "Canadians do a great job of using the .CA domain name extension. Now we're giving others a chance to create a website with some of the best .CA domain names available. The website is backed by GoDaddy.com, the world's largest technology provider dedicated to small businesses, providing sales experience and award winning support to help find and easily acquire the best .CA names for individuals and businesses."

In addition to their rich portfolio of domains, Emall.ca Inc. owns and operates developed businesses that have been built on some of their premium domains, including HockeyTickets.ca, eTickets.ca, Recipes.ca and CheapTickets.ca. Other joint venture sites are also under construction

and due to launch by the end of the year.

The DomainExchange.ca partnership includes an outbound marketing initiative to help boost sales. A toll free number is available for customers in Canada and the United States who are interested in purchasing .CA domain names. The toll free number is: 1-844-419-5994 and the direct number is: 514-419-5994.
Posted Oct. 24, 2014) To refer others to the post above only you can use this URL: http://www.dnjournal.com/archive/lowdown/2014/dailyposts/20141024.htm
T.R.A.F.F.I.C.'s 10th Anniversary Conference Opens With Cabana Networking One Week from Today on Miami Beach
T.R.A.F.F.I.C.'s 10th Anniversary conference opens one week from today when the first of two days of pre-show Cabana Networking will get underway at the historic Fontainebleau Hotel in Miami Beach (a new venue for T.R.A.F.F.I.C.). The popular poolside cabana networking days began at the 2010 T.R.A.F.F.I.C. East conference held at the Loews Hotel on Miami's South Beach and proved to be an immediate hit.

You would be hard pressed to find a more casual and comfortable setting for low key (but highly productive) networking than that provided in T.R.A.F.F.I.C.'s cabana setting on the sun-drenched shores of South Florida.

Some of the T.R.A.F.F.I.C. guests who enjoyed the show's cabana networking
for the first time at the 2010 conference held at the Loews Hotel on Miami's South Beach.

At next week's show at the Fontainebleau, cabana networking will be open all day Wednesday and Thursday (October 29-30) with the conference officially opening Thursday evening at the traditional opening night Welcome Party (hosted year by Verisign).

Speaking of Verisign (who administers the .com and .net extensions), they have begun releasing a series of short, humorous videos as part of a new online campaign aimed at getting entrepreneurs to think about registering a .com or .net domain name as soon as the next time a big idea arrives. In the first video Verisign gets across the idea that rather than flirting with, dancing around, or ignoring their idea, people should act and secure their domain name today.

You can see additional videos from the campaign here: http://www.domainspoweredbyverisign.com/internetofficial/
(Posted Oct. 22, 2014) To refer others to the post above only you can use this URL: http://www.dnjournal.com/archive/lowdown/2014/dailyposts/20141022.htm
AusRegistry Issues the First in a Series of Quarterly Reports Analyzing Performance of Australia's .AU ccTLD
AusRegistry, the Melbourne based organization that provides the technology that powers Australia's popular .AU ccTLD (in all of its flavors, .com.au, net.au, etc.) has just issued the first of what will be a quarterly series of reports providing the latest information on how the extension is performing.

The report – titled "Behind the Dot, The State of the .au Domain" – offers statistical insights that have never before been released to the public. The highlights are also available in infographic form (.pdf file). Each installment in the series will present updated data on .au DNS query traffic, IPv6 adoption rates, .au monthly create and renewal totals, and various other statistical trends across the namespace. .au Domain Administration (auDA) will also make a contribution to each report on the governance of the .au namespace. Here are some of the highlights quoted from the first report:

.au domains under management

The report found there are currently 2.9 million .au domain names in total, with a growth rate of 6% over the past 12 months.

.au consistently places in the top 10 of all country codes (out of a respectable 283); no small feat considering a population size of only 23 million.

Renewal graphic from Bigstock

Age and renewal rates

Almost 40% of all .au domain names have been registered for between two to six years, a positive sign of a maturing namespace.

While there is a large majority (43%) of names under two years old, we also found 7% have been registered for more than 10 years.

The report also found domain names that are at least six years old (having been renewed for the 3rd or subsequent time) are over 80% likely to renew again.

IPv6 and DNS queries

IPv6 requests are also increasing at a steady rate. This quarter over 10% of clients are using IPv6 to query AusRegistry's systems. This number highlights an overall trend toward IPv6 adoption, however the actual number of end users are less once infrastructure services are accounted for.

au domains by State

In the .au domain name State of Origin, New South Wales is the victor with just under 1 million registrations, followed by Victoria (785,993) and Queensland (567,803). These results correlate with the population sizes of the states and explain why Tasmania (30,870) and the Northern Territory (12,032) recorded the least registrations.

Length of domain names

When it comes to domain names, size matters.

Our analysis of .au domains by character length revealed names in 10-13 character field the most common.

Interestingly, 38,432 .au domain names are 28 characters or more long, with four domain names recording the maximum length allowable at 63 characters.

The report follows the publication of a yearly survey into consumer attitudes of the .au namespace, and a 2011 Deloitte Access Economics study into the economic contribution of the namespace to the Australian economy.
(Posted Oct. 21, 2014) To refer others to the post above only you can use this URL: http://www.dnjournal.com/archive/lowdown/2014/dailyposts/20141021.htm
With Final Countdown to T.R.A.F.F.I.C. East Underway Verisign Named Premier Sponsor + Why is BlueHost.com Turning Pink?
We have barely a week left before heading out for the 10th anniversary edition of T.R.A.F.F.I.C. The landmark T.R.A.F.F.I.C. East conference gets underway at the Fontainebleau Hotel on Miami Beach with two days of pre-show networking starting Wednesday, October 29. The main event begins with the opening night Welcome Party Thursday evening (October 30) with the show running through Sunday morning, November 2.

Over the weekend T.R.A.F.F.I.C. Co-Founders Rick Schwartz and Howard Neu announced that industry giant Verisign will be the Premier Sponsor for this

landmark event. As part of their lead role Verisign, who administers the .com and .net extensions, will host the always electrifying opening night cocktail party October 30 that will be held at the LaCote Restaurant overlooking Miami Beach.

T.R.A.F.F.I.C. also announced the winners of an essay contest they ran on the topic "How attending T.R.A.F.F.I.C. has helped to change my life." The top prize - a free ticket to T.R.A.F.F.I.C. (worth $1500), a free night in the hotel and a a private limo to pick the winner up at the airport - went to veteran domain investor Alan Hack. You can read Alan's winning essay here. Howard Fellman and Steven Kaziyev also picked up prizes for their submissions.

New gTLDs will of course be among the many topics tackled at T.R.A.F.F.I.C. One of those new extensions, .host, is being featured in a nice fundraising effort that BlueHost.com is making to help boost breast cancer awareness.

Toward that end, Bluehost has turned Pink for the entire month of October with a special campaign running at www.pink.host.

Bluehost received used of blue.host and pink.host after being selected for the TLD's pioneer program. A portion of the proceeds from every new customer sign-up at Pink.host in October will go to the Huntsman Cancer Institute (HCI) and 100% of these contributions will be used for cancer research. HCI has one of the world's largest cancer research facilities; delivering dozens of new treatments to terminal stage cancer patients. Bluehost is also encouraging customers to make contributions through http://bit.ly/pinkhost.
(Posted Oct. 20, 2014) To refer others to the post above only you can use this URL: http://www.dnjournal.com/archive/lowdown/2014/dailyposts/20141020.htm
NamesCon Adds New Element to January 2015 Show - A Live Domain Auction Run By RightOfTheDot
The expanding NamesCon conference in Las Vegas will have more than additional floor space and a bigger crowd when the show returns to the Tropicana Hotel for its second run January 11-14, 2015. Today show organizers announced they are also adding a live domain auction that will be conducted by RightOfTheDot, LLC (ROTD) under a multi-year, exclusive partnership with NamesCon. The auction will include a mix of premium .com domain names and select premium names from new gTLDs with a range of price reserves.

NamesCon Co-Founder and Executive Producer Richard Lau said, ""We were initially reluctant to offer a domain auction, but the 15 years of domain auction experience, strength, reputation, and relationships that ROTD presented convinced us that their auction will contribute to the distinct and diverse activities and sessions that NamesCon is known and respected for."

Jothan Frakes, Co-Founder and Content Producer of NamesCon, concurred saying "Michael Berkens and Monte Cahn of Right of the Dot have demonstrated to me on numerous occasions that they are invested in their relationships with the new and established registries in ways that extend beyond the sale. Right of the Dot has the important pre and post-sale follow-up and quality assurance to ensure things operate smoothly. This was a crucial consideration in the auction vendor process."

Monte Cahn
RightOfTheDot Director & President

RightOfTheDot Director and President Monte Cahn said, "We are excited to work with NamesCon in establishing premium domain prices and sales for new and existing Top Level Domains. We have worked with more than 20 new registries over several years in premium name strategies and sales which increased the value of their registry, the end user / buyer experience, and this really raises overall domain values for the industry."

Cahn added, "Our experience in conducting many successful domain auctions is unmatched in the industry and we are honored to have been selected by NamesCon to conduct the live and online auction at their events."

The Live and Online Domain Auction will take place be held on Tuesday, January 13, 2015. There will be both pre-bidding on names listed in the auction as well as an extended auction after the event that will run for several weeks.

Registries and premium domain owners interested in submitting domains for consideration should send an email to Info@RightOfTheDot.com.
(Posted October 16, 2014) To refer others to the post above only you can use this URL: http://www.dnjournal.com/archive/lowdown/2014/dailyposts/20141016.htm
Uniregistry's All-Star Team Continues to Grow: Natalie Lambert Comes on Board as Director of Business Development
Natalie Lambert
Director of Business Development
Uniregistry

Just last week we told you about Frank Schilling's Uniregistry adding two long time industry standouts, Vern Jurovich and Michael Ward, to the company's management team. Now we have learned that another all-star, Natalie Lambert, is joining the team, with the former Castello Cities Internet Network Vice President of City Development signing on as Director of Business Development, based in Uniregistry's Newport Beach, California office. Natalie will use her extensive sales and branding experience to grow Uniregistry's corporate channel.

Ms. Lambert spent over seven years with CCIN where she is credited with helping develop and monetize some of the most recognized geodomain brands on the web, including CCIN gem PalmSprings.com. She is believed to have signed more new clients than anyone in the geodomain industry to date. Natalie has also been a featured panelist at major geodomain conferences where she shared the proven sales and marketing tactics that made her a top revenue generator.

Natalie Lambert at the 2008 GeoDomain Expo in Chicago with (left to right): Castello Cities Internet Network (CCIN) Founder Michael Castello, T.R.A.F.F.I.C.'s Ray Neu and CCIN's David Castello.

After her tenure at CCIN Natalie took a brief break from the domain business to her own jewelry company, Natalie Lambert Designs, which specializes in one-of-a-kind patented designs using a precious stone, Watermelon Tourmaline. Natalie was recently featured at New York Fashion Week and Neiman Marcus.

Still, as most of you know, this is a hard business to stay away from so she is delighted to be back on the field with Uniregistry. As always, Natalie will hit the ground running by representing Uniregistry at T.R.A.F.F.I.C.'s upcoming 10th anniversary conference (October 30-November 2 at the Fontainebleau Hotel on Miami Beach).
(Posted Oct. 14, 2014) To refer others to the post above only you can use this URL: http://www.dnjournal.com/archive/lowdown/2014/dailyposts/20141014.htm
Companies in the News: .NYC, Radix Registry, CentralNic, Sedo & T.R.A.F.F.I.C.
Though this was a relatively slow week, in terms of quantity, for new gTLD launches, there was no shortage of new gTLD news. For starters, one of the most highly anticipated new geo domain extensions, .NYC, entered general availability (GA) Wednesday (Oct. 8). As of this morning over 30,000 .NYC domains have been registered according to NTLDStats.com.

48 hours into GA that puts .NYC among the top 20 new gTLDs (#16 in the NTLDStats rankings to be exact). Some expected bigger numbers but considering that only those located in New York City are allowed to register .NYC domains and the relatively high cost compared to

traditional TLDs ($24.99 at Go Daddy this morning) the numbers look to be roughly in line with the last big city geo TLD launch - .London - which stands at just over 45,000 registrations today, a month after that TLD launched.

Go Daddy is giving .NYC a high profile push, both online and off, an example of the latter being this barge on the Hudson River Wednesday morning with a huge Go Daddy banner announcing the .NYC launch (along with other prominent ads around the Big Apple).

Another new gTLD with good prospects, .tech, is in the news and that extension hasn't even launched yet. Radix Registry has purchased rights to operate .tech from dot Tech LLC, who had originally won an auction for those rights.

Radix already holds .press, .host, .website and .space, so the acquisition of .tech brings their portfolio up to five new TLDs. They expect to launch .tech in the first quarter of 2015. Radix CEO Bhavin Turakhia said, "This new extension will represent the ever growing community of users who truly understand the power of the internet, and appreciate the value of a powerful identity online. As a techy at heart, this is an extension that I can personally relate and connect with the most."

In addition to working with their registrar partners, the company plans to enthusiastically market .tech directly to its target users via advertising, direct marketing campaigns and events that attract the tech enthusiasts and start up communities like SXSW and TechCrunch's Disrupt.

| | |
| --- | --- |
| | On another front, CentralNic, who provides back end operations for many registry operators, has partnered with Sedo to give those operators the ability to sell premium registry reserve names through the SedoMLS network of hundreds of sales partners, including top registrars around the world. |

The .co.com extension will be the first to benefit from the ability to list and sell their inventory using the SedoMLS distribution channel. Ken Hansen, CEO at .co.com, said "Participating in SedoMLS' extensive distribution network will provide critical exposure for .co.com premium domains on major registrar sites, and will surely generate an uplift in transactions."

| | |
| --- | --- |
| One other note to today - organizers of the T.R.A.F.F.I.C. conference are offering a special deal for attendees who register for the upcoming 10th anniversary show on Miami Beach (Oct. 30 - Nov.2 at the Fontainebleau Hotel). Those who buy a ticket by Monday, October 13 (or while supplies last) will also get a free ticket to the NamesCon conference coming up in Las Vegas in January. If you want to do both shows (as we will) that deal would save you $420. | |

(Posted October 10, 2014) To refer others to the post above only you can use this URL: http://www.dnjournal.com/archive/lowdown/2014/dailyposts/20141010.htm
U2! Frank Schilling's Uniregistry Adds Two Rock Stars to the Company's Management Team
With Frank Schilling as its founder Uniregistry.com already had the industry equivalent of Elvis at the helm. Still, the Grand Cayman based registrar/new TLD registry operator has gotten even stronger with two more domain world rock stars added to the

management team over the past 24 hours (I wanted to call Uniregistry's new duo U2 but apparently that name has already been taken by some band in Ireland).

If you have spent any time in this business at all, you already know the names - Vern Jurovich and Michael Ward - two universally respected industry veterans, each of whom brings a wealth of experience to their new positions at Uniregistry. Jurovich comes on board as Chief Operating Officer while Ward assumes the role of Director of Registrar Operations.

New COO Vern Jurovich (left) and Director of Registrar Operations Michael Ward
make a strong Uniregistry.com management team even stronger.

This is actually Jurovich's second go round with Schilling since the legendary domain investor began his big move into providing services to other domain owners with InternetTraffic.com and its successor, DomaiNameSales - the latter now a major power in both the aftermarket and PPC parking. With that company well established, Jurovich left to tend to his own business interests in Vancouver, Canada (including VancouverRealEstate.com) before returning to the fold with Frank this week.

Uniregistry Founder Frank Schilling

Schilling was understandably excited to have Vern back on board, saying, "I'm just delighted to welcome Vern back to our thriving team. Our greatest contributors never truly leave Uniregistry. We're a family, on a mission together and it shows in the spark, commitment and vibrancy of the great people who help move our ship forward. Vern's oversight will help shape our platform and guide other members of the team as we expand our operations and grow internationally."

Landing Ward was also a coup for Uniregistry. Michael, who was most recently COO at major registrar DirectNic, has held management positions at PIR (operator of the .ORG registry), PPC provider Parked.com and he was also Executive Director of the Domainer Mardi Gras domain conference held in New Orleans.

At Uniregistry Ward will be responsible for registrar growth, marketing, and product support for the benefit of all registries and customers served by the Uniregistry platform. Schilling said, "Hiring Michael to oversee the growth of our registrar is like Bruce Wayne hiring Alfred to keep the bat cave in working order! We can all sleep better knowing a man of Michael's caliber and devotion is there to keep our critical infrastructure improving and growing."
(Posted October 7, 2014) To refer others to the post above only you can use this URL: http://www.dnjournal.com/archive/lowdown/2014/dailyposts/20141007.htm
---
If you've been out of the loop lately, catch up in the Lowdown Archive!
---
We need your help to keep giving domainers The Lowdown, so please email editor@dnjournal.com with any interesting information you might have. If possible, include the source of your information so we can check it out (for example a URL if you read it in a forum or on a site elsewhere).
---
Home Domain Sales YTD Sales Charts Latest News The Lowdown Articles
Legal Matters Dear Domey Letters to Editor Resources Classified Ads Archive About Us