Here's the The Lowdown from DN Journal,
updated daily to fill you in on the latest buzz going around the domain name industry.

The Lowdown is compiled by DN Journal Editor & Publisher Ron Jackson.
The Domain Masters Radio Show Returned Wednesday With a Controversial New Mann Behind the Mike
For nearly nine years the Domain Masters radio program could be heard at WebmasterRadio.fm every Wednesday evening. The groundbreaking show debuted in December 2004 with Monte Cahn as the host and over the years it featured a parade of domain industry experts who provided insight and advice on just about every domain related topic you could imagine. After a long run with the show Monte turned the hosting reins over to Victor Pitts who kept it going until March of this year.

After a nine-month hiatus Domain Masters returned to the air Wednesday afternoon (Dec. 11, 2013) with outspoken Domain Hall of Fame member Mike Mann taking over as host. Mann, who has been profiled in two DN Journal Cover Stories (September 2003 and September 2007), has founded many companies, including aftermarket giant BuyDomains.com, a firm he sold to NameMedia for a reported $80 million. He currently runs another aftermarket platform, DomainMarket.com and has founded several other businesses on great generic domain names like Phone.com and SEO.com.
Under Mann, Domain Masters, which used to be a 60-minute show that aired at 7pm on Wednesday evenings, is now a brisk 30-minute broadcast that is on live at 5pm U.S. Eastern time (2pm Pacific) every Wednesday afternoon. If you tune in while the show is on, you can submit questions at the program's Facebook page - https://www.facebook.com/domainmastersradio - with Mike answering those queries as time allows. If you can't catch the show live, no problem - WebmasterRadio.FM adds each weekly program to their archive, usually by the next day. If you missed Mike's debut show Wednesday, you can listen to it here.
For his first turn behind the mike Mann had Phone.com President Ari Rabban as his guest. The first half of the show focused on building a business on a category defining domain. Among other things, Rabban discussed the methods Phone.com uses to drive traffic to the site to complement the steady stream of type-in traffic that flows to the category defining domain name.
Michael Mann

In the second half of the show Mann tackled today's hottest topic - new gTLDs. Like many veteran investors, he is skeptical that the hundreds of domain extensions that have just started to arrive will ever rival .com's dominant position.

Mann noted research that found that people were more likely to trust and buy from businesses built on category defining .com domains that can pay for themselves through the increased traffic and revenue they generate. You can bet he will have much more to say on the topic in the weeks ahead as Mann is known as someone who is never hesitant to share his opinion.

It is the latter quality that should make the new Domain Masters show an unusually entertaining half hour. I only see one potential pitfall. While it is common practice to have guests on shows like this and letting them carry most of the content load, in this case I think it would be a mistake to put too much focus on the guest and not enough on Mike. That's not a knock on any guest - it's just a fact that with Mann's domain track record and his well-known candor, most people who tune in are going to tune in to hear what he has to say.

That doesn't mean Mann needs to do a monologue every week - a lively back and forth with interesting guests will always add to the equation - it's just that in this new iteration of Domain Masters people are going to expect Mann to be what another Hall of

Famer, former New York Yankees great Reggie Jackson, once called himself - "the straw the stirs the drink." If Mann does that - and I am confident he will - I'm sure I'll be sitting at the Webmaster Radio Bar for a few extra rounds every Wednesday afternoon!
(Posted December 12, 2013) To refer others to the post above only you can use this URL: http://www.dnjournal.com/archive/lowdown/2013/dailyposts/20131212.htm
2014 Tour Will Bring Hot Rock Trio bree Featuring Drummer (& Domain Hall of Famer) David Castello to Our City (and Maybe Yours Too)
Christmas came early for us today when we learned that Domain Hall of Famer David Castello will be bringing bree (the rapidly rising Nashville-based rock trio he manages and plays drums for) to our town (Tampa, Florida) for the first time when the band goes on a USA tour that will run through next spring and summer (additional dates will be announced soon).

bree (all lower case letters) will be featured at WMNF Radio's annual Tropical Heatwave festival - a Tampa institution that has been showcasing the hottest new artists in the music world for over 30 years now. bree's set will be played at the historic Cuban Club in Ybor City on May 10, 2014 (you heard it here first, even WMNF hasn't released the 2014 Heatwave line up yet).

It will be David and lead singer/guitarist/songwriter bree's first trip back to Tampa since last July when they came to town for a visit my wife Diana and I. At the time they promised they would come back to play on stage one day and we can finally mark that day on the calendar.

2013 has been a busy and bountiful year for bree. They released their first CD, All American Girl, to rave reviews in June (LegendaryRockInterviews.com named it one of the year's 10 best albums). Three weeks ago they released a phenomenal video for one of the album's most widely played tracks, "I'm the Boss," that has already attracted over 22,000 views on YouTube.

David Castello and bree at Bern's Steak House in Tampa during their last trip to the city in July 2013. That was a pleasure trip. They will be back on business May 10, 2014 when bree plays the Tropical Heatwave festival in historic Ybor City.

David and his brother Michael (who own Castello Cities Internet Network) have made many friends in the domain industry over the years. When David moved to Nashville a couple of years ago in a return to his first love - music - many of those friends feared they wouldn't see as much of him any more. However, if bree keeps heading in the direction they are going now, you may wind up seeing David, bree and bass player Maryk McNeely everywhere you turn. Same smiling faces - but in a lot of different places!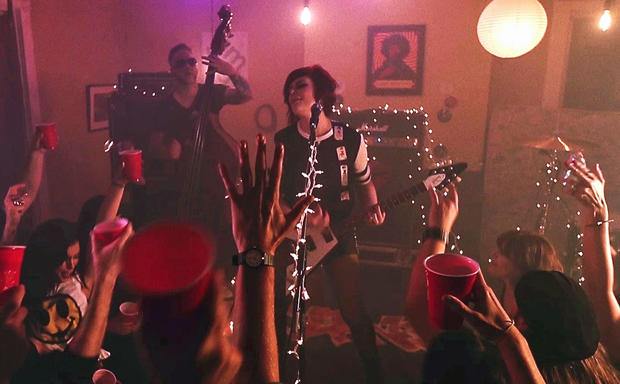 Screenshot from bree's new "I'm the Boss" video.
(Posted December 10, 2013) To refer others to the post above only you can use this URL: http://www.dnjournal.com/archive/lowdown/2013/dailyposts/20131210.htm
Why Do We Call Them Computer Bugs? Google Honors the Woman Who Coined the Term Back in 1945!
You have all seen Google Doodles, the whimsical cartoons the search giant uses in place of their standard logo from time to time to mark special occasions. It's usually easy to figure out what the doodle represents (for example, a turkey theme on Thanksgiving Day), but sometimes those toons can be inscrutable. In those cases you can usually click on the graphic and it will take you to a page explaining what is being celebrated that day.

However, when confronted by a head-scratching Doodle I try to guess before throwing in the towel and clicking the link to learn something. I had to punt today after seeing Google's home page featuring a Doodle depicting a woman sitting at the console of an old school super computer. It has been awhile since computers took up that much space (a good bit more real estate than the smartphones we now carry around in our pocket or purse that are more powerful than those "super" computers from back in the day)!

Computer Pioneer USN Admiral Grace Hopper
(1906-1992)
Photo: Wikipedia Commons

I learned that the woman depicted at the console was one of the earliest computer pioneers (as well as a U.S. Navy Rear Adimiral!), the remarkable Grace Hopper, who lived from 1906-1992. I also learned that when I am lamenting yet another computer bug, the term I am using for the malfunction was coined by none other than Admiral Hopper back in 1945 (before even I was born, so you know we are talking about the Stone Age of computing here). It also turns out there is a reason why we don't call these infuriating hiccups computer "hoppers". As Time Magazine told the story today, a real bug - as in insect - prompted Ms. Hopper's choice of the term.
To be more accurate, Time told the story in 1984, but reprinted in today to explain what I had been wondering - what is this Google Doodle all about? The Time account revealed, " In August 1945, while she and some associates were working at Harvard on an experimental machine called the Mark I, a circuit malfunctioned. A researcher using tweezers located and removed the problem: a 2-inch long moth. Hopper taped the offending insect into her logbook. Says she: "From then on, when anything went wrong with a computer, we said it had bugs in it." (The moth is still under tape along with records of the experiment at the U.S. Naval Surface Weapons Center in Dahlgren, VA)!
So, as Paul Harvey used to say, "Now you know the rest of the story"
And, oh, by the way, giving computer bugs their name was the least of the amazing Admiral Hopper's many achievements (for one, she became the oldest woman in the armed forces at the age of 76.) You go girl! You can read more about her astonishing life career here.
(Posted December 9, 2013) To refer others to the post above only you can use this URL: http://www.dnjournal.com/archive/lowdown/2013/dailyposts/20131209.htm
Fix.com Sells for $850,000, Heritage Auctions Moves MutualFunds.com to Push Debut Auction Total Past $1.5 Million + Tme & Place Set for Domainer Meetup in Seattle
| | |
| --- | --- |
| In our weekly domain sales report this week I noted that high end domain buyers took some time off during a week cut short by the annual four-day Thanksgiving holiday weekend in the U.S. (the highest reported sale was $29,000). However, they quickly saddled back up this week - we just learned that Fix.com has been sold by WebsiteProperties.com for a cool $850,000, which will put it in a tie with Hot.com for the 5th largest sale reported so far this year when we update our YTD Top 100 Wednesday evening (unless an even larger sale comes to light before then). | Sold sign from Bigstock |
On another front Heritage Auctions (HA) is continuing to close some big sales in the wake of the giant auction's house's first live domain sale that was held November 21, 2013 in New York City. At the end of the night a little over $400,000 worth of domains have been sold, but Aron Meystedt, the Founder and Director of HA's new Domain Name & Intellectual Property Division, kept working contacts made in the auction and has since closed more than $1 million worth of additional sales, pushing the total to date past $1.5 million.
Aron Meystedt, Founder & Director,
Domain Name & Intellectual Property Division
Heritage Auctions (HA.com)

Meystedt reported today that HA had closed a deal for the marquee name in the auction - MutualFunds.com - at an undisclosed price (we do know the seller, Marc Ostrosfky was looking for $1 million for the name). Meystedt said both Ostrofsky and the buyer are happy with the amount they settled on. HA has also sold two more top notch domains - QR.com and Dayton.com - since the live sale, again at undisclosed prices.

Meystedt said, "All things considered, we thought the live event was a relative success and the enthusiasm we've seen post-sale, with the high-end transactions that have taken place, points to the emerging confidence that Domain veterans, new investors and end users are placing in the category and in the Heritage Auctions platform."

HA is one of the world's three biggest auction houses (in a league of their own with Christie's and Sotheby's). The landmark auction in New York was the first time that a major, mainstream auction house offered domain names for sale - a category HA says it is committed to for the long haul.
One other note today. Last month we told you that DomainSherpa.com Founder Michael Cyger was planning a new Meetup for domain investors in the Seattle area that would be held in early 2014. The date, time and location for the debut event has now been set. It will be held atop the world famous Space Needle in Seattle on Jan. 30, 2014 from 6 to 9pm.

It is obviously a great location but space is limited on the needle, meaning attendance will have to be capped at 45. With the number of domainers and domain related companies in Seattle that looks like a quick sell out, especially with tickets priced at just $15 (with proceeds going to the Fred Hutchinson Cancer Research Center). You can get more details at DNSeattle.com. I think every major city should have a regular event like this and the day is coming when most will.
Posted December 6, 2013) To refer others to the post above only you can use this URL: http://www.dnjournal.com/archive/lowdown/2013/dailyposts/20131206.htm
Companies Making News: Archeo, InterNetX's New Domain Game, Turkey.com & Igloo.com
Buying domains from the vast ArcheoDomains.com inventory just got a lot easier. As most you know, Archeo, recently spun off from Marchex, now administers their famous portfolio of over 200,000 domains (most of which were assembled by legendary domain investor Yun Ye). Though the selection has always been great, wading through that

many domains and gong through back and forth negotiations in an effort to buy one could be very time consuming. Archeo just addressed that by setting fixed Buy It Now prices (under $10,000) on more than 30,000 domains.
Archeo focused their attention on their Geo-specific names in this first round of assigning prices, with domains like NewYorkDoctor.com, CarolinaOnline.com, AustinLawyers.com and GeorgiaHouses.com now utilizing the Buy It Now option.
| | |
| --- | --- |
| | Most of our readers think they are well versed when it comes to domains but InterNetX is giving you a chance to see just how well you know your stuff with their new Xmas Domain Game. The top eight scorers in the quiz contest will earn prizes ranging from Amazon gift cards to an exclusive Racing Day in Zandvoort that comes with €200 in spending money. |
Better yet, everyone who plays will have a chance to help out a very good cause by earning a donation of up to €200 that will go to the Bischof-Wittmann School, a center for the development of mentally disabled children and youth in Regensburg, Germany. So if you know things like which country the ccTLD .CX comes from or that .TV is not a gTLD, play the game and compete with your peers for the crown (current player rankings are displayed on the site)!
While we were enjoying our Thanksgiving Day turkey dinner at this time last week our friends at Igloo.com were preparing a press release announcing their role in developing and launching an ambitious new website at Turkey.com. The site is devoted to the country, not the bird we love to eat, and that will suit a lot of people just fine because Turkey is a great place to visit.

That is what the new travel resource site is all about and it is able to offer especially useful insight because the content is created and written by locals. You will find dynamic information about everything Turkish, from events and travel tips to history and cultural information. Igloo's CTO, Alphan Culha, is a Turkish native himself, so you know the site got a lot of tender, loving care.

After originally working with Igloo's acquisition team to acquire the Turkey.com domain, the new owner called on Igloo to have the site fully developed to exacting standards. Igloo.com CEO Tessa Holcomb said, "We help people find the right domain, then acquire and develop it. Igloo can then assist with rebranding and monetization if necessary, and eventually even resale if that's the owner's intention."
(Posted December 5, 2013) To refer others to the post above only you can use this URL: http://www.dnjournal.com/archive/lowdown/2013/dailyposts/20131205.htm
Tickets for Domaining Spain 2014 Now Available & We Have a Half-Price Ticket Code For You
The Domaining Spain conference will be returning to beautiful Valencia, Spain next spring when show founder Dietmar Stefitz will stage his 6th event in the popular series. The 2014 show will run May 8-10 with the centrally located Hotel Sorolla Palace, once again hosting the conference.

With a registration price of just €600 and room rates at the upscale Sorolla Palace discounted to an astonishingly low rate - just €70 a night, Domaining Spain has always been one of the world's best conference bargains. If you want to go, we can make it even cheaper for you to do so as Dietmar is allowing us to give DN Journal readers a registration code that will let you buy your ticket for 50% off - just €300.

Just go to the registration page and click on the length that says "Click Here to Enter a Promotion Code." In that field enter Valencia2014. You can use some of the €300 you save to enjoy some of the great food and wine Valencia is known for (paella was invented there).

I attended the 2012 conference in Valencia and found everything from the conference sessions, hotel and social events to the surrounding city to be a complete delight. Valencia, Spain's third largest city, is located on the coast of the Mediterranean Sea and features many world class attractions near the waterfront. including the biggest aquarium in Europe, Oceanogràfic.

Dietmar Stefitz
Domaining Spain Founder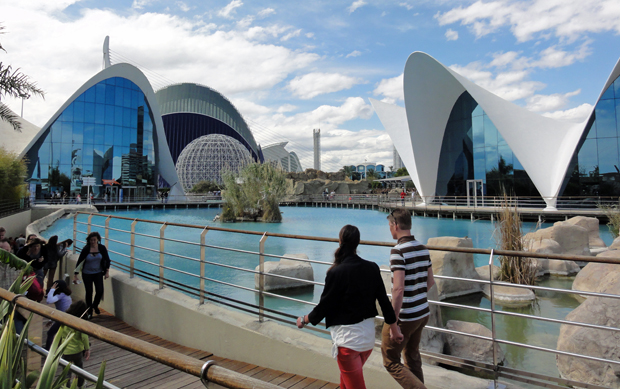 I shot this photo at the futuristic Oceanogràfic aquarium in Valencia while
we were there in the city for the 2012 Domaining Spain conference.
In addition to any exploring you want to do on you own (I highly recommend using the hop on hop off double decker bus that stops at the Hotel Sorolla Palace as a great way to get around town) - the show will have some special group activities. One will be the traditional Boat Tour at la Albufera, a natural resource near Valencia. Any suggestions for additional excursions can be sent to djs@bemarnet.es.
Stefitz, who is currently putting together the agenda for the 2014 show, told me ccTLDs and new gTLDs will be front and center at the show with those topics examined from a European point of view. More specifically, he outlined these areas that will be covered:
-- What happened/s to the Domaining Industry ( Top Panel )
-- Trusting New gTLDs
-- Cooperation between ccTLDs and new gTLDs
-- Marketing Ideas and Proposals ( how to use new GTLDs )
-- Community GTLDs ( awareness, can there be a Business in this segment )
-- Legal Panel
-- Trademarks / Clearinghouse / News and Numbers
-- Registrars and GTLDs
-- .EU Past-Present-Future
-- Parking and UDRPs
-- How to negotiate selling or buying Domains
-- Crowd funding in the Domaining Industry
Stefitz also issued an invitation to anyone who would like to submit an idea for other discussion topics and/or speak at the event to send a note to info@domainingeurope.eu. He is also booking ad space that will allow companies to display their logo, put an item in the show bag, leave items in guest rooms or have three Spanish models wearing your company T shirt.
(Posted December 3, 2013) To refer others to the post above only you can use this URL: http://www.dnjournal.com/archive/lowdown/2013/dailyposts/20131203.htm
.KIWI Borrows Page From .TV Game Plan - Fixed Prices Announced for "Premium" Names
Now that the new gTLDs have started rolling out, we are seeing a lot of different pricing strategies. For their so-called "premium" domains most new gTLDs registries favor an auction model that will award domains expected to draw the most interest to the highest bidders.

However, the New Zealand oriented .KIWI registry has decided to set fixed prices on the better names purchased from their website (though some of their preferred partners will be allowed to auction off some names).
You can now see the prices (ranging from $500 to thousands of dollars) that .KIWI has arrived for their premium inventory. Annual renewals will be around $40. Most of you will recall that .TV started out charging high fixed prices on premium names while also pricing renewals at the same high price, so there were some names that would cost a registrant $10,000 a year (with few takers at those levels as you would imagine). To boost demand .TV later lowered their initial prices and made renewal prices the same for all .TV domains.
Just looking at the first page of premium prices on the .KIWI site, you will see prices all over the board. For example, 123.kiwi is listed at $2,939 but 1500.kiwi costs $7,411. ABC.kiwi is $1,900 but ABA.kiwi is $8,422. While it may appear that a dartboard was used to set pricing, a .KIWI spokesperson said, "All premium names have been valued in collaboration with third parties that specialize in valuing domain names around the globe. The value of a .kiwi premium name is determined using historical sales data, search engine popularity and traffic." A statement on the .KIWI website adds, "the value of these domains stems from their simplicity, memorability and popularity as a search term."
Kiwi image from Bigstock

If you do find a .kiwi domain you are interested in you apparently can't buy it just yet. The site says, "Each .kiwi Premium Name listed as available can soon be purchased on our website, or through one of our preferred partners in accordance with their framework (i.e. certain providers may choose to auction popular .kiwi domain names). Each domain will be clearly labeled as available for sale immediately, or through a .kiwi preferred partner. If you want to ensure you are first in line for your favorite .kiwi Premium Names, register your interest and we will get in touch once you are able to purchase."

For an untested new gTLD I'm sure many of the

premium prices shown will be greeted by skepticism among veteran domain investors. However, most of the the new gTLD registries have indicated that investors are not their target market. Whether or not the mainstream business buyers they have their sites set on will accept premium priced new gTLD domains is a question will be start getting answers to in the months ahead.

(Posted December 2, 2013) To refer others to the post above only you can use this URL: http://www.dnjournal.com/archive/lowdown/2013/dailyposts/20131202.htm
Just in Time for Christmas, One Lucky Non-Profit Organization Will Get a Free $35,000 Website Makeover from .ORG Registry Operator PIR
| | |
| --- | --- |
| Public Interest Registry (PIR), the non-profit administrator of .ORG domains, has announced the 10 organizations selected as finalists in their .ORG Website Makeover Contest. From now through Friday, December 13, the general public can vote online to help the organization of their choice win a newly redesigned website (valued at approximately $35,000) from OmniStudio, a Washington, D.C. based firm specializing in web design and consulting for nonprofit and advocacy groups. | |
PIR said the finalists were selected for their "unparalleled commitment to their respective causes, the positive impact they have had upon their constituents and the value that a new website will bring to helping the organizations further their missions." Those finalists are:
· Chimpanzee Sanctuary Northwest: provides sanctuary for chimpanzees that were discarded from the entertainment and biomedical testing industries.
· Coalition for Humane Immigrant Rights of Los Angeles (CHIRLA): aims to advance human and civil rights of immigrants and refugees in the Los Angeles, Calif. area.
· Container Recycling Institute: aims to make North America a global model for the collection and quality recycling of packaging materials.
· Critical Exposure: organizes programs to teach youth to use the power of photography to share their voices and become advocates for school reform and social change.
· Ecology Center: advocates at the local, state and national levels for clean production, healthy communities, environmental justice and a sustainable future.
· The League of Young Voters Education Fund: engages and educates young people about the power of voting through annual grassroots campaigns.
· National Council of Urban Indian Health: represents the health care interests of American Indians and Alaska Natives living in urban settings.
· National Network to End Domestic Violence: dedicated to creating social, political and economic environment in which domestic violence no longer exists.
· Renzi Education and Art Center: provides free education and art opportunities for students in grades K-12 in the greater Shreveport-Bossier, La. area.
· Washington Low Incoming Housing Alliance: seeks to lead the movement that ensures that all Washington state residents thrive in safe, healthy, affordable homes.
Nancy Gofus, Chief Operating Officer of Public Interest Registry, said "we received dozens of entries from organizations across the country demonstrating incredible passion for helping their respective communities. Our finalists rose to the top because of their dedication and the potential impact they could make with a

refreshed website. I encourage everyone to participate in the voting process over the next three weeks to learn more about these organizations and to help determine the .ORG Website Makeover contest winner."
Organization members, supporters and the general public may cast one vote per day in support of the organization they would like to see win a redesigned website. Again, the voting period closes on Friday, December 13, 2013.
| | |
| --- | --- |
| | PIR said he .ORG Website Makeover Contest is part of an ongoing effort to empower nonprofit organizations and groups to effectively advance their causes online. OmniStudio teamed with Public Interest Registry for the contest as a part of its annual ReachOut Project. Now in its fifth year, OmniStudio ReachOut 2014 aims to help charities and nonprofits revitalize their visual branding to better attract donations, volunteer participation and media attention. |
(Posted November 29, 2013) To refer others to the post above only you can use this URL: http://www.dnjournal.com/archive/lowdown/2013/dailyposts/20131129.htm
Happy Thanksgiving! What Time Has Taught Us and What We Have Learned
It's Thanksgiving Day in the USA - a very special holiday when millions of Americans gather with family and friends to share food and give thanks for the many blessings in our lives - blessings that we tend to take for granted way too often on other days of the year.

When I think of the countless things I am thankful for today, the many special people I've met and friends I've made in this fascinating industry over the years immediately come to mind. If I were a poet you would inspire me to write one! However, since I'm not, let me share one that sums up what I'm thinking about you today:

Image from Bigstock
Thanksgiving is here, so our minds have turned
To what time has taught us, to what we've learned:
We often focus all our thought
On shiny things we've shopped and bought.
We take our pleasure in material things,
Forgetting the pleasure that friendship brings.
If a lot of our stuff just vanished today,
We'd see the foundation of each happy day
Is special relationships, constant and true,
And that's when our thoughts go directly to you.
We wish you a Thanksgiving you'll never forget,
Full of love and joy—your best one yet!
- Poem by Joanna Fuchs www.poemsource.com
(Posted November 28, 2013) To refer others to the post above only you can use this URL: http://www.dnjournal.com/archive/lowdown/2013/dailyposts/20131128.htm
First Big Wave of New gTLDs Arrives with Donuts Opening Sunrise for 7 Extensions Today
After years of talk new gTLDs have finally started arriving at participating registrars in significant numbers. Donuts, one of the biggest new gTLD registry operators, opened sunrise today (November 26, 2013) for seven of their extensions - the first English language TLDs to open shop in ICANN's massive new gTLD roll out that will bring hundreds of new extensions to the Internet.

This sunrise period, that will close on January 24, 2014, will give trademark holders an opportunity to claim their names in .BIKE, .CLOTHING, .GURU, .HOLDINGS, .PLUMBING, .SINGLES and .VENTURES. General availability - the stage where the public can begin registering domains in these extensions will open January 29, 2014.
Donuts, who plans to eventually offer hundreds of new gTLDs of their own, will open up another seven new extensions next week with sunrise for .CAMERA, .EQUIPMENT, .ESTATE, .GALLERY, .GRAPHICS, .LIGHTING and .PHOTOGRAPHY opening on December 3, 2013 and continuing through January 31, 2014. General availability for that group of new TLDs will open February 5, 2014.
Donuts has signed up dozens of registrars to offer their new TLDs, so there will be widespread access to those your are interested in. Donuts co-founder and Executive Vice President for Sales and Marketing Dan Schindler said, "Having top-tier registrars such as these prepared to bring our new gTLDs to their customers is a significant step forward for anyone looking for better, more relevant identities for their products, services, companies, and other interests."
Go Daddy Vice President Domains Rich Merdinger echoed Schindler, saying "Domain names are 21st century real estate and, as a registry, Donuts has the broadest selection of names about to hit the market. This is a historic time for the Internet and this new era of domain names provides new opportunities for anyone looking to get online. Go Daddy looks forward to helping small businesses take advantage of this new online real estate."

Steve Banfield, Senior Vice President and General Manager for Demand Media Registrar Services. added, "Signing the Registry-Registrar

Agreement with Donuts is an important step in our new TLD plans for eNom and Name.com. As the largest wholesale registrar working with the largest applicant in the new gTLD program, Donuts and Demand Media can make new domain options available to millions of potential customers. It's an exciting time for the domain industry, and we're pleased to be able to join Donuts in making it a success."
(Posted November 26, 2013) To refer others to the post above only you can use this URL: http://www.dnjournal.com/archive/lowdown/2013/dailyposts/20131126.htm
Queen of the Hill: Andee Hill Leaves Escrow.com to Launch New Service at EscrowHill.com
Andee Hill, the former Director of Business Development at industry giant Escrow.com, has left the company to launch her own licensed international escrow service, aptly named EscrowHill.com (the service is not yet live, but those interested can submit their email address to be notified when it begins accepting transactions).

Hill's new business will enjoy the backing of well-known domain industry entrepreneur Gregg McNair, who will serve in a non-operational mode as EscrowHill's Chairman.

The EscrowHill.com team also includes Ryan Bogue as General Manager and Donald Hendrickson as Operations Manager. Both worked under Hill's direction at Escrow.com. As a whole the management team has over 30 years of experience in the online escrow field.

Hill said, "During my fifteen years in this business, I have handled just about every aspect of online escrow. Regardless of my title, I have always known that understanding the client's needs and providing excellent and secure service is invaluable. I have been fortunate to work with the industry innovator from day one. I have seen what works and what doesn't. I have been even more fortunate to have created great relationships and trust with industry leaders. At EscrowHill.com I know I can do an even better job."

McNair, who also chairs domain brokerage firm Igloo.com and newly launched registry operator .CO.COM, LLC, said, "When Andee told me she was thinking about forming her own escrow business I was immediately enthusiastic. I have a reputation of connecting some of the best people in our industry and Andee is at the top both professionally and as an amazing human being."

Hill noted, "Gregg has earned a strong reputation for honesty, integrity and for

Andee Hill
Founder & CEO, EscrowHill.com

Gregg McNair
Chairman, EscrowHill.com

successfully making businesses work. He also has incredible enthusiasm and a heart for helping others. All are key factors in me wanting Gregg to support my endeavor at EscrowHill.com."
Screenshot from EscrowHill.com

Marco Rinaudo, Founder and CEO of Internet.bs. will also play a key role at EscrowHill.com, having been has been appointed CTO of the new firm. Rinaudo, who has been a leader in the international hosting and registrar space since 1995, said, "EscrowHill.com is formed and supported by the very best people in the industry. Our team has built the most

sophisticated on-line internet escrow platform, fully automated and with more advanced security features than any other."

With 800-pound gorilla Escrow.com to contend with, competing in the escrow space would be a daunting task for anyone. However, with the solid relationships and good will Andee Hill has earned over the years, plus a recent market resurgence and the impending arrival of hundreds of new gTLDs, the new company appears to be gearing up at the right time. The domain industry pie is expected to grow considerably over the next couple of years, giving well prepared and widely respected entrepreneurs a great window of opportunity to carve out a place of their own. Though launching a new business in a highly competitive field is always a major challenge, I wouldn't bet against people like Andee and her teammates successfully climbing any hill.
(Posted November 25, 2013) To refer others to the post above only you can use this URL: http://www.dnjournal.com/archive/lowdown/2013/dailyposts/20131125.htm
Reflections on HA's First Live Domain Auction + Mann Goes Behind the Mike & New Video from bree (featuring David Castello) Has Band on Verge of Major Breakout
It has been another very interesting week in the domain business. All eyes were on New York City last night (Wednesday, Nov. 21) where Heritage Auctions (HA) staged their first live domain auction. While domain auctions have been commonplace within the domain industry for many years, this was the first time that one of the world's three largest auction houses (an elite trio including HA, Christie's and Sotheby's) has gotten into the game - making it a landmark event.

The auction, produced by Aron Meystedt, the Founder & Director of HA's new Domain Name & Intellectual Property Division, produced good results for a maiden voyage with nearly 40% of the domains offered being sold. Total sales came in at just under $420,000 with XZ.com ($138,000) and Animation.com ($112,125) producing the biggest sales.

The marquee name in the event, MutualFunds.com (which had a $1 million reserve) did not find a buyer, something I was surprised to see as I think the domain would be worth several times the reserve to the right company. I also thought having the sale in New York, where Wall Street reached an all-time

Aron Meystedt, Founder & Director,
Domain Name & Intellectual Property Division
Heritage Auctions (HA.com)

high this week, made a sale more likely. Still, you never know when the right buyer will appear and someone may yet step forward as the names not sold in the live event will remain available on the HA website for 60 days.
HA promoted the auction heavily and they knew going in that they have wage a long term educational campaign to spread awareness of the intrinsic value in great domains. The sale drew plenty of mainstream media attention too. Forbes published a lengthy piece by Deborah Jacobs about it today. While I don't agree with most of her characterizations and conclusions (and the Wikipedia all time top 20 domain sales chart she cited is riddled with errors - including website sales like VacationRentals.com being counted as domain sales and sales that never even happened, like Israel.com, being ranked) it is still good to see mainstream press taking an interest in domain names. They too should become better educated as time goes on.
Remember that the mainstream press thought the party was over with the .com bust in 2000, but a few billion dollars worth of domains have been sold since then and many millions worth are still being sold every week. We also saw a very significant jump in market activity in the last quarter (3Q-2013). If HA stays the course, I think they will be well rewarded in the years ahead, particularly if they can reach the right end users who make blockbuster sales happen.

Michael Mann

Elsewhere - hold on to your hats - the venerable Domain Masters internet radio program at WebmasterRadio.fm is going to be revived next month with outspoken Domain Hall of Famer Michael Mann behind the mike! The show, which originated with Monte Cahn as host (followed by Victor Pitts) has been on hiatus since March.

Mann announced on his Facebook page today that the show is coming back with him handling the hosting chores. If you follow his posts there, you know Michael doesn't leave much unsaid, both personally and professionally. He is not only one of the most successful domain investors of all time (having sold BuyDomains.com to Name Media) he is also one of the most colorful - making him a perfect choice to host the show. I know I'll be tuned in for the first broadcast (the time and date has not yet been announced).
Last, but certainly not least, if you follow this column regularly you know all about how another Domain Hall of Famer, David Castello, has returned to the music business as the manager and hard rocking drummer in a rapidly rising Nashville-based trio named for red hot lead singer and guitarist bree. I've been following their adventure from the start and they just took another huge step forward with the release of a stunning new video for "I'm the Boss", a standout cut from bree's debut album, All American Girl.

The video, directed by Casey Culver and shot at the Joy Mansion in Nashville, debuted at a premiere party Wednesday night at Music City's Club No. 308. It's as good a video as I've seen from any artist, new or old. So, if you love great rock and roll, there is no better way to start your weekend than clicking the play button on the video below!

Capture from bree's "I'm the Boss" video.
(Posted November 22, 2013) To refer others to the post above only you can use this URL: http://www.dnjournal.com/archive/lowdown/2013/dailyposts/20131122.htm
Veteran British Domain Investor Edwin Hayward Sounds Off on Nominet's Decision to Offer New .UK Domains
Nominet, the administrator of Great Britain's popular .uk ccTLD, set off a firestorm last year when they announced they wanted to allow people to register names in the top level .uk extension (historically, .uk registrations have been available only in second level extensions, most notably the universally recognized .co.uk.

Operators of current .co.uk websites were shocked because Nominet's original proposal did not give then any "grandfathered" rights to their name in .uk, leaving the door open for a new registrant to benefit from brands equity built entirely by someone else.

Adding insult to injury, even if the current

UK flag image from Bigstock

.co.uk owner could get their name in .uk, the proposed cost for the new domains was eight times higher than .co.uk.
As anyone would expect, .co.uk owners immediately took up arms (with one of England's most senior industry veterana, Edwin Hayward, among those at the forefront of the protest). Nominet backed off and began revising their strategy. After moving to a second set of proposed rules, then a third, Nominet finally announced on Wednesday (Nov. 20, 2013) that .uk domains are coming next year but with a substantially different set of rules than were first proposed. Current .co.uk owners will retain rights to their names in .uk for five years and the price for a .uk will be the same as it has been for .co.uk.
Edwin Hayward

To see if the changes are enough to mollify Nominet's critics, I called on Mr. Hayward to find out what he thought about Nominet's new plan for .uk. "There's so much "support" material alongside the summaries that Nominet has put out that I've barely scratched the surface, including the full text of many responses to the last consultation, as well as third party case studies and summaries," Hayward noted. "That said, I feel that - if you pre-suppose a need for .uk to go ahead at all - then the final revision Nominet has decided on is significantly better than the V2 consultation, which in turn was significantly better than the proposal in the V1 consultation round."

Hayward continued, "Given that the "right of refusal" is now set at 5 years, this will give companies and domain investors plenty of time to evaluate the take-up of .uk and choose to

exercise their option to acquire the matching .uk at a timing of their convenience. It will also potentially save eligible businesses a significant amount of money that might otherwise need to be spent on "warehousing" names until it's clear whether they want to use them or not."
"The difference between the V2 period (6 months) and the final five year period represents up to 4.5 years worth of reg fees, i.e. a total of approximately £19/domain ($30/domain) saved on a wholesale basis vs. V2, and significantly more on a retail basis. (That figure is a maximum, and assumes that the option to register the domain is taken up on the very last day of the 5 year period)."
Hayward added, "While the following is speculation on my part, it's also long enough for Nominet to see if the security concerns (phishing, misdirected emails etc.) materialize to any great extent and if so, I presume they might still have the option of extending that 5 year period to keep the domain names in question out of general availability and so preclude any such security issues from occurring. I have no indication that they would choose to do so, but the timing is sufficiently long so as to afford Nominet the flexibility of a real evaluation of the new extension "in situ" in the real world."
"The pricing disparity has also been addressed, with the new .uk domains at parity with .co.uk and other UK namespace extensions. This maintains the significant discount to .com pricing that UK namespace domain owners have always enjoyed, and is most welcome," Hayward said.

"Nominet have crafted the cutoff period rules very carefully, so as not to advantage anyone with knowledge of the final decision. Only domains registered prior to 28 October 2013 have any eligibility for the corresponding .uk, except under certain very carefully defined

Union Jack keyboard image from Bigstock

circumstances - and .co.uk holders have been given priority, a decision which reflects the huge sums of money that UK businesses have spent collectively over the years effectively "branding" .co.uk on behalf of Nominet," Hayward noted.
"Perhaps conscious of the levels of criticism leveled against them during the lengthy consultation process, Nominet have clearly put a huge amount of effort into communicating not just the final decision, but the logic and rationale behind it, and the supporting evidence used in reaching that decision. I commend this effort." (Editor's note: This paper (.pdf file) sets out Nominet's logic for proceeding with a .uk rollout and this FAQ page on Nominet's site will answer the most frequently asked questions about it).
In closing, Hayward said, "Overall, I believe that the status quo would still have served UK business interests better but, given that a decision had been taken to proceed with launching .uk, the final proposal is pretty close to the best case scenario for such a launch. As such, I'd give it a cautious thumbs up. It's certainly very nice to see the cloud of uncertainty that was hanging over the UK namespace dissipate, that's for sure!"
(Posted November 21, 2013) To refer others to the post above only you can use this URL: http://www.dnjournal.com/archive/lowdown/2013/dailyposts/20131121.htm
Oversee.net Offers a Cure for Mundane Weekends With Their Latest Developed Website - WanderWe.com
| | |
| --- | --- |
| When most domainers hear the name Oversee.net they think about the company's various domain-related services like monetization pioneer DomainSponsor.com and Oversee's Webfest Global conference (known as DOMAINFest before a name change for the 2013 show last February). | |
Many also know that Oversee owns a massive domain portfolio containing hundreds of thousands of names. However, you may not know how focused Oversee had become on developing some of their assets into new web-based businesses (LowFares.com being one of the prime examples).
While LowFares.com was built on the kind of category-defining generic name domainers love, Oversee is also creating new brands with more fanciful names. The latest example is a slick new weekend getaway site they just launched at WanderWe.com.

In WanderWe, Oversee said they have created the only online travel site completely focused on the 2–4 day getaway market. I make a lot of those kinds of trips myself, so I can certainly see the appeal in a site specializing in that area. I also like that in addition to making it possible for weekend travelers to book all aspects of their weekend getaway including hotel, activities and tours in one place, WanderWe offers suggestions for great getaways in popular locales.

Those currently include Oversee's home base - California - as well as the Northeastern U.S. and the Washington, DC area. You can bet the geographic options will continue to grow as the concept catches on.

WanderWe currently has platforms optimized for both desktop computers and tablets. They have also launched a marketing campaign that takes an entertaining approach that feels just right for the weekend getaway crowd. You can see what I mean in video below called "The Cure for Mundane Weekends":

A scene from WanderWe.com's
"Cure for Mundane Weekends" video.
(Posted November 19, 2013) To refer others to the post above only you can use this URL: http://www.dnjournal.com/archive/lowdown/2013/dailyposts/20131119.htm
Final Countdown Underway for Landmark Heritage Auctions Domain Sale Coming Up Thursday
For the first time one of the world's three biggest auction houses - Heritage Auctions (HA) - will be running a live domain auction this week, putting domain names on equal footing with traditional collectible asset classes like art, jewelry and coins. The big event, that HA has been promoting nationally in mainstream publications, happens Thursday evening (November 21, 2013) starting at 7pm U.S. Eastern time (6pm Central and 4pm Pacific) when auctions will start closing (online bidding has been open throughout this month).

The reserve prices (Excel file) for those names that have reserves has now been released. With domains like MutualFunds.com, Animation.com, NL.com, QR.com, Bicycle.com, DVDs.com, Sociology.com, CurrencyExchange.com and others having been submitted for the auction, Aron Meystedt, the Founder & Director of HA's new Domain Name & Intellectual Property Division and a veteran domain investor himself, is delighted with the response HA's entry into the domain aftermarket has received.

"We are excited about the participation of domain name owners," Meystedt told us. " We tried to pick names that were either perfect

Aron Meystedt, Founder & Director,
Domain Name & Intellectual Property Division
Heritage Auctions (HA.com)

for investment or business use. Many of the names cross both criteria as well. After this first auction, we anticipate the quality of submissions will continue to be great. A few people have pointed out that some of these names have been publicly for sale before. However, this time around the audience is different. I think that is the key. We are reaching out to an entirely different base of buyers."
"Additionally, we have a plan on how to "ramp up" domain sales – and this auction is a good first effort at determining which type of domains have the best response from buyers," Meystedt said. "We're also testing out which PR and marketing efforts yield the best results. A successful first auction will help all of us – it will continue to pique the interest of our affluent client base, and it will only bring additional people, money and interest into our domain industry."
Auction image from Bigstock

Heritage Auctions knows that "Rome wasn't built in a day" so Meystedt said they are committed to a long term effort to build up the domain market. That has included sending an educational piece to HA's clientele of affluent investors and potential buyers.

"That piece is the key," Meystedt noted. "Everyone knows what a domain name is, but I'd guess a majority of the recipients have no idea there is a thriving domain name aftermarket that exists. We are educating these people on historical sales and the state of the domain industry. I do understand that this effort may take time, and in the event that this first auction isn't a smashing success, we plan to keep moving

forward and continue to educate investors and high net worth individuals on the benefits of domain name ownership."
Meystedt added, "In addition to investors, we're making sure the executives at major companies learn about our domain initiative. Heritage Auctions has a lot of key contacts with many corporations, and we'll be leveraging our network to put the right names in front of decision makers." Domain owners have always felt the key to unlocking the full value of domains was to connect them with the right end users. If HA's auctions are successful, that door may be fully opened for the first time.
(Posted November 18, 2013) To refer others to the post above only you can use this URL: http://www.dnjournal.com/archive/lowdown/2013/dailyposts/20131118.htm
Paul Goldstone Assembles All-Star Team Led By CEO Ken Hansen to Launch New CO.COM Registry - Gregg McNair Also Onboard as Chairman
Domain industry veteran Paul Goldstone (whose enterprises include registrar DomainIt.com) has decided what he wants to do with his favorite domain, perhaps the ultimate two-letter .com - co.com. Today Goldstone announced the launch of a new co.com registry that will allow users to register third level domains (for example, cars.co.com).

In addition to having a powerful .com foundation in co.com to build on, Goldstone has assembled an all-star leadership team to guide the new registry with Gregg McNair coming on board as Chairman and Ken Hansen being lured away from Neustar to serve as CEO.

McNair said, "When Paul asked me to work with him to build a 'dream team' for co.com, I immediately thought of Ken Hansen as our leader. Today our CEO is among the most respected and savvy operators in the registry space. Ken's appointment along with his knowledge and understanding of the co.com opportunity is turning heads in a sea of confusion. To him the co.com solution was so simple and obvious."

In announcing the new registry, the .co.com team noted, "61 countries currently offer domain names ending in "co.countrycode" (such as co.uk and co.jp), with registrations for those extensions totaling over 11 million. Additionally, each year over 10 million new .com domains are registered. co.com Registry intends to capitalize on this strong demand, and the current lack of available domains, by opening up a new tract of land in .com."

As most of you know, the first of hundreds of new gTLDs have just started arriving, but .com will continue to dominate total domain registrations for many years to come, a situation that gives .co.com confidence that their offering will stand out in what is about to become an extremely crowded marketplace.

Hansen noted, "The demand for .com names is not going away. We intend to meet that demand by offering short memorable domain names ending in .com."

co.com domain names are expected to become available in the first quarter of 2014. Plans call for a "Sunrise Period" for trademark holders, followed by a first-come-first-serve "Landrush Period". Premium domain names like travel.co.com, tickets.co.com and insurance.co.com will also be available.

Those who wish to receive launch updates and additional details, as they become available, can subscribe to the email list at www.registry.co.com. The co.com team is also attending the ICANN Buenos Aires

Paul Goldstone
President, co.com LLC

Ken Hansen
CEO, co.com LLC

Gregg McNair
Chairman, co.com LLC

meeting that runs Sunday through Thursday (November 17-21), where they will be available to meet with registrars interested in becoming distributors of co.com domains.

Goldstone noted, "I couldn't be more excited with the team and the future of co.com domains, where users will be able to pick the perfect .com domain to fit their online and branding needs."
(Posted November 15, 2013) To refer others to the post above only you can use this URL: http://www.dnjournal.com/archive/lowdown/2013/dailyposts/20131115.htm
Why ParkingCrew Parent Team Internet, EMail.biz's Anshul Goyal, Fred Mercaldo & Elliot Silver Have Reason to Celebrate + Plans for Domainers Meetup in Seattle
You may have heard the sound of corks popping in domain/internet circles over the past few days. Several well-known faces in our industry had good reason to celebrate.

For starters Team Internet AG, the parent company of ParkingCrew.com (who was profiled in our February 2013 Newsletter), scored a huge honor when Deloitte released the names of the companies included on their prestigious 2013 Technology Fast 50 list for Germany.

Team Internet not only made the list - they were #1 on it, giving them the title of Fastest Growing Technology Company ("Rising Star") in Germany! Congratulations to CEO Nico Zeifang, COO Stefan Wiegard, CTO Mario Witte and the entire team on this big win.

TeamInternet COO Stefan Wiegard (center) and
CTO Mario Witte (right) picking up their 2013
Technology Fast 50 #1 award from Deloitte.
Shortly before Team Internet was celebrating in Germany, Indian entrepreneur Anshul Goyal was doing the same in New Delhi after his company, EMail.biz (a service we profiled when it launched late last year), won the 2013 ABP Brand Excellence Award in the IT Portal Category. ABP is a prominent Indian news organization whose Brand Excellence Awards "give recognition to those brands and marketers who have achieved extraordinary success from innovative and effective marketing practices."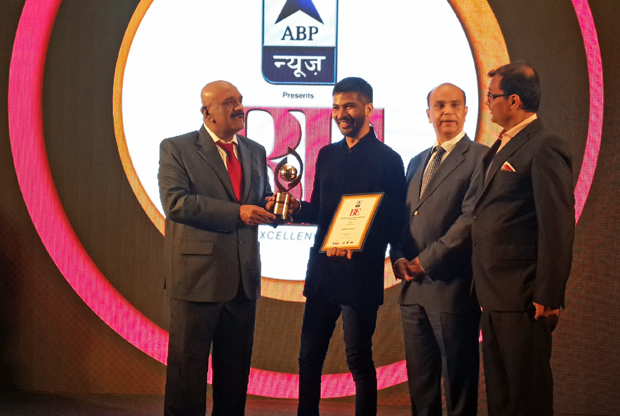 Email.biz Founder Anshul Goyal (2nd from left) receiving the 2013 ABP Brand Excellence
Award in the IT Portal Category during a ceremony in New Delhi. India.
In covering the event The Telegraph wrote, "the award was given in recognition of the pioneering work of Email.biz for their conceptualization and successful execution of their email service which has garnered a record number of registered users, 1,48,718, in a short span of time. The who's who of the Indian IT industry were present at this event hosted by World Brand Congress, in partnership with CMO Asia and CMO Council USA."
Elsewhere, Fred Mercaldo of CitiesPlanet.com is celebrating his company's acquisition of developed website Burbank.com from Elliot Silver of Silver Internet Ventures, LLC (Elliot is also the author of the DomainInvesting.com blog).

The price was not disclosed but Mercaldo said, "This six figure purchase will be the first of a series of upcoming announcements in the fourth quarter, as many other large deals are in the works. Our partnership with Tallwave is thriving, and we anticipate launching a completely new software platform for all of our City.com brands by year's end."

One other note today, DomainSherpa.com Founder Michael Cyger asked us to let you know that he is organizing an informal Meetup for domain investors in the Seattle area that will be held one evening in early 2014.

Fred Mercaldo
CitiesPlanet.com Founder

Seattle image from Bigstock

Cyger noted, "Seattle is bustling with activity and it's time we organized a get together to help people meet. Based in Seattle, in addition to domain name investors and entrepreneurs, are companies including Marchex, Donuts, NameJet, DomainTools, GoDaddy, Enom and many others."

At this point Michael is just asking people interested in attending to sign up for his meetup newsletter at DNSeattle.com so he can get a count, then pick a location and finalize a date.
(Posted November 14, 2013) To refer others to the post above only you can use this URL: http://www.dnjournal.com/archive/lowdown/2013/dailyposts/20131114.htm
Go Daddy Founder Bob Parsons Gives Away $1 Million - Here's Why the Money Went to Help Military Veterans
While we were recognizing military veterans in the domain industry Monday, Go Daddy founder and former U.S. Marine Bob Parsons was busy that day making a much bigger gesture in his hometown, Baltimore, Maryland. Parsons (who we profiled in one of our earliest Cover Stories back in 2004) went back home to cut the ribbon on a new veterans center at his alma mater, the University of Baltimore - a facility made possible by a generous $1 million gift from The Bob and Renee Parsons Foundation.

The new veterans center at the school will offer academic advising, guidance on financial aid and legal matters, as well as mental health counseling. Parsons graduated from the University of Baltimore in 1975, just a few years after receiving a Purple Heart after being wounded during the Vietnam War.

Parsons had enlisted in the Marines right after finishing high school when he was just 17 years old. He told Entrepreneur Magazine, "Because

Go Daddy Founder Bob Parsons

of the Marine Corps, I learned how to focus. They taught me how to handle responsibility and they taught me how to carry out responsibility. They taught me discipline...with that I was an entirely different guy."

Parsons knows from personal experience that is not easy to transition from the military back to civilian life, so he took it upon himself to make it easier for his hometown veterans to navigate that terrain with the help of this new resource center in Baltimore. Parsons summed it up his reason for getting involved when he told Entrepreneur, "These are men and women who have agreed to place themselves in extreme danger, in harm's way, and they did it for us. They shouldn't be forgotten."

(Hat tip to Richard Meyer for this story).
(Posted November 13, 2013) To refer others to the post above only you can use this URL: http://www.dnjournal.com/archive/lowdown/2013/dailyposts/20131113.htm
Veteran's Day 2013 - Saluting Military Veterans in the Domain Industry
Today is Veteran's Day in the Unted States, a day when America honors the men and women who have served in our Armed Forces. The domain industry has been fortunate to attract a remarkable cross section of impressive people from all walks of life, including many who have served in the U.S. Army, Navy, Air Force, Marines or Coast Guard. This year we wanted to take this opportunity to thank those friends and colleagues for their service.

A few days ago we put out a call for information on how some of our industry's military veterans served and are happy to share what we learned with you today. This is just a sampling of the veterans in our midst and we welcome all we missed to drop us a note (editor@dnjournal.com) with your name (and company you now work for if applicable) and your branch of service so we can include you when we do this again next year. If you wish, you can also include things like your rank and/or job specialty and a photo of you in uniform).

For now though, let us present our inaugural honor roll, listed in alphabetical order by last name (interspersed with some photos of our veterans that I'm sure you will appreciate, just as we appreciate their service to our country):

Brian Gilbert, U.S. Air Force
(1990 photo)
David Eccles, U.S. Army

Sevan Derderian - U.S. Air Force: Well-known throughout the industry after stints with many leading companies, Sevan is now with Frank Schilling's Uniregistry.com.

David Eccles - U.S. Army: David, who is now the owner of TNTNames.com, served in the Army from 1997-2002, spending his enlistment time at Ft. Sill, Oklahoma where he was a Canon Fire Direction Specialist.

Brian Gilbert - U.S. Air Force: Brian now works for Thomason Management who manages the Innovation HQ portfolio. He served in the Air Force for almost 13 years, first assigned to the 438th OMS at McGuire AFB, New Jersey, then to the 635th AMSS at Hickam AFB, Hawaii. Brian was an E-6 (TSgt) aircraft mechanic who worked on planes like the C-141, C-5, C-17 and other large cargo planes.
Ron Jackson - U.S. Army: After being drafted during the Vietnam war, the editor and publisher of DNJournal.com served for two years as a Radio/TV Specialist at Fort Gordon, Georgia. The reporting team in his office included Steve Kroft, the current co-anchor of CBS-TV's 60 Minutes.

Daniel Law - U.S. Army: Daniel, who co-founded Rook Media (a company profiled in our April 2013 Cover Story) enlisted in the Army right our of high school. After his time in the service, Daniel graduated from the Ivy League's Columbia University, then entered the domain industry as one of Sedo's first employees in 2003.

William Mathieson - U.S. Army: This domain investor served in Vietnam from 1969-1970. William, who reached the rank of Sergeant, nearly lost his life to an RPG round on Christmas Day, 1969. He recovered after being sent to Japan for treatment.

Victor Pitts - U.S. Navy
Top left and right: Victor in uniform
Bottom: His ship - the USS Saratoga
Scott Ross - U.S. Army
at Fort Polk, Louisiana

Roy Messer - U.S. Air Force: Roy, one of the industry's most successful domain investors (and nicest guys), served in the Air Force from 1966-1970 at the height of the Vietnam War.

Victor Pitts - U.S. Navy: Victor, who is currently the Director of Domain Services at Above.com, was an Aviation Electronic Technician 3rd Class in the Navy. He served aboard the USS Saratoga (aircraft carrier) CV-60 on two Mediterranean cruises during the Cold War.

Scott Ross - U.S. Army: Scott, a long time corporate domain broker, served in the U.S. Army Reserves during the Vietnam era and did his basic training at Fort Polk, Louisiana. Scott's dad, Lt. Sid Rosberger, was a World War II hero - a member of the Air Force's B-17 Flying Fortress "Little Caesar" flight crew that was shot down during a bombing run over Warnemunde, Germany in 1943 (a story told

in the book Snetterton Falcons). Lt. Rosberger was one of only two survivors of the crash. Had he not made it Scott would never have been born.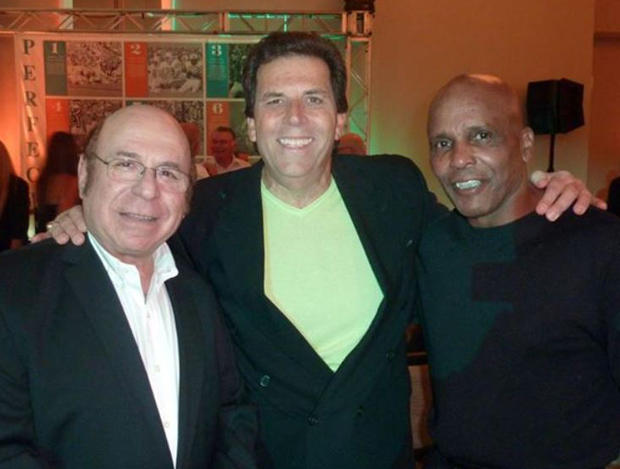 Scott Ross (center) in a more recent photo with two former Miami Dolphins who served at
Fort Polk, Louisiana with him, Garo Yepremian (left) & Lloyd Mumphord (right).
Tom Sauffer - U.S. Navy: Domain investor Tom Sauffer, who currently lives in Plattsmouth, Nebraska, served in the Navy from 1970 to 1974. He was a Radioman third class and was stationed at two different Naval Communication Stations - one in Virginia and the other in Londonderry, Northern Ireland. Tom, who worked ship to shore communications at both locations, more recently retired from CenturyLink Communications where he was a network technician.

Marcia Lynn Walker - U.S. Army: Marcia, a well-known domain investor who has been in the business for well over a decade, was an officer in the U.S. Army.

Warren Walker - U.S. Air Force: Marcia's husband and business partner, Warren, was an officer in the U.S. Air Force!

Billy Watenpaugh - U.S. Air Force: Billy, like Sevan Derderian, is another Air Force veteran who has since enlisted with Frank Schilling's Uniregistry.com.

Wayne Wheat - U.S. Army: Wayne, who is well-know throughout the industry as the go to auctioneer for live domain auctions, served as an infantry Captain in the Army.
A big thank you to every man and woman noted above, as well as the many others in our industry who have served their country. We want you to know that your service is appreciated, not just on this Veteran's Day - but year round!
(Posted November 11, 2013) To refer others to the post above only you can use this URL: http://www.dnjournal.com/archive/lowdown/2013/dailyposts/20131111.htm
Calling All Military Veterans Now Serving in the Domain Industry - We Want to Recognize You on Veteran's Day
Monday (November 11, 2013) will be Veteran's Day in the United States - a day when we honor the men and women who have served in America's military over the years. In the domain industry we are fortunate to have a number of veterans among our friends and colleagues and this year I would like to recognize them in a special post in this column on Veteran's Day.

Last Monday I issued an invitation to those in our business who have served in the armed forces to drop me an email (editor@dnjournal.com) with your name (and company you now work for if applicable) and your branch of service so we can include you in that post. However, the invitation came at the end of a Lowdown post that included other topics so I'm sure it was missed by many of our veterans.

Uncle Sam photo from Bigstock
So, I wanted to repeat the call this weekend in a post of its own. We want all of you to know we are thankful for your service and I know our readers would enjoy reading about where and how you spent your time in uniform. In addition to the info requested above, if you want to include any of the following, we would also welcome your rank and/or job specialty and a photo of you in uniform (photos can be attached to your email in .jpg or .gif format).
I will list the text information for everyone who responds and will also select a few photos to include with the post. I'll need responses by 7pm (U.S. Eastern time) Sunday night, November 10 to allow time to assemble the information for Monday's post. Whether or not you are willing to "volunteer" for our roll call we salute you and thank you for your service!
(Posted November 9, 2013) To refer others to the post above only you can use this URL: http://www.dnjournal.com/archive/lowdown/2013/dailyposts/20131109.htm
Castello Brothers Sell LagunaBeach.com - KK.com Goes for $2.4 Million - Ward.com Acquired for Just $2,999!
Some notable domain and website sales have been reported over the past 24 hours. In a rare occurrence, the Castello Brothers let one of their developed geodomain properties go, a

two 2-letter .com changed hands for seven figures through Moniker/SnapNames and a very nice one-word/popular surname .com was acquired for next to nothing at Sedo.

In the website sale, Castello Cities Internet Network (CCIN) CEO Michael Castello announced the company sold LagunaBeach.com to local media group LB Interactive for an undisclosed sum.
CCIN's Kate Buckley brokered the deal and she will be working with LB Interactive to ensure a seamless transition. The Castellos have several other well-developed geos including PalmSprings.com and Nashville.com. Last year they signed a Nashville.com development deal with DevDigital that has taken that site to new heights.
A statement from LB Interactive made it clear they will be giving LagunaBeach.com a major makeover as well. It said, " Over the next few weeks we will be working closely with CCIN to ensure a smooth transition before introducing a completely new look featuring state-of-the-art technologies that will transform LagunaBeach.com into one of the world's most impressive city sites – providing a wealth of information about Laguna Beach for our visitors and residents as well as generating maximum revenue for our advertisers."
Earlier today Moniker/SnapNames brokers John Mauriello and Kevin Kopas reported on Facebook that they had completed a blockbuster $2.4 million sale of KK.com. That deal will rank as the second highest domain sale reported so far this year when it is added to our YTD Top 100 Chart upon its next weekly update Wednesday. 2013's top domain sale to date was also a two-letter .com - IG.com which sold for $4.7 million.
At the opposite end of the spectrum, several readers sent us messages yesterday when our latest weekly domain sales report showed Sedo selling Ward.com for just $2,999. The

common refrain was "Surely that is a mistake!" It certainly looked like one. In addition to being a one-word .com, Ward is one of the 100 most popular surnames in America (#66 to be exact according to one popular source). One would expect it to sell for many times the price it did.

None the less, Sedo confirmed that the seller listed it for $2,999 with a Buy It Now option that a lucky buyer quickly pounced on. The domain has already been received in Sedo's transfer account, so it looks like those

"too good to be true" stories may not always turn out to be fiction. This could encourage more people to go through Sedo's BIN listings frequently and thoroughly.

Update: "To good to be true" wins again! According to a reliable source Ward.com had been stolen from the owner - hence the cheap Buy It Now price on Sedo. Though Sedo held it briefly in their transfer account (according to the WhoIs record) it has now been returned to the rightful owner. So, this story has a sad ending for the buyer who thought they were going to get the bargain of a lifetime, but a happy one for the real domain owner.
(Posted November 7, 2013) To refer others to the post above only you can use this URL: http://www.dnjournal.com/archive/lowdown/2013/dailyposts/20131107.htm
Veteran Domain Industry Executive Taryn Naidu Lands on the Right Side of Demand Media Makeover
Demand Media had announced the CEO, executive team and company name chosen for a newly formed domain services company that is proposed to be spun off from Demand Media.

The new company, called Rightside Group, Ltd. (located at Rightside.co) becomes the parent of four well-known domain industry enterprises - Enom, Name.com, UnitedTLD and NameJet.
Taryn Naidu
named Rightside Group, Ltd. CEO

Veteran domain industry executive Taryn Naidu, who currently serves as Demand Media's Executive Vice President of Domain Services, will become the CEO and a Director of Rightside with the company based in Kirkland, Washington.

Naidu's executive management will include Wayne MacLaurin as Chief Technology Officer and Rick Danis as General Counsel. David Panos will be appointed as Chairman of the Board of Directors and Shawn Colo, Demand Media's Interim President and Chief Executive Officer, will be appointed as a Director of Rightside in connection with the separation.

Colo said, "Establishing the leadership team and brand identity of the proposed new company marks an important milestone in achieving our plan to separate our business into two distinct market leaders. This team has a wealth of industry experience, has played an integral role in building the largest wholesale domain registrar and is driving the transformation of this

business into one of the largest end-to-end domain name service providers in the world."
The new company's name - Rightside - is a reference to the right side of the dot in domain names where top level domains reside (like .com and a newly arriving wave of new gTLDs). Naidu noted, "Rightside will play a leading role in the historic launch of new generic Top Level Domains and the name represents a new way to navigate the Internet, while establishing the new company as the one to guide users in the right direction. It's everything to the right of the dot – and beyond."
Naidu added "Rightside's mission will be to help millions of businesses and consumers define and present themselves online. We're able to deliver on this through our distribution network of more than 20,000 active partners, one of the leading domain services technology platforms, a large number of applications for new generic Top Level Domains (gTLDs), and a deep bench of industry talent. It's an exciting time for us, as new gTLDs start going live this year and our path to becoming an independent public company as a leader in our industry progresses."
(Posted November 5, 2013) To refer others to the post above only you can use this URL: http://www.dnjournal.com/archive/lowdown/2013/dailyposts/20131105.htm
Scintillating Schwartz-Schilling New gTLD Debate Video Now Complete With Part Two Online + Attention Domain Industry Military Veterans - Uncle Ron Wants You!
The T.R.A.F.F.I.C. conference has just released the second part of the show's video of a scintillating new gTLD debate between Team Schwartz and Team Schilling that was staged October 21 at the 2013 T.R.A.F.F.I.C. East conference held at the Ritz Carlton Hotel on Florida's Fort Lauderdale Beach.
With the Battle Royale running over 80 minutes it the video had to be broken into two parts - the first of which you can view in our October 31 Lowdown post. You can press play on the video below to witness the final 35 minutes of combat between Team Schwartz, consisting of T.R.A.F.F.I.C. Co-Founder Rick Schwartz and veteran domain investor Lonnie Borck, and Team Schilling, headed by legendary domain investor/entrepreneur Frank Schilling with support from fellow new gTLD advocates - Tim Johnson (.kiwi), Jeffrey Sass (.club) and Monte Cahn (RightOfTheDot.com).
Uncle Sam photo from Bigstock

One other note today. Next Monday (November 11, 2013) is Veteran's Day in the United States - the day when America honors the men and women who have served in the nation's military. I know we have a number of veterans in the domain industry and this year I thought it would be nice to recognize them in a special post November 11.

To do that I would like to invite each of you who has served in the armed forces to drop me an email (editor@dnjournal.com) with your name (and company you now work for if applicable) and your branch of service.

If you want to include any of the following (all optional), I would also welcome your rank and/or job specialty and a photo of you in uniform (photos can be attached to your email in .jpg or .gif format). I will list

the text information for everyone who responds and will also select 3 or 4 photos to include with the post. I'll need responses by 7pm (U.S. Eastern time) Sunday night, November 10 to allow time to assemble Company D (for domains) in time for the Monday post. It's time to let the rest of us salute you!
(Posted November 4, 2013) To refer others to the post above only you can use this URL: http://www.dnjournal.com/archive/lowdown/2013/dailyposts/20131104.htm
---
If you've been out of the loop lately, catch up in the Lowdown Archive!
---
We need your help to keep giving domainers The Lowdown, so please email editor@dnjournal.com with any interesting information you might have. If possible, include the source of your information so we can check it out (for example a URL if you read it in a forum or on a site elsewhere).
---
Home Domain Sales YTD Sales Charts Latest News The Lowdown Articles
Legal Matters Dear Domey Letters to Editor Resources Classified Ads Archive About Us