Here's the The Lowdown from DN Journal,
updated daily to fill you in on the latest buzz going around the domain name industry.

The Lowdown is compiled by DN Journal Editor & Publisher Ron Jackson.
Nominations Opened Today for the 2014 Domainers's Choice Awards - Winners to be Chosen in 16 Industry Categories
Nominations for the 2014 Domainer's Choice Awards opened today and will remain open until midnight March 22, 2014. DCA Founder Donna Mahony of DomainBoardroom.com is bringing back the awards program for the first time since 2008 when winners were recognized at that year's Domainfest Global conference in Los Angeles.

The DCA program is getting an extensive and impressive overhaul for 2014. In a first for any industry awards program, a third party, Votenet.com, will tabulate and verify the final round of balloting in 16 different categories with the winners to be recognized at a June 28th ceremony in Dana Point, Calfornia.
In order to nominate a person or individual you must register with your email address (you email address will be kept private and no other information is required to register). After nominations close on March 22, the top three vote getters in each category will move on to the finals. That final round of balloting, overseen by Votenet.com, will run from May 8 to May 30, 2014. This is important: If you do not register during the nomination round (by March 22), you will not be able to vote in the final round - so go ahead and register now if you want a say in who takes home the trophies.
(Posted March 8, 2014) To refer others to the post above only you can use this URL: http://www.dnjournal.com/archive/lowdown/2014/dailyposts/20140308.htm

Inside the House That Domains Built: Frank Schilling Opens the Doors to His Grand Cayman Home
London's Financial Times published a very nice profile of legendary domain investor Frank Schilling today. The article focuses primarily on Frank's more recent starring role as a leading provider of domain services through DomainNameSales.com, his new gTLD registry operator - Uniregistry.com, and his soon to be launched domain registration service - Uniregistrar.com.

Most of our readers are already familiar with Frank's domain exploits (he was profiled it two DN Journal Cover Stores, the first in 2007 and another in 2012 that covered his bold move into providing services for his fellow investors). So, it is likely the most interesting part of the new story to you will be the fascinating look into Frank's family life and his gorgeous waterfront home on Grand Cayman that was captured in the article's photos.

It is an inspiring view of what is possible when a bright man with a good heart and a passion for his work meets the right opportunity (an opportunity presented by domains - a business that Schilling believes still offers great opportunity to build new fortunes in the year's ahead).

As beloved as Schilling is in the domain community, when anyone has had the kind of astounding success he has had, some around him will be afflicted with jealousy - that's just

Charismatic Uniregistry.com Founder Frank Schilling (seen here at the 2011 T.R.A.F.F.I.C. conference in Florida) draws a crowd everywhere he goes.

human nature. However, even at this stage of the game, I still haven't met anyone who more people have been happy to see succeed (and wish even greater success to) than Frank. You can chalk that up to a humble nature and never forgetting where he came from (in case you didn't know already, he did not have a lot of money before he found his calling in this business).
Before he arrived in this industry Schilling had tried his hand at real estate, then the electronics business and even selling wholesale glass, but in domains the former film student found the opportunity he had been looking for.

Though he has already scored incredibly big as a domain investor, Schilling believes the best is yet to come by producing new names (TLDs) and offering them to a market that he believes still has enormous room for growth. Schilling told Financial Times reporter Christopher Kompanek, ""Only 1% of the (world's) population owns a domain name – some own more than one. I have hundreds of thousands of domain names, and I'm one man. I'm betting that there might be interest for 2-3% of people to have them. Somebody has to make those names for the residents of the future. There aren't enough good ones in the spaces that are already held."

Now we could sit here all day and argue whether or not new gTLDs are the answer residents of the future will be looking for (if you read the blogs, you know that many spend their days doing just that, and that's fine - it's an entertaining debate). Still, even if you think he is making a huge mistake, don't you have to admire a man who is willing to put his money (tens of millions of dollars worth of it) where he truly believes the future is?

If he's right, I'm pretty sure people will be happy for him, just as they are now, and if he turns out to be wrong - even if he loses his last penny - I'm 100% sure he will still have a huge circle of friends and admirers who won't forget how he treated people on his way up the ladder. He's earned that, an asset you can't put a price on, and that's why Schilling will still be a rich man no matter how this movie ends.
(Posted March 7, 2014) To refer others to the post above only you can use this URL: http://www.dnjournal.com/archive/lowdown/2014/dailyposts/20140307.htm
And the Hits Just Keep on Coming! 37.Com Sold to Chinese Company for Nearly $2 Million
Just yesterday, in our latest weekly domain sales report, I told you about the first two 7-figure domain sales reported this year - Whisky.com at $3.1 million and Youxi.com ("games" in Chinese) at CNY 15 million which equals $2,430,000 at current exchange rates (in case you missed it, the remarkable full story of the Whisky.com sale by the Castello Brothers is detailed in our current Cover Story).

Now, less than 24 hours later, we have confirmed a third blockbuster 7-figure sale. A Chinese maker of browser based games, 37Wan, announced they purchased 37.com for CNY 12 million, which comes to $1,960,800 as of this writing (the seller is believed to be a U.S. company incorporated in Delaware that holds many other prime numeric domain names).
Our Asian market expert, George Hong of Guta.com, spotted the first report of the sale today on Chinese news site Sohu.com, who noted that the purchase price is a drop in the bucket for 37Wan as the company is believed to have earned a profit of around $36 million in 2013.
Hong then located a much more detailed follow up report at another popular Chinese news site, EEYY.com, complete with photos from a celebratory "brand launch" press conference hosted by 37Wan co-founders, Mr. Li Yifei and Mr. Zeng Kaitian, that also featured a number of Chinese movie stars.
Mr. Yifei said that upgrading the company's domain from 37Wan.com to 37.com was important for several reasons (the word "wan" means play in Chinese). One, it is easier to remember and thus easier for new players to find on the web. Two, the company is expanding into global markets and 37wan.com would not have been easily understood by international audience. And three, they noted the greater success two other Chinese companies, JD.com and VIP.com, achieved after upgrading to those short acronyms, further encouraging them to change the name to 37.com.
George Hong

One other note, if you are a regular reader you have been seeing Mr. Hong's name in our reports frequently since George (who is originally from China), started helping us uncover and confirm domain sales in the rapidly growing Asian market. For those of you who do not already know him, George has been in the domain business for several years (he is a frequent conference attendee) and he also works as an IT professional in Philadelphia. George is also a math whiz, holding both bachelors and masters degrees in mathematics. He also passed his PhD qualifying exam before the growth of the Internet caught his attention and prompted him to switch to IT and domains. Math's loss and our gain!
(Posted March 6, 2014) To refer others to the post above only you can use this URL: http://www.dnjournal.com/archive/lowdown/2014/dailyposts/20140306.htm
The 2014 SXSW Interactive Festival Begins Friday - Sedo's Jeremiah Johnston Set to Speak About New gTLDs on Monday
The huge SXSW Interactive Festival begins its five-day 2014 run Friday (March 7) at the Austin Convention Center in Austin, Texas. Sedo's long time General Counsel Jeremiah Johnston will be in Austin to talk about new gTLDs in a session titled The Discussion's Over: New Domains Are Here that will be held at 12:30pm CST Monday, March 10 in Ballroom E.

Johnston has been with Sedo since 2004 and served five years as Chief Operating Officer and head of marketing until 2011. He also represents Sedo as a founding member of the Internet Commerce Association (ICA), now in its sixth year, and sits on the Board of Directors in the role of association President, working to shape the future of domain names in the regulatory and political space.

The program synopsis for Johnston's SXSW session notes, "Years of discussion and debate have come to a close and a historic expansion of the Internet is underway. The domains we've become accustomed to since the Internet's birth – extensions like .com, .net and .org – are no longer the only game in town. New top-level domains (TLDs) have started to launch for business and personal use, and hundreds should be available by year's end. This session will help you understand new TLDs, explain why you should care, and give you everything you need so you're not left behind by those in the know.

With new TLD developments happening daily, you'll hear the latest news and learn about unique issues that accompany their launch such as string contentions, Internationalized Domain Names, the debate over open and closed registries and how to beat the crowd for the best new domains. You'll get practical advice about when you should spend money on domains that will advance your brand, and when you should – or shouldn't – invest in defensive registrations."

Jeremiah Johnston
Sedo General Counsel
(Posted March 4, 2014) To refer others to the post above only you can use this URL: http://www.dnjournal.com/archive/lowdown/2014/dailyposts/20140304.htm
Web.com Swallows SnapNames, Afilias Gets .Green & Domains90210 Opens Auction Site Based in Beverly Hills
As we were heading into the weekend well-founded rumors began circulating that Web.com had purchased domain auction platform SnapNames from Luxembourg-based KeyDrive S.A. The news became official today when Web.com confirmed the acquisition of SnapNames at an undisclosed price (Web.com did say the company expects this transaction to be immaterial to 2014 financial results.)

SnapNames, established in 2000, offers daily online auction sales of expiring, deleting and privately-

owned domain names. KeyDrive had acquired both SnapNames and registrar Moniker.com from Oversee.net two years ago. Web.com already shares ownership of another major domain auction platform, NameJet, with DemandMedia's Rightside unit and owns registrars NetworkSolutions and Register.com outright.
At least for now, SnapNames and NameJet will continue to operate as separate entities. In a letter to clients this morning, SnapNames CEO Craig Snyder wrote, "As we move ahead in the

David L. Brown
Chairman, President & CEO, Web.com

integration of the two businesses, we ask that all current SnapNames customers and partners continue to use their existing contacts. SnapNames and Moniker will continue to cooperate similarly to how they have in the past. Domain names currently accessible through the Moniker interface will remain accessible through that interface. We will promptly communicate any changes as they are made available. For support contacts, hours and portal access please continue to visit: Snapnames.com/support.jsp.

Web.com Chairman, CEO & President David L. Brown said, "We are very pleased to bring SnapNames under the Web.com umbrella. This acquisition enables us to enhance our existing domain related assets and provide additional services for customers who are looking for specific domain name addresses. In today's expanding domain resale marketplace, SnapNames is a global industry leader with experience and expertise in domain lifecycle management and auction services."
In another notable marriage of a different kind, registry operator Afilias has won the hand of the coveted .green new gTLD. TheDomains.com reported this morning that DemandMedia's United TLD Holdco Ltd withdrew their application for .green, leaving Afilias as the sole applicant for the extension (this after another suitor, Minds + Machines, dropped out of what had been a three-way auction last week). Afilias had to pay undisclosed but substantial sums (believed to be in seven figures) to the parties that agreed to withdraw from the auction, clearing their path to what looks to be one of the most attractive new gTLDs.
One other note today, Beverly Hills, California domains sales platform Domains90210.com has debuted a new auction format on the site. Listings are currently names held by Domains90210 founder Claude Dauman, who has been building online businesses since 1996.

In a post on his blog Friday, Dauman noted the 1,400 listings On Domains90210 feature a number of 2-letter acronyms, including PJ.net, MH.net, UF.net, Be.tv, PO.tv and HV.tv, as well as many 3-letter acronyms, single word and two word category defining domain names.
(Posted March 3, 2014) To refer others to the post above only you can use this URL: http://www.dnjournal.com/archive/lowdown/2014/dailyposts/20140303.htm

The First Domain Conference Requiring No Travel & Little Cost - Webfair Virtual - Is Gearing Up for June 2014 Launch
| | |
| --- | --- |
| For the past decade domain conferences have played an indispensable role in building profitable individual and corporate relationships. The only drawback, particularly for those on limited budgets, has been the substantial travel and registration costs involved in going to the big events. | |
Webfair Virtual, being organized by Michael Marcovici's DomainIndex.com, plans to offer a low cost alternative, with no travel expense, by staging an Internet only conference in June devoted to Domains, Lead Generation and SEO. The event will start at 9pm U.S. Eastern Time on June 24 and conclude at 6pm (U.S. Eastern) on June 25. Marcovici said he got the idea after attending a virtual conference in another industry. "I was at such a fair for financial products recently and it is amazing, I made 20 contacts in one hour."
Though they haven't begun a full scale marketing or registration push yet, Webfair Virtual had already rounded up some significant support. Marcovici said, "So far we have about 20 sponsors from the domain world and another 20 from the SEO world." Some significant names are also already listed among the partners and committed attendees listed on the fair's demo site, which also has information for exhibitors and sponsors. Some other functionality remains to be activated, including the registration link and fee to attend, though Marcovici said there would be "little cost" for registrants.

While I still believe that, in the long run, there is no substitute for the value derived from face to face contact with potential business partners or service providers, I can see a well-run virtual conference providing many benefits, including making initial contacts with people you may later meet in person. It is also hard to beat the comfort and convenience of doing some networking from home. Even for devoted

Michael Marcovici speaking at the
2011 T.R.A.F.F.I.C. East conference.

regular real world conference attendees like me, adding Webfair Virtual to the calendar makes sense. You can get more information on the event and their plans by signing up for their contact list here.
(Posted February 28, 2014) To refer others to the post above only you can use this URL: http://www.dnjournal.com/archive/lowdown/2014/dailyposts/20140228.htm
Top Level Domain Holdings Wins Costly Fight For .Wedding But Bows Out of Battle for .Green
As most if you know when more than one registry operator wants to run a particular new gTLD, an auction is usually conducted to determine who gets the contested extension. The fate of one of the more attractive new gTLDs was announced today when Top Level Domain Holdings Limited revealed that they won rights to operate the coveted .wedding extension at a cost of over $2.2 million. At the same time, TLDH reported that they had bowed out of an auction for another highly sought TLD, .green.

Boxing bride image from Bigstock

TLDH Chairman Fred Krueger

TLDH received compensation for exiting the .green auction, with that undisclosed amount being factored into the £1.39 million (approximately $2.23 million) they said it wound up costing them to take home .wedding while agreeing to leave .green on the table. That left Rightside and Afilias to go head to head for .green and, as of this writing, the .green winner is not yet known since neither of those parties has withdrawn their application for the TLD.

With respect to winning .wedding, TLDH Chairman Fred Krueger said, "The latest private auction rounds have once again delivered an excellent result allowing us to add a key string to our portfolio without unduly impacting our cash reserves. We likewise are pleased with the progress being made in transitioning the Group into an operating business trading under the brand of our registry and registrar services, Minds + Machines."

The .wedding win increased the number of uncontested new gTLD applications in which TLDH has a commercial interest to 26.
(Posted February 25, 2014) To refer others to the post above only you can use this URL: http://www.dnjournal.com/archive/lowdown/2014/dailyposts/20140225.htm
Making News: Frank Schilling's Uniregistry, .CO.COM, RightOfTheDot, The DNA, SedoMLS & Name.com
Mondays are almost always a busy news day but today has been busier than usual. Of course, the incoming tsunami of new gTLDs is accounting for a large portion of the expanding headline count. To bring you up to date, here's a quick trip around the horn (including links to source material for more details).

After making his name (and fortune) as a domain investor, Frank Schilling has spent the past couple of years building new companies that have become leading providers of services to his fellow domain investors. After making a huge impact in parking and domain name sales, he added new gTLD registry operations to his portfolio with Uniregistry.com.

General registration for Uniregistry's first two

offerings, domains in the .sexy and .tattoo extensions opens at 11am (U.S. Eastern time) tomorrow (Tuesday, Feb. 25, 2014). If you are interested in either of those TLDs, you will need to go to one of the Uniregistry accredited registrars that will be offering them (a full list is here). Uniregistry has several more new gTLDs scheduled to launch as 2014 unfolds.

A couple of other well-known industry veterans, Paul Goldstone and Ken Hansen, opened sunrise registrations (for trademark owners) in their new .co.com offering today. Land rush begins April 8, 2014 followed by general

availability July 8, 2014. More than 100 registrars have signed up to offer .co.com domain names.

Yet another dynamic industry duo, Monte Cahn and Michael Berkens, continue to play a key role in the bringing new domain offerings to the market. The company they founded, RightOfTheDot.com, went down a different road than registry operations though. They've used their vast industry experience to provide consulting and other key services to new registry operators.

Today RightOfTheDot announced that they and their partner Escrow.com have facilitated the contention set auction to determine who gets to operate the new .One extension. The winning bidder was One.com. The .One TLD auction marks the first time the "Single Sealed Bid Second Price" auction method was used to resolve contention between competing applicants wanting to run a new TLD. The new method, developed by RightOfTheDot™, is unlike traditional auctions in that it provides what the company says is "complete customization and flexibility in when the auction will be held, how the funds will be disbursed, payment timing, application withdrawal, auction type, and more." RightOfTheDot also said, "The results from a Single Sealed Second Price Auction generally yield fairer and lower winning bid prices, less bid rigging, less confusion, and less time to determine a winning applicant."

The SedoMLS is another entity that continues to grow. Sedo and Web.com Group, Inc. announced a partnership today that will give customers access to more than 18 million aftermarket domain names, including new gTLDs as well as the original extensions. The announcement said, "By joining Sedo's multi-listing Service, customers of Network Solutions, Register.com and any of their resellers will be able to quickly and easily find the right domain for their business, even if that name is already registered."

Last but not least, how is this for a creative approach to marketing - popular domain registrar Name.com has become a sponsor of the New Zealand bobsled team!

It's true. Name.com, along with the new TLDs .XYZ, .NINJA, .CLUB, .BUZZ, .HIV and .KIWI, the registrar will serve as an official sponsor of the team for the 2014 racing season. You can check out the decked-out bobsled, videos and more information on the marketing campaign at the Name.com blog.

Here are a couple of the videos worth checking out. In the first one you will see how the sponsorship came about and what happens when Name.com's Jared Ewy challenges .XYZ CEO Daniel Negari to a bobsled race at the team's Whistler, British Columbia practice course:

In the second video, you will see who ended up winning the bet:
(Posted February 24, 2014) To refer others to the post above only you can use this URL: http://www.dnjournal.com/archive/lowdown/2014/dailyposts/20140224.htm
Domain Boardroom Sets Dates for the Private Forum's 3rd Annual DBR Funfest
Earlier today DomainNameWire posted an article about how crowded the 2014 domain conference and meeting calendar has become. Less than an hour after the DNW piece was published, dates for another important domain get together were announced on DBR FunFest's Facebook page. The 3rd Annual DBR Funfest will be held June 25-28, 2014 at a location to be announced soon.

DBR Funfest is an invitation-only event that is staged by industry veteran Donna Mahony (who was one of the experts featured in our 2014 State of the Industry Cover Story) and members of her private industry forum, DomainBoardroom.com.
Last year's event was held during May in the scenic Southern California waterfront community of Dana Point (just outside of Los Angeles). When FunFest returns this summer, it will have at least one major new feature - presentation of the Domainers Choice Awards on June 28. This will be a revival of the DCA program that Donna founded in 2008 with the inaugural awards handed out at that year's Domainfest conference in Los Angeles. You can find out more about the Awards (and sign up to receive informational updates at the Domainers Choice Award website.
Likewise, to get the latest information on the DBR Funfest, you can visit the event's official website where updates will be posted in the days and weeks ahead (you can also have some fun browsing through photos from the previous Funfests). If you would like to apply for membership at DomainBoardroom.com, you can do that here (the forum and its activities are funded through a $120 annual membership contribution with Funfest also being supported by corporate sponsors who help make it one of the year's most memorable events).
(Posted February 21, 2014) To refer others to the post above only you can use this URL: http://www.dnjournal.com/archive/lowdown/2014/dailyposts/20140221.htm
Web.com Enters Eight New Markets, .ORG Growth Continues & Domainfest Names Its Keynote Speaker
Web.com Group, Inc., a leading provider of Internet services and online marketing solutions for small businesses, announced today that the company will be expanding its Feet on the Street direct sales initiative to eight new markets, including our hometown - Tampa, Florida, in the months ahead.

Along with Tampa, Web.com (who is already in 16 local markets) will open new offices in Chicago; Central/Northern New Jersey; Portland, Oregon.; Providence, Seattle; San
David L. Brown
Chairman, President & CEO, Web.com

Diego and Salt Lake City. The local offices allow Web.com personnel to work with small businesses in-person to create customized Internet marketing and lead generation solutions designed to boost online presence and help them succeed online.

Web.com Chairman, President and CEO David L. Brown said, "Each small business has unique needs and our Feet on the Street initiative allows Web.com to deeply understand a business' goals and develop customized Internet marketing solutions to maximize visibility and growth."

Brown added, "In the evolving small business marketplace, as customers use the Internet to shop for products and services, online marketing is imperative to acquiring and retaining customers. Web.com has the expertise to help small businesses of any size and industry make the transition from traditional print marketing to succeed online."
Speaking of growth, .ORG, the popular TLD operated by the Public Interest Registry (PIR) is continuing to gain ground despite the arrival of a flood of new gTLDs. On Wednesday PIR released its bi-annual domain name report, "The Dashboard," detailing the increased growth of .ORG throughout 2013. The report said that

206,542 new .ORG domains were registered from January to December 2013, bringing the total number of .ORG domains under registration to more than 10,346,000 globally.
Some of the other interesting findings in The Dashboard included:

· The number of .ORG domains under registration rew by 2.6% in 2013.

· 85% of .ORG registrants renew their domains for at least three years or more.

· The organizational make-up of the global .ORG community remains diverse with the majority of registrants (20%) representing Wiki and open source-related causes.

· Charities, schools, and recreational clubs and groups are all equally represented with each accounting for 8% of .ORG registrations.

One other note today - the Domainfest conference coming up March 31-April 2014 in Hollywood, California has named best-selling author, online business entrepreneur and social media expert Gary Vaynerchuk as its Keynote Speaker. Vaynerchuk, who has nearly 1 million Twitter followers, has been included on BusinessWeek's list of the "Top 20 People Every Entrepreneur Should Follow." He has also produced many widely viewed YouTube videos including "Get Off Your Ass & Get Noticed," Future of Social Media Marketing," and "Care Immensely or Die!"
(Posted February 20, 2014) To refer others to the post above only you can use this URL: http://www.dnjournal.com/archive/lowdown/2014/dailyposts/20140220.htm
Sedo's Annual Domain Market Study Says .Com Commanded Higher Sales Prices and A Bigger Share of the Market in 2013
| | |
| --- | --- |
| Domain sales and monetization giant Sedo released their annual Domain Market Study covering 2013 today. The study helps identify industry trends and changes based on the tens of thousands of sales made over the past year through the Sedo platform. | |
Sedo reported 37,241 transactions in its domain marketplace in 2013 with a mean average price of $1,893 across all sales and a median price of $577. That is a 3% increase in total transactions over the previous year and a small increase from 2012's mean average price of $1,885.
.Com image from Bigstock

Those figures cover all extensions. The numbers for .com alone are even better. Sedo said .com easily remained the world's most popular extension and grabbed a considerably bigger share of the market than it had the year before, rising from a 48% share in 2012 to 53% of all sales in 2013. In addition, the mean average sales price for .coms rose from $2,148 to $2,235 year over year and the median sales price also jumped from $642 to $650.

Even so, Sedo believes .com's overwhelming dominance may finally start to recede this year. The report said, "As hundreds of new gTLDs begin to launch in 2014, this may be the last

year that .com remains on top by such a wide margin. Market data shows that some 167 different TLDs were already traded on Sedo in 2013, showing that the market is primed and ready to take advantage of new domains as they are released."
The report also underscored the increasing use of Buy it Now pricing (offering domains at a set price with no negotiations), saying "Buy Now accounted for 44% of all sales in 2013 (up from 41% in 2012). As more and more sellers realize that end users want to be able to purchase domains quickly and simply, the number of Buy Now domain listings and sales has steadily increased."

Some other highlights from the 2013 Domain Market Study include:

Buy Now image from Bigstock
· 47% of all sales for the year were valued at $500 or less, while domains that sold between $500- $2,500 accounted for 40% of all sales (that being the case, only 13% of Sedo's sales were above $2,500).
· Looking at the traditional alternatives to .com, .net saw a decrease in mean price to $1,384 (down significantly from $1,880 in 2012) and .org saw an increase in mean price to $1,357 (up from $1,315 in 2012).
· More than half of all buyers in 2013 came from Sedo's two largest markets, the United States (accounting for 36% of buyers) and Germany (home to 21% of buyers)
You may also be interested in an infographic depicting the findings from Sedo's 2013 Domain Market Study that is available at http://bit.ly/1iGj4Ml.
(Posted February 18, 2014) To refer others to the post above only you can use this URL: http://www.dnjournal.com/archive/lowdown/2014/dailyposts/20140218.htm
Domainfest Lands Stone Temple Pilots With Chester Bennington But Who Landed ChesterBennington.com?
Oversee.net's Domainfest conference always manages to come up with unique, headline grabbing party ideas for the popular annual show in Los Angeles. In previous year's they've attracted attendees with everything from soirees at the Playboy Mansion to dinner under the Endeavour space shuttle. Over the weekend, Domainfest organizers announced that for their upcoming conference March 31-April 2, 2014 Grammy award winning rock band Stone Temple Pilots with Chester Bennington, will play a private concert for show attendees. The

conference itself will be held at the Loews Hollywood Hotel, but the Tuesday night (April 1) concert will be staged at a different private location that won't be disclosed until check-in.
As most music fans know, Stone Temple Pilots, fired their original lead singer, Scott Weiland, last year. However, they quickly came up with an equally accomplished replacement, getting Linkin Park's electrifying lead singer, Chester Bennington, to take on the same role with STP (hence the band's new billing as Stone Temple Pilots with Chester Bennington). Bennington, who was named one of Top 100 Heavy Metal vocalists of all time by Hit Parader magazine, recorded his first tracks with STP last fall, including a five-song EP called High Rise that were released on the band's own label.
Stone Temple Pilots with Chester Bennington (Bennington is 2nd from left).
(Photo from StoneTemplePilots.com)
As a domain guy, I was curious as to whether or not Bennington owned his own name in .com. Many high profile artists do but there have been many notable exceptions. In the music world, Bruce Springsteen is probably the most famous one. Springsteen's official site is at BruceSpringsteen.net because a "fan" owns the .com (the fan, Jeff Burgar, still has the domain after Springsteen's camp tried to take it away in an unsuccessful UDRP attempt back in 2001).
Parking page at ChesterBennington.com

A quick check of the public Whois record shows that Bennington doesn't have his .com either - it belongs to Archeo Domains, who was recently spun off from Marchex. Since the domain was registered in 2003 (when Bennington had already been with Linkin Park for three years) it looks like the name would have originally been registered by Yun Ye, who sold his Ultimate Search portfolio to Marchex for $164 million two years later.

Though Bennington doesn't have ChesterBennington.com

he is still pretty easy to find on the web, as he has what is probably the next best name for his personal site, CBennington.com. Of course, if he wanted to go all in he could apply for a .Bennngton new gTLD when ICANN opens up another round of new gTLD applications. Chester.Bennington would certainly look cool but with the $185,000 application fee for new gTLDs, I'm sure there are other things he would rather spend his money on. For one, Bennington is a big supporter of charitable causes, including two featured on his home page - PowerTheWorld.org and MusicForRelief.org. You're a good man Chester B.
(Posted February 2, 2014) To refer others to the post above only you can use this URL: http://www.dnjournal.com/archive/lowdown/2014/dailyposts/20140217.htm

DomainingSpain Conference Update Comes With a Love Story & A Hard Lesson Learned
The annual Domaining Spain conference will be returning to the beautiful seaside city of Valencia in less than 90 days. Today I got a note from show founder Dietmar Stefitz filling me in how how things are progressing for the 2014 event that will run May 8-10 at the Hotel Sorolla Palace.

This being Valentine's Day, Dietmar included a show related love story I had not heard before. Stefitz noted that he had a meeting at the start of this week with Nuno Soares (the former Sales Director at EuroDNS who is now the CEO at Hotel.mobi). Nuno has especially fond memories of the 2010 conference in Valencia. That year Stefitz had hired an exchange student from Poland to serve as one of the hostesses at the show. She and Nuno found they were a perfect match and, four years later, they are still together and very happy that their paths crossed that week at Domaining Spain (the show was known as DomainingEurope at the time, which is a topic we will come back to in a moment as it as at the heart of the hard "lesson learned" I referred to in the headline.

Nuno Soares
CEO, Hotel.mobi
Dietmar Stefitz
Domaining Spain Founder

Before we get to that I want to pass along the main reason Dietmar wrote - to let me know that the 2014 conference agenda is almost complete with many of the key speakers already lined up. Both traditional and new gTLDs will be given a lot of attention in Valencia. Ingrid Baele, a Vice President at electronics giants Philips will be there to talk about how the company plans to use its new brand gTLD - .philips.

Ronald Schwaerzler (from .wien) and Anja Elsing will also be there to offer insight into what is happening with geo gTLDs and Carolin Silbernagl will discuss her group's community use of a new gTLD - .hiv. Many other speakers will be confirmed in the weeks ahead and registration is already open.

Now, let's circle back around to that hard lesson learned. For years I have been telling people to never let a website designer (or anyone else) register your business domain in

their name. I have seen too many people who have hired someone to build a website for them and also given them access to their domain (or even worse, let them register the name the company wanted in the vendor's name, assuming it would make things easier). Huge, colossal, don't ever do it mistake! In too many cases, after a business is up and running, the owner may decide to get someone new to keep their site up to date only to find that the original vendor won't turn over the domain - and once it is in their name or control getting it back can be very expensive if you can get it back at all.

In Dietmar's case, you may recall that his conference was known as DomainingEurope for several years and was based at DomainingEurope.com. He told me that a couple of years ago an issue arose with the developer hired to build the site and he found he could not access the domain because the vendor controlled it, not him - and the vendor wanted $6,000 to turn it over! Stefitz was forced to make a quick switch to DomainingSpain.com - a very nice name too, but one that doesn't reflect the continent-wide appeal of his show as well as DomainingEurope.com did.

Fortunately this story has a happy ending which is rarely the case in situations like this. Stefitz said that he has finally regained the DomainingEurope domain (which currently redirects to Domaining Spain.com but will soon return as the main URL and show brand). He did not say what it cost him to recover the name but did

Lifted wallet image from Bigstock

say, "I will never in my life trust anyone who designs a website to have the contact details (log-in information) for the domain." That would be a good post-it note for those plan to launch new websites to keep stuck on the front of their monitor!
(Posted February 14, 2014) To refer others to the post above only you can use this URL: http://www.dnjournal.com/archive/lowdown/2014/dailyposts/20140214.htm
There They Grow Again! John Ferber Launches New Business & Turakhia Brothers Fortunes Continue to Rise
After selling his previous company, Advertising.com, for half a billion dollars John Ferber entered the domain business as co-founder of DomainHoldings.com. John has decided now is the time to make another big splash in the internet advertising game, prompting him to launch a new company called Bidtellect that will focus on the red hot "native advertising" sector (native advertising is based primarily on branded content which can be presented in articles, videos, photos, music and other media).

Ferber brought veteran digital media entrepreneur Lon Otremba on board as CEO to oversee a new platform they have built that will allow brands to buy native advertising placements in bulk automatically. In an AdWeek article about the new company published Wednesday, Otremba told reporter Mike Shields, "Based on the history of this business, when a medium can rapidly scale is only when advertisers can buy that way. That's when things really take off."

Shields noted that it seems logical that a scalable native advertising solution could come from the world of domain selling, particularly given its direct response heritage and Otremba confirmed that he envisions both brand dollars and performance revenue coming to native advertising.

Ferber, who was profiled in a March 2011 DN Journal Cover Story) told AdWeek, "We are lining up a strong offering. Even on our domains, the ads fit the form and function of the way users are experiencing it." After the mind boggling success John and his brother Scott had with Advertising.com, I doubt if you will find much smart money betting against his new endeavor.

Lon Otremba
Bidtellect CEO

John Ferber, Co-Founder
DomainHoldings/Bidtellect

Divyank & Bhavin Turakhia

Two other wildly successful and outstanding representatives of the domain industry, brothers and Directi co-founders Bhavin Turakhia and Dviyank Turakhia, are the subject of a new profile at IndiaTimes.com that was released today.

It is well deserved recognition for the dynamic duo but the headline referring to them as "unknown internet entrepreneurs" will strike many in our business as a bit odd. Bhavin & Divyank are two of

the best known (and most popular) people in our industry (Divyank was also profiled in a popular DN Journal Cover Story in September 2008).

In any case, if there are still corners of the internet where the personable Turakhia brothers aren't well-known, those days are numbered. They made big waves in recent months by selling Directi's web business to Endurance International for over $100 million, while retaining many of their other profitable enterprises, including internet advertising firm Media.net (who has an exclusive deal with Yahoo) and their new gTLD registry operator, Radix. With Bhavin and Divyank still in their early 30s we will be hearing about many other successes from them in the future and it couldn't happen to two nicer guys.

One other note, the Domainfest conference coming up March 31 - April 2, 2014 in Hollywood, California announced today that .CLUB has signed on as the lead (Platinum) sponsor for the event.

If you are planning on attending Domainfest and haven't registered yet, you will want to do so by the end of the day tomorrow (Friday, Feb. 14) when the current $695 Early Bird rate expires. Starting Saturday the cost will be $995.
(Posted February 13, 2014) To refer others to the post above only you can use this URL: http://www.dnjournal.com/archive/lowdown/2014/dailyposts/20140213.htm
CitiesPlanet Inks Deal With iDigitalRussia.com to Develop and Launch Over 4,700 .RU Websites
CitiesPlanet.com, the popular domain development platform founded by longtime geodomain industry leader Fred Mercaldo (who was profiled in our March 2013 Cover Story) has just signed the largest development deal in the company's history. Under a new contract with iDigitialRussia.com, CitiesPlanet and Tallwave, the venture development company they partnered with last year, will launch and develop over 4,700 websites, all aimed at the Russian market and utilizing Russia's .RU ccTLD extension

Mercaldo, who also serves as CEO at CitiesPlanet, said, "This incredible portfolio includes many category killer domain names, along with supportive names, in lucrative vertical markets such as insurance, travel, legal, clothing, employment, automotive, food, investments, medical, shopping, technology, jewelry, and many more."

Mercaldo added, "While we have historically been strictly a GeoDomain development and marketing company, we have come to the realization that many of our existing clients also have significant generic portfolios in need of development, and utilizing the expertise that our partnership with Tallwave brings to the table, we have now entered into relationships where these portfolios will support and enhance our City.com brands, and in turn our City.com brands will enhance the generic vertical brands we will be building."

Fred Mercaldo
Founder & CEO, CitiesPlanet, Inc.
"Tallwave brings the expertise and experience needed to be successful in this space, with the emphasis on the major areas: scalability, content, and monetization. We are very bullish on the Russian market, and look to have our first group of sites launched in Q3 of 2014," Mercaldo said.
iDigitalRussia Founder & CEO Toby Hardy
(left) with CitiesPlanet Founder & CEO Fred Mercaldo on a visit to the French Riviera
(Hardy owns FrenchRiviera.com)

Toby Hardy, owner of Retail Equities, LLC and the CEO and Founder of iDigitalRussia, Inc., is a longtime client of CitiesPlanet with his FrenchRiviera.com brand. Regarding the new contract to develop his Russia-oriented portfolio Hardy noted, "Over the past year, we have quietly been accumulating one of the most comprehensive and complete portfolios of .RU names. All of the research we have done points to explosive growth in the Russian use of the internet and the loyalty and support of the .RU brand (Editor's note: a brand that has gotten tremendous reinforcement from the frequent display of the Sochi.RU URL worldwide on telecasts from the current Winter Olympic Games underway in Russia).

"We are convinced that our partnership with CitiesPlanet and Tallwave will result in positive results, including the actual partnerships with existing businesses already in the Russian market, who will utilize our strong brand names in each particular vertical,"

Hardy added. The new .RU websites will be presented in both English and Russian languages.

The Tallwave and CitiesPlanet partnership

is headed up by Tallwave President Dan Boberg who said, "We're excited to be working with Cities Planet and Toby Hardy on this impressive portfolio of Russian domains. Collectively, these domains provide a significant opportunity for multi-national companies to participate in the dynamic and fast growing Russian marketplace."
In a related note Mercaldo said, "We are getting very close to launching our new software platform for our City.com brands, and this platform will be versatile enough to be able to be customized for City sites that are tourism based, along with those that will be more hyper local. Additionally, we are working with Tallwave to expand the platform to be able to, on a scalable basis, launch generic websites in specific verticals with the emphasis on SEO, content and monetization. This will be the very platform that will power the 4,700 .RU brands, and we are obviously very excited about this opportunity."
In closing Mercaldo added, "We have already had discussions with potential partners and ecommerce experts that desire to enter the Russian space. We encourage further discussions regarding potential partnerships as we build this network in one of the fastest growing emerging markets in the world. Interested partied can contact Fred@CitiesPlanet.com and/or Toby@iDigitalRussia.com."
(Posted February 12, 2014) To refer others to the post above only you can use this URL: http://www.dnjournal.com/archive/lowdown/2014/dailyposts/20140212.htm
Are the Sochi Olympics Whetting Your Appetite for Winter Sports Domains? If So, Sedo & .CLUB Want to Put You in the Owner's Suite
Being from Florida I usually don't pay a lot of attention to outdoor winter sports, but when the Winter Olympics roll around every four years I join millions of others around the world who tune in to watch the action. Of course, like a lot of domainers, whenever I'm watching something,

ideas for related domains pop into my mind. Even though I barely know the difference between a luge and a lugnut, the current Games in Sochi, Russia have been no exception (and, by the way, Russian domainers must LOVE seeing that Sochi.ru web address plastered on the TV screen practically around the clock - even though the domain redirects to Sochi2014.com).

Of course, domain sales giant Sedo knows about this domain tunnel vision we have so they

Starting line image from Bigstock

have teamed up with the new .CLUB gTLD to stage a Winter Sports Domain Auction that will run February 19-26, 2014. The sale will offer 25 previously unreleased premium winter sports-related names with the .CLUB extension, including Snowboarding.club, Skiing.club, FigureSkating.club, IceHockey.club and others (the full list and more details about the auction are available at www.sedo.com/club).
The winning bidders will be given first priority to acquire the domain name from .CLUB at the winning bid price after .CLUB's Sunrise phase (a period reserved for trademark holder registrations) ends on March 29, 2014.
We all know about the (endless) debate going on about new gTLD values, with estimates on even the best new gTLD domains ranging from $0 to several thousand dollars depending entirely on who you ask. But, even if you have no interest in acquiring domains being offered in this sale, the auction, and others like it, will be well worth watching to see what the market has to say about each new gTLD as it enters the arena (Sedo is currently running sunrise auctions for many other new gTLDs including .bike, .clothing, .shoes, .coffee, and .email).
Colin Campbell, chairman and CEO of .CLUB Domains, who is obviously a fan of his TLD, said, "This auction is all about getting a domain name that truly expresses and targets the passionate communities around these popular sports. "The .CLUB domain extension gives true meaning to the right of the dot like never before, and we're expecting a lot of interest from sporting goods manufacturers, retailers and more who want to own these online categories."
Sedo CEO Tobias Flaitz added, "The new gTLDs present an incredible opportunity for companies to stake their claim to the most valuable of Internet real estate. This Winter Sports domain auction offers an equally unique approach to pre-registrations with .CLUB that will enable companies to acquire their desired domain names in an even more timely fashion."
The Winter Olympics (which end Feb. 23) will still be going on during the opening days of the Sedo/.CLUB auction, so during the commercials or when action bogs down in Sochi, you can always change channels from NBC to Sedo to see how these winter sports are faring in their new gTLD uniforms.
(Posted February 11, 2014) To refer others to the post above only you can use this URL: http://www.dnjournal.com/archive/lowdown/2014/dailyposts/20140211.htm
You Can't Tell the Players Without a Program: New Tools for Keeping Track of All of the New gTLDs
When they go to a basketball game many fans pick up a program so they can figure out who is who - and they only have about a dozen players on each team to keep track of. With hundreds of new gTLDs scheduled to arrive in the domain world this year (and many already on the scene), we will be seeing more than a dozen extensions introduced almost every week throughout 2014.

To complicate matters even further, in addition to more players (new registry operators) to keep up with, there are more variables - such as when sunrise (for those with trademark claims) starts and ends (that is if they even have one - some don't), then when and how long land rush runs and when general availability arrives. (There is also the matter of wildly different prices being charged for different extensions (with those prices sometimes changing on a

Monitor image from Bigstock

daily basis early in a TLD's launch, as they do with Donuts domains), but that is a tracking problem that remains for someone else still to tackle).

Fortunately, for those who just want to know what extensions are out now, what is coming next and the dates the various rollout stages begin and end (along with who the registry owners are - an important bit of information for domain investors who prefer to bet on well financed players with experienced managers) - there are a couple of free tools available now to help you stay on top of that mountain of information.

The latest of those was just introduced this week when registrar Encirca.com launched Calzone, a free online calendar that tracks various stages of each new TLD. Calzone can also be synchronized with the personal

calendar on your computer, smart-phone or tablet, allowing you to merge Calzone information with your daily schedule and to-do lists. In addition to start and end dates of various TLD launch phases, Calzone will track special marketing programs offered by registries, such as Founder's programs, Expression-of-Interest programs and auctions of premium names.

Users can browse the free calendar at Calzone.org and subscribe to receive updates to their smartphone, tablet or PC via any online calendar, including Apple, Facebook, Google, Microsoft Outlook, Windows Live and Yahoo calendars. Calzone will also send out email and calendar alerts when a Sunrise or Landrush period is about to start or end, ensuring trademark lawyers and brand owners are able to secure their desired domain name before the deadline.

Earlier this month, Domaining.com launched another useful tool - NewExtensions.com, which shows (in order on ICANN's prioritization number) who owns each new TLD, where they are located and and a wealth of other information.

In this case, ICANN gets the credit for the content. Domaining simply re-framed existing pages from the new gTLD section of ICANN's website. However, by presenting the information at an easy to remember category defining web address in NewExtensions.com (along with a link on Domaining.com's Home Page), the popular domain news headline provider has given the ICANN information a new high visibility outlet that domain investors are more likely to find.

Domaining.com owner Francois Carrillo noted, "The site has no other pretension than to help anyone quickly find the list of new extensions coming and find out which are already available to register by selecting those delegated." By the way, Carrillo, who operates several other domain related sites, recently introduced another new wrinkle at his eCop.com domain escrow service, making it the first one to support bitcoin transactions.
(Posted February 7, 2014) To refer others to the post above only you can use this URL: http://www.dnjournal.com/archive/lowdown/2014/dailyposts/20140207.htm
New Venture for Sedo Co-Founders Tim Schumacher & Ulrich Essman - Helping Build a "Sedo for Apps"
Tim Schumacher and Ulrich Essman, two of the four college friends who founded Sedo back in 2001, have gotten involved in an ambitious new venture - helping build a "Sedo for Apps" at Apptopia.com. Sedo grew into a domain trading and monetization powerhouse that the founders eventually sold to United Internet. Now Schumacher and Essman think they can replicate the Sedo model in the booming apps world by getting involved as investors and advisors at Apptopia, a rapidly growing marketplace where buyers can purchased fully developed apps, just as domain buyers can purchase domains and developed websites through Sedo.

While smartphone and tablet users buy a copy of an app to run on their mobile device, Apptopia sells all rights to the app itself, with the buyers then able to market and sell the apps in the Apple and/or Android stores (where they are already offered by the current owners). Buyers include income investors who are buying an existing revenue stream, marketers who think they can take a good but perhaps little known app and increase sales and developers who think they can make an existing app better to boost sales and profit in that way.

Boston-based Apptopia is also a great place to cash out for people who are more interested in developing new apps rather than marketing ones they have already built. Apptopia has already paid out more than $5 million to developers who have sold thousands of apps through the marketplace.

To get involved, Schumacher and Essman, who were named 'Entrepreneur of the Year' by Ernst & Young Germany in 2007, made an unspecified cash investment in an Apptopia bridge financing round that also included Eric Kagan, Telegraph Hill Capital and Rothenberg Ventures among other investors. In a join statement, Schumacher and Essman noted, "Apps have become the prime mobile navigational items, just like domain names on

Tim Schumacher

Ulrich Essman

the web. Apptopia.com and its awesome team are in a market-leading position to capture this market. We are proud to now be part of this story."
Eliran Sapir, the Founder and CEO of Apptopia, said "In sharing Apptopia's solution with advisors, investors, and existing customers, we learned that we had built a platform that reached far beyond the scope we'd originally envisioned, and we believe Apptopia has the ability to alleviate some of the core underlying problems and inefficiencies publishers and app stores are currently facing."
The App Economy was worth $70 Billion in 2013 and is expected to rise to $143 Billion by 2016. With over 2.3 million apps available today, app discoverability and monetization are the two biggest challenges facing developers and app stores. Apptopia envisions the consolidation and acquisition of apps as an integral part of the future and is paving the way towards a higher quality and more profitable app ecosystem.
(Posted February 4, 2014) To refer others to the post above only you can use this URL: http://www.dnjournal.com/archive/lowdown/2014/dailyposts/20140204.htm
The New gTLD Bandwagon: Why Rick Schwartz Believes Jumping on Board Early Could be Hazardous to Your Financial Health
A lot of different views about new gTLDs are expressed by the 17 domain industry experts featured in our latest annual State of the Industry Cover Story that was published Friday. Some think they will do well, and perhaps even completely upend the current pecking order ruled by .com. However others believe the hundreds of new gTLD "bullets" just now starting to come online will have no more effect on .com dominance that slugs do on Superman.

The best-known and most vocal skeptic is Rick Schwartz, the "Domain King" who has made millions buying and selling domains. Schwartz, who also co-founded the T.R.A.F.F.I.C. conference, is one of the experts featured in our new Cover Story but he had some additional comments to share with us that are not in the article.

While Schwartz thinks a few of the new TLDs have a chance to break through the clutter he thinks the best short strategy is to take a wait

Rick Schwartz

and see approach. "The question is do you buy the stock during the frenzy or wait until after the frenzy is over and you can buy much more for much less if that stock still has a chance?" Schwartz said. "They all need it to happen in 2014 to survive. As an investor many of us have the luxury of time and history and with a little patience we can wait before placing bets or not."

| | |
| --- | --- |
| megaphone image from Bigstock | "I expect a lot of noise in 2014. I expect all types of bogus press releases and other nonsense. I expect staged sales to try and create frenzies. I expect a lot of pain for some when those renewals come due in 1 year. I expect a lot of failures. Each one that fails makes the job of the next one all that much harder and for folks not to understand the ramifications of that are likely to lose money. I expect things to unfold like I have looked at the last 18 years. I expect any success to be held up like a man just walked on the moon for the first time while minimizing all the headwinds of reality,' Schwartz said. |

"Some don't want to hear these things, but with 900 horses in a race, how many can really finish in the money and be meaningful, effective, long lasting and worthy of a business building a future on? Aren't those the first questions to ask and figure out? Handicap the race. How many will be trampled out of the gate? How many will die before they leave the gate? What does it do to a train of 900 when a .sucks shows up on the scene and a barrage of negatively with it? Will ICANN enforce their own contracts? Will there be collisions and confusion? Will email work correctly? What type of lawsuits will begin to fly and what will the outcomes be? Will it look .good in print or confusing if there is a .typo? Will the consumer even want it? Is there really a need, want and desire or is it manufactured to lure domain investors that have already got caught holding the bag on more than one occasion? What type of studies and focus groups did these new registries do? My hunch is not much."

Rick Schwartz (right) and Frank Schilling debating new gTLDs at the October 2013 T.R.A.F.F.I.C. East conference at Fort Lauderdale Beach, Florida. - See more at: http://www.dnjournal.com/cover/2014/january.htm#sthash.05e7tBZG.dpuf

Rick Schwartz (right) and Frank Schilling debating new gTLDs at the October 2013 T.R.A.F.F.I.C. East conference at Fort Lauderdale Beach, Florida. - See more at: http://www.dnjournal.com/cover/2014/january.htm#sthash.05e7tBZG.dpuf

Rick Schwartz (right) and Frank Schilling debating new gTLDs at the October 2013 T.R.A.F.F.I.C. East conference at Fort Lauderdale Beach, Florida. - See more at: http://www.dnjournal.com/cover/2014/january.htm#sthash.05e7tBZG.dpuf

Rick Schwartz (right) and Frank Schilling debating new gTLDs at the October 2013 T.R.A.F.F.I.C. East conference at Fort Lauderdale Beach, Florida. - See more at: http://www.dnjournal.com/cover/2014/january.htm#sthash.05e7tBZG.dpuf

Rick Schwartz (right) and Frank Schilling debating new gTLDs at the October 2013 T.R.A.F.F.I.C. East conference at Fort Lauderdale Beach, Florida. - See more at: http://www.dnjournal.com/cover/2014/january.htm#sthash.05e7tBZG.dpuf

Rick Schwartz (right) and new gTLD proponent Frank Schilling of Uniregistry.com debating new gTLDs at the October 2013 T.R.A.F.F.I.C. East conference at Fort Lauderdale Beach, Florida.

"On branding, what does .Apple put left of the dot? I have yet to find one combo that even sounds normal that would be a main entrance. Now I do see it as a platform for internal or even vendor use. But we will see. And will anyone actually abandon their .com? Close it down to go to one of these? Seems unlikely. Let's see who will be first to walk the plank."

"I think 2014 is a year of questions that will be answered one by one," Schwartz continued. "Questions some folks don't want to hear asked and certainly don't have solid answers for because the answers are simply unknown at best and a repeat of history at worst. It could be very ugly and not to at least acknowledge that possibility is surprising. Making up answers that don't hold water really makes you scratch your head. Once you lose credibility, game over!"

"They talk about sales like some newbies talk about traffic as if it were a given. "Oh we're not worried about that". Well worry, because sales are not as easy as you think when there are 900 alternates. Again, some don't like to hear that, but they need to come back down to earth. The numbers will bring them and everyone else back into reality sooner or later."

.Com image from Bigstock

"There could a place for some of these gTLD's. But they are not a replacement for .com and to me that is about the dumbest tact they can use," Schwartz said. "Why? Because they lose all credibility from the gate. What else do they say that I should not believe? In fact it shows some real desperation and they have been feeding that crap to the press. They are an aid. They are an assist. They are on on ramp. They are a side door. They are a branch. Few will ever be trees."

"Nobody can say I am on the fence about what is coming. But I am still open minded enough to weigh new information as it comes in. Either

way. For or against. The expansion is not a threat to the Internet or the existing extensions. The abuse, confusion and unintended consequences that will come with the virtually uncontrolled expansion, is a threat. I also see it as a threat to the investors behind the scenes that have bought into hundreds of extensions looking for the 2nd coming. Many of which will be DOA. And if not DOA then completely meaningless in the scheme of things. Same result. Why? Because there are not enough meaningful strings of words left of the dot to get any oxygen or traction."

"Everyone points to .co. But when they point, they forget to mention the differences," Schwartz noted. "First of there was a premise for testing the extension. Maybe the public would adopt ".co" for "Company". It was also shorter than .com and then there could be some mistaken typo traffic. So there were reasons to buy into that possibility."

"Put those aside. The .Co registry spent a a boatload of money for their introduction and rollout. What I see here is exactly the opposite. As business people, how much do you think each has to spend on advertising and shows and ads and all the rest to get their message out? If they are depending on the Registrars to do it for them, they are going to get a loud and ugly wake up call."

"Who do you listen to? Who do you believe? What are the actual facts? What is hype? What a tangled web we have weaved. And I continue to believe and seems to be widely supported, that it will be .web that has the single best chance of making an impact. So if you were to agree that .web is the likely winner of the 900 then there would be 2 logical questions to ask. Who is #2 and by what type margin? 5-1? 10-1? 20-1? Then #3 and the distance to #4."

"So am I supposed to tie up my funds in an illiquid asset on the 896 runner-ups or save those dollars for a more meaningful investment should the MARKET say this is a direction it likes? Sorry, I don't have unlimited funds to gamble with especially when the likelihood of that gamble paying off is in real question," Schwartz said.

Place Your Bets image from Bigstock
"As domain names in general take center stage in 2014, the challenge will be can they remain there? What will the landscape look like in 2015 and 2016? Will it be a calamity or a great success? From where I sit as a largely .com domain investor, I only see an upside no matter how this all shakes out. There is no downside to a great .com domain name whatsoever in the near or distant future. None whatsoever, regardless of the noise and silly comments some are making and many will be repeating. Prices will continue to skyrocket for those that focus on dealing with buyers that have the highest and best use in mind instead of the first offer they get. However if folks invest in meaningless domains, then it does not matter because a meaningless domain does not discriminate by extension. Meaningless goes hand and hand with worthless whether .com or .whatever," Schwartz concluded.
(Posted February 3, 2014) To refer others to the post above only you can use this URL: http://www.dnjournal.com/archive/lowdown/2014/dailyposts/20140203.htm
Photos & Highlights From the First DNSeattle Domain Investors & Entrepreneurs Meetup Held on Top of the Seattle Space Needle
DNSeattle, a new meetup for Seattle area domain investors and entrepreneurs, was held for the first time Thursday night (January 30, 2014) with a sellout crowd on hand for the first event held in a meeting room atop Seattle's iconic Space Needle.

DNSeattle was the brainchild of DomainSherpa's Michael Cyger, who lives on Bainbridge Island, directly across Puget Sound from Seattle. Michael, who is a regular attendee (and often a speaker or moderator) at the major domain conferences, T.R.A.F.F.I.C., Domainfest and NamesCon, decided it was high time that the tech mecca of Seattle join places like Los Angeles and South Florida that have active local domain meetups.

Many of the industry's leading companies are based in or have offices in the Seattle area and they quickly got behind the idea through sponsorships or staff members snapping up the 65 tickets available for the debut event. Tickets (which cost just $15) had to be limited to the amount of space available atop the Needle. Though the location may have capped ticket sales the world famous symbol of Seattle was the ideal spot for making a big splash in DNSeattle's first time out of the gate.

DNSeattle Founder Michael Cyger welcoming
attendees to the 1st meetup Jan. 30, 2014.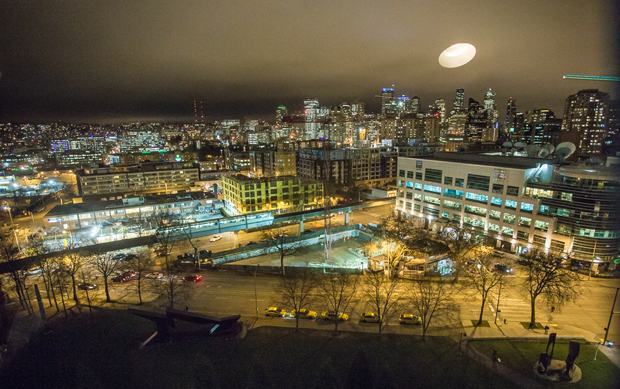 A view of the Seattle skyline snapped from the Space Needle during the first DNSeattle meeting Thursday night (Jan. 30, 2014). This photo, and all of the others in this article, are copyright and courtesy of Steve Stolee (sstolee@qwest.net).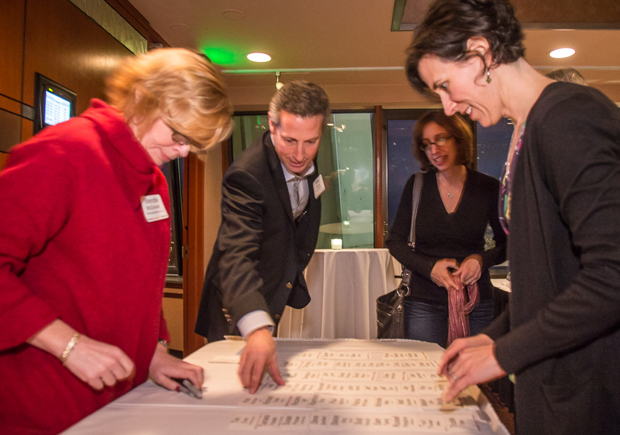 Three members of the DNSeattle organizing team make sure all of the attendee names tags are ready for pickup. They are Wendie McDonald (at left) from BainbridgeIsland.com (owned by Michael and Erin Cyger), Michael Cyger (center) of DomainSherpa.com and Erin Cyger of DomainSherpa.com and BainbridgeIsland.com).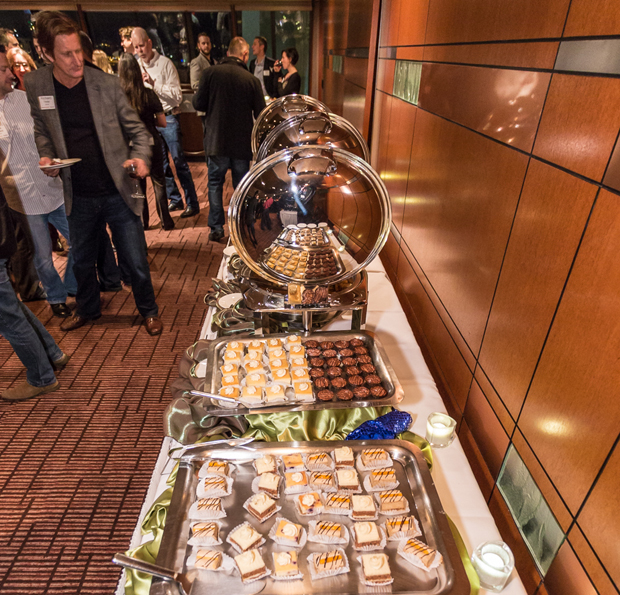 As soon as they had their nametags, attendees grabbed a drink, filled their
plate from the well stocked buffet line and began networking.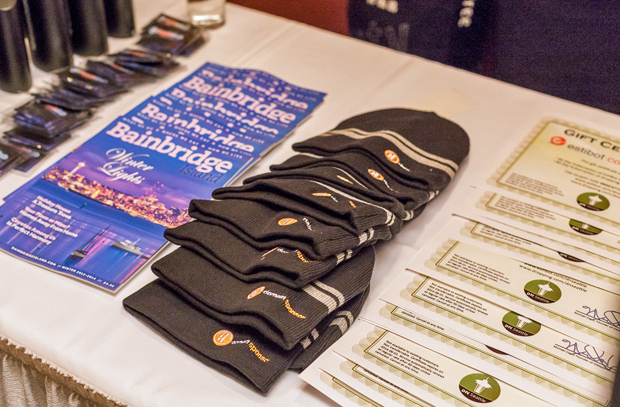 DNSeattle sponsors also made sure there was some cool swag to take home including DomainTools.com flasks, DomainSponsor beanies and Estibot gift certificates. Door prizes were also given away and Kenneth Tomkins went home with the Grand Prize - a brand new iPad Air donated by Estibot.com's Luc Lezon.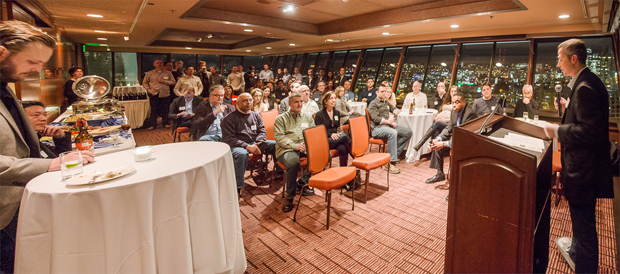 Above and below: Shots of the audience on hand for the first DNSeattle meetup. While most were from the Seattle area others came from as far away as Toronto, Idaho, Los Angeles and San Francisco.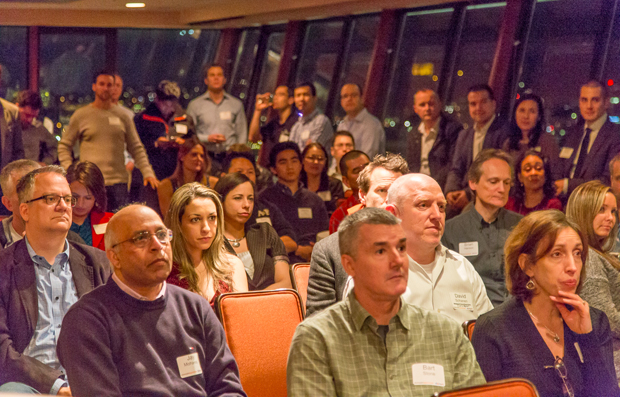 Some of the familiar faces seated near the front were (left to right at the lower left side of the photo) Donuts Co-Founder Paul Stahura, Jay Mohanraj (who flew in from Edmonton) and Andrea Logan (who drove up from Oregon) - and, in the lower right side of the photo, Bart Stone, David Schanen and Lisa Kandalaft.
Luke Webster of The Shave Network (delivering his keynote speech. Webster runs the VintageStraightRazor.com website and is the owner of hundreds of other razor domain names including StraightRazor.com and StraightRazors.com. The audio from his talk was recorded and will be rebroadcast on DomainSherpa soon.
(L to R) Michael Cyger, DNSeattle Co-Organizer Tamara Pawlak and Oversee.net Senior VP Dwayne Walker who fielded questions from the audience during his State of the Industry update.
Michael Cyger (whose DomainSherpa.com covered the events organization and incidental costs) cited the generous sponsorship of DomainSponsor (lead sponsor) and Donuts (supporting sponsor) for helping insure the success of an event that is donating all the money raised by individual attendees to the Seattle-based Fred Hutchinson Cancer Research Center. "Cancer is a terrible disease that touches every family in America, and I was grateful that we could come together as a community to support research for a cure," Cyger said.
If you would like to be notified of upcoming DNSeattle events, you can sign up for the newsletter at the bottom of DNSeattle.com's home page. If you need a little extra incentive to sign up, there's a rumor that an Argosy Cruise may be part of the next DNSeattle event!
(Posted February 2, 2014) To refer others to the post above only you can use this URL: http://www.dnjournal.com/archive/lowdown/2014/dailyposts/20140202.htm
---
If you've been out of the loop lately, catch up in the Lowdown Archive!
---
We need your help to keep giving domainers The Lowdown, so please email editor@dnjournal.com with any interesting information you might have. If possible, include the source of your information so we can check it out (for example a URL if you read it in a forum or on a site elsewhere).
---
Home Domain Sales YTD Sales Charts Latest News The Lowdown Articles
Legal Matters Dear Domey Letters to Editor Resources Classified Ads Archive About Us