The T.R.A.F.F.I.C. New York conference ended last night at the Grand Hyatt in Manhattan and I think the next few months will show that this event just kicked in the turbocharger on

what is already an industry racing down the Autobahn at 200 miles per hour. All signs indicate that Rick Schwartz and Howard Neu's decision to bring T.R.A.F.F.I.C. to the Big Apple is going to pay big dividends for this business for a long time to come. For the first time, mainstream media outlets showed up at a T.R.A.F.F.I.C. conference (including the the Associated Press and the big New York newspapers). They were joined in the halls at the Hyatt by many new big league investors who learned what all of the buzz has been about and they liked what they heard. I'll write all about this pivotal industry event in our upcoming July Cover Story. For now, my wife and I are staying over in New York for a couple of days to recoup from the

T.R.A.F.F.I.C. co-founders Rick Schwartz (left)
and Howard Neu make closing comments at the
New York conference Thursday night (June 21)

long string of 18-hour workdays that go hand in hand with conference coverage. Thank God for adrenaline (and the Metropolitan Museum of Art where we spent today unwinding)!
Posted June 22, 2007
For the first time ever $10 million worth of domains was sold in a one-day live auction today at the T.R.A.F.F.I.C. New York conference in front of a packed ballroom at the Grand Hyatt Hotel in Manhattan. I just ducked out of the ongoing auction to pass the news along to you. CreditCheck.com and FreeCreditCheck.com were sold as a pair for $3 million and Seniors.com went for $1.8 million in the event conducted by Moniker.com. When Cardiology.com sold for $550,000 the $10 million barrier was broken. You can see a scene from this historic event in the photo below.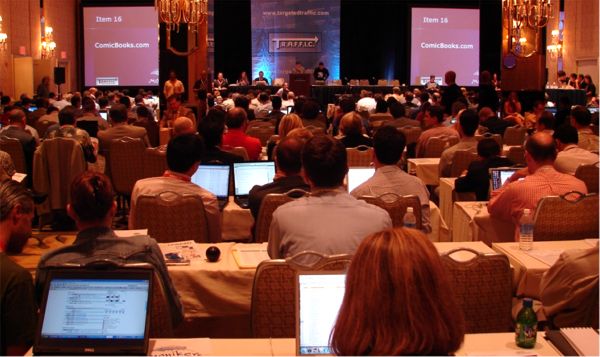 Scene from T.R.A.F.F.I.C. New York/Moniker.com live auction today (June 21)
There are thousands of additional names in a silent auction that will continue to run after the T.R.A.F.F.I.C. conference ends tonight, so no telling how high the final tally will go. We will of course have a complete wrap up of the conference for you when it is published as our July Cover Story (due July 1).
Posted June 21, 2007
Domain companies are putting out tons of press releases this week in conjunction with the T.R.A.F.F.I.C. conference in New York. Most are annoucing new partnerships or products. In one of the biggest deals, LeaseThis.com announced an agreement with NameMedia that will allow them to offer all of NameMedia's more than 700,000 domain names for lease (with an option to buy). NameMedia also extended the reach of its Domain Listing Service yesterday with the announcement of a deal with registrar Melbourne IT.
Posted June 21, 2007
Tucows Inc. unveiled a Premium Domains aftermarket service Tuesday, saying this is the first such offering at the wholesale level. By partnering with Fabulous.com's Domain Distribution Network and NameMedia's Afternic Domain Listing Service (DLS) and including

selections from Tucows own portfolio, Tucows now offers over 600,000 premium domains for sale through its network of over 7,000 service providers worldwide. Tucows President and CEO Elliot Noss said, "The domain name market is about to undergo its greatest change since Tucows entered as the first true wholesaler in 1999. By redefining the domain search process to include names from the aftermarket, it makes it possible for people to find

that perfect domain name." The Tucows press release added, "Premium names are not a new idea. They have been bought and sold for the last decade. However, what has been missing until now was a simple way to connect buyers with sellers in a seamless exchange that manages the transaction in real time. Tucows has changed the market by facilitating near-instant transfers via its wholesale network. This is the start of a new era for the domain name market.

Adam Eisner, Tucows Product Manager for Domains said "The real beauty of our Premium Domains service is that it gives our network of service providers a way to sell a large range of high-quality domains to their customers nearly instantly, as if they were new registrations."

Peter Lamson, senior vice president and general manager of NameMedia's domain name marketplace, said "As the world leader in secondary market domain names sales, NameMedia looks forward to providing Tucows customers with an unmatched breadth of domain quality and choice. Afternic DLS members will also benefit as we continue to expand the distribution channels for our Domain Listing Service, giving domain sellers an easy choice for where to list their names to get the best exposure to potential buyers."

Dan Warner, Chief Strategy Officer of Fabulous.com, said "We're very excited to be working with Tucows. Their extensive network of resellers provides domain owners access to an untapped market of people who traditionally didn't have the capability to buy many domains which had been off the market." Warner will be detailing his company's Domain Distribution Network this afternoon at the T.R.A.F.F.I.C. Conference in New York.
Posted June 20, 2007

NameMedia VP Peter Lamson

Dan Warner, Fabulous.com
As the SedoPro Partner Forum closed this morning at the Mohonk Resort in New Paltz, New York, Sedo announced they have purchased GreatDomains.com from Verisign for an undisclosed sum. Sedo plans to use the site to spotlight high value domains for sale from their aftermarket inventory.
Posted June 19, 2007
I am spending this week in New York covering the SedoPro Partner Forum at the Mohonk Mountain Resort in New Paltz, NY and the T.R.A.F.F.I.C. conference in Manhattan. There is little downtime during these important events so I may not be able to make Lowdown posts every day this week, though I will try to do so. I will be putting together complete wrap ups on both of these meetings for you. T.R.A.F.F.I.C. New York will be our July Cover Story planned for publication July 1 and the article about Sedo's conference will also be featured on our home page, with publication due at approximately the same time.
Posted June 18, 2007