Right after the auction, the annual T.R.A.F.F.I.C. Awards dinner capped a very rewarding week in Brooklyn. Awards were handed out in seven categories with winners chosen by their peers in email balloting conducted among more than 2,000 voters. The most coveted personal award -
Domainer of the Year - went to Rick Latona, a man who has clearly been running at full throttle over the past year. Among other things, Latona rolled out a domain development service at AEIOU.com and entered the live domain auction business with an impressive debut event at T.R.A.F.F.I.C. New York that yielded $700,000 in sales. He was already successful with businesses like DigiPawn.com and Offshoring.com but with his new ventures he demonstrated over the past 12 months that he is going to be a force to be reckoned with in any category he decides to enter. Latona also writes a popular blog at RickLatona.com.
In another category, three new members were voted into T.R.A.F.F.I.C.'s Domain Hall of Fame; Yun Ye, Scott Day and Dr. Chris Hartnett. They join Frank Schilling, Sahar Sarid, Rick Schwartz and Ron Jackson who received the award over the past two years.
Awards also went to the individuals and companies listed in the five categories below: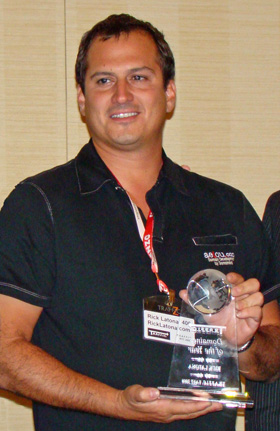 Rick Latona
Domainer of the Year Award Winner
We will have photos and more details on all of the award winners in our comprehensive conference review article that will be published late next week. We will also have photos and details on all of the show seminars. So much ground is covered in those we can't do them justice in the daily Lowdown posts we file during conference week but they will get the attention they deserve in our definitive show review. Incidentally, one other piece of news was released during the Awards Dinner - Skenzo.com will become the lead sponsor for the T.R.A.F.F.I.C. conference in 2009 when shows will be held in Silicon Valley and New York City.
A storm rolled into New York while the dinner was underway but attendees were able to stay high, dry and happy at Parked.com's after show party that was held in an adjacent ballroom at the Marriott.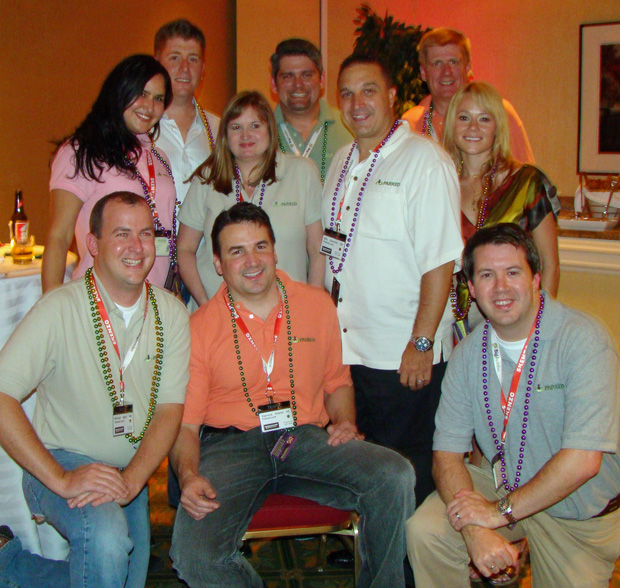 The Parked.com team, led by CEO Sig Solares (seated in the center of the front row) just
before they welcomed show goers to their T.R.A.F.F.I.C. after show party last night in New York.
Some small groups braved the weather and went out on the town for a few hours before heading back to the Marriott to close out the night at the Parked.com party. Thought Convergence execs Ammar Kubba and Jay Westerdal hosted a group at Peter Luger's famous Brooklyn steak house.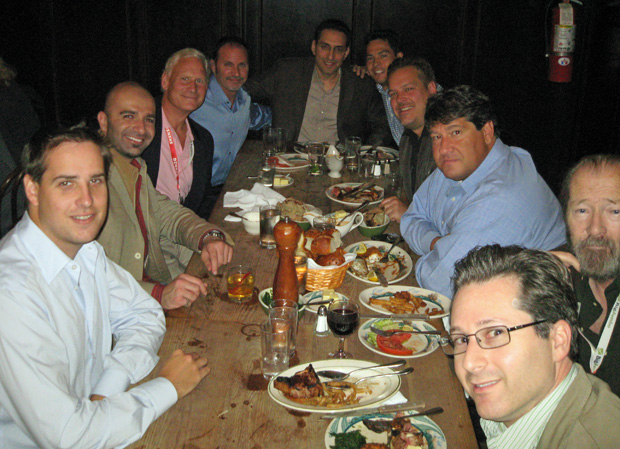 With 11 guys at Peter Luger's steak house last night in Brooklyn, domainers had enough men on hand to field their own football team. Starting at the front left and going clockwise around the table are Jay Westerdal, Ammar Kubba, Rob Grant, Michael Berkens (who also celebrated his 50th birthday last night), Nat Cohen, Tim Chen, Mike Ambrose, Roland Chemtob, Roy Flanders and Adam Dicker (Ron Jackson completed the line up and was behind the camera where he belonged).
T.R.A.F.F.I.C. provided a farewell breakfast this morning and there was also a meeting of the show's board of advisers where conference co-founders Rick Schwartz and Howard Neu announced their plans for 2009 when they will host two shows. They also reminded everyone that the first T.R.A.F.F.I.C. show outside the U.S., T.R.A.F.F.I.C. Down Under, will be presented on Australia's Gold Coast less than two months from now, running November 18-20. We intend to be there to cover it for you.
The first show in 2009 will be in California's Silicon Valley April 27-30 at the Santa Clara Marriott (which hosted a T.R.A.F.F.I.C conference in January 2006). The second one will be back at the Brooklyn Bridge Marriott in New York October 20-23, 2009. Looking further ahead, they also plan to make a return trip to Disney World in Orlando in January 2010. A conference they staged there last May had lighter attendance than usual, but those who made the trip thought it was one of the best shows in the series that began in 2004.

Diana and I are staying in New York an extra day and will join Howard Neu, his

T.R.A.F.F.I.C. Co-Founders Rick Schwartz and Howard Neu thank attendees for coming in closing comments last night (Sept. 25)

wife Barbara and son Ray to see Mary Poppins on Broadway tonight. Barbara, Ray and Alina Schwartz again played key roles in helping Howard and Rick stage another outstanding conference. We've just scratched the surface of what went on in our daily posts from the show but you will get the full story a few days after we get back to Florida and finish sifting through dozens of pages of notes and more than 1,000 photos we snapped during show week.
(Posted Sept. 26, 2008) To refer others to the post above only you can use this URL:
http://www.dnjournal.com/archive/lowdown/2008/dailyposts/09-26-08.htm