The DOMAINFest Global conference gets underway today at the Fairmont Miramar Hotel in Santa Monica, California. I'm on site to cover the event and there is a busy day ahead starting with the first of two Pitchfest sessions this morning (a second one on Thursday replaces a previously announced Launchfest contest that was dropped to make room for an overflow crowd of Pitchfest applicants).
This afternoon we will hear opening remarks from Oversee.net CEO Jeff Kupietzky who will also comment on the current state of the industry (some of Jeff's thoughts on that were also included in our current January Cover Story). Today's agenda also includes a panel discussion on new gTLDs and Moniker's No and Low Reserve Live Auction (scheduled to get underway at 5pm local time (8pm U.S. Eastern time). By the way, 50% of the sale proceeds from a special 51-name package will go to PAZAPA (http://www.siloe.org/), a nonprofit organization that provides care, treatment, and education for handicapped children in Haiti.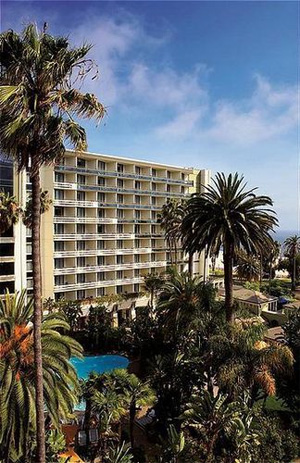 The oceanfront Fairmont Miramar Hotel
in Santa Monica, CA where the DOMAINfest
Global 2010 conference gets underway today.
Tonight there will be a welcome reception and dinner to close out the opening day. I will be on the go for the next 16 hours gathering photos and highlights from the first day events that will be published in this colum tomorrow. I may have to do some of that running between raindrops. A 90% chance of rain is forecast for this afternoon and some of the events will be held in a massive outdoor tent. It will take more than rain to dampen the enthusiasm of the big crowd expected for the conference though. Now, it's time to get this show on the road!