The Lowdown
Sept. 2012 Archive
Subscribe to our RSS Feed

Here's the The Lowdown from DN Journal,
updated daily to fill you in on the latest buzz going around the domain name industry.

The Lowdown is compiled by DN Journal Editor & Publisher Ron Jackson.
Afternic Website to Get Major Makeover Next Week + Domain Industry Women Take Center Stage

Expect to see a much different website if you log in at Afternic.com around this time next week. The popular aftermarket domain sales venue sent a letter to its members today, giving them a heads up on the impending makeover.

The letter said, "Next week we will be launching the newly

redesigned Afternic.com, saturated with novel features and upgrades to make selling your domains even easier than before. The new Afternic is a clean, simplified, improved user experience for both buyers and sellers."

The letter went on to provided some specifics, noting "The Member Center has been upgraded to include personalized Member Portfolio Pages to feature domains from your portfolio, Domain Profile Pages for all active domains, Parking Management allowing editing and viewing of all parking data, and a centralized Offer Area to allow easy management of offers and price requests. In addition to these upgrades, the new Afternic features a simplified escrow process, and an improved shopping cart experience with tiered service pricing."

If you are an Afternic member, you won't have to do anything to take advantage of the new features. The letter said, "All your information and domains will be transferred seamlessly to the new Afternic, with nothing required of you. Next week we will be sending out another email with specific information on what to expect when you log on to the new site, and more detail on the new site features."

Image from Bigstock

One other note today - that being kudos to Raymond Hackney for profiling nearly two dozen domain industry women in a five-part series that concluded today at Ray's HybridDomainer.com blog. Back in 2005 we wrote a Cover Story about the need for more women in a business that had everything going for it except diversity. We were able to feature three great trail blazing ladies in Donny Mahony, Marcia Lynn Walker and Michele Miller, but few others were in the domain game then. Thankfully, as Ray's series clearly illustrates, things have changed for the better with dozens of smart, exceptionally talented women occupying key positions throughout the industry. Our field is much stronger and more professional as a result.

If you missed Ray's series here are the links to HybridDomainer.com that will take you to each installment:

(Posted Sept. 28, 2012) To refer others to the post above only you can use this URL:
http://www.dnjournal.com/archive/lowdown/2012/dailyposts/20120928.htm
Companies in the News: Yahoo, Media.net, Sedo, Go Daddy, NameMedia, Team Internet and Oversee.net

If company activity in the domain industry over the past 24 hours is any indication, the final quarter of this year (that gets underway Monday) is shaping up to be a busy one. I don't recall the last time I've seen so many notable announcements packed into such a short period of time.

Let's start with Yahoo's decision to make another run at Google's powerful AdSense platform by joining forces with Directi's Media.net division to serve ads for third party sites from across the Yahoo Bing Network. The move comes two years after Yahoo threw in the towel on their previous Adsense competitor - the Yahoo Publisher Network.

Website owners will undoubtedly welcome the new option for earning advertising revenue by using the Media.net platform to create and place relevant pay per click ads monetized through the Yahoo Bing Network.

Media.net founder and CEO Divyank Turakhia said Media.net has contextually optimized over $200 million worth of Internet traffic and is expanding rapidly, with plans to reach 500 employees by the end of this year. Yahoo's Vice President for Business Development, Al Echamendi, said, "Since its inception, Media.net has invested tremendous resources – people, capital and time – to build what Yahoo identifies to be a terrific monetization solution for web publishers. During our evaluation process, we recognized Media.net as a technology and innovation leader, with a strong management team that has a significant business track record and industry experience."

Elsewhere, Sedo announced two significant initiatives, including a new auction offering for its SedoPro clients called Last Chance Auctions (LCA) that gives domain owners an outlet for domain names that might otherwise languish in their portfolios. LCA domain auctions will start under $99, and all names have low reserve prices.

Sedo's Chief Sales Officer, Liesbeth Mack-de Boer, said "Sedo is always exploring new ways to help domain name owners maximize the potential of their portfolios. Our Last Chance Auctions provide valuable Sedo customers with the means to auction domains to our user base of over 1 million members around the world. With our international reach and industry reputation, we hope to help our clients find the best prices for any domains they are ready to sell."

Currently, listing domains in Sedo's Last Chance Auctions is available exclusively to SedoPro customers. Every auction runs for seven days, and sellers have the ability to choose when an auction starts. To view names that are currently in Last Chance Auctions and Sedo's Marketplace Auctions, you can use this link.

Sedo also announced an expansion of their existing partnership with Go Daddy that adds SedoMLS Make Offer domain listings to the Buy Now offerings that Go Daddy customers have seen since January 2012 when the giant registrar teamed up with Sedo. End users worldwide can now place bids on premium domains listed at Sedo and negotiate a purchase price without leaving their Daddy account.

NameMedia had some big news of their own - unveiling a new service called NameFind that they described as "the first collaborative, one-stop business name generator platform." The NameFind site allows new business owners

to generate ideas for naming their new business by checking for available domain names, determining name availability on social media sites and receiving feedback on their name choices from their network of friends and colleagues.

The NameFind platform anticipates both legal and marketing considerations, showing a matrix of

NameMedia CEO Kelly Conlin

options: domain names (including unregistered, aftermarket and premium variations), available social media handles on Facebook, Twitter and other social networks, and U.S. trademark registrations. Users can then review the price of each domain and share their top name choices with their communities and networks to receive feedback, comments and ratings.

NameMedia CEO Kelly Conlin said, "Bringing together all these services in one platform makes naming a new business easier than ever. While there is a common perception that 'all the good names are taken' this tool makes it clear that there are literally millions of compelling domains and social media handles that are still available to register or to buy on the secondary market."

Team Internet AG also had a new service offering to announce - the Direct Navigation Traffic eXchange at DNTX.com. Team Internet is widely known for their ParkingCrew.com platform that monetizes top tier traffic, however they also have rapidly growing traffic that can't be monetized

through their tier 1 upstream provider. Feeling that second tier traffic still had considerable value that was not being recognized, the company created DNTX to unlock that revenue.

Team Internet CEO Nico Zeifang said "We feel that what traditional 2nd tier feeds pay for this traffic inventory does not reflect its true value and decided to tackle the issue from a new angle. We believe the traffic was never priced right as a lot of targeting options were missing at traditional tier 2 feeds. The more granular we allow our advertisers to target the traffic inventory they want to buy, the more they can pay for the respective subset of traffic. Our advertisers can therefore choose from a variety of settings:

1) Traffic Category: A filter that let's the advertiser chose between Non-Adult (brandsafe) and Adult traffic

2) Campaign Type: Run of Network (all traffic from a certain country) or Keyword Campaigns

3) Ad Type: Pay Per Redirect or Pay Per Click

4) Device Targeting: Desktop, Mobile or Tablet

Zeifang added, "We soft-launched DNTX during Affiliate Summit East 2012 and advertiser feedback has been great so far. As more and more advertisers discover our product, we can already see RPMs rise on our tier-2 traffic. We believe that DNTX.com should be an open product and will give other publishers access to our advertiser inventory in the fourth quarter of 2012.

Also crossing our desk was news of a new executive appointment at Oversee.net. The company hired Min L. Chan as General Manager, Mobile Solutions. Chan will be responsible for the

development of mobile apps for Oversee's consumer-oriented websites in the travel, retail and consumer finance verticals. He will also bring his expertise to initiatives designed to enhance the monetization of mobile users on Oversee's DomainSponsor direct navigation traffic network.

Chan is an experienced technology executive with a long track record of developing and delivering successful mobile strategies. In his most recent position as Executive Director, Mobile Consumer Products for YP Holdings LLC (formerly AT&T Interactive), he led product and distribution efforts for the YP mobile app. Prior to that, Chan was Director, Mobile Search, Ads, and Digital Media Service for Helio LLC.

(Posted Sept. 27, 2012) To refer others to the post above only you can use this URL:
http://www.dnjournal.com/archive/lowdown/2012/dailyposts/20120927.htm
T.R.A.F.F.I.C. Releases List of Over 300 Domains to Be Auctioned Off at the 2012 Show October 8th

With the 2012 T.R.A.F.F.I.C. conference less than two weeks away final show details continue to be announced. Today the list of domains that will be sold in the T.R.A.F.F.I.C. live auction on Monday, October 8th was released with more than 300 names on the roster including category defining domains FanClub.com, AmusementPark.com and Saws.com.

The auction is scheduled to run from 3:00-5:00pm (U.S. Eastern time) on the second day of a four-day meeting that will run October 7-10 at the Ritz Carlton Hotel on Florida's Fort Lauderdale Beach. There will also two pre-show cabana networking days on Friday and Saturday, October 5th and 6th.

Rick Schwartz
T.R.A.F.F.I.C. Co-Founder

T.R.A.F.F.I.C. Co-Founder Rick Schwartz, who personally selected the names that will be offered, said, "With the way the 2012 auction is designed, more domains will be sold, percentage-wise, than any other live domain auction. Over 60% of entries will be at 'No Reserve', including Tumors.com, GamingApps.com and LastLaughs.com.

Bidding in the 2012 T.R.A.F.F.I.C. Domain Auction is reserved for those attending the show or qualified telephone bidders. To request telephone bidding access, bidders must complete a request form that can be found here. The current auction list may be viewed here. Though the auction submission period has closed, Schwartz said a few more select domains may be added to the current list.

More details, including some interesting T.R.A.F.F.I.C. auction history, was included in a press release the show sent out today.

(Posted Sept. 25, 2012) To refer others to the post above only you can use this URL:
http://www.dnjournal.com/archive/lowdown/2012/dailyposts/20120925.htm
Above.com Integrates Domain Monetization, Registration & Sales in a New Domain Investor Platform

Above.com has undergone a major makeover. The well-known domain services company based in Australia launched a new Domain Investor Platform today that combines a new Domain Name Marketplace, Domain Registrar and Escrow service with their

existing Domain Parking Manager service.

With those changes Above.com customers can now manage and register domain names and buy or sell domains through a single interface with access to a much higher level of detail

Ren Warmuz
Above.com Founder and CEO

(independent, third-party traffic and revenue statistics with demographics and a daily breakdown covering up to six months) to base buying decisions on.

The new domain market place allows instant domain transfers to buyers and features integrated domain escrow service for all sale transactions, while the new registrar interface was designed specifically with domainers in mind.

Above.com Founder and CEO Ren Warmuz said, "For the first time, domain investors can make purchase decisions based on verified, historically accurate domain statistics independent of the monetization service used. 18 months in the making, our new platform simplifies 'everything' with an integrated registrar, domain parking manager, escrow and aftermarket." Warmuz said a key feature of the new sales platform ensures that all revenue and traffic statistics are imported directly from third-party monetization services assuring buyers that all reported statistics are factual.

Above.com Director of Domain Services Victor Pitts added, ""Our goal is to provide domain investors with cutting edge technology and a better choice. Domain investment becomes smarter and easier with the new Above.com platform." Pitts noted that the company's system makes it easy to test and compare traffic and revenue from different domain parking services on a single dashboard so the investor can see the total revenue that domain or portfolio earns. "This is especially helpful when deciding which domains to keep, delete, develop, or sell as domains are expiring," Pitts said.

Regarding the new auction marketplace, Pitts said, "It is designed to make domain submission to auctions easy, while still giving the domain investor full control over the particulars of the auction. Investors can even opt to disclose the full monetization history of any domain submitted to the marketplace making traffic, earnings, and geographic distribution of traffic immediately available to the buyer."

Victor Pitts
Above.com Director of Domain Services

Pitts said the Above.com team will be next month's T.R.A.F.F.I.C. Conference on Florida's Fort Lauderdale Beach to personally demonstrate the system's features and answer any questions domain investors attending might have.

(Posted Sept. 20, 2012) To refer others to the post above only you can use this URL:
http://www.dnjournal.com/archive/lowdown/2012/dailyposts/20120920-2.htm
DOMAINfest Global Gearing Up For Return Engagement in Santa Monica, California February 5-8, 2013

The DOMAINfest Global conference will be returning to the oceanfront Fairmont Miramar Hotel in Santa Monica, California for the 2013 show that will run Tuesday, February 5th through Friday, February 8th, 2013. This will be the 7th annual DOMAINfest Global event staged by Oversee.net and the fourth in a row to be held at the Fairmont in Santa Monica. Your can see our complete reviews of the previous conferences there at these links: 2010, 2011 and 2012.

While Oversee announced the dates for the 2013 event they said it will be a couple of more weeks before specifics on the conference agenda, online registration and discounted hotel room rates are released. Look for that information to be posted in early October on the show's official website.

(Posted Sept. 20, 2012) To refer others to the post above only you can use this URL:
http://www.dnjournal.com/archive/lowdown/2012/dailyposts/20120920.htm
Back to the Future - Two Geodomain Veterans Return to the Spotlight With Plans for a New gTLD Conference

First of all let me apologize for the "typo" in the headline. It probably should have said Back to the Futr - as in GEO.FUTR LLC, the name of a new St. Louis, Missouri based company that plans to develop media products and services for the Geodomain and GeoTLD industry (GeoTLDs being proposed new gTLDs representing geographic location, such as .paris, .london and .boston).

The new firm was co-founded by two veterans from the geodomain space, Former Associated Cities Executive Director Patrick Carleton and Chicago.com Chairman Josh Metnick. The first big project the duo has on the board is the first annual GEO.FUTR Geodomain & GeoTLD Investors and Operators Conference, an event to be staged in the fall of 2013 at a location that has yet to be announced.

Carleton and Metnick both have extensive experience in the geodomain conference arena. During Carelton's tenure at Associated Cities the organization staged several Geodomain Expos, the last being held in New Orleans in April 2010. Metnick has also been involved in show planning and had an especially high profile at the July 2008 Geodomain Expo held in his hometown of Chicago.

The new GEO.FUTR conference they have planned will cover both traditional geodomains with locations to the left of the .dot (like Chicago.com and Denver.com) and proposed new gTLDs with the locale to the right of the dot like .nyc and .miami. They said "attendees will learn strategies, techniques and best practices for maximizing the value of GeoTLDs and Geographic domain names. Conference participants will benefit from the select networking opportunities made available only to conference participants."

The announcement of their conference plans comes on the heels of two .NXT new gTLD conferences that were cancelled at the last minute this year due to lack of support. Much of

Patrick Carleton
GEO.FUTR LLC Co-Founder & President

Josh Metnick
GEO.FUTR LLC Co-Founder

that could be attributed to delays in the launch of ICANN's controversial new gTLD program. Carleton and Metnick believe the timing will be far better a year from now when they plan to run. They said the conference will cater to registries, Geodomain and GeoTLD operators and investors, hotel, travel and tourism entities, municipalities and governments, brands and advertisers with local reach as well as digital professionals and service providers.

Image from Bigstock

Carleton said, "With the internet addressing space expanding into thousands of top level domains, a new world of possibilities has opened for Geodomain owners. Finding and evaluating the paths that lead to value creation will be a major challenge for both established and new Geodomain entities. The conference agenda will be tailored to the specific issues and needs facing GeoTLD and Geographic domain name registries, owners, developers and partners."

Metnick added, "

The complexity of operating a sustainable Geodomain-based business is

increasing significantly, and making personal connections in this evolving world will be critical to being successful in the new, multidimensional Geodomain landscape."

The GEO.FUTR conference team has issued a call for proposals for presentations. To submit a topic for presentation or speaker proposal, visit http://geofutr.com/speakers to complete their form. The submission deadline is October 1st, 2012. For sponsorship opportunities, contact Alexis Evelyn, VP of Business Development at [email protected] or Patrick Carleton, President, at [email protected].

(Posted Sept. 18, 2012) To refer others to the post above only you can use this URL:
http://www.dnjournal.com/archive/lowdown/2012/dailyposts/20120918.htm
Google's View of My Hometown - What Are All of These Strange Domains Doing In My Search Results?
A couple of time each year I go back to the small Midwestern town where I grew up, Delaware, Ohio, to see my mother who still lives in my childhood home. I'll be going up again next weekend and in the course of deciding what Diana and I might want to do on this trip, I did a casual search on Google for "Delaware, Ohio" to see what might be going on while we were in the area (Delaware is 25 miles north of the state capital - Columbus (home of the Ohio State Buckeyes). A little known fact is that in 1812 the state capital was relocated with Columbus and Delaware competing for the honor. Columbus wound up winning by one vote). In addition to finding some

Downtown Delaware, Ohio

entertainment ideas (the County Fair, which I haven't been to in decades, will be going on so there is one nostalgic option) I also found a domain story.
From a domain nut/internet entrepreneur's perspective, what I found interesting was which ten websites Google put on page 1 (out of more than 1.5 million pages for the term "Delaware, Ohio" in quotes) in a search request for this particular geographic location. To get relevant results you have to include both the city and state name - if you enter "Delaware" alone most of the results will be about the State of Delaware rather than the Ohio town that is predominantly known for three things - the Little Brown Jug (part of harness racing's Triple Crown - this year's race will be held the day before we get to town), Ohio Wesleyan University and Rutherford B. Hayes, the 19th President of the U.S. who was born in Delaware (and for whom my high school was named).
The top result on page 1 of Google is DelawareOhio.net - the city's official website. After a Wikipedia entry about the town, The 3rd entry is Delaware.org (DelawareOhio.org also redirects to this site, an independent city guide that has been online since 1995). With the .net and the .org versions of DelawareOhio leading the results,

I of course wondered what was going on with DelawareOhio.com and why it was nowhere to be found? It turns out that domain, the one you would generally expect to be dominant, remains undeveloped, even though it was registered back in 1997. It was also interesting to see that the domain is owned by a small business in a similarly sized Ohio town, Marion, that is 20 miles north of Delaware (Marion is also the birthplace of a U.S. President, Warren G. Harding). The same company owns MarionOhio.com, registered the same year, so they likely had an idea to corner some Central Ohio community domain names for future use - too bad the future still has not arrived for those names.
By now, I was finding this little exercise to be more and more interesting. Studying page 1 of Google results for a term that interests you is a good way to while away a rainy day and at the same time learn a good bit about about how certain domains are used (or not used) and the value Google places on the ones that have been developed.

One thing that stands out is how many different extensions show up in a world that is dominated by .com. The #4 result was a .US domain (America's country code) - the official Delaware County website at http://www.co.delaware.oh.us/. That kind of convoluted addressing is common with governmental sites (prior to 2002 .US was reserved for government use but since then it has been open to all U.S. citizens). DelawareCounty.us (which I happen to own) would have been a more elegant and memorable solution, as would DelawareOhio.us, however the latter domain redirects to a page about the city's best-known cemetery (presumably aimed at someone other than the current occupants)!

Image from Bigstock
I didn't find any other developed websites for the term DelawareOhio (one of the undeveloped ones, DelawareOhio.info, is another of mine). The balance of Google's 1st page included the local Convention and Visitors Bureau site - VisitDelOhio.com at #5 (they do not appear to own the unabbreviated VisitDelawareOhio.com and it is not developed), a page about Delaware from the ubiquitous City-Data.com at #6 and the Delaware County Fair's website at #7 (located at DelawareCountyFair.com).
Rounding out the 10 entries on page 1 were the Ohio Wesleyan website at OWU.edu, the local newspaper's website - DelGazette.com (the Delaware Gazette has been published continually since it was founded in 1818 and is still in busines despite challenges on ever side from the Internet. They also own the unabbreviated domain, DelawareGazette.com, but choose to forward it to the shorter version) and DelawareOhioRealEstate.com, a blog operated by a local real estate agent (that high ranking will be appreciated by Rob Grant who owns the world's biggest portfolio of .com city-realestate domains).
The late, great Eckel's Lake in Delaware, Ohio
billed itself as "The World's Unique Water Gym"

While I felt like I knew a lot about my hometown, I left a long time ago so that quick search on Google gave me a lot of insight into how the world sees the city through search engine results today. It also reminded me how much things have changed. If Google had existed when I lived there (Yes kids, there really was a time when there was no Google!) the top results might have included Sharon Phillian, a Delaware native from my era who competed in the Miss America contest, Eckel's Lake and the A&W root beer stand

where everyone liked to cruise on Saturday nights. Sharon is still with us but Eckel's Lake and the A&W no longer exist.
Though Google generates mixed feelings in the domain world (due to their dominance of pay per click advertising and a widespread suspicion that they do not share revenues equitably with their domain partners) you have to give them props for serving up a wealth of information on any topic you can think of and (whether you feel the criteria they use to rank sites is fair or not) the price is certainly right (and if you still don't like them, there is always Bing).
(Posted Sept. 17, 2012) To refer others to the post above only you can use this URL:
http://www.dnjournal.com/archive/lowdown/2012/dailyposts/20120917.htm
Team Internet CEO Jumping with Joy After Landing Axel Kaltz for Key Role at ParkingCrew.com

Nico Zeifang, the CEO at Munich, Germany based Team Internet AG is always upbeat, but he was more excited than usual when he contacted me today to rave about a new addition to the team at ParkingCrew.com (Team Internet's domain monetization unit).

Zeifang wanted to let me know that Axel Kaltz, an industry veteran with more than eight years in the domain space (including various positions at Sedo including Director of Sales Operations - Europe/Asia-Pacific) had come on board as Managing Director of ParkingCrew. Axel will be responsible for driving and maximizing revenue for ParkingCrew publishers.

Kaltz, was keyed up over his new assignment too. He said, "Having been involved mainly on the sales side of the business in the past years, I am very excited to join the young and refreshing team at ParkingCrew and be a part of their vision of being the most innovative domain monetization platform out there."

Axel Kaltz - Team Internet
Managing Director of ParkingCrew

Zeifang added, "We have exciting plans for ParkingCrew that will be rolled out over the coming months and Axel will be instrumental in making them happen. We are really excited to have him with us." Is it just me, or are you getting the impression that Nico is excited too? :-)

I can say that I have been hearing a lot of positive things about the company over the past year and had a chance to be around several of the ParkingCrew team leaders at the Domaining Europe conference in Valencia, Spain last April. As Axel noted, they are a young, high energy crew that you can't help being impressed with. It will be worth watching them over the next few months to see what they have up their sleeves.

(Posted Sept. 13, 2012) To refer others to the post above only you can use this URL:
http://www.dnjournal.com/archive/lowdown/2012/dailyposts/20120913.htm
Gregg McNair Expands Into the Domain Registration Business Taking Equity Position and Chairmanship at Internet.bs
PPX International Group Chairman Gregg McNair (who was profiled in our October 2009 Cover Story) spends most of his time crisscrossing the globe overseeing his far flung business interests, both inside the domain industry and out. McNair has just added yet another iron to the fire, expanding his domain interests (which already include DomainAdvisors.com and DomainManager.com) into the domain registration business.

McNair has acquired a substantial equity position in Internet.bs Corp. (IBS) and has also been appointed Chairman of the fast growing Bahamas based registrar that was founded in 2004 (.bs is the country code for the Bahamas. IBS owns both Internet.bs and, for global purposes, Internetbs.net).

Internet.bs Founder and CEO Marco Rinaudo was delighted to have McNair come onboard, saying "For some time we have been looking to broaden our horizons and we believe the combination with Gregg will provide market confidence and opportunities which would have taken much longer to realize without his resources and support. Gregg and the quality teams he has built are renowned for their success throughout the wider domain industry and we are genuinely excited at the move."

In conjunction with McNair's appointment, IBS has aggressive growth plans going forward. Rinaudo noted "With around 700,000 domains already under management and leading edge technologies, IBS is already among the fastest growing registrars in the world and we are poised to become the industry's preferred International registrar with an emphasis on security and privacy. The range of registrar services will also expand"

McNair added, "In these times where any domain name is vulnerable to hackers, courts or even Governors, it's difficult to find an International Registrar you can really trust and depend upon as custodian of valuable assets. I have observed and dealt with Marco and his excellent team for many years and I am obviously impressed and welcome the opportunity to help build and shape the future of IBS. Marco runs a great business fully committed to excellence, innovation and to making a difference in our world."

Gregg McNair
New Internet.bs Chairman

Marco Rinaudo
Internet.bs Founder and CEO
(Posted Sept. 12, 2012) To refer others to the post above only you can use this URL:
http://www.dnjournal.com/archive/lowdown/2012/dailyposts/20120912.htm
DomainSherpa's Michael Cyger Launching Twitter Based Venture Supported by 275,000 Followers

Most of you are familiar with Michael Cyger's DomainSherpa.com website, one of the web's best domain information resources thanks to a rich library of in depth video interviews that Michael has conducted with dozens of industry leaders in recent years. Michael was a successful entrepreneur before he entered the domain space and I didn't have to spend much time around him to figure out that he is one of the brightest people in our business. So, it came as no surprise to me to learn today that he is launching a new venture that is already off to a flying start.

Cyger's latest enterprise, developed with co-founder John Sortino, revolves around Hashtags.org, a developed website with 100,000 monthly visitors that he acquired in January 2011. Hashtags.org, originally launched back in 2007, was the first service to provide hashtag tracking on Twitter. While Hashtags.org was already a going concern (it now has 275,000 followers on Twitter) Cyger has been working on a complete makeover

Michael Cyger, Hashtags.org
and DomainSherpa.com

ever since he acquired the site over a year and a half ago. The new site, which Cyger says is like Google Analytics, but for Twitter hashtags, launches tomorrow (Wednesday, Sept. 12, 2012).

Cyger said, "We have re-engineered our service from the ground up, based on extensive customer feedback. With global, real-time hashtag data available to customers, we are positioned to better assist organizations in making the most of their social media marketing."

Hashtags.org does that by organizing the extensive data available – but not easily tracked otherwise - around the use of hashtags in various social media (with 340 million tweets per day on Twitter, you can imagine how hard it is to index, store and create analytics for the service). Cyger said this data allows businesses leaders, marketers and agencies to monitor awareness, engagement and return on their marketing investment for their brand, products and services. That analytical information can in turn be used to formulate actionable tactics.

The robust analytics available through Hashtags.org allow users to:

* Monitor discussions about their brand/company/product/service/event 24×7

* Track awareness, engagement and growth

* Discover early adopters, influencers and detractors

* Track historical analytics for past campaigns and events

* Directly tie marketing activity on Twitter to metrics of business success

In addition, the new Hashtags.org website now offers new features including hashtag definitions, a hashtag chat feature, a discussion forum, useful how-to content, an event calendar, and additional resources for effectively managing social media marketing campaigns.

One particularly cool feature on the new site is the ability to compare topics, such as:

* Technology: #iPhone vs #Android

* Television: #DWTS vs #Idol vs #Survivor

* Celebrity: #LadyGaga vs #JustinBieber

* Politics: #Obama vs #Romney

Co-Founder John Sortino noted "We continue to see enormous growth by businesses, organizations and social movements using hashtags to engage their audiences and constituencies. Political conventions in the United States, human rights issues in developing nations, geological phenomena – all are talked about in real-time by a growing audience. Factor in the need from businesses to track their competition and you have an ever increasing demand for the social media analytical information provided by Hashtags.org."

Hashtags provides four different levels of service. Some analytics are free but power users will want to go for one of the subscriptions ranging from $49 to $349 a month based on the amount of usage. Annual subscriptions are also available. Hashtags.org looks like another winner for Michael and I know I will think of him every time I see a hashtag now!

(Posted Sept. 11, 2012) To refer others to the post above only you can use this URL:
http://www.dnjournal.com/archive/lowdown/2012/dailyposts/20120911.htm
Costco Does Domains - Warehouse Club's Magazine Dispenses Advice From Go Daddy

I was leafing through the September 2012 edition of The Costco Connection - a magazine that is sent to members of America's largest warehouse club (Costco is also the 5th biggest retailer in the U.S. and the 7th biggest in the world) - when I was surprised to come across an article about domain names. Costco offers their small business members a lot of useful products and services but I didn't know domains were one of them. The article refers to Go Daddy (the world's largest registrar) as Costco's "online solutions provider."

The article offered advice

from Go Daddy on what business owner's should look for when selecting a domain name for their company. The tips included some that will be familiar to domain pros - pick a name that is memorable, one that is short and one without numbers or hyphens which often lead to typos.

One bit of advice that I haven't seen in these kinds of articles before is a recommendation that the business use the name of their city or state in their domain name to improve their search results. I've always thought geo-targeted domains were a good idea, even though we don't see a lot of them in our weekly domain sales reports. That is likely due to the market for such names being limited to a specific locale.

It was also interesting that the advice gave greater weight to using generic keywords in a domain rather than the specific name of the business (for example a business named Bobby's Motors in our city might be better off using TampaUsedCars.com - again because words that describe your product or service (as well as locale) will usually yield better results in search engines).

Other tips included avoiding trademarked names and registering alternate spellings to keep them away from competitors. Go Daddy also recommended registering the .com, .net and .org versions of your name (cynics might think that, as a registrar, it is no surprise Go Daddy would advise registering multiple

domain names for one business - but with domains being so cheap, you can't fault their advice to spend a few extra bucks to protect your brand (I have DNJournal in all three original extensions, as well as a few others).

It is always good to see columns about domains in mainstream publications like this. The general public is still woefully uninformed about domain name issues and the importance of domains to the success of their business in today's world.

(Posted Sept. 10, 2012) To refer others to the post above only you can use this URL:
http://www.dnjournal.com/archive/lowdown/2012/dailyposts/20120910.htm
Keynote Speaker Named for T.R.A.F.F.I.C. 2012 Conference Coming Up Next Month on Fort Lauderdale Beach

Declan Dunn, a man who has been referred to as the "King of Affiliate Marketing", has been chosen as the keynote speaker for the 2012 T.R.A.F.F.I.C conference coming up October 7-10 at the Ritz Carlton on Fort Lauderdale Beach. T.R.A.F.F.I.C. Co-Founder Rick Schwartz (AKA "The Domain King") made the announcement in a letter sent out to those on the T.R.A.F.F.I.C. mailing list this afternoon.

Schwartz said, "In the year 2000, four years before T.R.A.F.F.I.C. was founded, I met Declan Dunn and we became fast friends. He is a dynamo! I am so very happy to say that he will be our keynote speaker on October 8th at T.R.A.F.F.I.C."

Declan Dunn
T.R.A.F.F.I.C. 2012 Keynote Speaker

"Just listening to what Declan has to say and the way he says it is worth the price of admission. You would have to go all theway back to John Reese (the keynote speaker at T.R.A.F.F.I.C. West in Las Vegas in 2007) to have a speaker of this caliber. Declan will make you money!", Schwartz declared.

Schwartz noted, "Declan is one of the most popular marketing gurus on the Internet today. All of his affiliate programming methods have earned some degree of popularity on the Internet. He has also written several eBooks on the subject that have become Internet marketing bestsellers. Two of his most famous books are Winning the Affiliate Game and Complete

Insider's Guide to Associate and Affiliate Programs. Most Internet marketing amateurs rely on these books to become fully acquainted with the process of affiliate marketing."

"Declan Dunn is also known for many other products. He is the author of the program Net Profits: How to Win the Internet Game and The Ten Step Master Plan for Maximizing Your Profits. He writes articles on the Internet, gives consultation to budding Internet marketers, speaks at seminars and does a lot of stuff that keeps him in the reckoning,' Schwartz added.

You can see the latest update on the complete T.R.A.F.F.I.C. conference agenda here.

(Posted Sept. 6, 2012) To refer others to the post above only you can use this URL:
http://www.dnjournal.com/archive/lowdown/2012/dailyposts/20120906.htm
The Jackson Family's Weekend Wedding Had a Distinct Domain Flavor
The past few days have been a whirlwind surrounding my daughter Brittany's wedding to David McCreery at the Powel Crosley Estate in Sarasota, Florida on Saturday (Sept. 1, 2012). Things could not have gone better, for which my wife Diana and I are immensely thankful! The weather was hot but otherwise picture perfect for the outdoor ceremony (we have spen the past year praying for no rain that day and our prayers were answered). Thanks to some good friends who came from out of town for the event, the wedding had a distinct domain flavor.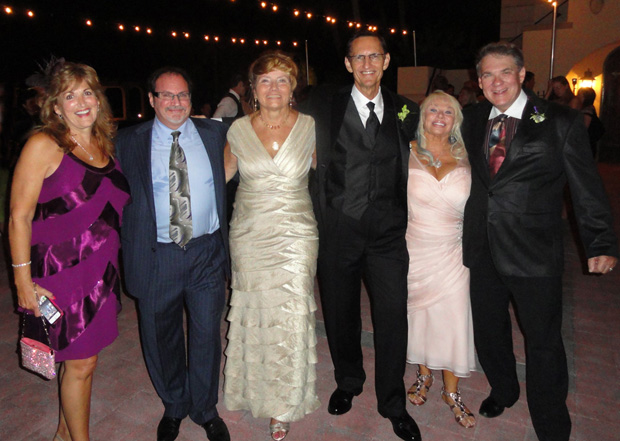 (Left to right): Domain industry friends Barbara Neu, Michael Berkens
(with Diana & Ron Jackson), Judi Berkens and Howard Neu helped make an
already special day one of the most memorable of our lives. Howard also did a
phenomenal job officiating the ceremony and Barbara took some fabulous
photos that will help us re-live these special moments for the rest of our lives.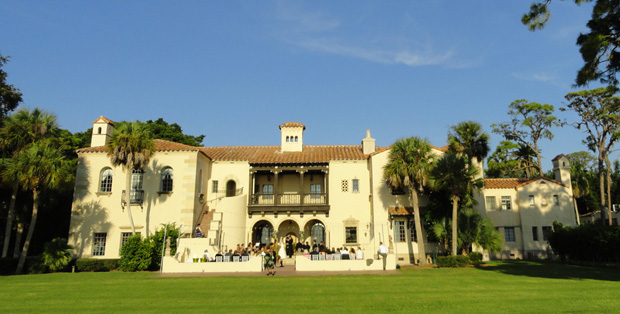 A shot of the Powel Crosley Estate with the wedding ceremony just getting underway
in the courtyard at the bottom center of this picture by Barbara Neu.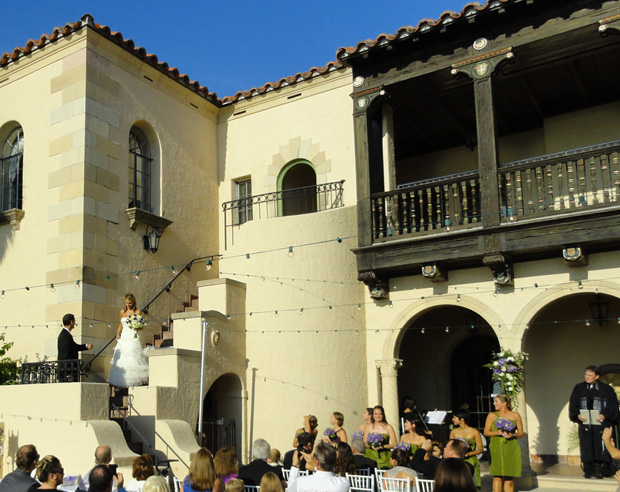 Above: Proud dad Ron Jackson waiting at the landing
to escort his daughter Brittany down the aisle.
Below: On the way to the altar.
Brittany and David chose Howard Neu as their officiant and they worked closely with Howard
to plan a unique ceremony (including Howard singing!) that everyone LOVED. We heard nothing
but effusive praise from guests about how original and moving the ceremony was.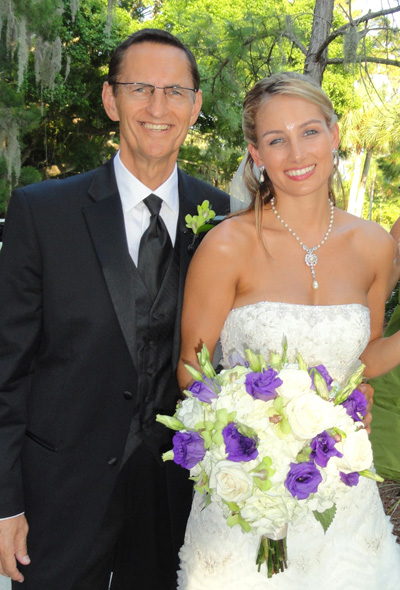 Ron Jackson and daughter Brittany Jackson McCreery
The next morning Brittany and David were on a flight to Munich, Germany to begin a two-week honeymoon in Europe. When she returns she will resume her final year of medical school while getting her new life as a wife underway. Having gained a son we have an interesting new chapter to look forward to as well. Thanks to everyone who made this such a magical day!
(Posted Sept. 3, 2012) To refer others to the post above only you can use this URL:
http://www.dnjournal.com/archive/lowdown/2012/dailyposts/20120903.htm
---
If you've been out of the loop lately, catch up in the Lowdown Archive!
---
We need your help to keep giving domainers The Lowdown, so please email

[email protected]

with any interesting information you might have. If possible, include the source of your information so we can check it out (for example a URL if you read it in a forum or on a site elsewhere).
---
Home Domain Sales YTD Sales Charts Latest News The Lowdown Articles
Legal Matters Dear Domey Letters to Editor Resources Classified Ads Archive About Us