The Lowdown
June 2014 Archive
Subscribe to our RSS Feed

Here's the The Lowdown from DN Journal,
updated daily to fill you in on the latest buzz going around the domain name industry.

The Lowdown is compiled by DN Journal Editor & Publisher Ron Jackson.
I'm Taking a Break But I Have a Good Excuse!
The DNJournal office will be closed until July 8. This will be the longest break I've taken since launching the publication over 11 years ago - but I have the best possible reason for taking that time off now. My lovely wife Diana and I are using it to celebrate our 30th wedding anniversary. I apologize for any inconvenience caused by my absence, but if you look at the photo below, I think you will understand. See you again on the 8th!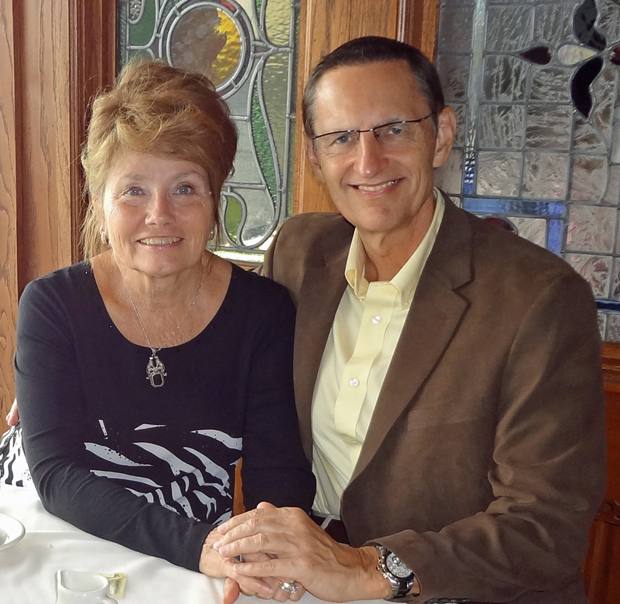 (Posted June 25, 2014) To refer others to the post above only you can use this URL: http://www.dnjournal.com/archive/lowdown/2014/dailyposts/20140625.htm
ParkingCrew Parent Team Internet Sells Majority Interest in Company to Matomy Media Group
A global digital-performance-based marketing company, Matomy Media Group, has acquired a majority ownership position in the Munich, Germany based direct navigation search company Team Internet AG, the parent company of popular domain monetization providers ParkingCrew.com. As part of the deal, Matomy will increase a 20% ownership stake it already held in Team Internet to 70%. Matomy will also integrate Team Internet products into its multi-channel suite of performance-based marketing capabilities.

Team Internet, a company that generated revenue of $23.3 million in 2013 with EBITDA of $4.16 million, also operates DNTX, a performance-oriented marketplace for direct navigation search traffic for desktop and mobile devices. Team Internet will continue to be led by its three founders, under the direction of CEO Nico Zeifang, who will work with Matomy's global management team.

Matomy CEO Ofer Druker said: "Team Internet has developed an innovative approach to incorporating performance-based marketing capabilities that are based on an optimization algorithm within the direct navigation business for both desktop and mobile devices. The company's founders – CEO Nico Zeifang, Chief Operating Officer Stefan Wiegard, and Chief Technology Officer Mario Witte, along with the entire Team Internet team – will bring s

Team Internet CEO9O Nico Zeifang

ignificant knowledge and capabilities to Matomy. This acquisition will enable us to broaden our scale and offer additional reach to our growing base of global advertising clients."

CEO Nico Zeifang said 'This is a defining move for the Team Internet business and our team. With the support of Matomy and its global reach we will continue to accelerate our growth and increase our market share through the deployment of innovative technology and capabilities."

Team Internet currently reaches more than 100 million unique users per month, and its Parking Crew service has monetized more than 23 million domains over the last four years. In addition, the company processes more than 3 billion ad placement bids per month across its DNTX platform. In November 2013, the company won the prestigious Deloitte Technology Fast 50 (Rising Stars) award for Germany.
(Posted June 24, 2014) To refer others to the post above only you can use this URL: http://www.dnjournal.com/archive/lowdown/2014/dailyposts/20140624.htm
India to Get Its First Major Domain Conference - Plans Announced for September DOMAINX Event in Hyderabad
Considering the important role that India-based domain companies and investors have played in the history of this business, it is somewhat surprising that the country has never hosted a major event centered around domain investors and developers. That is scheduled to change about 10 weeks from now with plans just announced for the inaugural DOMAINX™ event to be held in Hyderabad on Sunday, September 7, 2014 - a sponsor supported event with no registration charge.

The conference is being organized by Manmeet Pal Singh of Soofi Web Services and Anshul Goyal of Guava Softs Pvt. Ltd and Email.biz. We have written about Anshul in the past and also had the pleasure of meeting him in person when he attended and was a sponsor at the 2013 T.R.A.F.F.I.C. West conference in Las Vegas.

You will find investors and company

India keyboard image from Bigstock

representatives from India at just about every major conference you go to in the U.S. or elsewhere and companies like Directi (and their Skenzo monetization division) have long been among the most successful and high profile businesses in the domain space worldwide. So, it would seem to be high time for some of us to go to India and support them in their own backyard.

In fact, I plan to do just that as I've joined Michael Castello of CCIN.com and Michael Gilmour of ParkLogic.com in accepting invitations to speak at DOMAINX's debut event. Organizers said other confirmed speakers include Jon Yau, Deepak Daftari and Ritvik Vikas Mishra (Government/Cabinet Secretariat). Morgan Linton also plans to speak via satellite with more on site speakers to be announced in the days ahead.

Those scheduled to speak at DOMAINX include:

Michael Castello

Ron Jackson

Michael Gilmour

Deepak Daftari

The show venue in Hyderabad will be announced soon. The city itself, the fourth largest in India, is a tech hot spot that has been referred to as Cyberabad as a result. Hyderabad is also linked by a super highway to Bangalore, another southern Indian metropolis that has been referred to as "the Silicon Valley of India". Hyderabad, also known as the City of Pearls, has a rich history that can be seen in fabulous centuries old architecture and markets that share the landscape with today's gleaming office buildings in the modern international business city.

The Charminar in Hyderabad - one of the most recognized structures in India, built in 1591.

Singh said that DomainX is being designed as "the 1st dedicated domain name conference to network, bring awareness and educate people about the domain name industry in India.
At DOMAINX 2014 attendees will learn what, why and how of the domain name industry from experts who own or manage an impressive portfolio of domain names. At DOMAINX2014, strategic tie-ups with web startup community will also bring talented entrepreneurs together to showcase their products and learn from industry experts while learning on how to build a startup using an awesome domain name."

For more information about the DOMAINX™ 2014 Conference, you can visit www.dnoai.com/domainx where you can also register free of charge for the event.
(Posted June 23, 2014) To refer others to the post above only you can use this URL: http://www.dnjournal.com/archive/lowdown/2014/dailyposts/20140623.htm
.Website Debuts Next Week on a New gTLD Battlefield That is Getting Bloodier With Each Passing Day
While the vast majority of new gTLDs being released are aimed at a specific segment of the overall Internet user base (extensions like .club, .photography and .berlin for instance), a relatively small number will try to compete directly on .com's turf as a generic catch-all that

covers any base. .XYZ and .link are already trying to plow that ground and another one arrives next week when .website debuts with the start of its Sunrise stage for trademark owners on Tuesday, June 24 (their land rush begins August 26 followed by General Availability Sept. 17) .

.Website comes from the Dubai based Radix Registry that will also be rolling out a number of category specific TLDs like .press (aimed at media outlets) that is following the same launch schedule as .website. While there is not as much competition in the generic TLD space, many believe there is an 800-pound gorilla waiting in the wings, .web, an extension that a lot of prognosticators think will end up being the most popular extension of all.

Bhavin Turakhia
Radix Registry Founder

So, it will be extremely important for those getting out of the gate first, like .website, to make a big splash and secure a profitable market share before the rest of the crowd arrives and suffocates those that haven't gained traction.

Radix Founder Bhavin Turakhia (a young entrepreneur who has already achieved enormous success as the Founder of Directi) doesn't appear to be overly concerned about his company's ability to compete. "We're very enthusiastic to launch .website, because it's a strong mass market new gTLD that has immense potential," Turakhia said, adding "We're already working closely with channel partners across the globe who've shown keen interest in pioneering the development of the .website extension."

Still, based on developments over the past week, one of the biggest concerns I would have if I were

launching a new gTLD now would be the hit that the perceived value of new TLDs is taking from registries that are dumping tens of thousands of domains free of charge. It started with Network Solutions giving away more than 100,000 .XYZ domains (a figure that continues to climb daily) and continued this week when the .berlin registry gave away tens of thousands more (a giveaway they stopped in mid-stream after questions like this were raised).

Moves like this before the new gTLD era has even had a chance to take root are making it a lot tougher for other registries to make any money on their TLDs. Initially the Land Rush stage gave some of the earlier new gTLDs a chance to recoup some cash with premium prices on some of their best names. However, seeing others give away the store is likely a key reason the new .PUB registry (from Rightside) announced a new pre-registration strategy this week with no premium prices being charged in their Land Rush phase that is currently underway and runs through June 30.

So, for example, if I owned a bar in Sarasota, Florida, as of this writing, I could pre-register Sarasota.pub for $33.00 in my Enom account right now, claiming it at the registrar's standard price before General Availability begins July 9. If I select a name that has already been pre-registered, like Tampa.pub, I get a message saying the name is taken. In most Land Rushes, when more than one person wants a domain it goes to auction. That is not happening here, so it looks like .PUB is living up to its pledge.

How well this will work for .PUB remains to be seen, but if other registries insist on establishing the value of a new gTLD as $0 at such an early

stage of the game, those who need to make money now are going to have get very creative to overcome that perception. I know that some are hoping to make their money on the small percentage that renews free domains, or on those they can up sell to services like hosting, but those strategies do nothing to combat the perception of low or, worse, no value for new gTLDs. As the new gTLD battlefield gets more and more crowded it looks like we could see a lot of blood in the streets.
(Posted June 19, 2014) To refer others to the post above only you can use this URL: http://www.dnjournal.com/archive/lowdown/2014/dailyposts/20140619.htm
Registry Operator CentralNic Makes Move Into Retail Registrar Market With Multi-Million Dollar Acquisition of Internet.bs
CentralNic, a well-known publicly traded domain registry services provider listed company on the London Stock Exchange (LSE), has made a big move into the retail registrar market by acquiring the ICANN accredited Bahamian registrar business of Internet.bs Corp. (IBS) in a deal valued at approximately $7.5 million.

In a statement, CentralNic said it will pay $5.2 million when the deal closes, with $2.7 million

due in cash and $2.5 million to be paid in the form of 2.1 million new CentralNic shares. An additional $1.8 million payment is deferred. It is to be paid over 12 months and can be adjusted higher or lower depending on the acquisition's performance. The maximum amount that can be paid is $2.3 million.

CentralNic CEO Ben Crawford

IBS Chairman Gregg McNair

IBS Founder & CEO Marco Rinaudo

With the rollout of ICANN's new gTLD program, CentralNic has become a major provider of back end services to new gTLD registry operators. However, years earlier the company had already carved out a profitable niche that they continue to mine today, providing third level CentralNic domains that participating registrars offer in 30 different geo-targeted extensions including .us.com, .uk.com and eu.com. With the acquisition of Intrenet.bs, CentralNic will have their own registrar to sell all TLDs directly to the public worldwide.

IBS Chairman Gregg McNair and IBS Founder and CEO Marco Rinaudo worked closely with CentralNic CEO Ben Crawford to get the deal done. Crawford said of Internet.bs, "A registrar that serves customers in 199 countries is pretty remarkable. And when you add to that IBS's advanced technology, its smart, efficient people and its commitment to low prices and great service, that all makes IBS the kind of company we are excited to have join the CentralNic Group."

Crawford added, ""As well as being a cash generative business with a large international client base, this acquisition provides us with the multilingual technical platform we need to offer domains for sale to the public in developing markets worldwide, where we have identified several opportunities in domain name retail."

IBS Chairman McNair added, "I am delighted to bring together two excellent businesses. Further I am pleased to have been able to assist my good friend and business partner Marco, in this transaction. CentralNic certainly has the capacity and resources to take the IBS business to the next level."

Rinaudo noted, "I am pleased to confirm that all IBS staff will continue with me to ensure a seamless transition. I am very excited to see the Company that I founded and nurtured for more than 10 years enter this new phase of development. The great working relationship that I have forged with Ben Crawford and the CentralNic team provides me with the assurance that my IBS customers will be well supported in the future and will appreciate the proposed broadening of services to be introduced by the combined team. I will be working alongside Ben to make sure that happens in the best interest of our established and new customers."

Rinaudo, who was born in Italy, started Internet.bs after selling a successful hosting business in France. After the sale he and his French wife moved to the Bahamas where they started up IBS as a cost-efficient registrar and domain administration technical platform. They prospered by passing cost benefits onto customers. As the IBS business continued to grow the Rinaudo family later moved to

Panama where fellow Panamanian resident McNair, an entrepreneur with multiple business interests around the globe, joined the company's board two years ago.
(Posted June 17, 2014) To refer others to the post above only you can use this URL: http://www.dnjournal.com/archive/lowdown/2014/dailyposts/20140617.htm
New Registrar Stakeholder Group Secretary Paul Goldstone Reflects on the Pre-ICANN Days of Domain Registration
In the 18 years since he opened one of the earliest domain registrars, DomainIt.com, back in 1996 Paul Goldstone has had many occasions to celebrate (including this year's launch of the .CO.COM Registry that he formed with partners Ken Hansen and Gregg McNair). However, one of moments he is most proud of came just a few days ago when Paul was elected to the Executive Committee of ICANN's Regsitrar Stakeholder Group (RSG) as its Secretary.

Since ICANN was formed, the RSG has been the voice and advocacy organization for Registrars and their customers and has played an active role in policy development and other ICANN processes. Late last month, on May 27, 2014, the group marked the 15th anniversary since being officially recognized by ICANN.

In recalling the journey over the past two decades, Goldstone noted that when he started, before ICANN existed, all domain registrations

Paul Goldstone, DomainIt.com Founder &
ICANN RSG Executive Committee Member

went through an organization called InterNIC,which was the governing body for domain name allocations, managed by Network Solutions.

The way it was - a shot of the InterNIC web page
in the days before ICANN was foudned in 1998.

Goldstone said, "By 1998 I had joined an eGroup called "nic-partners" which consisted of 20 or so "InterNIC" partners (i.e. the industry!), moderated by Ivan Pope who was the Founder and original CEO of Netnames. Looking back at the early email threads, some of the conversations are quite comical as we all got our feet wet in the domain industry."

Fast forward to today and it is a much different picture. The RSG currently has 112 active registrar members who collectively hold 90% of total domain registrations worldwide (Goldstone noted that all other ICANN accredited registrars are encouraged to join the Registrar Stakeholder Group that will be meeting in London on June 24th during ICANN's 50th conference).

As the RSG's new Secretary, Goldstone takes a spot on the Executive Committee alongside Chair Michele Neylon (Founder and managing director of Blacknight Solutions),

Vice-Chair Jennifer Standiford (Director of Policy at Web.com) and Treasurer Oli Hope (Finance & Operations Director at Mesh Digital Ltd (Host Europe Group). You can learn more about the Executive Committee members, other supporting individuals and the roles they play in the RSG here.

This brochure (PDF format) will also give you a more detailed but concise two-page overview of what the Registrar Stakeholder Group does, their mission statement, the membership benefits and a news summary from Chair Michele Neylon.
(Posted June 16, 2014) To refer others to the post above only you can use this URL: http://www.dnjournal.com/archive/lowdown/2014/dailyposts/20140616.htm
ICA Takes Down Corwin Letter on Network Solutions/.XYZ Issue After Fairness Objections Raised
Yesterday I told you about a letter that Internet Commerce Association (ICA) Legal Counsel Phil Corwin wrote, calling on ICANN to look into the current controversy swirling around Network Solutions registering tens of thousands of .XYZ domain names and placing them in their customer's accounts without prior notification (customers were told after the fact and then had to write back, opting out if they wanted the free domain(s) removed from their account).

Corwin's letter discussed the ramifications (and possible danger to registrants) that arise from a registrar taking it upon themselves to do this (an action that may be in violation of Network Solution's Registrar Accreditation Agreement with ICANN - something Corwin wants the governing body to look at).

So far so good, but the letter has also created some new controversy, especially over a particular passage we will get to. First, as

Phil Corwin

background, Corwin penned his piece for CircleID as a private individual with a disclaimer in the brief bio at the conclusion of the letter noting, "The views expressed in this article are solely his own." The ICA is not mentioned in the bio that covers Corwin's other roles as "Founding Principal of Virtualaw LLC, a Washington, DC Law and Public Policy Firm. He also serves as Of Counsel to the IP-centric law firm of Greenberg & Lieberman, and as Strategic Advisor to the ICANN Sherpa DNS-focused consultancy."

As the ICA's Legal Counsel Corwin also has the ability to post articles on the ICA website and he initially posted a copy of his CircleID letter there. The passage I referred to above, which generated some critical commentary at Circle ID, also

sparked some emails to ICA board member Nat Cohen who decided to take the copy of the letter on the ICA site down today until the board could meet as a whole and "review the article in more detail before we adopt it as an official ICA position." The original letter and commentary remains on the CircleID website.

The passage in question was not about the Network Solutions issue with .XYZ registrations, but Corwin's question whether or not ICANN was doing thorough enough background checks on new gTLD registries and their top executives. In that passage he noted that Daniel Negari, the CEO of the .XYZ, along with his company Cyber2media, had been defendants in a lawsuit filed by Facebook in 2011 - a lawsuit that was later dismissed. In the comment section, John Berryhill, one of the world's top domain attorneys, took issue with Corwin citing a dismissed action as cause for suspicion, calling it a "personal smear."

To illustrate his point, Berryhill took it a step further, noting that Corwin's firm, Greenberg & Lieberman, is defending a client who is being sued for breach of contract by a company associated with Negari (a case involving non-payment for the domain MD.org which had been sold for over $555,000) and that "This personal smear likely has more to do with Mr. Corwin's deadbeat client, than internet policy."

To further clarify, Berryhill added, "Mr. Corwin may, in fact, have no personal knowledge of that litigation, regardless of whether it may be imputed. But, by the standard of the article above, it is illustrative of how one can construct theories of events which, to the conspiratorially-minded, "raise questions" about the unbesmirched and well-deserved fine reputation of the capable firm of Greenberg & Lieberman with whom it has been my privilege to have worked as co-counsel in matters past."

Attorney John Berryhill

Berryhill has a valid point as our system of justice is built on the principle of innocent until proven guilty. All manner of complaints are filed against people (especially in the civil arena) with some having merit and some not. That's why we have a court system.

As of this writing, Phil Corwin has not replied to comments at Circle ID and I wouldn't expect him to comment on the ICA's decision to take down that copy of the letter until he has conferred with their board members who will determine whether or not it will go back up. Update: Mr .Corwin has posted a response to his critics in the commentary section below his letter at CircleID.com.

Additional Update (June 16, 2014): Regarding his reference to the Facebook lawsuit involving Mr. Negari in his original letter (an action that was dismissed), Mr. Corwin has posted a statement on the ICA website stating "I now regard my referencing of the Lanham Act litigation as a mistake in judgment," adding, "More importantly, it appears to have created the misimpression that I believe that the award of the .XYZ registry contract to Mr. Negari and his registry enterprise was questionable. I am not aware of any facts that would lead me to such a conclusion and to the extent that my unartful words may have created such an incorrect impression I offer my sincere apology to him, his colleagues and his enterprise."
(Posted June 14, 2014) To refer others to the post above only you can use this URL: http://www.dnjournal.com/archive/lowdown/2014/dailyposts/20140614.htm
Phil Corwin's Wake Up Call to ICANN: Time for the Oversight Body to Clean Up the Network Solutions/.XYZ Mess
For those of you who have not been following the Network Solutions/.XYZ news closely and are wondering what all of the hubbub is about, Internet Commerce Association Legal Counsel Phil Corwin has just published the most comprehensive article about this sad situation to date. In the article Phil recaps all of the key revelations that have been published across multiple industry publications to date but also points out some even more important long term issues for domain registrants and the industry as a whole if ICANN doesn't step in and nip this kind of manipulative and dangerous activity in the bud.

While a lot of the publicity has focused on Network Solutions stuffing close to 100,000 unrequested .XYZ domains in their own customer's accounts, grossly inflating the perceived popularity of the TLD, Corwin notes that NetSol's actions appear to violate their Registrar Accreditation Agreement with ICANN. Even worse for the unsuspecting NetSol customers who have had their trust violated by

ICA Legal Counsel Phil Corwin
wonders why "ICANN is MIA on .XYZ"

their registrar, the company's actions could leave those registrants open to legal action ranging from UDRPs to lawsuits. Why? Because, as Corwin points out, some of the domains NetSol registered in their customer's names are clearly trademark infringing domains like DisneyTime.xyz.

So being a Network Solutions customer not only allows you to pay a registration fee that is dramatically higher than competitors (one black eye), they now offer a potential lawsuit against you at no extra charge in the form of the free .XYZ domain you never asked (another black eye). If ICANN does what they are supposed to do and investigates what is going on, NetSol could wind up with a broken nose to go along with the two black eyes and how could anyone feel sorry for them?

As Corwin notes, hundreds of other new gTLDs are on their way. If NetSol and .XYZ are allowed a pass how many others are going to mimic this kind of "marketing" - stuffing the accounts of current .com owners with domains they didn't register, don't want and could get in trouble for having in their accounts?

This has to be examined now and if ICANN doesn't live up to their duties as an oversight body the mess currently sitting on their doorstep is going to move into their executive suite. They created the new gTLD program and it is up to them to keep it from turning into a Frankenstein monster running amok in the global domain village by allowing those seeking shortcuts to use existing registrants as pawns in their sales game.

As Corwin notes, currently unanswered questions are ones that "the Federal Trade Commission (never a fan of the new gTLD

program) or other national consumer protection agencies, as well as states' attorney general, might want to investigate, especially if ICANN doesn't move quickly."

Corwin's piece is a serious one that deserves widespread attention. It will take more time to digest than the Tweet-sized bites many of us have become used to in this age of the short attention span, but if you consider yourself a professional in this business (or hope to be one) it should be considered must reading. In the closing summary of the article Corwin wrote:

There's a lot more at stake in this situation than which registry has the most registrations. There are significant contract compliance and consumer protection issues, compounded by possible involuntary trademark infringement. Thousands of registrants are directly affected, and all registrants are potentially at risk. Can it really be permissible for any ICANN-accredited registrar to involuntarily assign new gTLD domains to existing customers on an opt-out basis, given the substantial potential legal liability that accompanies domain registrant status? If that is permitted then we could see hundreds of thousands or even millions of involuntary domain registrations occur over the coming months as hundreds of new gTLDs become available to the general public. Aside from the risks to "registrants", such a development could substantially erode the public perception and reputation of the entire new gTLD program – and of ICANN.

It should be as simple as ABC for ICANN to realize it needs to step up to the plate and take responsibility for initiating a full inquiry and report on what has transpired in the initial .XYZ registration phase. The answers are important for registrants, for registrars who don't engage in opt-out registration practices, and for the other operators of new gTLD registries who are busy trying to create value that attracts willing registrants.

It's also of immense consequence for ICANN's own reputation as a critical time in its history. As the community is beginning to deliberate on enhanced accountability measures to accompany the IANA functions transition, it would be exceedingly useful for ICANN to demonstrate that it can act of its own volition and investigate suspicious situations involving contracted parties — and hold them duly accountable if transgressions are found.
(Posted June 13, 2014) To refer others to the post above only you can use this URL: http://www.dnjournal.com/archive/lowdown/2014/dailyposts/20140613.htm
Getting Paid for Something You Love to Do! How a New Website is Going to Make My Son-in-Law's Dream Come True
There is a piece of advice that I've given aspiring domain investor/developers ever since I got into this business over 12 years ago. That is take a domain related to a subject you are really passionate about and build a website devoted to that topic. While developing is a long, time consuming task with no guarantees, if you get lucky and hit one home run it can generate more revenue for you than a portfolio of hundreds or even thousands of undeveloped domain names.

Website Under Construction graphic from Bigstock

This site, originally started as a hobby rather than something I expected to turn into a business, is a prime example of that and why I encourage so many others to do it. I place heavy emphasis on making sure you pick something you love because constantly writing and generating content is tedious work that you will quickly grow tired of and abandon unless the topic is something you love so much you just can't stop talking about it.

ClubUpGolf.com logo

With that being a core belief of mine, you can imagine my delight when I learned that my son-in-law, David McCreery, recently launched his first website devoted to something he eats, sleeps and breathes - the game of golf - on a hand-registered domain, ClubUpGolf.com ("Club up" is a term golfers will readily recognize, making this a quite nice hand reg considering the ultra popular golf category has just about been mined out).

Though David, a Drexel University graduate, is a financial analyst by trade he thought running his own golf website would be a perfect

avocation that could grow into something more. When you couple a golf nut who is also a hard worker and excellent writer with a domain name and an inexpensive hosting account, all of the ingredients are in place for something very good to happen.

In fact, though David just launched the site a few weeks ago, good things are already happening. Some equipment manufacturers, both here and in Japan, have already taken notice of what he is doing and have started sending him sample balls, clubs, gloves and

accessories to review. David understood that in an extremely crowded field he needed to find a niche so uncovering and spotlighting little known but very high quality equipment makers has become a specialty of his - one that is appreciated by companies trying to make headway in a highly competitive field of their own. With that in common, relationships being formed now could result in those companies supporting his efforts for years to come and at least a couple of those companies could evolve into giants in their field.

That happened with me as well - a company that started the same year I did became my first advertiser and after 11 years they are still here. Today they are a public company and one of the best known global players in our space - Sedo. The same thing happened with a lot of other startups that followed, so I think David has mapped out a very wise plan and it will be very interesting to watch how he executes it and grows in the years ahead. Of course, he has added the social media element as well with a ClubUpGolf page at Facebook.

David & Brittany McCreery earlier
this week in Orlando, Florida.

David just got another edge last week when he and his wife, my daughter Dr. Brittany McCreery, moved from Philadelphia to Orlando where they settled into the Lake Nona area, a community where several PGA golf pros also make their home. Nothing like having interesting internationally known content living just down the street!

After a long winter in Philadelphia writing and dreaming about being on the course, being back in Florida, where he and Brittany both grew up, will give David a chance to play year around and do research for his site at the same time. That's a guy's dream come true. Whatever your dream is, a relevant domain name and cheap hosting account could make it happen - but don't forget the most important ingredient - make sure you are passionate about whatever it is you decide to do!
(Posted June 12, 2014) To refer others to the post above only you can use this URL: http://www.dnjournal.com/archive/lowdown/2014/dailyposts/20140612.htm
.CO.COM Releases Most of Their Premium Land Rush Domains at Sub $50 Prices
A major complaint about many of the new gTLD registry operators is that they are holding back all of the best names and only letting them go to those willing to pay astronomical prices. The .CO.COM, which is not a new gTLD but is an extension that launched alongside the first

wave of new G's, has decided to take a different approach. On Tuesday they announced that they have released many of their premium (short, most memorable) domains for immediate hand registration.

This move comes even though .CO.COM is still in their Land Rush phase (General availability begins July 8, 2014). In the past many registries have conducted auctions to try to get the highest possible price for Land Rush domains. .CO.COM decided to let them go at set prices that will vary from one registrar to the next, however in doing a spot check of some of the sample names they listed, three of the first four examples they showed (Beef.co.com, Biking.co.com and Billionaire.co.com) were all available at the registrar we checked for $46.99 each (only Best.co.com was gone from the quartet we checked). You can download the full list of released names here.

.Com image from Bigstock

To register one of the .CO.COM domains that have been released you go to the registry site, type in the name you are interested in and click Register Now. That will bring up a chart showing 21 different registrars you can order the name from, so you can choose a favorite from the list or do some shopping around to see who is offering the best price.

The .CO.COM announcement added, "In the coming days, we will also be announcing a significant adjustment to our remaining premium domain name pricing as well. Many of those with traffic will likely to be cash-flow positive in year-one if simply parked. If developed, of course, the potential is even greater. How do

we know? We are seeing the traffic now, and have historical data going back for years. In the coming weeks we plan to make traffic data for specific domain names available publicly, so you can see for yourself."
(Posted June 11, 2014) To refer others to the post above only you can use this URL: http://www.dnjournal.com/archive/lowdown/2014/dailyposts/20140611.htm
As Phantom .XYZ Registrations Continue to Pile Up at Network Solutions a Stats Reporting Service Plans to Subtract Artificially Inflated Numbers
Well I had hoped for better in the ongoing .XYZ/Network Solutions registration fiasco but apparently its not going to happen. Network Solutions continues to show contempt for their own customers by stuffing their accounts with .XYZ domains they never asked for (and that could even subject them to some legal risk). Even more disappointing .XYZ's founder, Daniel Negari, claims on one hand the registry had nothing to do with what NetSol is doing while on the other pretending all of those registrations are real people adopting the extension. Unless 2 + 2 now equals 5, those conflicting positions don't add up.

As of today, the zone files reported by NTLDStats.com shows 80,904 of the 96,246 .xyz registrations (over 84% of them) are registered at NetSol (a registrar that normally has well under 5% of new gTLD registrations).

Though .XYZ is using the bogus numbers to claim they are #1 in new gTLD circles, they

Will stuffing the ballot box prove to be a good use of marketing dollars?

Ballot Box image from Bigstock

actually aren't even in the Top 10 when the ghosts are eliminated. This has not escaped the attention of the other major new gTLD stats reporting service - NameStat.org. Their founder, Andy Brier, like many others, is offended by the mockery that the .XYZ/NetSol tandem has made of their rankings - effectively trashing any credibility they had as a new gTLD measuring stick (an interesting one, even though it is not the most important one - actual user adoption and development).

Brier said he will address the issue by adding a new feature that will let you toggle between what the zone files numbers are and what the real numbers are (at least as close to that figure as can be reasonably calculated) when the bogus registration air is taken of the balloon.

In the meantime, I remain dumbfounded that Network Solutions and the .XYZ Registry chose to go down this path. With NetSol you have a registrar that is three times more expensive than other registrars making themselves an even less attractive option by telling customers we will decide what domains are put in your account instead of you! (you had to personally request the domains be removed if you didn't want them there - the kind of perversion the colloquialism "bass ackwards" was coined for).

Fingers crossed image from Bigstock

With .XYZ you have a registry that has proclaimed themselves the next .com but instead are proving themselves not to be an alternate .com but an alternate reality based on fictional numbers of real registrants. Instead of becoming the next .com they are in danger of becoming the next .tk - the ccTLD for the obscure Pacific Ocean territory of Tokelau that gives away its domains for free.

Is deception really the business plan a registry expects to succeed with? While declaring oneself the winner based on a blatantly stuffed ballot box still happens in places like Syria it is generally regarded as poor form in the rest of the world (and is certainly not a good calling card for any business).

Of course, new gTLD skeptics are loving this, saying that it proves the new

extensions are already on the ropes, having so little of value to sell that they have to resort to giving the product away (and not just giving it away, but forcing it upon people who never asked for it) and then trumpeting the inflated numbers. As you would expect registries that are doing it the right way hate that they are being unfairly painted with the same brush. I've seen key executives from at least three other new gTLD registries publicly post their dismay over how this is tarnishing the entire new GTLD program.

So now I guess it will be up to the market to decide what approach it is going to reward. Having expected that the events of the past few days would play out differently than they did, I will decline to speculate on how much further some operators will test their apparent theory that everyone else is stupid but them.
(Posted June 10, 2014) To refer others to the post above only you can use this URL: http://www.dnjournal.com/archive/lowdown/2014/dailyposts/20140610.htm
Profile.com Owner to Get $1.5 Million + Equity to Sell Domain in Deal Brokered by WebsiteProperties.com
If you follow our weekly domain sales reports you know Washington State based brokerage WebsiteProperties.com has put up some impressive sales numbers including Fix.com at $850,000, Shout.com at $450,000 and Kosher.com at $200,000, all in the final quarter of 2013 alone. This evening I got word from company President David Fairley that Website Properties has just gotten a signed contract on a deal that is bigger than those three put together.

Fairley, who represents the owner of Profile.com, said the deal will send the domain to a venture capital backed start-up in the UK for $1.5 million in cash plus 10% equity in the form of shares in the new company. The buyer plans to launch a social media oriented site on the domain next month (July 2014) - obviously a perfect fit for the name.

Website Properties, LLC President David
Fairley with his new godson this spring.

Fairley and the seller are especially excited about the equity interest in the new enterprise. If it is a hit, their payoff could be several times higher than the cash portion of the deal - which is obviously a nice payday in itself. While the nameservers will be changed when the new site launches, the domain will not change hands until WebsiteProperties receives the $1.5 million from the start-up's Series A funding (and the sale won't be eligible for our charts until the transfer is completed).

It is encouraging to see that obtaining an equity position in addition to substantial cash is still a possibility for top tier domains. Rick Schwartz has always preached that the domain owner should be entitled to a share of the future proceeds of companies that reap great benefits from owning a category defining name (he received equity in addition to $3 million for Candy.com).
(Posted June 6, 2014) To refer others to the post above only you can use this URL: http://www.dnjournal.com/archive/lowdown/2014/dailyposts/20140606.htm
Papering the House Backfires on New gTLD Registry But Who is Really to Blame?
In my last post Tuesday I noted that people were wondering if registrar NetworkSolutions had given away thousands of .XYZ domain names at no charge. It was obvious that something highly irregular was going on because the zone files showed that over 70% of all .XYZ registrations had been made at NetworkSolutions, an expensive registrar that has a less than 5% share of most new gTLD registrations.

Since that post it has been confirmed that NetSol did indeed give .com domain owners the same term in .XYZ - placing the new gTLD names in client's accounts even though they never asked for them and may not have wanted them added to their accounts in the first place. The client had to specifically tell the registrar they did not want the .XYZ domain registered in their name - something that experts say violates NetSol's Registrar Accreditation Agreement (RAA) with ICANN.

NetSol's action resulted in .XYZ's total registration figures being inflated far beyond what they actually were with paying customers. This sleight of hand actually pushed .XYZ to #4 in the new gTLD rankings, based purely on registrations in the zone files (which as a result of this incident, and another we will talk about, have largely lost their credibility as a yardstick to measure which new gTLDs are really performing best).

NetSol's gambit was actually nothing new. Enom infuriated many of their customers a decade ago by putting matching .infos into client's accounts without their permission. After witnessing that firestorm first hand I never thought I would see it repeated. I guess it shouldn't have been such a surprise though as it is a subterfuge with centuries old theater roots that persist today. It's called "papering the house" - defined (by About.com) as "giving away a large amount of tickets in order to gain a large audience and create positive word-of-mouth about a show that might otherwise suffer from low-attendance."

Daniel in the Lion's Den?
Negari at registry headquarters -
the XYZ Haus in Las Vegas.

The irony here is that NetSol's actions have done the opposite, creating an overwhelmingly negative response (I'm sure you've read the blogs), especially toward the partner they apparently intended to benefit - the .XYZ Registry and its founder Daniel Negari. It is believed that Negari must have cut some kind of deal with NetSol to open the freebie floodgates, but the fact is, doing the deed is NetSol's responsibility and they will be the ones who will have to answer to ICANN if the governing body chooses to investigate the apparent RAA rules violation.

I don't know if Daniel gave NetSol special terms to facilitate the giveaway, but whether he did or not, I think his biggest mis-step was - after the papering of the house had already been confirmed and the news spread throughout the blogosphere - talking about the tens of thousands of happy .XYZ registrants when many (if not most) of them didn't even know they were registrants in the first place.

I noted Tuesday that Daniel's extensive marketing efforts and bold predictions of a million registrations in his first year had made .XYZ a story. Marketing and publicity is a good thing and rosy predictions are understandable from optimistic entrepreneurs, but you have to stop short of saying things that are demonstrably false. Businesses live and die on trust, so that has to be protected above all else.

That being said, I think Daniel can learn and recover from this - who among us hasn't made a mistake or two along the way? I am especially

saddened by the personal attacks I have seen written by people who don't know him. I've known him for years, like him and respect what he has accomplished at such a young age. In my opinion (and that of many others who know him well) he is a good guy who is totally passionate about his product. Like the rest of us, he has probably said some things he regrets - it happens - but I'll be surprised if it continues going forward. It's the right time to tone down the rhetoric and focus on the job ahead - and that is a big job given the task of gaining recognition in a .com world at the same time when hundreds of competitors are trying to do the same thing.

To break out of the pack registries can't afford many mis-steps. Another reason I don't like the NetSol giveaway is how that sits with those who paid for their .XYZ domains when tens of thousands of others got them for nothing. What message does that send people about the value of the TLD? Competitors have a legitimate beef too. Those who earned their spots among the top ten rightfully resent those who took short cuts. The CEO of one of the most successful new TLDs lamented in a blog post that the .XYZ/Netsol debacle cast all of the new gTLD operators in a bad light. That shouldn't be true but it is because people are now suspicious about all of the numbers they see.

I would like to see someone who has the time, come up with a better ranking system than the raw zone file numbers. Someone needs to back out all of the in house registrations (like the 20,000 or so .link domains that were registered by a company that is also owned by the registry's operator) and the ghost registrations like the .XYZ domains at NetSol. If that happened .company and .solutions would be in the top 10 today.

Though this would be more accurate than what we have now it would still be far from perfect as many other factors go into the building of a successful registry than registrations alone - with end user adoption and development at the top of the list. Still, at this early stage of the game, an improved registration scorecard would be better than nothing as widespread development is a long way off (and in a worst case scenario, may never happen at all).

Number one image from Bigstock

Incidentally, since this question is often brought up when writers cover anything new gTLD related, .XYZ is not one of our advertisers even though, at the time of this writing, there is a banner on this page promoting .XYZ. That ad was placed by CentralNic, who provides back end services for .XYZ and many other registries around the world. They have been an advertiser for some time and they have used their banners to promote many of the various TLDs they service - it happened to be .XYZ this week because it is the week the TLD entered General Availability. While my tone is normally positive - I don't want to see any honest, hard working entrepreneur fail - I am never going to write something I don't believe because someone is or is not an advertiser. As I said above, trust is your most important business asset.
(Posted June 5, 2014) To refer others to the post above only you can use this URL: http://www.dnjournal.com/archive/lowdown/2014/dailyposts/20140605.htm
Tooting the .XYZ Horn: Founder Daniel Negari Says His New gTLD Debuted With a Bang
Daniel Negari
.XYZ Founder & CEO

The new gTLD field is getting more crowded with each passing week, making it harder and harder to stand out in the crowd. .CLUB, currently the #1 new gTLD released, has done it with a high powered marketing campaign complete with celebrity registrants like 50 Cent and Demi Lovato.

.XYZ Founder Daniel Negari, whose extension just entered general availability Monday, has also been one of the few new gTLD operators that has spent big to publicize their extension. Daniel has also drawn attention by talking big, predicting that .XYZ will have 1 million registrations in its first year and is destined to be the "new" .com. Those audacious comments have put him and his TLD both in the spotlight and under the microscope of skeptics and critics who seek to deflate his balloon.

The opening day numbers have kept the pot boiling on both sides of the debate surrounding the viability of .XYZ. NTLDStats.com currently shows .XYZ with 18,621 registrations after one day, but Negari, in a blog post today, said the number for the full 24 hours since the opening bell are actually over 31,000, which would

put .XYZ in the top ten new gTLDs after one day (the 18,621 figure would also leave them in good shape at #11).

Even so, an oddity in those numbers is drawing a lot of attention. Over 9,000 registrations were made at one registrar, NetworkSolutions, under WhoIs Privacy (that is more than half of the registrations reported by NTLDStats.com - unusual since NetSol usually gets well under 5% of a new gTLD's registrations). Also, .XYZ is a bargain priced domain by new gTLD standards (just $8.88 at Uniregistry, which is even lower than the wholesale cost I get as a reseller for my current registrar). So, why would thousands of people pay 3 to 4 times more at a registrar known for its high prices? Some speculate that those names were given to .com owners of the same term at no charge to inflate numbers.

Whatever the case may be, it is hard to call winners and losers after just one day on the market, though that hasn't stopped a lot of people from trying. Negari, a young entrepreneur who has been successful in many other enterprises certainly seemed to be thrilled with how .XYZ came out of the gate, as shown in this launch video, shot today, that he posted on YouTube.
.XYZ will continue to bear watching in the days ahead and not just because people want to see how well the registration numbers hold up against Negari's next big thing prediction. .XYZ is something of a unique animal in the new gTLD space in that it doesn't mean anything. Negari believes the generic nature of the extension is its biggest advantage - allowing it to work with any keyword - thus expanding its audience. Critics claim just the opposite - that

it doesn't work with any keyword because it adds no meaning to the string, just unnecessary random letters.

It has been said that you can brand anything with enough money. Whether or not Negari, who is all in with his extension, can build .XYZ into a widely-known and adopted brand will be one of the most interesting stories to come out of the entire new gTLD initiative. On that level, .XYZ, like .CLUB, has already succeeded. They've made themselves a story in a field of mostly anonymous extensions. When it comes to publicity - when you are trying to take market share from a behemoth like .com - every little bit helps.
(Posted June 3, 2014) To refer others to the post above only you can use this URL: http://www.dnjournal.com/archive/lowdown/2014/dailyposts/20140603.htm
Curtain Comes Down on T.R.A.F.F.I.C. West 2014: Photos & Highlights from the Last Two Days in Las Vegas
The T.R.A.F.F.I.C. West conference completed its 2014 run at the Bellagio Hotel in Las Vegas with a Farewell Breakfast Saturday morning (May 31). The last business day began Friday with the show's traditional post-breakfast session that gave attendees an opportunity to take the stage and give a "two-minute elevator pitch" telling the audience about the services their company offers.

That was followed by a report I give at each conference on the latest trends in the domain aftermarket. I covered how the past year (2013) fared again the previous year (which was very well with a 13% increase in total dollar volume reported). I also covered how things went in the most recent quarter, 1Q-2014, which was even better - you could even say spectacular - with dollar volume soaring 47% over the same quarter a year ago! If you break out the .coms only, the number was even bigger with a 60% jump in sales volume ove 1Q-2013. I'll be publishing the details I shared with the T.R.A.F.F.I.C. audience in a pair of new newsletters that will be released within the next week.

After my session everyone moved from the dining room across the hall to the main conference hall to hear the keynote speech from serial entrepreneur Howard Lefkowitz, whose remarkable resume includes a highly successful stint as the former President & CEO of Vegas.com.

Guta.com's George Hong giving his two-minute elevator pitch at T.R.A.F.F.I.C. West in Las Vegas Friday (May 30, 2014).

Howard Lefkowitz delivering his keynote address at T.R.A.F.F.I.C. West 2014

I had met Howard at the T.R.A.F.F.I.C.'s Opening Night Cocktail Party Wednesday night and wound up spending almost half of the party talking to him. He is one of the most interesting (and witty) entrepreneurs I've ever met - one who has worked personally with people like Ted Turner and leaders of giant corporations like Costco. Lefkowitz has a rich background in all forms of media including network TV and the Internet so, as you would expect, his talk covered a lot of ground and gave the audience a lot to think about with respect to how domains fit into the new media world. I'll have more details on what he had to say in our upcoming complete show review Cover Story.

During the lunch break after Lefkowitz's talk the audience had a chance to place bids in the T.R.A.F.F.I.C. Silent Domain Auction that was staged by Above.com.

Above.com's Victor Pitts (left) and T.R.A.F.F.I.C.'s Howard Neu
take bids in the Silent Domain Auction Friday (May 30).

At the luncheon attendees could top any bids made up to that point to win a domain, however the auction is still going on as I write this Monday morning (June 2). It is a hybrid live/online event with all lots that haven't yet been sold remaining up for bid until the event closes today at 4pm Pacific Time (7pm U.S. Eastern time). You can place bids up to the deadline here.

Another highlight of the luncheon was the auctioning off of a guitar autographed by the members of the band Otherwise who performed at the official T.R.A.F.F.I.C. Party Thursday night. Proceeds from the auction of the guitar, donated by T.R.A.F.F.I.C.'s lead sponsor, Neil Sackmary of GetItFido.com, went to the Internet Commerce Association, the non-profit trade association that protects domain owner's rights. Michael Castello of Castello Cities Internet Network, a staunch ICA supporter, won the guitar with a bid of $1,400.

(L to R): T.R.A.F.F.I.C. Co-Founder Rick Schwartz, T.R.A.F.F.I.C. Sponsor Neil Sackmary of GetItFido.com, guitar auction winner Michael Castello of CCIN.com and T.R.A.F.F.I.C. Co-Founder Howard Neu.

After lunch it was back to the conference room for a 2pm Domain Monetization Shootout session that explored the best ways to monetize domain names, including the new gTLDs that have started coming online.

The Domain Monetization Shootout panel featured (L to R); Neil Sackmary (GetItFido.com), Tyson MacKay (.VEGAS) and Howard Lefkowitz (former Vegas.com President).

Next up Michael Gilmour of ParkLogic.com showed attendees how to Take a Domain to a Business in 60 Minutes. Michael offered a member of the audience a chance to see one of their domains, complete with a business plan, developed before their eyes. Claude Dauman of Domains90210.com accepted the invitation to join Michael on stage while the audience watched them plot out site elements and produce a complete online business by the end of the hour.

Michael Gilmour (ParkLogic.com) at left shows Claude Dauman of Domains90210.com
how to turn a domain name into a business in just 60 minutes.

The afternoon continued with what proved to be one of the show's most popular sessions - a Million Dollar Panel featuring investors who have all been involved in 7-figure sales.

T.R.A.F.F.I.C.'s Million Dollar Panel featured (L to R): Rick Schwartz, Adam Dicker, Michael Castello, moderator Michael Cyger, Tessa Holcomb (Igloo.com) and Roy Messer. Each panelist has either made or brokered a 7-figure sale and each described, step by step, how they did it.

Michael Castello and Rick Schwartz stayed on stage, where they were joined by Howard Neu, Michael Gilmour and ICA Legal Counsel Phil Corwin, for the final business session of the conference. It centered on issues of industry concern that Michael brought up in a letter to Schwartz and Neu last month. The letter expressed Michael's concerns about to threats to domain owners and overall freedom on the Internet that he believes the industry needs to band together to protect. The letter was meant to at least get a conversation started among all stakeholders that will hopefully lead to concrete steps forward in the months ahead.

Michael Castello discusses his recent call to action letter with T.R.A.F.F.I.C. attendees.

While the business portion of T.R.A.F.F.I.C. West 2014 was now done, two enjoyable social events remained on the agenda. The first was the Closing Party and Celebration featuring desserts, coffee, beer and wine Friday night.

Above: A scene from T.R.A.F.F.I.C. West's Closing Night Dessert Party
at the Bellagio Hotel's Monet Room in Las Vegas Friday night.

Below: T.R.A.F.F.I.C. hosts Rick Schwartz, Barbara Neu and Howard Neu were there to say goodbye to guests who had to head home before Saturday morning's Farewell Breakfast.

T.R.A.F.F.I.C. West 2014 officially closed Saturday morning with the traditional Farewell Breakfast that was held outdoors on a beautiful morning outdoors at the Grand Patio of the Bellagio Hotel.

Above: Saturday morning's Farewell Breakfast on the Grand Patio at the Bellagio.

Below: Attendees Neil Resnick of MediaOptions.com and his wife Laura at breakfast.

With T.R.A.F.F.I.C. West 2014 now in the books, the T.R.A.F.F.I.C. team will now turn their attention to their big 10th anniversary show coming up October 30 through November 2, 2014 at the fabulous Fontainebleau Hotel on Miami's South Beach (there will also be two days of pre-show cabana networking at the Fontainebleau October 28 & 29). Hard to believe, but that show will mark a full decade since the very first T.R.A.F.F.I.C. conference was held in Delray Beach, Florida back in October 2004.

Our thanks to Rick Schwartz, Howard Neu, Barbara Neu, Ray Dillman Neu, Kimberly Howard and Danny Pryor (the show's technical director and T.R.A.F.F.I.C's webmaster) for hosting another highly productive and enjoyable event in Las Vegas this past week - they continue to bat 1.000 in our book.

We have been able to bring you show photos & highlights while on the go since the conference began, but we will also be putting together a more comprehensive full show overview for you that will be published in our next Cover Story.

T.R.A.F.F.I.C.'s Danny Pryor will be unpacking
again in October for T.R.A.F.F.I.C. East at the
Fontainebleau Hotel on Miami Beach.
(Posted June 2, 2014) To refer others to the post above only you can use this URL: http://www.dnjournal.com/archive/lowdown/2014/dailyposts/20140602.htm
---
If you've been out of the loop lately, catch up in the Lowdown Archive!
---
We need your help to keep giving domainers The Lowdown, so please email

[email protected]

with any interesting information you might have. If possible, include the source of your information so we can check it out (for example a URL if you read it in a forum or on a site elsewhere).
---
Home Domain Sales YTD Sales Charts Latest News The Lowdown Articles
Legal Matters Dear Domey Letters to Editor Resources Classified Ads Archive About Us