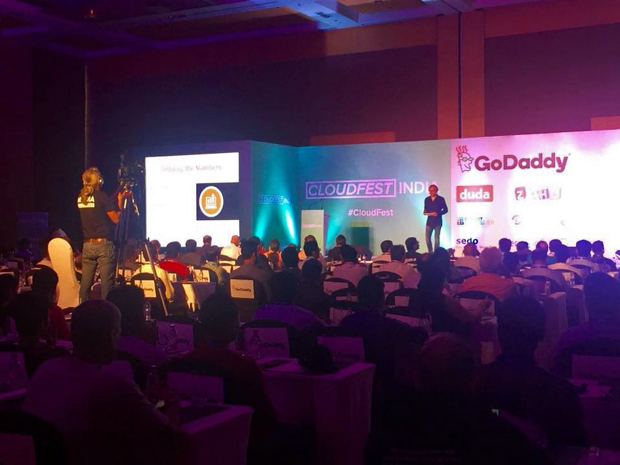 Cloudfest/NamesCon CEO Soeren Von Varchmin onstage at their latest event at the Grand Hyatt Hotel in Mumbai, India this week.
NamesCon has two more conferences coming up next month alone! They will run the 10th anniversary edition of the Domaining Europe conference (that has been rechristened NamesCon Europe) with show founder Dietmar Stefitz in Valencia, Spain June 7-9, then will go half way around the globe for the annual NamesCon China conference coming up June 28-29 in Shanghai.
Befitting its status as a global domain industry powerhouse, China has multiple high level conferences now, including the annual Global Domain Summit coming up next week - running June 1-2 at the Swiss Grand Hotel in Xiamen. GDS is co-organized by Ali Cloud, Baidu Cloud, Bizcn, Blockchain Planet and other well-known companies. Our friend George Hong (from popular brokerage Guta.com), who is well-known on both sides of the Pacific, will be there and will fill us in on how this year's event unfolds.
In yet another option for European show goers next month the 4th edition of the NDDCamp will be held in Paris, France June 21. Show Co-Founder David Chelly told us, "Our event has a unique atmosphere. We don't ask for any fee to the participants and the speakers are not paid, nor they can promote their business during the conferences. So, in practice people that come mostly do it for the pleasure to share knowledge and spend a nice time with their peers. This year, we are of course going to discuss about GDPR, new gTLDs, the ICANN evolution, etc. but our main focus will be the French domain name market. It has evolved

the last 2 or 3 years and there are new ways of monetization for domainers, which involve SEO consultants and web agencies."
If you need another good reason to go Chelly added, "We've chose June 21 as the date because it's one of the best days of the year in Paris thanks to the Music Fest (Fête de la Musique) that will be going on. All day and night long, thousands of musicians play their instruments and sing in the streets, bars, concert halls and other venues."
After a brief respite in July, the conference circuit heats back up in August with the 5th annual DomainX conference in India the first one out of the gate that month. They will run August 4-5, 2018 in New Delhi. We attended this event when it was held in Bangalore in 2015 and Co-Founders Manmeet Pal Singh and Gaurav Kohli and their team put on an excellent show that has continued to grow each year, helping boost the industry in one of the world's fastest growing domain markets.
Back on this side of the pond, the 2nd annual NameSummit conference is coming up August 6-7 at the Westin Times Square Hotel in New York City. The digital branding conference had a successful debut in Manhattan last summer and promises to be even bigger this year. One major development is the addition of Pitchfest Global to this year's agenda - and event that provides coaching, advice and the chance to pitch your new business or marketing concept to a panel of influencers and business leaders. It will be a great opportunity to learn how to bring a business to market, select and find the right

domain for your project, increase customer engagement, and connect with your digital audience.
The focus moves south to sunny Florida in September for the 2nd annual MERGE! Conference at the Hilton Lake Buena Vista Hotel right next to Disney World in Orlando. MERGE! moves up a month with their September 15-18, 2018 dates after debuting last October. The unique event covers domains, of course, but also many other related fields including digital branding, website development, end user experience, new business startups, IP technology, SEO design, security, hosting, blockchain, cryptocurrency and more, as well as networking opportunities with leaders in those fields.

Norm Farrar

While MERGE! 2018 is still nearly four months away Co-Founders Ray Neu and Jothan Frakes have already lined up some top notch speakers including eCommerce expert Norm Farrar (AKA The Amazon Growth Guy) who will be one of the keynoters.

In addition to running his own profitable ventures including AMZ.Club and prReach.com (the world's first video press release company) Farrar focuses on guiding individual sellers, brands, and manufacturers to grow their private label businesses on Amazon, so they can expand internationally, build their business assets, and optimize their net worth. Norman has worked with many big brands including Mercedes, COKE, Microsoft, Hershey, 20th Century Fox, Molson's, and Cadbury.

MERGE! will also present talks from Michael Palage of Phaoros Global, a former ICANN board member and IETF Blockchain Steering Committee Member, Martin Kuechenthal, CEO and founder of Lemarit Brand Registrar and Mike Demopolous of BoldGrid, to name just a few.

The summer/fall show calendar ends (at least as far as we know at this point) with a brand new event - Domaining Americas - scheduled to debut in Rio de Janeiro, Brazil October 6-7, 2018. The conference is being organized by veteran domain investor Abner Duarte, who is based in Boston but is a native of Brazil. It is great to see a show like this on the horizon that will give investors and developers in South America a place to make personal contacts and learn more about the industry.

There will obviously be a lot going on in our business all over the world in the months immediately ahead (and these are just the major events that have been brought to our attention). This industry has changed dramatically over the years - some would say for the better and some would say for the worse (with those opinions largely dependent on what sector the people commenting operate in). In any case, all of this activity in a sure sign that there is still a lot of life left in this business. If you want to make most of it I can't think of a better to do that than attend one of these events, or any of the many local and regional ones, when they reach your neck of the woods.