Meet.com Changing Hands for $1 Million in Deal Put Together by Broker Sharjil Saleem
Domain Broker Sharjil Saleem, who has put together a string of top tier sales in recent years, told us his latest has just been signed - a $1 million deal for Meet.com. The buyer (whose name was not disclosed) will pay for the domain in installments and Saleem told us a substantial first payment has been made via Escrow.com.

We don't chart sales until a domain has been fully paid for and transferred to the new owner but Saleem's track record shows a high rate of success in finding buyers who follow through on sales agreements. He had three of the 15 highest publicly reported sales in 2017 - #2 (tie) ETH.com at $2 million, #9 SW.com (made with RightOfTheDot.com) at $660,000 and #13 Asset.com

Sharjil Saleem (at right) with Ali Rajpoot

at $406,000. This year he already has three sales on our 2018 YTD Top 100 Chart - #30 DXB.com at $220,000 (made with Ali Rajpoot), #38 Deposit.com at $171,100 and one of the year's biggest non .com sales #73 08.net at $87,000. 08.net is ranked #6 on our YTD Non .Com gTLD Top 100 Sales Chart.
$825,000 Sale of Cover.com Uncovered - New Insurance Company Reveals Price Paid in 2017 Transaction
When domain sales are made at the upper end of the aftermarket the price paid is revealed in only a small fraction of those transactions. Of those that do come to light, the news often comes months (or ever years) after the sale has been made. The latest example of that is Cover.com - a domain that a startup insurance company acquired last year at a price that has only now been made public - $825,000 (a number that will put it among the 10 biggest sales reported for 2017 when our Top 100 Chart for that year is updated following our next weekly sales report).

Over the years George Kirikos has uncovered countless top tier sales while going through SEC filings made by public companies, so it was not surprising that I first heard the Cover.com news from him. However, in this case, Kirikos didn't find it in an SEC report - he spotted it in an article that the Co-Founder and CEO of Cover.com, Karn Saroya, personally wrote for Entrepreneur's Handbook (published November 21, 2018) about the path his company took to secure their dream domain from Digimedia.

Karn's story is a great account of the month-long negotiations that went into acquiring Cover.com and why his company, as a startup,

Karn Saroya
Cover.com Co-Founder & CEO

decided it was worth committing such a huge percentage of their available resources to getting the domain name they wanted. He noted, "Cover just made sense. There is probably no better name to build a brand on in insurtech. You see companies using every permutation of the word, so why not own the word outright?" Today Saroya is more convinced than ever that the company made a smart purchase. "Fast forward one year and Cover has scaled significantly and recently closed our Series B funding round," Saroya said. "Each week that passes only further vindicates our decision to commit to the brand name. We sell an intangible product and at the end of the day, we're in the trust business. Owning Cover.com has lent an extra level of legitimacy to the brand and this, in turn, has translated into sales."

Karn's story reminds me so much of the story of the $1 million acquisition of Ring.com in 2014 that Ring CEO Jamie Siminoff revealed earlier this year. While talking about how valuable the domain name has been in Ring's meteoric rise Siminoff said he would estimate the name turned out to be worth between $30 million and $50 million to the company! Cover.com has a lot of room to grow and when Saroya's company is four years down the line (as Siminoff's was) I wouldn't be surprised to hear him making the same kind of assessment. Both of their stories are powerful testaments to the extraordinary value of a great domain name when one is put in the right hands.
This is Thanksgiving Day in the U.S. (Nov. 22, 2018) - one of America's most cherished holidays. It is a day when we pause to give thanks for our many blessings (a day that over the years has morphed into a four-day weekend filled with food, fun, family and friends). I try to never let a day go by without giving thanks before going to bed at night. We have much to be thankful for and are especially grateful for YOU!. Without your encouragement and support over the past 15 years (16 as of January 1) I would not be here writing this right now. So thank you and may your day, weekend and every day ahead be filled with blessings and joy for you and yours.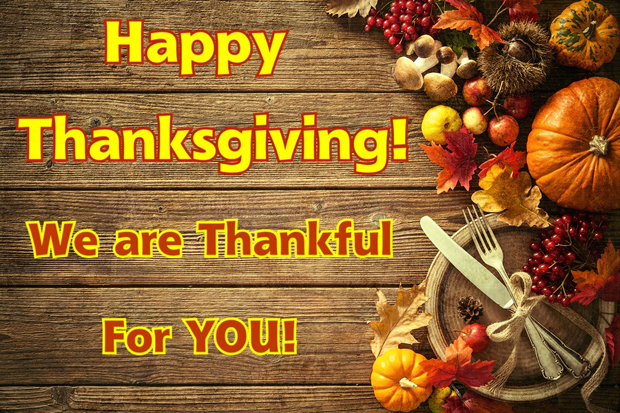 (background image from Bigstock)
(Posted November 22, 2018)
Michael Cyger Predicts His Cash + Equity Sale of Brew.com Will End Up Being a 7-Figure Deal
DNAcademy.com Founder Michael Cyger has earned kudos for the site's diverse offering of courses designed to help digital investors and entrepreneurs achieve success. Michael now has another real world case study he can share of how a premium domain sale can be structured in a way that generates profits long after the sale agreement has been signed - his own cash & equity sale of Brew.com this month.

While the exact terms of the Brew.com deal are subject to an NDA, Cyger said the cash component alone would put the sale among the year's 10 biggest to date. Better yet, he expects the equity stake he got in the business the buyer is building on the domain will end up being worth seven figures in the long run.

Michael Cyger

Image from Bigstock

Brew.com was purchased by the new company's Founder & CEO Jijo Sunny who discussed the venture in this Twitter thread. Jijo and his team launched another company, BuyMeACoffee.com, earlier this year. As it happens, neither that company nor Brew.com is involved in the coffee business. The "coffee" is a metaphor for small donations made to all kinds of creators of quality content - artists, designer, writers, developers, etc. BuyMeACoffee.com is a platform that showcases the creators and collects the donations. For that, the site collects 5% of the amount donated.

Brew.com, which will be a separate enterprise, could be thought of as a premium

version of BuyMeACoffee, one that will feature the best content with exclusive rewards and perks in an ad free environment.

Cyger told us, "I'll be a member of Brew's Advisory Board for the next few years as they launch and scale. It's a deal that will be worth seven figures when Brew.com gets traction and I'm really proud to be associated with Jijo, his brother Joseph, and the entire Brew.com team. It's going to be an exciting journey!"

Cyger added, "They are located in San Francisco and are applying to Y Combinator. Like most startups, they have no formal office space so I asked Escrow.com General Manager Jackson Elsegood if we could borrow their conference room in San Francisco to meet, complete due diligence and sign the paperwork for the Brew.com deal. Jackson, Brian Tharp and the entire Escrow.com team were very generous in allowing us to use their facilities."

(Left to right: Jackson Elsegood (Escrow.com), Madhavan Ramakrishnan (Brew.com), Jijo Sunny (Brew.com), Michael Cyger and Brian Tharp (Escrow.com).

In closing Cyger noted, "My hope is that more founders with innovative and industry changing ideas go with a stellar brand and domain name from day 1 because as I wrote in this blog post: "New research shows that choosing the right name – and more importantly, the right domain name for your business – can have an outsized impact on the success of your business, including trust, authority, credibility, visibility and fundraising."
Radix's Startup League Backed Over 40 Startups at Web Summit 2018 in Lisbon
The massive 2018 Web Summit conference was held November 5-8 in Lisbon, Portugal with over 70,000 attendees from over 100 countries on hand. For the 3rd consecutive year new TLD registry operator Radix was there to support its community for startups, the Startup League, backing over 40 startups that have been built on Radix TLDs.

Overall, more that 2,000 startups from around the world exhibited at Web Summit. Among those that were able to go thanks to their Startup League connection were:

Startup League Program Head Lenold Vaz said, "We are thrilled and proud to have supported so many innovative startups at Web Summit. We believe that high-potential startups deserve a powerful go-to-market strategy and Web Summit is the perfect platform for startups on our TLDs to showcase their product to the most evolved tech audience in the world."

Above: Lenold Vaz (far right) and Tanisha Gupta (center) from the Startup League with the startup founders. Click on the photo to see the full size version of it.

Along with their booth sponsorship, the Startup League provided booth goodies such as stickers, badges, stationery as well as t-shirts branded with respective startups' logos for greater booth engagement and visibility for each startup. They also amplified the promotions for these startups through online marketing, content marketing and social media hype.

Lenold Vaz
Startup League Program Head

After sponsoring over 50 startups at Web Summit last year and dozens more this year, the Startup League is setting their sites even higher for 2019. Lenold noted, "The incremental impact that we are able to create for these startups is encouraging and we are looking forward to an even bigger show next year. This is an exciting time for new domains as more and more startups are embracing them to reflect their commitment to innovation and focus on futuristic trends."

Some of the startups supported by the Startup League previously at Web Summit include sensei.tech (2017), which later got selected for TechStars Metro Retail Program, Berlin; Watr.tech (2016, 2017), which became a finalist at Web Summit's PITCH event; Nu-rise.tech (2016), which became a semi-finalist at Web Summit's PITCH event; and YouClap.tech (2017), which received a €100K funding.

The Startup League's efforts have been spread across the globe. In addition to Web Summit, they have supported startups at TNW (Amsterdam), Collision (USA), TechCrunch Disrupt (USA), TechSparks (India), RISE (Hong Kong) and many other events.
GGRG Says Sales Activity in "Liquid" Domain Names (Short .COMS) Rebounded Strongly in 3Q-2018
Domain brokerage and consultancy GGRG.com has released their latest free quarterly report (.pdf file) breaking down aftermarket sales and development of "liquid domain names" in the 3rd quarter of 2018. GGRG defines liquid domains as being very short .com domains consisting of all letters (L) or all numbers (N), as well as 3-character (C) .coms that have a combination of letters and numbers. GGRG terms these categories "liquid" domains because they are relatively easy to sell at prevailing market rates.

There was a lot of good news in the latest report, showing a strong rebound in this category's sales levels compared to the previous quarter. GGRG reported "In Q3 the total volume of disclosed sales almost doubled from $5.4 million to $9.2 million. We also registered a 50% increase in the volume of Escrow.com sales, which jumped from $12 million to $16.7 million. According to Escrow.com, the most traded category were the 3-letter .com domains, with $11.4 million in sales, followed by the 4-letter .coms ($3.2 million) and the 3-number .coms ($1.1 million). According to ShortNames.com, the disclosed volumes for these categories showed a similar pattern with $5.2 million for 3Ls, $1.7 million for the 4Ls and almost $1 million in 5Ns."

GGRG Founder Giuseppe Graziano

However, the reported also included some bad news, noting " The positive numbers in terms of volume are in stark contrast with the continued decline across the board in 5th percentile values (a representation of a reasonable category price floor) which recorded the worst quarter since the inception of our report. 5-number and 3-character .coms lost 38%, 4Ls lost 28%. The only stable category were the 3Ls, which registered a modest loss of 2.8%.

You can review the complete report, including GGRG's liquid market market forecast, here.
Two-Letter .COM Changes Hands in $700,000 Deal Brokered by Joe Uddeme at NameExperts.com
Another rare two-letter .com domain has changed hands and as is so often the case with these highly prized assets, the name went to an investor based in China. This time it was MK.com in a $700,000 all cash deal closed by veteran broker Joe Uddeme at NameExperts.com.

When we do the next weekly update of our 2018 Top 100 YTD Sales Chart Wednesday evening that will make MK.com the 5th biggest sale reported so far this year. It is interesting to note that Joe also had the 5th biggest sale on our 2017 Top 100 Chart with a blockbuster $1,750,000 sale of 20.com.

Uddeme told us he contacted multiple large corporations, including Michael Kors and Mary Kay, that would have been natural homes for a marquee domain like this but surprisingly passed (many Kors products, especially handbags, have an MK emblem on them). A $700,000 purchase would have been peanuts to a corporate giant like Kors who logged over $4.7 billion in revenue in its 2018 fiscal year. However, many companies still fail to understand the value and prestige this kind of domain can add to a brand (even one that is already a prestigious one).

Joe Uddeme
NameExperts.com

That point is not lost on the investors that have been acquiring the very few 2-letter .coms that made it to market (there are only 676 possible combinations in the two-letter .com universe and many reside with owners that will never let them go). No one can say for sure how their investments will pan out but, as with physical real estate, when you invest in quality you certainly improve your chances of a solid return in the long run.
How Can You Mend a Broken Heart? Making New Music is Helping Emme Lentino Heal from the Untimely Loss of Husband Tony
Two years ago the domain industry prematurely lost one of its most successful entrepreneurs when Tony Lentino - the founder of registrar OnlyDomains.com - left us at the age of 42 after a 15-month battle with cancer. Many of our readers also know Tony's lovely wife, Emme, a long time friend who I first met over a decade ago when she came into the domain business (where she later met Tony) as a representative of a domain parking company called Klickerz. While Emme knows domains her real passion has always been singing (in fact I watched her sing with Howard Neu at a social event during the 2007 T.R.A.F.F.I.C. conference in New York City).

Even before domains, Emme had released an independent music CD and performing was never far from her mind, even while she had two beautiful daughters with Tony that are the apples of her eye. Emme has been healing since the

Emme Lentino

loss of her husband and one thing has helped her in that recovery process - pouring her heart and soul into new music that she has now released and is performing at venues in front of appreciative audiences around the world. There are many signs that this extraordinarily talented artist is on the verge of a major breakout.

The centerpiece of Emme's new work is an EP called The Oxygen Collection that is getting airplay in many major markets around the world. The amazing thing about this project is that Emme has dome all of it from writing, performing, producing to distributing her mesmerizing recordings and videos. Emme told us, "I am an indie unsigned singer/songwriter who writes and performs Pop rock, Soul and Americana music. It's really the message in my music that is the reason I am sometimes be found pushing myself uphill! In a world where you can hear "no, or not yet, or you don't fit in...". I say, I dare ya! Let's do this! Let's make the impossible possible."

"I want to uplift, empower, show kindness and love and most of all hope to the masses. I am on a mission to bring a movement of hope to the world. Because I believe that no matter what we face, we can survive, thrive and help others. It is in helping others that we find purpose and identity. So much of our time can be concentrated on what we are in at the moment. But when we can step out, and share our hearts and lend an ear to others, volunteer and spend time with someone who needs us- we suddenly feel energized! There are moments everyday when we can touch just one persons journey and make a difference in their life."

:I would love to share my music with as many people as possible. As one person, without the endorsement of a record label, I rely on friends and family and those who connect with my message to like, share and follow! So if you're on social

Emme Lentino on stage.

media : Twitter, Instagram, Facebook, Youtube - I would really appreciate your support! Also, my music is available on all platforms so whether you use Spotify, iTunes, etc., please add Emme to your playlist! It's all algorithms- so the more adds and likes and follows the more people hear the music."

"I feel so strongly that I am doing exactly what Tony wanted. To sing my heart out and to encourage others to do the same! Wishing everyone hugs and peace and joy.

I will always remember the kindness and support of my domain community. Thank you for being there for us!

Just as I was getting read to post this article I got an another exciting note from Emme. Her manager just notified her that she has been invited to perform in January 2019 at the Toyota Country Music Festival Tamworth in Australia! "It is such an honor and I'll be announcing details of this as I learn more," Emme said. She will also be releasing a new Christmas EP in a couple of weeks that will be distributed by MGM. It will feature an original Christmas song that Emme co-wrote in Los Angeles at the Paramount Recording Studios.

They say "seeing is believing" so I will leave you with a brand new video that Emme just released for her inspiring song "Seasons of Life" that will show you exactly why her legion of fans is growing so quickly!
Radix Registry's .ONLINE Hits the One Million Domains Mark to Become One of the 5 Biggest New gTLDs
The Radix registry announced today that its flagship TLD, .ONLINE, has surpassed 1 million domains under management - a number that Radix predicted they would hit when the new gTLD entered General Availability in August 2015. .ONLINE thus becomes one of just a few new gTLDS that have crossed the 1 million mark, a landmark that makes .ONLINE the 5th largest new TLD by zone size.

.ONLINE originally began as a joint venture between Radix, Tucows and Namecheap who won the rights to .ONLINE in a private auction. Not long after Radix, convinced that .ONLINE would be a winner, was able to acquire the Tucows and NameCheap's stake in the TLD. The term "online" has long been a popular component in domain names so Radix management felt it would be natural ending for those seeking a more concise identity online.

Radix CEO Sandeep Ramchandani noted, "Businesses and consumers have long settled for long and less memorable domains on familiar legacy strings such as .com. .ONLINE offers the global audience an opportunity to get their first-choice domain name without having to compromise. With only 1 million .ONLINE names vs. 135 million .com names taken, there is ample availability for customers and tremendous growth for us to tap into."

Sandeep Ramchandani
Radix CEO

Radix cited a number of favorable reviews from end users of .ONLINE domains. Aaron Agius, Founder-CEO of Louder.Online, said, "We are an SEO company and we moved from LouderOnline.com and LouderOnline.com.au to Louder.online. Being a global company, it has definitely made sense to move to a .ONLINE domain, especially in terms of branding for an online marketing company."

Based on an internal analysis by Radix, 65% of developed .ONLINE domains are in use by SMBs. As of this date, Radix said .ONLINE has generated over $13 million in revenue of which $1.5 million has come from premium domains sold directly by the registry and close to 90 premium .ONLINE domains have been sold organically in the aftermarket. To further expand .ONLINE's footprint, Radix is presently working on a large-scale end-customer marketing campaign for the TLD that is slated to launch in Q1 2019. Through the campaign, Radix aims to broaden awareness about .ONLINE by directly targeting active-intent users.
Guta.com Launches New Quarterly Report on Premium Domain Sales
Guta.com, a domain brokerage firm that has gained fame as a bridge between the Western and Chinese domain communities, has just launched a new quarterly Premium Domain Sales Observation Report that will be of interest to anyone interested is selling to (or buying from) the Chinese market. Bilingual Guta Founder & CEO George Hong maintains homes and offices in both the U.S. and China which has put him and his staff in the middle of many high end sales between and within the two nations.

Guta's first report breaks down sales of premium domains (with a primary focus on those containing 1-4 numbers or 1-3 letters) that Guta observed in the just completed 3rd quarter of 2018. The report includes individual domain names and prices paid if not subject to a non-disclosure agreement. Here are just a few interesting notes from the initial Guta report:

Nearly 50% of rare 2-letter .com sales went to blockchain or cryptocurrency related end users.

While there is always a demand for 3-letter .coms, wholesale prices paid by Chinese buyers declined while prices for short numeric domains remained stable.

George Hong
Founder & CEO, Guta.com

You can access the full free report here. It is also accessible through the Guta.com blog.