The Lowdown


September 2018 Archive

Subscribe to our RSS Feed

Here's the The Lowdown from DN Journal,
updated daily to fill you in on the latest buzz going around the domain name industry.

The Lowdown is compiled by DN Journal Editor & Publisher Ron Jackson.
GGRG Launches a New Platform Devoted to Buying & Selling 3-Letter .COM Domains
While I was away covering the MERGE! conference in Orlando last week Lisbon, Portugal based domain brokerage and consulting firm GGRG.com launched a new Liquid Domain Market Exchange at LXME.com. GGRG/LXME CEO & Founder Giuseppe Graziano told us the new platform will concentrate on providing the fastest and easiest way to buy and sell ever-popular 3-letter .com domain names.

Graziano said, "We would like to serve as a bridge between investors from East to West, which is why our website has the Lisbon bridge as its cover! While the official launch was September 17th, we actually opened up LXME.com with soft launch in May and we have already had some great results. One of our customers managed to sell his 3L .com domain within 15 minutes of setting the right price!"

Graziano was able to share some previously unreleased sales from the LXME platform that will be charted in our next weekly domain sales report that will be released tomorrow evening (Wednesday, September 26). Those include PFP.com at $28,600, KRC.com at $26,000, JLD.com at $22,792, DKM.com at $27,500 and RKL.com at $22,500.

Graziano said the advantages LXME offers sellers includes the ability to "list your domains and get them instantly exposed to the most active buyers of 3 letter .com domains. Get qualified offers, while simultaneously avoiding low-ball offers by setting a minimum offer level."

The benefits he cited for buyers included being

Giuseppe Graziano
GGRG/LXME CEO & Founder

able to "search for 3 letter .com domains without having to filter through non-premium inventory and create opportunity alerts to get notified as soon as a domain with the features you are looking for gets listed in the marketplace." You can more details on how to buy and sell on the new platform by visiting LXME.com.

Photos & Highlights from the Final Day of the 2018 MERGE! Conference in Orlando
The 2018 MERGE! conference concluded Tuesday (September 18) at the Hilton Lake Buena Vista Hotel at Disney Springs, just outside of Orlando, with a fourth and final full day and night of activity (you can check out the day 1 photos and highlights from Saturday here, Sunday's day 2 highlights here and Monday's day 3 highlights here).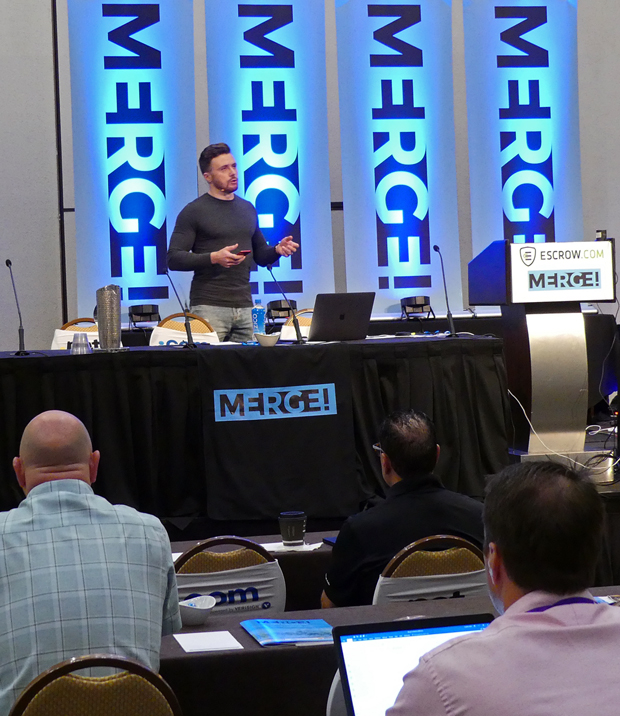 Above & below: The closing day of MERGE! began Tuesday with an excellent keynote address called Bootstrappers Do It Better from Subbly.co CEO Stefan Pretty. Subbly is an innovative subscription ecommerce platform and Stefan is a renowned bootstrapper who knows how to make the most out of every dollar you can muster to build your enterprise. A lot of people have great business ideas but little to no capital to make them a reality. Pretty, who hails from Scotland, detailed how he has been able to start a business from nothing and make it a success.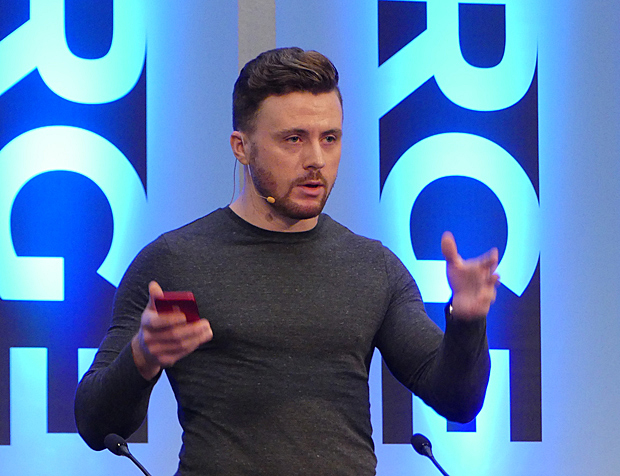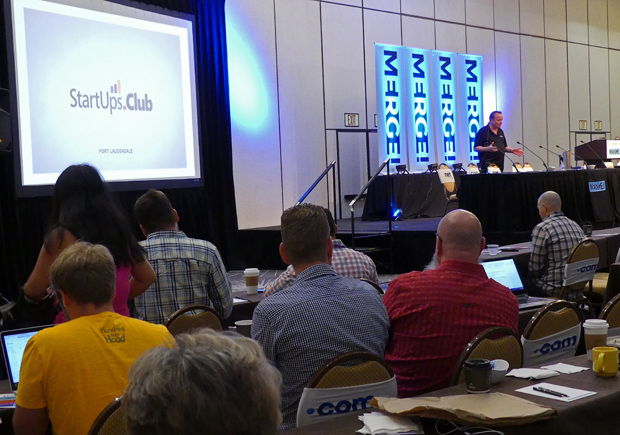 Above & Below: .CLUB Founder & CEO Colin Campbell continued the start-up theme in the next session - What Makes a StartUp Successful? It is something Campbell has done more than once and something he and .CLUB is attempting to help others do with their StartUps.club program that allows developers to pay for a premium domain over time. Whether or not you need a new domain for your business idea, you should check out this flyer Colin handed out that summarizes the successful startup cycle he has used, covering the steps from Start to Scale to Exit and Repeat.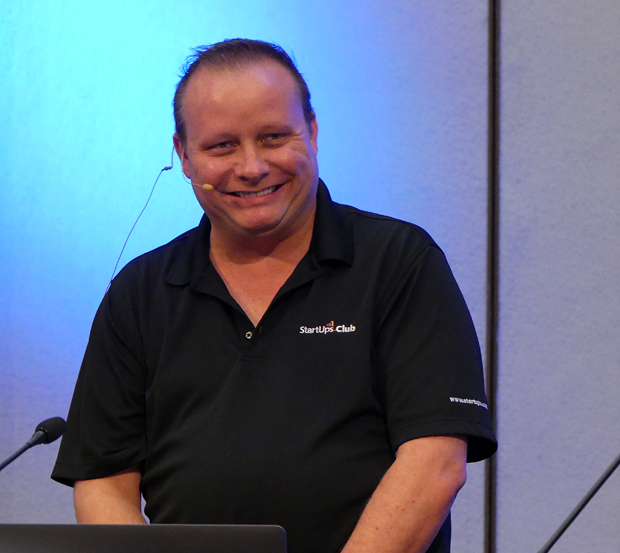 Above & below: at 11am Tuesday, MERGE! Co-Founder Ray Neu (standing above), moderated a session on ccTLDS - Their Utility, Value and Benefit. The panelists were (left to right below) Roelof Meijer, CEO at SIDN (operated of the Netherlands .nl extension) and Peter Maxymych, the Founder of eMall.ca and a pioneering investor/developer of Canadian .ca domain names.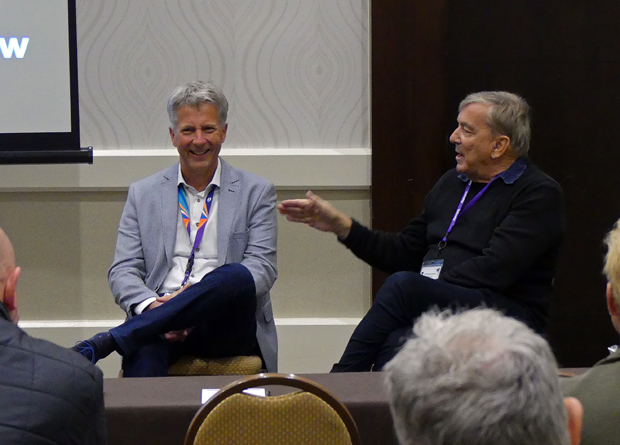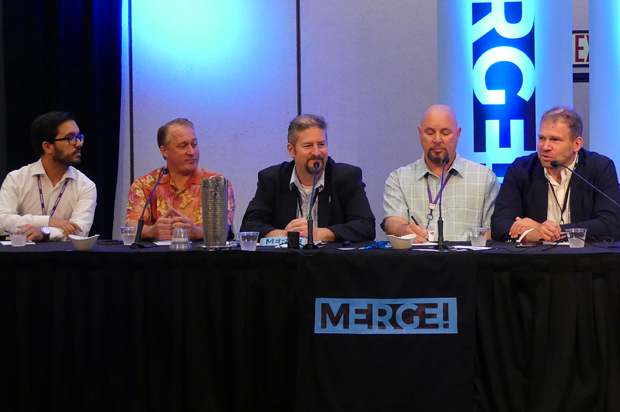 Above: In the last session before the Tuesday lunch break an expert panel covered DotBrands in 2018 - DotBrands and Corporate Domain Portfolios. The discussion featured (left to right) Jochen Kieler (BrandIT), Mike Rodenbaugh (Rodenbaugh Law), moderator and MERGE! Co-Founder Jothan Frakes, Cole Quinn (Microsoft Corporate Domains) and Martin Kuechenthal (CEO, Lemarit).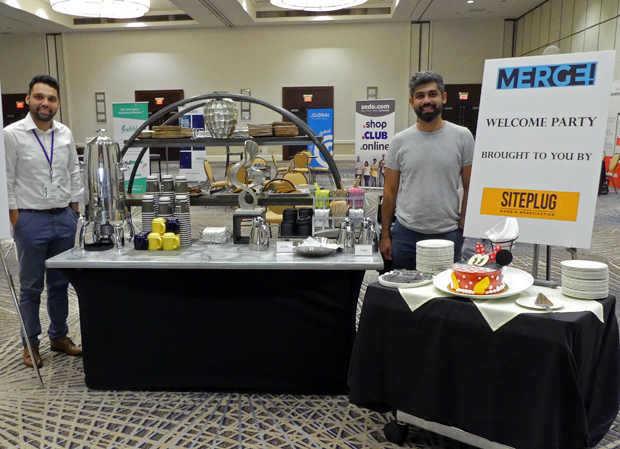 Above: While grabbing a cup of coffee from the Exhibit Hall coffee and dessert table before the afternoon sessions began Tuesday, I ran into the guys from Siteplug.com who had sponsored the MERGE! Welcome Party Sunday night. Unfortunately, they didn't get to attend their own party due to being delayed in getting to the hotel! Lavin Punjabi (at right) is the CEO and Co-Founder of the direct advertiser domain monetization service and we wanted him to know his party was a success!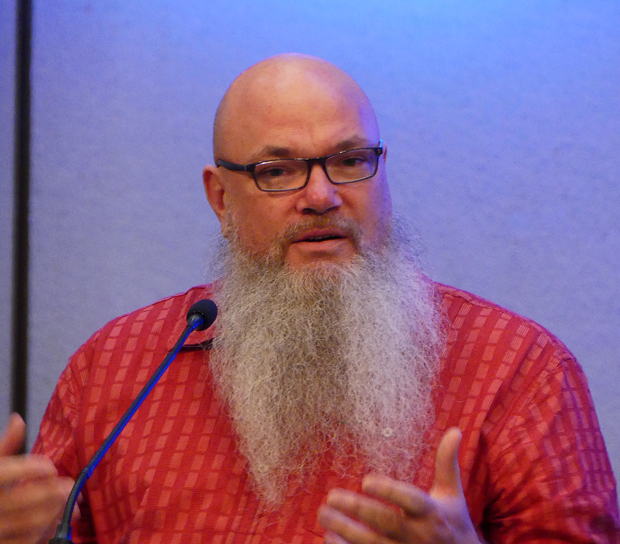 Above: Business resumed Tuesday afternoon with a 2pm session in which Norman Farrar (AKA the Amazon Growth Guy) shared what he has learned running Soap.club and several successful eCommerce, Shopify and Amazon stores. Since the early 1990s, Norman has been involved with a multitude of businesses ranging from corporate identity, manufacturing, specialty packaging, and consulting to consistently generate millions of dollars in sales for himself and his clients.
Below: At 3pm Karla Campos and Paul Brinkman took the stage to cover Content the Media Way - Content that Attracts and Keeps Viewers. Karla is a popular Latina entrepreneur mom, influencer, and author. She has been featured on several media outlets including Entrepreneur.com, Inc.com, NBC6, La Maxima, and Telemundo. Karla founded Social Media Sass and the Entrepreneur Moms Club with the mission of helping moms through the journey of entrepreneurship. You can connect with her on social media at @SocialMediaSass. Paul is a business journalist who has spent ten years covering the business news in Florida and, as a blogger, he is known for his in-depth investigative work.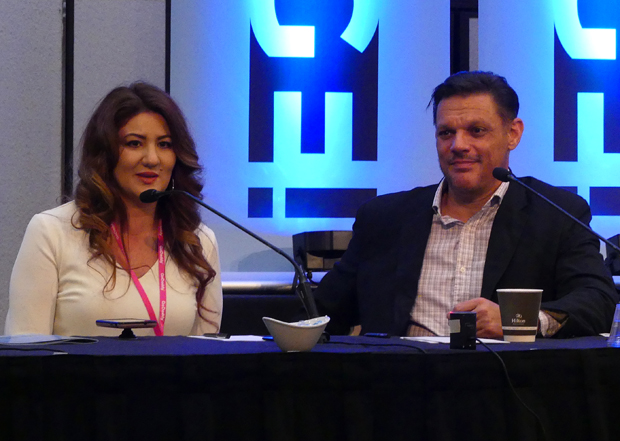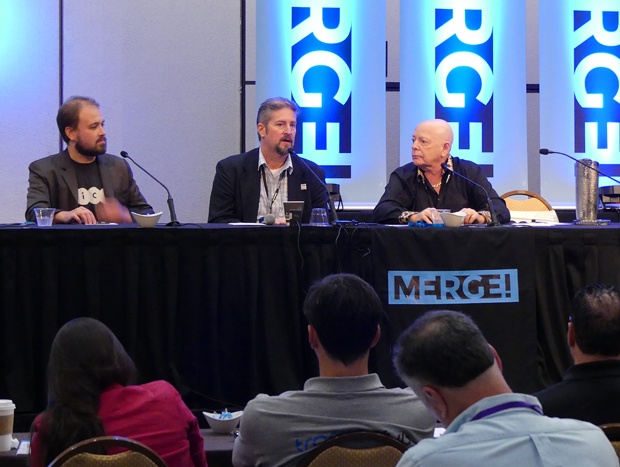 Above: One of the conference's most lively sessions was a 4pm Debate - .Coms Vs. New gTLDs - How Are they Stacking Up. It featured the always frank Gregg McNair (Group Chairman, Premium Traffic Ltd), at right above, making the .com case while .ICU registry Co-Founder Kevin Kopas (left) took the new gTLD side with moderator Jothan Frakes caught in the middle of the crossfire!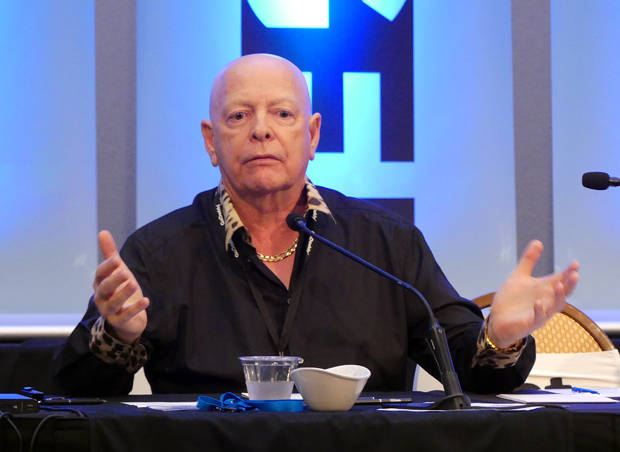 Above: Gregg McNair is convinced time spent on anything other than .com is time wasted and minced no words as to why he feels that way.
Below: Kevin Kopas, who worked for the Public Interest Registry (administrator of .ORG) before co-founding new gTLD registry .ICU, told attendees why he believed in the future of new gTLDs and is putting his money where his mouth is.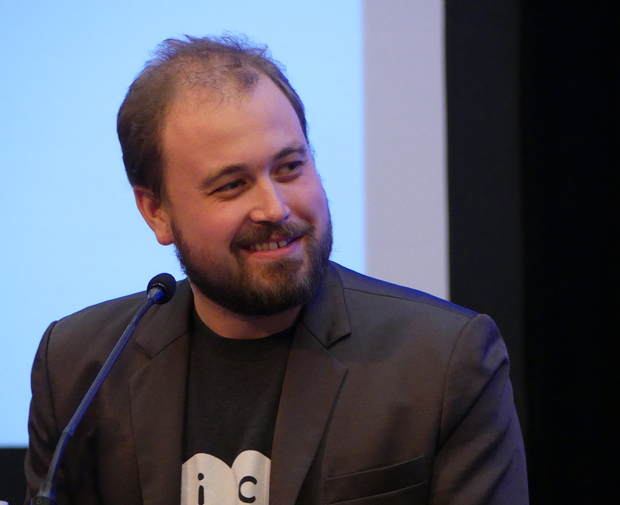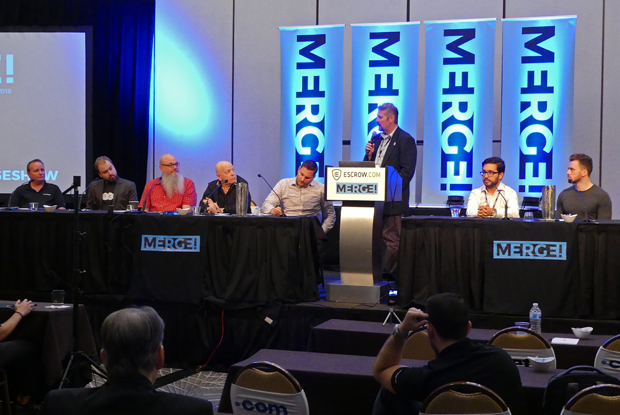 Above: The final business session of MERGE! 2018 - CEOs Discuss the Future of the Industry - featured an all-star lineup. The panelists (including CEOs, founders and other top level business leaders) were, from left to right Colin Campbell (.CLUB), Kevin Kopas (.ICU), Norman Farrar (Soap.club), Gregg McNair (Premium Traffic Ltd), Chad Bennett (Heroic.com), moderator and MERGE! Co-Founder Jothan Frakes, Jochen Kieler (BrandIT) and Stefan Pretty (Subbly.com). Their insight closed the show on a productive and positive note.
After an impressive launch last year, MERGE! made a lot of progress this year with a new venue that has a perfect layout for a conference and an even more ambitious agenda that gives attendees access to information on a wide variety of today's hottest Internet business topics, from domains to development, cryptocurrency to ecommerce options to security and beyond. We appreciate the work Co-Founders Jothan Frakes and Ray Neu have done to create this valuable learning and networking opportunity, as well as the tireless efforts of conference veterans Howard Neu and Barbara Neu who supported them by doing everything they could do to make sure every attendee went home happy with a new circle of friends and connections to help them start or improve their own online enterprises. It was, as it always is, time that was very well spent.
Photos & Highlights from Day 3 Monday at the 2018 MERGE! Conference in Orlando, Florida
The 2018 MERGE! conference continued Monday (September 17) at the Hilton Lake Buena Vista Hotel at Disney Springs, just outside of Orlando, with another full day and night of activity (you can check out the day 1 photos and highlights from Saturday here and Sunday's day 2 highlights here).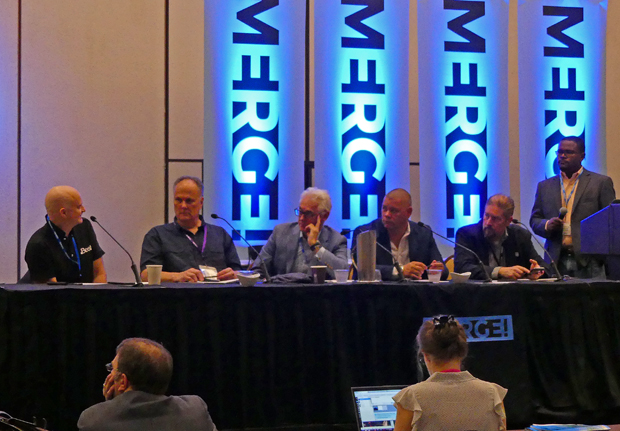 Above: Monday began with a 9am panel discussion about Domain Name Solutions for Blockchain Challenges. CryptoCurrency Wallet Addresses, Smart Contract Addresses and other resources within the blockchain world use long and complex addresses. Just like IP addresses than are too long and complicated to remember, domain names can be used to create an important shortcut reference to systems you need to access. The panelists were (left to right): Jodee Rich (PeopleBrowser), Dave Evanson (Sedo), Toby Hall (MMX.co), Jebediah Burnett (Donuts), Jothan Frakes (The DNA) and moderator Alvin Brown (Kickstart Commerce).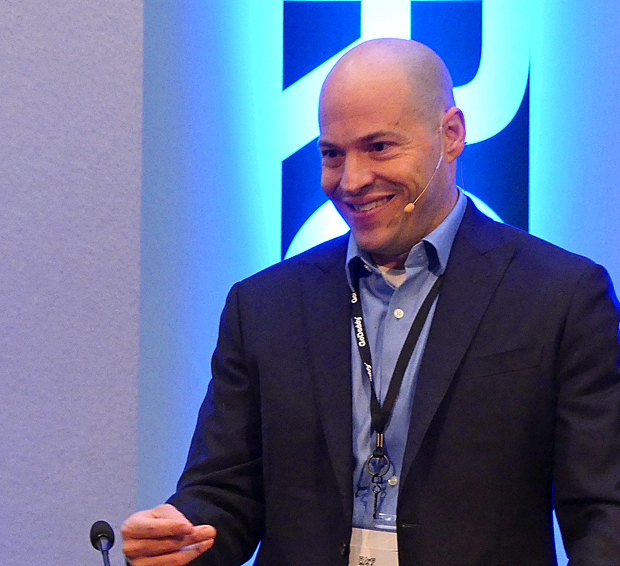 Above: At 10am motivational speaker Dr. Rob Fazio (Onpoint Advising) delivered a tremendous keynote talk titled Motivational Currency®: The Psychology of Success. Rob has over 20 years of experience advising elite and emerging talent in the areas of power, influence, motivation and emotional intelligence. He gave attendees success strategies from his book Simple is the New Smart that shows provides a path to success. Rob was also instrumental in starting the acclaimed Hold the Door for Others nonprofit organization that provides resources and opportunities to inspire people to grow in healthy ways when faced with adversity. Their mission was inspired by Rob's father, Ron Fazio, Sr., who on 9/11 in New York City was seen holding the door open for others at the cost of his own life (Full Story). If you are not already familiar with Rob, I would highly recommended getting acquainted with him and his work - you will be glad you did.
Below: Leaning forward, MERGE! Co-Founder Ray Neu intently listening to Dr. Rob Fazio's keynote talk Monday morning.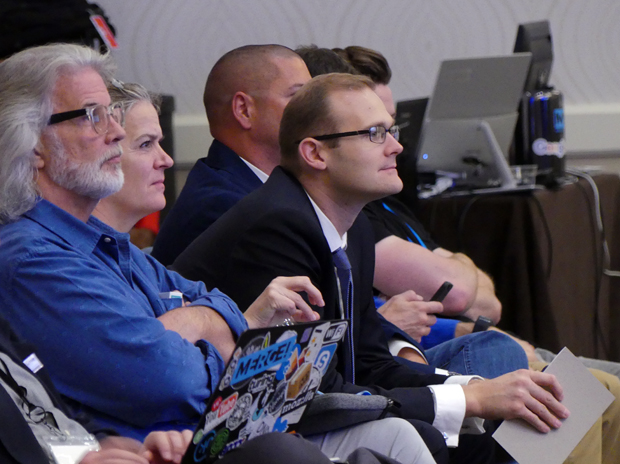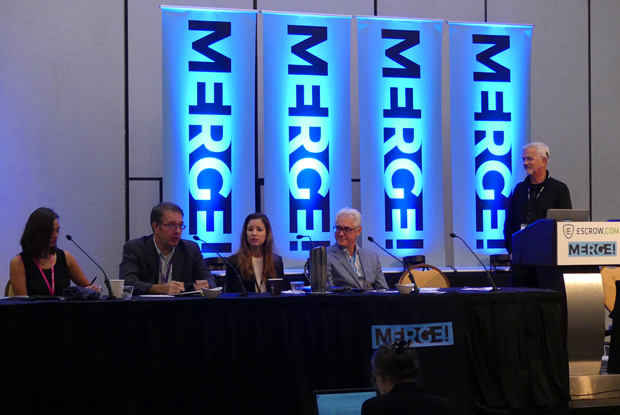 Above & below: At 11am I stepped off the domain track to learn more about another subject by checking out a panel discussion titled Cryptocurrency/Blockchain: Practical Benefits and Where to Use It, Where Not To. That panel featured (left to right): Bianca Diosdado (Quire), Michael Palage (Pharos Global), Christa Taylor (dotTBA Inc.), Tony Hall (MMX.co) and moderator Ken Hansen (Farsight Security).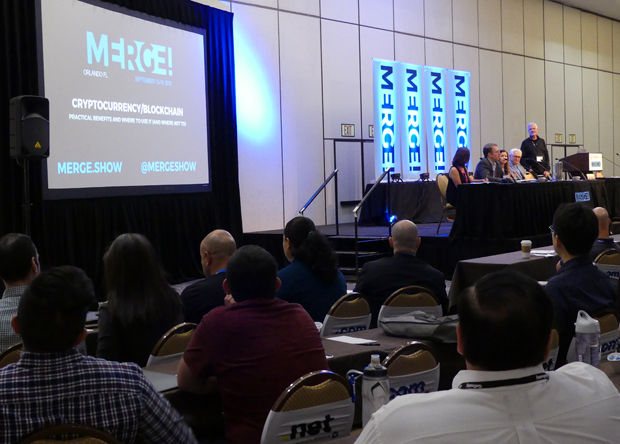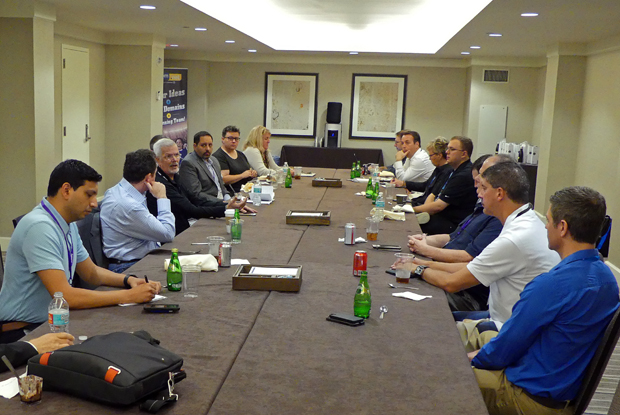 Above & below: In addition to all of the sessions on the show agenda a number of private events are held throughout show week by various companies and organizations. I accepted a Verisign luncheon invitation Monday that had a two-fold purpose for those attending - to hear about the latest developments and initiatives at the company that operates the .com and .net registries and offer their own thoughts on the most significant current industry trends. Several representatives from Verisign management were on hand including Director of Product Management Ward Bond and Director, Strategic Partnerships and domain industry veteran Tim Switzer (at right below).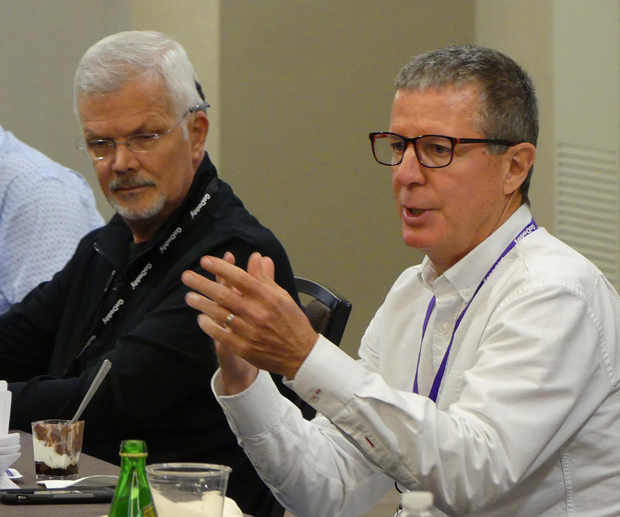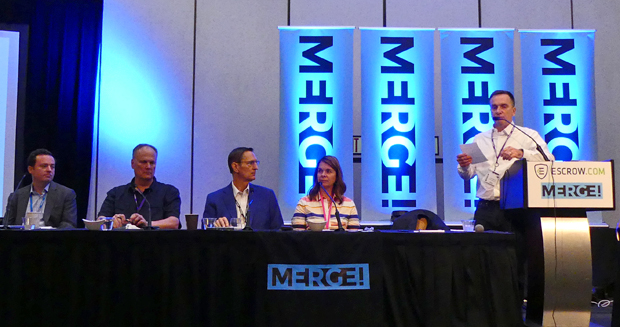 Above: After lunch I joined some other longtime colleagues to serve as panelists in a session titled Appraisals, Comps & Aftermarket: How Do We Know What Our Domains are Worth? Seated (left to right) are Joe Styler (GoDaddy), Dave Evanson (Sedo), Ron Jackson (DNJournal.com) and Kathy Nielsen (Neustar). Another industry veteran, moderator Lance Wolak (Founder, ExcelStrategy) is standing at right.
Below: The next afternoon session in the Keynote Hall Monday featured partners Wilfried Ligthart (Digital Blacksmith and Co-owner of Netevents) and Norman Farrar (AKA The Amazon Growth Guy). The two eCommerce experts gave attendees some great ideas for running an online business.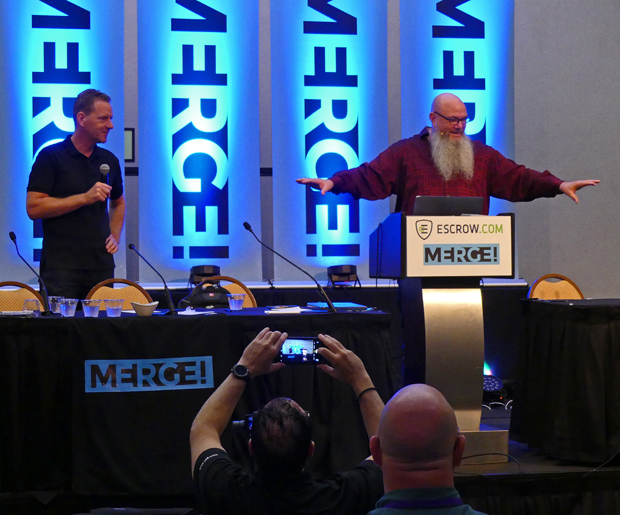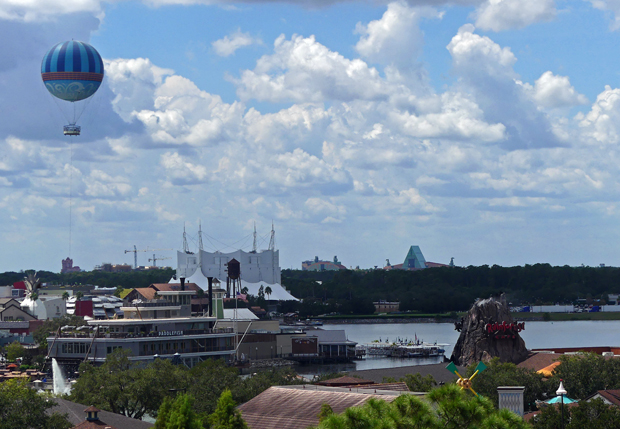 Above: Anyone who wanted an outdoor break after spending hours in the conference rooms didn't have to go far. The hotel pool is right next to the conference areas and the shopping/dining, entertainment center of Disney World - Disney Springs (shown above in a photo taken from our hotel balcony this afternoon) is just a short walk away.
Below: At 3:15 it was time for the Monday afternoon keynote address from Chad Bennett (CEO, Chief Architect, Heroic.com) titled Blockchain Based Cybersecurity: How Cryptocurrent Can Enable the Future of Cyber Protection. Chad is a technology visionary with 15+ years of professional cybersecurity experience. As CEO of multiple technology companies, Chad and his teams have been recognized three-times as Inc. 500 Fastest-Growing Private Company honorees. He is also a veteran of the domain space.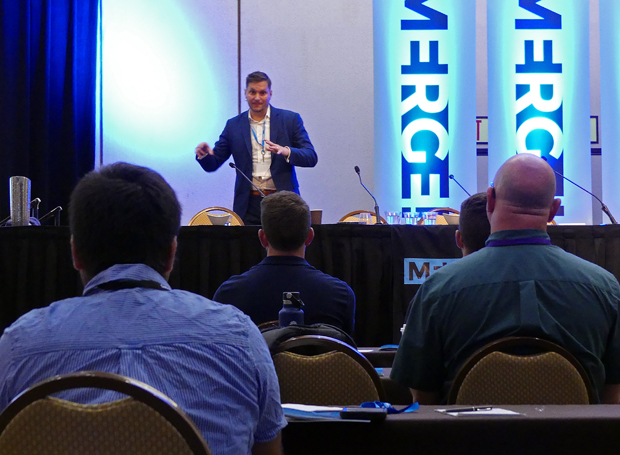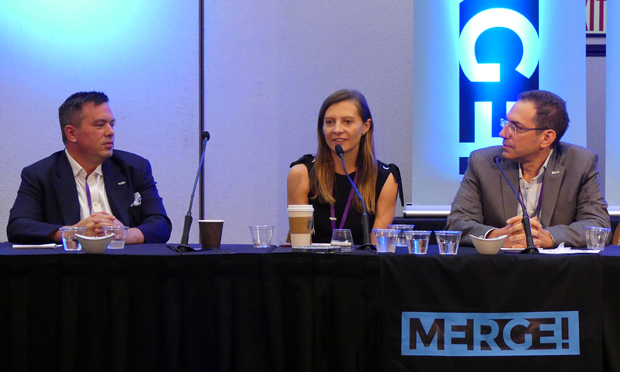 Above: The next half hour was divided into two lively 15-minute sessions. In the first, Meet the ICA, three leaders from the Internet Commerce Association, gave attendees details on the great work the non-profit organization does on behalf of domain owners. Left to right are Legal Counsel Zak Muscovitch, Executive Director Kamila Sekiewicz and Board Member Nat Cohen.
Below: I returned to the stage at 4:15 and brought one of the most successful domain investors in history, longtime friend Larry Fischer (GetYourDomain.com), with me. We talked about the latest trends in the domain aftermarket, how Larry and his partner Ari Goldberger put together their biggest deals and the validity of domain appraisals. As you might expect, those 15 minutes flew by.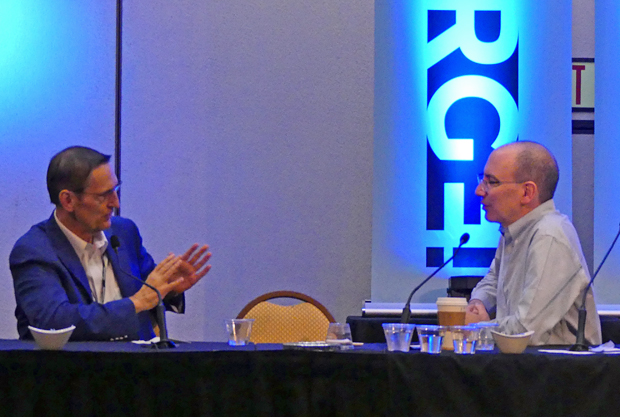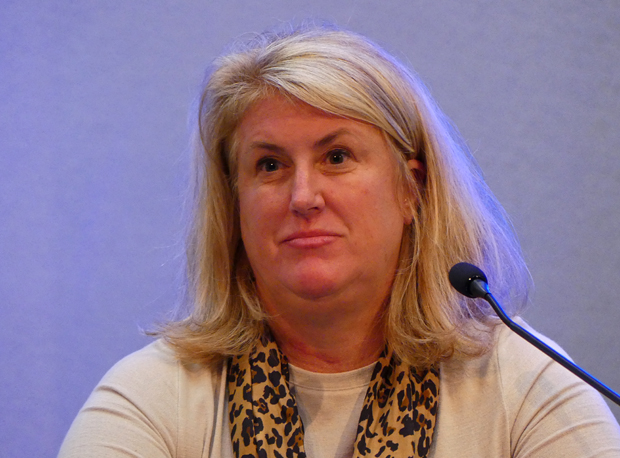 Above: At 4:30pm ICANN Director of Registrar Services, Jennifer Gore, sat down with MERGE! Co-founder Jothan Frakes for an interesting Fireside Chat. The discussion gave attendees an opportunity to learn more about ICANN, what they do, what they don't do, and how they work to ensure that the Internet Names and Numbers work in a stable, reliable, and resilient manner.
Below: In the final business session of the day Monday, moderator Howard Neu (standing) conducted a panel discussion devoted to Legal Matters: UDRP and ACPA Updates. Seated left to right are Ava Doppelt (Shareholder, Allen, Dyer, Doppelt + Gilchrist, PA), Gerald Levine (Partner, Levine Samuel, LLP), Ari Goldberger (ESQWire.com) and Zak Muscovitch (DNAttorney.com).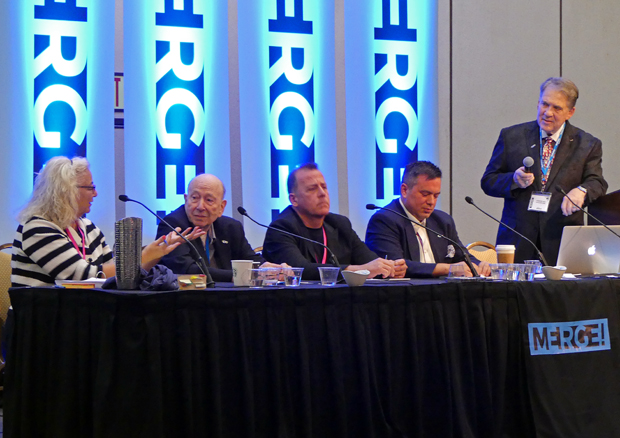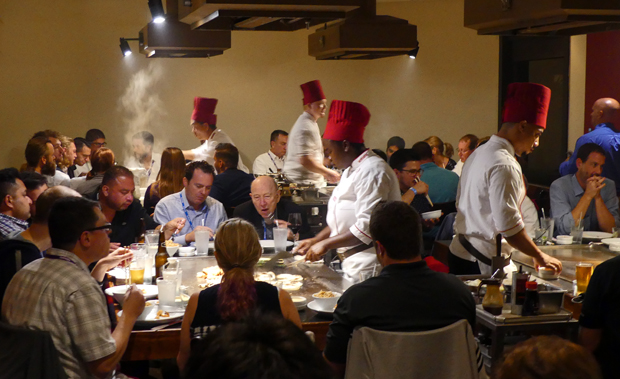 Above: On Monday evening the Internet Commerce Association and the Domain Name Association teamed up to organize a dinner at the Benihani Restaurant located inside the conference hotel. Dozens of attendees filled up three rooms in the popular Japanese restaurant.
Below: A close up look as our masterful Benihani chef, Ryan, works the grill at the center of our table.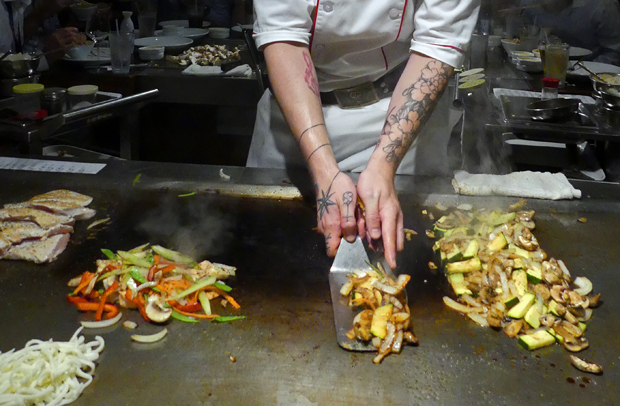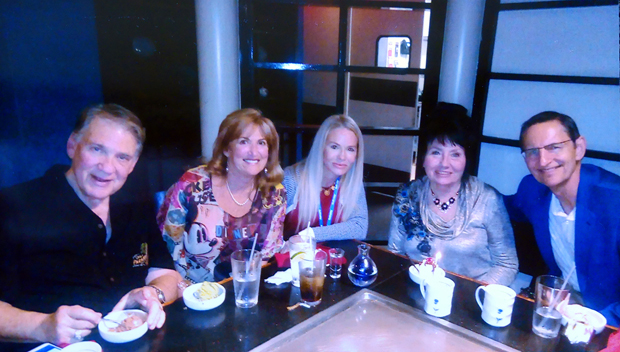 Above: Some of our friends and tablemates at the Benihani dinner, left to right, Howard Neu, Barbara Neu, Anna M. Bastian, my wife Diana and I.
Below: Like most, we headed straight to the MERGE! Hospitality Suite right after dinner and Barbara Neu had a surprise birthday party waiting for Diana when we arrived. Barbara goes "all out" when it comes to celebrations and this was no exception as she sat out TWO birthday cakes, one with a Minnie Mouse theme that perfectly matches these two ladies who are both big Disney fans.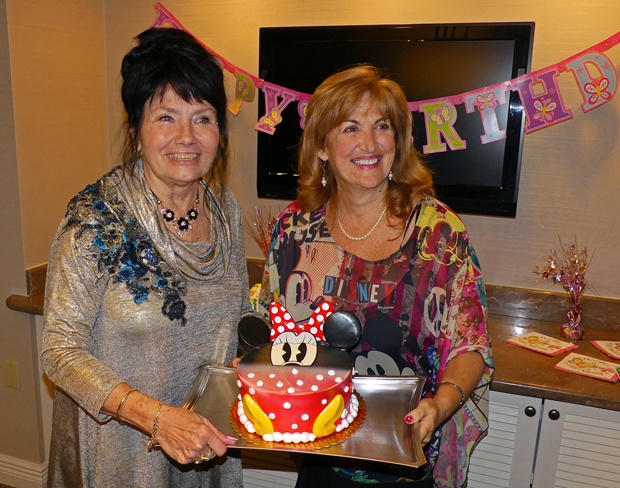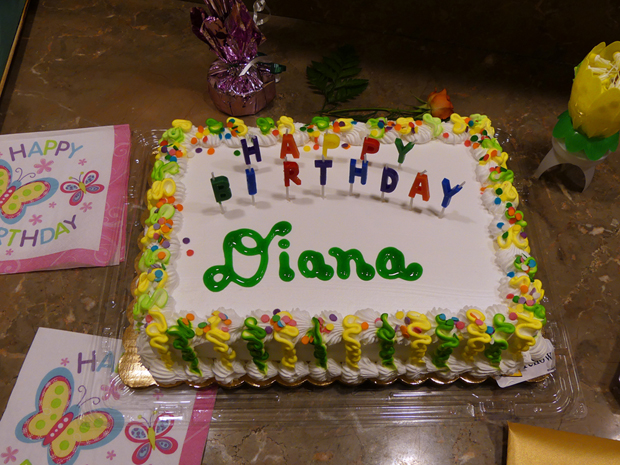 Above: A second birthday cake insured that no one went home with a sugar deficiency!
Below: A round of applause after guests in the MERGE! Hospitality Suite sang Happy Birthday to Diana. It has often been said that the domain business is "like a family" and occasions like this underscore why so many feel that way. Many life long friendships have been forged in this industry.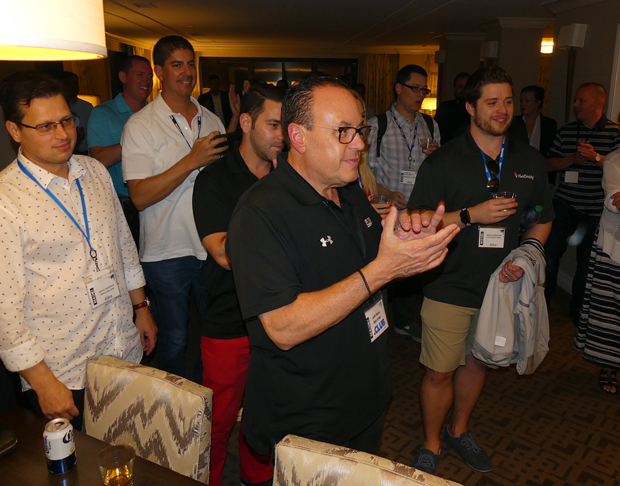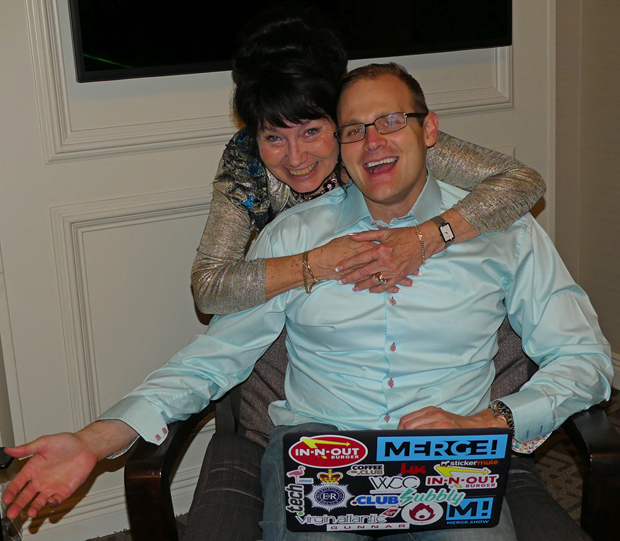 Above: MERGE! Co-founder Ray Neu gets a special hug from Diana after she learned that even though he had no time to spare he had gone out of his way to round up the cakes and supplies Barbara needed for the party - and had to deal with a flat tire before he completed the circuit! We've known Ray since he was a teenager and that is exactly the kind of person he is and has always been - one in a million.
As a write this, the final business day of MERGE! 2018 is winding down. I will have all of the Tuesday photos and highlights for you in my next post from Orlando.
Day 2 Photos & Highlights from the 2018 MERGE! Conference in Orlando Sunday
The 2018 MERGE! conference continued Sunday (September 16) with a second full day of business at the Hilton Lake Buena Vista Hotel at Disney Springs just outside of Orlando (you can check out the day 1 photos and highlights here). One thing that is great about the show's location (right next door to Disney Springs and the world famous Disney theme parks) is that there is always something for people of all ages to do.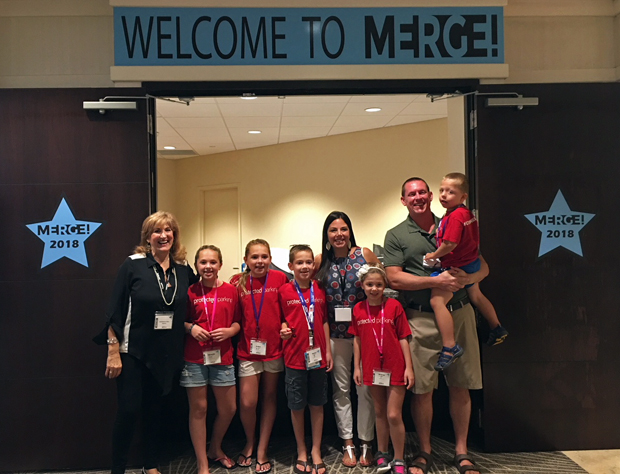 Above: I would bet no one is having more fun at MERGE! this week than Marlon Phillip's family. Marlon (who is the the VP Sales at ProtectedParking.com) and his wife brought all five of their kids along for conference week and MERGE's Barbara Neu (far left) has helped advise them on their many entertainment options (Disney World is, of course, getting a big chunk of the action)!
Below: You don't have to be a kid to appreciate Disney, as Diana Jackson proved when Minnie Mouse stopped by our table during Sunday brunch at the Hilton Lake Buena Vista Hotel where the conference is being held.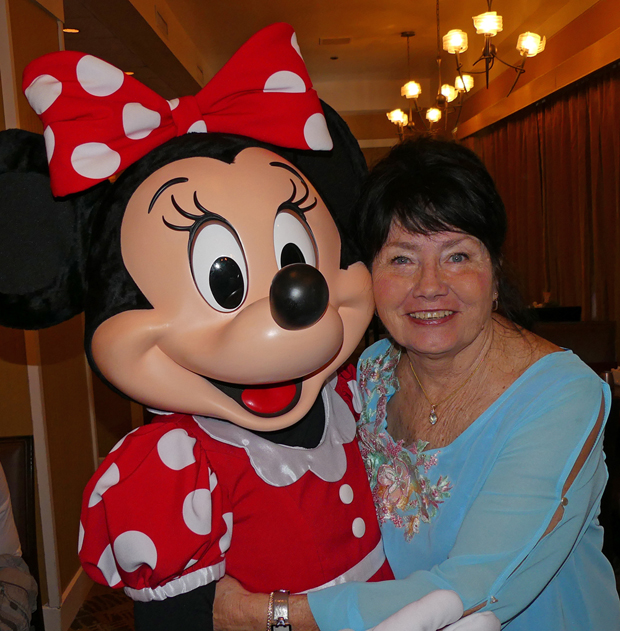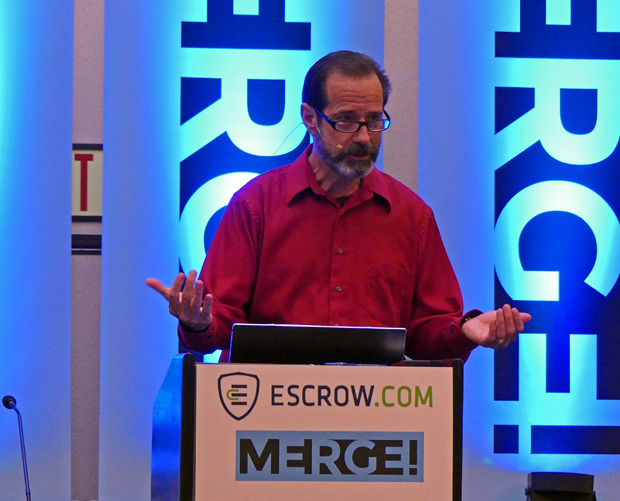 Above: The first sessions Sunday morning were on MERGE!'s CMS Summit track. While I have focused mostly on The Domain Conference and TLDFest tracks that are most relevant to our readers, I also tried to catch some sessions on the other tracks devoted to website development. After a 9:30 keynote from Robert Jacobi (Perfect Dashboard), Duke Speer from The Elevating Project (whom I had met in the Hospitality Room the night before), took the stage at 10:15am where I shot this photo during his presentation on Bringing Your Site to Life - Functional SVG Animation.
Below: The MERGE! Networking Lounge, just outside, the Exhibit Hall, has proved to be a popular spot this week. Mark Ghoriafi (.GLOBAL), at center in the foreground, got a lot of business done by setting up shop there Sunday morning.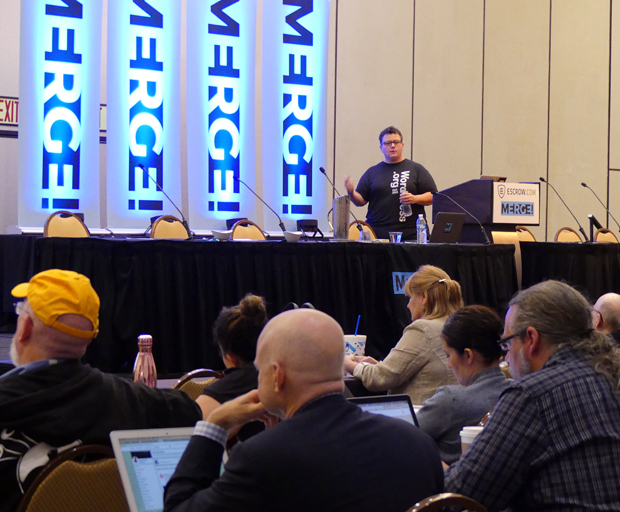 Above: At 11:15am Sunday domain industry veteran Kellie Peterson, now with Automattic, staged this popular presentation on Using Wordpress Effectively With Multiple Domains. A little later, in the final morning presentation on The Domain Conference track, moderator Christa Taylor (dotTBA Inc.) interviewed Ad Marketplace President and COO Adam Epstein in the 3rd part of the three-part series on Direct Advertisers that started Saturday.
Below: Right after lunch in one of Sunday's highlights, Dr. Paul Vixie (Chairman, Farsight Security) delivered a Security track keynote - Takedown Vs. Staydown for Internet Identifiers: the DNS RPZ Firewall Approach. After his talk moderator and MERGE! Co-Founder Jothan Frakes sat down with Dr. Vixie for an illuminating fireside chat.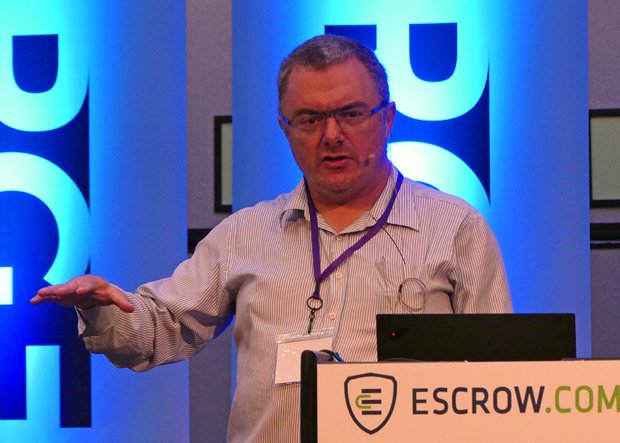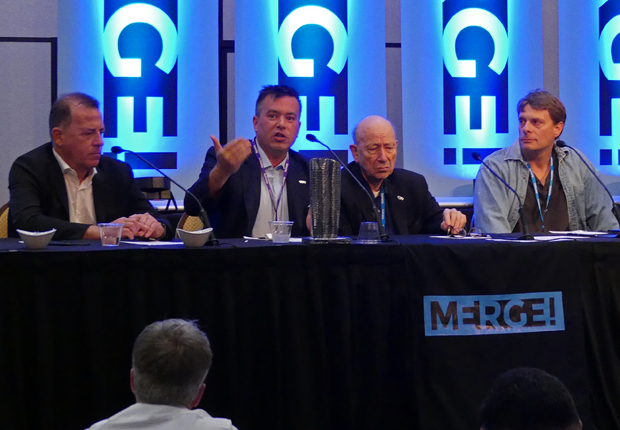 Above: I spent the rest of Sunday afternoon following The Domain Conference & TLDFest tracks, starting with the panel discussion above that featured leading attorneys talking about TOSI VS. GDPR Vs. WhoIs Privacy - How is the Domain Investor Affected? The panelists were (left to right) Ari Goldberger (ESQwire.com), Zak Muscovitch (DNAttorney.com ), Gerald Levine (Partner, Levine Samuel, LLP ) and Stevan Lieberman (Greenberg & Lieberman).
Below: At 4:30pm .CLUB Chief Marketing Officer Jeff Sass conducted an entertaining and informative hour devoted to Branding Lessons - From Monster Movies to Domains. Jeff capped his presentation with a domain version of The Match Game in which winning audience members got free gifts. They had to guess, judging from the domain name only with multiple choice options, what the site was about.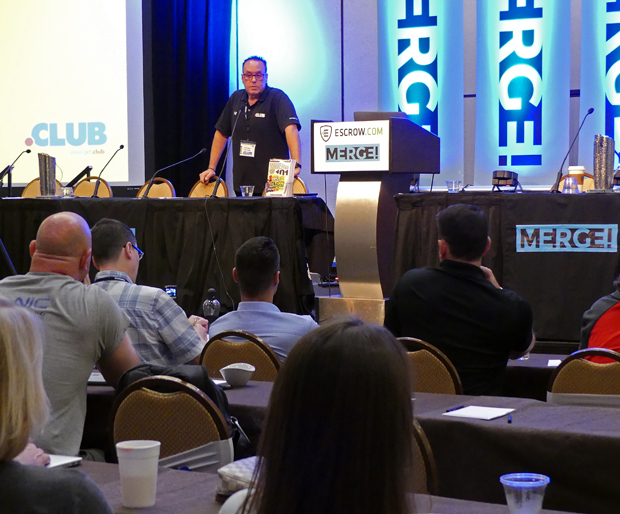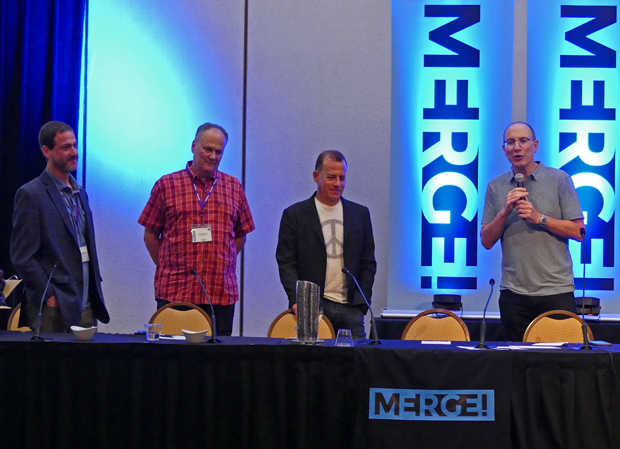 Above & Below: The games continued at 5:30pm with a new edition of Larry Fischer's ever-popular Registered or Not Registered? game. (Larry, at far right, from GetYourDomain.com) would put a domain name on the video screen and the three experts competing had to decide whether that name was registered or nor registered. It is a lot harder than you might think. The panelists were (left to right) Mark Daniel (Domain Holdings), Dave Evanson (Sedo) and Ari Goldberger (ESQwire.com). When the dust had cleared, Ari (below) scored a convincing win with 11 correct answers (9 and 7 were the next best scores). The audience also got to play several rounds with free T-shirts distributed to the winners.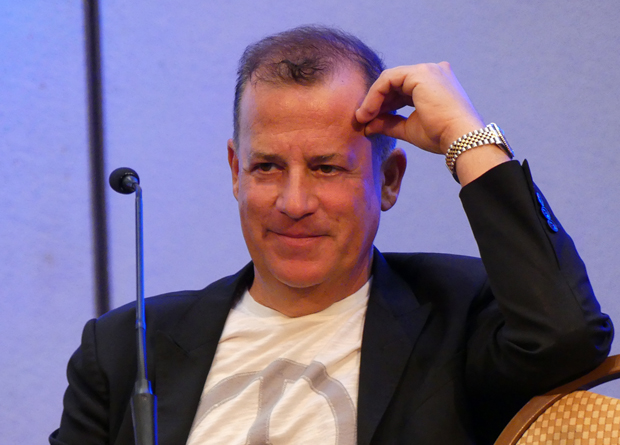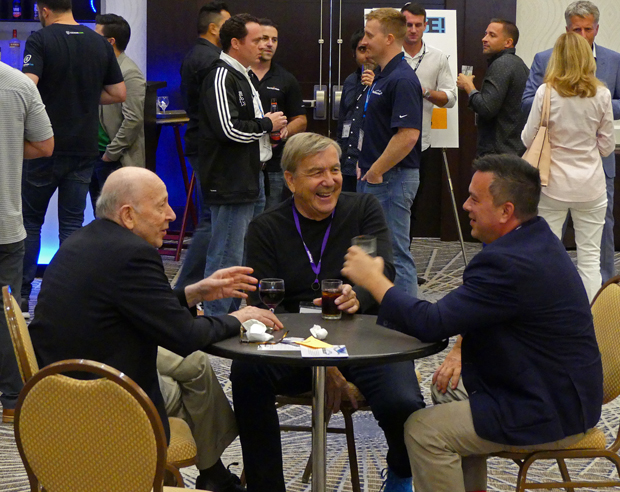 Above: With the day's business now done, attendees reconvened at 6:15pm for The Domain Conference Welcome Cocktail Party sponsored by Siteplug in the Exhibit Hall. In the foreground, Gerald Levine, Peter Maxymych and Zak Muscovitch share conversation and a drink as the party gets under way.
Below: There was plenty of food too, including the grouper fish tacos that Bill McClure (Coffee.club) is being served in this shot.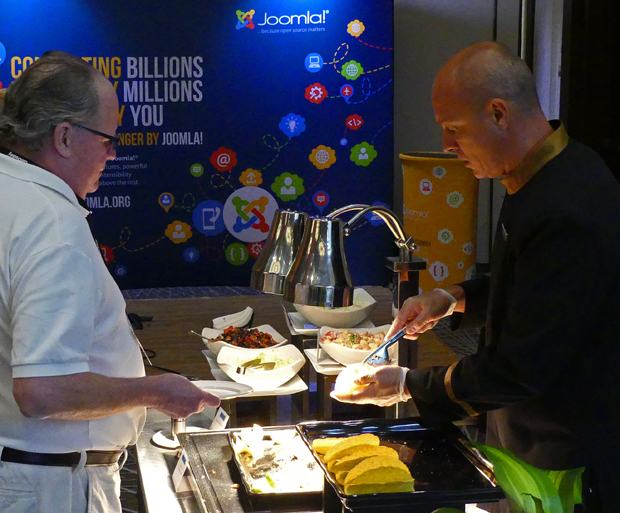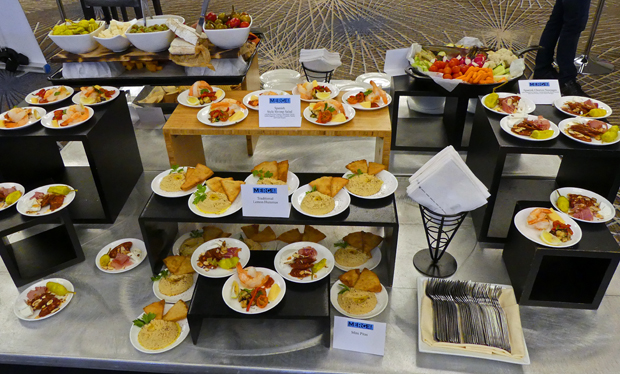 Above: Another popular stop on the cocktail party food circuit - the antipasto table. Others included a variety of pizzas and Italian sausages.
Below: Those who didn't get enough to eat at the Welcome Cocktail Party, found more food in the Fabulous.com Hospitality Suite where the party continued until 1am. Diana Jackson (left) and Nancy Bianchi (Above.com) surveyed the food table before digging in.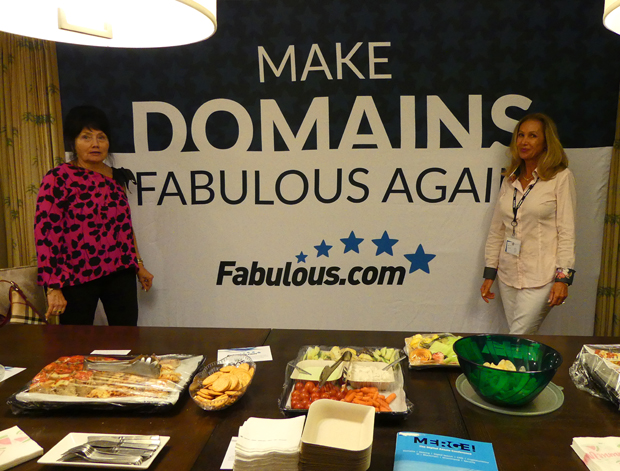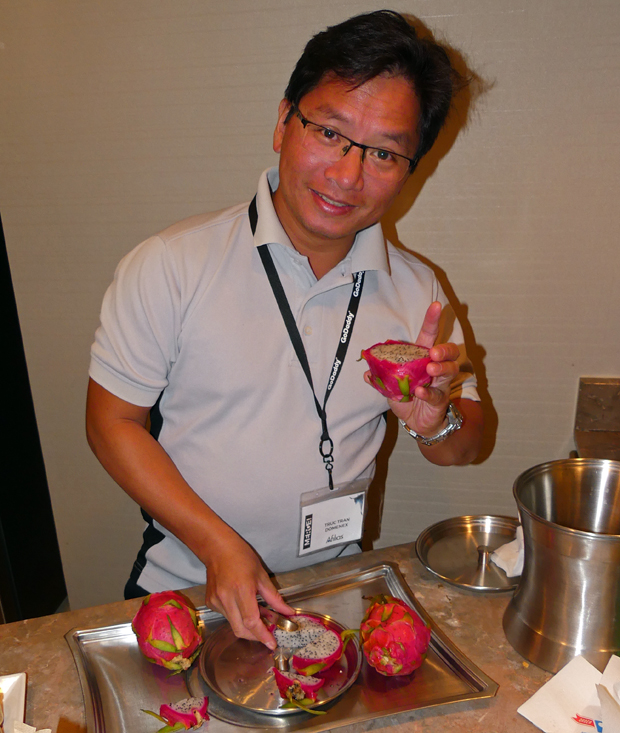 Above: Norway's Truc Tran provided the most exotic treat on the Hospitality Suite menu - fresh dragon fruit that he raises in a large garden he cultivates at a second home he has in Naples, Florida.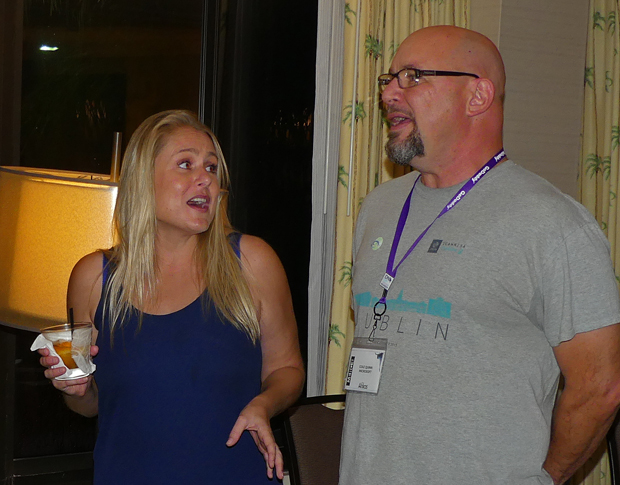 Above & below: In an unexpected treat, Hospitality Suite visitors got an impressive karaoke performance from a duo that included Microsoft's Cole Quinn (right). The crowd (below) reacted very positively to the performance. If there had been chairs (a la The Voice - it might have been a four chair turn)!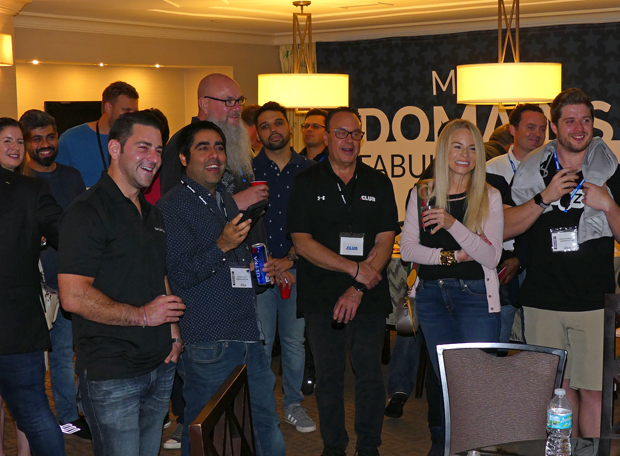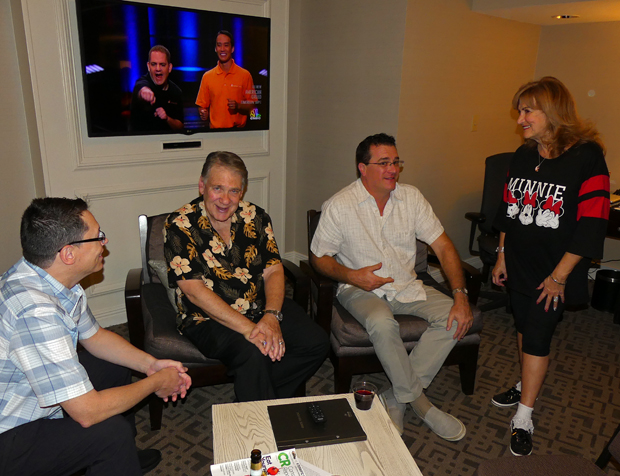 Above: The MERGE! Hospitality Suite is large enough to find a quiet corner (usually!) to chat with friends. Left to right here are Chris Wright, attorney Howard Neu, Sedo VP Brad Lemire and the world's biggest Minnie Mouse fan - Barbara Neu.
Below: The thing I enjoy most about conferences is catching up with old friends and making new ones. When I found longtime friend Kevin Kopas (left) in the Hospitality Suite I noticed he was wearing a T-shirt under his sports coat but couldn't make out what it said. I should have known - when I yanked it open there was the .icu logo representing the new TLD registry that Kevin recently co-founded and helps run with Lars Jensen and Michael Riedl.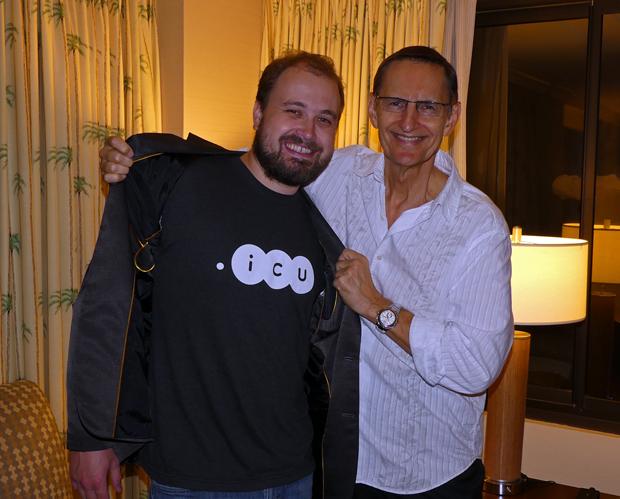 As I write this the third day at MERGE! is still underway (we are also celebrating my wife Diana's birthday here today). I'll have all of the Monday photos for you in my next post from Orlando. The 2nd annual show will close after one more full day of activity Tuesday (September 18).
Photos & Highlights from the 1st Full Day of Business at the 2018 MERGE! Conference in Orlando Saturday
The 2018 MERGE! conference got off to a running start with the first day of business Saturday (September 15) at the Hilton Lake Buena Vista Hotel at Disney Springs in Orlando, Florida. A lot of people actually arrived Friday to get in some informal networking, set up sponsor exhibits, attend private industry functions or visit one of the world famous Disney theme parks or the Disney Springs shopping, dining and entertainment mecca that is adjacent to the Hilton.

Above: Barbara Neu (left) and Kathy Kepler (center) at the MERGE! conference
registration desk where attendees like Jasmine Gonzalez (right) signed in for the show Saturday morning.

Above & Below: At 12 noon Saturday MERGE! Co-Founders Ray Neu (left) and Jothan Frakes officially welcomed their guests to the 2nd annual edition of their big event in Orlando.

Above & Below: MERGE! made sure attendees got to know each other with a facilitated networking session conducted by Howard Neu that immediately followed welcoming remarks from the conference founders. There are a lot of new people to meet at MERGE! because the show covers much more ground that just the domain business (represented by The Domain Conference track within MERGE!). That is just one of six components in the MERGE! mix - the others currently being Blockchain, CMS Summit, SubMERGE! (eCommerce), Security and TLDFest (another domain track but this one focused on new TLDs). Those "conferences within a conference" work both independently as part of the MERGE! whole. For example, the CMS Summit held three business sessions Saturday morning before the overall show opening at noon Saturday. Since our readers are predominantly from the domain space most of our show coverage will focus on those areas but we will also be sampling sessions from other tracks as time allows. All of the MERGE! components are integral parts of doing business on the web so all are relevant to anyone who has an interest in moving beyond domains to full scale development of one or more websites.

Above: Trellian/Above.com VP Nancy Bianchi chatting with a fellow MERGE! attendees during the facilitated networking session Saturday. The session was structured to insure that attendees could spend one-on time with around two dozen different people in the course of the hour.

Above: In one of two domain track sessions that started at 2:45 pm Saturday an expert panel covered Part 1 of what will be 3 parts devoted to Direct Advertisers over the course of the show. This panel featured (left to right) Sam Tseng (ParkingCrew.com), Matthias Kaiser (COO, Traffic.Club SARL), David Warmuz (CEO, Trellian/Above.com) and moderator Christa Taylor (CEO, dotTBA Inc.).

Below: At the same time in a nearby breakout room Phillipe Collin (CEO, Frogan's Addresses for All) conducted a session on how the Frogan's namespace can be utilized.

Above. For 2018, MERGE! has a vastly expanded, more friendly Exhibit Hall space that attendees will want to spend time in. Here GoDaddy Aftermarket Product Manager Joe Styler is fielding questions about the services offered by the world's largest domain registrar.

Below: The Exhibit Hall is a also a great place to relax with friends over a game of table tennis, some time on the nearby golf putting surface, a spin of the .CLUB Roulette Wheel (for free gifts) and other diversions.

Above: In part 2 of the 3-part series on Direct Advertisers, a new panel was on stage at 3:30pm Saturday with this one featuring (left to right): Marlon Phillips (VP Sales, Protected Parking), James Tuplin (Director of Business Development, Bodis), Mike Robertson (Director of Business Develoment, Fabulous.com) and moderator Christa Taylor (CEO, dotTBA Inc.).

Below: They were followed by a second panel of experts that provided Secrets of Domain Leasing in the day's final domain track session. The panelists were (left to right) Stevan Lieberman (Attorney, Greenberg & Lieberman), Jeff Sass (CMO, .CLUB), Victor Pitts (Premium Domain Head, MMX.co) and moderator Alvin Brown (Publisher, Kickstart Commerce).

Above & Below: In the final overall session of the day Saturday (one that crossed multiple boundaries in the MERGE! universe) CrowdSync Founder Justin Davis delivered a very well received 90-minute Interactive Keynote Address. Davis provided a fast-paced critique of audience members' websites, focusing on user experience and design. By the end of it, the audience has a new battery of ideas for their own sites and an entirely new perspective on how to design better experiences online.

Above: With the business day done, the place to be after night fell was at the MERGE! Hospitality Suite, hosted by Fabulous.com. It is a comfortable, spacious place to meet friends and make new ones while enjoying free snacks and drinks - the perfect way to cap a busy day at the conference.

Below: (Left to right) Mike Robertson (Fabulous.com), Kevin Kopas (Co-Founder .ICU Registry) and Kelly Peterson (Automattic), catching up in the MERGE! Hospitality Suite Saturday night.

Above: Sam Tseng (ParkingCrew.com) in the center of the action
at the MERGE! Hospitality Suite Saturday nght.

As I write this the Sunday business day is underway with another full slate of business sessions that will be followed by The Domain Conference Welcome Cocktail Party hosted by Siteplug this evening (with that in turn followed by another night in the MERGE! Hospitality Suite that will be open to all attendees). I'll have all of the Sunday photos and highlights for you in my next post from Orlando.
Steady Growth Has Given .GLOBAL Good Reason to Celebrate Their 4th Anniversary This Month
The .GLOBAL domain registry is celebrating their 4th anniversary this month. CEO & Founder Rolf Larsen marked the occasion with a blog post that includes a video featuring a wide variety of end users now doing business from .GLOBAL domains and an infographic (.PDF format) detailing how the extension has grown over the past four years.

.GLOBAL has utilized a different pricing model than most new gTLD registry operators with an average registration fee of $55 and an average renewal fee of $70. While premium pricing holds their total registration numbers down in comparison to others, it gives them a much higher margin on each domain and motivates those who buy .GLOBAL domains to actually use their names. That is reflected in the registry's renewal rates that have been going up every year. In year 1, 63% of their registrants renewed, in year 2 that figure jumped to 73% and in year 3 it climbed again to 82%.

Despite the higher pricing and new gTLD registration numbers than have stalled for many others, .GLOBAL has also seen its registrations grow by double digits each year (they

Rolf Larsen
.GLOBAL CEO & Founder

currently have nearly 44,000 domains under management). From year 1 to year 2 they jumped 50%, from year 2 to 3 year they went up 31% and from year 3 to year 4 they rose another 27%.

Larsen said, "Ever since the launch, .GLOBAL has seen a strong and steady growth rate. We have earned the trust of brands and other professionals by continuously working hard to maintain a clean namespace free of malicious registrations. As a result, the actual usage and renewal-rates are high, which indicate that users both invest in and stick to their chosen .GLOBAL domain name."
Rapidly Growing Namecheap Reaches 10 Million Domain Registrations - Now Ranks as World's 2nd Biggest Retail Registrar
Namecheap Founder & CEO Richard Kirkendall has had quite a ride since founding his domain registration company back in 2000. Since then Namecheap's trajectory has been straight up, leading to a huge new peak that was reached this week when the company passed 10 million domain registrations, a figure that establishes Namecheap as the second largest retail registrar in the world (behind only GoDaddy). Earlier this year NameCheap was recognized as one of America's fastest growing companies when it was listed in the Inc. 5000.

For those who have watched Kirkendall's success with Namecheap over the years, it is a classic case of something that couldn't have happened to a nicer guy. In addition to his business acumen, Kirkendall is widely respected for the way he has given back through his support of non-profit organizations that work to protect digital privacy, free speech and innovation and to expand the Internet's power for good - the Electronic Frontier Foundation and Fight for the Future. He has also been a major contributor to charities like The Water School.

Richard Kirkendall
Founder & CEO, NameCheap

Kirkendall founded Namecheap with a mission to make building a website accessible and affordable for everyone. Now, 18 years later, Namecheap is a burgeoning technology company with a diverse, growing portfolio of products for web professionals, small businesses, and independent Internet users. Kirkendall said, "I'm truly humbled that we have reached this incredible milestone. In under two decades, we've managed to evolve from a startup into a global company with more than 10 million domains under management, millions of customers, and an expanding portfolio of products, including web hosting, EasyWP managed WordPress hosting, and other online services. Our customers are at the center of everything we do, and I'd like to say thank you to them – and stay tuned for more exciting news on the horizon!"

Company spokesman Derek Musso noted, "Since its launch in 2000, Namecheap has remained a private company, and has grown consistently and organically without Super Bowl-sized marketing budgets. Namecheap's unique culture can also be reflected in its long history of fighting for Internet freedom and Net Neutrality. To date, Namecheap has raised almost $500,000 to support Internet freedom causes with its annual Move Your Domain Day. With more than 1,000 team members across 10 countries, and still growing, the future is set to be very exciting."
Largest New gTLD Domain Registry Operator Donuts Inc. Acquired by Private Equity Firm Abry Partners
Donuts Inc., the world's largest operator of new gTLD domains with over 200 extensions in its portfolio (including .live, .social and .company to name just a few), announced today that they have entered into an agreement to be acquired by a leading private equity firm, Abry Partners. Terms and timing of the agreement were not disclosed.

Since its founding in 1989, Abry has completed more than $77 billion of transactions, representing investments in more than 650 properties. A former ICANN CEO, Fadi Chehade, is among the Abry Partners. Managing Partner Erik Brooks said, "Donuts is ideally positioned with the world's largest portfolio of new TLDs, a proven team with deep experience in scaling successful technology companies, and a track record of innovation in their industry. We are excited to partner with Donuts and support their next phase of growth and success."

Donuts President and CEO Bruce Jaffe said, "We are delighted to partner with Abry. Over the last 30 years, the firm has built a stellar track record as one of the premier media, communications, business and information services-focused private equity investment firms in North America. We believe their confidence in Donuts underscores the power and

Erik Brooks
Managing Partner
Abry Partners

magnitude of our opportunity. Moreover, their insights and expertise in our sector will be of enormous benefit to Donuts as we move forward."

Prior to being acquired Donuts has been busy making acquisitions and launching new services of their own. In the last 18 months, they have acquired Rightside, a complementary registry with a portfolio of 40 new TLDs and a wholly-owned registrar subsidiary, Name.com; launched BL.INK, a premier enterprise short link management platform used by leading brands including Coca-Cola; added features for registrars' and resellers' SMB customers and been ranked #1 in the Deloitte Fast 500.
Joe Uddeme Makes It Rain Money as NameExperts.com Closes $450,000 Sale of Rain.com
(UPDATED*) Veteran domain broker Joe Uddeme of NameExperts.com really deserved his Labor Day break this summer. Joe's hard work has been especially fruitful over the past couple of months during which he has booked some very impressive sales. We've learned the biggest of those was a $450,000 sale of Rain.com (the buyer also picked up Rain.net for $50,000 through NameExperts while they were at it). This sale (to Seattle-based Rain Automatics according to a report at DomainGang.com) was made under an installment plan so we won't be able to chart it until all payments have been made, but it is obviously a transaction worth noting. These domains will give Rain Automatics a significant upgrade from their current URL - RainNet.com.

While we will have to wait to chart the Rain domains, Uddeme reported two other recent six-figure sales that NameExperts.com closed in the past 60 days - Hybrid.com at $190,000 and Radian.com at $125,000. Those will appear on our weekly all extension Top 20 Sales Chart and our Year-to-Date Top 100 Sales Chart when our next sales report comes out Thursday evening (September 6). That report will actually include three weeks of sales information because there was no report the past two

Joe Uddeme
NameExperts.com

weeks while I was away covering a Hexonet event in Vancouver, Canada, followed by a vacation cruise to Alaska. Our weekly reports normally come out on Wednesday evening but most U.S. offices were closed Monday for the Labor Day holiday, pushing our production schedule back a day this week.

*Details on updated information: After this story was first posted September 4, Uddeme let us know he made an error in reporting the individual prices paid in the half-million dollar deal for Rain.com and Rain.net which were originally shown as $475,000 and $25,000 respectively. Those have been updated. We also learned that the domains are being paid for under an installment agreement, something Joe had already publicly acknowledged but that I missed while we were away on our cruise. The original report said we would be charting those sales this week but that won't happen until all payments have been made and the domains transferred to the new owners which is our policy on charting all sales.
---
If you've been out of the loop lately, catch up in the Lowdown Archive!
---
We need your help to keep giving domainers The Lowdown, so please email

[email protected]

with any interesting information you might have. If possible, include the source of your information so we can check it out (for example a URL if you read it in a forum or on a site elsewhere).
---
Home Domain Sales YTD Sales Charts The Lowdown News Headlines
Articles Resources Classified Ads Archive About Us