that is exactly what we are working on now with plans to release the complete review Tuesday night or Wednesday morning. In the meantime, here is look at the aptly named Fun Day that officially brought down the curtain on the 7th annual edition of NamesCon Global Saturday: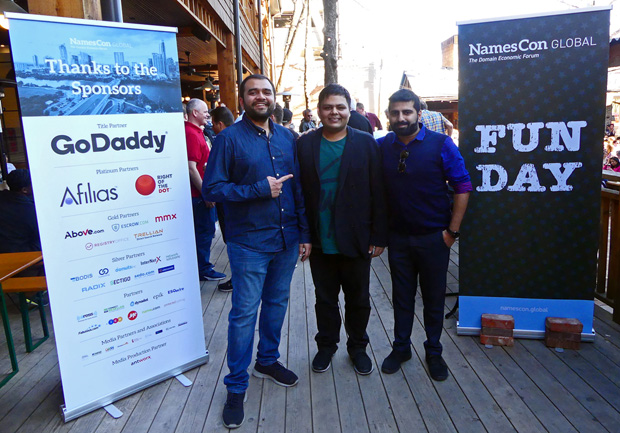 Above: (left to right) NamesCon Global attendees Krinal Mehta, Prakhar Bindal and Aishwin Vikhona ready to get Fun Day underway Saturday (February 1).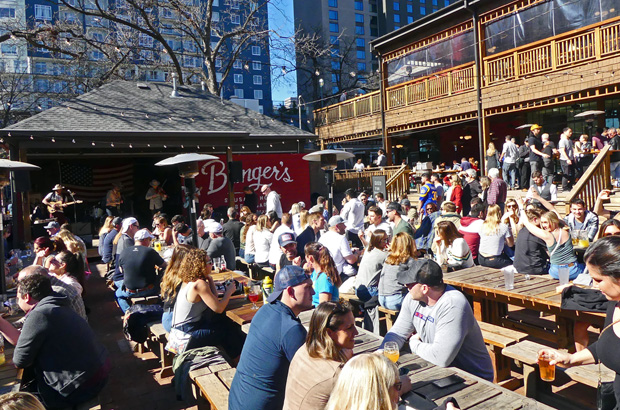 Above: The closing day event was held at Austin's immensely popular Banger's Sausage House and Beer Garden, running all day from 10am to 5pm. NamesCon arranged a large private area for attendees on the elevated patio overlooking at the far right that overlooks the public area in the foreground.
Below: In addition to live music from a top notch Austin band, attendees enjoyed a loaded buffet with a variety of sausages, side dishes and desserts, as well as access to an astounding variety of draft beers and cold drinks that came in handy as the temperature zoomed well into the 70s by afternoon.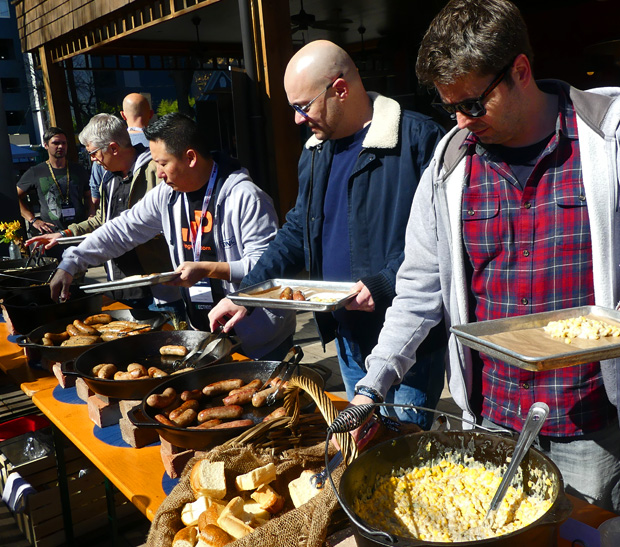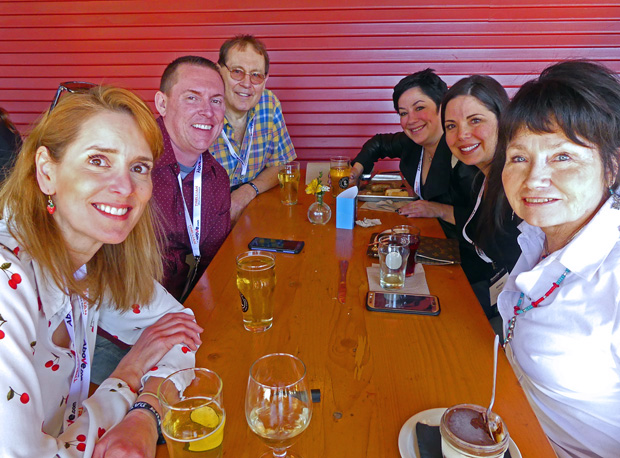 Above: With the sun out and not a cloud in the sky, tables in the shade were popular. Those settled in at this one are (clockwise from the left): Hani Armstrong, Marlon Phillips and Dave Roberts (all from ProtectedParking.com), as well as Susan Lawrence, Adrienne Phillips and Diana Jackson.
Below: The best part of the day was a chance to catch up with old friends and make new ones. (Left to right) Howard Neu, Ammar Kubba and Ron Jackson first met in the domain business over 15 years ago and have remained fellow domain aficionados and personal friends ever since.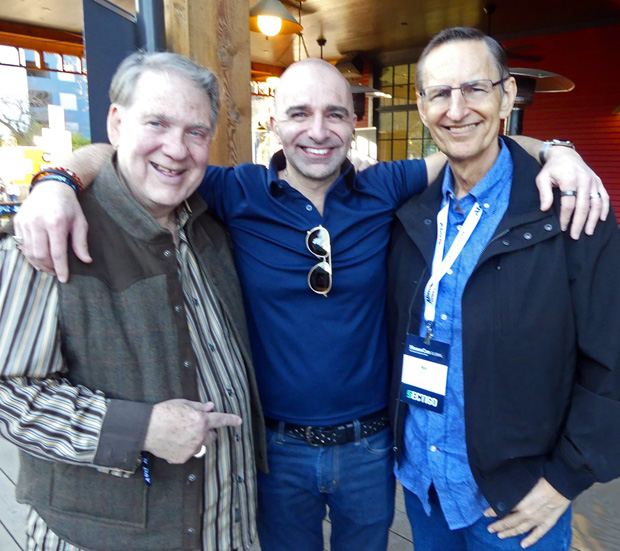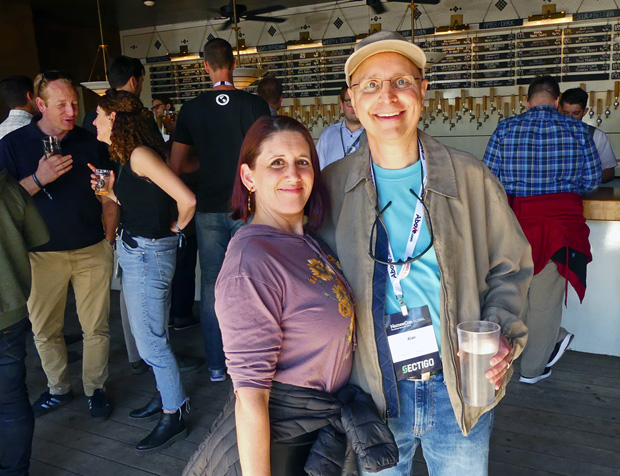 While the music, food and drinks were great, the conversations were even better. Above, Tess Diaz and Alan Hack do some catching up in front of the nearly 200 draft beer taps at Banger's. Below, Morgan Linton (left) and George Verdugo were also busy comparing notes.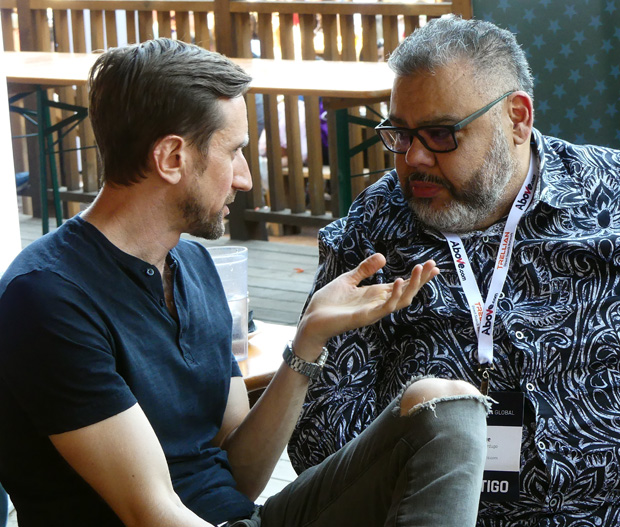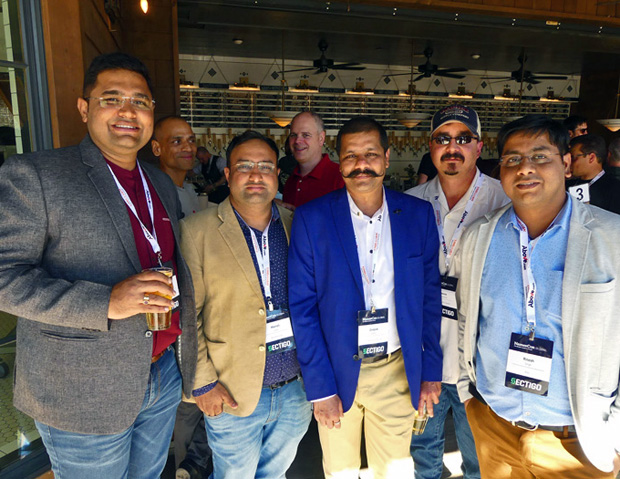 Above: NamesCon Global attracts domain investors and developers from all of the world. India, which has one the world's most thriving domain communities, is always well represented at the show. Left to right above are Mayur Saparia (who was making his first trip to the U.S.), Manish Lunja, Deepak Daftari (a long-time friend of ours who helped welcome us to India when we first visited there), "honorary Indian" Bennie Sparkman (an industry veteran and close friend of Deepak's who is actually a Texan!) and Ritesh Singh.
We stayed at Fun Day all the way to the end. It's always hard to say goodbye to good friends that you likely won't see again for months or even a full year when NamesCon Global rolls around again, but it is certainly a blessing every time we get to do it.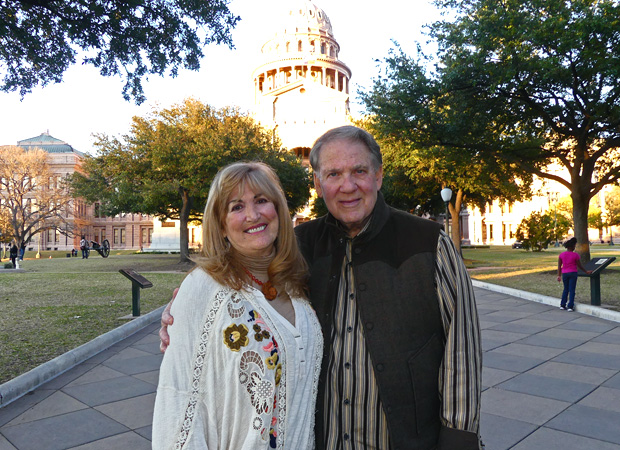 Above & below: With NamesCon Global keeping us busy, we didn't get around to seeing a lot of other things the city of Austin offers, so right after the Fun Day event ended, Diana and I, along with Howard & Barbara Neu (above), grabbed a ride over to the Texas State Capitol building, It is a remarkable place that many travel guides recommend people see for its rich history and ornate architecture. The Capital grounds are a park in themselves, filled with beautiful statues and monuments. The elaborate one below celebrates the wde variety of early settlers that played a role in developing the territory that became America's biggest state.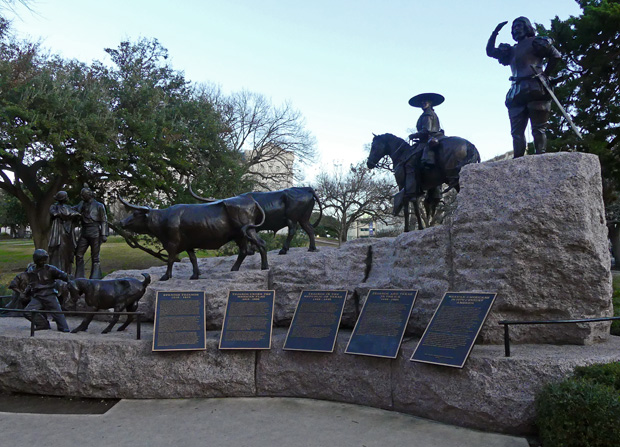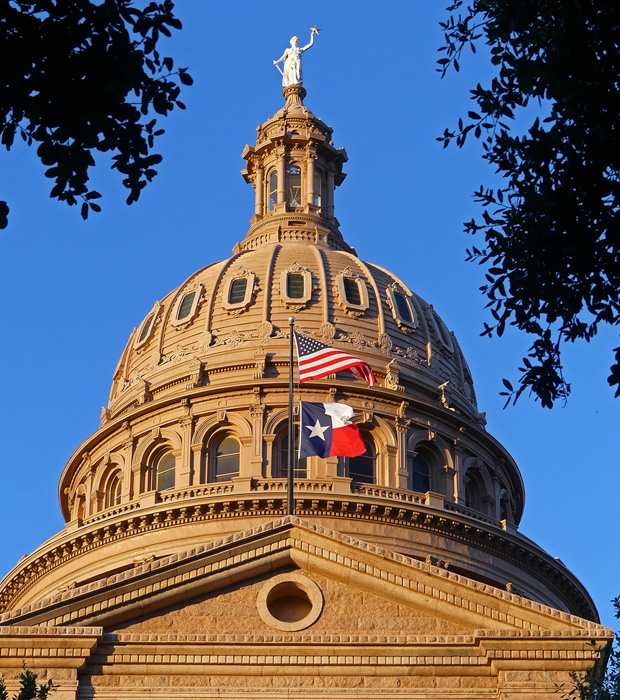 Above: A view of the Texas State Capital Dome Saturday. Looking up from the rotunda inside also provides a stunning view. This was NamesCon Global's first time in Austin (after six years in Las Vegas) and we thoroughly enjoyed the change of pace. It is a great city in a great state. Everyone on the NamesCon management team told us they loved it too and they are leaning to returning to Austin again next year. However, as they do every year, they will now take a bit of time to reflect on this year's event, listen to attendee feedback and research all of the options. They have already decided the dates will remain in January for 2021 and they expect to announce the location in the near future. In the meantime, NamesCon fans can look forward to the NamesCon Europe conference coming up August 6-8, 2020 in Budapest, Hungary.
Finally, a big thank you to NamesCon President & CEO Soeren von Varchmin, Head of Operations Helga Neumer and their entire team for producing another outstanding event that made every minute in Austin time well spent!