With a finite number of people in the relatively small domain business, the show was unlikely to grow beyond the 600-700 people that has been showing up from the annual event in recent years. By expanding its focus, Webfest Global could clearly differentiate itself from T.R.A.F.F.I.C. and have a much bigger pool of potential attendees to draw from (the wider range of subject matter also more closely tracks what Oversee does in its every day business).
Oversee.net CEO Debra Domeyer
at Webfest Global 2013

Ms. Domeyer describes herself as a "risk taker" and this was certainly a risk. For starters, the transition meant being willing to first take a step back if necessary to make big steps forward possible in the years ahead. The introduction of so much new subject matter to the agenda meant that domains would be the focus of the first day only. That likely cost the show some of the domain industry attendees who weren't interested in running an online business and didn't want to take on the cost of traveling to the conference (which can run into several thousand dollars) for one day of material aimed at them.

At the same time, in its first year with a full world wide web focus, Oversee did not have much marketing time to pull in potential attendees from other disciplines.

Not surprisingly, the end result was slightly lower attendance this year - a still respectable crowd of around 500. On the plus side, Oversee delivered the goods with a lively, informative and entertaining agenda that will help spread good word of mouth through all of the fields they now want to attract. With a full year ahead they now have time to make a major marketing push in those areas if they decide they want to make that substantial commitment.

It is a decision they are undoubtedly already pondering and Ms. Domeyer has made it clear

she won't settle for half measures. They will either push all of their chips into the center of the table and spend big to promote and run Webfest Global in 2014 and the years that follow, or they will cut bait and redirect their resources before this year is out.
The case for continuing (and the hope to take the show to a new level) will be made in part by the 500 satisfied attendees (some of whom are seen in the audience shot above) who benefited from and thoroughly enjoyed the 2013 show and will tell others about it.
During the show, I filed daily reports from Santa Monica in our Lowdown section that can be viewed at these links:
Opening Day Photos and Highlights from the Webfest Global Conference - One That Ended in a Night When Richard Lau Lost His Locks
Day 2 Photos and Highlights from the Webfest Global Conference With Kim Kardashian and Dinner Under the Space Shuttle Endeavour
Closing Day Photos and Highlights From the 2013 Webfest Global Conference in Santa Monica, California
However, as is always the case with a daily conference schedule that starts early in the morning and continues into the wee hours of the following morning, those posts had to be done "on the run." Having now had a a couple of weeks to reflect on the full show week I can give you a more comprehensive overview of the Webfest Global experience and why such events are so valuable to those of us who regularly attend them year in and year out.

It all starts with networking - something Webfest Global clearly understands as the 2013 show's very first session was a 9am Speed Networking event. The fact that this year's registrants came from several different areas of expertise - and that many had never met the people there from other sectors - made it an especially productive way to kick off the conference.

At right and below: Scenes from the opening day Speed Networking event at Webfest Global 2013.
After a 30-minute coffee break, Oversee.net CEO Debra Domeyer and Vice President and General Manager of Internet Monetization Dwayne Walker took turns on stage in welcoming attendees to Webfest Global. Both said they were seeing improving business conditions both at Oversee and in the industry at large. Later in the week Ms. Domeyer hosted a press breakfast where she gave more details on that topic and others. I covered that briefing in a separate post here.
Oversee.net VP Dwayne Walker (left) and CEO Debra Domeyer (right) welcome attendees to Webfest Global 2013 and fill them in on what is in store for them in the week ahead.
The first of three opening day panel discussions followed and given that the biggest issue in the industry this year is the impending arrival of new gTLDs it was appropriate that this session tackled that topic. (Left to right in the photo below) moderator Mason Cole brought expert panelists Dan Schindler (Donuts.co), attorney Andew Snow, Tim Switzer (.green) and ICA Legal Counsel Phil Corwin to the dais to field questions about New gTLDs and IDN TLDs - How to Predict Winners and Losers.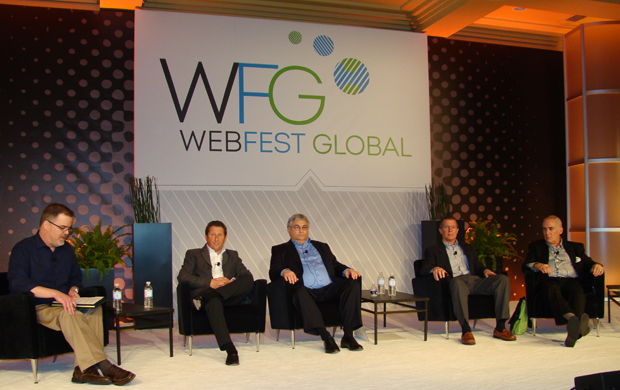 An outdoor luncheon followed under the fabulous 123-year-old fig tree in the courtyard at the Fairmont Miramar, a very pleasant experience that was repeated each day beneath the expansive 80-foot tall tree - the second largest of its kind in the state of California. For those who wished, these could also be working luncheons. You could choose to "dine with expert" on a topic of your choice by pre-registering for tables reserved for that purpose.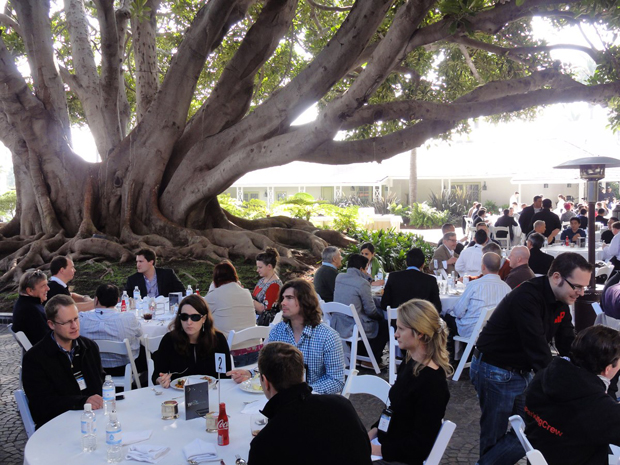 Lunch under the fig tree at Webfest Global 2013
After lunch the next panel session explored Domain Monetization Options Beyond Parking and featured Braden Pollock (LegalBrandMarketing.com), Mike "Zappy Zapolin", Jay Chapman (Digimedia), Lavin Punjabi (Affinity) and Michael Gilmour (ParkLogic.com) in a discussion moderated by DomainSponsor Europe's Joerg Schnermann.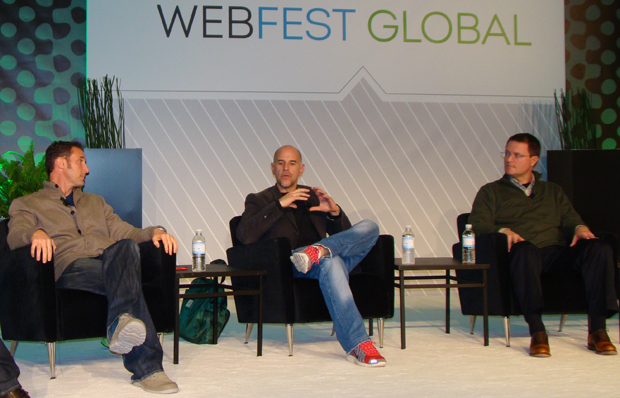 Mike "Zappy" Zapolin (center) makes a point during the Domain Monetization
Options panel as Braden Pollock (left) and Jay Chapman (right) listen in.
A 30-minute coffee break followed but these frequent intermissions deserve more than just a passing mention. They are one of my favorite things about Webfest Global. In addition to giving attendees a chance to pour a cup of coffee or grab a cold drink, they provided ample time to get in some casual networking, pre-arranged meetings or visits to sponsors in the exhibition hall without missing any of the informative panel discussions and seminars.
Sitting through one panel discussion after another can be tiring no matter how good the panels are (and when one of Southern California's most beautiful beaches is just steps away, no one wants to be confined in a conference room for hours on end). Even if you just use the break time to chat with friends in the hall, the floor to ceiling windows keep you in touch with the beautiful surroundings that are one of Webfest's biggest draws.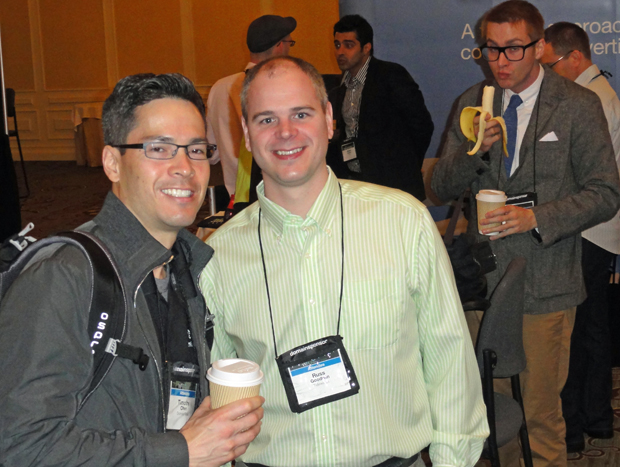 Tim Chen (left) from DomainTools.com takes advantage of one of the
coffee breaks to grab a cup of java and catch up with Russ Goodwin.
In the final opening day business session, three more experts joined moderator Brad Wilkinson on stage to talk about How to Negotiate a Fair Price for a Domain. Brad peppered Andrew Rosener (MediaOptions.com), Paul Nicks (GoDaddy) and Morgan Linton (Linton Investments) with questions that elicited good advice on successfully completing more domain sales.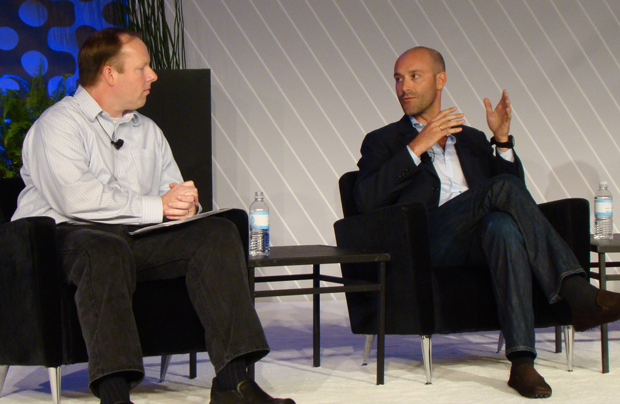 Andrew Rosener (MediaOptions.com) answers a question from moderator Brad Wilkinson (left)
during the panel discussion on How to Negotiate a Fair Price for a Domain.
A highlight of every major conference is the line up of evening social events which double as some of the most productive times to network during show week. Webfest Global 2013 had an excellent line up that started Monday with the opening night dinner and networking reception at Santa Monica's La Sandia and Zengo restaurants.
Getting together at one table for Webfest Global's opening night dinner at
La Sandia in Santa Monica were (L to R): Ron Jackson, Diana Jackson,
Shane Cultra, Jason Thompson, Howard Hoffman and Kina Merdinian.
After dinner, most show attendees stayed in the complex for Water Night, a fundraising event for the Water School that was held next door at the Sonoma Wine Garden. The soiree wound up raising over $40,000 for this very worthy cause, much of that coming from donation pledges industry veteran Richard Lau won by agreeing to have his head shave in exchange for Water School support.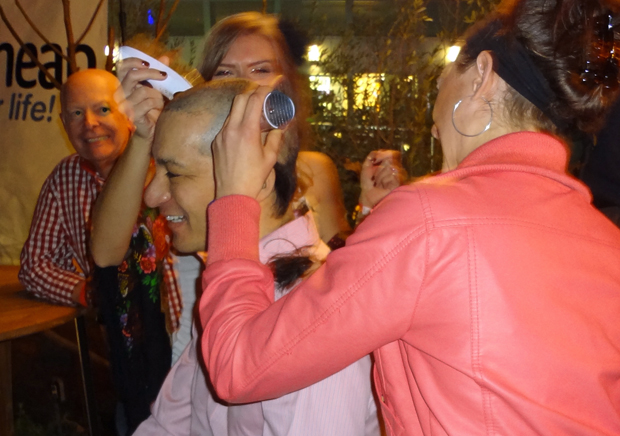 Richard Lau said goodbye to his lock but raised thousands of dollars for the Water School.
After domains dominated the opening day agenda, the focus changed to related topics on Day 2 (Wednesday morning, Feb. 6), which began with a 9:30am panel discussion about SEO Keywords, Content and Links. Those on the dais included moderator James Keating (Oversee.net), search guru Danny Sullivan (SearchEngineLand.com), Joanna Lord (SEOMoz.org), Christian Neeser (MyLife.com) and Aaron Shear (Boost Search Marketing).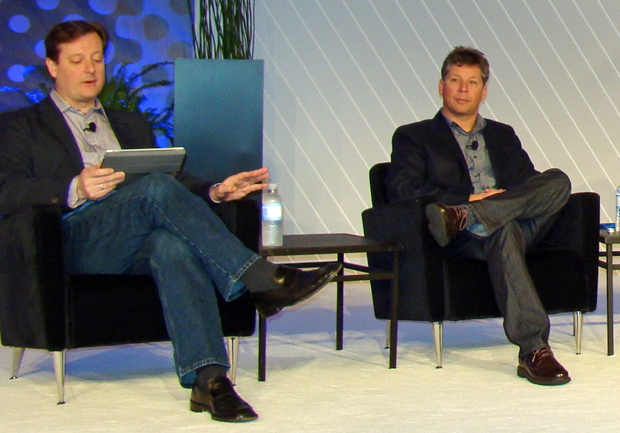 Moderator James Keating poses a question to SeachEngineLand's Danny Sullivan
during the SEO Keywords, Content and Links session Wednesday morning (Feb. 6, 2013).
Next up at 11am was Webfest Global's most talked about (and controversial) hour - a Fireside Chat with celebrity entrepreneur Kim Kardashian conducted by Oversee.net CEO Debra Domeyer. Before the show, many, especially those not familiar with Ms. Kardashian's massive success in online business and social media, questioned how much value she could bring to a conference about domain names, website development and Internet marketing.
As it turned out, under Ms. Domeyer's skilled questioning, Ms. Kardashian had quite a bit of useful advice to share and her appearance certainly didn't hurt attendance as there was standing room only in the ballroom during her hour on stage.
Kim Kardashian image from Bigstock
(photography was not permitted during
her appearance at Webfest Global)

Kim said the biggest key to her success was starting a blog. She used it as a visual diary that kept her in constant touch with fans who came back every day to see the new content Kardashian posted. When Twitter came along, she took full advantage of the new platform and, with 17 million followers, is now one of the world's 10 most followed people on Twitter. She had has even greater success on Instagram where she is #1.

Kim said her first money making venture was buying designer shoes and reselling them for a handsome profit online while she was still a teenager. Her dad lent her the start up money but made her sign a contract that specified the repayment terms including interest. Kardashian quickly sold her first allotment of shoes and paid her dad back ahead of schedule. "He really believed in me and trusted me and that really built up my confidence," Kardashian said.

Her next step was selling used designer clothes (most obtained from friends) on commission - a venture that also proved to be very profitable. When Kardashian later blossomed into a global celebrity, the products she sold (and continues to sell) include an array of fashion and beauty items branded with her own name. Kardashian

said she pays close attention to technical metrics like click through and conversion rates and proudly added that she was told her ranking on those standards is #1 on Twitter.
Kardashian, who also has 12 million followers on Facebook, said she would not be where she is now if it were not for social media. She uses it as a two-way street, collecting requests from followers then marking products available that meets that demand.
With respect to building a business Kardashian advised "with any business you need a great team. It takes a long time and a lot of trial and error to build a successful business. You can't do everything yourself. So you have to trust your team. I try to surround myself with people who are smarter than I am because I can learn so much from them - but I still don't take 100% of their advice- you still have to rely some on your own instincts."
Despite her success (and to some degree, because of it) Kardashian is the subject of many slings and arrows. On that subject she said, "There is too much online bullying and sometimes that gets to me, but I ignore a lot of it and try not to pay attention to negative stuff. I just focus on the positive benefits of the internet." All told, attendees I spoke with said Ms. Kardashian's talk exceeded the expectations they went in with.
After a lunch break attendees reconvened in the ballroom for a panel discussion about PPC, Retargeting, Affiliate and Social matters that featured (left to right in the photo below) moderator Raj Beri (Oversee.net), Jay Weintraub (NextCustomer, Inc.), Peter Hamilton (HasOffers.com), Merry Morud (aimClear) and Adam Epstein (adMarketplace).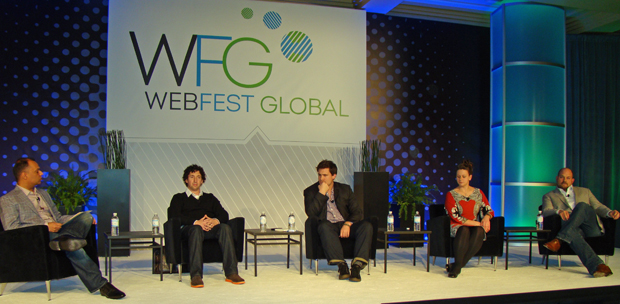 The last order of business on Day 2 was Moniker's Live Premium Domain Auction conducted by veteran auctioneer Wayne Wheat (at the podium in the photo below). The auction generated over $560,000 in sales led by a pair of two-letter .coms - JF.com at $250,000 and XU.com at $210,000. Rounding out the top five auction sales were IceHockey.com ($25,000), Free.me ($19,000) and BEZ.com ($17,650). All told, 22 of the 61 domains offered found buyers.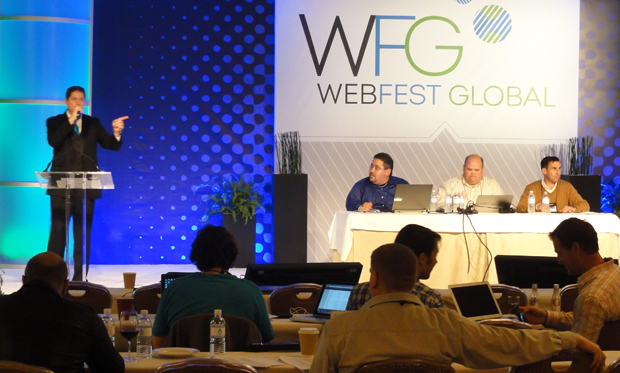 The Wednesday evening social event was the social highlight of the week for many attendees - Dinner & Drinks Under the Space Shuttle Endeavour at the California Science Center in Los Angeles.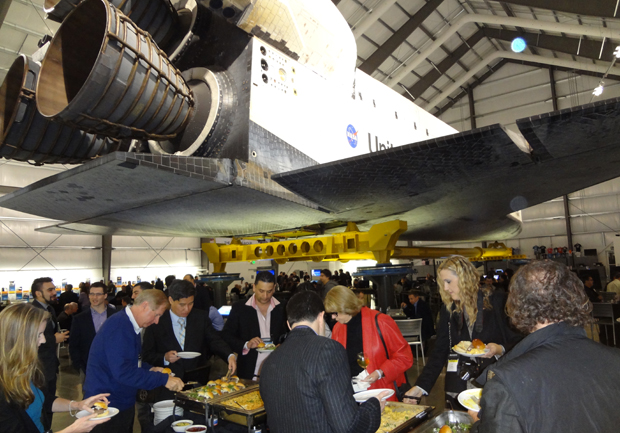 Webfest Global guests enjoying a buffet dinner
served underneath the Endeavour space shuttle.
Oversee even arranged to have astronaut and veteran Endeavour crew member Garrett Reisman (in the photo below) on hand to answer questions from show attendees. Reisman was surrounded with fascinated guests throughout the night as he held court on what it was like to spend months in outer space aboard the historic Endeavour, a shuttle that flew 25 missions covering 123 million miles!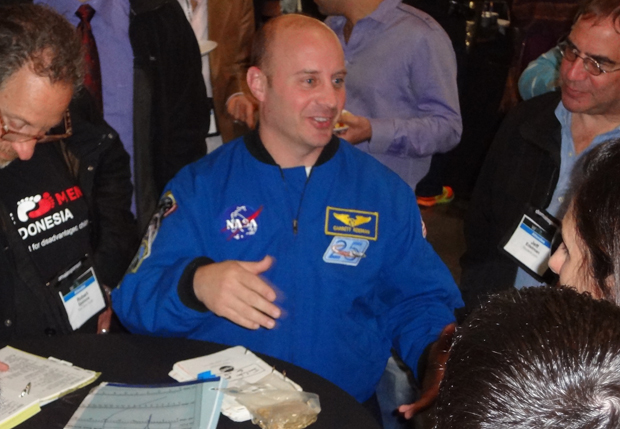 The final day of Webfest Global 2013 (Thursday, Feb. 7) opened with a 9:30am Workshop featuring Rapid-fire Landing Page Critiques from Tim Ash (in the photo below), who many consider to be the world's foremost expert on the topic. Tim, an exceptionally entertaining and energetic speaker, literally wrote the book on this subject - Landing Page Optimization: The Definitive Guide to Testing and Tuning for Conversions.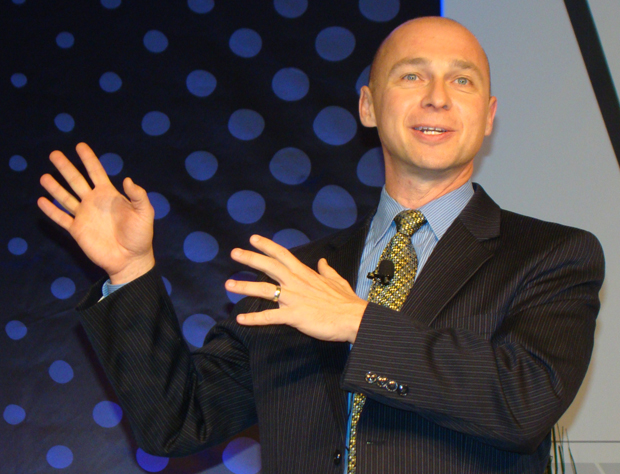 Mobile was another major focus of Webfest Global 2013 and after the mid-morning coffee break the subject turned to Engaging and Converting Mobile Users. The panel of experts featured (left to right in the photo below): Moderator Min Chan (Oversee.net), Greg Sterling, Will Hsu and Bardia Dejban.
Two more mobile-oriented sessions followed lunch. In the first Henry Tam, Jr., Vice President at mMedia Advertsing, covered Mobile Advertising Trends. The second was a panel discussion devoted to Acquiring Mobile Users on a Restricted Budget that featured Moderator Gene Chuang (Oversee.net), Cindy Crum (MobileMoxie, LLC), Gary Rudolph (Lolay) and Bryson Meunier (Resolution Media).
Bryson Meunier (right) make a point during the Mobile Advertising Trends
panel while Cindy Crum and Gary Rudolph consider what he has to say.
The final order of business at 2013 Webfest Global was the popular annual Pitchfest Contest in which a series of entrepreneurs took the stage to deliver 3-minute presentations aimed at securing venture capital funding for their enterprises. Two awards for the Best Pitch are then awarded - one from the audience (who voted through text messaging) and one from the distinguished panel of judges that included John Morris, Scott Jarus, Allen Morgan, Will Hsu and Ben Kuo - all of whom are veteran venture capitalists.
Seven entrepreneurs competed and were judged based on creativity, viability, originality and revenue potential. The winners, receiving their awards from Oversee.net VP Aaron Kvitek (seen at right in each photo), were: People's Choice Award Winner - Jeremie Godreche (in the left photo below) of Freedom Registry (operator of the .tk top level domain) and Judge's Choice Award Winner - Darren Marble of Filmbreak.com (in the right photo below).
At 6:30pm there was a special Women in Domaining reception, that was followed by the show's closing social event - a visit to Hollywood's famed Magic Castle, a private club that features many of the world's best magicians.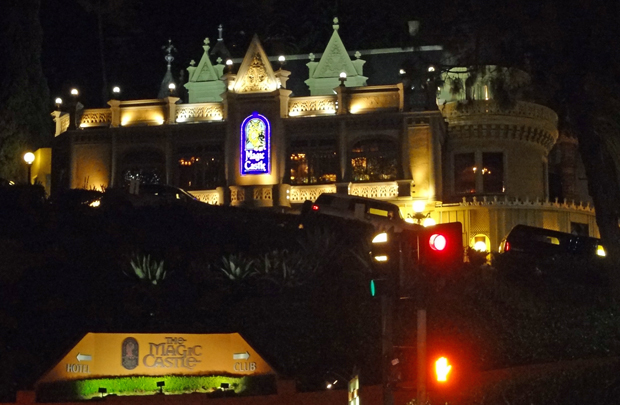 Photography is not permitted inside the Castle so we can only tell you we saw performances from Jeff McBride on the main stage and Jon Armstrong in the Museum that were especially astounding. Many other performers showed their incredible stuff in other rooms of the labyrinthine Castle and guests were free to wander from one show to the next as they wished.
The following morning, those whose flights didn't leave too early were treated to a Farewell Breakfast before heading home. Webfest Global, just as it had done for six years in its previous incarnation as DOMAINfest Global, delivered another great show - one that both strengthened our domain industry relationships and broadened our horizons with new content from the mobile, website development and online business marketing fields.
So, for us, one of the most interesting things to watch for in 2013 will be what Oversee decides to do with Webfest Global going forward. It will boil down to what will fit best with the company's overall business strategy, but we are hopeful their analysis of the pros and cons will result in a decision to go "all in" and bring this world class event back for an 8th lap around the track in 2014.