As of this writing there has been no comment on the sale from NamesCon Co-Founders Richard Lau and Jothan Frakes who launched the show in 2014. It has been held every January since then, with increasing attendance each year, at the Tropicana Hotel in Las Vegas where it will return for a fourth run January 22-25, 2017 (this time under WHD ownership).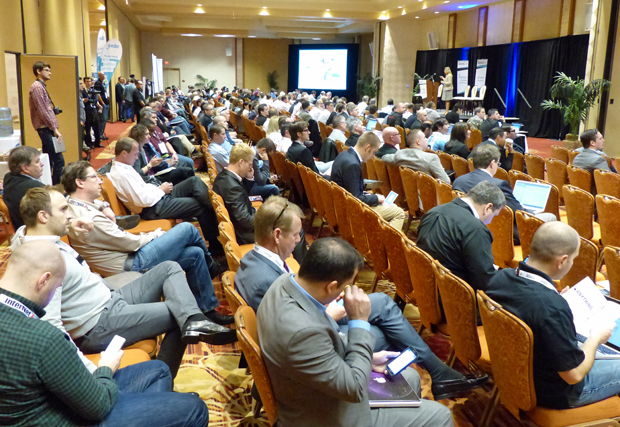 A scene from the first business session at the first NamesCon conference in January 2014
World Hosting Days draws thousands of attendees to its biggest event - WHD Global (next scheduled for Rust, Germany March 27-31, 2017) and also stages popular regional events around the world including China, Singapore, India, Moscow and the USA, a market they just entered two years ago with an event in Pennsylvania.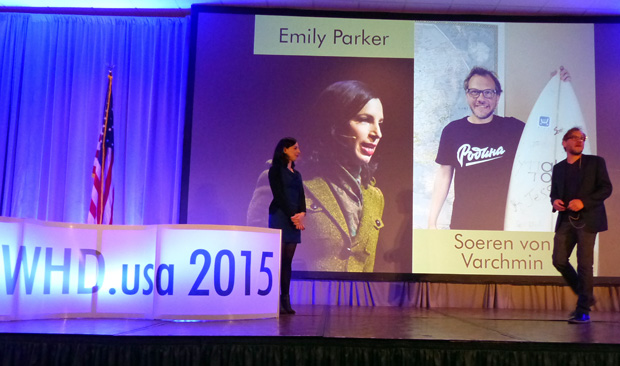 WHD GM Soeren von Varchmin walks on stage to begin the first WHD.USA conference
at the Seven Springs Mountain Resort in western Pennsylvania May 19, 2015.
The second WHD.USA event was held in Phoenix, Arizona in May 2016 and the American show will return in September 2017 when it is scheduled to run in Las Vegas - the same base as their newly acquired NamesCon conference. Domains, websites and hosting all go hand in hand, making the marriage of WHD and NamesCon a natural fit, so the deal is not surprising from a business standpoint. However, Richard Lau, who was profiled in our December 2015 Cover Story, told us he started NamesCon primarily to raise money for the Water School and the show has been very successful on that front, raising hundreds of thousands of dollars for the life saving charitable organization. At this early stage there has been no word on whether WHD will continue the NamesCon/Water School connection.