and we enjoyed spending New Year's Day lounging on the pool deck in the picture perfect weather we were blessed with throughout the voyage. Starting January 2nd we were in a different port every day for four days and had a great time exploring each one. So, if you are looking for something different to do to celebrate the arrival of 2018 I can highly recommend this.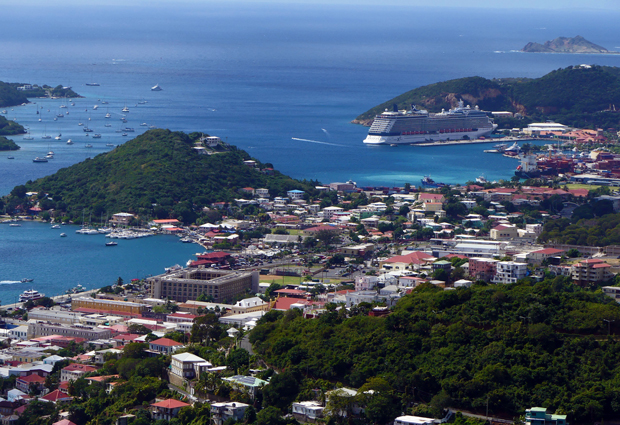 Our ship (in the upper right corner) docked at Charlotte Amalie, St. Thomas, the capital of the U.S. Virgin Islands Thursday (January 5, 2017). This photo was snapped on a drive up to the 1,500-foot mountain top that overlooks Charlotte Amalie.
Now I'm back, rested and ready to cover the exciting and ever changing domain industry for a 15th year (January 1, 2017 was the 14th anniversary of DNJournal.com). That gets started in a big way less than two weeks from now when we head back out to cover the 4th annual NamesCon conference in Las Vegas that runs January 22-25 at the Tropicana Hotel (you can see our show preview here). I'm looking forward to seeing many of you there and if you can't make it I'll be providing daily photos and highlights from the event in this column.
I hope that this new year will be a happy and prosperous one for you and your loved ones. Words cannot express how much I appreciate your encouragement and support through the years!