When the 2017 NamesCon conference opened Sunday (Jan. 22) at the Tropicana Hotel in Las Vegas I posted some photos and highlights from the opening sessions of the 4th annual event to give you a flavor of what was to come. The entire opening day and night is now in the books so I can give you a full run down on what happened Sunday afternoon and evening at the big show.
Above: As I mentioned in my first report from Las Vegas Network Lane was the center of activity on opening day Sunday. From noon to 6pm visitors could come and go as they pleased to visit dozens of sponsor tables and get answers from company representatives to any questions they had about the services offered. The first table we saw when we entered featured popular aftermarket sales platform DomainAgents.com. Left to right are company co-founders Phil McKegney and Ryan McKegney with broker Elsa Stivalet (who speaks 6 languages)!
In between visits to Network Lane attendees could check out business sessions held in adjacent rooms throughout the day. We had photos of the first sessions presented by Morgan Linton and Michael Cyger at noon Sunday in our last report. At 1pm the next two sessions were held. One was a Social Media Boot Camp presented by NamesCon staffers Stephanie Mercer Voyer and Jordan Yerman.
Below: Also at 1pm Sunday industry veterans Adam Strong (Evergreen.com) and Victor Pitts (NameYourStartup.com) presented The Name Game: Unique Naming Strategies and Hacks. Adam is at left and Victor at right.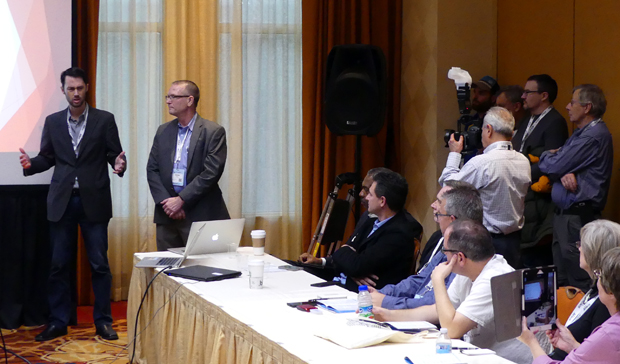 At 2pm (in sessions not pictured) the topics were Increasing the Value of New Domains in the Secondary Market presented by Rightside.co's Statton Hammack and, in another room, Eugene Rome (Rome & Associates) offered keys to Understanding Intellectual Property and Domains.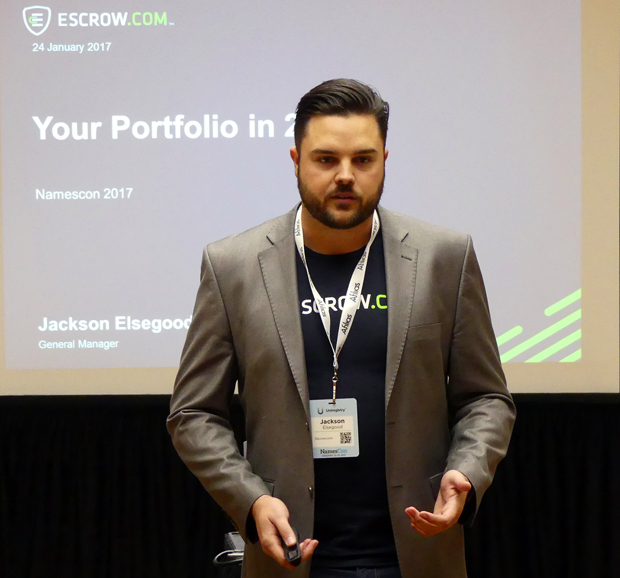 Above: Escrow.com General Manager Jackson Elsegood was featured in one of the two 3pm sessions called Your Portfolio in 2017. Jackson shared a lot of interesting data on sales trends gleaned from transactions completed through Escrow.com. We will have a separate report for you on that after we are back from the show.
Below: Also at 3pm Steven Kaziyev from NewYorkMedia.com answered the question How Can I Monetize My Geo-Targeted Domain Names? f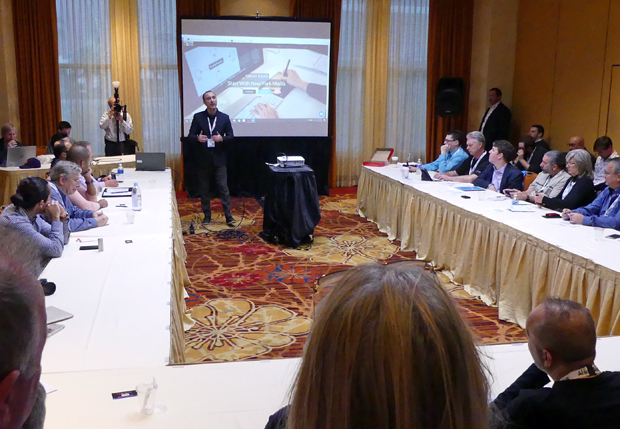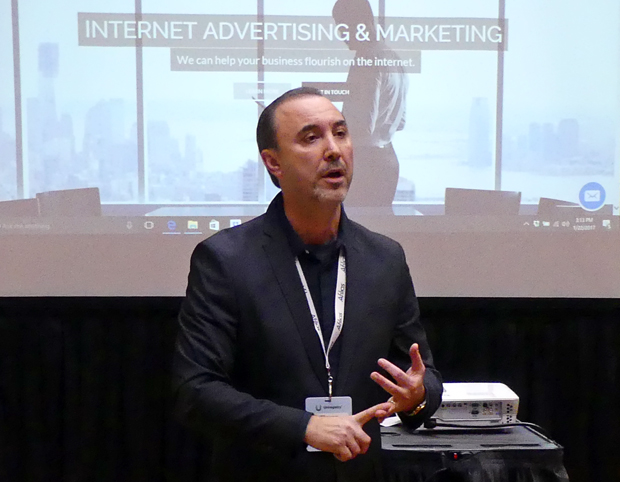 Above: A closer view of Steven Kaziyev speaking on Sunday's opening day at NamesCon 2017.
Below: At 4pm attention turned to Tips for Selling Your Domains Through Auction provided by NameJet General Manager Jonathan Tenenbaum (standing at left below) and RightFoTheDomain.com President/Director Monte Cahn.
Above: Domain owners always want to know What's My Domain Worth? DomainAgents.com Co-Founder & CEO Phil McKegney provided advice on how to determine domain valuations in this popular session.

Below: The last two opening day business sessions got under way at 5pm. In this one (left to right) Bill Sweetman (NameNinja), Negar Hajikhani

(Sedo) and John Deneen (Domain Name Marketplace) offered advice on Responding to Offers for your domains in a session moderated by Kevin Fink (IHaveThisIdea.com).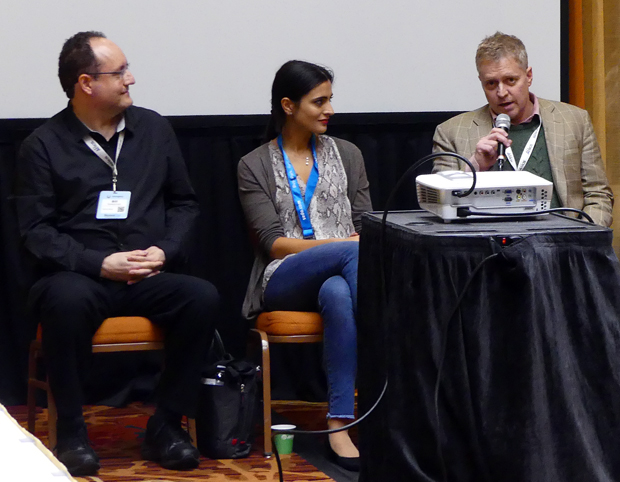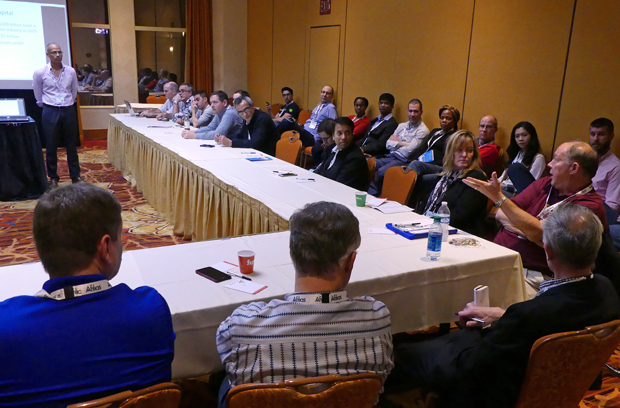 Above: Also at 5pm Omar Baig (Domain Nexus) discussed opportunities in three and four letter .coms in a session titled Emergence of a New Asset Class.
Below: After the final business sessions we ran into one of the world's most renowned domain investor/developers, Kevin Ham, seen here with Prakhar Bindal (NameKart) who came over from India for NamesCon. Kevin said he has never been busier as he continues to run multiple enterprises including businesses outside the domain space. It is always a treat catch up with original industry pioneers like Kevin and Scott Day (who is also at the show).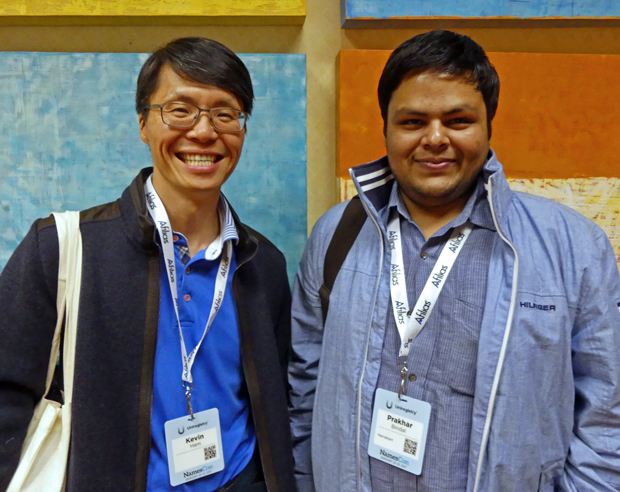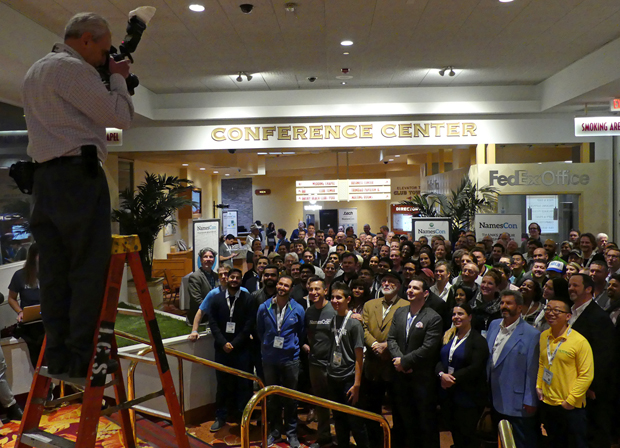 Above: To start a new NamesCon tradition, attendees were invited to meet in the conference center foyer at the Tropicana Hotel at 6pm for a Group Photo.
Below: At 7pm the official NamesCon Opening Night Party got underway in a ballroom at the Tropicana. Some of the first to arrive included (left to right) Truc Tran (from Norway, but also with a U.S. home in Naples, Florida), Diana Jackson (DNJournal.com), Phil Corwin (Internet Commerce Association) and Angie Graves (WEB Group Inc.)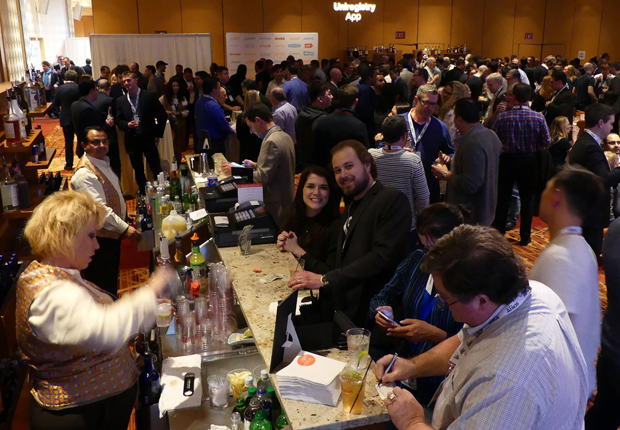 Above: A wide view of the Opening Night Party at NamesCon 2017 at the Tropicana Hotel in Las Vegas Sunday night. In the middle of the action (standing at the bar) are Stephanie and Kevin Kopas (from PIR, the .ORG Registry).
Below: It was great to catch up with so many long time friends at NamesCon's Opening night Party. I've been at this for 15 years now and Page Howe (at left below, from .LA Marketing and iLove.LA) was already on the domain scene when I showed up in 2002. To paraphrase Elton John, We're Still Standing - even if we do have to lean on each other once in awhile. OK, so maybe I have to do a little more leaning than Page! Photo snapped by the legendary domain investor Larry Fischer .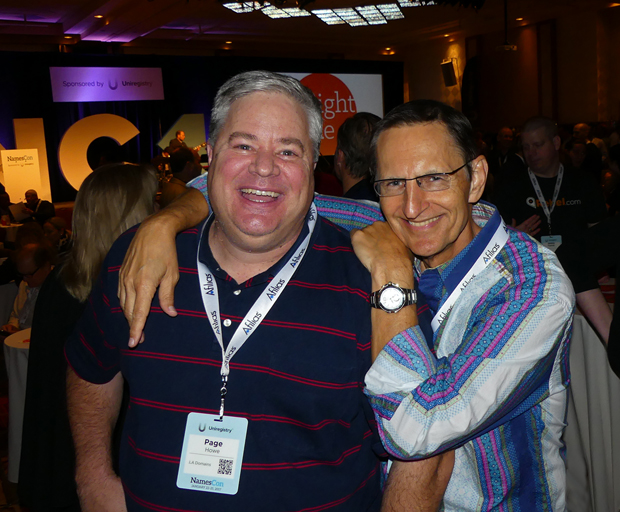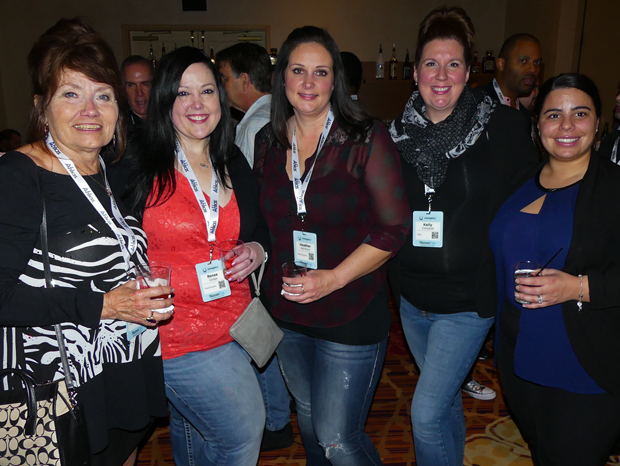 Above: Domain ladies in the house! (Left to right): Diana Jackson, Renee Dodge (Mod Domains), Heather Helmhout (Mod Domains), Kelly Campbell (CIRA) and Serina El Salibi (CIRA).
Below: Domainers wall to wall at Sunday night's NamesCon Opening Night Party.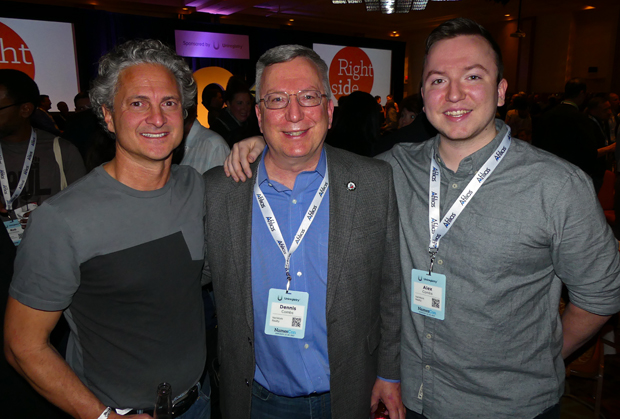 Above: One of my favorite things about the domain industry is that it attracts and is open to all kinds of people from all over the world. Age is immaterial too. We are even seeing more and more children of domain investor parents following a father or mother into the field. Here attorney Enrico Schaefer (Traverse Legal) is seen with one such pairing, Dennis Combs (center, from NetWork Realty) and his son Alex Combs.
As I write this day two at NamesCon (Monday, January 24) is still underway with Uniregistry's big party at the Hakkasan Night Club going on across the street from the Tropicana. I will have all of the Monday (day and night) highlights for you in my next post from Las Vegas - planned for some time late Tuesday but the non-stop show schedule makes that subject to change. There is a lot to keep up with but that is what makes it one of the most interesting and enjoyable weeks of the year.