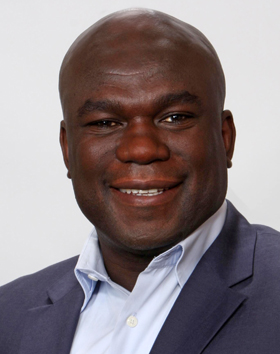 Solomon Amoako
Vice President, Channel Management
MMX.CO
I'll start today with some news I was especially happy to hear about. That was an announcement from one of the leading new gTLD registry operators, MMX (formerly known as Minds + Machines - the administrator of .vip, .law, .fashion and .miami to name just a few), that they had appointed domain industry veteran Solomon Amoako to the company's senior leadership team. Solomon, who is one of the most personable and enthusiastic people I know, fills the newly-created role of Vice President, Channel Management, at MMX. He is responsible for the company's sales operations in the Americas and Europe, with a special focus on accelerating the company's commitment to partnership-building and premium sales activity.
MMX CEO Toby Hall said, "Solomon brings a broad and valuable perspective to the MMX team. More importantly, he shares the same vision for the Group as our entire team does – that we succeed when our partners succeed."
Prior to joining MMX, Mr. Amoako was Chief Sales Officer and SVP, Americas at Sedo,
where he led business development, account management and brokerage teams. He also served as Vice President of Business Development for the Rightside Group, and Director of Global Sales & Account Management at the wholesale Internet services company, Tucows.
Solomon said, "I've been an admirer of MMX since the company's 2016 restructure. MMX has repeatedly demonstrated to the industry that it is serious about partnering, and over recent weeks I've seen that the entire MMX organization is singularly focused on partnering for success. In particular, the solid work MMX is putting into end-user education is exemplary. The approach MMX is taking is the best I've seen at any domain registry, and I'm enormously proud to join the team."
Amoako's appointment coincided with another announcement from MMX - a rebooting of their Premium Domain Program that includes the complete elimination of premium renewal prices for all premium domains sold from January 6, 2017.

CEO Toby Hall said, "MMX is committed to delivering the most domain-investor-friendly premium name programs in the industry. We started the process of rebooting our strategy in July last year, when we alerted our many registrar partners that 100% of our premium names sold after January 6, 2017 would have standard, General Availability renewal prices. As an added incentive to strengthening our existing partnerships and building new ones, we are likewise revisiting the price tiering of all our premium inventory across the portfolio. The upshot of our new Premium Program is that all registrants will ultimately have access to much more affordable purchase opportunities with sharply reduced carrying costs."

MMX CEO Toby Hall
Speaking at last week's 2017
NamesCon conference in Las Vegas

The MMX Premium Domain Program applies to all MMX wholly-owned TLDs in general availability, and will apply to all TLDs in the MMX portfolio still to launch – perhaps most notably .boston which is expected to debut later this year.