There are many different business models among the hundreds of new gTLD registries that have launched over the last three years but few have put a lot of effort into courting domain investors. It's true that many veteran investors simply don't believe a viable new gTLD aftermarket is going to develop. Others are turned off by the high registration and renewal prices typically charged for the most attractive new gTLD domains. With the future direction of the market still uncertain, high carrying costs make holding names such names too risky for most.
Still, there are some investors who believe the new gTLDs will steadily build an audience in the years ahead. That group would buy and hold more domains if registries gave them a better chance of making a return on their investments. The .GLOBAL registry has recently taken some major steps in their direction that CEO Rolf Larsen showed me when we met up at last month's NamesCon conference in Las Vegas.
The clearest signal .GLOBAL is sending investors is a new program in beta that allows third parties to list their .GLOBAL domains for sale on a registry-operated website - Domains.global - free of charge.

Rolf Larsen
CEO, .GLOBAL Registry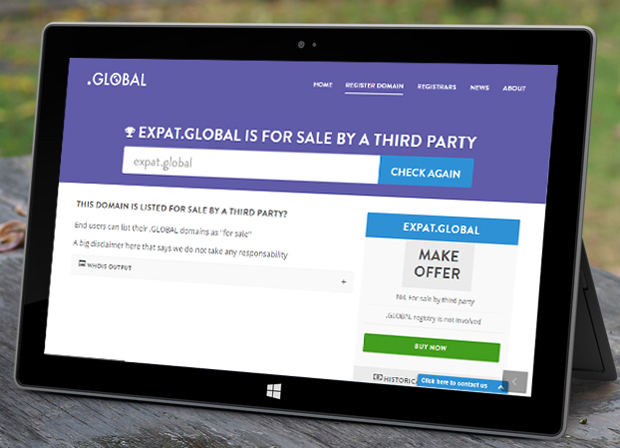 While you are at Domains.global checking out the third party sales service, you will find many more new features geared to domain investors. Those include lists of both keyword and 3-letter domains that can be registered for the first year at the standard prices in effect at a variety of .GLOBAL registrars. The names of those registrars and the prices they currently charge are all shown when you click the buy now button, with those offering special promotional pricing listed at the top of the list. When we checked today Name.com had the best price at $7.99. Among others, there are also lists of dropping and deleted domains at standard pricing. Many registries charge high premium prices for the same keyword or acronym in their extensions.
| | |
| --- | --- |
| However, there is still one big hurdle investors will have to decide if it is worth trying to get over. Like many new gTLDs, .GLOBAL often offers promotional pricing for year one but higher standard (non-promotional) pricing for renewals. That full standard rate at most of the registrars offering .GLOBAL is $69 or more. So, you have to balance how much you save with the low first year price against how long you would be willing to hold the domain when much higher renewal costs come into play. I would guess that a number of investors who believe in new gTLDs will test the waters by registering some of the best available terms at the low initial price, then list them for sale for a year on the .GLOBAL site (and other venues) to see what kind of response they get. They can then decide if they want to stay at the table for year two. | Image from Bigstock |
We've already seen many changes in strategy and pricing across the new gTLD space and that will no doubt continue. I'm surprised that more registries haven't put greater effort into engaging domain investors but if .GLOBAL's overtures (and those from some similarly proactive registries) bear fruit more will follow suit. Eventually we may see renewal prices that remain the same as initial low registration prices, even for the higher quality domains - an environment a lot more investors would find to their liking.