The 9th annual edition of the Domaining Europe conference is now just 66 days away. The show will be held in Germany for the first time with the 2017 event running May 14-16 in Berlin at the Steigenberger Hotel Am Kanzleramt.
Conference Founder Dietmar Stefitz started the show in his beautiful hometown of Valencia, Spain where the first seven events were staged. People came from all over Europe (as well as overseas) to participate but last year Stefitz decided it was time to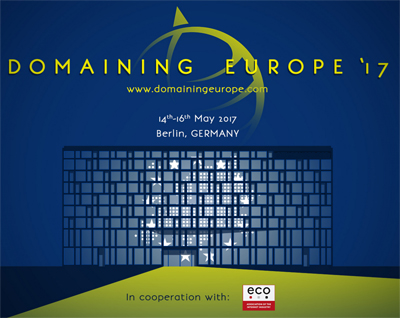 start taking the conference to the people by staging it in other high profile locations across the continent. That "new" tradition began with the 2016 event at The Hague, Netherlands and will continue in Germany - a perfect location given than country's status as a world leader in the domain industry with many leading companies and investor/developers located there. That also makes Domaining Europe 2017 a can't miss event for us, so I will be in Berlin to cover it all for you.
Many new details about the show agenda, speakers and sponsors have just been posted to the conference website. It all gets started with an exhibition and informal networking from 3pm-8pm in the hotel foyer on Sunday, May 14. Two full business days follow with a variety of keynote speeches and panel discussions highlighting the schedule. Speakers from around the world - to name just a few (and with more still to be announced) - will include Joe Styler (GoDaddy, USA), Jeff Sass (.CLUB, USA), David Warmuz (Above.com, Australia), Jackson Elsegood (Escrow.com, Australia), Ilze Kaulins-Plaskacz (ExcellentDomains.ca, Canada) and of course many top names from Europe like Axel Kaltz (ParkingCrew, Germany) and Rolf Larsen (.GLOBAL, Norway).
In addition, super moderator Braden Pollock from LegalBrandMarketing.com (who was profiled in our November 2011 Cover Story) will be making the trip over from the U.S. to again serve as the conference moderator.
Dietmar Stefitz
Domaining Europe Founder

The agenda highlights include sessions on investing, traffic, parking and development and will cover all domain categories including gTLDs, ccTLDs and Geo TLDs. There will also be sessions on Internet governance, domain leasing, valuation and structuring. The conference will conclude Tuesday, May 16 with a two-hour live domain auction handled by Undeveloped.com (who was just in the news yesterday after being acquired by Epik).

Verisign will be the Platinum Sponsor at this year's conference. The six Gold sponsors are ParkingCrew, .CLUB, Sedo, .GLOBAL, Italy's Nidoma and China's Yumi. Silver sponsors are Nominet and GoDaddy with additional featured sponsors and media sites also supporting the effort.

Tickets are available in two categories. The standard ticket including all catering and VAT tax is €477.95 ($504.17 at today's exchange rate). There is also a special VIP ticket (VAT tax included) at €786.50 ($829.65). The

show site says the VIP ticket includes "VIP treatment, all side events and a Boat Trip and Sightseeing Tour on Sunday." In addition, €100 from every fully paid ticket will go to The Hope Children's Centre.

I'm looking forward to seeing our many European friends (as well as those coming in from other parts of the globe) for what should be a very productive week in Germany's vibrant capital city.