The 2017 Domaining Europe conference is almost here. The 9th edition of the event, that will be staged May 14-16 at the Steigenberger Hotel Am Kanzleramt in Berlin, will mark the first time the show has been staged in Germany. It is an especially appropriate location because that European powerhouse has long been famous for its love of domains.
Germany's .de ccTLD is the world's most popular country code extension (not counting the free .tk extension) with over 14 million paid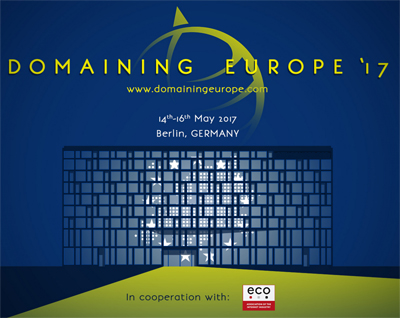 registrations and many of the industry's leading companies are based there. Many of those firms will have representatives at Domaining Europe where they will be joined by other corporate leaders and individual domain investors and developers from across Europe and around the world.
Show founder Dietmar Stefitz has lined up over 40 speakers for the event and finalized the agenda that you can view here. Dietmar has again enlisted Braden Pollock (LegalBrandMarketing) to serve as the conference moderator, a role Braden has excelled in at shows around the globe. I will also be going over to cover Domaining Europe for you and to participate in a panel discussion on the opening business day (Monday, May 15) with Michael Gilmour (ParkLogic.com), Jackson Elsegood (Escrow.com) and attorney Thomas Rickert in which we will discuss what the latest data is telling us about the health of the industry.
Later that same day there will be another session featuring top brokers and investors, including lze Kaulins-Plascacz, Freddy Schiwek, Michael Bereslavsky, Jordi Gasull, Shaun Wilkinson, Sevan Derderian and Giuseppe Graziano that will also give attendees some invaluable insight. Those are just a couple of examples from the 20 business sessions scheduled for Domaining Europe 2017.
Image from Bigstock

Some of the biggest news since my last show update in early March was the release of details on a special online domain auction that Undeveloped.com (an Epik company) will conduct in conjunction with Domaining Europe. That event will run for three weeks from May 7 through May 21. Undeveloped has put together an impressive catalog with an inventory led by Whiskey.com (as a point of comparison, Whisky.com was sold for $3.1 million in 2014). The listings also include HardDrives.com, Gastronomy.com, Sevilla.com, ZUT.com and 5.at to name just a few. You can also submit your own domains for sale for consideration here.

Of course, in addition to all of the business events there will be plenty of time for informal networking and relationship building. There will be TWO coffee breaks and a Lunch break

on each business day, as well as a big dinner Monday night (May 15), sponsored by Verisign, at the Zollpackhof Restaurant and Beer Garden in Berlin.
There is still time to register for the show and book a room at the conference hotel. If you can make it I will look forward to seeing you there!