Colin Campbell, the Founder and CEO of .CLUB Domains, said, "Literally, it looks like a bomb went off. I couldn't believe the damage. It's truly a sad day for our company. We feel for everyone affected by this horrible storm and we are very fortunate as all our staff are safe."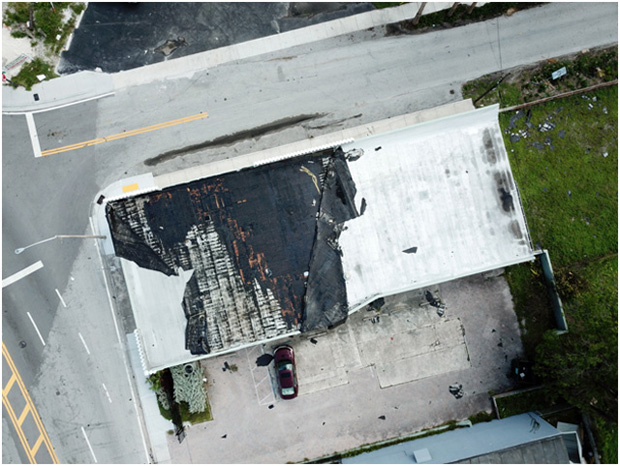 Above: This aerial photo shows the extent of the damage to .CLUB headquarters in
Fort Lauderdale where Hurricane Irma's winds sheared off almost half of the roof.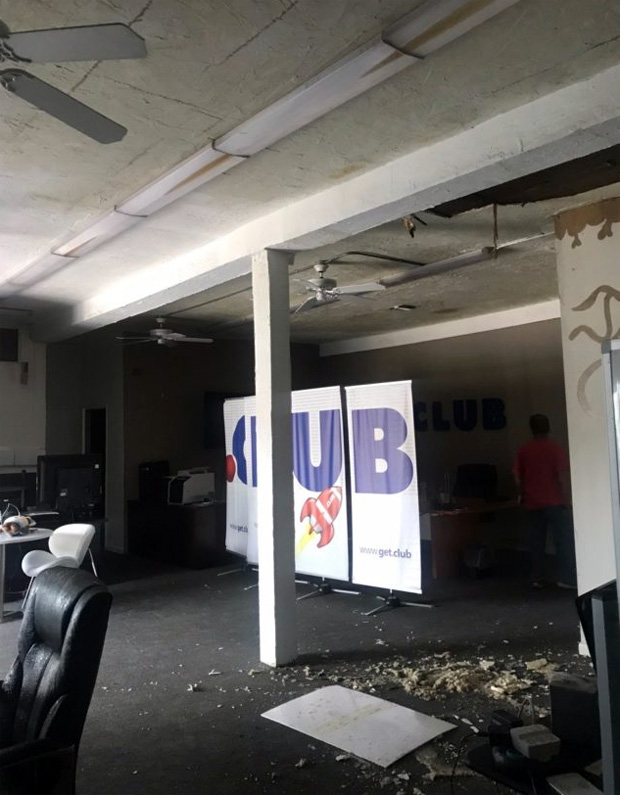 Above & below: Inside the damaged building ceiling tiles fell to the floor
allowing wind and and rain to come in through what was left of the roof.
The building in the up and coming Progresso/Flagler area has recently been approved for funds from the Fort Lauderdale government via the Fort Lauderdale Community Redevelopment Agency (CRA) to launch a tech incubator under the brand Startups.Club. The building was scheduled to be renovated for completion sometime in 2018.
Campbell said, "Many .CLUB domain names are used by Startups. Creating a working facility specifically to support startups in the Fort Lauderdale community seemed like an ideal fit in tune with our mission, and the perfect environment to also house our global corporate headquarters. It is unfortunate we have to vacate the premises sooner than expected, but the good news is our plans to renovate and open the Startups.club facility should remain on track."

"The company will find a way to operate during this period," Campbell continued. "We are hoping we can find

Rendering of what the .CLUB building will look like when
repairs and renovation is completed next year.

temporary space near our damaged office. We love the Progresso/Flagler area. It's a young creative community with a real fun vibe."

While .CLUB's corporate offices were in the path of Irma's destruction, the company's technical platform and servers are located in Virginia and were not affected in any way. The company currently employs 17 people and has been working closely with a few Fort Lauderdale startups who will also now need to find temporary facilities until the building is repaired and re-constructed.