DigitalTown, Inc. (OTC PINK: DGTW), a company that provides turn-key hosted solutions to power "Digital Towns" for cities around the world, just announced their 7th acquisition since the beginning of last year. DigitalTown has reached an agreement to acquire the assets of CityInformation B.V. The deal will stengthen DigitalTown's "Smart City" solutions by adding affordable technology like Mobile Apps, Single-Login and Blockchain.
CityInformation develops and operates mobile apps for cities and towns worldwide. Their mobile apps are now live in more than 800 cities with more than 3 million downloads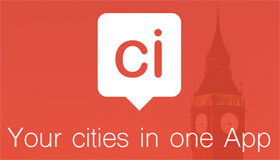 completed to date. The acquisition of City Information by DigitalTown will allow these mobile applications to be connected through the DigitalTown SmartWallet as well as enable app users to make direct purchases from local merchants across retail, services, dining and lodging using their saved preferences from their SmartWallets. Users can also own manage ownership stakes, or coins, in their city platform through a city-specific Blockchain. These stakes can be held in SmartWallets or traded through Blockchain exchanges.
Rob Monster
CEO, DigitalTown

DigitalTown CEO Rob Monster said, "This is an enormously significant milestone in DigitalTown's quest to restore economic power to cities by not only making it easy for residents and visitors to buy and engage locally 24/7, but also for local stakeholders to own the city platform itself through Blockchain Distributed Ledger for managing decentralized ownership. For our institutional partners, such as municipalities, chambers of commerce, destination marketing organizations and visitor bureaus, we are now able to offer them a truly integrated digital platform for their city brand."

CityInformartion CEO Bjorn Poels added, "We are proud that CityInformation technology will enable DigitalTown to deliver the ultimate cross-platform online Smart City solution by integrating City Information's fast-growing network of city-branded mobile Apps. For our existing mobile platform customers this means, we can now deliver them a complete solution."
DigitalTown will feature the new mobile app suite at the Smart City Expo in Barcelona November 14-16, 2017, the main event of the year for Smart City Innovation with an expected attendance of more than 16,000 delegates from around the world. The Smart City Expo is the venue where the two companies began strategic discussions approximately a year ago. DigitalTown will be exhibiting in the Leading Cities Pavilion.