Phil Corwin, who has served at the Internet Commerce Association's Legal Counsel ever since the organization was founded in 2006, is leaving the job effective Monday (November 6, 2017). The official announcement was sent out to members by ICA Executive Director Kamila Sekiewicz on behalf of the Board of Directors today. With Corwin's decision to spend more time on other opportunities, ICA Board member Zak Muscovitch, a veteran domain industry attorney based in Canada, will take on the role of Legal Counsel on an interim, volunteer basis. As a board member Muscovitch will also assist in the search for a long-term replacement.
The ICA announcement noted, "While no one can replace Phil, we will look for new counsel with particular strengths in the priorities we see ahead of us in our second decade. We see the next 18-24 months as critical for the domain industry. In the policy arena there are ongoing initiatives that have the potential to dramatically impact our ability to protect our assets and conduct business. There are large, well-funded and determined players working to change domain intellectual property law in ways that could dramatically impact our community. The ICA has been working for months to develop a comprehensive long-term strategy to counter these movements and we think we have a solid plan that, with your help and support, will protect the future of domain investing."
The message added, "ICA's 2018 mission will focus on three core areas; first, Represent and defend the domain community in policy matters affecting us. Second, Promote a positive perception of the domain community through education and engagement with policy makers, journalists, and others whose work influences our industry. Third, Build a supportive community among our members. We believe by focusing on these three core areas, we can make the biggest impact for our membership."
"Phil has left the ICA in a strong position. In our first decade, Phil put us on the map, establishing us an important stakeholder in the ICANN policy development process, and successfully advocated on dozens of issues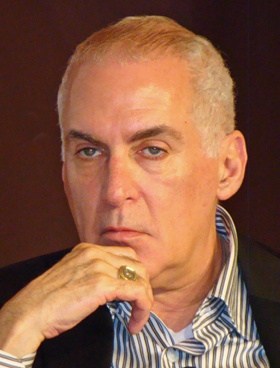 Above: ICA Legal Counsel Phil Corwin
will be leaving the job Monday (Nov, 6, 2017).
Below: ICA Board Member Zak Muscovitch
will fill in as interim Legal Counsel while the search for a permanent replacement is made.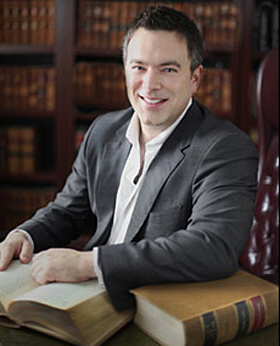 large and small that profoundly benefited the domain industry. He leaves an enduring legacy as one of the architects of the policy framework that governs the domain name system. We wish Phil well in his new endeavors. Phil will remain on the ICA-mail and ICA-social list for a few days should anyone wish to reach him there. His responses may be delayed as he is embarking on a 25-hour trip back home from ICANN 60 in Abu Dhabi this evening."
The statement concluded, "The ICA Board is excited about the opportunity to continue our growth building on the foundation that Phil created. We'll be reaching out to our membership to solicit your support and guidance during this transition."
Phil Corwin representing the ICA at the 2015 NamesCon conference in Las Vegas.
As a personal note (and as an ICA member) I would just add my thanks and appreciation for the outstanding job Phil has done for the ICA in their efforts to protect the rights of domain registrants for the past 11 years. Phil essentially became the "face" of the organization and deserves enormous credit for helping the organization gain worldwide respect in the Internet community. He will certainly be missed but we wish him the best in all of his future endeavors.