Domain conferences that are devoted solely to domain names seems to be an increasingly rare species. Coming on the heel's of last month's expansive Merge! Conference in Orlando is word of an ambitious new event to be held in Hyderabad, India at the Taj Banjara Hotel on November 27, 2017. The first Gambit Conference will bring together global experts from the world of domains, bitcoin and gaming with each having its own dedicated track.
You never know exactly what to expect from a first time show but judging from the impressive speaker's lineup on the Gambit website, the conference will have no shortage of world class talent on stage. The three dozen experts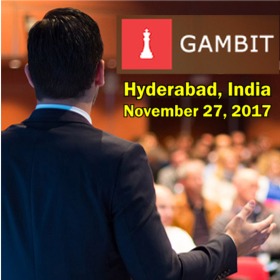 currently listed include ICO.com Founder Jia Wei, MMX.co CEO Toby Hall, Dr. Kevin Ham (via video link), Escrow.com General Manager Jackson Elsegood, NameKart CEO Prakhar Bindal, Directi Senior Marketing Manager Karn Jajoo, MediaWiz CEO Samit Madan and well-known domain investor/author Aishwin Vikhona to name just a few. With registration prices starting at 2,999 Indian rupees (about $46 at the current exchange rate) the cost to attend is also meant to please.
The Gambit 2017 website noted that the host city, Hyderabad, is an Asian Information and Technology hub with the headquarters of many leading companies located there. The site added, "This 3-track conference will be inundated with eminent personalities, remarkable speakers, entrepreneurs, significant luminaries and general enthusiasts. The constellation of these top-notch people will not only teach you about the strategies, technologies, and innovations they've developed and mastered but will also make sure that you go home with your brain on fire!"
You can keep up with Gambit conference updates by checking out the show's Facebook page.