The 2018 NamesCon Global conference is just 11 weeks away with the 5th annual event set to return to the Tropicana Hotel in Las Vegas January 28-31. The show agenda has now been posted and there are several interesting changes from past years that you will want to check out. Those include a special Tool Talks track on opening day (Sunday, Jan. 28), running from noon to 5pm, that will feature an afternoon of fast-paced tool demos, taking place in 20-minute increments. Those will give attendees an opportunity to learn about products, services and techniques that can improve their business. At the same time a variety of other business sessions will be going on in other meeting rooms. NamesCon's multi-track format will give you similar options throughout the week.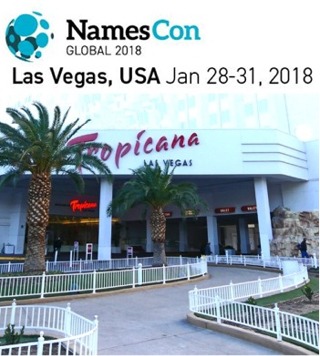 The annual Women in Domaining Dinner also moves to opening day with that event scheduled to run from 5 to 7pm in the new Robert Irvine Public House off the Tropicana casino. You can count on great conversation, wine, and dinner and thanks to its generous event sponsors, there will be no charge for the dinner, however an RSVP is requested as space is limited. NamesCon's famous Opening Night Reception for all attendees will follow from 7-11pm in the Keynote Hall.
There will be social events every evening. The annual Water Night Charity Gala becomes a black tie affair and gets an earlier start - 6:30pm Monday evening (Jan. 29). That will also allow an earlier finish (10:30pm). In the past the event could run past 1 in the morning which made it hard to get up for early business sessions the next day! Tickets for the Gala will be available January 2. On Tuesday night (Jan. 30), the closing night party will run from 9pm-1am at the exclusive Ling Ling Lounge in the Hakkasan Night Club, just across the walkway in the MGM Grand Hotel.
NamesCon always offers a lot of value for the money and, this being Veteran's Day weekend, that is especially true for those who have served in the armed forces. NamesCon is offering veterans two tickets for the price of one ($799) and 50% of the proceeds from those sales will go directly to the Veterans Village in Las Vegas. This offer runs through Monday (November 13).

Veterans Village is a transitional and permanent housing residence for U.S. Veterans that offers 24/7/365 crisis intervention center intensive support services. Public and private collaborative partnerships have been created to provide supplies and services to residents including

housing, medical and mental health services, employment training, referrals and placements, food pantry/nutrition programs and transportation to the VA Hospital and primary care clinics.

In addition to all of the sessions and activities you will find on the official NamesCon agenda, there will be some special events staged by other companies and organizations during

show week. One of those will be the Internet Commerce Association's 4th Annual Dinner from 6-9pm on Tuesday evening, January 30, at the House of Blues in Mandalay Place (a short distance from the Tropicana Hotel).

Tickets to the dinner are $100 each but if you join the ICA between now and the dinner, the dinner is on them! (just select the "pay at the door option" when ordering tickets). The ICA - a non-profit organization that fights for domain registrant's rights - also has a special Early Bird offer for existing members. If you order your tickets no later than Wednesday (November 15) you can get them for $75. If you donít have a discount code yet, email execdir@internetcommerce.org to get yours.