Shallom wrote, "Attendee surveys have provided us with invaluable feedback, so we've taken the opportunity to try out some new ideas and refine what we knew was already working well." To give us some specific examples, she noted plans for six different aspects of the conference:
1. Streamlined Agenda: Attendees rank networking as a prime objective at NamesCon, so this year we trimmed down the agenda in order to give our guests lots of time to connect with one another. We set a new focus on booking TED-style presentations in the keynote hall, panels on the breakout stage, and interactive sessions in the workshop room - keeping all of our content top-notch to make sure that you're getting the most out of each session you attend.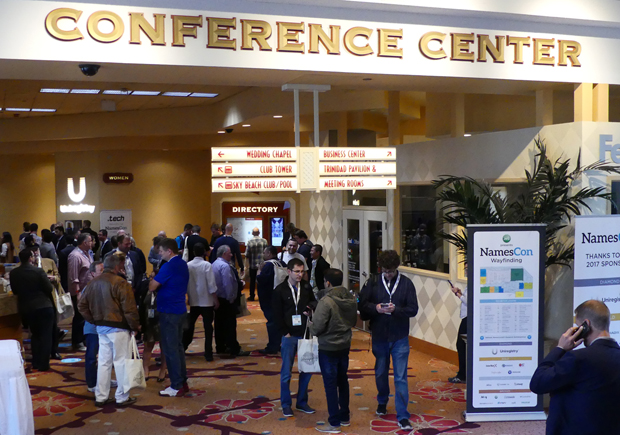 Even before the 2017 edition of NamesCon Global got underway last January,
attendees were busy networking in the registration area.
2. VIP Passes: This is the first year that NamesCon will offer a VIP program. VIP pass holders may use the VIP Lounge for a more exclusive space to meet, work, and connect. VIP tickets include a champagne lounge on our opening evening, a daily coffee & lunch spread, Q&A sessions over the lunch hour with some of our keynote speakers, plus preferred seating and access in session rooms and at events.

3. WaterNight: WaterNight will always be dedicated to raising money for WaterSchool's efforts to provide clean drinking water and sanitation education in Uganda. This year, we're raising the bar and transforming this event into a red carpet gala held on Monday evening. WaterNight will feature a seated dinner, silent and live auctions for some amazing prizes, and live performances from a Vegas lounge band and celebrity magician Justin Willman! Table or seat reservations must be made in advance.  

4. Tool Talks: With our newly streamlined agenda, we wanted to make sure that we provided a space for our partners to share the products, services and tools that are most relevant to the industry. These speed sessions will be 20-minutes in length and run for the full afternoon of Sunday January 29th on the breakout stage, a perfect introduction for newcomers to NamesCon.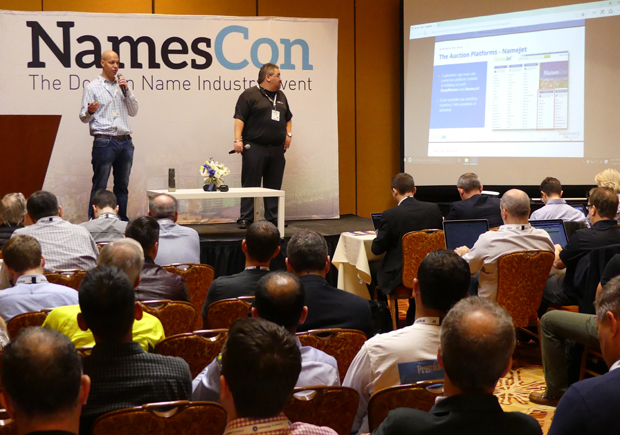 One of the popular business sessions that packed
meeting rooms at NamesCon Global 2017 last January.
5. Startup Alley: These plug-and-play kiosks are perfect for SMBs or startups to have a presence at NamesCon without breaking the budget, or tying themselves down to a booth for the entire show. We'll be hosting two dedicated networking happy hours for Startup Alley to drive a boost in foot traffic. Interested in booking? A few spots are still available, email "terri at namescon.com" to enquire.  
6. Closing Party and Brunch: With WaterNight on Monday evening, we've now scheduled our big blow-out party for Tuesday night. The executive roundtable keynote the following day, scheduled a little later than usual at 11am and served with a breakfast buffet. Have a last cycle through the exhibit hall before it closes at 2pm!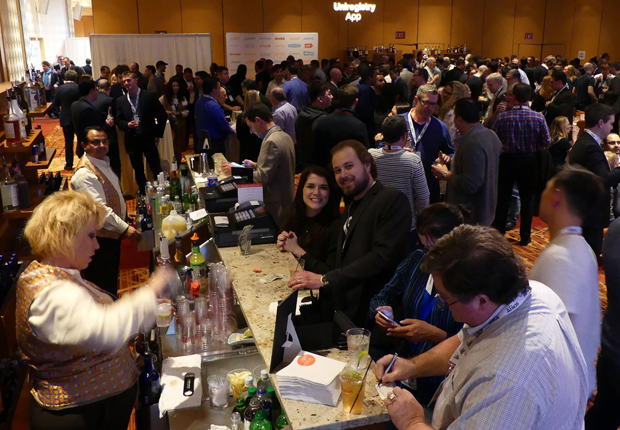 A scene from the official NamesCon party at the 2017 conference last January.
This will be the 5th annual NamesCon Global conference in Las Vegas and for the 5th consecutive year we will be there to cover it all for you or, better yet, see you there in person!
(Posted November 27, 2017)