New gTLD registry operator Radix issued a report (.pdf file) on their premium domain sales over the last two quarters of 2017 today. The data, presented in infographic style, showed Radix banking just over $1.38 million in premium sales in the second half of the year. Over $614,000 came from new premium domain sales with the rest generated by premium renewals. The company said 64% of premium names that had been sold through the registrar channel and were up for renewal for the first time were renewed.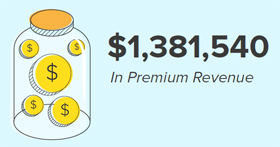 Radix's most popular premium extensions, both in terms of the number sold and the dollar amount generated, were .online and .tech. .Online generated $157,000 of the new revenue in 2H-2017 with .tech close to the same amount at $153,000. One other Radix TLD, .fun, generated six figures with $127,000 in premium sales.
The report also listed the company's top individual premium domain sales for 2H-2017. A trio of sales made through GoDaddy topped the list with Mint.tech, Wit.tech and Mirror.fun selling for $12,999 apiece. One other domain reached five figures - Track.tech - at $10,320. Those are just a few highlights from the full report that you can download here (.pdf format).
(Posted January 11, 2018)