If you were at last week's NamesCon conference in Las Vegas you undoubtedly saw show President Soeren von Varchim (who also heads the giant Cloudfest conference that will attract over 6,000 attendees to Rust, Germany next month) on stage, in the hallways and at evening social events. What you might not know is that Soeren leads a second life as a singer/guitarist in the rock bank Lords of Uptime that is made up entirely of all-stars from various corners of the Internet (until recently their line up even included former GoDaddy CEO Blake Irving on drums).
Lest you think the Lords - who bill themselves as "The Bad Boys of the Internet" - are just a bunch of pals who noodle around on musical instruments as a lark - think again. They can really play - and they have played with some of the best. In fact at their next gig, March 13, 2018 at Cloudfest is Rust they will be joined on stage by Billy Morrison (from Billy Idol's band), Dave Navarro (from Jane's Addiction and the Red Hot Chiil Peppers) and Sebastian Bach (from Skid Row)! Soeren said, "Get ready people! We are gonna rock it loud, hard and raw!"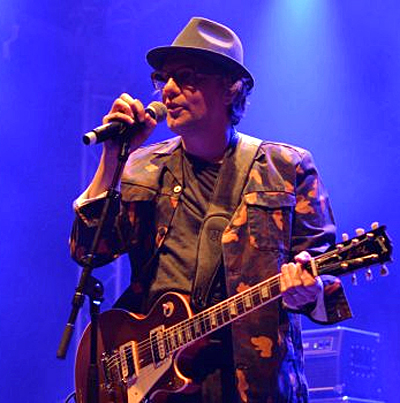 Soeren von Varchmin on stage with the Lords of Uptime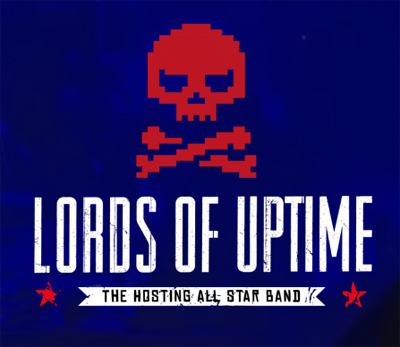 Obviously, von Varchmin is a man who is devoted to rock around the clock. However, according to a press release Lords of Uptime put out yesterday that apparently wasn't the case with everyone on the team. After being accused of favoring rap over rock music, Manager Christian Dawson was "fired" and replaced with Chuck Wadlow. The release said, "With rumors swirling that Dawson secretly coveted rap music over rock, the Lordís decision to replace Dawson with an individual more in tune with their rock ní roll agenda was a logical one - especially with their next performance at the Hotel Colosseo March 13 mere weeks away."
Chuck Wadlow
Lords of Uptime Manager

The release added, "Wadlow (Infopro) is a veteran cloud hosting enthusiast and longtime friend of Cloudfest who was once described by rock legend Sebastian Bach as a "true rock and roller." Chuck sees his new role as a way to give back to the Cloudfest community and to support efforts in taking the Lords to a whole other level."

Soeren himself added, ďChuck rocks! We can't think of anyone more uniquely suited for the band. He has previously taken on the role of CloudFest brand ambassador with distinction - twice - and we look forward to what he has in store as we move closer to our next gig in Europa Park."
While the appointment of Wadlow is legit, the "firing" of Dawson has all of the earmarks of a clever publicity stunt. Especially since Dawson and von Varchmin are friends and have been engaging in friendly banter about the managerial change on Facebook. In fact I ran in to them together one afternoon at Namescon last week (see photo below of all of us taken by Sedo's Christian Voss who is at far left. Soeren is in the center and Christian Dawson is at far right). Of course, this could have been before rock stickler von Varchmin discovered his friend's alleged affinity for rap! :-)