The Internet Commerce Association (ICA), the non-profit domain industry trade association founded in 2006 that looks out for the interests of domain registrants and developers, is sounding an alarm bell. A new press release from the organization states that Verisign, the exclusive .com registry operator, is poised to see additional windfall profits unless the National Telecommunications and Information Administration (NTIA) intervenes.
The ICA release says "Verisign is expected to request a price increase for .com domains when its current 'price cap' agreement with the U.S. Department of Commerce's NTIA expires on November 30, 2018." The ICA goes on to ask, "Will NTIA impose a price increase on millions of Internet users to further enrich Verisign, "The Most Profitable Company You've Never Heard Of", which is already enjoying huge windfall profits?"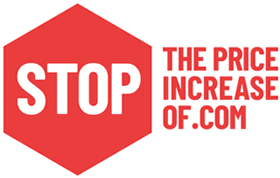 As most of our readers know, .Com domain names are issued exclusively by Verisign on a wholesale basis and are are in turn sold by authorized domain name registrars to the public. Domains ending in the .com extension are, by

far, the most popular on the Internet with some 134 million .coms currently registered, so a price increase would affect millions of individuals and small-businesses throughout the United States and around the globe.
The ICA noted, "Verisign is a public company with a market capitalization of over $19 billion. Although the cost of running the .com registry may be as low as $3 per domain, Verisign charges $7.85 to their customers. Due to the dominance of .com, Verisign has no real competitive pressure on their pricing. Before the U.S. government stepped in to cap Verisign's prices in 2012, Verisign's previous contract permitted it to raise prices 7% annually in most years."
They went on to say "Thanks to Verisign's exclusive contract to operate the .com registry, granted without a competitive bidding process, Verisign earned $457 million last year, and enjoys inflated operating margins of over 60%. Its windfall profits powered a tripling of its stock price over the past five years – despite the freeze imposed on .com prices. Verisign places fourth behind only Apple, Facebook and Alphabet (Google's parent company) in terms of revenue per employee. Verisign uses its excess cash to reward its top four executives with nearly $18 million in compensation in 2017 –

Image from Bigstock

equivalent to 7% of Verisign's operating expenses (excluding cost of revenue). In comparison, the compensation of Oracle's and Adobe's top four executives is about 1% of operating expenses."
The ICA believes, "Verisign will likely seek an unjustified price increase that would over time effectively constitute a billion-dollar "tax" on Internet users."
For further information they are directing .com domain registrants to StopthePriceIncreaseof.Com. A Change.org petition has also been launched to raise public awareness of this issue here.