NameJet® and RightOfTheDot have released the initial list of premium domain names available for pre-bidding leading up to their live (in-person and online) domain name auction at the NamesCon Global 2019 conference. As our regular readers know, NamesCon Global, the largest annual domain industry conference, will be returning to the Tropicana Hotel in Las Vegas January 27-30, 2019. The NameJet/ROTD live auction has consistently been a highlight of the show and that will be the case again on Monday, January 28 when the 2019 sale will be held. It will run from 4pm-7pm (U.S. Pacific Standard Time) in front of a standing room online crowd at the Trop along with a global audience online.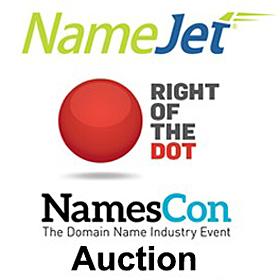 Pre-bidding and the extended auction will take place on the NameJet.com auction platform.
The top tier domain names scheduled to go on the block include Leads.com, Give.com, Drone.com, TexasHoldem.com, CellularPhones.com, QO.com, Prize.com, Bride.com, Broker.com, Tablets.com and a natural for this audience, DomainNames.com, to name just a few. NameJet/ROTD has also assembled an impressive list of non .com domains for the auction, including Mortgage.pro, Chinese.restaurant, NewYork.pizza and Boater.club. There will be an estimated 400 names in the overall auction with an estimated 120 domains offered at the live auction.
Last year's auction resulted in the highest sale in NameJet's history with Super.com selling for a $1.2 million. That domain has since been used to create a $50 million venture-capital fund for the video-game industry. Another huge sale at last year's auction was Great.com at $900,000.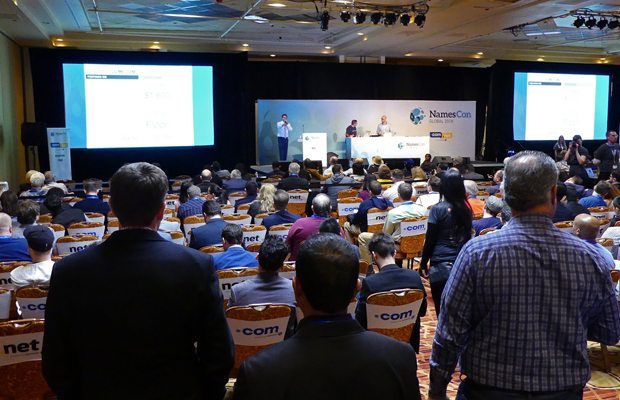 Above & below: Scenes from the NameJet/RightOfTheDot Live Domain Auction at the 2018 NamesCon Conference in Las Vegas last January.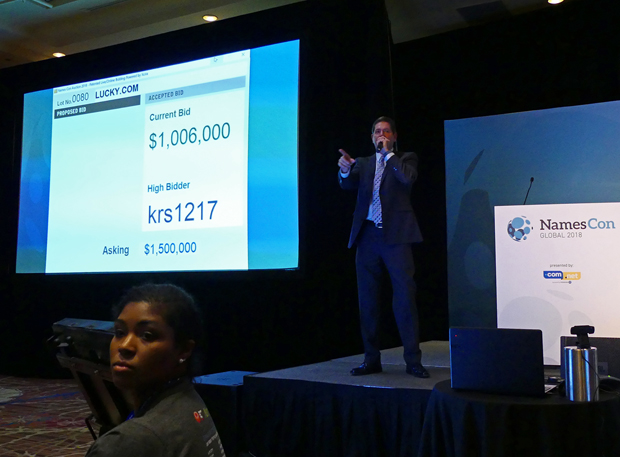 RightOfTheDot President and Director Monte Cahn noted, "RightOfTheDot and NameJet have generated millions in revenue for our clients and sold domain names never before available to a wide array of established companies, start-ups and individuals. Continuing to raise the overall value for the domain industry is our joint mission, and we look to further that effort with this year's list of fantastic domain names." NameJet General Manager Jonathan Tenenbaum added, "We are thrilled to once again partner with RightOfTheDot to support the live domain auction at NamesCon."
Auction organizers said that many of the premium domains up for bid will be priced at no and low reserves to promote competitive bidding and true market prices. They are also considering additional domain names for inclusion in the auction. If you have any that are of quality comparable to those already mentioned above you can submit them at http://rotd.com/auction-submission. Again, only ultra-premium names will be considered.

Bidders need to know that a NameJet account is required to participate in the online and live auctions. Bids for domains may be placed now on the NameJet website. Accepted names will be continually added to pre-bidding before the start of NamesCon so participants should check the auction page often for new additions and bidding activity. Following the live auction, the online auction will continue on the NameJet website for an additional 16 days, closing on February 13. 2019.
(Posted December 20, 2018)