The youngest member of the Neu domain clan is Millie's grandson, Ray Dillman Neu, a veteran domain investor who also co-founded the MERGE! conference with Jothan Frakes. His parents are Howard Neu, one of the world's best known domain attorneys and co-founder of the T.R.A.F.F.I.C. conference, as well as a domain investor and developer in his own right, and Millie's daughter, the effervescent and irrepressible Barbara Neu, who has been hosting domain conferences ever since they began with the first T.R.A.F.F.I.C. show in 2004 (an event that many view as the spark that started the evolution of domain investing from a hobby business into the thriving industry it is today). Barbara also co-founded THE Domain Conference with Howard and Ray in 2015.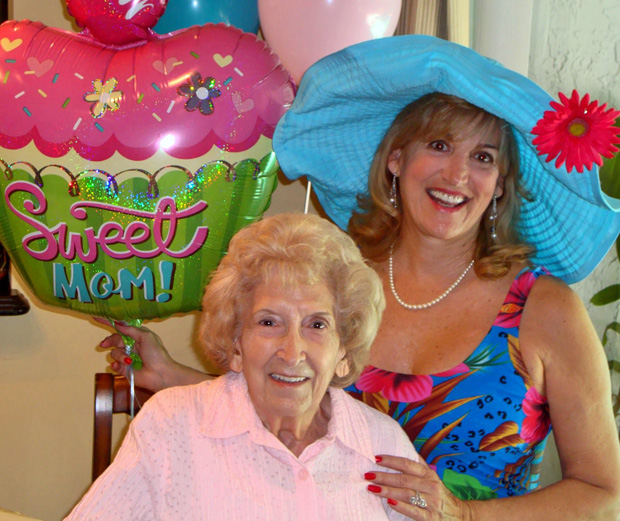 Millie and Barbara celebrating Mother's Day in 2015.
Now, if you think Millie had only a passing connection to the industry, you would be mistaken. If you went to any of the Florida conferences in recent years, you likely met Millie, whether she was helping Barbara at the registration tables, co-hosting social events or just making sure people had a good time. For those who didn't know how to do that, Millie was there to show them!
Millie never met a party she didn't like! In this photo from New Year's Eve 2011, left to right, are Howard Neu, Millie (Carmella Savanello), Millie's late husband and Barbara's father Vito, and Barbara Neu.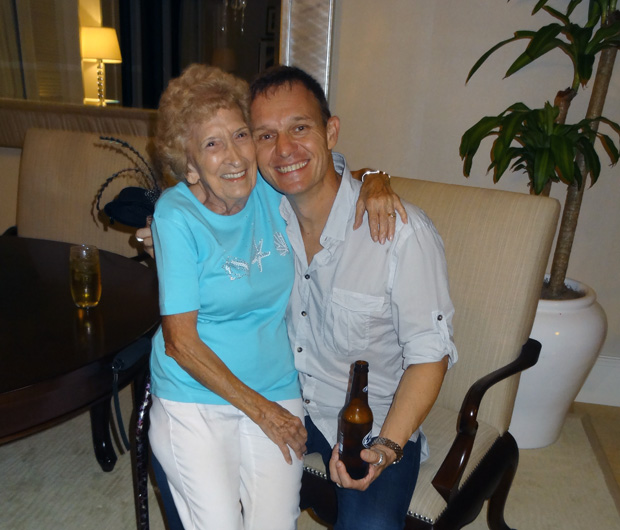 Above: If you met Millie, you loved Millie, and that went for everyone from the industry's biggest stars, like Uniregistry Founder and legendary domain investor Frank Schilling (seen here with Millie during the 2013 T.R.A.F.F.I.C. conference in Fort Lauderdale), to those attending their first industry event.
Below: Another industry pioneer, Ammar Kubba, tipping his hat (actually her hat) to Millie at T.R.A.F.F.I.C. 2013 in Florida.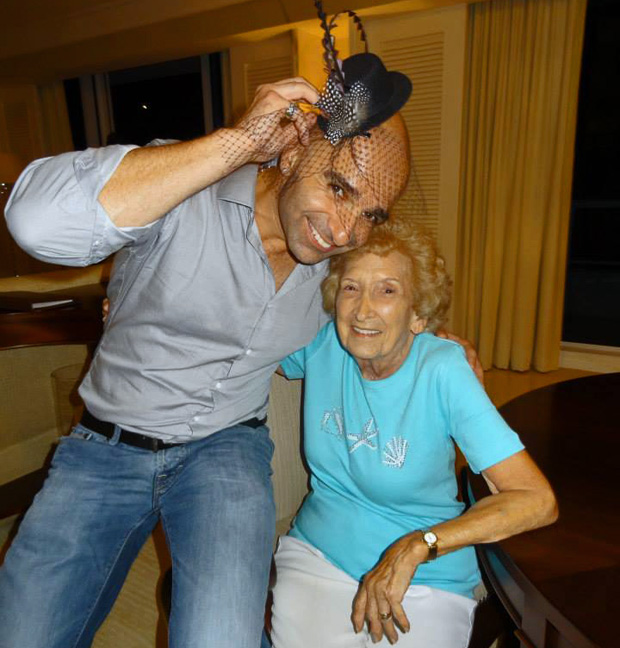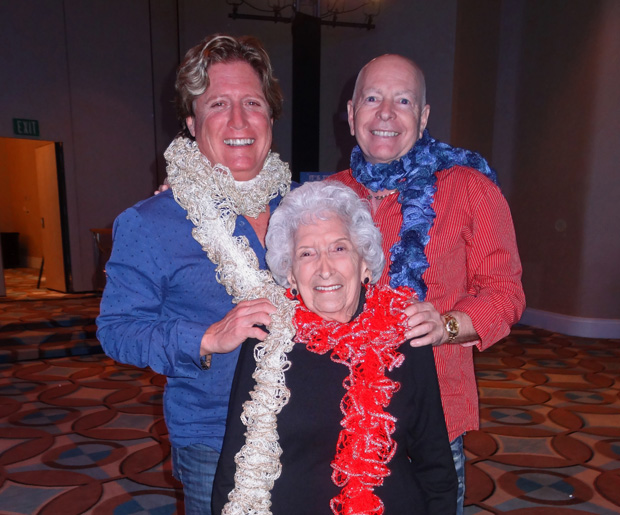 Above: Millie was known for creating colorful scarves and she soon created a legion of scarf-wearing friends, including two more domain greats, Michael Castello (left) and Gregg McNair.
Below: Millie's fame went well beyond the domain industry. Yes, that is the real Shaquille O'Neal who scooped Miller into his arms when she was celebrating her birthday in 2015. Bystanders said they distinctly heard the legendary NBA star ask Millie to marry him!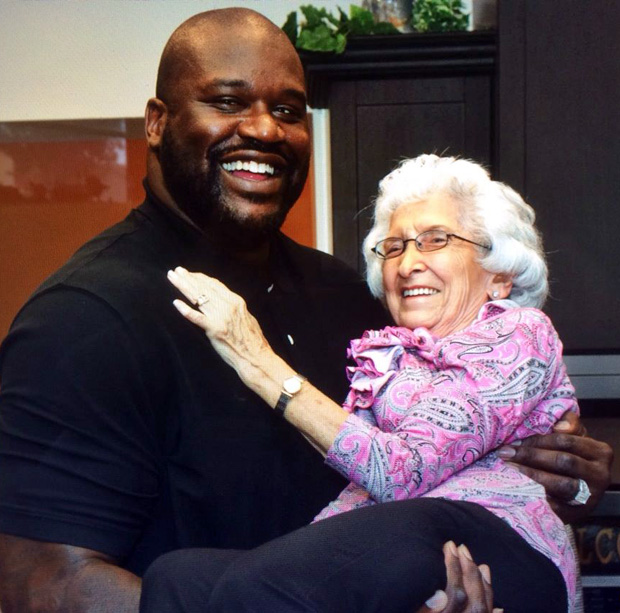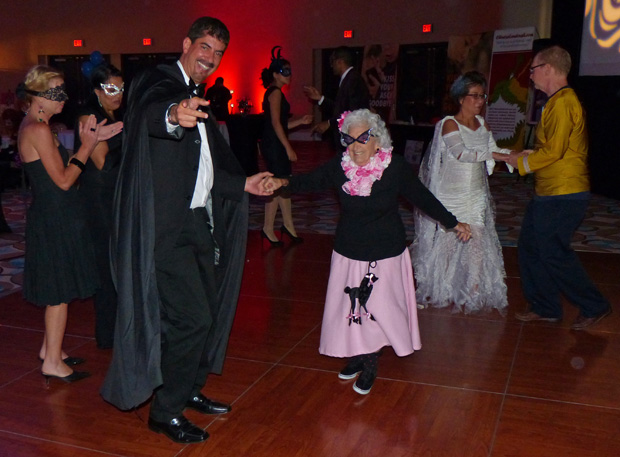 Above: Sometimes it is hard to get people onto the dance floor - no one wants to be first - no one except Millie that is! When the final T.R.A.F.F.I.C. conference was held at the Fontainebleau Hotel on Miami Beach in 2014, it fell during Halloween, so show organizers held a costume party. As soon as the music cranked up Millie grabbed Eddie Sixto and hit the dance floor to show the kids how it's done (believe me, she could tear it up too)!
Below: The next day some of the folks who had a tough time keeping up with Millie the night before were happy to have a chance to relax in one of the Fontainebleau's poolside cabanas. Grandson Ray Dillman Neu is standing. Seated left to right are Barbara Sixto, Diana Jackson, Barbara Neu and Millie (as usual, looking like a million bucks despite staying out late)!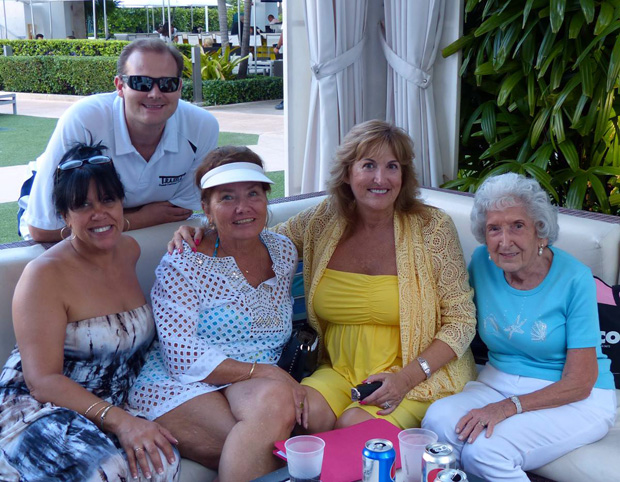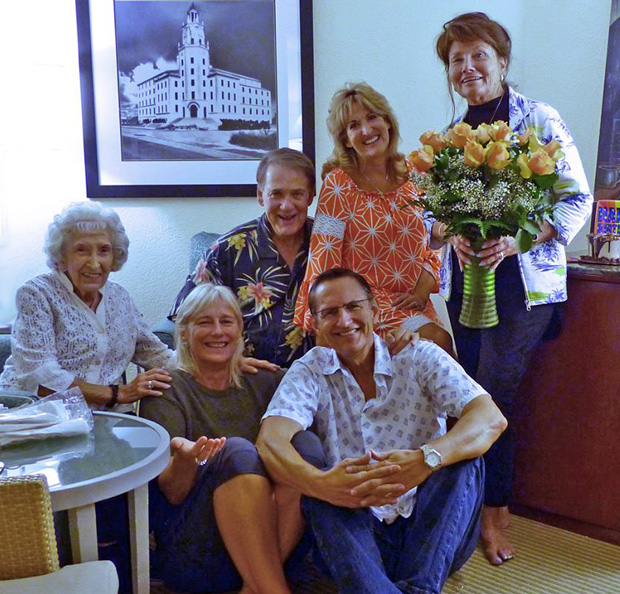 Above: When the Neus launched THE Domain Conference in Fort Lauderdale in 2015, the event fell during my wife Diana's birthday, so Barbara (like her mom, always looking to do something nice for someone) decided we needed to have a birthday party in our room before the conference began. Left to right in front is Millie, her friend (and another domain great) Ilze Kaulins-Plaskacz and Ron Jackson. Behind them are Howard Neu, Barbara Neu and Diana Jackson.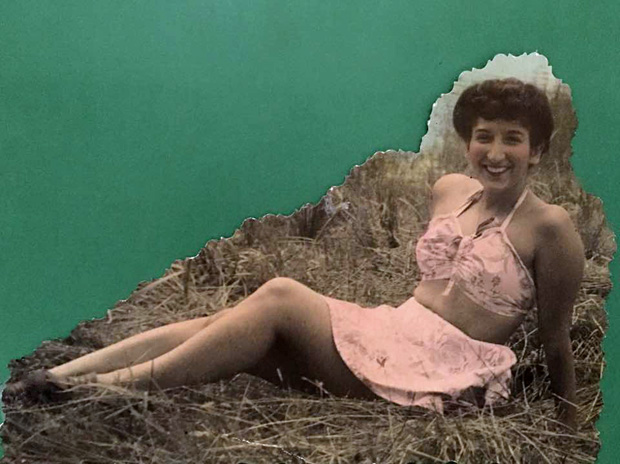 Above and Below: Forever Young! In the top photo is Millie at age 18. Below is Millie, still as beautiful as ever, celebrating her 90th birthday last summer with Barbara at her side. I've told many friends I've never seen a mother and daughter who were closer than these two.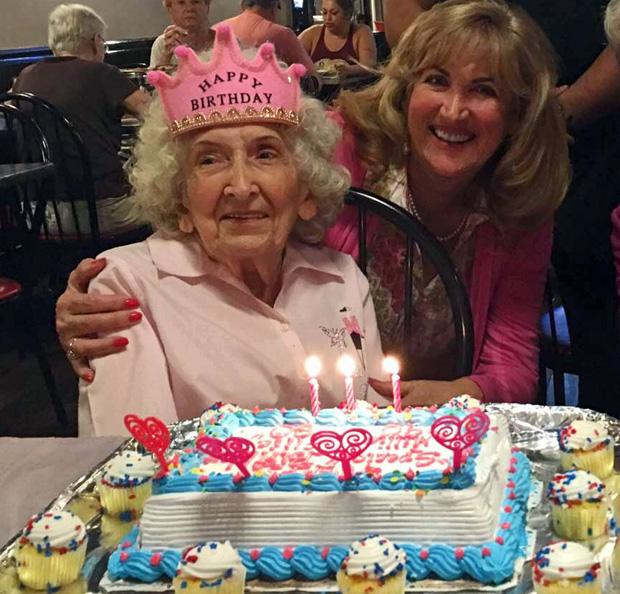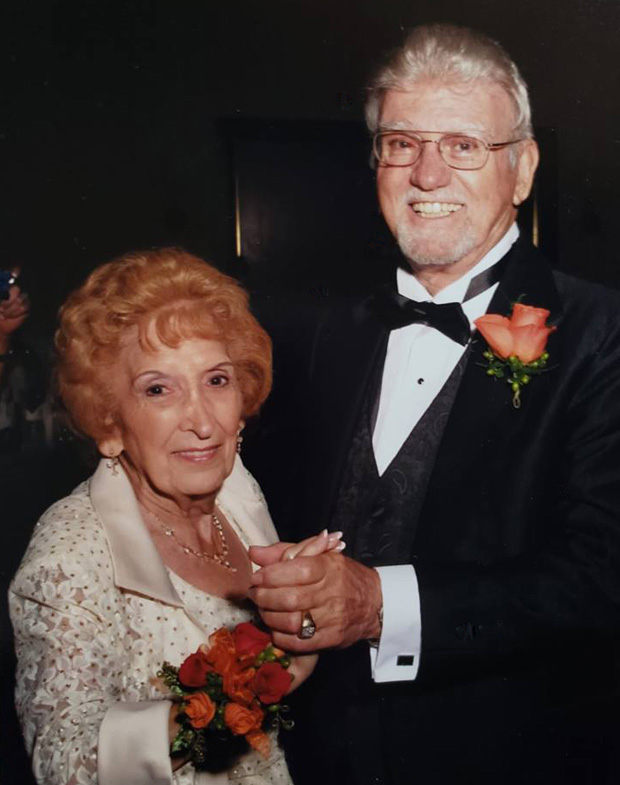 Above: So now, Millie has left us (but left us far better than we were thanks to the love and joy she shared and the example she set). Now, we need to be the first ones to get out on the dance floor and, like her, show others how to take advantage of the brief time we have in this world. Millie is off on another adventure of her own and I have no doubt she is dancing with Vito again tonight in heaven.