How can you make a profit with 50 attendees? You probably can't and that's fine with Schwartz who isn't looking for one - or even selling tickets for that matter. Instead, he said everyone will pay their own way. "This is a not for profit event," Schwartz wrote. "Those that come will share the expenses. All I am doing is facilitating and financing." That meant putting out around $25,000 up front to secure the venue, dates and some key services. If 50 people come Schwartz expects the shared cost would be about $250 per person, maybe less as he added, "that cost will be going down, not up. We have a domainer friendly sponsor that will be helping out." Attendees would also have the cost of travel and the hotel room but that is true of any event.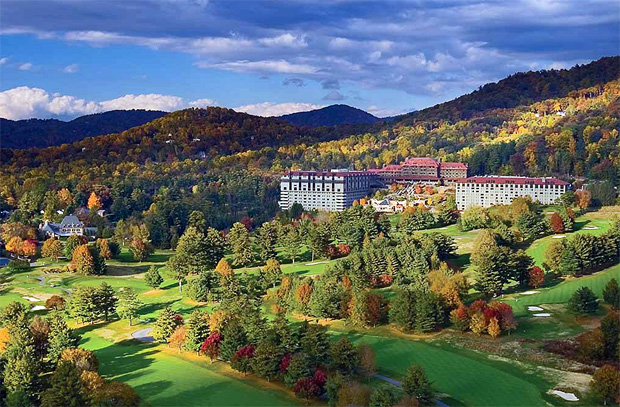 The Grove Park Inn nestled among the mountains in scenic Asheville, North Carolina where the 1st annual Asheville Professional Domain Investor's Meetup & Family Outing will be held in August. (Photo courtesy of the Omni Grove Park Inn).
In a post on his blog this morning, Schwartz laid out a preliminary agenda that makes it clear this event will be all about the networking, most of which will be done in a casual atmosphere (with lots of great food and beverages close at hand) in one of America's most beautiful locales. Rather than spending the day cooped up in a conference room, it will be a free flowing experience highlighted by some unique social events like a Friday night Asheville Ghost Tour and a Saturday afternoon Asheville MicroBrewery Tour, along with a chance to enjoy Asheville's great restaurants and booming night life every night.
Plans for the event came together very quickly. Schwartz first announced he was thinking about it in a blog post two weeks ago. Then, on Tuesday of this week, he announced he had reserved the venue and went on to lay out more details on what he had in mind. Reading those two earlier articles along with today's post makes a persuasive case for being in Asheville in August. Schwartz said he expected to have a registration page and hotel room reservation page (with a discounted group rate at the upscale inn) online in about two weeks. Then it will be strictly first come, first served and he expects the small allotment of spaces to fill up quickly (around 25 had already stated their intention to attend in commentary posted to his blog). The best way to get early notice would be to keep an eye on his posts at RicksBlog.com where the latest details will be announced.