Afilias, the world's second largest domain name registry operator, today announced that it has promoted Ram Mohan to the newly created position of Chief Operating Officer. Ram, who has been with Afilias for nearly 18 years, will be responsible for most of the day-to-day operations of Afilias and its global subsidiaries. He will continue to report to Afilias' President and CEO, Hal Lubsen while most all of Mr. Lubsen' s previous direct reports will now report to Mr. Mohan.
An Aflias press released noted, "Mr. Mohan's appointment recognizes the pivotal role he has played in the development of Afilias and paves the way for continued growth for the company." Mohan joined Afilias in June 2001 as Chief Technology Officer to oversee the start-up of Afilias and the launch of its inaugural product, .info. He was also involved with the creation of a historic partnership with ISOC in 2002 and the founding of Public Interest Registry as the steward of .ORG. He was appointed Executive Vice President in 2008 and in that role the release added, "His leadership has helped Afilias earn the confidence of the operators of over 180 top level domains (including 14 country codes), and the successful management of over 20 TLDs owned by Afilias. For over a decade, Mr. Mohan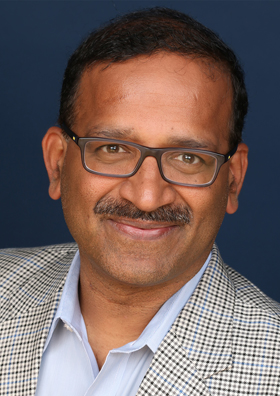 Afilias COO Ram Mohan
served as an ICANN Board member representing SSAC, sharing his expertise in cybersecurity. Mr. Mohan is also a global leader in IDN technology and has helped bring native language domain names to India, Asia and the Middle East."
Mr. Lubsen said, "Ram's thorough understanding of our industry and the Company, coupled with his excellent record of getting things done, will help lead the company going forward. Ram has played a leadership role in all of Afilias' major successes, and the Board and I have the utmost confidence in his ability to continue building on this strong foundation."