Radix, one of the world's largest new TLD portfolio registries, announced that it grossed $16.95 million in total revenue in 2018, a 30% rise over its revenue in 2017. The registry's net profit soared too, growing 45.6% in comparison to last year. They also ended the year on a high note with Q4 2018 as their strongest quarter.
In breaking down their main sources of revenue, Radix noted 27% came from standard registrations and 60% from standard renewals. Radix's premium domains accounted for the rest, generating $1.9 million with 56% of that money attributed to premium renewals.
A breakdown of revenue by geographic location showed the United States as the top contributor to Radix's revenue, generating 48% of the total share, followed by Germany with 12%, and China with 6%.
The company's renewal revenue grew by 43% last year compared to 2017, something CEO Sandeep Ramdchandani said was "indicative of Radix's focus on maintaining a strong renewal rate through expansive end-customer marketing for its TLDs."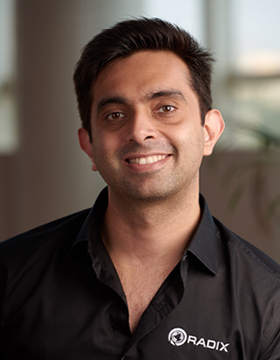 Sandeep Ramchandani
CEO, Radix
Radix is currently the only portfolio registry that has two of its TLDs standing at over 1 million domain registrations each. .ONLINE hit the 1 million milestone in November 2018 and .SITE joined the 1M club in February 2019.
Radix operates seven other new extensions including .STORE, .TECH, .WEBSITE, .SPACE, .PRESS, .HOST, and .FUN; as well as one re-purposed ccTLD, .PW.