It involved a social media influencer named Rossi Lorathio Adams II whose company, Social Snaps, has been attracting over a million visitors to his pages on platforms including Snapchat, Instagram and Twitter. According to CNN, for two years, Adams had been trying unsuccessfully to buy a domain he wanted, DoItForState.com, from the owner who lives in Cedar Rapids, Iowa. Adams finally got the not so bright idea that he could just hire someone to pay the domain owner a visit and force him to transfer the domain at gunpoint. After all, what could go wrong?!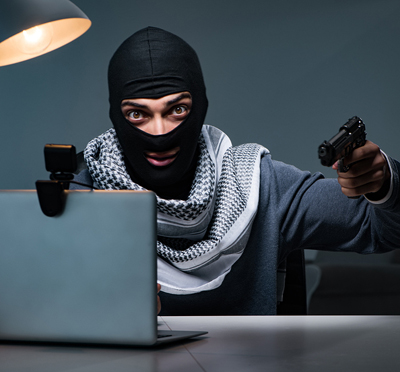 Image from Bigstock
Well, plenty, as the guy he picked for the job, his cousin Sherman Hopkins Jr., soon found out. In 2017 Hopkins went to the domain owner's house, pulled out the gun and directed the man to his computer where he was told to log into his registrar account and transfer the domain. All the while Hopkins kept a gun against the man's head. Unfortunately for him, the domain owner decided to fight back and successfully wrestled the gun away from Hopkins and shot him several times with his own weapon. To add insult to insult Hopkins was sentenced to 20 years in prison last year.
Meanwhile, authorities followed the trail from Hopkins back to the guy who hired him, Adams, who is now in custody awaiting sentencing himself. As CNN noted, "he faces a maximum 20 years in prison, a $250,000 fine and three years of supervised release." I'm pretty sure he could have bought the domain for a LOT less than that though, on the plus side, it looks like he may get free room and board for the next two decades.
While this is obviously a very rare set of circumstances, it will likely cause a lot of domain owners to think about using the WhoIs Privacy option on their domain names so their address and other contact info is not readily available to someone who wants to pay them a visit!