The Lowdown
June 2012 Archive
Subscribe to our RSS Feed

Here's the The Lowdown from DN Journal,
updated daily to fill you in on the latest buzz going around the domain name industry.

The Lowdown is compiled by DN Journal Editor & Publisher Ron Jackson.
The Internet, TV, Radio, Newspapers - Which Has the Most Influence on Purchasing Decisions? Hint: We're Not There Yet!
Having worked in print, radio, TV and now the Internet, I've had an ongoing fascination with the race for supremacy among the competing media platforms - a race that has seen the Internet quickly closing on and, in most cases, passing the competition.

There are actually multiple races going on including advertising revenue share, time spent with each medium, etc. An especially important race to win is the one for most influence on purchasing decisions. That is where most advertisers are going to want to

Image from Bigstock

spend their money because, as Rick Schwartz is fond of saying (it is even printed in the masthead on his blog), "Nothing happens until a sale is made."
Since the value of our Internet domain names is largely tied to how useful they are in helping business end users influence their customers to make a purchase, it is critical for the Internet to keep gaining ground on that front. The latest study, released this week, shows we are continuing to make inroads, especially with younger generations, but we are not there yet.
The Center for Media Research broke down the numbers from The Media Comparisons Study that the TVB (Television Bureau of Advertising) commissioned research firm Knowledge Networks to do. Of course, with the TV ad association involved the thought of a "stacked deck"

Image from Bigstock

immediately crossed my mind - especially when I saw that TV did indeed come out on top and by a big margin.

However, Knowledge Networks is a reputable research firm and, even if you are still not buying it, you can completely ignore the TV entries in the study and still get some interesting insight into where the Internet currently stands in the influence race and what the unmistakable trend for the future is.
For starters, the study showed that among all adults 18 and older, the most time - 5.2 hours a day - is spent with TV. The Internet is the solid runner-up at 3 hours a day, more than double the 1.4 hours spent daily with #3 Radio. Bringing up the rear are Mobile Phones (0.7), Newspapers (0.4), Tablets (0.3) and Magazines (0.2).
However those rankings get shuffled in the more important race - which has the most influence on purchasing decisions? The winner was actually none of the above as the largest percentage of respondents, 39.5%, said they didn't know. However, among those who said they did know, TV won again (and by an even bigger margin) with 37.2% saying TV influenced their purchasing decisions most. Interestingly, the study also shows that TV commercials played a key role in driving more people to the Internet to learn more about the product.
The biggest surprise to me is that while the general perception of newspapers is that they are going the way of the dinosaur, newspapers still ranked 2nd in purchasing influence, cited by 10.6% of the respondents. The Internet came in 3rd with 5.6% (followed by Magazines at 4.4%, Radio at 1.8% and all of the others with less than 1% each).

However, here is where the future trend is clear. The influence of newspapers drops sharply with each step down the generational ladder. While 12.3% of those aged 35-64 named newspapers as being most influential in their purchase decisions, only 3.2% of those 18-34 said the same (a number

Image from Bigstock

that is really bad news for papers). 7.4% of the 18-34 year-olds said online ads influence them the most. Among the older 35-64 group online ads influenced only 2.9% of them most.
So, as the new generation takes over the Internet continues its inexorable rise. It won't be long before they pass newspapers in influence on purchase decisions (as the web has already done in terms of time spent with the medium). However, if the study is indeed impartial, we still have a long way to go to overtake TV. Still it is nice to see the study show that TV has been an ally in one important respect by putting URLs in advertising that drive more people to the web.
There is lot more interesting information in the study that is nicely summarized in this report. You can also get the entire study in Powerpoint format from the TVB website.
(Posted June 29, 2012) To refer others to the post above only you can use this URL:
http://www.dnjournal.com/archive/lowdown/2012/dailyposts/20120629.htm
Sedo Adds New Domain Value Data, Moniker/Snapnames Targets Chinese Buyers & ICANN Shoots an Arrow Through Digital Archery's Heart

Several topics to touch on today. Sedo has started making more information available about the domains for sale on their popular aftermarket platform. The new initiative, dubbed Domain Value Indicators, provides a selection of core statistics on each name, as well as how these values compare to other domains listed at Sedo. Those values include:

Global monthly searches: the number of monthly searches for the domain's keywords globally.

Regional monthly searches: the number of monthly searches for the domain's keywords based on the domain extension (e.g. within the UK for any .co.uk).

Estimated keyword cost-per-click: revenue earned when a user clicks on an ad associated with keywords in the domain.

Registration years for the same name among top extensions: the year in which this name was registered as a .com, .net, or other top TLD.

Registrations of keywords among most popular extensions: how frequently the keywords in a name are registered among the top domain extensions. Each extension is weighted by popularity, so .com is proportionally worth more than .net, for example.

Image from Bigstock

Sedo's announcement said "The Domain Value Indicators show potential buyers the value of a domain by displaying statistics and facts that help them make an informed decision about their purchase. The feature also helps sellers set domain prices, by placing the most important determinants of domain value at their fingertips. The new feature also includes a comparison of the domain's value with that of other names listed at Sedo, an addition that helps put this value into context for both sellers and buyers."

Sedo added that the Domain Value Indicators feature will act as a

complement to Sedo's Price Suggestion and Appraisal offerings. Those services are based on Sedo's historical transaction data, and make use of both automated pricing tools and the expertise of their international brokerage team to help assess domain name values.

Two other well-known companies in the domain aftermarket space - Key Drive S.A.'s Moniker and SnapNames units - have announced new partnerships with two Chinese companies that will give them much more exposure to buyers in China. One of those is NameRich.cn, a leading Chinese domain name aftermarket service provider, and the other is Dnbiz, a leading Chinese domain name buying and selling marketplace.

Through Dnbiz and its Yumi.com distribution network, they provide access to more than five million domains to tens of thousands of Chinese clients every day. The company said the partnership was formed in response to the increasing domain name demand by businesses and domain investors in the region. Those deals also come on the heels of partnerships that aftermarket giants Sedo and the AfternicDLS announced with other Chinese companies last week.

Image from Bigstock

One other note today - ICANN's Digital Archery plan for determining which new gTLD applicants would have be given consideration first is officially dead. The original plan was to consider applications in batches of 500 but after cascading problems and mounting protests over the faulty technology behind the plan, ICANN finally threw in the towel.

The abrupt decision leaves several new "digital archery services" companies that had sprung up to help applicants get places at the head of the line with no product to sell. It also leaves all new gTLD applicants wondering what happens now since no new plan has yet been announced.

(Posted June 28, 2012) To refer others to the post above only you can use this URL:
http://www.dnjournal.com/archive/lowdown/2012/dailyposts/20120628.htm
Teen Domainer Brian Diener Co-Founds New Content Production Company at CollegeCopywriters.com

While still in high school young entrepreneur Brian Diener of Boca Raton, Florida made a name for himself by chronicling his adventures as a domain investor on the TeenDomainer.com blog he started writing in 2009. Diener continued his love affair with domain investing and development when he went off to college at Atlanta's Emory University where he is now a sophomore.

Building on what he has learned, Diener just took another giant step forward, joining forces with another talented Boca Raton-based college sophomore, Harvard University's Chris Smiles, to launch a new quality content production company at CollegeCopywriters.com. The Beta version of the company's online marketplace pairs webmasters, web developers, marketers and business owners in need of quality and affordable online content with students from some of the nation's top colleges and universities.

Brian Diener
Co-Founder, CollegeCopywriters.com

Diener and Smiles have been working on the business since the fall of 2011, growing their network of writers at their own colleges, as well as other schools, including Columbia, Yale, NYU and Vanderbilt.

Diener said, "College Copywriters offers quality and unique content for as little as $.02 per word. For those looking to order content, they have the option of choosing content based on three levels of quality – "A-minus", "A" and "A-plus", with writers earning an average of $10-$20 an hour. Writers are vetted through a comprehensive writing test that is evaluated by the team's lead editor."

Diener added, "After Google's recent Penguin update, webmasters and site developers have been stranded, forced to make a difficult decision – write hundreds of articles on their own or order from other content providers, ultimately sacrificing quality. Today's tech-savvy college students – many of whom struggle to balance school with part-time employment – are perfect for the job, since they prefer to work in their spare time and are eager to put their skills to use."

Diener, a varsity athlete at Emory, has been nationally recognized for his online entrepreneurial successes by Go Daddy, as well as the National Federation of Small Businesses. Smiles also has an impressive resume having posted a perfect score on his SAT and being Valedictorian of his senior class at Boca Raton's St. Andrew's High School. Smiles enrolled in computer science classes during his freshman year at Harvard for the express purpose of building CollegeCopywriters.com.

"We bought the domain name CollegeCopywriters.com in the Summer of 2011," Diener noted. "Our initial test was so successful that we stopped accepting new writers until the site was live." In addition to building a profitable business, the two hope that their service will help writers utilize relationships with publishers to build their professional resumes, which could lead to job placements as they enter the workforce after college.

Image from Bigstock

(Posted June 27, 2012) To refer others to the post above only you can use this URL:
http://www.dnjournal.com/archive/lowdown/2012/dailyposts/20120627.htm
People & Companies in the News: DomainHoldings, ParkLogic Founder Michael Gilmour & Oversee.net CEO Debra Domeyer
Three domain monetization companies are in the news today. Domain owners always wonder if their names would do better parked somewhere other than where they are now.

DomainHoldings.com just staked a claim to improved performance via their DomainPower platform in a new research paper they released today. An Inside Look at the Technology Driving DomainPower's Performance (.pdf file) explains how (and

why) their Monetization Decision Engine works. The paper's final page will be of particular interest as it takes four different portfolios and details how each performed on DomainPower vs. their previous parking provider.
By breaking down how specific kinds of domains are performing in their system (including portfolio RPM numbers) the company makes it a lot easier to estimate how well one's own portfolio might be expected to do there. That's a big step in the right direction for domain owners who have long clamored for more transparency.


ParkLogic Founder Michael Gilmour

Speaking of monetization transparency, I don't know that there has ever been a louder voice on that topic that ParkLogic.com founder Michael Gilmour (whom we profiled in a November 2008 Cover Story). In addition to being one of the industry's undisputed "good guys," Michael has an interesting personal story that he recounts in an interesting video interview conducted by an up and coming young domainer - his son Tim - that has been posted on the company's website as well as YouTube.

During the 13-minute discussion Michael details how he got started in domaining, the birth of ParkLogic and what opportunities he sees in the future for domain owners. The company plans to follow up with more video interviews, possibly as often as one a week, aimed at helping you get the most from your domain business.
Elsewhere Debra Domeyer, the CEO of one of the world's biggest domain monetization companies in Oversee.net (parent company of DomainSponsor.com), was featured on a big stage today. Debra (a former Chief Technology Officer at Oversee with more than 25 years of technology experience) delivered the final presentation at ComputerWorld's The Power of Big Data Symposium at the Roosevelt Hotel in New York City.

In a talk entitled From Push to Pull - Using Big Data to Get To Know Your Customer Debra shared the story of how Oversee is using advanced technologies to meet real-time decision-making needs via a strong mix of data and analytics. Oversee's performance marketing network handles over 250 million unique visitors per month (equating to 1.5 trillion bytes of data), so Big Data is obviously an essential component of the company's business strategy.

Debra Domeyer
CEO, Oversee.net

Debra explained how user behavior is analyzed using business intelligence and predictive modeling tools. The goal is to uncover both structured and unstructured data that can be used to optimize the user experience and maximize results for advertisers and publishers on its network. To improve user behavior predictability even further, she said Oversee is transitioning from pushing to pulling data from its users.
(Posted June 26, 2012) To refer others to the post above only you can use this URL:
http://www.dnjournal.com/archive/lowdown/2012/dailyposts/20120626.htm
Complete Videos of Speeches Made by Incoming and Outgoing ICANN CEOs Today in Prague
ICANN's new CEO Fadi Chehadé made a well-received public debut with a 21-minute speech today at ICANN's 44th international meeting in Prague, Czech Republic where the meeting will continue through Friday, June 29. Chehadé promised to focus on consensus building and inclusion while operating with complete transparency. He also said all of his decisions would be based on the public's best interest. You can watch his entire speech below.
Outgoing ICANN CEO Rod Beckstrom, who will leave the post Sunday (July 1, 2012) was also in Prague to deliver his farewell address which can be viewed below:
Though Beckstrom is leaving July 1, Chehadé will not be taking over until sometime on or before October 1, 2012. Between Beckstrom's departure and Chehadé's arrival, the CEO duties will be handled by current ICANN COO Akram Atallah who also spoke today in Prague:
Also today ICANN Board Chairman Dr. Stephen Crocker delivered the ICANN 44 opening speech that can be viewed in its entirety below:
(Posted June 25, 2012) To refer others to the post above only you can use this URL:
http://www.dnjournal.com/archive/lowdown/2012/dailyposts/20120625.htm
ICANN Names a New CEO to Replace Rod Beckstrom - Fadi Chehadé to Take Over by October 1

New iCANN CEO Fadi Chehadé
Photo courtesy of IcannPhotos

ICANN today named Fadi Chehadé, as the new CEO of the domain name system's oversight body. Chehadé will replace Rod Beckstrom who is leaving the post July 1. The 50-year-old Chehadé who is a citizen of three countries, Lebanon, Egypt and the United States, will take over on or before October 1, 2012 with current ICANN Chief Operating Officer Akram Atallah handling CEO duties until Chehadé arrives. The announcement (.pdf file) came in Prague, Czechoslavakia where ICANN's 44th international meeting will get underway Sunday.

Chehadé was born in Beirut, Lebanon, to Egyptian parents and left the then war-torn country in 1980 at the age of 18. He speaks fluent Arabic, English, French and Italian. He comes to ICANN after serving as CEO at Vocado LLC, a U.S. firm that provides next-generation cloud-based administrative software for educational institutions.

Prior to Vocado, Chehadé served as the General Manager of IBM's Global Technology Services in the Middle East and North Africa. Based in Dubai, he led a team across an emerging region experiencing high growth. He also built and managed a new global business for IBM, providing managed services to large clients in telecommunications, aerospace and retail to improve the accuracy, depth and timeliness of business information visibility across demand and supply chains.

In 1998, as the founder and CEO of RosettaNet, Chehadé rallied business and government leaders across the globe to build consensus on e-Business process standards by capitalizing on the growing Internet connectivity between trading partners in the computer and telecommunications sectors. The firm's transactions continue to span the industrial world and exceed $100 billion per year.

Dr. Stephen Crocker, Chair of the ICANN Board of Directors said, "Fadi has an amazing track record of success and the obvious leadership qualities to help carry ICANN into the next stage of its evolution. His international background and multi-linguistic skills will help to make ICANN an ever more globally oriented organization. It's hard to imagine how we could have found anyone better suited for the top position."

Chehadé said, "I have spent most of my professional career building consensus among various stakeholders from around the world. I am naturally humbled to now be able to lead an

organization that defines itself by an international multi-stakeholder model and one that is the very core of the security and stability of the Internet."

Chehadé is a graduate of Stanford University, where he earned a master's degree in Engineering Management. He earlier earned a bachelor's degree from Polytechnic University in New York, where he graduated Summa Cum Laude. Fadi Chehadé currently lives in Los Angeles where ICANN is headquartered.

(Posted April 2, 2012) To refer others to the post above only you can use this URL:
http://www.dnjournal.com/archive/lowdown/2012/dailyposts/20120622.htm
Another Win for Domain Owner Rights - Italian Company Loses Both UDRP & a 2nd Attempt to Take Name Through a Lawsuit
Less than a week after Rick Schwartz scored an important UDRP win against a Brazilian company that tried to hijack one of his domains, comes word from Ari Goldberger's law fim, ESQwire.com, of a double-pronged victory for one of their clients, Didier Madiba of Wilmington, Delaware based Fenicius LLC, over Mediaset S.P.A., a company owned by Italian media magnate and former Prime Minister Silvio Berlusconi.

This fight over the domain MediaSet.com had more twists and turns than an Agatha Christie novel. Mediaset S.P.A. was a previous owner of the domain after successfully taking it away from the prior owner through an earlier UDRP action. However, MediaSet, in a stranger than fiction oversight, lost the domain when they failed to renew it and let it expire!

Ari Goldberger, ESQWire.com
That's where Madiba entered the picture. He picked up the domain on the drop with plans to develop it (plans that were waylaid when Madiba had to switch his focus to a more important battle after he was diagnosed with cancer). Shortly after that, Mediaset S.P.A. popped up again and filed another UDRP - this time against Madiba. Madiba turned to one of the domain industry's top attorneys in Goldberger (founder of ESQwire.com) and this time, thanks to a well-reasoned response from Goldberger, Mediaset S.P.A. lost the decision (.pdf file), allowing Madiba to keep the domain.
Image from Bigstock

MediaSet S.P.A. did not let the matter drop there - instead they moved the ball to their home court - filing a lawsuit against Madiba at the Court of Rome in Italy. ESQwire.com worked with an Italian IP Counsel, Nicoletta Colombo, to defend Madiba and today they announced another victory. While the Italian judges understandably ruled that Mediaset S.P.A.'s Italian trademark entitled them to protection in Italy it did not give them the right to Madiba's domain. They ruled that he could keep MediaSet.com and is free to use the domain outside of Italy.

Speaking for ESQWire.com, Jason Schaeffer said, "Naturally, we are quite pleased by this decision and believe this is a great victory for domain owners. The Italian Court's

recognition of the domain owner's rights is encouraging and provides further support for the UDRP and a balanced approach to Trademark law." After years of seeing domain owner's rights repeatedly trampled on, recent decisions have been a most welcome turn of events - a trend we hope will continue in the future.
(Posted June 19, 2012) To refer others to the post above only you can use this URL:
http://www.dnjournal.com/archive/lowdown/2012/dailyposts/20120619.htm
Sedo Predicts What the Ten Most Successful New TLDs Will Be (the Most Highly Contested Extension, .APP, Didn't Make the Cut)
When ICANN announced the 1,409 new TLDs that 1,930 applicants are chasing on Big Reveal Day last week, speculation immediately began on which proposed extensions have the best chance for success. Domain industry powerhouse Sedo put in their two cents today when they released a list of what they think are the 10 most valuable new TLDs based on an in house statistical study. The analysis was done by economist and researcher Thies Lindenthal. who is the Product Manager for Domain Pricing Strategies at Sedo, as well as the creator of IDNX, which the company describes as the first scientific-grade domain price index.
Here is the Top 10 list that Lindenthal came up with, in order of his study's take on their overall value:

| | |
| --- | --- |
| 1. | .SHOP |
| 2. | .WEB |
| 3. | .SITE |
| 4. | .MUSIC |
| 5. | .HOTEL |
| 6. | .ONE |
| 7. | .BLOG |
| 8. | .ECO |
| 9. | .SPORT |
| 10. | .LOVE |

Lindenthal said, "Many factors make domains unique and difficult to compare side by side, but analyzing hundreds of thousands of domain transactions on Sedo's marketplace – and applying real estate pricing methodologies – has

Thies Lindenthal
(Photo: courtesy of epri.eu)

provided significant insight into the factors that determine domain value. New gTLDs are actually not that new, they're really just traditional domain names on steroids. We should evaluate their fundamental strengths in a similar way to how we traditionally price domain names."
To predict the effectiveness of each new gTLD, Lindenthal used a formula made up of five criteria that typically affect a domain's value, those being:
Number of applicants for the new gTLD

Number of Google searches for keywords or terms within the new gTLD

Expected Cost-per-Click of online advertisements that include the gTLD as a keyword

Number of registered .COM domains that include the gTLD at the end of the keyword (e.g. MyShop.com as compared with My.Shop)

Number of pre-registrations according to UnitedDomains.com
Sedo's press release about the study said, "The first indication of which factor matters the most comes simply from counting the number of applications for each gTLD. If there are a lot of investors trying to secure a particular keyword, it's a strong indication that the word will be a valuable top level domain. For example, thirteen applicants paid at least $185,000 trying to win .APP, indicating a high valuation." (Editor's note: Even so, .APP did not make Sedo's Top 10 list, indicating it did not score as well in their other four criteria).
Image from Bigstock

Sedo noted, "Exploratory research helped derive weights for each of the five factors by means of a regression analysis. Technically, the number of applicants per domain is explained by the TLDs' scores along the other four dimensions. Using these weights, each new gTLD was ranked according to its fundamental strength. Using these estimates and the data collected in each category, a ranking of the intrinsic quality of each new extension is created.

"

For an additional breakdown explaining how the ranking was derived, including a Top 10 list for each of the five criteria used, visit http://bit.ly/M0FpGy
Since no new gTLDs will appear on the Internet until 2013 at the earliest, it will be awhile before we will know how well Lindenthal's predictions will match real world results. At first glance, just going on my own instincts, I would guess that at least half of the names on that list will not be among the ten most successful extensions - but that is what makes a horse race. If you want to play, you can always bookmark this page, make up your own top 10 list, then come back in 2014 or so and see how you did against Sedo's analytical study.
(Posted June 18, 2012) To refer others to the post above only you can use this URL:
http://www.dnjournal.com/archive/lowdown/2012/dailyposts/20120618.htm
Justice is Served - Brazilian Hijackers Who Attempted to Steal Rick Schwartz's Domain Found Guilty
Just when I was about to give up on domain owners getting a fair shake in the UDRP system (arbitrators rule against domain owners 85% of the time, often in painfully obvious miscarriages of justice) a fair and sensible WIPO panel restored some sanity to the process and did the right thing.
As I told you in March, a little-known Brazilian company that does business from SaveMe.com.br, represented by Márcio Mello Chaves, made a blatant attempt to use the UDRP system to steal the generic domain SaveMe.com that happened to be owned by legendary domain investor (and T.R.A.F.F.I.C. conference co-founder) Rick Schwartz. Even though the Brazilian business only got started in 2010, they wanted the panel to force Schwartz to give them, at no cost, a domain that he had registered in 1996, 14 years before the gang that couldn't shoot straight even existed!

Of course, right away those who know the pugnacious Schwartz knew Chaves and company had made a remarkably stupid miscalculation. Since they had no case, they were apparently counting on a cowed respondent to roll over and play dead - oops wrong number Márcio! Schwartz immediately went after Chaves in a very public manner. At the same time he had his long time partner Howard Neu, a premier domain industry attorney, craft a detailed response to Chaves's UDRP filing.

The decision from the three-judge panel just came down and it was a slam dunk for Schwartz and Neu. Not only did the panel rule in their favor they took it a rare step further and declared the Brazilians guilty of a reverse domain name hijacking attempt. Though there are, unfortunately, no financial or criminal penalties for that, it is a stigma they will carry from now on and it will make it much more difficult for them to ever wrest a domain away from anyone else. Most importantly it serves as a major warning sign to other unscrupulous or over reaching "trademark" interests who may be tempted to try stealing domains they have no right to own.

Naturally, Schwartz was euphoric when he announced the news (Neu posted his take on the decision as well). Both men are being heartily congratulated by appreciative commentators on their blogs, as they certainly

Rick Schwartz
SaveMe.com owner

Attorney Howard Neu

should be. Thanks to Howard's UDRP experience and legal expertise and Rick's willingness to foot the bill (in both money and aggravation that no one should be subjected to) they met fire with brimstone and won a decision that benefits the entire industry. Instead of riding into the sunset with someone else's domain, the Brazilian company recedes back into obscurity with nothing but a severely tarnished reputation to show for their misguided efforts. Just as it should be when justice is served.
(Posted June 16, 2012) To refer others to the post above only you can use this URL:
http://www.dnjournal.com/archive/lowdown/2012/dailyposts/20120616.htm
Big Reveal Bares All - Next Step, the Big Wait
ICANN's "Big Reveal" was held this morning (U.S. time) in London where the domain name system's oversight body released the names of those who have applied to run new TLDs as well as the extensions they want to run (you can see every single one of those 1,930 applications here, including where the applicant is from and what their contact email address is). Of course a lot of applicants want to run the same TLD, so 751 of those applications were for 230 extensions that at least one other party is also

Image from Bigstock

going after. That means the highest number of new TLDs that could eventually be approved from this round is 1,409.
The most sought after new TLD was .app with 13 applicants wanting to run that extension (interestingly enough, Apple was not one of them). Three other extensions drew an applicant pool in double digits - .inc and .home are desired by 11 each and .art is wanted by 10 applicants (Michael Berkens compiled a list of all of the most contested new TLDs here).
ICANN hopes that the multiple parties who applied for a single extension will get together on their own to produce a single entity to claim the TLD. If that does not work rights to run the extension will be auctioned off to the highest bidder, likely driving the price into the millions (it cost $185,000 each just to apply to run a new TLD).

Now that we know who the players are and what they are playing for we moved on to the next phase, which could be called the Big Wait. It is going to take a long time for ICANN to review

the applications (none have been approved at this point) and for the issues surrounding the contested ones to be worked out. Expect it to be 2013 or possibly even 2014 before you see the first new TLDs live on the Internet.
Another big issue is digital archery - ICANN's plan to process the applications in batches of no more than 500 at a time. Those who do not make it into the first batch may be waiting a year or two before the next batch will even begin the process. Obviously, that makes digital archery a high stakes game that has become very contentious among applicants who feel they may not get a fair shot at being included in the first batch. All have put a lot of money at risk and need to get their extensions to market as soon as possible to start recouping their investments.
So while today's Big Reveal produced a boat load of interesting information, there are still a lot of innings left to be played in the new TLD game before anyone can start registering domains in the new strings.
(Posted June 13, 2012) To refer others to the post above only you can use this URL:
http://www.dnjournal.com/archive/lowdown/2012/dailyposts/20120613.htm
Many Domain Investors See Big Reveal as Big Yawn
Wednesday's "Big Reveal" Day when ICANN will officially announce who has applied to run what new domain extensions (new TLDs) is capturing a ton of press attention from both domain industry blogs and mainstream media outlets (from the latter category Paul Sloan's piece at CNET.com does one of the best jobs of breaking it down for readers on Main Street). I've been fielding calls all day from reporters ranging from National Public Radio to Politico seeking comments on what is about to go down.
Despite the critical role they play on the Internet, domain names rarely get this much publicity in the outside world - a fact that is often lamented by domain investors. Ironically, now that domains are in what may be their brightest spotlight ever, the least interested spectators of all are domain investors! On his popular industry blog Elliot Silver ran a poll Monday asking readers if they even cared about new gTLDs. As of this writing 60% have replied no.

Unlike in the past when domain investors were the first to scoop up the most attractive domains in the newly introduced extensions most swear they are going to sit out the impending tsunami of new extensions. Many saw their investments in previous new TLDs evaporate from lack on interest in those

Image from Bigstock

extensions and they believe that having the market flooded with hundreds of new extensions at once will make the new arrivals even less attractive for those who only want to buy and sell individual names.
The consensus seems to be that the people who will make money this time around will a few who run registries based on the most popular terms or those who provide backend registry or consulting services. Make no mistake, there is plenty of excitement among the people in that corner of the industry - a remarkable contrast to the mood among their individual investor compatriots who seem to be bored silly by the whole affair. In the latter's eyes, the new gTLDs are DOA even before they get out of the gate.
Image from Bigstock

Wherever you fall in the spectrum, one thing is for sure - an unprecedented amount of money is flowing into the domain space. Love them or hate them new gTLDs may make money for you whether you actively get in the game or not. There is a large school of thought that the sudden onslaught of so many new extensions will only sow confusion, further driving up the value of the gold standard - .com and some of the better-known legacy TLDs like .net, .org and the major country code domains preferred

by individual investors. If that happens the new gTLDs may become your best friends even if you don't want to take any of them on a date.
Whatever happens, we are going to have plenty of fireside chat fodder in the months and years ahead as we watch how the world reacts to so many new gTLDs. A lot of people on both sides can't wait for their chance to say, "I told you so." What will be interesting is which side will get to say that? Or better yet - in a scenario that few seemed to have considered - the possibility that both sides could end up coming out ahead.
(Posted June 12, 2012) To refer others to the post above only you can use this URL:
http://www.dnjournal.com/archive/lowdown/2012/dailyposts/20120612.htm
Frank Schilling's Latest Venture Continues His Transformation from Legendary Domain Investor to Leading Service Provider
Frank's Schilling's place in domain industry history was secured years ago when he was universally recognized as one of the (if not the) most successful domain investors of all time (one example of that was the Cover Story profile we published about him in 2007). While Schilling continues to wear the domain world's version of the heavyweight championship belt, over the past year he has been steadily spreading his wings to cover even more territory and, with his latest venture, he is emerging as one the industry's top service providers as well.

Schilling made his first move in that direction last year when he launched InternetTraffic.com, a domain monetization service that reshaped the parking sector overnight as many top portfolio holders moved their domains to his new company. That was a testament to the trust and affection Schilling has earned over the years, feelings that were reinforced when his new clients reported significant revenue increases in his system.

Frank Schilling
Uniregistry. com
Schilling quickly followed up that success by opening his private domain sales platform at DomainNameSales.com to his clients. If you follow our weekly domain sales reports, you know that DomainNameSales has become a major player in the aftermarket now as well.
| | |
| --- | --- |
| | With two big wins under his belt, Schilling just announced yet another foray into the services field - this time in the rapidly emerging new gTLD space with the launch of Uniregistry Corp. Uniregistry is a new registry services company that has applied to run an undisclosed number of the new top-level domains that ICANN will begin rolling out within the next year. On Wednesday (June 13, 2012) the extensions that Uniregistry and others have applied for will be revealed with the total number of TLD applications expected to be in the 2,000 range. |
There are a lot of big name competitors in the new gTLD game but in their launch announcement, Schilling and his team members noted a differentiating factor - that their clients can expect to benefit from their rich history of service to domain name registrants and a promise to channel their long-standing culture of service into this new venture. With a lot of companies that might be regarded as boilerplate promotion but with Schilling (a registrant of tens of thousands of domains himself) and the top tier people who have signed on to help manage Uniregistry, they are promises people fully expect to see honored based on the past history of those involved.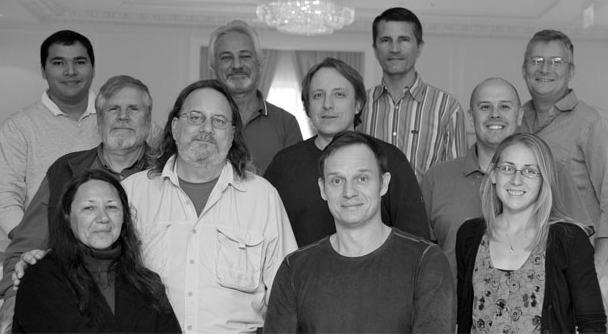 Frank Schilling (front row, second from right) with some of his Uniregistry Corp. teammates
Capital comes in several forms. While many successful companies (including Schilling's) have piled up the hard currency form of it, few have built such a rich reserve of the good will variety. Frank and his teammates have earned that and it will be their ace in the hole in the crowded registry service battles ahead.
(Posted June 11, 2012) To refer others to the post above only you can use this URL:
http://www.dnjournal.com/archive/lowdown/2012/dailyposts/20120611.htm
Another Huge Win for the Web - Majority of Consumers Now Say Online Is Their Favorite Way to Shop
Ever since the Internet arrived on the scene I've watched in amazement as the web has steadily overtaken one traditional powerhouse after another. As a media guy, the most riveting train wreck has been watching newspapers that were once unassailable titans of the media world wither away to next to nothing as the web ate their lunch (latest example - the 150-year-old New Orleans Picayune announcing it would publish only three days a week and slash staff yet again).
The web has just landed another stunning blow against another giant - this one an even bigger Goliath than traditional media - that is shopping. As reported by ComputerWorld, according to a new survey from NielsenWire, a solid majority of U.S. consumers (59%) said that online was now their overall favorite way to shop.

For the web that is a bigger win than any upset in sports history. If I beat Usain Bolt in the 100-yard dash and did it running backwards - it still wouldn't be as shocking to me as the web's latest conquest (though I'm sure Usain would be scratching his head for quite awhile).

Online shopping mage from Bigstock
There's no doubt that brick and mortar is still light years ahead in dollar terms, but the web has won the hearts and minds of consumers and that means more and more dollars will follow. Online shopping also won big on two other metrics with 68% saying it is the easiest way to shop and the same percentage saying online is the most convenient method as well.
The web still has some work to do on a couple of counts though. 77% of respondents said shopping in brick and mortar stores was safest and 69% cited traditional shopping as the most reliable.
Mobile shopping image from Bigstock

The survey also included mobile shopping (by smartphones or other portable devices) in its research but mobile finished well behind online and traditional shopping in most categories. Only 13% cited mobile as their favorite way to shop. 38% said mobile was most convenient (30 points behind online) and 27% picked mobile as easier (over 40 points behind online).

While winning the the mind share race among shoppers is a huge victory for the web I shouldn't be that surprised. Over the past 2-3 years, aside from groceries and clothing, I have done the majority of my shopping online. It is a rare day that the UPS truck doesn't stop at my house with another box from Amazon (I get more than my money's worth from Amazon's $79 a year Prime membership that provides free two-day shipping on my orders).
I have always considered those of us in the domain business to be incredibly lucky to be in a field that is at the heart of the Internet revolution that is changing the world in previously unimaginable ways. This latest bit of news is yet another example of that.
(Posted June 7, 2012) To refer others to the post above only you can use this URL:
http://www.dnjournal.com/archive/lowdown/2012/dailyposts/20120607.htm
With $100 Million in Funding Donuts Inc. Fattens Up on New gTLDs Apps Downing Over 25 Dozen in One Sitting
In my last post I told you about some of the dozens of applications to run new gTLDs that have been turned in by some of the companies who plan to be heavy hitters in the expanded space being opened up by ICANN. Today another shoe dropped and it was a really BIG and unexpected one.

Donuts Inc., a registry for new top-level domain names that was originally expected to go after just a dozen or so domains, revealed today that they filed applications to run 307 new gTLDS - more than any other entity has announced to date.

Their unexpected power play is being made possible by more than $100 million in funding being poured into the firm by multiple private equity and venture funds including Austin Ventures, Adams Street Partners, Emergence Capital Partners, TL Ventures, Generation Partners and Stahurricane.

Donuts doesn't plan to announce the TLDs they are going for until June 13, ICANN's Big Reveal Day, when the people and companies that have applied for some 2,000 new TLDs will be identified along with the extensions they hope to operate. In some cases multiple applicants will be chasing the

same extensions and Donuts executives served notice that, with their deep pockets (and access to additional funding if needed), they intend to win those battles and operate each TLD they applied for.
Donuts Inc. CEO Paul Stahura

While many question the prospects for new TLDs, especially when so many will come online at once, Donuts CEO Paul Stahura believes there is enough market demand to make the company's gargantuan investment a good bet. "Finding a usable Internet address is a real problem," Stahura said. "There are more than 125 million total names in the top five TLDs, with three fourths of them in .COM alone. The Internet was opened for worldwide use almost 20 years ago, and we've had only 22 generic names made available since then. We're overdue for expansion."

Stahura added, "This expansion is going to be disruptive in a positive sense. There's no question competition is coming to .COM and other TLDs - how much of the market the new TLDs will take from them is what remains to be seen."

Donuts selected Demand Media Europe Limited, a wholly-owned subsidiary of Demand Media, Inc., as its registry services provider. Donuts Chief Operating Officer Richard Tindal said "We are confident in Demand Media's technical capability and count them as a valued partner. Their commitment to operational security and stability backs the assurances we've given to our investors and the marketplace."

Tindal and Stahura co-founded Donuts Inc. with fellow domain industry veterans Jonathon Nevett and Daniel Schindler. All four have successful and extensive track records in all aspects of the business. Their first three hires brought even more experience to the management team with Chief Financial Officer Kevin Wilson, Vice President of Communications and Industry Relations Mason Cole and Vice President and General Counsel Alvaro Alvarez having all coming on board May 1, 2012. More details on the company's plans and leadership can be found in this press release (.pdf file).
(Posted June 5, 2012) To refer others to the post above only you can use this URL:
http://www.dnjournal.com/archive/lowdown/2012/dailyposts/20120605.htm
Big Reveal Still 2 Weeks Away But New gTLD Applicants Already Spilling the Beans
| | |
| --- | --- |
| Now that ICANN finally closed its bug-riddled TLD Application System (TAS) Wednesday night (May 30, about six week later than originally planned) the domain name system's oversight body has set Wednesday, June 13 as the date for its Big Reveal. That's the day the names of people seeking to run over 2,000 new domain extensions, as well the TLDs they applied for, will officially be released. Some of the bigger companies that plan to operate dozens of new TLDs just couldn't wait though and they have already come forward and released the extensions they are going after. | |
While many of those companies have been very public about their new TLD plans all along, one that has been operating in stealth mode popped up to reveal 31 extensions they have applied

to run. That is Radix Registry, a new division of internet giant Directi who is one of the world's top ten domain registrars. Bhavin Turakhia, the founder and CEO of Directi Group, said the company has already committed $30 million to their effort to get the TLDs they

are targeting. Others will be going after some of the same strings, which will likely result in auctions that will drive the final costs to levels people can only guess at now.
Some applicants like Radix hope to avoid that scenario by partnering with competitors who are eying the same TLDs. By forming a single joint entity to operate an extension that would short circuit the potentially ruinous cost run up that could result from going head to head in an auction. It would also give each partner a piece of the pie, which for most would be preferable to going home empty handed.
Directi Founder & CEO Bhavin Turkakhia

The extensions Radix applied for include: .web, .shop, .bank, .law, .music, .news, .blog, .movie, .baby, .store, .doctor, .hotel, .play, .home .site, .website, .click, .online, .one, .ping, .space, .world, .press, .chat, .city, .deals, .insurance .loans, .app, .host, and .hosting (a brief description of their plans and policies for these new extensions can be found on their website.

Explaining his company's interest in the new TLD space, Turakhia said "Today's internet addresses are uncategorized and say nothing about the website. In addition, it is near impossible to find available names that are short and memorable. Our research shows that over 65% of users are unable to find a name of their choice. We welcome the opportunity to usher in an era where internet addresses distinguish a plumber from a lawyer and domain names with hyphens are a thing of the past."
Another major player who announced their plans shortly after the TAS closed was Top Level Domain Holdings Limited (TLDH), a public company that submitted a total of 92 applications including those filed on behalf of clients as well as 68 they want for their own account. In addition to geographical names, the company's applications target extensions devoted to sports, lifestyles, ecology, entertainment, culture and ethnicity and professions.

You can see their TLD wish list here. TLDH Chairman Peter Dengate Thrush said, "We are very pleased with the momentum of the new gTLD program. We have applied for a substantial and diverse portfolio of new gTLDs and are excited about the prospects for the Group."

The new TLD program is also opening up a lot of opportunities for back end service providers like ARI Registry Services. On Thursday (May 31) they announced that they have signed contracts to provide back-end domain name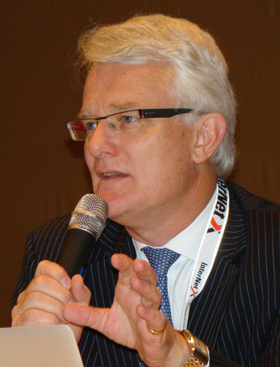 Chairman Peter Dengate Thrush
Top Level Domain Holdings Limited
registry services for operators of 161 new Top-Level Domains, including 85 generic extensions, 70 representing brand names and 6 that are geographic TLDs.
Adrian Kinderis, the CEO of ARI Registry Services, said "When applications opened in January, our target was to secure around 100 TLDs, so to reach 161 has far exceeded our expectations. Our numbers are pleasing, but

they will become even more significant when the global brands and high profile entrepreneurs we are supporting are made public in a couple of weeks."
Indeed, even though some of the horses have already been let out of the barn, there are approximately 2,000 more specific new TLDs and applicants still to be named on June 13.
If you don't already have a scorecard it would be a good time to get one - you'll need a big one to keep track of that many players.
(Posted June 1, 2012) To refer others to the post above only you can use this URL:
http://www.dnjournal.com/archive/lowdown/2012/dailyposts/20120601.htm
---
If you've been out of the loop lately, catch up in the Lowdown Archive!
---
We need your help to keep giving domainers The Lowdown, so please email

[email protected]

with any interesting information you might have. If possible, include the source of your information so we can check it out (for example a URL if you read it in a forum or on a site elsewhere).
---
Home Domain Sales YTD Sales Charts Latest News The Lowdown Articles
Legal Matters Dear Domey Letters to Editor Resources Classified Ads Archive About Us