The Lowdown
December 2013 Archive
Subscribe to our RSS Feed

Here's the The Lowdown from DN Journal,
updated daily to fill you in on the latest buzz going around the domain name industry.

The Lowdown is compiled by DN Journal Editor & Publisher Ron Jackson.
Final Agenda Announced for Inaugural NamesCon Conference Opening Two Weeks From Today in Las Vegas
| | |
| --- | --- |
| I'm back after spending a wonderful Christmas week with family members in Charleston, South Carolina. I won't be home for long though. Two weeks from today we are off to Las Vegas to cover the the inaugural NamesCon conference for you. The event runs January 13-15 at the Tropicana Hotel. | |
Show organizers released the final agenda over the weekend, an ambitious program packed with keynote speakers and 30 different business sessions spread across three simultaneous tracks, insuring there will be something for everyone at NamesCon. Another highlight will be the WaterNight charity social event benefiting the Water School that will be held Tuesday evening, January 14.
In addition to being there to file daily reports for this column, I will sit in on a Meet the Industry Press session moderated by Patrick Carleton that is scheduled to get underway at 11:55am on Wednesday. January 15. On stage with me will be Kevin Murphy (DomainIncite.com), Andrew Allemann (DomainNameWire.com), Michael Berkens (TheDomains.com) and Elliot Silver (DomainInvesting.com).
Richard Lau
NamesCon Founder

You can read more about how NamesCon plans to stand out in the conference crowd in our show preview article that features an interview with show founder and veteran domain investor Richard Lau.

A centerpiece of Lau's strategy is an exceptionally low registration fee - just $399 through January 7, 2014 (the cost rises to $599 Jan. 8 through January 13 and if you want to pay at the door it will be $749).

If you want to go to the WaterNight gala that will also be held at the Tropicana, a separate registration is required for that. WaterNight is free for NamesCon registrants (though donations to the Water School will be greatly appreciated). Those not registered for the show can go for a minimum donation of $100 - money well-spent as it goes to an award winning charity that has saved countless lives through its disease-eradicating clean water solution.
(Posted December 30, 2013) To refer others to the post above only you can use this URL: http://www.dnjournal.com/archive/lowdown/2013/dailyposts/20131230.htm
Merry Christmas! We Hope This Holiday Season Brings You and Your Family the Greatest Joy
This will be the quietest business week of the year (unless you work in retail!) as offices close and millions of people around the world gather with family and friends to celebrate Christmas. My wife Diana and I will be among them, taking some time off to spend the entire week with our oldest daughter and her family. It will be a great treat for us and we hope this holiday season will be a wonderful one for all of our domain industry friends and their families as well.

I came across the poem by an unknown author that sums up the season pretty well for me:

God made Christmas happen
friends make Christmas beautiful!
music makes Christmas festive
giving makes Christmas joyous
love makes Christmas complete!!!

Christmas angel image from Bigstock
I also like this classic from Edgar Guest (1881-1959) who was known as "The People's Poet":
"At Christmas
A man is at his finest towards the finish of the year;
He is almost what he should be when the Christmas season's here;
Then he's thinking more of others than he's thought the months before,
And the laughter of his children is a joy worth toiling for.
He is less a selfish creature than at any other time;
When the Christmas spirit rules him he comes close to the sublime."
We hope ths will be a sublime Christmas for you and yours!
(Posted December 24, 2013) To refer others to the post above only you can use this URL: http://www.dnjournal.com/archive/lowdown/2013/dailyposts/20131224.htm
Water School's Good Work Earns the Life Saving Domain Industry Supported Charity a $100,000 Cash Award
Most domain industry participants are well aware of the life saving work being done by the Water School. For years now, a wide array of domain service providers and individual investors, led by current Water School Executive Director Richard Lau and long time WS board member

Gregg McNair, have supported the provider of clean water solutions in underdeveloped countries through their donations and fund raising activities.

We now know for sure that others recognize and fully appreciate what Water School efforts have been able to accomplish as well. The STARS Foundation, a Saudi backed philanthropy fund, based in London has presented Water School Uganda with a 2013 Impact Award that comes with a $100,000 cash grant and additional assistance components worth over $20,000 more.

In 2013 over 1,300 local organizations from 60 countries applied for Impact Award consideration and underwent a rigorous selection process developed with PricewaterhouseCoopers LLP. The award recognizes and

On behalf of the Water School Uganda team, Executive Director Zepha Mukalere (left) receives the Stars Foundation Impact Award from STARS Chief Executive Muna Wehbe at a gala ceremony held last week at Kensington Palace in London.

rewards effective, well managed local organizations working to improve child health, education, protection and WASH (water, sanitation and hygiene in countries with the highest rates of under five child mortality).
Uganda has tragically high 9% child mortality rate with of 90 deaths per 1000 children, so it was in dire need of the kind of help the Water School has been able, through its generous donors, to provide.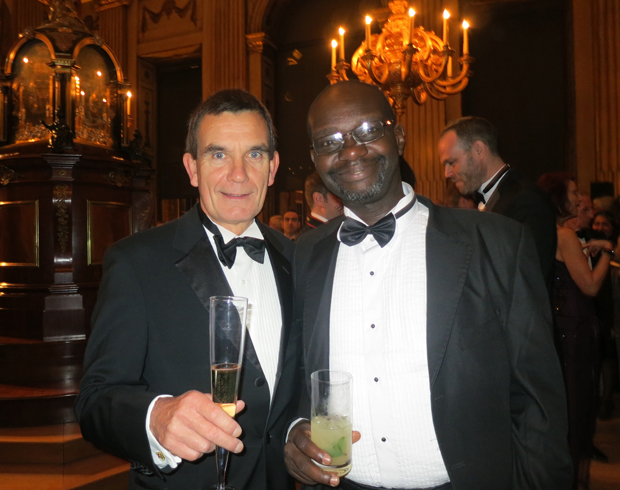 Water School Canada's African Program Director, Tony Woodruff, joins Water School Uganda's Zepha Mukalere at Kensington Palace to celebrate the organization's Impact Award on behalf of the staff and supporters of the Water School worldwide.
STARS Founding Chairman Amr A. Al-Dabbagh said, "STARS Foundation is committed to reaching 20 million children and their communities by 2020. The only way we are going to do that is by supporting ever-larger numbers of local organizations doing incredible work on the ground. The 2013 Impact Award winners are beacons of effective practice, offering inspiration to other charities, and to us all."
The STARS Foundation was established by Al-Dabbagh Group in 2001, and counts former U.S. President Bill Clinton and Her Majesty Queen Rania Al-Abdullah as its Founding Patrons.
Water School Director Gregg McNair noted, "Whilst the board of Water School are very grateful for the recognition and financial assistance this award brings, we realize it represents a

fraction of the annual budget needed for our vital work in Africa. We therefore continue to look to the domain community for continued support of the upcoming WaterNight event that will be held during the NamesCon Conference in Las Vegas, January 13-15, 2014."

At WaterNight (to be held at the Tropicana Hotel Tuesday night, January 14, from 8pm to midnight), domain industry veterans Yancy Naughton and Jothan Frakes will sacrifice their hair for the cause in the annual WaterShave 'ceremony' (to donate you are encouraged to visit WaterShave.org).
Jodi Chamberlain, a former shavee herself, is organizing sponsorship opportunities for WaterNight for industry players wanting the exposure and kudos associated with supporting NamesCon's primary social event. She can be contacted be emailing [email protected].
(Posted December 22, 2013) To refer others to the post above only you can use this URL: http://www.dnjournal.com/archive/lowdown/2013/dailyposts/20131222.htm
Heritage Auctions Debut in the Domain Business Continues to Pay Dividends Well After Their Inaugural Sale Ended
When Heritage Auctions (HA.com) became the first of the world's three biggest auction houses to offer aftermarket domain names last summer, people throughout the industry were understandably elated. In one fell swoop, HA placed domain names and other intellectual

property on the same top shelf occupied by traditional investment quality assets and collectibles like fine art, sports memorabilia, rare coins, wine, movie posters and more.
HA's first domain auction, held last month, wound up generating more than $1.5 million in sales, including proceeds coming from deals that closed in the days immediately after the live event was held in New York City on November 21. HA put those domains that sold in front of the kind of well heeled end users that domain owners have always dreamed of reaching.
Even those who did not have domains in the auction benefited from the bright spotlight that accompanied HA's debut in the business. When something goes up for sale at Sotheby's, Christie's or Heritage Auctions, the assumption in mainstream media, is that things of high value are being offered. Publications ranging from general business giant Forbes to specialty magazines like Coin World wrote about the HA domain sale (though, ironically, the more famous Forbes botched the story while the lesser known Coin World got it right!).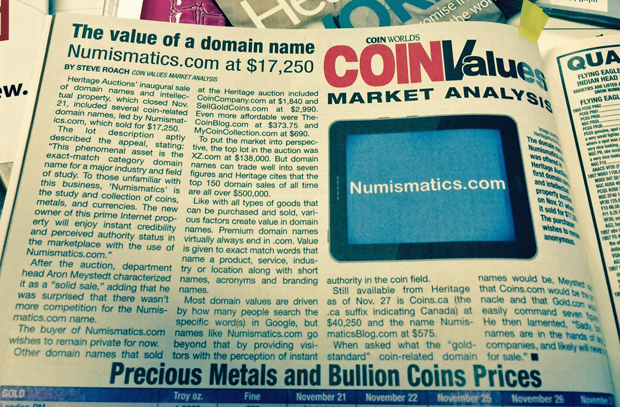 Shot of Steve Roach's article about HA's domain auction in Coin World magazine.
Coin World editor Steve Roach wrote about the value of category defining domains in an article he wrote about coin related names like Numismatics.com that sold in the HA auction for $17,250 (numismatics is "the study and collection of coins and medals"). If that domain had been sold somewhere other than at one of the world's biggest mainstream auction houses - one the routinely sells rare coins - it is highly unlikely that it (and a lesson on domain value) would never have come to the attention of Roach or his readers.
In their pre-sale promotion HA spent a lot of time and effort in educating clients who could benefit from specific names about how those domains could benefit their businesses, making a purchase one that would pay for itself in the long run. After the sale, articles in publications that never wrote about domains in the past, continue to educate people about the value of assets that many in this industry have been aware for close to two decades now. It is something we've all been waiting a long time to see and with HA now on the playing field (which has to have caught Sotheby's and Christie's attention as well) it is a process that will likely accelerate in the months and years ahead. That can only be a good thing for domains.
(Posted December 16, 2013) To refer others to the post above only you can use this URL: http://www.dnjournal.com/archive/lowdown/2013/dailyposts/20131216.htm
The Domain Masters Radio Show Returned Wednesday With a Controversial New Mann Behind the Mike
For nearly nine years the Domain Masters radio program could be heard at WebmasterRadio.fm every Wednesday evening. The groundbreaking show debuted in December 2004 with Monte Cahn as the host and over the years it featured a parade of domain industry experts who provided insight and advice on just about every domain related topic you could imagine. After a long run with the show Monte turned the hosting reins over to Victor Pitts who kept it going until March of this year.

After a nine-month hiatus Domain Masters returned to the air Wednesday afternoon (Dec. 11, 2013) with outspoken Domain Hall of Fame member Mike Mann taking over as host. Mann, who has been profiled in two DN Journal Cover Stories (September 2003 and September 2007), has founded many companies, including aftermarket giant BuyDomains.com, a firm he sold to NameMedia for a reported $80 million. He currently runs another aftermarket platform, DomainMarket.com and has founded several other businesses on great generic domain names like Phone.com and SEO.com.
Under Mann, Domain Masters, which used to be a 60-minute show that aired at 7pm on Wednesday evenings, is now a brisk 30-minute broadcast that is on live at 5pm U.S. Eastern time (2pm Pacific) every Wednesday afternoon. If you tune in while the show is on, you can submit questions at the program's Facebook page - https://www.facebook.com/domainmastersradio - with Mike answering those queries as time allows. If you can't catch the show live, no problem - WebmasterRadio.FM adds each weekly program to their archive, usually by the next day. If you missed Mike's debut show Wednesday, you can listen to it here.
For his first turn behind the mike Mann had Phone.com President Ari Rabban as his guest. The first half of the show focused on building a business on a category defining domain. Among other things, Rabban discussed the methods Phone.com uses to drive traffic to the site to complement the steady stream of type-in traffic that flows to the category defining domain name.
Michael Mann

In the second half of the show Mann tackled today's hottest topic - new gTLDs. Like many veteran investors, he is skeptical that the hundreds of domain extensions that have just started to arrive will ever rival .com's dominant position.

Mann noted research that found that people were more likely to trust and buy from businesses built on category defining .com domains that can pay for themselves through the increased traffic and revenue they generate. You can bet he will have much more to say on the topic in the weeks ahead as Mann is known as someone who is never hesitant to share his opinion.

It is the latter quality that should make the new Domain Masters show an unusually entertaining half hour. I only see one potential pitfall. While it is common practice to have guests on shows like this and letting them carry most of the content load, in this case I think it would be a mistake to put too much focus on the guest and not enough on Mike. That's not a knock on any guest - it's just a fact that with Mann's domain track record and his well-known candor, most people who tune in are going to tune in to hear what he has to say.

That doesn't mean Mann needs to do a monologue every week - a lively back and forth with interesting guests will always add to the equation - it's just that in this new iteration of Domain Masters people are going to expect Mann to be what another Hall of

Famer, former New York Yankees great Reggie Jackson, once called himself - "the straw the stirs the drink." If Mann does that - and I am confident he will - I'm sure I'll be sitting at the Webmaster Radio Bar for a few extra rounds every Wednesday afternoon!
(Posted December 12, 2013) To refer others to the post above only you can use this URL: http://www.dnjournal.com/archive/lowdown/2013/dailyposts/20131212.htm
2014 Tour Will Bring Hot Rock Trio bree Featuring Drummer (& Domain Hall of Famer) David Castello to Our City (and Maybe Yours Too)
Christmas came early for us today when we learned that Domain Hall of Famer David Castello will be bringing bree (the rapidly rising Nashville-based rock trio he manages and plays drums for) to our town (Tampa, Florida) for the first time when the band goes on a USA tour that will run through next spring and summer (additional dates will be announced soon).

bree (all lower case letters) will be featured at WMNF Radio's annual Tropical Heatwave festival - a Tampa institution that has been showcasing the hottest new artists in the music world for over 30 years now. bree's set will be played at the historic Cuban Club in Ybor City on May 10, 2014 (you heard it here first, even WMNF hasn't released the 2014 Heatwave line up yet).

It will be David and lead singer/guitarist/songwriter bree's first trip back to Tampa since last July when they came to town for a visit my wife Diana and I. At the time they promised they would come back to play on stage one day and we can finally mark that day on the calendar.

2013 has been a busy and bountiful year for bree. They released their first CD, All American Girl, to rave reviews in June (LegendaryRockInterviews.com named it one of the year's 10 best albums). Three weeks ago they released a phenomenal video for one of the album's most widely played tracks, "I'm the Boss," that has already attracted over 22,000 views on YouTube.

David Castello and bree at Bern's Steak House in Tampa during their last trip to the city in July 2013. That was a pleasure trip. They will be back on business May 10, 2014 when bree plays the Tropical Heatwave festival in historic Ybor City.

David and his brother Michael (who own Castello Cities Internet Network) have made many friends in the domain industry over the years. When David moved to Nashville a couple of years ago in a return to his first love - music - many of those friends feared they wouldn't see as much of him any more. However, if bree keeps heading in the direction they are going now, you may wind up seeing David, bree and bass player Maryk McNeely everywhere you turn. Same smiling faces - but in a lot of different places!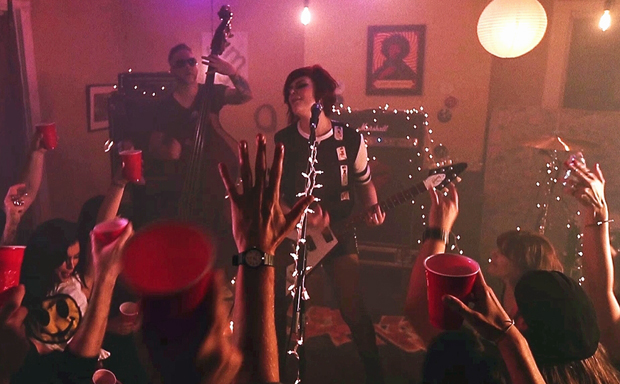 Screenshot from bree's new "I'm the Boss" video.
(Posted December 10, 2013) To refer others to the post above only you can use this URL: http://www.dnjournal.com/archive/lowdown/2013/dailyposts/20131210.htm
Why Do We Call Them Computer Bugs? Google Honors the Woman Who Coined the Term Back in 1945!
You have all seen Google Doodles, the whimsical cartoons the search giant uses in place of their standard logo from time to time to mark special occasions. It's usually easy to figure out what the doodle represents (for example, a turkey theme on Thanksgiving Day), but sometimes those toons can be inscrutable. In those cases you can usually click on the graphic and it will take you to a page explaining what is being celebrated that day.

However, when confronted by a head-scratching Doodle I try to guess before throwing in the towel and clicking the link to learn something. I had to punt today after seeing Google's home page featuring a Doodle depicting a woman sitting at the console of an old school super computer. It has been awhile since computers took up that much space (a good bit more real estate than the smartphones we now carry around in our pocket or purse that are more powerful than those "super" computers from back in the day)!

Computer Pioneer USN Admiral Grace Hopper
(1906-1992)
Photo: Wikipedia Commons

I learned that the woman depicted at the console was one of the earliest computer pioneers (as well as a U.S. Navy Rear Adimiral!), the remarkable Grace Hopper, who lived from 1906-1992. I also learned that when I am lamenting yet another computer bug, the term I am using for the malfunction was coined by none other than Admiral Hopper back in 1945 (before even I was born, so you know we are talking about the Stone Age of computing here). It also turns out there is a reason why we don't call these infuriating hiccups computer "hoppers". As Time Magazine told the story today, a real bug - as in insect - prompted Ms. Hopper's choice of the term.
To be more accurate, Time told the story in 1984, but reprinted in today to explain what I had been wondering - what is this Google Doodle all about? The Time account revealed, " In August 1945, while she and some associates were working at Harvard on an experimental machine called the Mark I, a circuit malfunctioned. A researcher using tweezers located and removed the problem: a 2-inch long moth. Hopper taped the offending insect into her logbook. Says she: "From then on, when anything went wrong with a computer, we said it had bugs in it." (The moth is still under tape along with records of the experiment at the U.S. Naval Surface Weapons Center in Dahlgren, VA)!
So, as Paul Harvey used to say, "Now you know the rest of the story"
And, oh, by the way, giving computer bugs their name was the least of the amazing Admiral Hopper's many achievements (for one, she became the oldest woman in the armed forces at the age of 76.) You go girl! You can read more about her astonishing life career here.
(Posted December 9, 2013) To refer others to the post above only you can use this URL: http://www.dnjournal.com/archive/lowdown/2013/dailyposts/20131209.htm
Fix.com Sells for $850,000, Heritage Auctions Moves MutualFunds.com to Push Debut Auction Total Past $1.5 Million + Tme & Place Set for Domainer Meetup in Seattle
| | |
| --- | --- |
| In our weekly domain sales report this week I noted that high end domain buyers took some time off during a week cut short by the annual four-day Thanksgiving holiday weekend in the U.S. (the highest reported sale was $29,000). However, they quickly saddled back up this week - we just learned that Fix.com has been sold by WebsiteProperties.com for a cool $850,000, which will put it in a tie with Hot.com for the 5th largest sale reported so far this year when we update our YTD Top 100 Wednesday evening (unless an even larger sale comes to light before then). | Sold sign from Bigstock |
On another front Heritage Auctions (HA) is continuing to close some big sales in the wake of the giant auction's house's first live domain sale that was held November 21, 2013 in New York City. At the end of the night a little over $400,000 worth of domains have been sold, but Aron Meystedt, the Founder and Director of HA's new Domain Name & Intellectual Property Division, kept working contacts made in the auction and has since closed more than $1 million worth of additional sales, pushing the total to date past $1.5 million.
Aron Meystedt, Founder & Director,
Domain Name & Intellectual Property Division
Heritage Auctions (HA.com)

Meystedt reported today that HA had closed a deal for the marquee name in the auction - MutualFunds.com - at an undisclosed price (we do know the seller, Marc Ostrosfky was looking for $1 million for the name). Meystedt said both Ostrofsky and the buyer are happy with the amount they settled on. HA has also sold two more top notch domains - QR.com and Dayton.com - since the live sale, again at undisclosed prices.

Meystedt said, "All things considered, we thought the live event was a relative success and the enthusiasm we've seen post-sale, with the high-end transactions that have taken place, points to the emerging confidence that Domain veterans, new investors and end users are placing in the category and in the Heritage Auctions platform."

HA is one of the world's three biggest auction houses (in a league of their own with Christie's and Sotheby's). The landmark auction in New York was the first time that a major, mainstream auction house offered domain names for sale - a category HA says it is committed to for the long haul.
One other note today. Last month we told you that DomainSherpa.com Founder Michael Cyger was planning a new Meetup for domain investors in the Seattle area that would be held in early 2014. The date, time and location for the debut event has now been set. It will be held atop the world famous Space Needle in Seattle on Jan. 30, 2014 from 6 to 9pm.

It is obviously a great location but space is limited on the needle, meaning attendance will have to be capped at 45. With the number of domainers and domain related companies in Seattle that looks like a quick sell out, especially with tickets priced at just $15 (with proceeds going to the Fred Hutchinson Cancer Research Center). You can get more details at DNSeattle.com. I think every major city should have a regular event like this and the day is coming when most will.
Posted December 6, 2013) To refer others to the post above only you can use this URL: http://www.dnjournal.com/archive/lowdown/2013/dailyposts/20131206.htm
Companies Making News: Archeo, InterNetX's New Domain Game, Turkey.com & Igloo.com
Buying domains from the vast ArcheoDomains.com inventory just got a lot easier. As most you know, Archeo, recently spun off from Marchex, now administers their famous portfolio of over 200,000 domains (most of which were assembled by legendary domain investor Yun Ye). Though the selection has always been great, wading through that

many domains and gong through back and forth negotiations in an effort to buy one could be very time consuming. Archeo just addressed that by setting fixed Buy It Now prices (under $10,000) on more than 30,000 domains.
Archeo focused their attention on their Geo-specific names in this first round of assigning prices, with domains like NewYorkDoctor.com, CarolinaOnline.com, AustinLawyers.com and GeorgiaHouses.com now utilizing the Buy It Now option.
| | |
| --- | --- |
| | Most of our readers think they are well versed when it comes to domains but InterNetX is giving you a chance to see just how well you know your stuff with their new Xmas Domain Game. The top eight scorers in the quiz contest will earn prizes ranging from Amazon gift cards to an exclusive Racing Day in Zandvoort that comes with €200 in spending money. |
Better yet, everyone who plays will have a chance to help out a very good cause by earning a donation of up to €200 that will go to the Bischof-Wittmann School, a center for the development of mentally disabled children and youth in Regensburg, Germany. So if you know things like which country the ccTLD .CX comes from or that .TV is not a gTLD, play the game and compete with your peers for the crown (current player rankings are displayed on the site)!
While we were enjoying our Thanksgiving Day turkey dinner at this time last week our friends at Igloo.com were preparing a press release announcing their role in developing and launching an ambitious new website at Turkey.com. The site is devoted to the country, not the bird we love to eat, and that will suit a lot of people just fine because Turkey is a great place to visit.

That is what the new travel resource site is all about and it is able to offer especially useful insight because the content is created and written by locals. You will find dynamic information about everything Turkish, from events and travel tips to history and cultural information. Igloo's CTO, Alphan Culha, is a Turkish native himself, so you know the site got a lot of tender, loving care.

After originally working with Igloo's acquisition team to acquire the Turkey.com domain, the new owner called on Igloo to have the site fully developed to exacting standards. Igloo.com CEO Tessa Holcomb said, "We help people find the right domain, then acquire and develop it. Igloo can then assist with rebranding and monetization if necessary, and eventually even resale if that's the owner's intention."
(Posted December 5, 2013) To refer others to the post above only you can use this URL: http://www.dnjournal.com/archive/lowdown/2013/dailyposts/20131205.htm
Tickets for Domaining Spain 2014 Now Available & We Have a Half-Price Ticket Code For You
The Domaining Spain conference will be returning to beautiful Valencia, Spain next spring when show founder Dietmar Stefitz will stage his 6th event in the popular series. The 2014 show will run May 8-10 with the centrally located Hotel Sorolla Palace, once again hosting the conference.

With a registration price of just €600 and room rates at the upscale Sorolla Palace discounted to an astonishingly low rate - just €70 a night, Domaining Spain has always been one of the world's best conference bargains. If you want to go, we can make it even cheaper for you to do so as Dietmar is allowing us to give DN Journal readers a registration code that will let you buy your ticket for 50% off - just €300.

Just go to the registration page and click on the length that says "Click Here to Enter a Promotion Code." In that field enter Valencia2014. You can use some of the €300 you save to enjoy some of the great food and wine Valencia is known for (paella was invented there).

I attended the 2012 conference in Valencia and found everything from the conference sessions, hotel and social events to the surrounding city to be a complete delight. Valencia, Spain's third largest city, is located on the coast of the Mediterranean Sea and features many world class attractions near the waterfront. including the biggest aquarium in Europe, Oceanogràfic.

Dietmar Stefitz
Domaining Spain Founder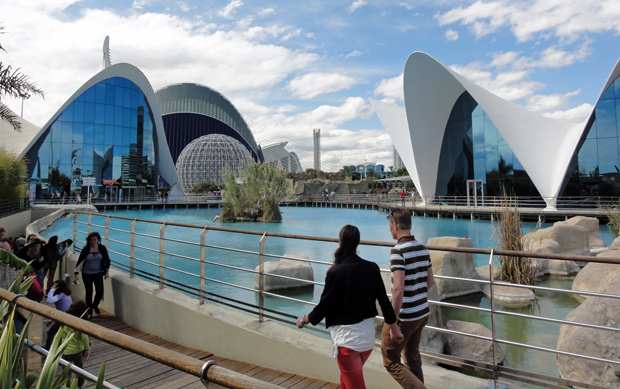 I shot this photo at the futuristic Oceanogràfic aquarium in Valencia while
we were there in the city for the 2012 Domaining Spain conference.
In addition to any exploring you want to do on you own (I highly recommend using the hop on hop off double decker bus that stops at the Hotel Sorolla Palace as a great way to get around town) - the show will have some special group activities. One will be the traditional Boat Tour at la Albufera, a natural resource near Valencia. Any suggestions for additional excursions can be sent to [email protected].
Stefitz, who is currently putting together the agenda for the 2014 show, told me ccTLDs and new gTLDs will be front and center at the show with those topics examined from a European point of view. More specifically, he outlined these areas that will be covered:
-- What happened/s to the Domaining Industry ( Top Panel )
-- Trusting New gTLDs
-- Cooperation between ccTLDs and new gTLDs
-- Marketing Ideas and Proposals ( how to use new GTLDs )
-- Community GTLDs ( awareness, can there be a Business in this segment )
-- Legal Panel
-- Trademarks / Clearinghouse / News and Numbers
-- Registrars and GTLDs
-- .EU Past-Present-Future
-- Parking and UDRPs
-- How to negotiate selling or buying Domains
-- Crowd funding in the Domaining Industry
Stefitz also issued an invitation to anyone who would like to submit an idea for other discussion topics and/or speak at the event to send a note to [email protected]. He is also booking ad space that will allow companies to display their logo, put an item in the show bag, leave items in guest rooms or have three Spanish models wearing your company T shirt.
(Posted December 3, 2013) To refer others to the post above only you can use this URL: http://www.dnjournal.com/archive/lowdown/2013/dailyposts/20131203.htm
.KIWI Borrows Page From .TV Game Plan - Fixed Prices Announced for "Premium" Names
Now that the new gTLDs have started rolling out, we are seeing a lot of different pricing strategies. For their so-called "premium" domains most new gTLDs registries favor an auction model that will award domains expected to draw the most interest to the highest bidders.

However, the New Zealand oriented .KIWI registry has decided to set fixed prices on the better names purchased from their website (though some of their preferred partners will be allowed to auction off some names).
You can now see the prices (ranging from $500 to thousands of dollars) that .KIWI has arrived for their premium inventory. Annual renewals will be around $40. Most of you will recall that .TV started out charging high fixed prices on premium names while also pricing renewals at the same high price, so there were some names that would cost a registrant $10,000 a year (with few takers at those levels as you would imagine). To boost demand .TV later lowered their initial prices and made renewal prices the same for all .TV domains.
Just looking at the first page of premium prices on the .KIWI site, you will see prices all over the board. For example, 123.kiwi is listed at $2,939 but 1500.kiwi costs $7,411. ABC.kiwi is $1,900 but ABA.kiwi is $8,422. While it may appear that a dartboard was used to set pricing, a .KIWI spokesperson said, "All premium names have been valued in collaboration with third parties that specialize in valuing domain names around the globe. The value of a .kiwi premium name is determined using historical sales data, search engine popularity and traffic." A statement on the .KIWI website adds, "the value of these domains stems from their simplicity, memorability and popularity as a search term."
Kiwi image from Bigstock

If you do find a .kiwi domain you are interested in you apparently can't buy it just yet. The site says, "Each .kiwi Premium Name listed as available can soon be purchased on our website, or through one of our preferred partners in accordance with their framework (i.e. certain providers may choose to auction popular .kiwi domain names). Each domain will be clearly labeled as available for sale immediately, or through a .kiwi preferred partner. If you want to ensure you are first in line for your favorite .kiwi Premium Names, register your interest and we will get in touch once you are able to purchase."

For an untested new gTLD I'm sure many of the

premium prices shown will be greeted by skepticism among veteran domain investors. However, most of the the new gTLD registries have indicated that investors are not their target market. Whether or not the mainstream business buyers they have their sites set on will accept premium priced new gTLD domains is a question will be start getting answers to in the months ahead.

(Posted December 2, 2013) To refer others to the post above only you can use this URL: http://www.dnjournal.com/archive/lowdown/2013/dailyposts/20131202.htm
---
If you've been out of the loop lately, catch up in the Lowdown Archive!
---
We need your help to keep giving domainers The Lowdown, so please email

[email protected]

with any interesting information you might have. If possible, include the source of your information so we can check it out (for example a URL if you read it in a forum or on a site elsewhere).
---
Home Domain Sales YTD Sales Charts Latest News The Lowdown Articles
Legal Matters Dear Domey Letters to Editor Resources Classified Ads Archive About Us