The Lowdown
March 2013 Archive
Subscribe to our RSS Feed

Here's the The Lowdown from DN Journal,
updated daily to fill you in on the latest buzz going around the domain name industry.

The Lowdown is compiled by DN Journal Editor & Publisher Ron Jackson.
Citing New Afilias Survey Retail Trade Magazine Says Consumers Have No Clue What New gTLDs Are
| | |
| --- | --- |
| RetailDigital - an online trade magazine that describes itself as the Global Portal for Retailers - published a story by Shukti Sharma today titled "Consumers Unaware of New Top-Level Domains." Citing new research from registry services provider Afilias, the article said 75% of U.S. and UK consumers are oblivious to new web extensions (in conjunction with YouGov, Afilias polled 2,000 UK and 2,000 US consumers for a report titled "dot Brand or dot What?" | |
The article says that only 21% of UK adults and 22% of US adults are aware of ICANN's plans to release hundreds of new TLDs. While the website hints that those are scary numbers, I'm actually a little surprised they are that high at this stage of the game. While mainstream outlets have reported on the impending arrival of new TLDs, the program in still mostly "inside baseball" that is really being closely followed only by domain and internet business professionals. There is not much reason for the man on the street to take particular notice of them, especially since none have been released yet and full scale marketing is still months or years away.
While awareness can still be raised, gaining trust - while it can be done over time - is a lot tougher hurdle to clear. The article said "the research revealed that 73% of UK adults would

prefer to visit traditional Web addresses...in the US, 61% of adults would prefer to use a "heritage" gTLD." That's a lot of people who indicate they might stay away simply because a website was based on an unfamiliar extension. If I was going to use a new extension in my business, that is a statistic that would worry me a lot more than how many are aware of the program today. It's going to take a lot of convincing to reverse that perception of new TLDs.

Afilias Senior Vice President and CMO Roland LaPlante said, "Some of the world's best-known companies will roll out a dot Brand extension, but our research shows consumers are unaware that these changes are coming and would avoid the new gTLDs due to their unfamiliarity. However, the new gTLDs offer consumers great benefits, such as reducing the risk of purchasing counterfeit goods online. Our research demonstrates that businesses need to seriously consider the ways that they will integrate the new gTLDs into their online strategies and how they will educate consumers about their benefits."

Roland LaPlante
Afilias Senior VP & CMO
(Posted March 29, 2013) To refer others to the post above only you can use this URL:
http://www.dnjournal.com/archive/lowdown/2013/dailyposts/20130329.htm
DomainBoardRoom.com Celebrates Its 6th Birthday This Weekend - Members Set to Party at Upcoming Funfest

I want to congratulate founder Donna Mahony and the members of DomainBoardRoom.com on the highly regarded private domain forum's 6th birthday - an occasion that will officially arrive on Sunday (March 31, 2013). Dozens of the most experienced people in the domain business will tell you that DBR is their favorite place to hang out online.

While the big public forums - DNForum.com and NamePros.com - have far more members and also provide tremendous value to their members, their open door approach doesn't allow the kind of intimate, noise-free environment, where everyone is a known quantity, that is treasured by Domain Board Room's devotees.

Some mistakenly view private forums as being "elitist" in some way - but they are just the opposite from that. DBR lives up to its slogan - "Where egos stand aside to share knowledge, ideas and opinions." If you have always conducted yourself in a professional manner, you will likely find yourself more than welcome at DBR

Birthday image from Bigstock

with one or more current members happy to recommend you. Once you arrive there you will find yourself in a friendly room free of the kind of flame wars, personal attacks and anonymous trolls that can drive productive people away from other venues.

Donna was certainly the right person to create an oasis of this kind. When I arrived in this industry 11 years ago, Donna was already on the scene and, in those early days at DNForum.com, she was one of the first people to welcome me. Today, just as she did back then, Donna remains someone who is always willing to help others learn the ropes and help veterans connect in a productive, professional (and fun) environment.

Above I said that Domain Boardroom was a favorite place for members to hang out online. Actually, at least once a year, thanks to the annual Domain Board Room Funfest, it is a favorite place for members, their families and DBR friends to hang out offline as well. After a successful "un-conference" debut at Dana Point, California (just south of Los Angeles) last year, Funfest returns for its 2nd go round there May 3-6, 2013, with an opening day luau/beach party scheduled to get things off on the right foot.

DomainBoardRoom.com Founder Donna Mahony (at right) with friends and fellow DBR
members Brian Null (left) and Vincent DiAngelus at the 2012 Domain Board Room Funfest at Dana Point, California.

This year's four-day Domain Board Room Funfest will conclude May 6 with a Sunday night wrap dinner at the Salt Creek Grille in Dana Point. For more information on the gathering, check out the Funfest page on Facebook.

(Posted March 28, 2013) To refer others to the post above only you can use this URL:
http://www.dnjournal.com/archive/lowdown/2013/dailyposts/20130328.htm
HealthInsurance.net Sold For $525,000 - Plus .PW Opens to the Public

We have learned that HealthInsurance.net was sold in a previously unannounced 2011 transaction for $525,000. John Mcknight and William Foster of Adaptive Insurance Services, LLC sold the well developed website to an undisclosed buyer (the WhoIs record currently shows Moniker Privacy Services contact information). The website, that

operates as the Health Insurance Network, allows users to enter their zip code to get policy quotes from leading insurance providers in their area.

Also today, Directi, the administrator of the re-purposed .PW ccTLD opened the doors for general registration. The .PW extension began life as the country code for Palau, but Directi acquired the rights to re-launch the TLD as a globally available extension they are marketing as the "Professional Web".

110 registrars from 32 countries around the globe are now offering .PW domains (prices vary from one registrar to the next but some are offering prices as low as $5 for the first year). Directi said more than 4,000 domains were registered in the first 30 minutes of open registration.

Bhavin Turakhia, Founder and CEO of the Directi Group, said, "The internet space is getting cramped with thousands of new users going online every day. Distinguishing your online identity from this crowd is getting harder. With com, net, org and other major TLDs running out of quality domain names, .PW provides customers with short, generic and first-choice domain names to stand out from the rest of the crowd."

By getting out of the gate now, .PW will have a head start on the hundreds of new gTLDs that ICANN will start rolling out this year.

(Posted March 25, 2013) To refer others to the post above only you can use this URL:
http://www.dnjournal.com/archive/lowdown/2013/dailyposts/20130325.htm
Industry Veteran Opens New Forum Dedicated to Domain Leasing + Howard Neu Celebrates an Anniversary and It's Also a Special Day for the Water School

In January I wrote about the increasing interest in domain leasing. Recently Rick Schwartz has been leading the charge with his new JointVentures.com project, but many others have also gotten onboard. The latest is industry veteran Gordon Martin (well-known for well over a decade for the services he has provided at DropWizard.com). In fact, more than 10 years ago, Martin had begun developing his LeasingDomains.com domain, but he found the idea was still "before its time" back then.

It looks like leasing's time may have finally come though. As Schwartz noted on his blog a few weeks ago, Martin recently completed a lease on an unnamed .com domain that could be worth over $800,000 to him over the term of the contract. With that deal in hand Martin, with assistance from Bill Roy, has just opened a new public forum at LeasingDomains.com.

Martin said the new forum is not a competitor to a public joint venture group that Schwartz recently started on LinkedIn. Martin noted

For lease image from Bigstock

that, with Rick's focus on high .com domains as lease candidates, that group "will represent the cream and we will represent the rest along with the ccTLDs and the DIY crowd. LeasingDomains.com is a chat board and industry resource center. Aside from domainers I want to start attracting end users to the forum." The doors have just opened so, if you are interested you can check it out by registering here.

In a related note, Rick Schwartz's fellow co-founder of the T.R.A.F.F.I.C. conference, attorney Howard Neu, is marking the 3rd anniversary of his NeusNews.com blog today. Howard is using the occasion to debut a new look for the blog (courtesy of Danny Pryor and his Rodan Media Group). Heading into the fourth year of NeusNews, Howard said he would continue to do what has set him apart form other blogs - publishing all the news that is of interest to domainers from a legal perspective.

Today is also a special day for our friends at The Water School - it is World Water Day - a day set aside to recognize the global effort towards access to clean water and basic sanitation for all. For many years now, the domain industry has been a major contributor to The Water School's mission of making that happen.

In fact, a new campaign is underway right now in which the co-promoter of next month's Domaining Spain conference, Jodi Chamberlain, has agreed to have her head shaved if industry supporters rally around her to help meet her goal by making a donation of any size to the Water School at WaterShave.org. Jodi is already a third of the way there, but if those long brown locks are going to go April 25th in Spain, your help will be needed to make it happen for this most worthy cause.

(Posted March 22, 2013) To refer others to the post above only you can use this URL:
http://www.dnjournal.com/archive/lowdown/2013/dailyposts/20130322.htm
Ari Goldberger Goes Big with Launch of Songs.com and MD.com
Most of you know Ari Goldberger of ESQwire.com as one of the domain industry's elite attorneys. Some of you also know that he is a serial entrepreneur who has an ownership interest in some of the best domain names on the web. Ari and his partners have been hard at work developing some of their top properties into high profile websites. This month alone they launched both Songs.com and MD.com (where Goldberger serves as CEO).

In fact, if you were in Miami over the past few days you may have seen Ari on the street among a bunch of guys and a camera crew wearing Max Gold T-shirts, riding in a Max Gold van and flying Max Gold balloons. It is all part of a guerilla marketing campaign to promote 16-year-old progressive house producer and DJ Max Gold, a Songs.com artist who hails from Goldberger's home base in Cherry Hill, New Jersey.

Ari Goldberger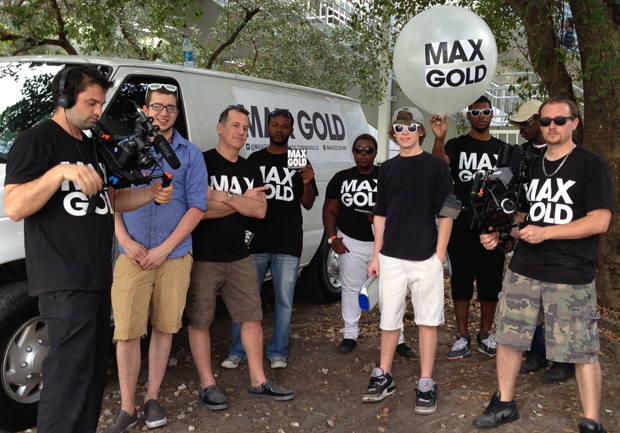 Songs.com founder Ari Goldberger (3rd from left) in Miami with the
guerilla marketing team promoting 16-year-old Songs.com artist Max Gold.
Songs.com has positioned itself as "the newest way for artists, DJs, and producers to promote their songs and music." The site was launched this month to coincide with the Ultra Music Festival and Winter Music Conference in Miami. Goldberger said Songs.com aims to become the leader in helping new and established artists promote and distribute their songs and music.
Goldberger and company also used a trade show, - a medical convention in New Orleans - to launch MD.com earlier this month. MD.com aims to be the premier directory of doctors on the Internet. The site offers all doctors a free MD.com website and provides patients with a place where they can learn about each doctor's background and specialties, find offices and associates, schedule appointments and more.
With the category defining domain name as its foundation, MD.com ranks high on the first page of Google when you search "MD". Goldberger and his teammates at Killer Brands Media LLC have a lot more great generic .com domains so you can bet Songs.com and MD.com won't be the last new online enterprises you will see from them.
(Posted March 19, 2013) To refer others to the post above only you can use this URL:
http://www.dnjournal.com/archive/lowdown/2013/dailyposts/20130319.htm
Simon Johnson Ratchets Up the Domain Intelligence Arms Race With IP Neighborhood
One sure sign that the domain industry has come of age is the increasing level of sophistication of professional research tools available to investors, developers and intellectual property owners. Australia's Simon Johnson and his company Kikabink - already known for DomainerIncome, Domain Sales App and DotBuyer, has launched the latest salvo in the domain intelligence arms race with IP Neighborhood - and it is an impressive one indeed.

IP Neighborhood gives clients access to 18 new tools, several of which Johnson says open access to data that was previously unavailable to the general public. "This is truly a game changer," Johnson said. "Now anyone can perform due diligence on domain names and registrants, as well as protect their intellectual property."

As one example, Johnson noted, " If you are a broker, you are going to want to use our Auction Intelligence tool to target those people buying in a specific niche market. The AI tool shows you what domains and websites are being purchased, who bought them, how much they paid, who they transferred it to (if applicable) and how many domains or websites they have bought over a period of time."

Simon Johnson
Founder, IP Neighborhood
Below - a screenshot from IP Neighborhood's Auction Intelligence Tool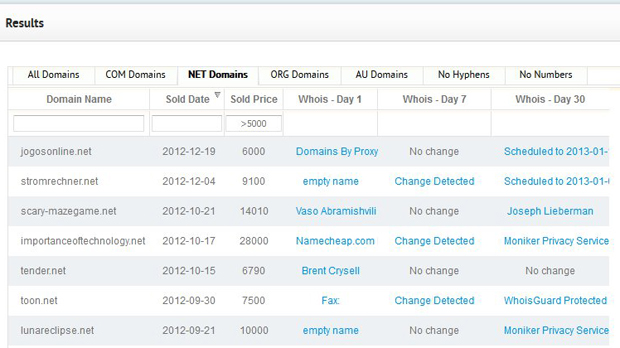 For buyers, Johnson cited the Domain Due Diligence tool as another must have. "It allows you to uncover critical search engine metrics, traffic indicators, and trust metrics all on one page. This is very extensive and will save people a lot of time. No other tool comes close to the sheer volume of information available," Johnson said.
Other useful tools for buyers in the IP Neighborhood suite include Aftermarkets & Auctions (aggregates all the major aftermarkets, auctions and drops with an additional layer of statistics, analytics and metrics from 3rd parties. These include statistics such as foreign traffic, monthly profit, page rank and page views), tools to identify Expired & Expiring domains as well as

Hundreds image from bigstock

registrations of New Domains, and a Domain Comparison tool that reveals domain names registered in one extension, but not in another).

For valuation purposes, IP Neighborhood also offers Domain Sales history (the web-based version of the popular Domain Sales iPhone app that is fully searchable and includes more than 160,000 domain and web site sales over the past decade) and Weekly Sales Report (a free tool (no login required) that displays the Top 40 domain name and website sales each week. Members can also login and see further reports, including a breakdown of TLDs and ccTLDs in real-time.
Regarding another tool, Johnson said, "If you are a lawyer and want to find domain names that are registered to a 3rd party, then you can use our Domain History tool to quickly find that out." Both attorneys and domain owners will also make sure of the Trade Mark Monitoring tool that monitors trademarks across multiple countries including the USA and Australia. The system also monitors domain name registrations, and alerts you when possible infringing names are registered, so you can take early, preventative action against cyber squatting.
Below: IP Neighborhood's Trademark Alerts screen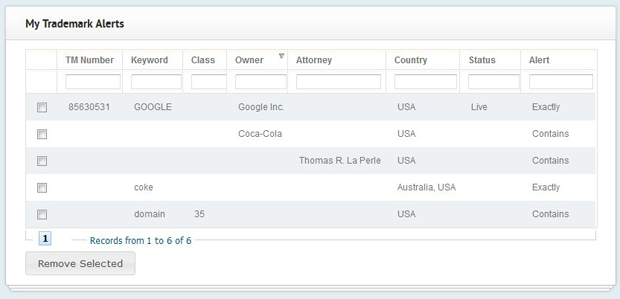 IP Neighborhood didn't forget domain hosting either. The Hosting Intelligence tool identifies web server, hosting technology and ISP information, including geographic details such as country, state and city while the IP Reputation tool checks the reputation of domain names and IP addresses for a history of sending spam and distributing malicious software, something that is particularly useful when you are allocated new (recycled) IP addresses from web hosting companies. A related tool, IP Intelligence lets you to browse through IP address ranges. For example, you can uncovers domain names and web sites hosted on a single IP address.
Other tools include Domain Name Management, Forums monitoring (that checks multiple forums in near real-time, for domain names and web sites listed for sale), an Affiliate Domain Finder and API. You can find more detailed information on all of the IP Neighborhood features here.
IP Neighborhood offer three price levels, including $4.99 for a one day pass and two monthly plans - Silver at $19.95 a month (currently the most popular) and, for insatiable users, Gold at $39.95 a month.
(Posted March 18, 2013) To refer others to the post above only you can use this URL:
http://www.dnjournal.com/archive/lowdown/2013/dailyposts/20130318.htm
Extent of Procter & Gamble's UDRP Deceit Growing as More Facts Come to Light - Elsewhere 3 Industry Leaders Offer Good News
As Procter & Gamble's reputation sinks into an even deeper hole I couldn't help thinking about the brilliant title Weird Al Yankovic came up with for his parody of Michael Jackson's album Bad. Who could forget Al's classic - Even Worse? Turns out Procter & Gamble has a lot in common with Weird Al, only difference is the tracks they laid down in a deceit-riddled UDRP filing aimed at stealing the domain Swash.com from Marchex aren't funny.

I noted earlier this week that a WIPO panel found P&G guilty of Reverse Domain Name Hijacking, in part because they grossly inflated (lied) about sales numbers for a defunct product they once made called

Swash. John Berryhill, the noted attorney who won the case for Marchex, filled in some more details on the extent of P&G's deception (yes, it gets even worse) in the commentary section of a post about the case at Michael Berkens's popular blog, TheDomains.com.
Berryhill noted, "The entire premise of the UDRP proceeding was stunningly dishonest. They want the domain name for something else entirely, and concocted an utter work of fiction in order to attempt to steal it." Berryhill lays out the facts that prove his points - P&G wasn't interested in the domain because of a failed product they once marketed, they wanted it for a new offering. Unfortunately they didn't want to pay a fair and reasonable market price for it, for some bizarre reason, believing it would be smarter to try to steal it. Next time you look up the phrase "penny wise and pound foolish" on the web, odds are you will see the P&G logo illustrating the concept.
Just writing about the P&G debacle makes me feel like I need to take a shower, but fortunately there is also some good news to pass along today. A well respected long time veteran industry executive, Joe Alagna, has joined registrar 101domain.com as Vice President of Channel Development. Alagna goes to 101Domain after more than 10 years as CentralNic's General Manager for North American Markets.

Alagna said, "101domain was one of my first resellers when I entered the domain name business...I'm coming into this company knowing a good bit about their culture and knowing that we're going to be a great fit for each other. 101domain is well positioned to take advantage of new gTLDs and is already a leader in international domain name registrations. They have the ability to assist clients in registering what will soon be over 3,000 domain name extensions around the world. There is no one that even comes close to this capability and we are going to leverage that to our advantage."

Joe Alagna
VP, Channel Development
101domain.com
Congrats to Joe who is one of the very best of this industry's good guys.
Two others who fit that description, lead gen whiz Braden Pollock and uber entrepreneur Morgan Linton, have been selected to speak about domains at LeadsCon Las Vegas, a major conference coming up next week (March 19-20) at the Mirage Hotel. LeadsCon showcases top companies, strategies, and technologies across vertical media, marketing, and customer acquisition.
Braden Pollock (LegalBrandMarketing.com), at left, and Morgan Linton (FashionMetric.com)
will be featured speakers at the LeadsCon Las Vegas conference next week.
Pollock will lead a session titled "Domainers: The Untapped Traffic Source?" that will feature Linton, Frans Van Hulle, the CEO and Co-Founder of ReviMedia, and Chad French, the President & Founder of Peerfly.
Pollock will also be a panelist on another session - "Legal Leads: Understanding the Growing World of Attorney Marketing." Their presence in Las Vegas will help spread the word how valuable domain names are in generating new leads for business.
(Posted March 14, 2013) To refer others to the post above only you can use this URL:
http://www.dnjournal.com/archive/lowdown/2013/dailyposts/20130314.htm
After a Decade of Creating Research Tools for Domain Investors Luc Lezon Paints His Masterpiece at Dropping.com
When I first got into the domain business over a decade ago, one of the first people I came across was Luc Lezon, a software wizard who, after initially starting out as a domain investor himself, switched his attention to creating tools that made it easier for other domain investors to find quality domain names. He is still at it today as the programmer behind Estibot,

PremiumDrops, Domain ResearchTool and a few other domain services and just a few weeks ago he rolled out his "masterpiece" - Dropping.com.

When you consider that over a quarter of a million domains get dropped and auctioned every day you can see why powerful tools are indispensable if you want to separate the wheat from tons of chaff. Over the past 10 years Lezon has devoted his life to building those tools. "My passion is in software and increasing efficiency through automation," Lezon told me. "I love creating tools that save people time and make their lives more productive."
Having used Lezon's tools in the past I was especially interested in seeing what he had come up with at Dropping.com. I got a chance to open my account and explore the new system over the weekend and it is a thing of beauty with a super clean intuitive interface that makes it a breeze to access the stunning amount of expiring domain and auction data that Dropping.com puts at your fingertips.
One thing that impressed me before I even logged in was the well crafted explanation of why dropping domains can provide outstanding value, not only to domain investors, but also end users, website owners and SEO and SEM professionals. Many points made on the Dropping.com home page (and in a more detailed account the Home Page links to) could be used in explaining why domains you have for sale are worth paying a premium price for.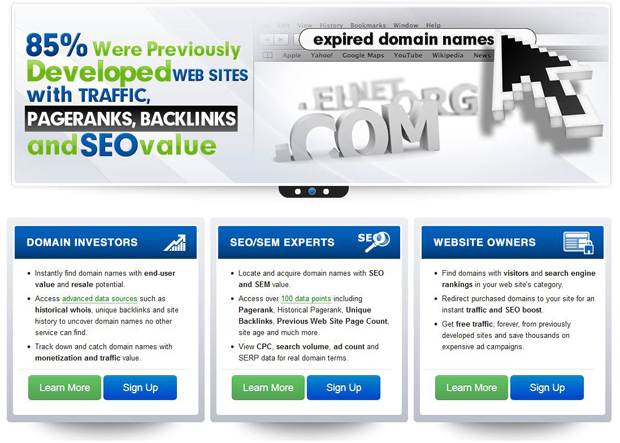 Screen shot from the Dropping.com Home Page
Once you log in, the pleasant surprises continue. The first time you access the system a pop up box will ask what kinds of domains you are looking for (for example, resale potential, parking revenue, traffic for SEO or SEM purposes, etc.) and what you do in the industry (for example, domain investor, SEO or SEM expert or website owner). With that information Dropping.com then automatically sets up filters, custom reports and data feeds to match your needs. It literally takes just a minute or two to get up and running.
Lezon said he had simplicity and easy accessibility in mind from the start. "The biggest challenge was providing access to the data without confusing or overwhelming the user," Lezon said. "Our customers include domain investors, web site owners and SEO/SEM experts, so they all have very unique needs. We have a ton of data going back close to a decade, but data has to be presented properly to be of any use."
"The presentation element is what took the longest time in Dropping.com. Figuring out what to show, how to show it, and what to leave out is extremely challenging. Making sure reports

pull up fast, and include up to date information is also a challenge, because we store various data on approximately 200 million domains. We are constantly working on ways to simplify the service without taking away from the data sets."

As soon as you access the well laid out Dashboard (through the My Account menu link) you see that Lezon accomplished his mission for Dropping.com. A box in the upper right corner of the dashboard tells you how long it will be until the next drop, along with a link to the most recent drop results, including who caught the names.

That is followed by a very interesting Daily Summary showing how many auctions/drops are ending that day, how many have resale value, how many have backlinks, how many have page rank, how many have a high CPC and how many have active bidders. When you click on the number for any of those metrics it brings up a complete list of the domains fitting that description. Clicking on a name will bring up a box that includes estimated end user value, estimated monthly traffic and estimated revenue for both parking and minisite options.

There is also a box listing the Dropping.com's top picks from among the names scheduled to fall in the next drop. They also have a graph that tracks how successful each of the top drop catchers are so you will know who gives you the best chance of landing a name you want.

Information boxes on the right side of the Dropping.com Dashboard page.
Among other things the Dashboard allows you to set up daily email alerts and watch lists as well as download entire zone files for your favorite extensions. There is also a lead generator that identifies potential end user buyers for your names, a registrant research tool that includes historical whois data and a drop estimator that tells you the day and time a name your are interested in is due to drop.
When you click the Domains link on the Menu bar you get a live feed (from auction and expiring sources you select) that brings up detailed information on a huge variety of available domains, including where they can be acquired, Estibot's estimated retail value, the current bid price and number of bids, how often the term is searched, the cost per click value, the age of the domain, Alexa ranking and more.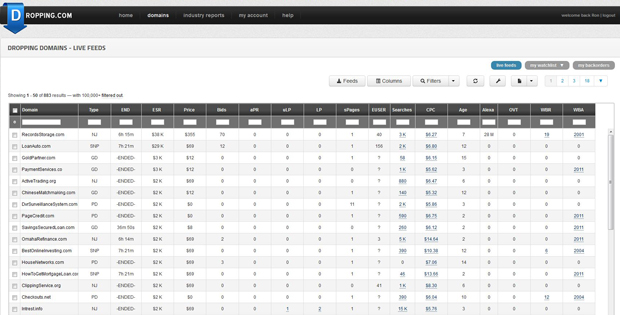 The Live Feeds screen at Dropping.com has detailed data
on all domains that meet your search criteria.
The Industry Reports Menu item gives you a breakdown of the too drop catchers, who caught domains that dropped, how many domains are being registered in a variety of popular extensions and aftermarket sales results (with graphs showing the cumulative sales volume and price).
Different people will have different needs, so Dropping.com has set up three tiers of service that allow you to pay for only what you need. The Basic service (aimed at new domain investors and website owners) is $49.95 a month. The Intermediate level (designed for part-time domain investors and beginning SEO/SEM users) is $99.95 a month and the Advanced level (for full-time domain investors and experienced SEO/SEM users) is $149.95 monthly. You can try before you buy as all three plans offer a 7-day free trial. Just use the FREE7 code when you sign up.
Dropping.com also offers its members an affiliate program so you can make money, quite possibly more than enough to pay for your own subscription, by putting the affiliate link on your own website.
(Posted March 12, 2013) To refer others to the post above only you can use this URL:
http://www.dnjournal.com/archive/lowdown/2013/dailyposts/20130312.htm
Procter & Gamble Not Too Big to Fail - Reverse Domain Hijacking Attempt Tarnishes Famous Name
If there was a Dumbest UDRP Filing of the Year Award consumer products giant Procter & Gamble would probably have the 2013 dishonor sewed up and we are not even through the first quarter of the year yet. In a stunning decision handed down by a WIPO panel today (first reported by Andrew Allemann at DomainNameWire) P&G was found guilty of a reverse domain name hijacking attempt after they tried to steal the domain Swash.com from its rightful owner - Marchex Sales, Inc.
It was not a "stunning" decision in the sense that the ruling was a surprise, it was stunning because of the wildly false claims in the filing from P&G's attorneys - Keating Muething & Klekamp PLL - that resulted in the case blowing up in P&G's face (whether P&G gave their attorneys phony information or the attorneys, who signed off on the document, came up with the zany numbers, is unknown).

In any case, credit Marchex's attorney, John Berryhill, long recognized as one of the very best in the business, for spotting the bogus P&G claims. The most embarrassing had to be the one where P&G said their Swash product had done $40 million in sales over the past four

uh-oh! image from Bigstock

years. That surprised me because I have never heard of Swash. Apparently no one else has either because when Berryhill called them on it, P&G admitted the sales were actually a miniscule $60,000! This, of course, did not boost P&G's credibility with the WIPO panel, nor did the fact that Marchex has owned the domain for far longer than P&G has even had a product called Swash - strike two on P&G.
Of course, that did not escape Mr. Berryhill's notice either. You have about as much chance of slipping stuff with that kind of stench past John as you do of winning the Powerball lottery playing 13-13-13-13-13-13 (note to P&G and their attorneys: each ball has a different number so don't try this - it won't work either).
Shame image from Bigstock

While there is no financial penalty for being branded a reverse domain name hijacker, odds are future Procter & Gamble UDRP filings (and they make a lot of them) are going to be given extra scrutiny by WIPO panelists (who may also want to wear a clothespin on their nose when reading P&G filings). Of course P&G, though they lost the case, did win a nifty consolation prize - a permanent place on Rick Schwartz's Reverse Domain Hijacking Wall of Shame (an honor that is about as sought after as being poked in the eye with a sharp stick).

Now, if you'll excuse me, while continuing to shake my head in wonderment, I need to go pour some bottles of Tide down the drain. Who knows what is really in that stuff. I know what the label says but, all of the sudden, I'm not sure I can take P&G's word for it.
(Posted March 11, 2013) To refer others to the post above only you can use this URL:
http://www.dnjournal.com/archive/lowdown/2013/dailyposts/20130311.htm
Five Great Australian Domains Go on the Market - Our Rule Book Goes Out the Window
They say "rules are made to be broken" but I try not to break them, especially when they are my own rules! One thing I have consistently declined to write about in editorial content is domains for sale. In recent years, the closest I have come to that is mentioning live domain auction events when they are part of a major conference agenda that we are detailing. In that context the topic is unavoidable. It's not that there is anything wrong with domains for sale of course (like most of you, I have hundreds of them on the market at all times myself).

The problem for me is two-fold. First, as an old school journalist, my view is that for sale notices belong in advertising not editorial (admittedly the lines have been severely

Rule book image from Bigstock

blurred, if not completely erased, by many of today's practitioners in all forms of media, but I still see the wisdom in some of the old values). Second, is the issue of fairness. If you write about something one person or company has for sale, how do you decline to write about what someone else has for sale? If you go very far down that road, odds are you will quickly lose readers who come to you for news in the editorial sections rather than advertising.
Australia image from Bigstock

Having said all of that, I am going to make a once in a decade exception (so don't expect to see it again, unless we start a separate section dedicated exclusively to domain brokerage). That call is based on the group of domains coming on the market being so extraordinary that I think it is legitimate news. The lot of Australian ccTLD domains includes the names of the capital cities from four of that great nation's states - Sydney.com.au, Melbourne.com.au, Brisbane.com.au and Adelaide.com.au. In addition to that answer to a geodomainers dream, there is a fifth domain - the top-notch generic Auction.com.au.
Brisbane based DomainGuardians.com has been selected to broker the domains - no surprise to me as company founders Mike Robertson and Jen Sale are known far and wide for their industry experience, professionalism and integrity. DomanGuardians has set up a page with more details on this unique offering here. The domains can be purchased as a group, in smaller lots or individually. At this stage DomainGuardians is fielding offers and talking with those who have an interest in the domains - no set prices have been announced.

Jen Sale and Michael Robertson, Co-founders of Domain Guardians

Robertson noted, "Sydney.com.au is the #1 ranked website in the Google.com.au search results when you search on the word 'Sydney'. When you consider the Sydney economy in 2011 was worth $342 billion, what price then do you put on the commercial value and importance of sydney.com.au when the website comes up first in the Google search results?"
"Sydney.com.au and Melbourne.com.au are currently lightly developed as tourism websites and already generate attractive revenue streams. There is huge scope to broaden the websites to include residential and commercial property sales, car sales, job listings, auctions, travel, tourism, accommodation and entertainment and make these the stand-out websites for Sydney, Melbourne, Brisbane and Adelaide," Robertson said. "Imagine the commercial potential for someone owning all four Australian capital city domain names, with a combined population of around 10 million."
Robertson added, "The domain name auction.com.au, commercially developed, could be one of the biggest online sales platforms in Australia. Once these domains are sold, I doubt if they will be offered for sale again. They are too important - you rarely get an opportunity to acquire Internet assets of this type."
That's true and that's why our rule book got overruled this time.
(Posted March 7, 2013) To refer others to the post above only you can use this URL:
http://www.dnjournal.com/archive/lowdown/2013/dailyposts/20130307.htm
Go Daddy Scores Some Brownie Points With Aspiring New gTLD Registry Operators at Arizona Confab
| | |
| --- | --- |
| You've got to hand it to Go Daddy. They didn't become the world's biggest domain registrar by leaving a lot of stones unturned. Go Daddy knows that the operators of the hundreds of new gTLDs that ICANN plans to start launching this year will desperately need shelf space and promotion from the top registrars - and no one dominates the top like they do (almost 55 million domains are registered at Go Daddy, more than the next ten biggest registrars combined). | |
That puts Go Daddy in the catbird seat and today they started paving the way to cash in on that position but hosting most of the major new gTLD applicants for a Registry Days conference at the company's Arizona headquarters. A Go Daddy spokesman said more than half of the more than 1,900 new gTLD strings that have been applied for had representatives at the meeting.
While the operators all feel the need to romance Go Daddy, the giant registrar did its best to make the aspiring registry operators feel appreciated too. As a gesture of good will, Go Daddy announced it was withdrawing its applications to run two new gTLDs of its own - .home and .casa - a move meant to assure their new gTLD registry partners that they won't be competing with them. The only new gTLD Go Daddy is going after now is their own .godaddy extension for internal use.
.Com Image from Bigstock

In another move, that is far more symbolic than substantive, Go Daddy announced they will also be taking the .com off their logo, signifying their support for new extensions by not promoting just one in their logo. The reality is very few well-known companies have .com as part of the logo as it is simply not needed. Since virtually all major corporations own and use .com for their websites, every one expects that is where they will find the company's website (that's why you won't see Go Daddy moving off their .com site any time soon). In a nutshell, that is the GIANT hurdle that new gTLDs have to get over - a hurdle that no other previous new gTLD have fully cleared.
That's not to say that none will make money - some will. Finding the right niche can be very profitable and there is certainly a place for other extensions. Go Daddy is obviously looking forward to having a lot of new inventory to offer on their site. Odds are they will rake in more profits than most of the new registry operators themselves. It is completely understandable that Go Daddy will want to give the new gTLDs a big push - like everyone else, they are in business to make money.
Still, some of the wishful thinking coming out of today's meeting strikes me as being based on something other than reality. Go Daddy CEO Blake Irving was quoted as saying, "As the world is moving away from a .com world, we are changing our logo to remove the .com and make it just Godaddy." I have seen no evidence that the world is moving away from .com. On the contrary, the world's most popular extension continues to dominate the competition by any standard and .com commands a dramatically higher market share and prices than anything else on the aftermarket - evidence of how very highly valued the TLD remains.
You could put 100,000 new gTLDs out there instead of 2,000 and I still don't think there is any reason to believe that any of them (or all of them collectively) will be able to reverse the massive public recognition and acceptance that .com enjoys as a result of the world's commercial Internet users having spent billions of dollars over the past 30 years reinforcing the .com brand in the public's mind, making it synonymous with the Internet itself. No new gTLD nor all of them put together, has that kind of marketing budget.

That said, I am hopeful that people will make money from new gTLDs. A lot of capital is certainly flowing into the space and those who find or put themselves in the right position (as Go Daddy and some other sellers of the "picks

Money bag image from Bigstock

and shovels" are) will rake some of that money in. However, until the new gTLDs arrive and we have some real data to consider, I wouldn't put much stock in hyperbole when deciding what to buy.
I've seen a lot of prospectors in previous new gTLDs get badly burned after a lot of pie in the sky promises never panned out. If you have been around for awhile you have heard it all before (many times before) and the world is still spinning in the same direction.
Yes, big changes are coming and change almost always brings new opportunities - so it's probably going to be a good time to be in the game - the challenge will be to identify the opportunities that are real and not just yet another mirage.
(Posted March 6, 2013) To refer others to the post above only you can use this URL:
http://www.dnjournal.com/archive/lowdown/2013/dailyposts/20130306.htm
SXSW Interactive Festival to Address New gTLDs With Presentation from Sedo's Jeremiah Johnston

The massive 2013 SXSW Interactive Festival that gets underway Friday (March 8) in Austin, Texas is going to shine a light on new gTLDs. On Monday, March 11 (the next to last

Jeremiah Johnston
Sedo Legal Counsel

day of the five-day festival) Sedo.com Legal Counsel Jeremiah Johnston will headline a session called New Domains Have Landed: Now What!? Jeremiah will deliver his presentation at 5:30pm (CST) in Room 616AB at the Hilton Austin Downtown.

The SXSW program notes, "Hundreds, maybe up to a thousand, new domain endings will soon join the ones we're accustomed to like .com, .net and .org. Last summer we learned which companies were seeking which new extensions as this massive change continues inching closer to reality... With nearly 2,000 applications, the most sought-after endings include .app, .home, .art, and .shop. Which are relevant for you? How is the battle playing out between Google (100+ applications) and Amazon (75)? When we find out who gains control of each new extension, what are the implications?"

"With ICANN announcing new developments every week, this presentation will dissect the latest news to help you better manage your online presence. Learn how to adjust your domain strategy based these developments and how working with new Top Level Domains (TLDs) will be different from registering domains in the past."

Johnston, who has been with Sedo since 2004 (including five years as Chief Operating Officer and head of marketing until 2011) is well versed on the subject of new gTLDs. With more than twelve years of experience leading internet-related companies and an academic background that focused on the international reach of intellectual property and e-commerce, Johnston has helped Sedo identify opportunities and risks while always keeping an eye on the horizon - a horizon that is now being dominated by new gTLDs.

Jeremiah also represents Sedo as a founding member of the Internet Commerce Association, sits on the ICA Board of Directors and currently serves as the association's president, working to shape the future of domain names in the regulatory and political space.

(Posted March 5, 2013) To refer others to the post above only you can use this URL:
http://www.dnjournal.com/archive/lowdown/2013/dailyposts/20130305.htm
World Accelerator Adds Teacher.com, Couple.com & Scandal.com to Their New Development Platform
Last fall I told you about Gary Millin launching World Accelerator, a new platform aimed at partnering with experienced development teams to turn some of the great generic domain names owned by Millin's World Media Group into full-blown businesses. Millin has a lot to offer those who want a great foundation to build with a portfolio that includes such gems as World.com, USA.com, Lawyer.com, Doctor.com, London.com and Rome.com to name just a few.

Others with great names can also bring their domains to World Accelerator and with so much great "raw land" coming into the program it shifted into high gear in February with Teacher.com, Scandal.com, Couple.com and Innocent.com all joining the system.

Also in the month just past World Accelerator ran a trial with Lean Startup Machine in both New York and Newark. Millin said, "This is a tremendous weekend workshop where entrepreneurs learn and apply lean methodology as part of teams to advance their business ideas. Over 300 of our branded domain names were offered for teams as a resource and several teams were able to benefit. I highly recommend the Lean Startup Machine experience to anyone wanting to learn how to 'Succeed Faster'."

Gary Millin
CEO/Founder, World Accelerator
President, World Media Group LLC
| | |
| --- | --- |
| | While he was making recommendations to those ready to develop, Millin added, "Two of World Accelerator's early mentors, Shaun Abrahamson and Peter Ryder, published a must read book called Crowdstorm that hit the shelves in February. I found the book forward thinking with practical insights into the power of leveraging the crowd to deliver on new and better ideas." |
"Organizations like GE, P&G and LEGO have been showing how crowdstorming can be used to drive everything from corporate strategy to new product development. Leading ad agencies are using crowdstorming to find great ideas and help brands engage with their customers and startups like Quirky, Springwise and Threadless are building disruptive new businesses using crowdstorming," Millin said.
If you would like to learn more about the criteria World Accelerator uses to pair development teams with great domains and the application rules, you can find that information on their online application form.
(Posted March 4, 2013) To refer others to the post above only you can use this URL:
http://www.dnjournal.com/archive/lowdown/2013/dailyposts/20130304.htm
Great Value, Beautiful Location and Timely Agenda Has Domaining Spain 2013 Set Up for Another Sellout
Domaining Spain 2013 is now less than 8 weeks away. This annual conference in beautiful Valencia, Spain, that is co-produced by show founder Dietmar Stefitz and veteran event producer Jodi Chamberlain, is a phenomenal value (one reason people came to last year's show from 23 different countries around the world). The registration cost for the 3-day event that returns to the Hotel Sorolla Palace in Valencia April 25-27, is just €600 and that includes lunches and dinner.

The hotel deal is even more amazing with the ultra modern and extremely comfortable Sorolla Palace charging attendees just €70 a night for a single occupancy double room (€75 for two in a spacious double room) and that

includes a fabulous buffet breakfast every morning. Cost has prevented many people from taking advantage of the invaluable opportunity conferences present to network face to face with key industry players. However, Domaining Spain has managed to just about eliminate that reason for remaining on the sidelines, especially if you live in Europe where travel to Valencia is convenient and affordable.

Travel obviously costs considerably more if you are coming from further away, but this would be the perfect opportunity to combine work with a very pleasant European vacation in one of the continent's most picturesque cities.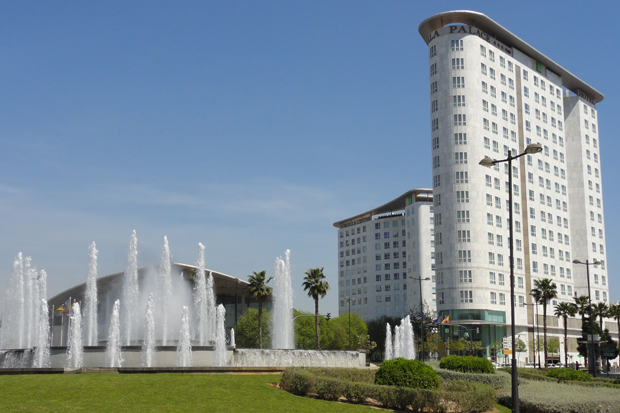 The conveniently located Hotel Sorolla Palace (at right) in Valencia, Spain, next door
to the city's Convention Center (at left) will host Domaining Spain 2013 next month.
The combination of great value, a beautiful location and an all-star line up of speakers including Xavier Buck, Natasa Djukanovic, Jennie–Marie Larson, Paul Keating and show moderator Braden Pollock, to name just a few, is likely to draw a record breaking crowd again this year (last year's show was a sell out).
Dietmar and Jodi have also put together an agenda that will cover the hottest topics and biggest issues currently facing the industry, including new gTLDs. The impending arrival of new gTLDs has sparked a lot of trademark concerns so Domaining Spain is bringing in Vicky Folens and Hans Seeuws to talk about ICANN's Trademark Clearinghouse on opening day, Thursday, April 25. They will be followed by a new TLD panel featuring Gregg McNair, Xavier Buck and Tim Switzer, who will discuss the pros and cons of investing in new TLDs.

After another full day of business Friday, April 26, there will be a Gala Dinner sponsored by Internet.bs that will be especially memorable because that is the night Jodi Chamberlain is going to allow Gregg McNair to shave

Domaining Spain 2013 Promoters
Jodi Chamberlain and Dietmar Stefitz.

her head if her goal of raising $50,000 for The Water School is met. Industry donors have already contributed $17,000 to the effort through pledges made at the fundraising effort's website at WaterShave.org. With the date rapidly approaching now, I'm sure many others will step up to make sure Jodi's mane remains in Spain when she heads home!

The conference will close Saturday, April 27 with a special social networking day that will include a visit to the Roman Theatre and Museums of Sagunt, followed by a paella luncheon (Spain's national dish) at Puerto de Sagunto Beach. Where else in Europe (or on the planet for that matter) can you get three days filled with so much fun, food, great networking and valuable business sessions for just €600? If you want to take advantage of the opportunity, registration is open now.
(Posted March 1, 2013) To refer others to the post above only you can use this URL:
http://www.dnjournal.com/archive/lowdown/2013/dailyposts/20130301.htm
---
If you've been out of the loop lately, catch up in the Lowdown Archive!
---
We need your help to keep giving domainers The Lowdown, so please email

[email protected]

with any interesting information you might have. If possible, include the source of your information so we can check it out (for example a URL if you read it in a forum or on a site elsewhere).
---
Home Domain Sales YTD Sales Charts Latest News The Lowdown Articles
Legal Matters Dear Domey Letters to Editor Resources Classified Ads Archive About Us