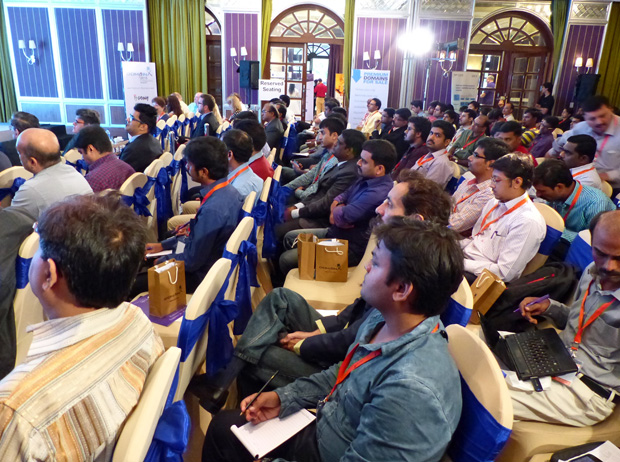 Part of the audience at the 2015 DomainX Conference in Banagalore last August.
The show will move on to the nation's capital - New Delhi - in August 2016.
Having covered and spoken at the 2015 DomainX conference, I was amazed that the organizers were able to produce a world class event while charging so little to attend. That won't change in 2016. The full two-day pass covering both the Networking Day (Saturday, August 6) and the Conference Day (Sunday, August 7) will be just $135 and that includes dinner Saturday evening, lunch Sunday and coffee, tea and cookie breaks both days. Passes can also be purchased separately for the Networking Day ($99) or the Conference Day ($49). To show you the format of each, our coverage of the 2015 Networking Day is here and coverage of the 2015 Conference Day is here. Whatever ticket you choose it has to be one of the world's best conference bargains.
Organizers (front row) and speakers (standing) at the 2015 DomainX Conference.
I plan to return to India for the 2016 edition of DomainX and show founder Manmeet Pal Singh told me that leading Canadian domain attorney Zak Muscovitch will also be back to speak. DomainX Co-Organizer Gaurav Kholi added that well-known domain investor/developer Bill Karamouzis (who was profiled in our March 2010 Cover Story) has also been confirmed as a 2016 speaker with many more to be added as the agenda takes shape.
In addition to a great conference, New Delhi will have a lot to offer conference attendees. The city is close enough to Agra to allow guests to make an easy day trip to the world famous Taj Mahal (the express train can get you there in two hours). That will definitely be part of our itinerary as we look forward to re-visiting one of the world's most dynamic nations and participating in another extraordinary conference.