Here's the The Lowdown from DN Journal,
updated daily to fill you in on the latest buzz going around the domain name industry.

The Lowdown is compiled by DN Journal Editor & Publisher Ron Jackson.
With 2016 CIRA Board Election Underway Industry Veteran Frank Michlick Deserves Your Support
The Canadian Internet Registration Authority (CIRA) is the body that administers Canada's popular .CA ccTLD. Every year CIRA holds an election to fill open seats on its Board of Directors. This year three seats are reserved

for candidates that were selected by the Nominating Committee but there is also one open seat that will be filled by a vote of CIRA members.

Frank Michlick

Frank Michlick, one of the most experienced and well qualified people in the domain investment and related fields, is among those running for that seat. Frank, through his current enterprises DomainCocoon.com and DomainNameNews.com (with Adam Strong), consulting SedoMLS and his previous associations with some of the leading companies in the space, including Tucows, has championed the Canadian Internet since 2000. He is just the kind of presence our community needs to make sure its interests are represented on the CIRA board. If you own a .CA domain you can help make that happen but, if you are not already a CIRA member, you will need to act today to become one and thus be eligible to cast a vote in the election.

Any .CA domain owner can easily join CIRA by simply filling out and submitting a form available here and here is why time is of the essence. The Election process is currently in the "Show

of Support" stage. To be on the final Board ballot, a candidate for the open seat has to have 20 CIRA members indicate their support for him or her. Today (August 31) is the deadline to be included on the Voting List (CIRA members receive an email with a link to show their support, along with an ID code and pin number).

Of course many of our readers are already CIRA members and we would also encourage you to Show Your Support for Frank as noted attorney Zak Muscovitch did yesterday. Frank has a campaign page here and Zak's article includes Frank's complete Candidate Statement that details both his background and why he wants to serve on the CIRA Board. The Show of Support stage will continue until Monday, Sept. 5. Then the final voting for those who have qualified for the ballot will take place from 3 p.m. ET on September 22 until 3 p.m. ET on September 29, 2016.
Mini Baby Boom in the Domain Business! Andrew Rosener & Jay Westerdal Celebrate the Arrival of New Sons
This has been a week of very special occasions with three of the most widely known men in our industry celebrating days they will never forget. For one, Ammar Kubba, it was his wedding day last Saturday (August 20) that I told you about earlier in the week. For the other two it was the birth of new sons!

One day after Ammar's wedding - on Sunday, August 21, MediaOptions.com Founder Andrew Rosener and his lovely wife Anna welcomed their new son - Lou Atlas Rosener - to the world!

Image from Bigstock.com

Veteran domain broker Andrew Rosener, Founder of MediaOptions.com, with his new son
Lou Atlas Rosener, just moments after wife Anna delivered the healthy baby boy.

Just two days after the Rosener family celebrated their new arrival, on Tuesday, August 23, Jay Westerdal - the founder of multiple industry companies including Name Intelligence Inc., DomainTools.com, the Domain Roundtable conference and most recently new gTLD registry operator Top Level Spectrum - and his wife Icy experienced the same joy when their new son, Thor Harcourt Erik Westerdal, made his grand entrance.

Jay Westerdal and wife Icy welcome their new son,
Thor Harcourt Erik Westerdal, on Tuesday, August 23.

When Andrew Rosener got the good news about Jay's new son he quickly took notice of something the two baby boys had in common. With Thor and Atlas a part of their names Andrew quipped, "The world just got two Greek Gods!" Jay said Atlas was actually one of the names he and Icy also considered but Thor has a history in his family as the name of a great great great grandfather.

Image from Bigstock.com

Jay added, "I have always valued unique names. Just like domains, they help set a person apart from everyone else. For inspiration we looked at the family tree and thankfully we had lot of great grandfathers in our family with cool names! The most popular baby boy name in 2015 was Noah with 19,511 people. However only 118 babies were named last year were Thor. I personally had two middle names and we decide Thor would also have two middle names. His other middle names are other great grandfathers as well. A unique name stands out, my wife "Icy" agrees. She was named after

her great grandmother and her whole life people can talk about her and know who they are talking about without a last name. It is hard to be in the domain business and not have a strong appreciation for unique names!," Jay concluded.

Our congratulations to Andrew and Anna and Jay and Icy, on the arrival of their new family members - and to Ammar on his marriage to the beautiful Josephine Madriz. We all love the domain business but it is still trumped by bigger things in life, something we were happy to be reminded of on three separate occasions in the space of just 72 hours this week!
Big Week for the Turakhia Brothers: Divyank Sells Media.net for $900 Million, Bhavin Wins TWO Entrepreneur of the Year Awards
I was flying home from Ammar Kubba's wedding in Los Angeles Monday when I got the news that Divyank Turakhia had sold the company he founded and started from scratch, Media.net, to a Chinese investment group for an eye popping $900 million! This after Divyank and his brother and long time partner Bhavin had sold Directi to Endurance International Group in 2014 for approximately $160 million. Bhavin also had an instrumental role in the sale of Media.net, running the lengthy and complex legal negotiations in China.

Divyank & Bhavin Turakhia at the February
2008 T.R.A.F.F.I.C. West conference in Las Vegas

Many of us had the pleasure of getting know Divyank and Bhavin when they began attending and sponsoring U.S. domain conferences in mid 2000's to promote another of their companies - domain monetization service Skenzo.com. Divyank was especially active on the conference scene where he was often a featured speaker who shared his invaluable insight into our business. In September 2008 I wrote a Cover Story profile of Divyank that proved to be one of the most popular we have ever published.

I snapped this photo of (left to right) Rob Grant, T.R.A.F.F.I.C. Co-Founder Rick Schwartz and Diyank Turakhia when we were running around Disney World in Orlando one night when the park was made available exclusively to attendees of the 2008 T.R.A.F.F.I.C. East conference that was held there.

While Divyank switched his focus to the Internet advertising world with Media.net, Bhavin has continued to have a big impact on our industry with his latest company, Radix Registry, a key player in the new gTLD space. Bhavin's success has caught the eye of the mainstream business world as well, in fact we just learned today that he won two 2016 Entrepreneur Magazine India Entrepreneur of the Year Awards at ceremonies conducted last night in New Delhi.

Bhavin Turakhia picking up one of the two Entrepreneur Magazine
Entrepreneur of the Year Awards he won last night (photo Bhavin shared on Facebook).

Bhavin, who won the Innovation in Tech and Serial Entrepreneur of the Year awards said, "The credit belongs to the awesome team Directi - the absolute best of the people that I have the privilege to work with daily, my brother Divyank...without whom none of this would have been fun!...and most importantly, our Dad, who has always taught us - "You can achieve anything you set your mind to."

Divyank and Bhavin have certainly proved that over and over again. For me, the most gratifying thing about seeing their continued success is that it absolutely could not have happened to two nicer guys.
Photos & Highlights from the Ammar Kubba - Josephine Madriz Wedding This Weekend in Santa Monica!
When a major player in the domain industry, Ammar Kubba (afterTHOUGHT, DomainTools and Thought Convergence) decided to get married at the age of 44 his many friends in this business were excited about seeing it happen (after all, we've been waiting a long time for this)! Ammar finally found the one in the lovely Josephine Madriz so dozens of domain people traveled to Santa Monica, California from across the U.S. and even overseas to join Ammar's family and closest friends at the big wedding on the beach in front of the historic Casa Del Mar Hotel.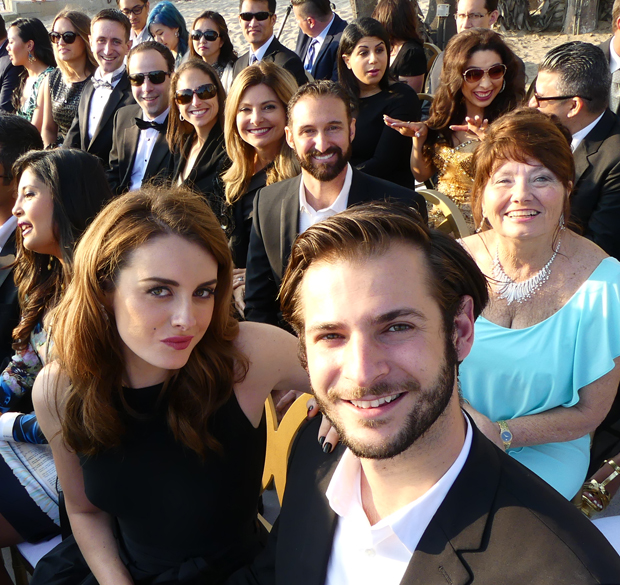 Above: Just a small section of the many domain industry people at Ammar Kubba's wedding Saturday in Santa Monica, California. At front center are Merlin Kauffman and his girfriend Diana Georgie and in the 2nd row starting at right and moving to the left) are my wife, Diana Jackson, Braden Pollock and his wife Lisa Bloom, Karen Silver and husband Elliot Silver, Morgan Linton and his wife Daina Linton.
Below: A wide view of Ammar Kubba and Josephine Madriz with their officiant as the wedding ceremony begins Saturday evening (August 20, 2016).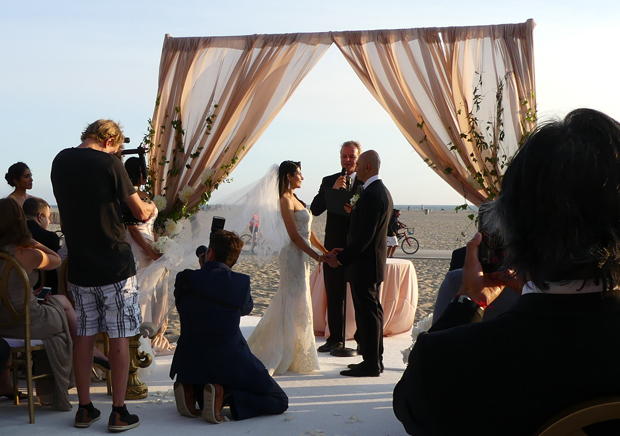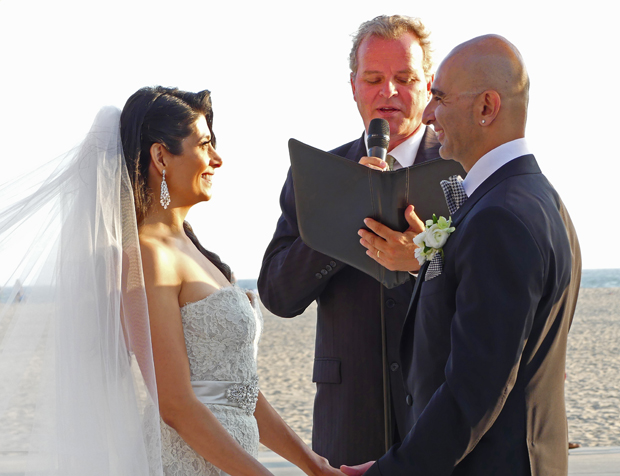 Above: Ammar and Josephine exchanging vows.
Below: Officially pronounced man and wife,
Ammar kisses his bride, Josephine Madriz Kubba.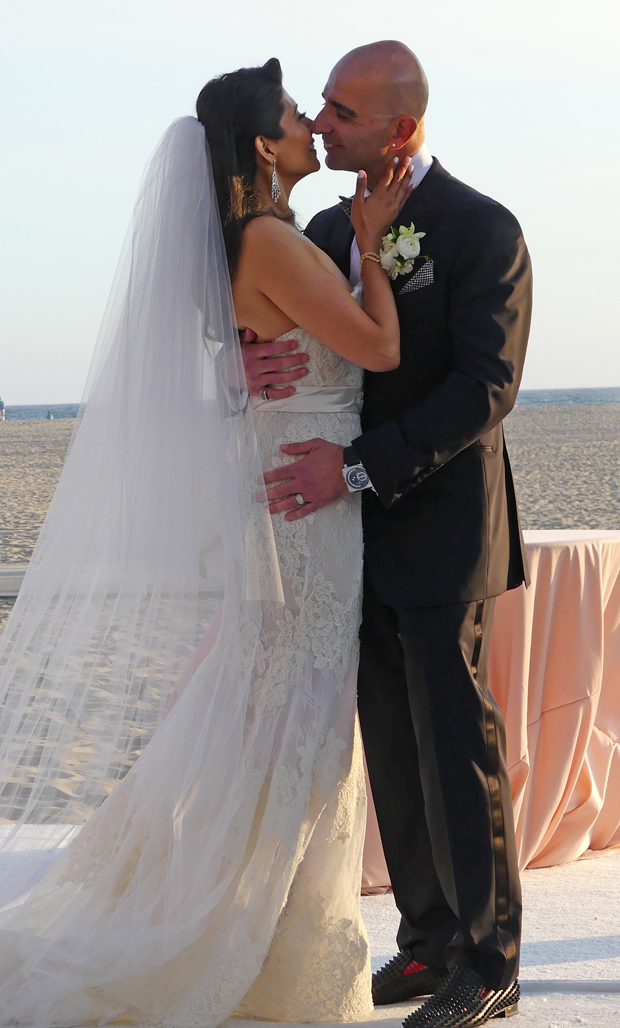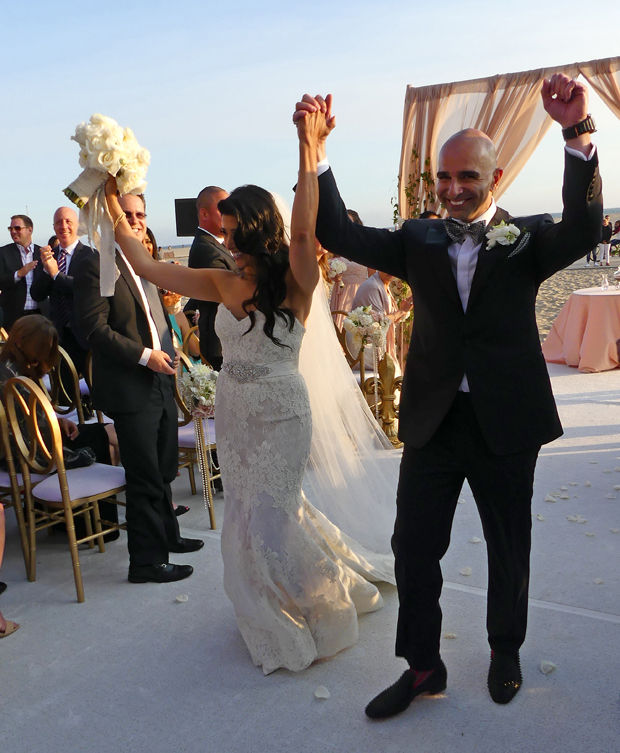 Above: The happy couple leaves the beach as Mr. & Mrs. Ammar Kubba
Below: At the fabulous reception and party that followed in the Casa Del Mar ballroom, Ammar and Josephine listen to family members and friends tell favorite stories about the newlyweds - stories than often brought a tear (OK, a lot of tears, to Ammar's eyes).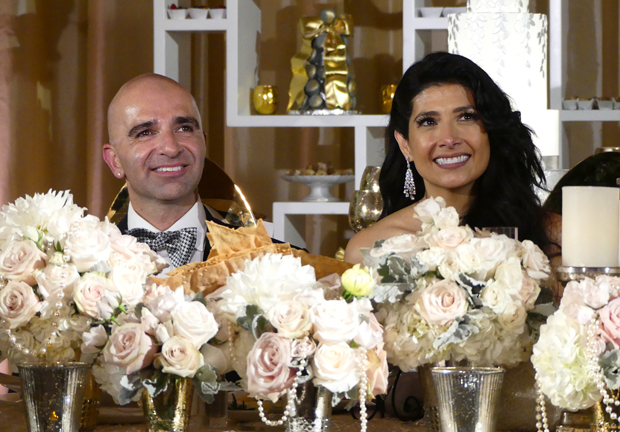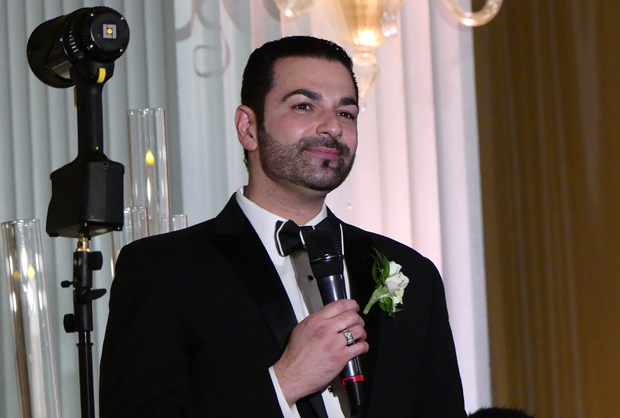 Ammar's brother Omar (above), his mother and his father were among those who told touching and often emotional stories about how Ammar positively influenced their lives.
Below: A delicious three-course dinner followed, then it was time to party! In one of many highlights of the evening Josephine and Ammar went flying high above the crowd in this chair dance.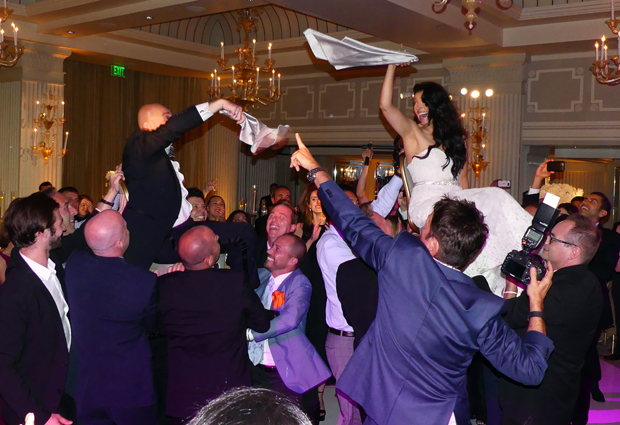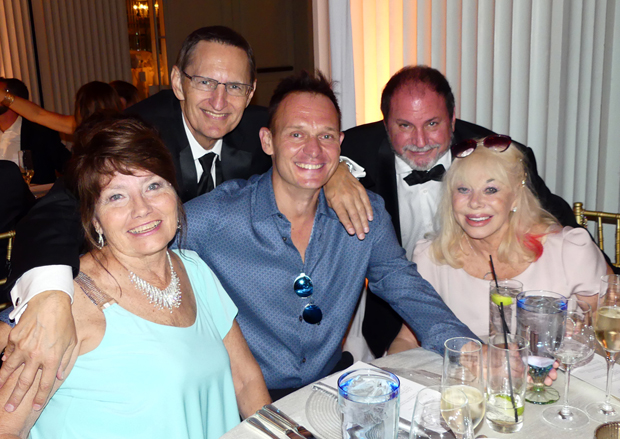 There were three tables full of Ammar's domain industry friends - faces almost all of you will recognize. Our tablemates were (above left to right) Diana Jackson, Ron Jackson, Frank Schilling, Michael Berkens and Judi Berkens and (below left to right) Tessa Holcomb, Gregg McNair and Vern Jurovich. Along with our friends at the adjoining tables it was like being at a domain family reunion!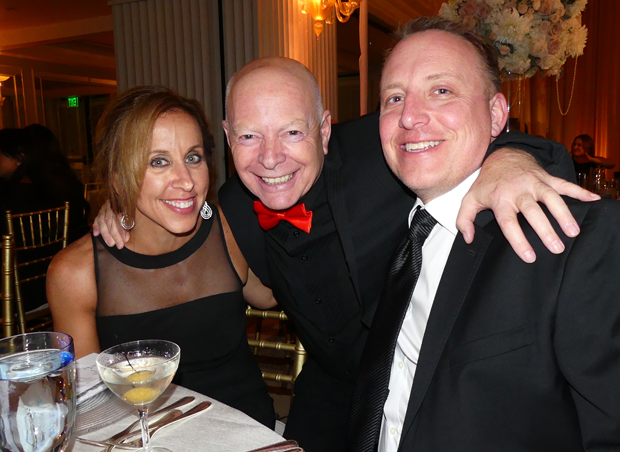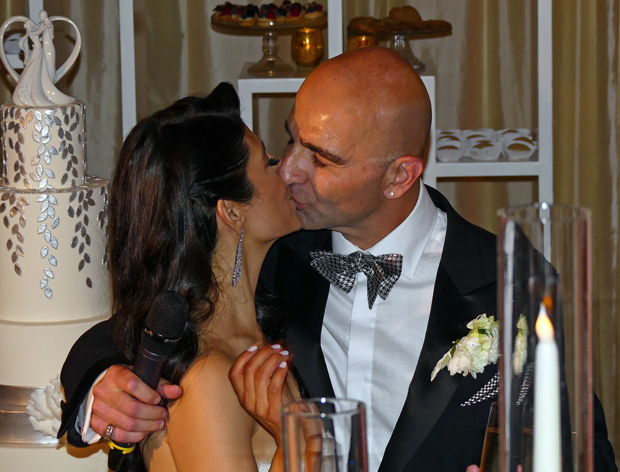 Above: Before the party ended around 1AM Sunday morning Josephine and Ammar
underscored what it was all about by sealing it with a kiss.
Below: The day after! With some friends and family still in town the morning after their big day, Josephine and Ammar welcomed them to a Sunday brunch at the Casa Del Mar - a perfect way for the perfect match to conclude a magical weekend in Santa Monica!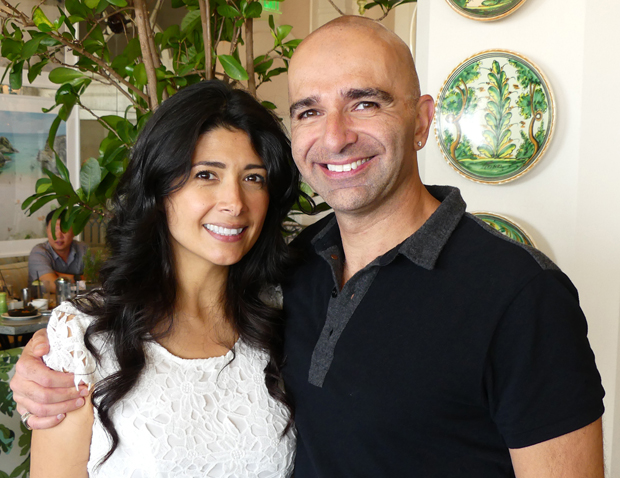 The Domain Industry's Biggest Conference - NamesCon - Has Been Sold to World Hosting Days
Some big news broke this morning when World Hosting Days (WHD), a giant in the global hosting conference business, announced they have acquired the world's biggest domain conference, NamesCon, for an undisclosed price. The news came in a low key video featuring WHD General Manager Soeren von Varchmin that was posted on You Tube (you can play that video below).

As of this writing there has been no comment on the sale from NamesCon Co-Founders Richard Lau and Jothan Frakes who launched the show in 2014. It has been held every January since then, with increasing attendance each year, at the Tropicana Hotel in Las Vegas where it will return for a fourth run January 22-25, 2017 (this time under WHD ownership).

A scene from the first business session at the first NamesCon conference in January 2014

World Hosting Days draws thousands of attendees to its biggest event - WHD Global (next scheduled for Rust, Germany March 27-31, 2017) and also stages popular regional events around the world including China, Singapore, India, Moscow and the USA, a market they just entered two years ago with an event in Pennsylvania.

WHD GM Soeren von Varchmin walks on stage to begin the first WHD.USA conference
at the Seven Springs Mountain Resort in western Pennsylvania May 19, 2015.

The second WHD.USA event was held in Phoenix, Arizona in May 2016 and the American show will return in September 2017 when it is scheduled to run in Las Vegas - the same base as their newly acquired NamesCon conference. Domains, websites and hosting all go hand in hand, making the marriage of WHD and NamesCon a natural fit, so the deal is not surprising from a business standpoint. However, Richard Lau, who was profiled in our December 2015 Cover Story, told us he started NamesCon primarily to raise money for the Water School and the show has been very successful on that front, raising hundreds of thousands of dollars for the life saving charitable organization. At this early stage there has been no word on whether WHD will continue the NamesCon/Water School connection.
THE Domain Conference is Drawing Near - Here's the Latest on What Will be Happening at the Big Event in Fort Lauderdale
The 2016 edition of THE Domain Conference (TDC) is coming up fast now, The big show at the Hyatt Regency Pier 66 Hotel in Fort Lauderdale, Florida, that debuted last year at the same waterfront venue, is barely 3 weeks away. It will start with two days of Cabana Networking at a private pool reserved for attendees Saturday & Sunday, September 10 & 11, 2016.

TDC Co-Founder Barbara Neu (who was just profiled in our latest Cover Story that will tell you a lot about the "matchmaker made in heaven" that you never knew) will likely be one of the first people you will see at the cabanas. Barbara told us, "The Cabana Networking is a success because there is no schedule. You are free to come and go any time you want. We create a gathering point for attendees to meet up with old acquaintances and make new ones - and if there is anyone that you want to meet, just ask me and I will personally make sure you get introduced!"

THE Domain Conference Co-Founders (left to right):
Howard Neu, Barbara Neu and Ray Dillman Neu.

As I told you last month, a new event, Startup Saturday, will be going on inside simultaneously on September 10. TDC is bringing in expert speakers Morgan Linton (FashionMetric.com) and Brett Napoli (AmbitionInsight.com) to lead that day for potential startup and small business owners who seek advice that will help them succeed. Most of the attendees will come from the

South Florida business community but TDC guests can sit in on any or all sessions as the conference ticket also covers Startup Saturday.

The conference's Official Welcome Party will cap off the busy opening weekend Sunday night (September 11) in the revolving room atop the Hyatt Pier 66 (Howard, Barbara & Ray are standing inside that room in the photo above and you get a nice view of the spectacular surrounding area in the shot below). Barbara said, "An added attraction this year will be the Internet Commerce Association celebrating their 10th Anniversary with a Cocktail Party at our Conference. Igloo.com will also host the traditional Gregg McNair Suite Party where everyone is welcome, giving them an opportunity to relax and network that has always been a highlight of our conferences."

The view from the top of the Hyatt Regency Pier 66 Hotel in Fort Lauderdale where
THE Domain Conference will hold its Welcome Party to kick off the 2016 show
Sunday night (Sept. 11).

Two full business days will follow Monday & Tuesday (September 12 & 13). Barbara noted, "We serve lunch both of those days so everyone can break bread together and not have to leave. It gives everyone a chance to socialize and sit together and visit with the exhibitors. Also, Bill McClure from Coffee.Club will generously provide his delicious coffee during the day for everyone to enjoy and keep them awake after staying up late hours!"

Barbara added, "We have two great Keynote Speakers - CEO Tobias Flaitz from Sedo.com and VP Lori Anne Wardi from Neustar. We also have a number of speakers who have never spoken to domain audiences before including Stacey King from Amazon, Gerald Levine (who wrote the "bible" of UDRP cases), Jebidiah Burnett (Senior Domain Consultant at Rightside, David Warmuz (President at Trellian.com), Jennifer Gore from ICANN and Dante DeAngelis covering Digital Assets. The annual Domain Industry Awards will also be handed out Tuesday. You can check out the full schedule here)."

Tobias Flaitz (Sedo CEO) and Lori Anne Wardi (Neustar VP Registry Services)
will be Keynote Speakers for the 2016 edition of THE Domain Conference

THE Domain Conference will close with its traditional Farewell Breakfast Wednesday morning, September 14 (back in the popular rooftop room!), the perfect way to wrap up what promises to be another productive and memorable week.

A scene from the Farewell Breakfast at last year's inaugural edition of THE Domain Conference. Seen enjoying the buffet are Sedo's Negar Hajikhani (2nd from left), Negar's sister (far left) Diana Jackson and Zane Emilija (far right).

Registration for THE Domain Conference is still open. You can also book your hotel room at the Hyatt Regency Pier 66 at a show rate of $109 a night for pool view rooms or $129 for tower view rooms (those rates include free internet and no resort fee). We look forward to seeing many of you there!
Escrow.com Expands With Acquisition of Escrow Angel - Company Also Wins a Stevie International Business Award
Escrow.com just got bigger. The company, that has handled over $3 billion worth of transactions (a big chunk of that coming from domain sales), announced today that they have acquired Australian online escrow service Escrow Angel and that company's automotive brand, Protecti.

Escrow.com is itself already owned by an Australian company, Sydney based Freelancer.com who acquired Escrow.com from its ordinal U.S. owner last year.

Escrow Angel was founded by Simon Lenton in 2012 and they also operated under the Protecti brand after licensing their platform to South Africa's biggest non-bank card issuer, Paycorp, in 2014. Lenton said, "It has been a wild ride getting Escrow Angel to where it is today and we are pleased to be acquired by Escrow.com, the world leader in secure online payments."

Escrow.com CEO Matt Barrie (left) and General Manager Jackson Elsegood at the 2016 NamesCon conference in
Las Vegas in January.

Freelancer CEO Matt Barrie said, "We are excited about the acquisition of Escrow Angel, and in the future we plan to offer Australian users a wider suite of escrow services under the Escrow.com brand."

Escrow.com General Manager Jackson Elsegood added, "Escrow.com's 16 years of transaction history and recent growth is testament to the professionalism of our team. Escrow Angel and Protecti enjoy a strong reputation for escrow services in Australia and we are looking forward to further expanding Escrow's services after the acquisition."

Escrow.com's future plans include offering escrow services in Australia in Australian Dollars, subject to the licensing and regulatory approval process that is currently underway.

Escrow.com had some more good news to share today. The company was named the winner of a Bronze Stevie® Award in the Small Company of the Year for Financial Services category. This came in the 13th Annual International Business Awards competition. The awards will be given to their recipients at a gala ceremony in Rome, Italy on October 21, 2016.

All individuals and organizations worldwide – public and private, for-profit and non-profit, large and small - are eligible to submit nominations for the Stevies. Award winners were determined by the average scores of more than 200 executives worldwide who participated in the judging process from May through early August. The 2016 Awards received entries from more than 60 nations and territories.

Jackson Elsegood said, "It is with great pleasure that we receive this award. Ever since we were acquired by Freelancer.com our main goal has been to take the company to the next level, and it is an honor to be recognized for it internationally."

Michael Gallagher, the President and Founder of the Stevie Awards noted, "This year's IBA judges were treated to many remarkable and inspiring stories of achievement. We look forward to sharing many of these stories with people around the world over the coming months, through the Stevie Awards blog and social media channels, with the hope that they will inspire and instruct the next generation of business achievers."

The Bronze Stevie Award
David Castello Update: Bree is Killing It in the UK and He is About to Release His First Novel
It's been awhile since I've updated you on the adventures of David Castello who, as many of you know, returned to his musical roots in 2011 after blazing a trail through the domain industry with his brother Michael (also a veteran musician) via Castello Cities Internet Network.

While Michael continues to run CCIN, David turned his attention to playing drums for Nashville based rock trio bree - a group named after Bree Castello, the band's dynamic singer/songwriter/guitarist who is also David's wife (bassist Maryk McNeely completes the powerful line up). The band has spent much of this year touring the UK where their popularity is surging.

David Castello at work!

bree on stage at L-Fest in Staffordshire, England last month,
one of the major stops on their UK Tour.

While in the UK shooting also began on a new documentary about Bree and the band that is being directed by Gregg Houston for Babysweet Productions. The release date for the full documentary has not been set yet, but David sent me a 3-minute trailer for the production that will give you some great insight into what the band is all about (click the Play button below):

While being part of a hot rock trio would be enough of a creative outlet for most people, David is not most people. He has always had a scholar's interest in World War II history (and is, in fact, an expert on that topic). So, having just gotten back from the band's latest swing through the UK, he decided to use the short break to publish his first novel - The Diary Of An Immortal.

David expects to get the final cover back this week, the last task before publication. The 1920 photo at right is a rough mock up of it that shows an ancient medical school atop Chakpori Hill in Lhasa, Tibet that was destroyed by Chinese artillery in 1959. This location and incident will be a primary setting for the novel's narrative. I'll let you know when it has been released.

This latest news reminds yet again of how many highly creative and talented people we have in (or that have passed through) our field. They certainly help make it a more interesting place to work and play!
City Brand Media Rolls Out New Email Service & Announces Key Additions to Executive Team
City Brand Media (CBM), known for its nationwide network of websites built on (City).com domain names (like Oakland.com and Scottsdale.com), is taking advantage of those assets to introduce a new city-based email platform. The service gives customers an opportunity to acquire an email address tied to their home town like [email protected], an example used in a 60-second video at Scottsdale.com that details how the service works. City Brand Media has over 100 (City).com sites currently active and expects that number to swell to 300 by October 1, so the service will be available in wide array of markets.

CEO & Partner Fred Mercaldo told me the service just started with a soft launch in the Scottsdale market that generated over $7,000 in revenue in the first three days of availability. "We had numerous and expected glitches that have been fixed, and we are now in the process of creating 25 additional custom videos for the launch this month of Oakland.com and two dozen more (City).com brands we manage in the Bay Area," Mercaldo said.

Fred Mercaldo
City Brand Media CEO & Partner

"Our ultimate goal for CBM and our client (City).com owners is to have this platform available on 400 sites. At that level if we sell only 5 email addresses per month per site, this program will generate over $200,000 per month in recurring yearly revenue and we expect to exceed this number," Mercaldo added.

Image from Bigstock.com

CBM's email platform will get a boost from a new alliance with Arizona State University. Mercaldo told us, "Beginning August 18th, five seniors and graduate students at the ASU Cronkite School of Journalism and Mass Communication's PR Lab will have the "City Brand Email" platform as a class project, delivering to us a formal business plan on how to successfully market these custom City-based emails in every market, large and small."

"Recently, this PR Lab developed complete marketing strategies for our government's Trade.gov website, and last semester completed comprehensive marketing analysis for Avnet and InfusionSoft. These students are cutting edge and extremely advanced individuals who frankly, I am more impressed with than numerous existing digital agencies already operating in the marketplace."

In addition the new service news, CBM announced the addition of five key members to their Executive Team - President Jason Banks, Chief Financial Officer Chris Buls, Chief Growth Officer Andrew Bart, Advisory Board member Ammar Kubba and Syndicated Featured Columnist Don Henninger.

CBM's addition of Henniger underscores the company's commitment to producing rich content for the network that will generate and continually grow traffic to CBM Sites. Henniger is a former Managing Editor of the Arizona Republic and Publisher/CEO of the Phoenix Business Journal. At CBM he will be writing a weekly column for called "The Human Side Of Business."

Mercaldo noted "new President Jason Banks has an incredible track record in our very space, with successful monetization and network building of city portals for over 15 years. Jason

Don Henninger
CBM Syndicated Featured Columnist

also brings with him a proven team of outsourcing resources in the social media, programming, content, and platform building arenas. Jason is full time with CBM as of this week, and we are very excited to have him lead our team."

Ammar Kubba
CBM Advisory Board Member

Of course, the name of new Advisory Board member Ammar Kubba (Founder & CEO of afterTHOUGHT) is already well known to everyone in the domain space. Mercado said, "Ammar is the owner of the email "@identity" program that CBM is in the process of purchasing and installing on what will be 400 managed sites. Ammar has retained a 10% interest in the platform. He has been a close friend of mine for many years, and his track record speaks for itself."

While CBM already has a big footprint in the U.S. their growth will not be contained by America's borders. Mercaldo said, "Our international portfolio is incredible. We expect all international sites, depending upon size, to be launched in early 2017. However, we are presently not seeking or signing, except in special cases, any new (City).com brands until we address all of our existing brands under contract, and the content, SEO and monetization needs of them all."
Photos & Highlights from the 2016 DomainX Conference in New Delhi, India
India's 3rd annual DomainX conference concluded Sunday (August 7) at Shangri-La's Eros Hotel in New Delhi. We have photos and highlights from the two-day event in the nation's capital for you but before we get to that let's touch on a new event that DomainX organizers Manmeet Pal Singh and Gaurav Kohli staged the day before the conference began.

That was the inaugural BlogX conference (co-founded Manmeet and Manoj Dhanda from MicroHost.com) that was held on Friday (August 5), also in New Delhi but at a different venue - the JW Marriott Aerocity Hotel. BlogX was originally slated to be held at the same hotel as DomainX but a larger signup than expected forced a move to the larger venue. BlogX gave bloggers and content managers their own place to connect and learn while networking with leaders in the blogging community.

Above: DomainX organizers Manmeet Pal Singh and Gaurav Kohli on stage at their inaugural BlogX event that preceded DomainX on Friday (August 5, 2016) at the JW Marriott Aerocity Hotel in New Delhi, India.

Below: A section of the crowd at BlogX. The event was moved from Shangri-Las's Eros Hotel to the Marriott due to more people registering than had originally been expected. (Photos from Gaurav Jain).

Above: The 2016 DomainX conference got underway bright and early Saturday morning (August 6) but in a major change of pace it started on the road. Organizers decided to give attendees a unique networking opportunity by kicking off the show with a day-long visit to the world famous Taj Mahal in Agra.

Below: The historic Red Fort adjacent to the Taj Mahal was also a popular stop on DomainX's opening day road trip. (Photos from the Domain Name Owners Association of India).

Above: After spending the day at the Taj Mahal Saturday, DomainX attendees regrouped for dinner and an evening of networking back at Shangri-La's Eros Hotel Saturday night. (Photo from the Domain Name Owners Association of India).

Below: Among those who got together to compare notes and share advice were (left to right) Anshul Goyal (iWeb.biz), Jitendra Vaswani (BloggersIdeas.com) and Gaurav Jain (ManthanMedia Group, Indore). (Photo from Gaurav Jain).

Above: On Sunday morning (August 7) DomainX's formal business program got underway with an opening address from Chief Guest Samiran Gupta, the Head of India for ICANN. Mr. Gupta spoke about how Domain Names are at the Forefront of Innovation in India. (Photo from Manmeet Pal Singh)

Below: Next up Jon Yau delivered a keynote address on the Evolution of StockPhoto.com, sharing his journey from buying StockPhoto.com for $250,000 and using it as the foundation for a very successful ecommerce business. (Photo from Gaurav Jain).

Above: The morning session continued with a presentation from Mr. Pavan Duggal (Advocate, Supreme Court of India) that helped give attendees a better understanding of the impact of Indian cyberlaws on the business of domain name investing.

Below: Sedo's Global Chief Sales Officer Dima Beitzke was next on stage, providing his insight into the Premium Domain Name market. Dima and his Sedo colleague, Sophie Pieck (at far right), the Country Manager for France, Italy and India, also spent a lot of time answering one on one questions from attendees at the Sedo booth in the Exhibit Hall. (Photos from the Domain Name Owners Association of India).

Above: After a busy morning consuming nutritious domain information, it was time for attendees to refuel their bodies too during a sumptuous buffet lunch. (Photo from the Domain Name Owners Association of India).

Below: The afternoon session began with Donuts Inc. Director of Business Development Anand Vora on stage tackling the question Is India a Domain Investors Market? Karn Jajoo (Radix Registry Manager of Business Development and Marketing) and Nivu Hussain (.CLUB Marketing Manger) added their expertise to this conversation. (Photo from Manmeet Pal Singh)

Above: Next up was a special panel that gave attendees with legal questions a chance to Ask the Domain Name Legal Experts. The Panelists (left to right) were Ankur Raheja (CyLaw.in), Zak Muscovitch (Muscovitch Law Firm at DNAttorney.com), Rodney D. Ryder (Partner with Scriboard) and Gurpreet Singh Monga (Managing Attorney & Internet Law Head at Amarjit & Associates).

Below: In the next session the topic turned to Investment Opportunities in the .IN Extension with Paul Singh (seated, from Price.in) and Shiva Kandula (Our.in) offering advice on this subject. (Photos from Manmeet Pal Singh)

Above: Next on the stage was Krishna Yogi, the CEO of Mapta.gs, who conducted a Q&A session on Mapta.gs, a hot new startup in the smart address space

Below: The final business session of the day and DomainX 2016 was a panel discussion titled Will This Sell? in which four industry experts shared what has worked for them that might help attendees get better at making end-user sales. Panelists (left to right) were: Manmeet Pal Singh, Doron Vermaat (Co-Founder, Efty.com), Deepak Ramani and Pankaj Vijayvargiya (CEO, Bitlevel International).

Above: With business out of the way, the last thing on the agenda was Domainx's annual Awards & Recognition ceremony, recognizing the talent in India's domain industry and introducing those who had been elected to the Domain Name Owners Association of India board, the trade association that helps stage DomainX. Manmeet Pal Singh (at far left) was happy to announce his show partner, Gaurav Kholi, was elected President of the board. Also named to the board (left to right after Gaurav), were Sunny Bajaj (Vice President), Aishwin Vikhona (General Secretary), Chetan Varma (Secretary), Gaurav Jain (Treasurer, with Sahhil Beri who is not pictured) and Vinay Murarka. (Photo from Gaurav Jain).

Below: Just before everyone went their separate ways this group got one more photo together before saying their final goodbyes. (Photo from Abhishek Jain of RustyBlogger.com).

Above: One final important note on DomainX 2016. In addition to giving attendees a chance to make new connections, reinforce existing relationships and expand their knowledge, the show caught the attention of national TV station Loksabha Television, who invited six of the experts in town for DomainX to sit down for a televised interview that aired live at 10PM Sunday night. Those who took part in the telecast were (left to right), Sophie Pieck (Sedo), Dima Beitzke (Sedo), Pankaj Vijayvargiya (CEO, Bitlevel International), Paul Singh (Price.in), Anchor & Host Anurag Punetha, Asihwin Vikhona (Aishwin.com) and Gaurav Kohli (DomainX).

Below: Bitlevel International CEO Pankaj Vijayvargiya seen commenting about the domain name industry on Indian national TV station Loksabha TV in a live broadcast Sunday night (August 7 2016). In a country with the vast potential that India has, this kind of exposure for what is still a very new industry there is priceless. Congrats to everyone involved in a productive weekend that saw domain names celebrated in the national capital of one of the world's great nations. (Photos from Pankaj Vijayvargiya).
SnapNames Boosts Resources to Give .TV & .CC Fans a Better Chance to Catch Dropping Domains
SnapNames.com, a pioneer in the domain drop catching business, has some good news for fans of .TV and .CC domains. Following its recent integration with with fellow drop catching giant NameJet for deleting inventory, SnapNames has decided to devote more of their resources to catching expired .TV and .CC domains.

A company press released noted, "Although the fulfillment of backorders placed on SnapNames for .CC and .TV domains has always been possible, the rates of acquisition were low compared to other extensions. Now SnapNames has dedicated a substantial amount of resources to these extensions, and one can expect a fulfillment rate on par with the rest of the deleting inventory."

As industry veterans know, the .CC domain extension is technically the ccTLD for the Cocos Islands (a chain located off the coast of Australia), but it was re-purposed under a licensing agreement to serve as a globally available TLD that anyone can register. As a short extension with memorable repeating characters it has gained favor among some registrants and investors, especially those in China.

.TV domains were also originally launched as a ccTLD serving the Pacific islands of Tuvalu but the TLD quickly caught the attention of investors around the globe for its obvious connection to anything related to television. Like .CC it is also a globally available TLD that anyone can own. Websites with video content have naturally led the way in .TV adoption with popular streaming services like MLB.tv among the most prominent examples.

SnapNames, with its patented drop-catching technology, has been acquiring names on the Drop since 2001. Recently, NameJet and SnapNames joined forces and SnapNames started powering the drop on NameJet, giving customers a better chance at acquiring backordered deleting names, and being able to use their platform of choice with an integrated auction platform.
Photos & Highlights from the 1st Domain Startup Summit in Santa Monica, California
The inaugural edition of the Domain Startup Summit conference was held last Saturday (July 30, 2016) at the Cross Campus in Santa Monica, California. The event was created by domain industry

veterans Jason Thompson and Dwayne Walker but it was aimed to unite a much broader audience including the startup, domain branding and investment industries.

Above: Domain Startup Summit Founders Dwayne Walker (far left) and Jason Thompson (far right) with three of their judges for the Pitchfest session - a show highlight that gave startup owners a chance to pitch their business ideas to the investment community. The judges are (left to right after Dwayne) Morgan Linton, Carmen Palafox and Braden Pollock.

Below: After Walker and Thompson gave their welcoming comments, the conference got underway Saturday morning (July 30, 2016) with a Keynote Address - titled Dropping Vwls Is So 2004: How .CLUB And Other New Domains Are A Smarter Branding Bet For Startups & Entrepreneurs Worldwide - from the .CLUB Registry's Chief Marketing Officer Jeff Sass.

Above: a cross section of the audience sitting in on the Domain Startup Summit's full day of business sessions Saturday.

Below: The day's first panel discussion - Growth Hacking & Growth Engines for Startups, Tech Companies and Brands - featured (left to right) moderator Dwayne Walker, Edwin Choi (VP, Mobovida), Justin Wu (Growth.ly) and Max Pelzner (ThinkBox.io).

Above: The morning session continued with an Angel Investors Fireside Chat: Tips from Angel Investors featuring (left to right): moderator Michael Cyger and Angel Investors Braden Pollock, Morgan Linton and Dwayne Walker.

Below: David Ehrenberg, CEO at Early Growth Financial Services, closed out the morning session with a well received Keynote Address on Startup Fundraising 101.

Above: After a lunch break and the 1pm Pitchfest session I told you about at the top of this report, the topic turned to Startup Branding: How Startups Are Using New Domain Brands in a panel discussion featuring (left to right) moderator Braden Pollock, Andee Hill (Donus Inc.), Muhammad Kausar Saleem (GDN Registry FZ), Lucas Webster (Shaving.club & The Grooming Network) and Page Howe (.LA Domain Names).

Below: Another highlight of the afternoon was this Fireside Chat: Startup Life - A Real Life Journey of Building and Selling Your Startup featuring moderator Dwayne Walker and Bill Karamouzis (MathGames.com and TeachMe.com).

Above: The Domain Startup Summit's 3rd Keynote Address of the day featured .XYZ Registry Founder Daniel Negari who was interviewed by Braden Pollock. Daniel talked about How Startups Are Branding & Launching New Businesses.

Below: Audience members like 101Domain's Joe Alagna (standing) had an opportunity to ask questions throughout the day including the final session covering Successful Startup MVPs: Tips On Building Successful Startup MVPs that featured Austin Truong (Linebreak.io), Carlos Orellana (IDEAS, Inc.), David Barlev (Goji Labs), Ron Peled (Educents).

For Walker and Thompson the maiden voyage of DomainStartup Summit couldn't have gone much better. In a note the day after the show Thompson told me, "The energy was amazing. I'm still on Cloud 9!"
Sedo Gives Its Website a Major Makeover - Redesign Brings Better Mobility & Accessibility
If you visited popular domain marketplace and monetization provider Sedo.com today, you may have done a double take. The company relaunched its website this morning with a new look and feel on their home page and some key changes under the hood as well.

A company press release about the makeover said the redesigned interface features "improved accessibility for clients, customers and end users of the widely successful marketplace and its suite of domain support services. The mobile friendly web design and optimized usability as well as the improved Chinese language website mark the starting point of a broader, more diverse product portfolio."

A screenshot from the top of Sedo's new home page

The release also said, "Beginning with Sedo's end user interface, the whole website's infrastructure has begun to be tackled and revamped with further adjustments to continue. Our multi-lingual approach was also at the forefront with websites in additional languages coming soon such as Russian, Dutch, Italian and more.

Sedo CEO Tobias Flaitz said, "We're very proud of the newly designed website going live. This crucial step upholds Sedo as THE most trusted and leading business partner for global premium domain trading. With this responsive design now available on all devices, the opportunities for success are increased and supported by value adding services and maximizing domain monetization."

Sedo never misses an opportunity to promote the inherent value of domain names and they did so again on this occasion, noting their secondary market allows "businesses and individuals to secure the best internet addresses so they can be found faster online, improve SEO results and the likelihood of new business growth and development. A quality domain name also differentiates companies, startups and small businesses from their competition who may not be utilizing the strongest name or online strategy."

The company is confident the changes

Sedo CEO Tobias Flaitz

undergone in this relaunch will "broaden successful results from the search function, further increasing its ability to compete industry-wide while still maintaining Sedo's status as a neutral service provider and sales partner, a core tenet of our corporate presence."
THE Domain Conference Opens Voting for Their 2016 Domain Industry Awards
When THE Domain Conference (TDC) returns to Fort Lauderdale, Florida next month show organizers will again hand out their annual Domain Industry Awards. Winners in nine categories are selected in industry-wide voting and anyone can now cast one ballot. The final ballot, released this morning, includes all of those nominated in an open call for nominations last week.

The rules specify that "All ballots must contain the full name of the person voting, either in the email address of the sender or on the ballot. Any ballot submitted without the full name of the person voting, will not be counted. No ballot box stuffing will be permitted."

Voting will close at close at 9 A.M. U.S. Eastern Daylight Time Friday (August 5). All votes must be sent to [email protected]

(Armor Payments is an escrow company that has been enlisted to serve as an independent 3rd party vote counter). The winners of each of the Awards will be announced at THE Domain Conference Keynote and Awards Luncheon on Tuesday, September 13th.

Here is the complete ballot that you can copy and email to [email protected]. Select ONE in each category:

DEVELOPER OF THE YEAR

__ Michael Cyger

__ Theo Develegas

__ Alan Dunn

__ Fred Mercaldo

__ Brett Napoli

__ Lionel Petitiaux (Efty)

__ Elliot Silver (DECLINED by Elliot)

__ Michael Sumner

__ George Verdugo

BLOGGER OF THE YEAR

__ Andrew Allemann

__ Mike Berkens

__ Michael Cyger

__ Theo Develegas
__ Raymond Hackney

__ Ron Jackson

__ Elliot Silver

__ Konstantinos Zournas
REGISTRY OF THE YEAR

__ .Club Registry

__ Donuts.co

__ GMO Registry

__ GDN Registry

__ Neustar
__ Radix

__ Rightside

__ Starting Dot

__ Uniregistry

__ Verisign

REGISTRAR OF THE YEAR

__ 101 Domain

__ eNom

__ GoDaddy
__ Hexonet

__ Uniregistry

BROKER OF THE YEAR

__ James Booth

__ Mark Daniel

__ Alan Dunn

__ Dave Evanson

__ Tracy Fogerty

__ Giuseppe Graziano

__ Tessa Holcomb

__ George Hong

__ Brian Kleiner

__ Andrew Rosener

__ Frank Tillmans

__ Amanda Waltz

DOMAIN INVESTOR

OF THE YEAR
__ Mike Berkens

__ Nat Cohen

__ Shane Cultra

__ Ilze Kaulins-Paskacz

__ Braden Pollock

__ Andrew Rosener
__ Rick Schwartz

__ Elliot Silver

__ Adam Strong

__ George Verdugo

__ Chad Wright

DOMAIN INDUSTRY COMPANY

OF THE YEAR
__ AdMarketplace

__ Alphabet

__ Above.com

__ Allegravita

__ .Club

__ DNJournal

__ Efty

__ GoDaddy

__ Guta.com

__ Igloo

__ Intelium

__ Name.com

__ NamePros

__ NamesCon

__ ParkLogic

__ ProtectedParking.com

__ RookMedia

__ Sedo


GOODWILL AMBASSADOR AWARD

__ Jodi Chamberlain

__ Michael Cyger

__ Alan Dunn

__ Jothan Frakes

__ Ken Hanson

__ Ron Jackson

__ Morgan Linton

__ Eric Lyon

__ Jeff Sass

__ Frank Schilling

__ Elliot Silver

__ Ali Zandi

DOMAIN INDUSTRY HALL OF FAME

__ Thunayan Al-Ghanim

__ Andrew Allemann

__ Jeff Bennett

__ Garry Chernoff

__ Nat Cohen

__ Alan Dunn

__ Dave Evanson

__ Jothan Frakes

__ Rob Grant
__ Kevin Ham

__ Tessa Holcomb

__ George Hong

__ Ilze Kaulins-Plaskacz

__ Morgan Linton

__ Adam Strong

__ Dhananjeyan Thangavelu

__ David Warmuz
Uniregistry Had 22 Previously Unreported 6-Figure Domain Sales in 2015 - Here is the List
If you read our weekly domain sales reports you know that over the past three weeks we charted hundreds of previously unreported Uniregistry domain sales from the first half of this year. That data came from their VP of Sales (and one of the most successful domain brokers in industry history) Jeff Gabriel, who sent us a file containing all of the company's top sales dating back to February 2015 (the last time the company released sales data). There were thousands of sales in the file totaling approximately $42 million.

We wanted to get the current year sales out first and due to the vast amount of data we broke it into three groups, charting the January-February sales in our July 14 column, March-April sales the next week and finally May-June sales last week.

Now that we have Uniregistry's most recent sales on the record, I turned to their huge list of previously unreported 2015 sales. We don't include sales from previous years in our weekly sales reports, but if any that come in are large enough we add them to the appropriate year's Top 100 Sales Chart in our Domain Sales Archive. 22 of Uniregistry's 2015 sales, all .coms and all in six figures, qualified for our 2015 Top 100 Chart and have now been added to that list.

Image from Bigstock.com

One of those, RP.com at $575,000, rank among the 10 biggest sales of 2015. In the table below you can see all of the Uniregistry sales that were added to the chart, along with where they rank on the 2015 Top 100:

Domain Name

Price

Date Sold

2015 Top 100 Ranking

RP.com
$575,000

2015-05-01

#10 (tie)
Yinyue.com
$240,000

2015-06-02

#28
FinancialNews.com
$200,000

2015-02-17

#32 (tie)
Say.com (co-brokered with MediaOptions.com)
$200,000

2015-04-22

#32 (tie)
Fenghuang.com
$195,000

2015-05-24

#37
Recette.com
$170,000

2015-03-02

#45
SportsWorld.com
$150,000

2015-03-06

#49 (tie)
Discuss.com
$150,000

2015-06-04

#49 (tie)
DrugAddiction.com
$150,000

2015-11-12

#49 (tie)
5432.com
$148,000

2015-10-15

#60
Enersis.com
$145,237

2015-08-18

#61
U8.com
$130,000

2015-06-25

#70 (tie)
Tonix.com
$120,000

2015-06-11

#81 (tie)
Ocio.com
$120,000

2015-08-25

#81 (tie)
CDKey.com
$110,000

2015-07-14

#88 (tie)
SOP.com
$110,000

2015-09-17

#88 (tie)
Lokai.com
$105,000

2015-10-09

#93 (tie)
NewsAsia.com
$105,000

2015-10-16

#93 (tie)
Generosity.com
$100,000

2015-09-11

#99 (tie)
MetaTrader.com
$100,000

2015-10-22

#99 (tie)
RTV.com
$100,000

2015-12-22

#99 (tie)
CIP.com (co-brokered with MediaOptions.com)
$100,000

2015-12-28

#99 (tie)

Uniregistry had hundreds of other notable 2015 sales that helped paint a much clearer picture of activity in the aftermarket last year, so we also prepared a special document (in Excel format) that includes all of the 2015 sales they reported (over 2,400 in all, including ccTLDs and non .com gTLDs).

This treasure trove of data from Uniregistry is immensely helpful to domain investors who study previous sales to get a better understanding of market trends and the prices specific kinds of domains sell for. We are very appreciative of their willingness to share their results, information that can help all of us become smarter, more successful domain investors.
---
If you've been out of the loop lately, catch up in the Lowdown Archive!
---
We need your help to keep giving domainers The Lowdown, so please email

[email protected]

with any interesting information you might have. If possible, include the source of your information so we can check it out (for example a URL if you read it in a forum or on a site elsewhere).
---
Home Domain Sales YTD Sales Charts Latest News The Lowdown Articles
Legal Matters Dear Domey Letters to Editor Resources Classified Ads Archive About Us