This edition of Roundtable had it all and I could have experienced even more if I could have gotten into town a day earlier. As it was, having just returned from Amsterdam, I was tied up writing our review of the T.R.A.F.F.I.C. ccTLDs conference and barely finished it in time to reach Washington for the opening cocktail party Sunday evening (June 14). Had I gotten there the day before I could have accepted an invitation from Michael and David Castello to a pre-show dinner (with some great guests) that they hosted Saturday night at the Central Michel Richard restaurant.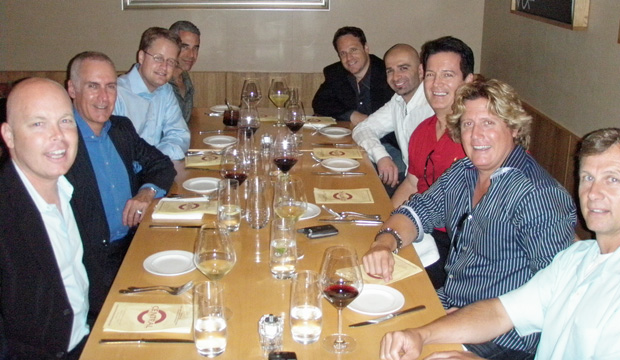 Patrick Carleton snapped this photo of dinner mates (clockwise from left) Rick Waters,
Phil Corwin, Andrew Allemann, Michael Mann, Brian Taff, Ammar Kubba, David Castello, Michael Castello and Steve DelBianco at Central Michel Richard in
Washington D.C. Saturday night (June 13).
If I could have gotten to Washington even a few hours earlier, I could have made it to the big pre-show party that BuyDomains co-founder Michael Mann held at his Bethesda, Maryland home Sunday afternoon.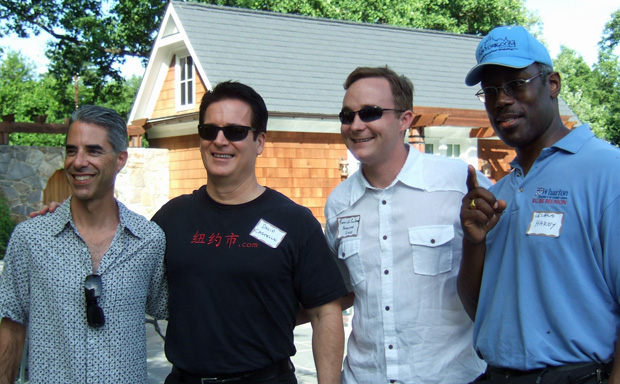 Above: Michael Mann (left) with guests David Castello (CCIN.com), Patrick Carleton
(Associated Cities) and Leland Hardy (NewYork.com) at a party Mann
hosted at his suburban Washington home Sunday afternoon (June 14)
Below: Guests begin to gather around the pool for Mann's house party.
(this photo courtesy of Richard Meyer)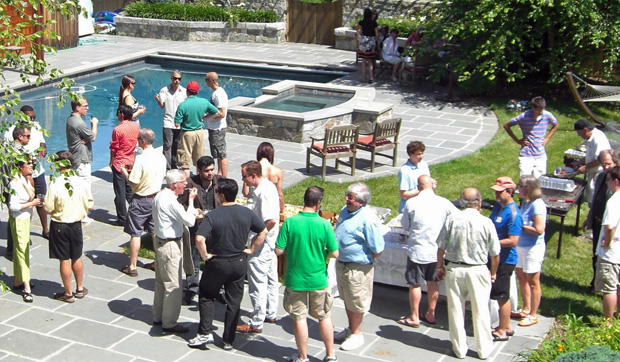 At almost every conference there are private side events like these; parties, company sponsored dinners, local excursions, etc. that add a great deal to the already attractive official agenda mapped out by conference organizers. Though I missed two special events it quickly became apparent that Thought Convergence's newly remodeled Roundtable conference was going to be a crowd pleaser entirely on its own merits.
At the welcoming cocktail party attendees found the open bars paired with a spectacular dinner buffet. I would later learn that the chef at the Washington Grand Hyatt had won an award as the top chef in Hyatt's entire American chain. This night was devoted to getting to know each other better and in addition to all of the old friends, there were many new faces. Roundtable has always drawn a very diverse crowd, and by bringing a major conference to Washington for the first time they attracted people from an exceptionally broad range of vocations.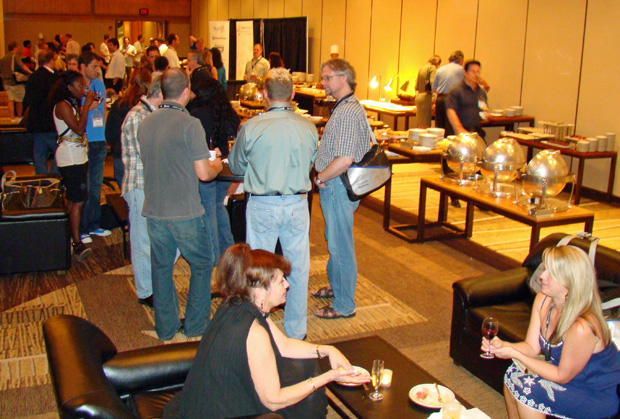 Above: Scene from the opening night cocktail party at Domain Roundtable 2009
Below: (Left to right) Lisa Botzer, Diana Jackson, Divyank Turakhia and Toby Hardy.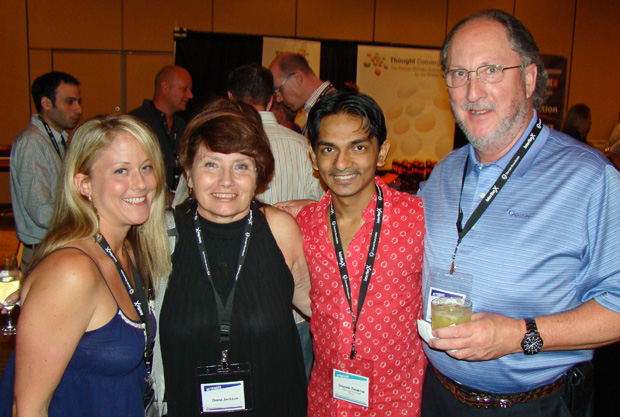 The first full day of business got underway Monday morning (June 15) when Thought Convergence CEO Kevin Vo and Chief Strategy Officer Ammar Kubba welcomed registrants to Washington.

Thought Convergence CEO Kevin Vo (left) and CSO Ammar Kubba welcome attendees.
A little before 9:30am it was time for the first of only five seminars that would be held during Roundtable. Over the years some conference sessions have started feeling like "filler," rehashing topics that registrants have heard too many times before. That has caused some attendees to bypass them and look for more productive ways to spend their time. Roundtable organizers obviously took note of that and pared their seminar schedule down to five strong entries, all featuring well versed panelists (including some major names who have never appeared on a conference panel before) who covered new ground that held people's interest.
The first session, focusing on Evolving Market & Technology Trends, brought Andrew Allemann (DomainNameWire.com), Simonetta Batteiger (Sedo.com), Hal Bailey (Google.com) and Nico Zeifang (Zeifang.com) to the dais with Thought Convergence VP of Marketing Jamal Haque serving as moderator.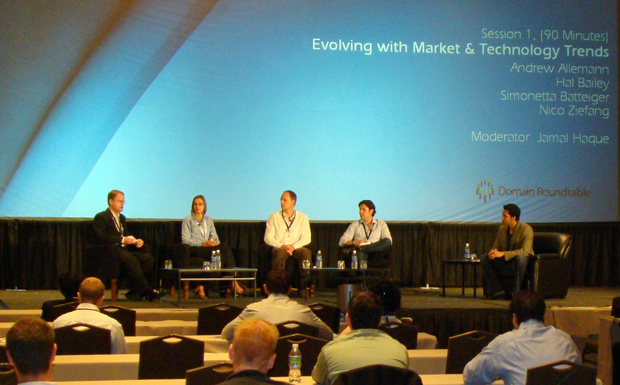 Scene from the opening session at Roundtable Monday morning (June 15)
The panelists gave their thoughts on areas where major growth is expected including social media, mobile and IDNs as well as how things like browser technology changes might affect domain names. Zeifang said IDNs are already seeing widespread use in his country, Germany, and that they would get bigger, eventually becoming the dominant choice in nations that want to use their own character sets on the Internet.
Today, due to the precipitous decline in parking revenue over the past year, a major trend is domain owners looking for new ways to monetize their assets. Many consider the standard parking page to be passe now, however Google's Bailey said he wouldn't write them off just yet.

Bailey told the story of how a friend who wanted to go to Spain told him about how excited she was to find a great website about the country. She even used it to book her hotel room. When Bailey checked out the "site" he was surprised to see it was a parking page with links his friend had used to find the services she was looking for.

Some think social media sites like Facebook and Twitter could replace

Hal Bailey (Google.com)

domains as the preferred platform for communicating with others on the Internet. Batteiger doesn't buy that though. She pointed out that when you write content on those sites you are not the one who owns it. If you want control over what you create and more options in how it is presented, your own domain and site is the way to go.
The next session on Unique Opportunities to Increase Your Domain's Value had David Castello moderating an all-star panel that included his brother Michael (Castello Cities Internet Network), Michael Mann (Washington VC), Brian Taff (who co-founded BuyDomains with Mann), Jay Chapman (DigiMedia) and Rob Monster (Epik.com). Mann and Monster have attended domain conferences but this is the first time they were coaxed onto the stage to share their extensive expertise. All of these panelists are focused on the world beyond parking with most heavily involved in full scale development.
Rob Monster (Epik.com)

Monster's current focus is on taking domains to the next monetization level through the platform he has in place at Epik.com. The system automatically generates relevant content for domains including photos and even video clips that are pulled in from around the web. In addition to earning revenue from PPC advertising, Monster said the multi-page sites created can be more easily sold, moving capital gains front and center as a way to profit from your domains. Monster said, "we are at the front end of a new Golden Age for domains."

Chapman, the DigiMedia President who works with legendary domainer Scott Day to build out his great generic domain names like Recipes.com, said that he and Day believe the greatest opportunities lie in building great domains into real businesses. Chapman said they are getting ready to launch WebDesign.com with a "great partner" that has them especially excited.

The Castello Brothers follow a similar path. They have built highly profitable sites on geodomains like PalmSprings.com and

Nashville.com and well as on generics like Whisky.com and DayCare.com, a site that has attracted 15,000 members. They have also begun exploring partnerships to accelerate the development process on their best domains.
Taff, whose forte has always been deal making, agreed that there are some great opportunities in partnerships but he cautioned that keeping it simple should be your manta. "Integrating people and technology is never a simple thing, Taff said.

Acknowledging that many domainers are not equipped to be great developers, Mann said that the best domains demand the best managers so his focus today is bringing those two together to create powerful online businesses.

After the lunch break, Jonathan Zuck, the President of the Association for Competitive Technology, delivered a keynote address titled Policy Schmolicy: Whose Internet Is It Anyway? Zuck tried to convince attendees that they had to get involved in the legal and policymaking process, otherwise critical decisions affecting their futures would be made by people who have little knowledge of understanding of what they do.

BuyDomains Co-Founder Brian Taff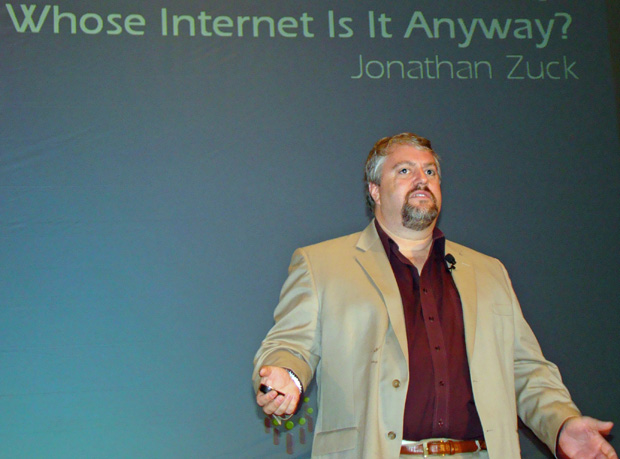 Keynote speaker Jonathan Zuck
As an example of what can happen Zuck noted that car dealers in all 50 states managed to get a law passed that made it illegal for carmakers to sell direct to consumers. He said it was a great law for used car dealers but not so great for the public, noting that bad policy that hurts you will be made if you don't pay attention.
Of course this is exactly what the Internet Commerce Association has been preaching all along, which made Zuck's talk the perfect lead in to the next panel discussion that was moderated by ICA Legal Counsel Phil Corwin. Before that seminar, The Policy Game: High Stakes for Domainers, got underway, Corwin and ICA President Jeremiah Johnston briefed the audience on the issues the organization has been battling and the need for more people to join and support the effort to protect the interests of domain owners.

The Policy Game panel included (left to right above) John Morris (General Counsel at the Center for Democracy & Technology), Jonathon Nevett (Sr. VP of Domain Services at Network Solutions), Mike Zaneis (Interactive Advertising Bureau), Fabricio Vayra (chief trademark attorney for Time Warner), IP Attorney and former ICANN board member Michael Palage and Steve DelBianco (Executive Director, NetChoice), with Phil Corwin moderating.
Michael Palage
Former ICANN Board Member

Palage noted that there has been a lot of "mission creep" at ICANN over the years leading to situations where ICANN has gone beyond the mandate the U.S. Department of Commerce charged it with when the organization was formed. All of the panelists agreed that one of the biggest problems today is that ICANN is basically unaccountable to anyone other than its own board.

DelBianco said ICANN is like a playpen for "suckers". "We all run around trying to provide input then the ICANN board does whatever they want." ICANN wants even more freedom. They hope to end their operating agreement with the U.S. government that expires later this year so they can go off totally on their own. The panelists agree the organization is not ready for that yet.

As ICANN has expanded its own mission its budget has soared form $8 million in 2003 to an estimated $67 million for the upcoming budget year. They already have their eyes set on nine digits as a requirement for their next CEO (replacing Dr. Paul Twomey who is

stepping down) is experience running a $100 million organization. It would appear that their plan to roll out unlimited new gTLDs next year despite widespread community opposition is at least partly fueled by a potential financial windfall that would feed the ICANN growth machine.
There is a lot on uncertainty as to how policy matters will play out from here. Corwin urged attendees to pay careful attention to the policy and legislative issues he covers on the ICA website. Domain owners have to be aware of what ICANN is doing as well as domain related matters that crop up within federal and state governments and courts. "The rules are going to be changing, " Corwin said, "and the new ones could be a real threat to your business."
The business day closed with a series of roundtable discussions in which some of the day's speakers came back to meet with small groups of registrants who wanted the opportunity to ask one on one questions.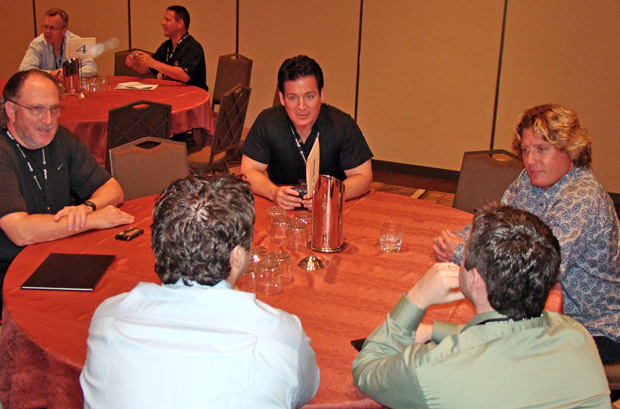 One of the small group roundtable discussions Monday afternoon.
After the roundtable discussions it was time to shift to social gear for another lively cocktail party and splendid buffet.
Scene from the Monday evening cocktail hour (June 15)
Later in the evening NameMedia hosted a private dinner for a dozen guests at Wolfgang Puck's restaurant, The Source, at the Newseum. Diana and I had the pleasure of joining that group for a beautiful night on the open balcony of the restaurant.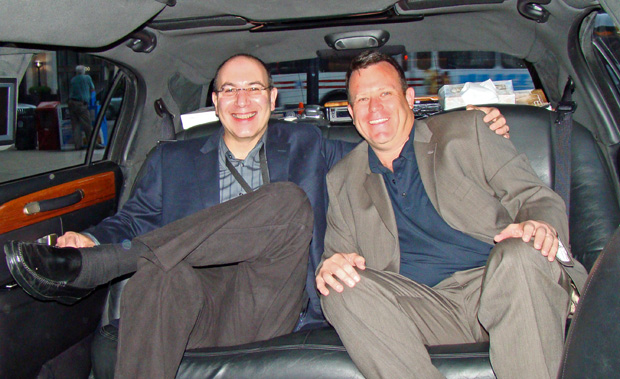 Above: Larry Fischer (DirectNavigation.com) and Brian Carr (Name Media SVP, Direct Search)
enjoying the ride to The Source, Wolfgang Puck's restaurant at the Newseum.
Below:The NameMedia dinner at The Source Monday night (June 15)
(clockwise starting from left): Ron & Diana Jackson (DNJournal.com), Bob Mountain (NameMedia), Jeff Bennett (NameMedia President), Andrew Allemann (DomainNameWire),
Kirsten Frederick (NameMedia), Larry Fischer (DirectNavigation.com), Leonard Holmes (ParkQuick.com) and, also representing NameMedia, Cortnee Gunn, Brian Carr,
Kristen McCarthy & David Zakur).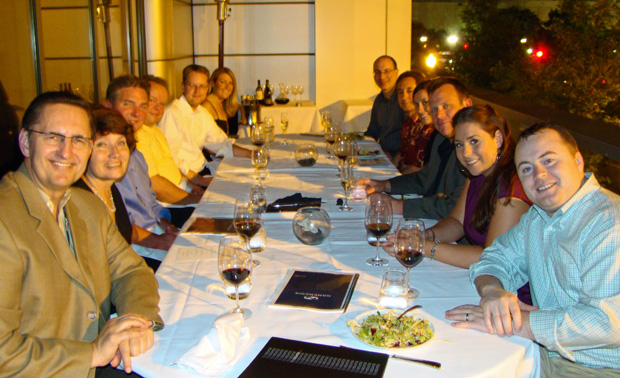 The next morning the final day of Domain Roundtable (Tuesday, June 16) opened with a session on Utilizing Online Tools to Benefit Your Business. Panelists (left to right in the photo below) Daniel Negari (Cyber2Media, Inc.), Sean Stafford (ComWired.com), Susan Prosser (DomainTools.com) and Gregg McNair (Strata PPX Services), who celebrated a birthday the night before, covered tools available to improve SEO, expand your portfolio and manage your domains and traffic to improve your return on investment. Jamal Haque returned as moderator.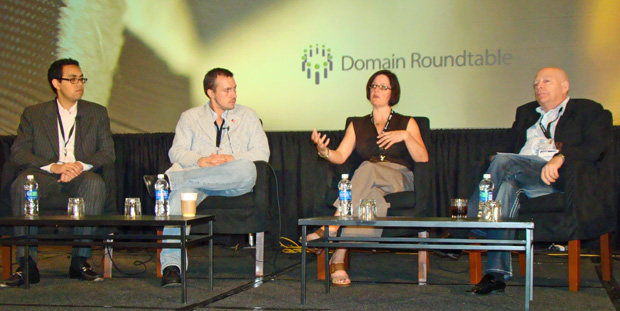 Stafford covered how his geo-IP aware DNS management company, ComWired.com, divides up its client's portfolios and sends the traffic from individual domains to different parking companies based on the vistors' location. Stafford said this unique strategy converts more traffic into clicks.
McNair's company, Strata PPX, is also taking a new approach to monetization by building a CPA platform that owns every link in the chain from the product manufacturer to the consumer purchase. McNair said cutting out the middlemen allows them to pay higher commissions than CPA competitors.

One thing that stood out to me at the show was how much innovation is currently going on in the monetization space. A lot of people are looking for better solutions and with the brain power and financial resources being invested in that quest I feel confident that we are going to see some real breakthroughs in the not to distant future.

Negari discussed methods he used to build his domain portfolio and Prosser, the General Manager at DomainTools.com, probably had the easiest job of all because most people in the industry are already familiar with and reliant upon the wide variety of tools and services the subscription based site offers.




Gregg McNair (Strata PPX) at his birthday
party the night before this panel sesson.
The show's final seminar followed, one devoted to The Macro View of Domain Valuation. The panel (seen left to right in the photo below) featured Markus Schnermann (KeywordDomains.com), Christian Kalled (Sedo.com), Donny Simonton (Parked.com) and Andrew Miller (Internet Real Estate Group). Thought Convergence VP of Corporate Development Tim Chen served as the moderator.

This group discussed the factors to consider when deciding how to value specific domains, a topic they were particularly well qualified to cover. Miller's company bought, developed and in some cases sold some of the most valuable keyword .coms on the Internet, including CreditCards.com, Software.com, Phone.com and many others.
Christian Kalled (Sedo.com)

Kalled is one of the best known brokers in the business and was the man who orchestrated the $3 million sale of Vodka.com for client Roy Messer.

As Parked.com's President many associate Simonton with the PPC business but the company is also a major buyer in domain auctions. He studied domain valuation to help develop a proprietary software program that generates maximum recommended amounts to pay for any domains he is considering purchasing.

Schnermann, who is based in Germany, added his special knowledge of ccTLD values to the mix.

After lunch there was a break before Aftermarket.com's live domain auction would get underway at 4pm so Diana and I took that opportunity to stroll down to the National Gallery of Art to spend a few hours among

the masterpieces on display there (the Grand Hyatt is just a 10-15 minute walk away from the major museums on the Mall).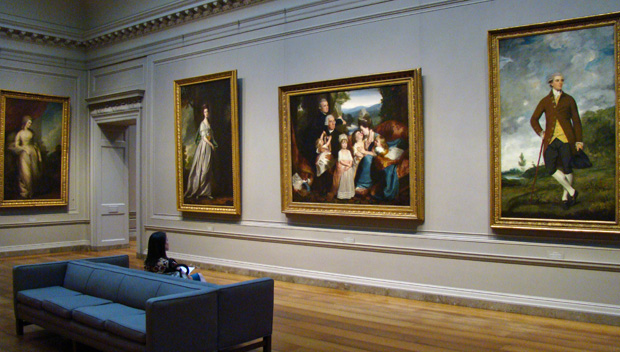 The National Gallery of Art is a must see when we are in Washington D.C.
We were back at the hotel in time to catch an auction that produced just under a half million dollars in sales. Much of the that came on the strength of the $380,000 sale of Contests.com to National A-1, a Philadelphia based company that has assembled some fabulous one word generic .com domains (they were the ones who, with a $5 million bid, pushed ToysRUs to pay $5.1 million to get Toys.com in a bankruptcy court auction earlier this year).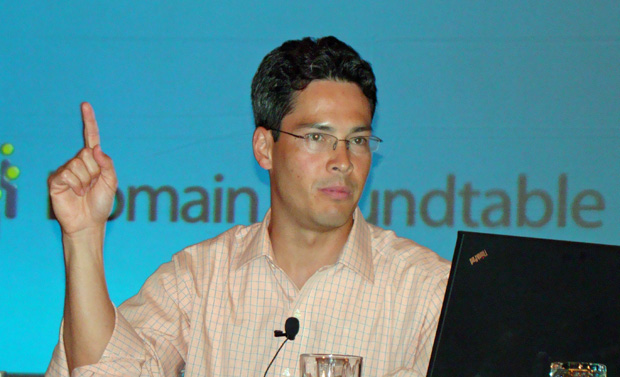 Tim Chen conducting the live domain auction at Roundtable Tuesday (June 16).
Soon after the auction ended it was time to head for the big closing night party hosted by TrafficZ and Parked.com at one of Washington's hottest nightspots, Club Josephine. Over the years I've been to a lot of conference parties at nightclubs around the country and this one had to be my favorite. It had something for everyone. Everything from a raucous dance to floor to quieter areas with comfortable sofas for those who preferred chatting with friends.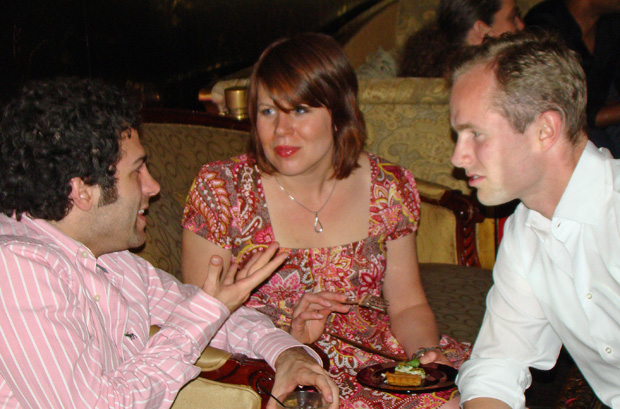 Above: Sedo North American Marketing Team Supervisor Heather DelCarpini (center)
chats with new friends at the TrafficZ/Parked.com Closing Night Party.
Below: The dance floor attracts a crowd.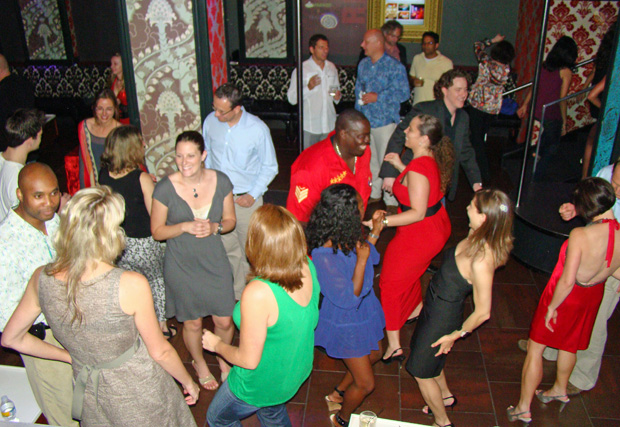 Thought Convergence Director of Corporate Events Laura Schmidt, who handled the show's logistics, made sure there was plenty of fabulous food for partygoers. The dessert table included a silver anniversary cake that Thought Convergence thoughtfully brought in to help Diana and I celebrate our 25th anniversary that fell on that night. It was also a special occasion for our friend Rob Grant who was celebrating his birthday and was also surprised with a cake of his own.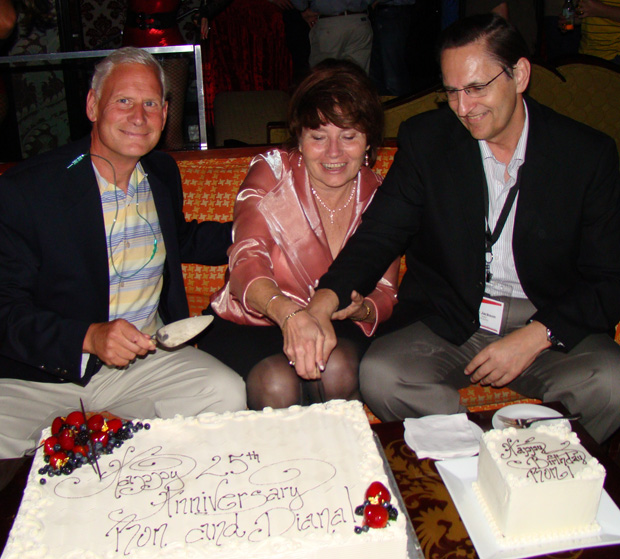 Birthdays and Anniversaries: Thought Convergence made the closing night party especially memorable for Rob Grant and Ron & Diana Jackson who were celebrating special occasions.
Laura, Kevin, Ammar and everyone at Thought Convergence truly left no stone unturned to put their own distinctive mark on Domain Roundtable. If you have talked to anyone who was there then you have no doubt heard some of the great word of mouth buzz they created with this top notch event.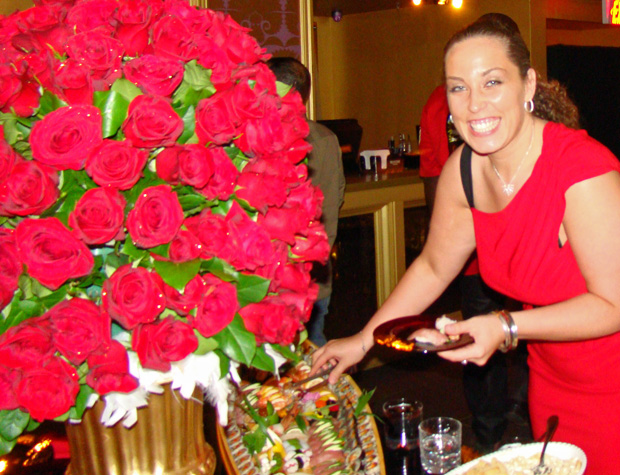 Laura Schmidt makes sure everything is "just right" for Roundtable attendees.
The conference game has become a tough one with many strong competitors and more shows than ever scheduled in 2010 (T.R.A.F.F.I.C. has announced they are expanding from three annual conferences to six scattered around the globe next year). Some observers think a shakeout is inevitable, but there is no sign that any of the current players is planning to bow out. To the contrary, with this event Domain Roundtable sent a clear message that they plan to continue competing at the major league level and that they are playing to win.