The 2009 DOMAINfest Global Conference got underway Tuesday at the Renaissance Hotel in Hollywood, California. The event began with an afternoon "boot camp" for industry newcomers. That consisted of four sessions devoted to domain business fundamentals. I had an opportunity to participate in the day's closing discussion on "The Art of Buying and Selling Domains." A photo from that session is below.
DOMAINfest Global Boot Camp session on "The Art of Buying and Selling Domains"
(Left to Right) Moderator Chris Sivertsen (Oversee.net), Anthos Chrysanthou
(Lease Domains), Lance Wolak (.Org Public Interest Registry), Ron Jackson
(DN Journal), Monte Cahn (Moniker) and Kathy Nielson (Sedo).
Right after the boot camp sessions, Moniker.com staged a no/low reserve live domain auction that yield just over $128,000 in total sales. That event was an appetizer for their main live auction coming up tomorrow afternoon starting at 1:30pm (U.S. Pacific time). The top seller's in last night's auction were Eat.net ($15,000), SpearGuns.com ($14,000) and SanFranciscoRestaurant.com ($7,500). Bikes.net and Consultations.com added $7,000 each. Michael Berkens has a complete list of high bids of his blog. 60% of the listed domains were sold.
Right after the auction, attendees headed for an opening night cocktail party at the hotel's Twist Lounge.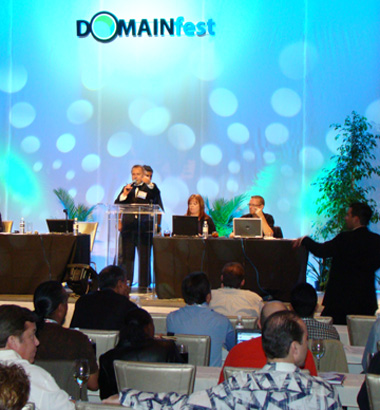 Scene from last night's low/no reserve
live auction at DOMAINfest Global
For many the night continued from there with private outings around Los Angeles. While one group headed to a Lakers game, Thought Convergence (parent company of TrafficZ, Aftermarket.com and DomainTools.com) treated another to a private show at L.A.'s famed Magic Castle - the mecca for professional magicians. We'll have more on that in our comprehensive conference review article that will be published late next week.
The Wednesday schedule is underway as I write this with an opening discussion titled "Domaining 2.0: What Does the Next Evolutionary Phase of the Industry Look Like" now in progress. I'll have highlights from today's events, including an evening outing to Universal Studios in this column Thursday morning.